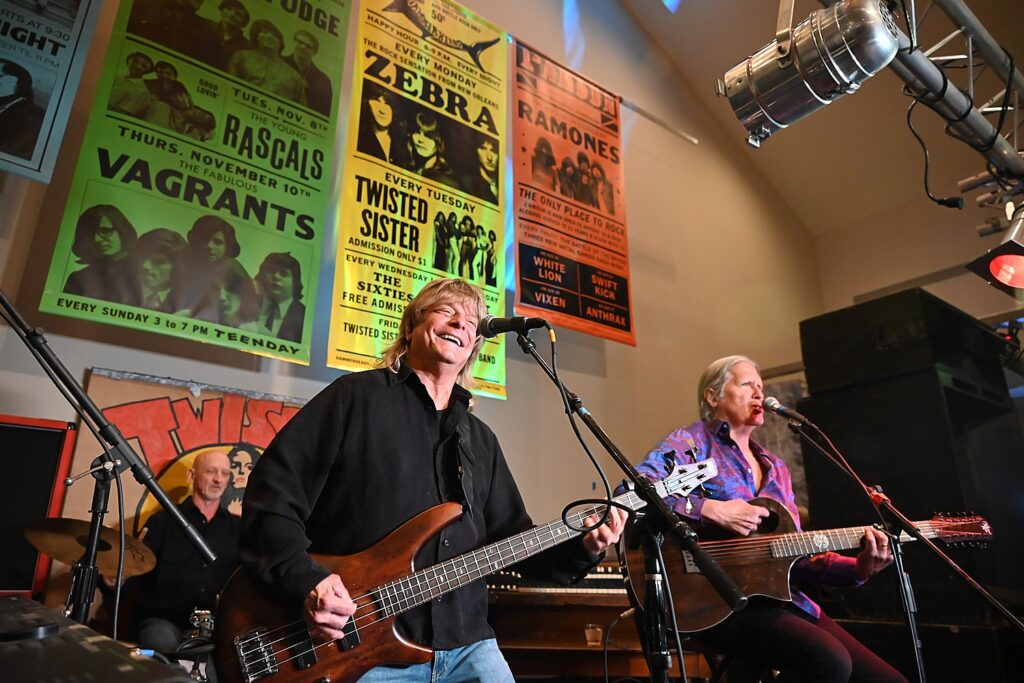 By Karen Rubin, Travel Features Syndicate, goingplacesfarandnear.com
Your eyes open wide as you enter the new, permanent location of the Long Island Music & Entertainment Hall of Fame, housed in a former Ward Melville Historical Organization building in historic Stony Brook Village, and realize the prominent musicians who grew up, got their start, built their careers on Long Island. That is, the whole of Long Island, from Queens and Brooklyn through Nassau and Suffolk.
While the Hall of Fame has been inducting honorees since 2004, this is its first permanent home, so is the first opportunity to really see the breadth and depth of the talent nurtured on the island. And it is so much fun to see the original posters, costumes, musical instruments, memorabilia from inductees including Twisted Sister, Zebra, Blue Oyster, Public Enemy, Vanilla Fudge, even Billy Joel's actual motorcycle and Joan Jett's 1983 Jaguar.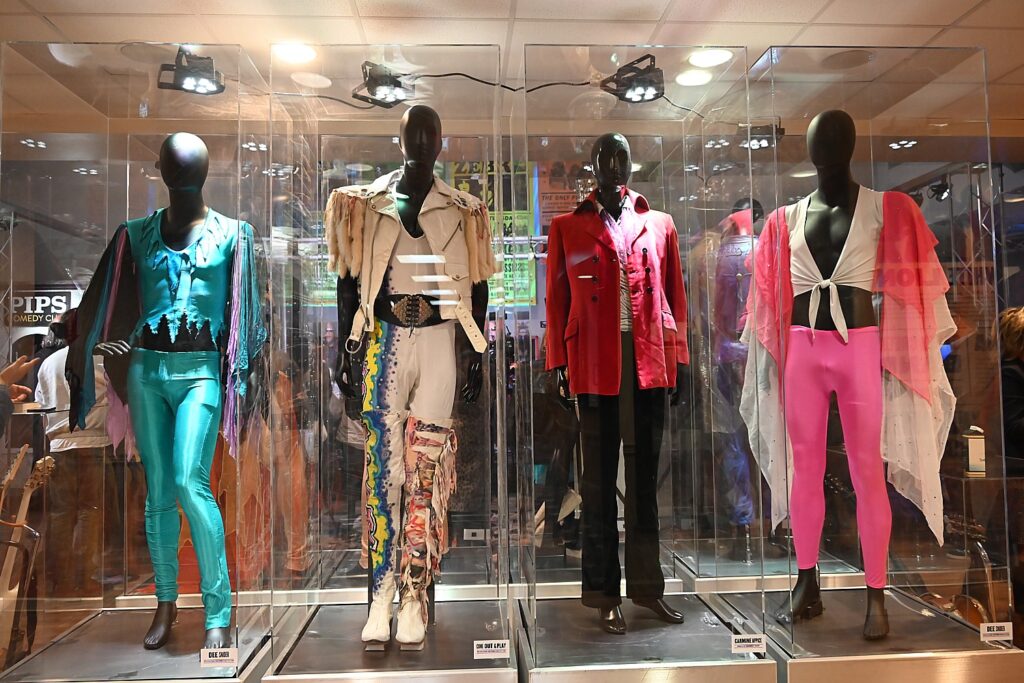 Jay Jay French, founding member and bassist of the heavy metal band Twisted Sister, manager and record producer, went so far as to declare, "Without Long Island, Brooklyn and Queens, you got nothing. The circuit never existed before, and will never exist again."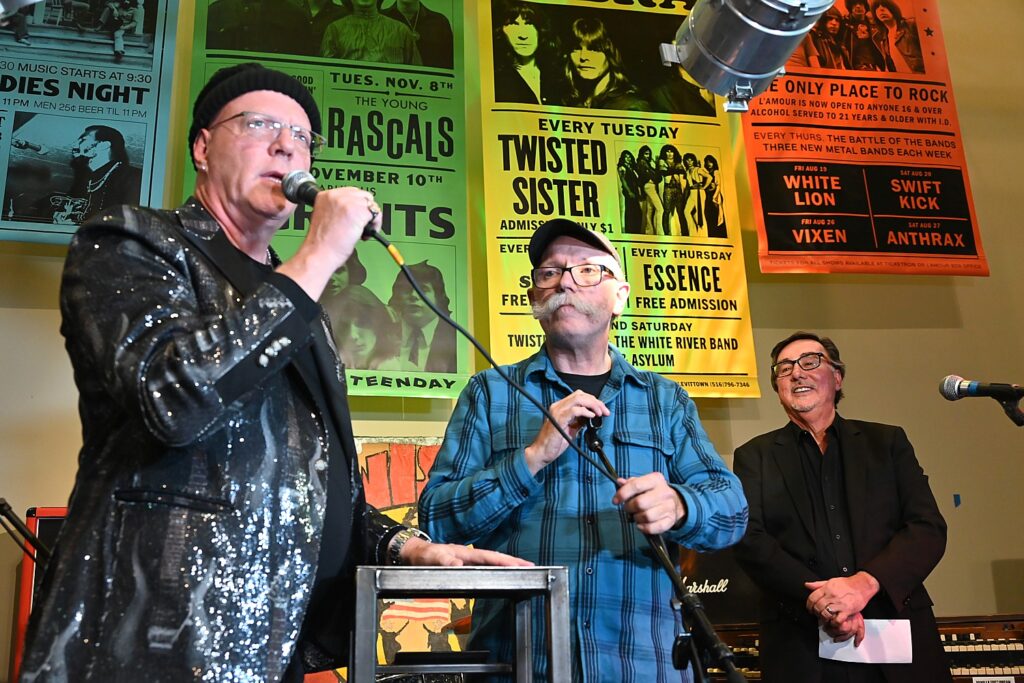 That might be hyperbole, but he can be forgiven when you go up to the second floor, where there is the "Hall of Fame" with plaques and exhibits that recognize over 120 inductees, displayed across the walls the inductees year by year. In fact, you can easily imagine they will soon run out of wall space entirely when beginning next year, they also induct people from television and film. There are also cases chock full of memorabilia such as Perry Como's Emmy (you have to really search – it's like an attic).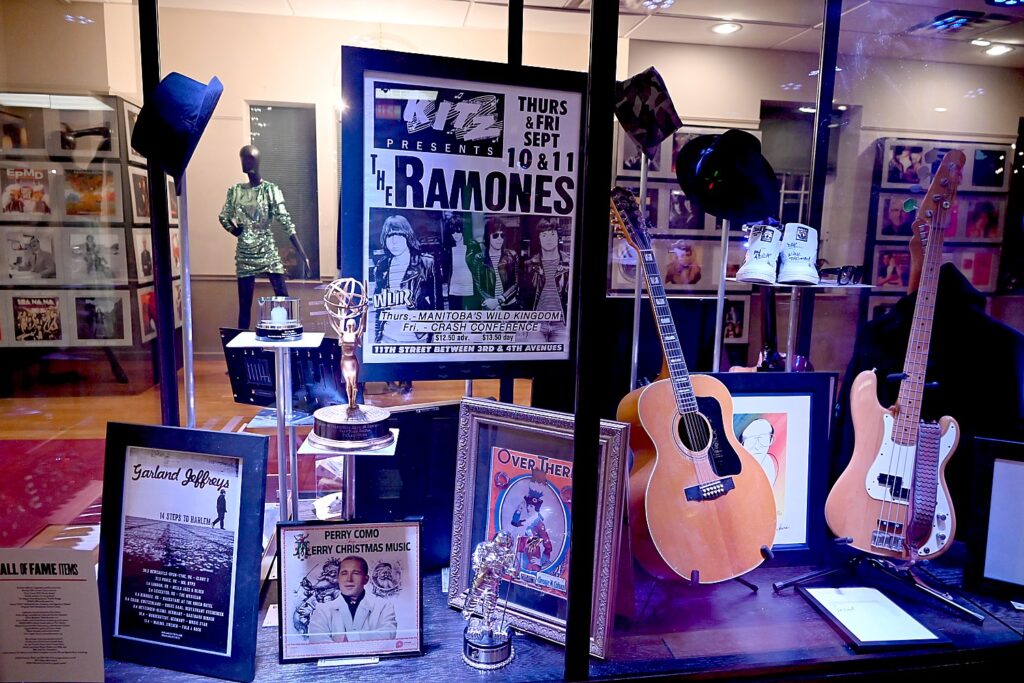 There are also areas for a library, classrooms for educational programs, and master classes, a surround sound theater, and a gift shop with music and entertainment-themed memorabilia.
Having an actual space means that the Hall of Fame also can present special exhibits.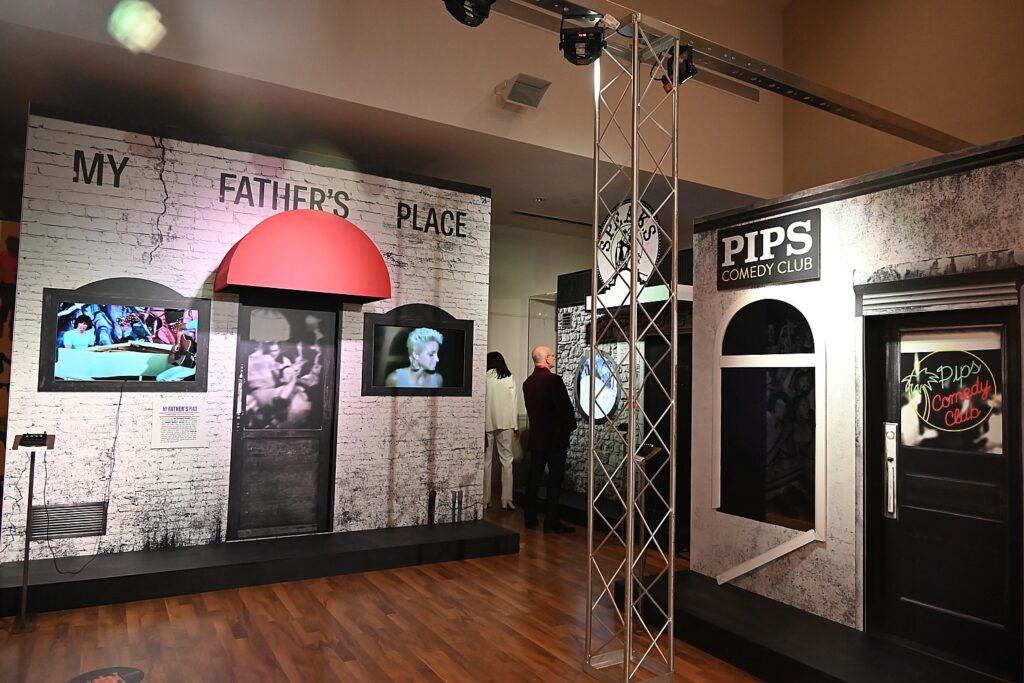 Its first exhibit now on display re-creates those cherished clubs. Created by renowned designer Kevin o'Callaghan, "Long Island's Legendary Club Scene – 1960s-1980s" is laid out to be like a club crawl, sparking those pangs of nostalgia for those places. The exhibit features replicas of clubs – My Father's Place, The Mad Hatter in Stony Brook, Oak Beach Inn, Malibu in Lido Beach, Speaks in Island Park and Pips Comedy Club in Brooklyn -with videos of artists performing, ads, posters, instruments. There is also a replica of a typical 1960s stage, complete with vintage equipment and sound system (donated by Zebra).
At the opening, guitarist Randy Jackson, bassist Felix Hanemann and drummer Guy Gelso of Zebra performed on that stage with the very sound equipment they used at clubs in the 1970s and donated to the museum (in order to better re-create the sound), and below a poster which showed their 1970s selves. Surreal time warp.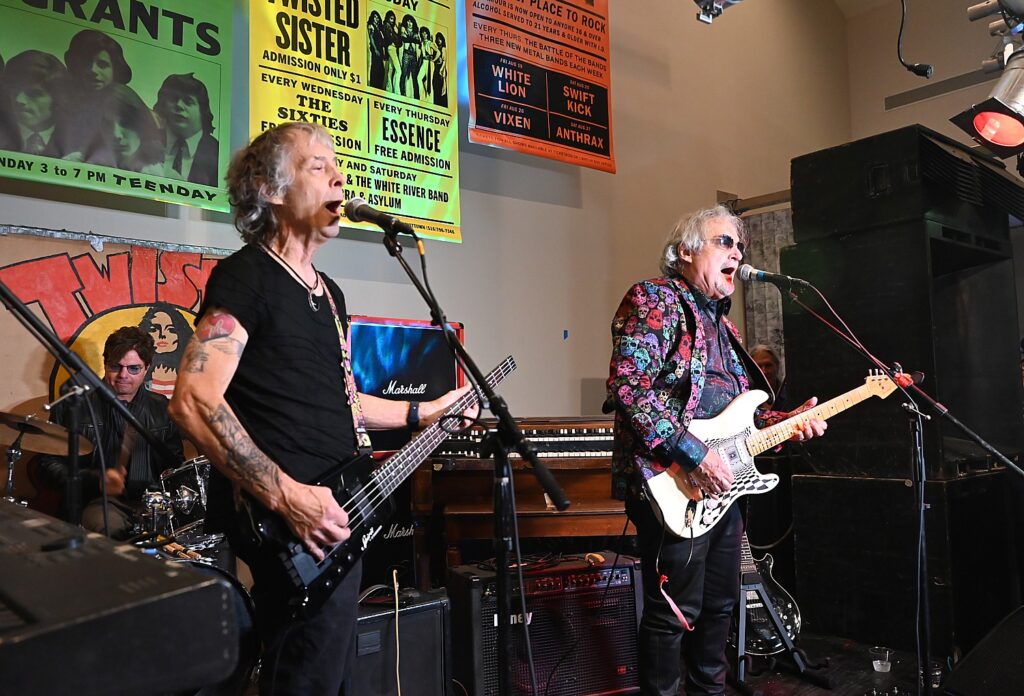 Also performing, bassist Joe Bouchard and drummer Albert Bouchard of Blue Öyster Cult, Paula Janis and Carole Demas of "The Magic Garden," singer/songwriter Elliott Murphy, and Jen Chapin, daughter of Harry Chapin.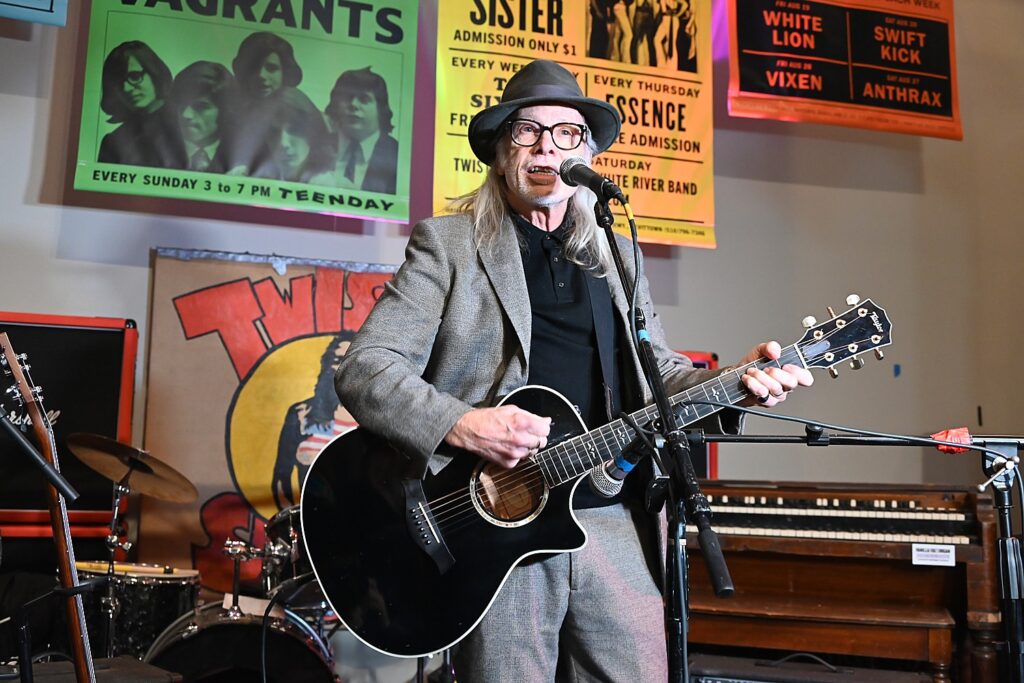 The newest honoree in the Hall of Fame, Wayne Robins, had to wait two years (because of COVID) to officially be inducted. At the official opening, Robins, who for more than 50 years has been a leading music and pop culture journalist, waxed nostalgic as he recalled being at Shea stadium for the Beatles Concert, Diana Ross sitting in his lap at her concert at Westbury Music Fair, using fake ID to get into music venues before he was 18. He began his career in 1972 at CBS Records, then writing for Rolling Stone, the New Musical Express, Melody Maker, the Village Voice and Creem Magazine before joining Newsday in 1975 as its pop music writer, where he worked for the next 20 years.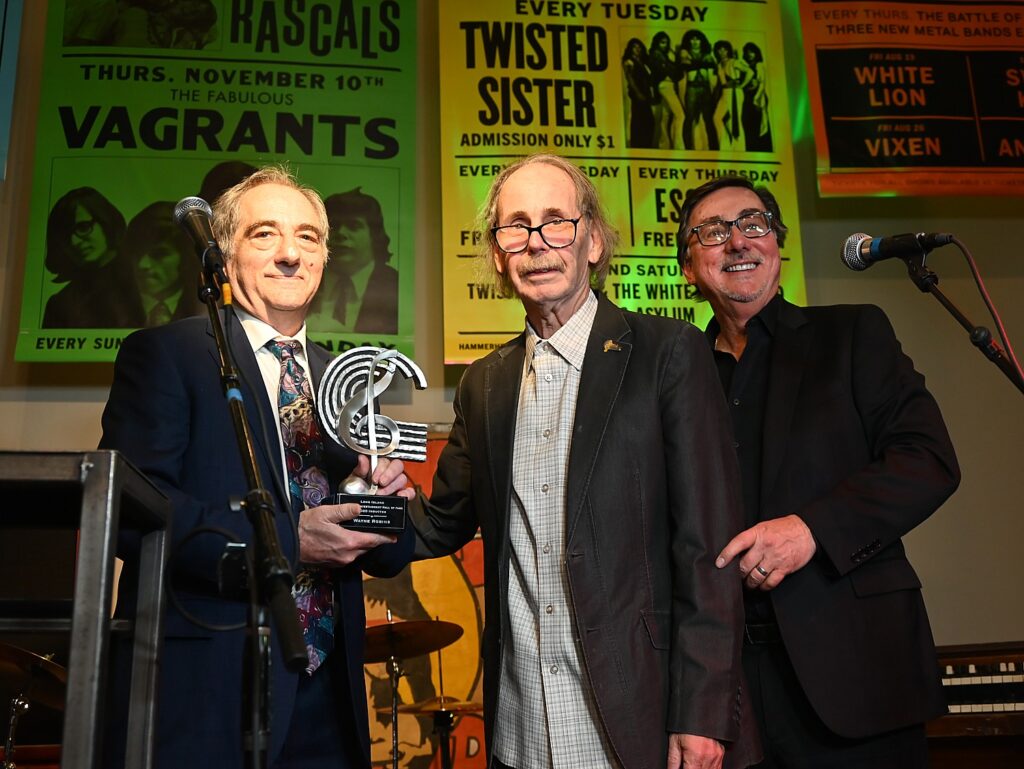 Throughout, there are compelling visual elements and artifacts on display. Among the inducted artists who have donated memorabilia, are Billy Joel, Joan Jett, Debbie Gibson, Blue Oyster Cult, Twisted Sister, and the families and estates of Harry Chapin, Guy Lombardo, John Coltraine. Donations include various musical instruments, performance outfits, vintage automobiles and motorcycles, rare posters and photos, and handwritten lyrics.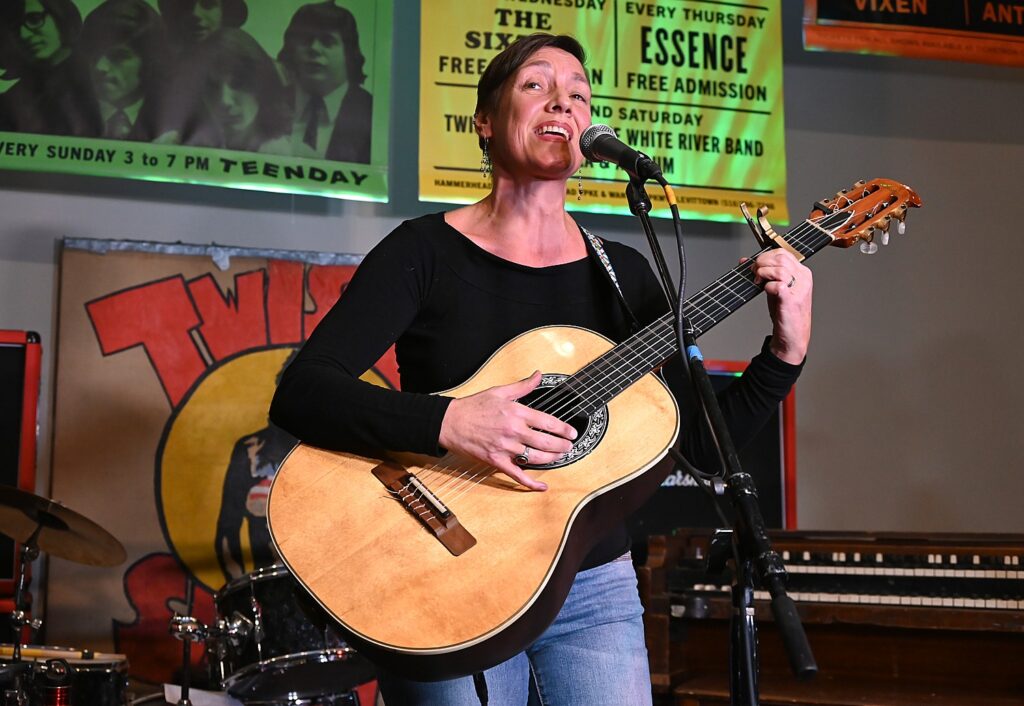 Dee Snider, frontman of Twisted Sister, donated 12 costumes that hadn't been seen in years, designed by Suzette Snyder. Suzette was 15 years old when she first met Dee, having borrowed her cousin's ID to sneak into a show. She designed an outfit – pink with fringes – and created the 'Twisted Sisters look'."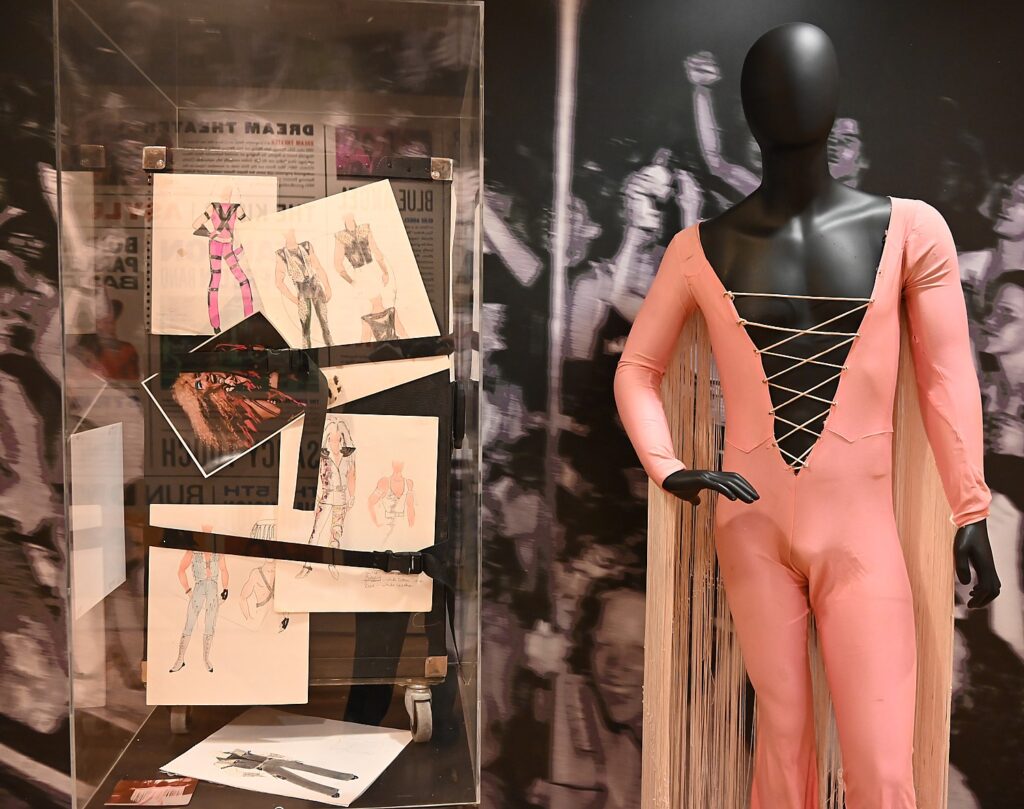 The opening night event included performances by guitarist Randy Jackson, bassist Felix Hanemann and drummer Guy Gelso of Zebra, bassist Joe Bouchard and drummer Albert Bouchard of Blue Öyster Cult, singer/songwriter Jen Chapin, Paula Janis and Carole Demas of "The Magic Garden," singer/songwriter Elliott Murphy, and Jen Chapin.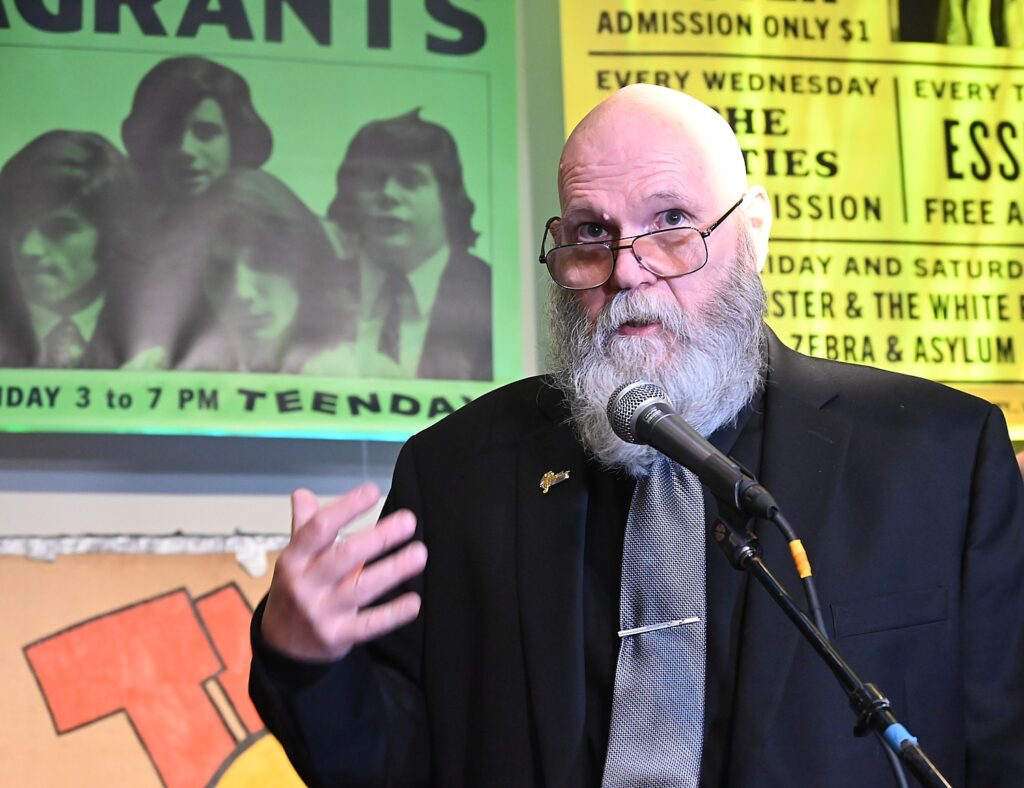 Rich L'Hommedieu, one of the co-founders, said, "The music industry started on Long Island – song sheet sellers came from Manhattan, Jazz musicians who couldn't afford Manhattan had homes in Queens. Duke Ellington, Louie Armstrong. Then there were the street corner doo wop groups, the hip hop. Garages in suburbia incubated rock bands.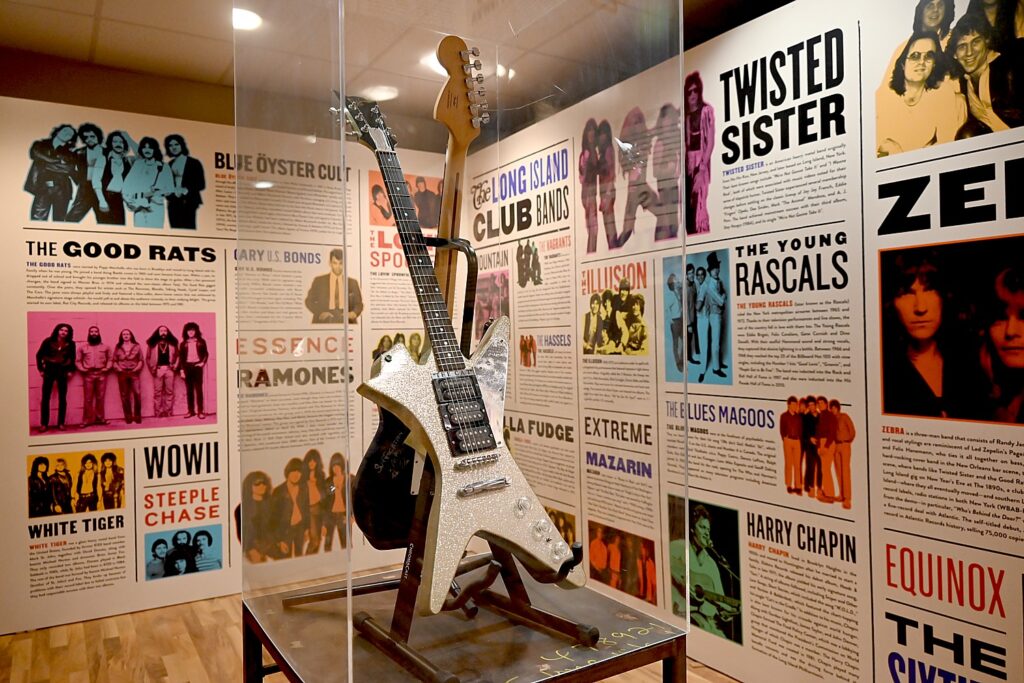 In fact, every musical genre is represented among the122 honorees (so far) – there's Aaron Copland, Brooklyn (2008), Barbra Streisand, Brooklyn (2008), Beverly Sills, Brooklyn (2008), Eddie Palmieri, Queens (2010, George Gershwin, Brooklyn (2006), George M. Cohan, Kings Point (2006), Carole King, Brooklyn (2008), Ervin Drake, Great Neck (2012), Cyndi Lauper, Brooklyn/Queens, (2006), Guy Lombardo, Freeport (2008), Marvin Hamlisch, Westhampton Beach (2008), Morton Gould, Queens/Great Neck (2010, Oscar Brand, Brooklyn/Great Neck (2010), Perry Como, Port Washington (2006), Simon & Garfunkel, Queens (2008), Steve Martin, Long island (2010), Tony Bennett, Queens (2006), Vince Giordano, Brooklyn/Hauppauge (2016), William "Count" Basie, Queens (2008), and Cousin Brucie Morrow, Brooklyn (2018), Arlo Guthrie, Coney Island (2008), LL Cool J, Bayshore (2008) (The full list is mind-blowing.)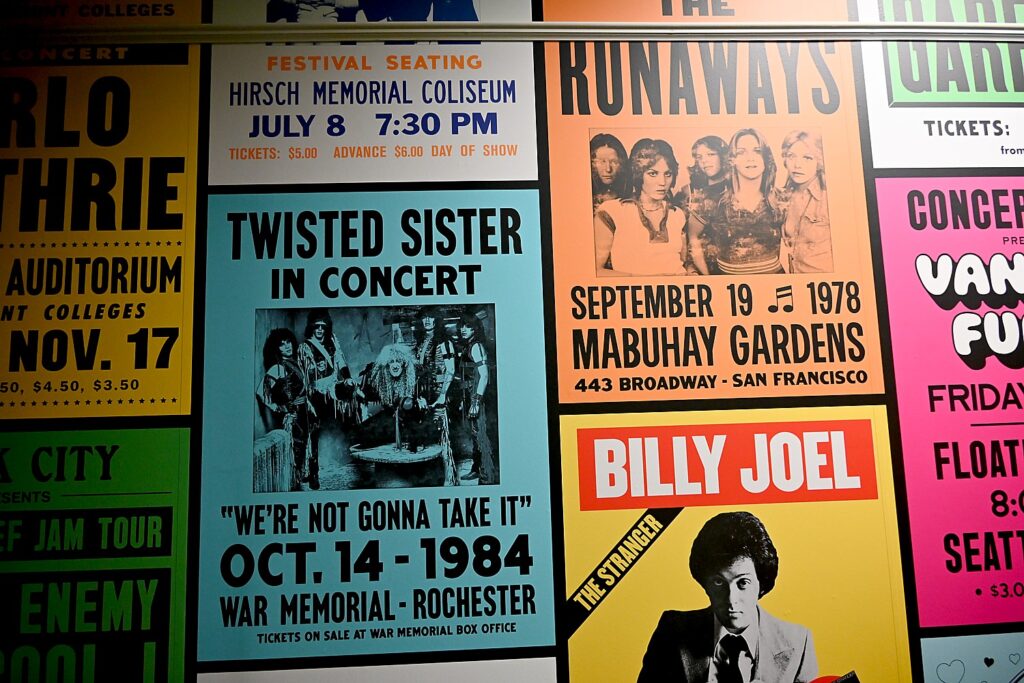 Among the groups with roots on Long Island: Gary U.S. Bonds; the Lovin' Spponful; Johnny Maestro & the Brooklyn Bridge; Public Enemy; Salt-N-Pepa; The Ramones; The Shangri-las; The Tokens; Twisted Sister, Vanilla Fudge, Zebra, Blue Oyster Cult, little Anthony and the Imperials
Also among the honorees: My Father's Place, Dream Theater, WALK 97-5 FM, Westbury Music Fair, Jones Beach theater, Stony Brook University, CSS Security Service.
The idea for the Hall of Fame originated with co-founders Jim Faith, Rich L'Hommedieu and Norm Prusslin, who met at Stony Brook University in the fall of 2003 and by January 2004, launched the nonprofit without any government assistance at all, but with lots of volunteer help.
It was created as a place of community that inspires and explores Long Island music in all its forms. In addition to the Hall of Fame, the organization also offers education programs and scholarships to Long Island students, sponsors the Long Island Sound Award, and features traveling educational exhibits, including a state-of-the-art mobile museum.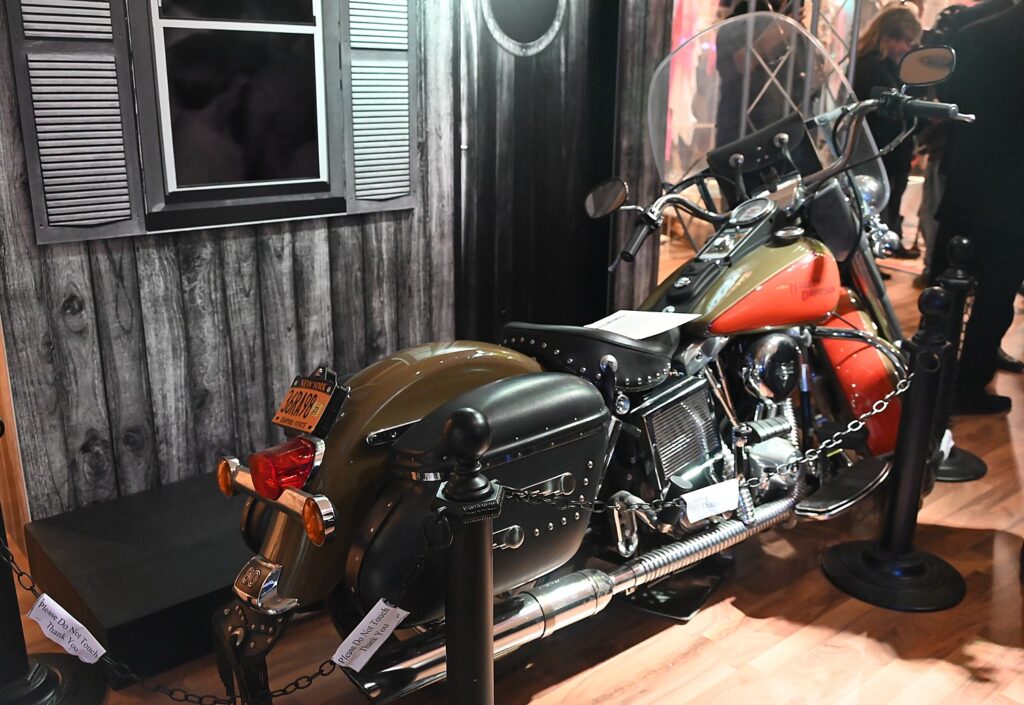 In 2014, when the Billy Joel Band was inducted into the Long Island Music and Entertainment Hall of Fame, Billy Joel said this in a statement: "After The Stranger was released, people began to recognize that the 'Long Island Sound' wasn't just a body of water." Indeed, it isn't. Over the years, Long Island has produced some of the most talented and accomplished musicians and has become a respected music scene.
But, according to the museum's history, it didn't start off that way.
In the late 1960s and early 1970s, the Long Island music landscape was rather barren and more of a stepchild to that of New York City, which had become a focal point of the music industry, with recording sudios and iconic music venues such as Max's Kansas City, Fillmore East, and Electric Circus. Beside some local bars, schools and Westbury Music Fair (which had sporadic star performances, such as Judy Barland in 1967, The Who in 1968 and Bruce Springsteen in 1975), there were few live venues on Long Island.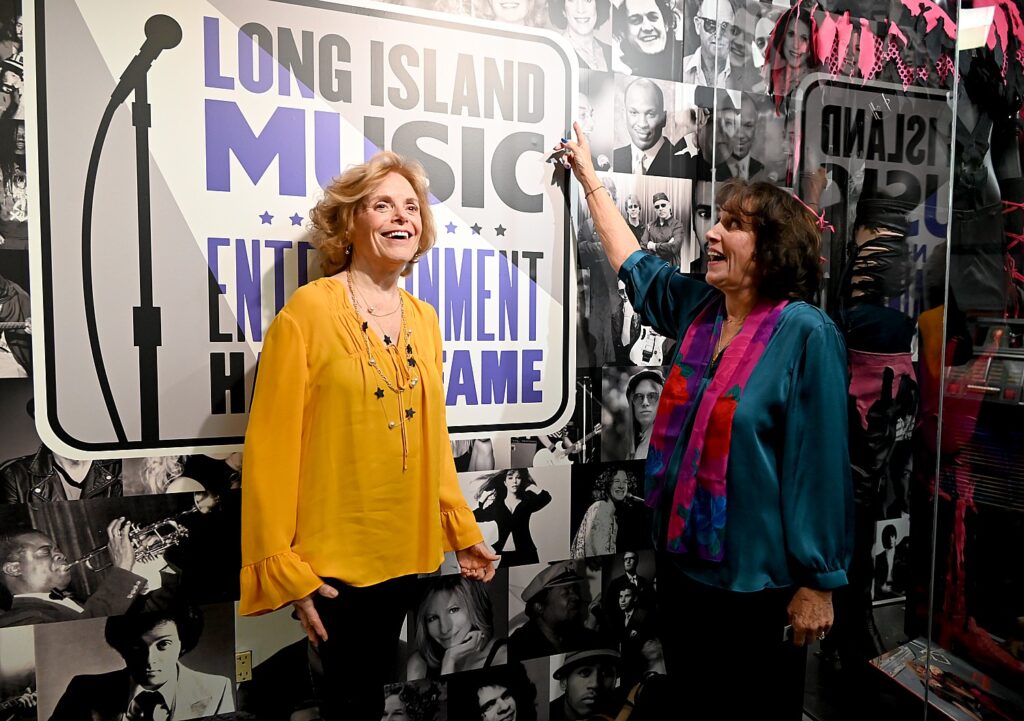 According to Norm Prusslin, music historian and a founding member of the Long Island Music and Entertainment Hall of Fame, in the late 1960s Stony Brook University, emerged as an important venue to bring music to Long Island.
FM radio stations began popping up on Long Island, giving national recording artists Long Island airplay, and college radio stations began to showcase Long Island's burgeoning musicians.
"Long Island college radio stations were important in bringing to the airwaves local musicians of all genres, and that certainly contributed to Long Island artists getting heard and getting spoken about," Prusslin stated.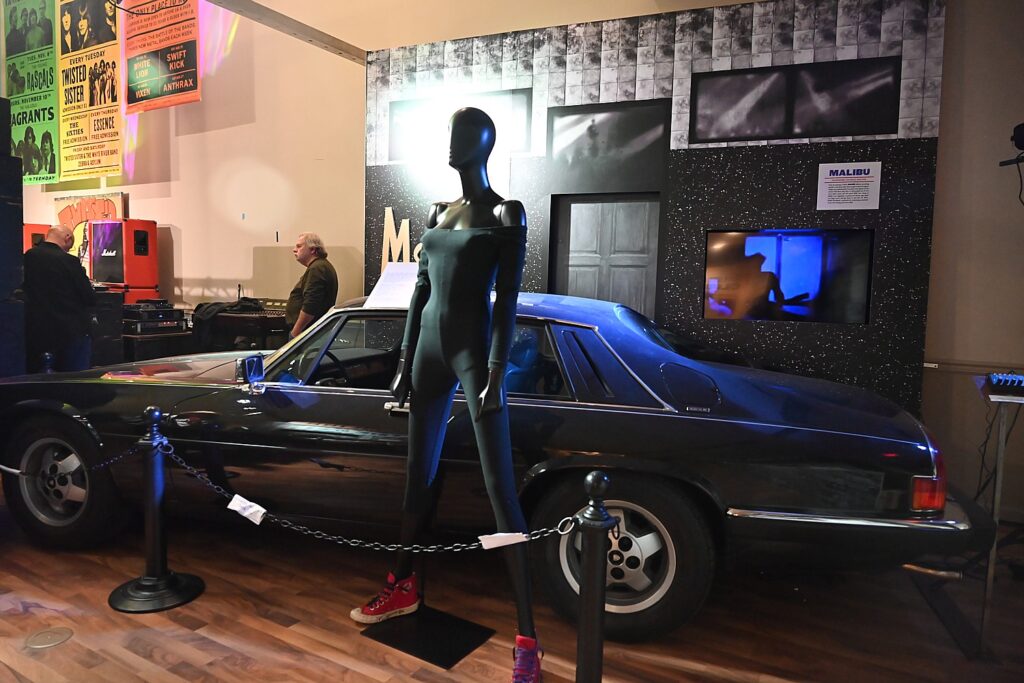 At the same time, Long Island-based publications, such as Good Times magazine, began pioneering local music coverage and talking up Long Island artists. And venues, such as My Father's Place in Roslyn, brought in a lot of local bands who didn't have the opportunity for commercial exposure before.
By the early 1980s, some of the commercial radio stations, particularly WLIR and WBAB, began to follow Long Island college radio's lead, focusing on Long Island artists.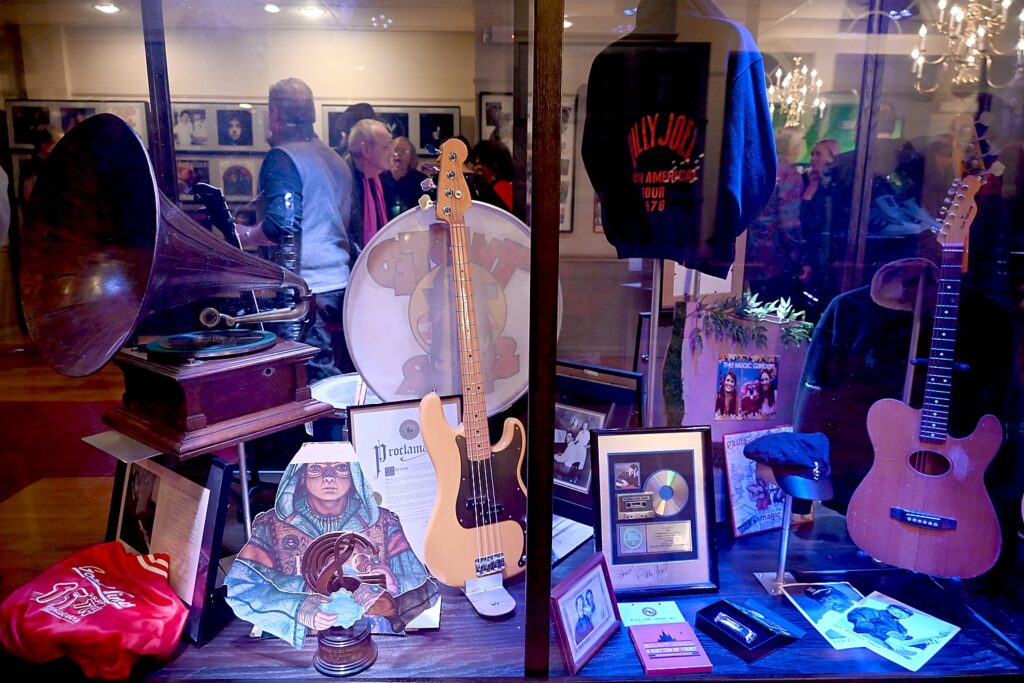 By the early 2000s, Long Island had become a hotbed for upcoming musicians as well as a sophisticated music scene. It now had its own music festivals, such as the Great South Bay Music Festival (established in 2006) and the Long Island Bluegrass Festival (which premiered in 2002), as well as the establishment of music-specific societies and organizations such as the Long Island Blues Society and the Long Island Traditional Music Society.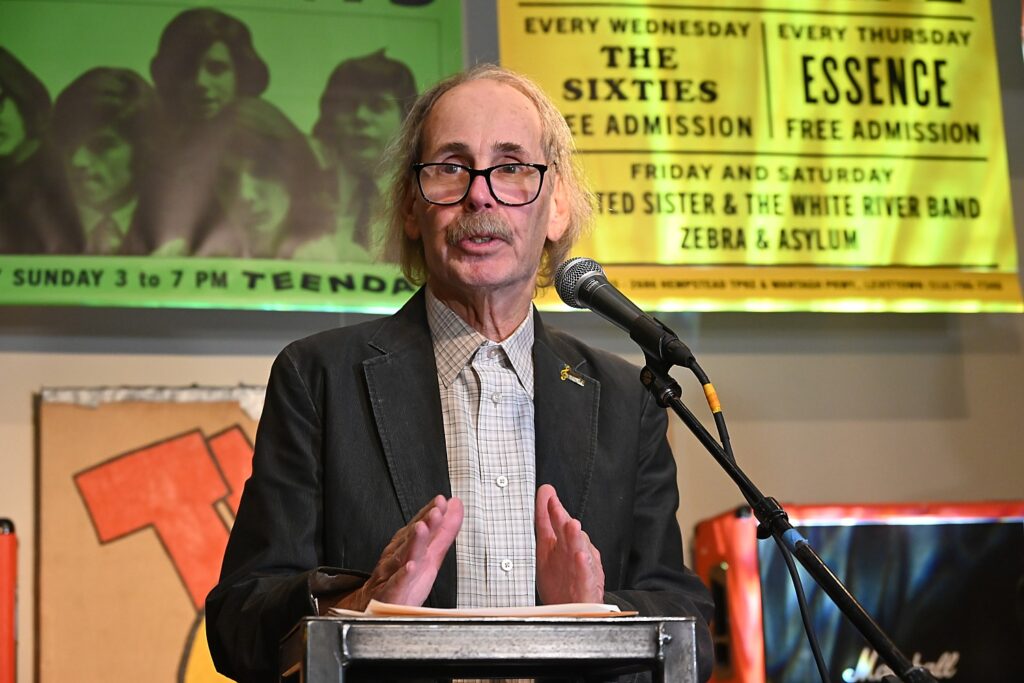 In August 2003, Prusslin had been reading an editorial in a local music magazine written by Richard L'Hommedieu—who would go on to become the founding chairman of the Long Island Music and Entertainment Hall of Fame—about the new Georgia Music Hall of Fame, which had opened in 1996. L'Hommedieu wrote that it would be great if Long Island had its own music hall of fame.
In January 2004, this enterprising group of founding members including Prusslin, L'Hommedieu, and other music educators, held an event at the Patchogue Theater announcing the creation of "a nonprofit organization that would recognize, honor, and preserve Long Island's longstanding and diverse music heritage—a heritage that fought its way out of the shadow of New York City and would go on to inspire generations of music lovers."
The Long Island Music and Entertainment Hall of Fame was born.
"This is your home, your place, personal space, when can come and remember where great music came from on Long Island," Jay Jay French said. "It's your legacy."
LIMEHoF is open Wednesday-Sunday, 12-5 pm. Tickets are $19.50/adult, $17/seniors (65+)/Veterans; $15/students with id, 12 and under free.
Long Island Music & Entertainment Hall of Fame, 97 Main Street, Stony Brook Village, https://www.limusichalloffame.org/.
__________________
© 2022 Travel Features Syndicate, a division of Workstyles, Inc. All rights reserved. Visit goingplacesfarandnear.com, www.huffingtonpost.com/author/karen-rubin, and travelwritersmagazine.com/TravelFeaturesSyndicate/. Blogging at goingplacesnearandfar.wordpress.com and moralcompasstravel.info. Visit instagram.com/going_places_far_and_near and instagram.com/bigbackpacktraveler/ Send comments or questions to [email protected]. Tweet @TravelFeatures. 'Like' us at facebook.com/NewsPhotoFeatures