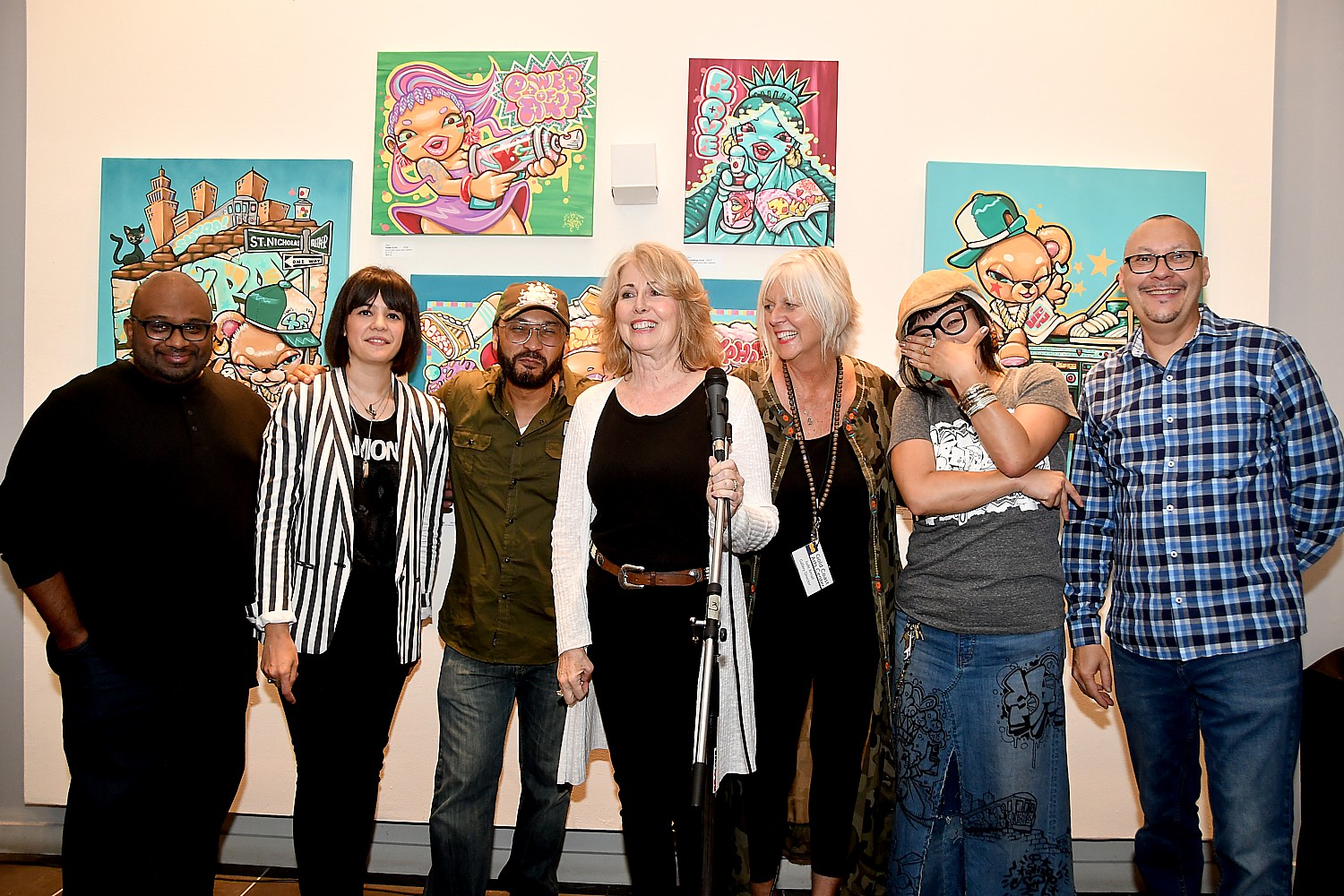 By Karen Rubin, Travel Features Syndicate, goingplacesfarandnear.com
Some of the most illustrious artists of Urban Pop are on view a short distance from the mean streets of the city: The Gold Coast Arts Center has again chosen to showcase graffiti, street artists and media savants of urban culture in its exhibit, "URBAN POP," on view through September 8. Fans had a chance to meet the five featured artists at an opening reception, May 20, at the Great Neck, Long Island gallery.
"The art scene has developed significantly since the 1970s with the introduction of using popular culture (pop art) as a source of inspiration," writes exhibit curator and gallery director Jude Amsel. "Many contemporary artists have now merged other modern influences such as street art, graffiti, architecture and urban culture into their work.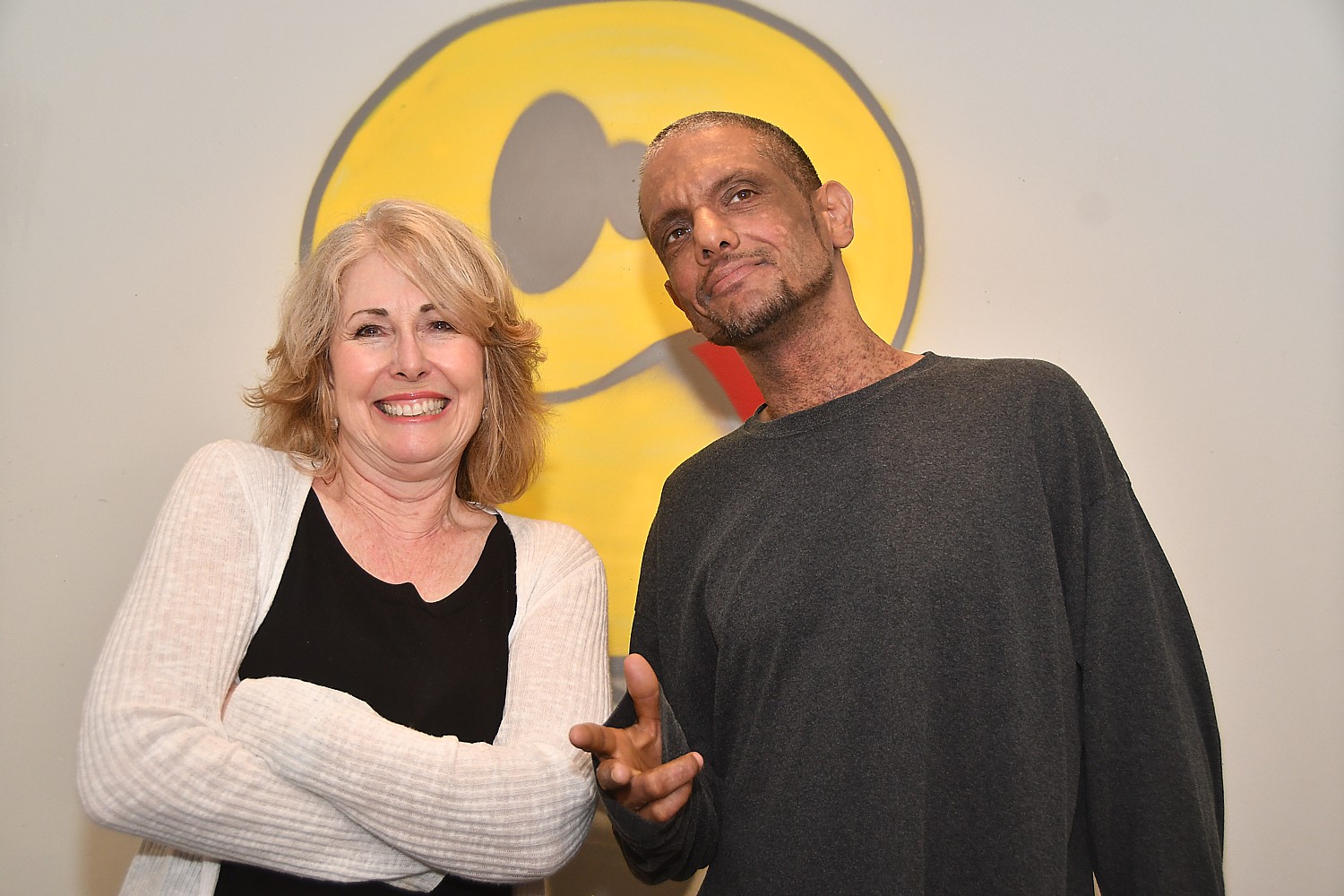 Among the artists featured in Urban Pop, include Shiro, whose controversial work appeared on the murals at 5Pointz, a warehouse complex and graffiti mecca in Queens, and Luis "Zimad" Lamboy. Their work, along with several other artists, was subsequently destroyed when whitewashed by the property owner and was the subject of a prolonged court battle, ultimately decided in favor of the artists, awarding them $6.75 million. On hand at the reception was Jonathan "Meres One" Cohen, one of the most prominent graffiti artists and a leader at 5Pointz, who has painted sections of the arts center.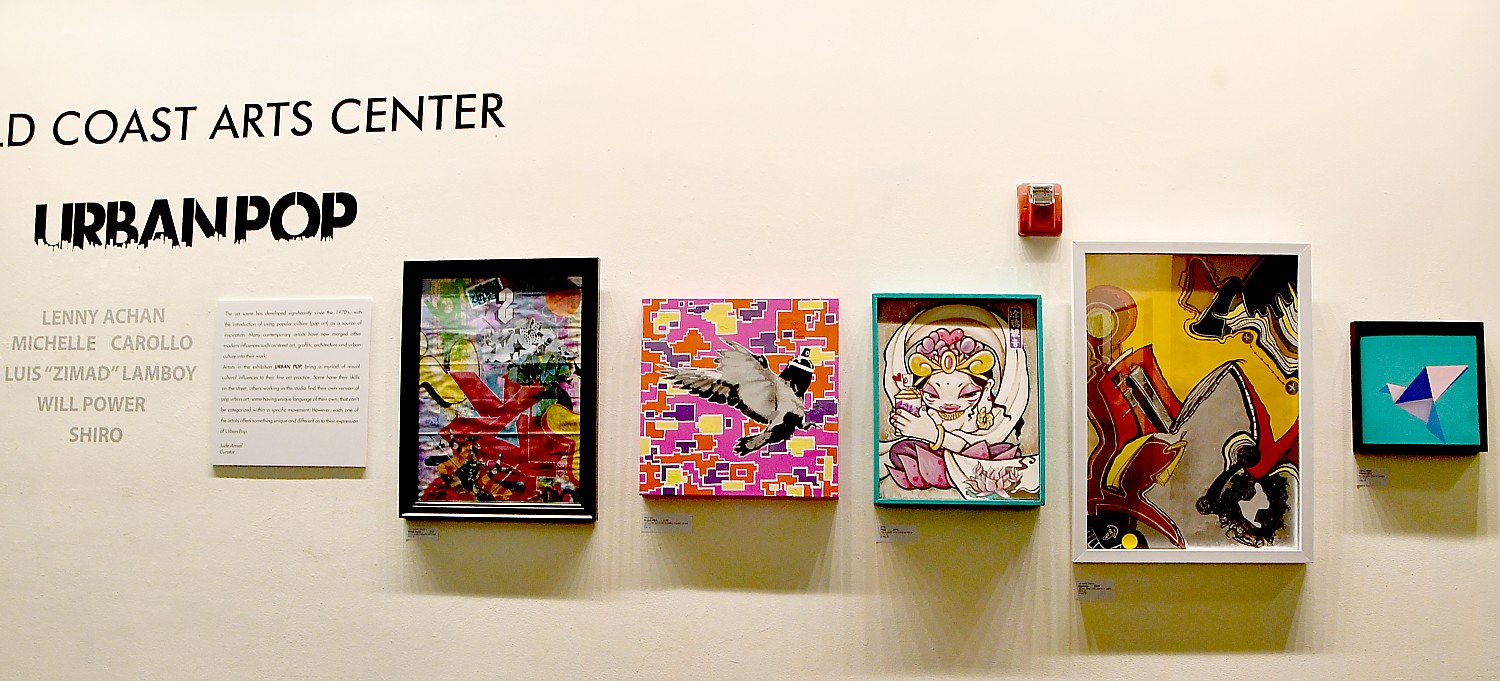 Shiro actually provided the theme for the show, gallery director and curator Jude Amsel said. "She is marking her 20th anniversary as a graffiti artist. She is like Lady Pink – one of the world's most famous graffiti artists."
Her paintings feature a consistent character – her alter ego.
"Since I was little, I have been deaf in one ear. I wasn't communicating with people. My family kept moving for my father's job. It was hard to make new friends, so I kept drawing a character – my imaginary friend. I wasn't lonely with my friend. Now I travel all over world by myself – India, Brazil, China – 18 countries. I can travel by myself because I have my best friend," says Shiro.
She leaves her images like an "I was here" stamp in the places she visits.
"People call me to do the murals, big murals, with my character, my best friend. I leave her on the wall in the country. I keep creating my character."
She covers her face when I photograph her with her painting. "I don't want to worry about how I look, I want people to see my art," she says.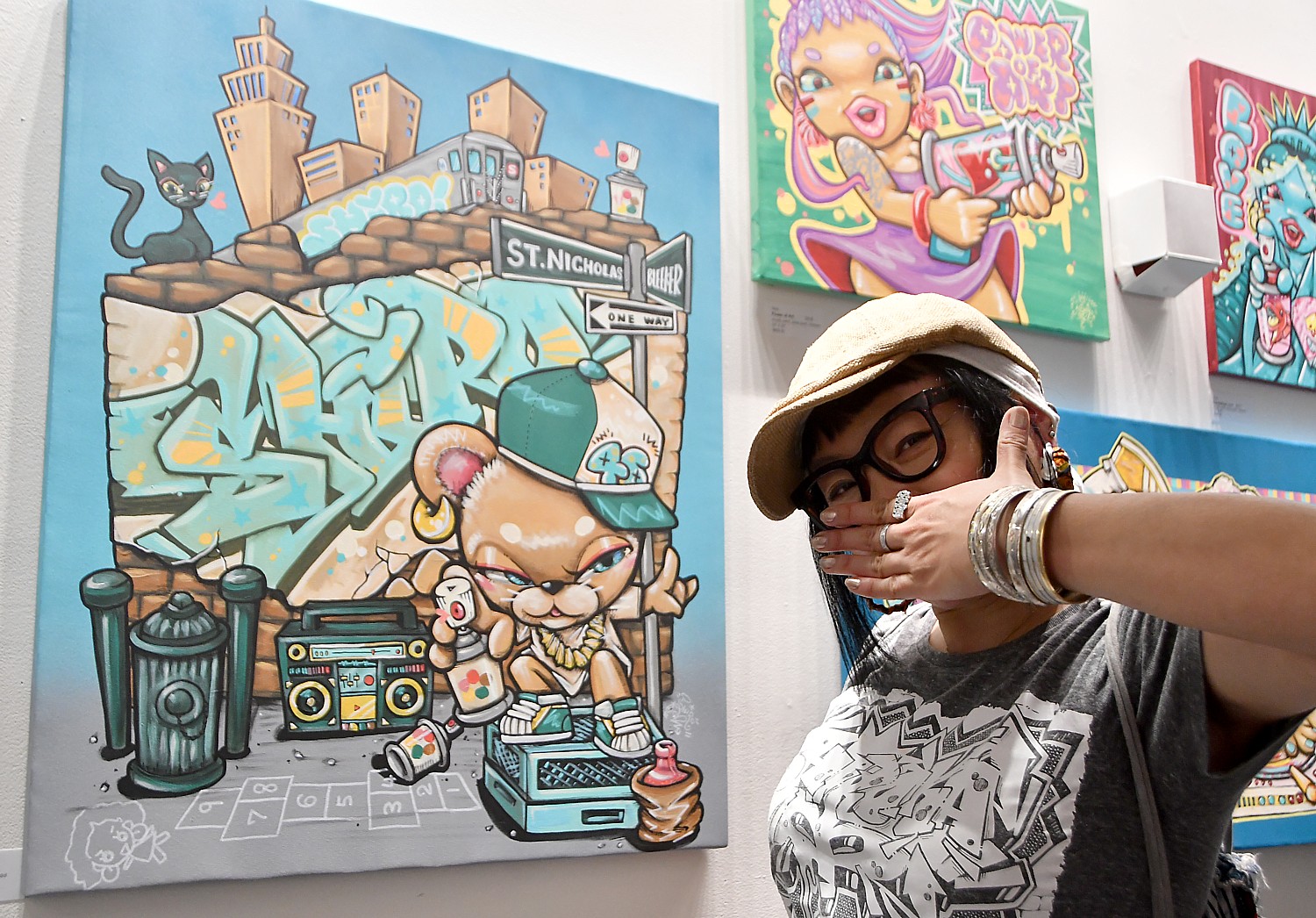 Shiro grew up in Tokyo and began her career as an aerosol artist in 1998. "As a young artist, I fell in love with hip-hop. In Japan, the only way to get information about hip-hop culture was to read books, watch videos, and listen to music. I used to go to clubs in Japan every weekend with friends and other artists to dance and paint, all the while imagining what it would be like to experience the movement in NYC at the time."
She came to New York in 2002, inspired by a film, "Wild Style" to see the Bronx.
In celebration of her 20th anniversary as an aerosol artist, she began her "90's project'" by painting walls internationally.
She's been living in New York for the past four years, "the city I used to dream about."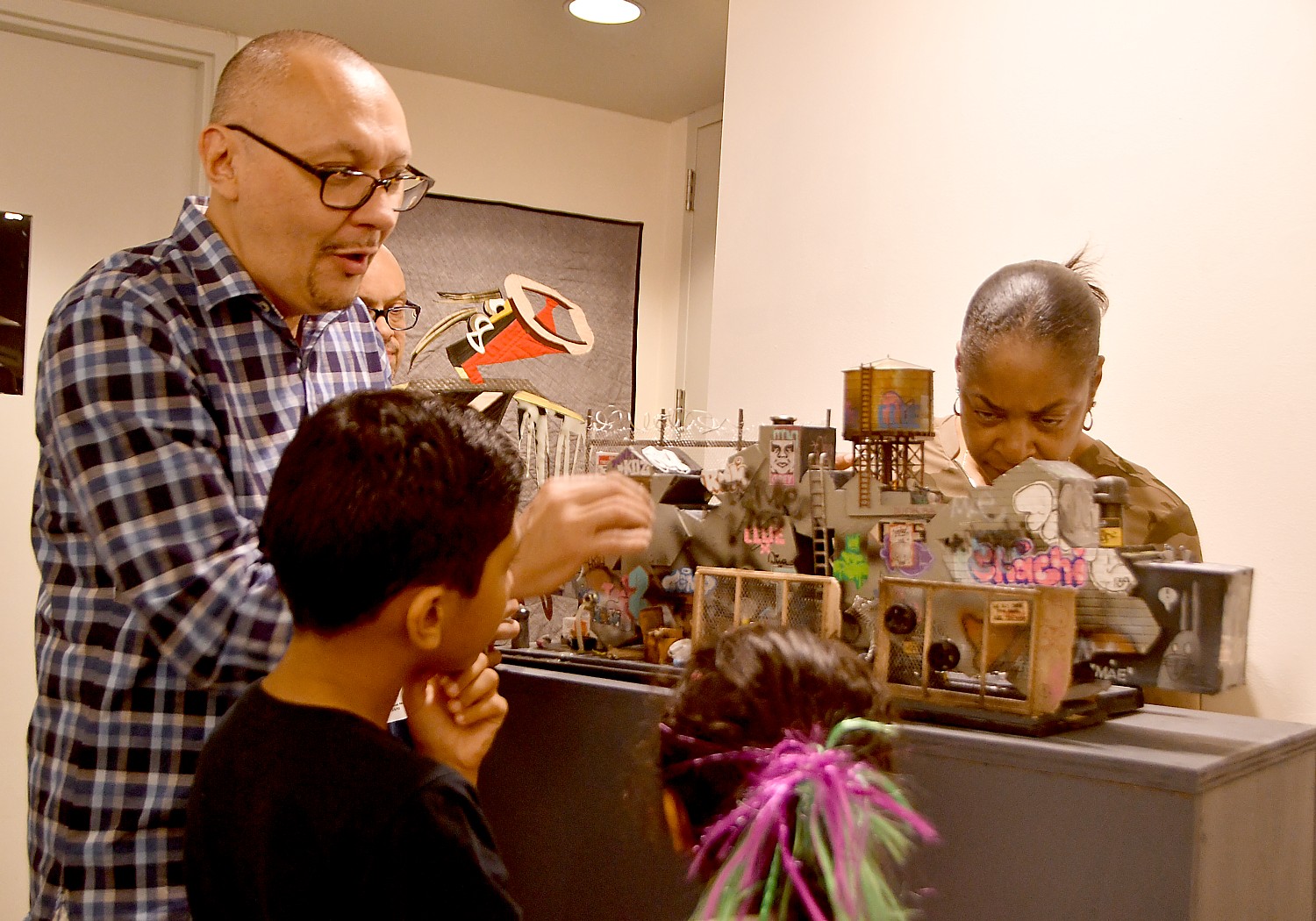 Luis "Zimad" Lamboy is showing pieces created for the show that draw upon his early career. "In the mid-80's I discovered creating graffiti, collage and mixed media on paper which wasn't being done at the time by any of my peers. It's been awhile since I've gone back to doing this style of work. I felt it necessary in order to move forward in my career to look back and fine tune what I had started. The new works are vibrating with color and life and feel as it tells a story of walls I've done, characters I've created and the many people I've had the honor of meeting and calling brothers and sisters.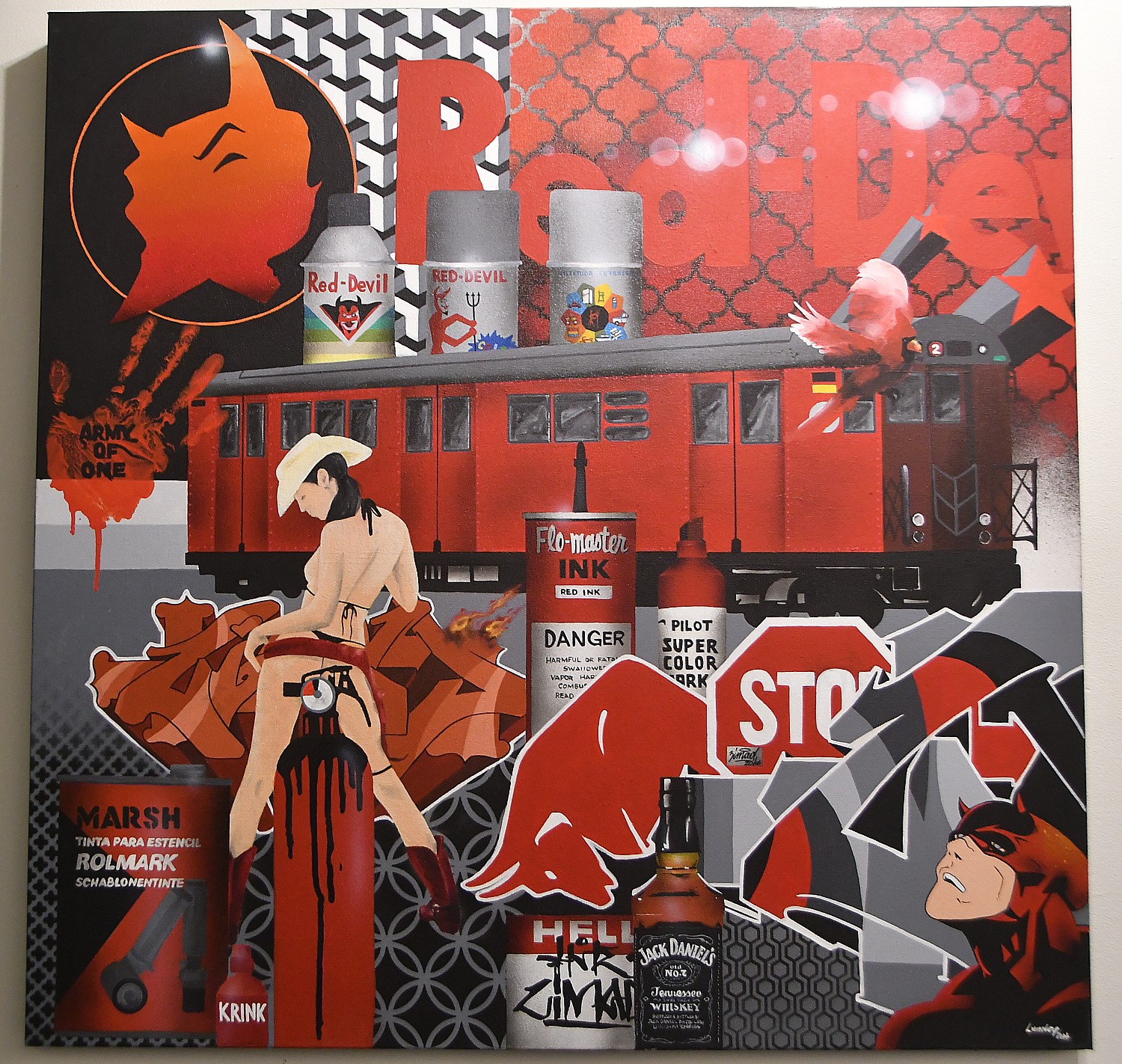 Michelle Carollo's major work, "Steampunk Davis," is a large-scale (8' x 8' x 4') 3-D construction, inspired by 1930s modernist painter, Stuart Davis. "This is an homage to his work." It's constructed of the discarded junk she found around her Brooklyn studio.
You feel the power, a kinetic energy of the piece.
"My work explores gender, pop-culture, and domestic industry," she writes. "It uses humor and color to capture the energy, power and tension in contemporary culture. By using a series of symbols, figures and built handicraft, my work blends the playful with the serious.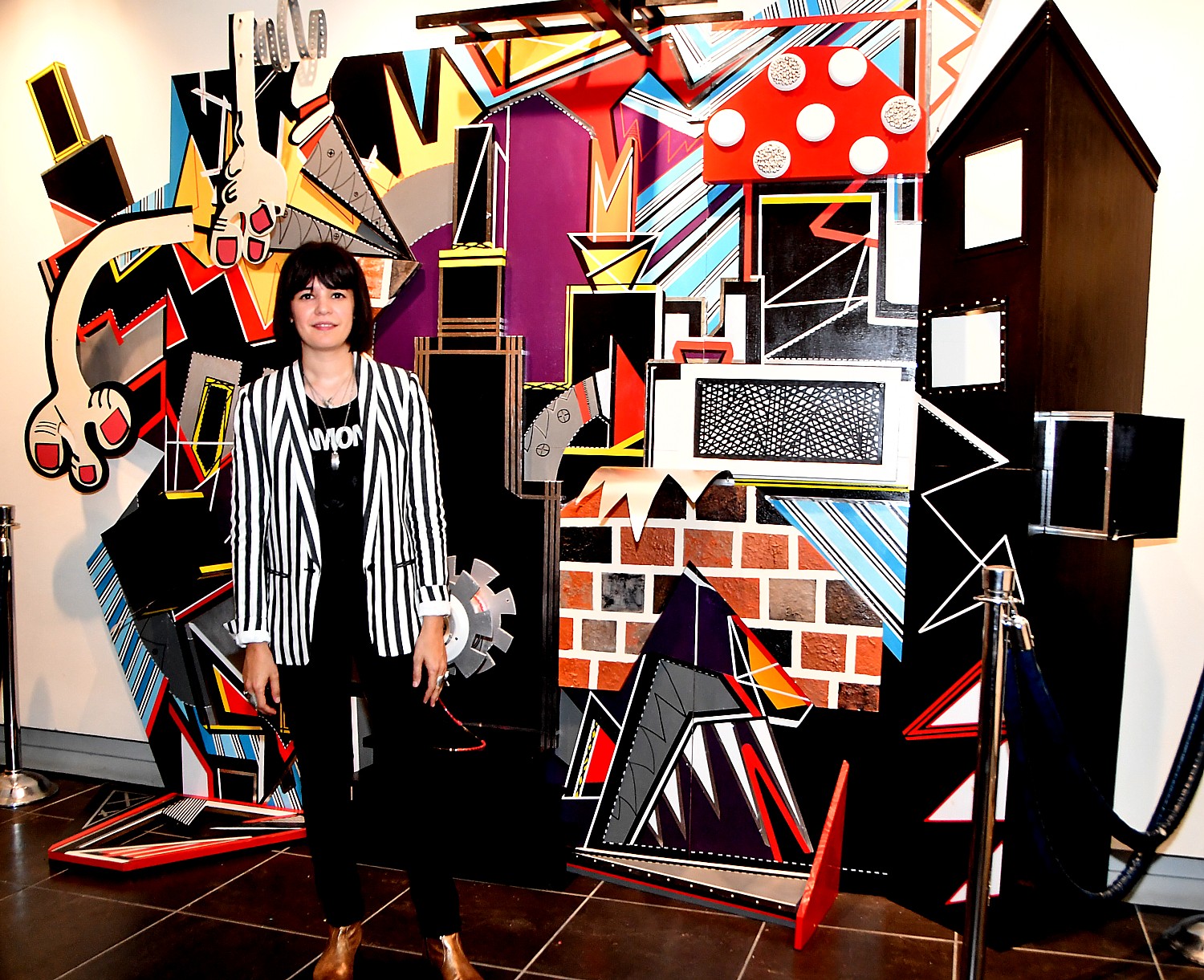 "I draw on multiple references from cartoons to graffiti and entertainment, as well as technology and the history of art. I find there is something completely ridiculous and pleasurable in making deceptively simple imagery. The result is a visual mash-up that remixes spontaneous information with a type of balanced order."
The drawings are her studies for the larger piece to "help figure what color, patterns, shapes," she says.
She also is exhibiting a quilt, demonstrating the versatility of the application of her kinetic scope. "I just started working with fabric."
Carollo, who conquers "one white wall at a time," has exhibited at MOMA PS1.
Lenny Achan's style reflects his experiences growing up in New York City as a graffiti and street artist in the early 1990s. The works look as if origami were sucked into a canvas, but it is an illusion: he cuts New York City transit maps into precise shapes and assembles them, adding transparent spray paint as shadow to complete the illusion of 3-D.
"People looking at NYC transit maps likely means they are stressed out. I wanted to give people a reason to smile."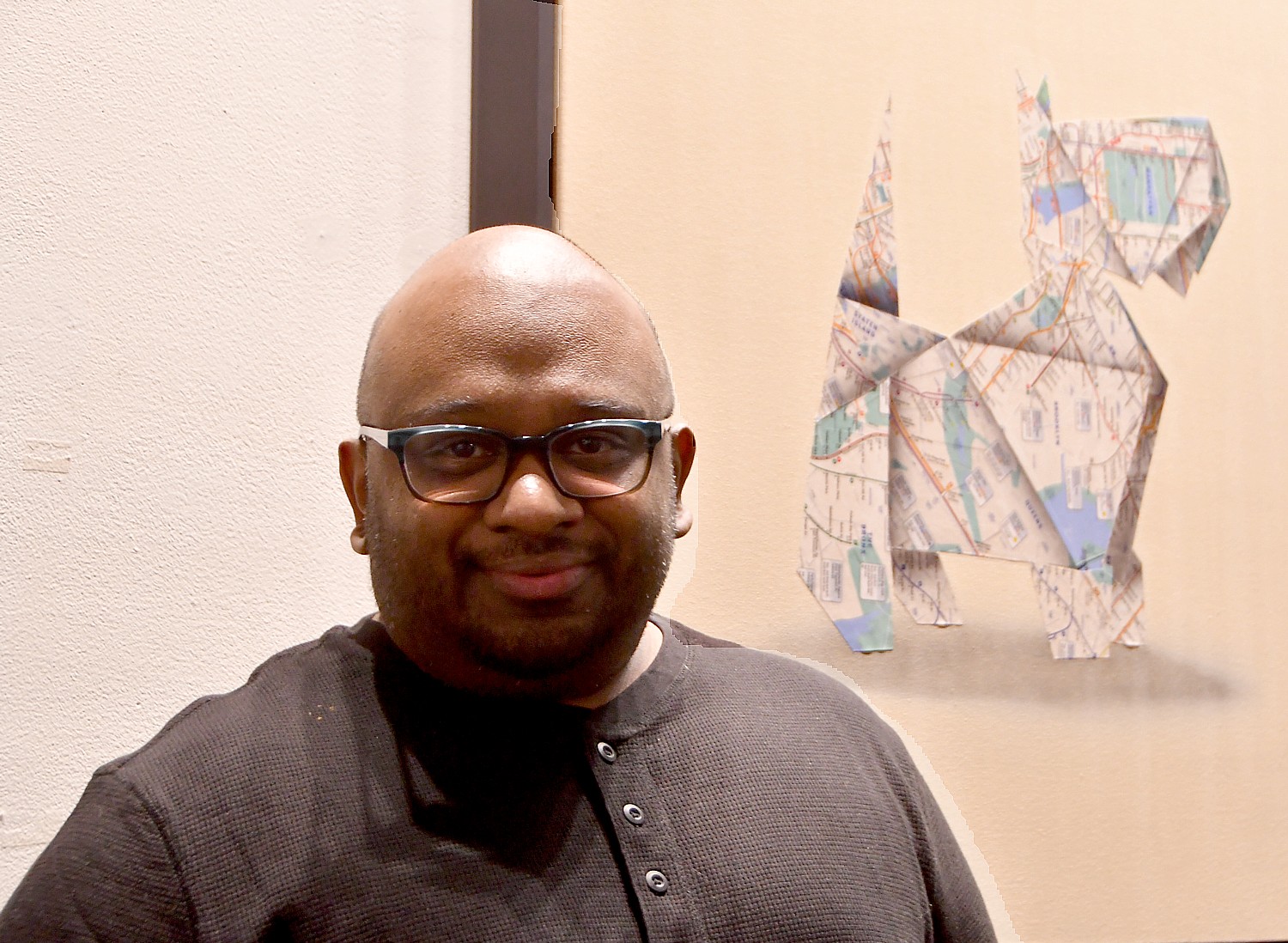 Achan describes himself as "an artist and inventor, influenced by my time growing up in NYC" but embracing experiences outside of the traditional art world to enhance and influence his creative expression.
"I am a student of the laws of nature and sacred geometry and draw from the complexities of everyday life to create pieces that help audiences reflect on more simple times. My philosophy of modern art and the street art movement has been heavily influenced through studying and experiencing global disruption of various commercial and political industries. Art in all forms is a vehicle for innovation and communication. I used everything around me to create and share my view of the world."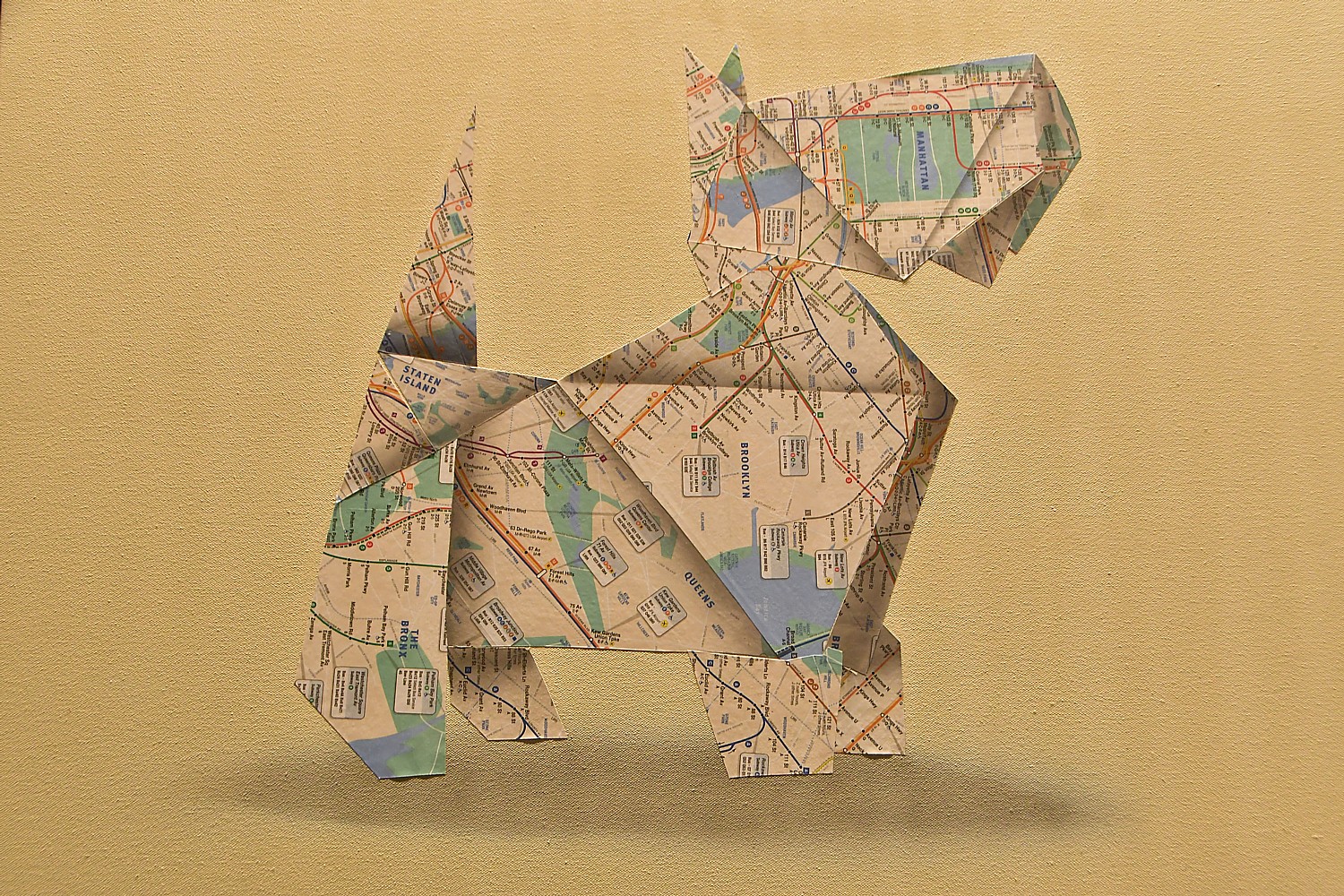 He says, "I wanted to use sacred geometry to mimic life. Geometry is sacred to the philosophy of origami – shapes, whether a person or a bumble bee – are shapes of geometry.
"It is formulaic – they mimic and respect the complexity of math, science, biology, while at same time" break down to simpler, essential shapes.
Achan clearly achieved his desired impact: a woman reflecting on his NYC Transit Map dog, "Cityboy," exclaims how it brought her pure joy.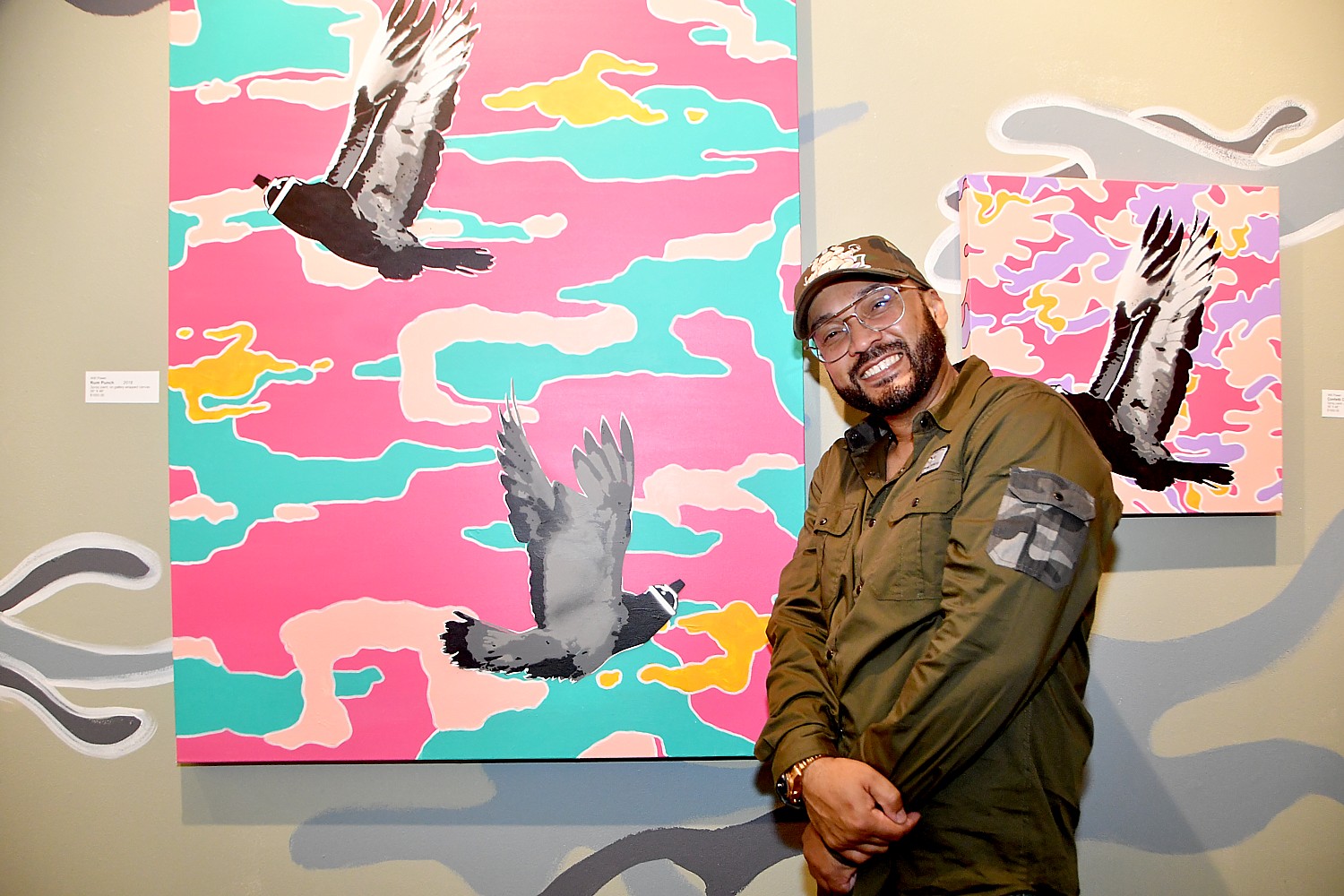 Will Power, a self-taught contemporary artist who was influenced by graffiti and hip-hop culture,  describes the INV8DERS  series of works in the exhibit as "a hybrid fusion of a New York City pigeon with spray paint can. The pigeon represents Graffiti and Street artists, the spray paint can head represents Contemporary Urban Art." He is striving to make INV8ERS an iconic figure for urban art culture worldwide. He describes the vibrant colorful background as his foundation, his evolution from graffiti. "the ability to combine these various colors is a skill learned from many years of being a graffiti artist. The INV8DERS are a perfect amalgam of graffiti, street art and fine art."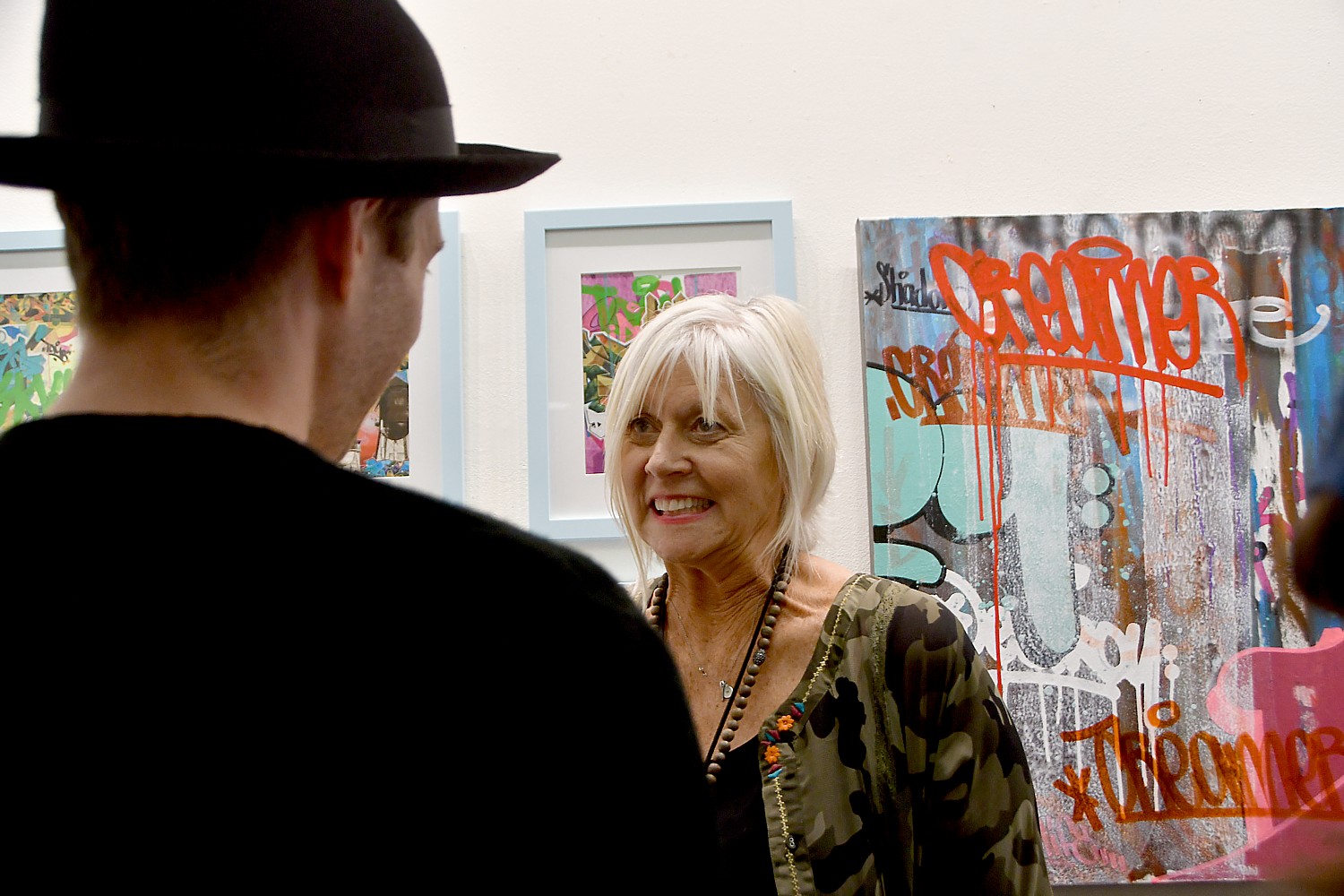 These artists "bring a myriad of visual cultural influences to their fine art practice," said Gold Coast Arts Center's Gallery Director and exhibit Curator Jude Amsel,  Some hone their skills on the street, others working in the studio find their version of popular urban art, some having a unique language of their own not categorized within a specific movement.  However, each one of the artists offers something unique and different as to their expression of Urban Pop."
For more information, visit http://goldcoastarts.org/urban-pop/ or call 516-829-2570.
The Gold Coast Arts Center is a 501(c)(3) organization dedicated to promoting the arts through education, exhibition, performance and outreach. Located on the North Shore of Long Island, it has brought the arts to tens of thousands of people throughout the region for more than 20 years. Among the Center's offerings are its School for the Arts, which holds year-round classes in visual and performing arts for students of all ages and abilities; a free public art gallery; a concert and lecture series; film screenings and discussions; the annual Gold Coast International Film Festival; and initiatives that focus on senior citizens and underserved communities. These initiatives include artist residencies, after-school programs, school assemblies, teacher-training workshops and parent-child workshops. The Gold Coast Arts Center is an affiliate of the John F. Kennedy Center for the Performing Arts Partners in Education program, and the National Gallery of Art in Washington, D.C.
Gold Coast Arts Center, 113 Middle Neck Road, Great Neck, NY 11021, 516-829-2570, www.goldcoastarts.org.
____________________
© 2018 Travel Features Syndicate, a division of Workstyles, Inc. All rights reserved. Visit goingplacesfarandnear.com,  www.huffingtonpost.com/author/karen-rubin , and travelwritersmagazine.com/TravelFeaturesSyndicate/. Blogging at goingplacesnearandfar.wordpress.com and moralcompasstravel.info. Send comments or questions to [email protected]. Tweet @TravelFeatures. 'Like' us at facebook.com/NewsPhotoFeatures