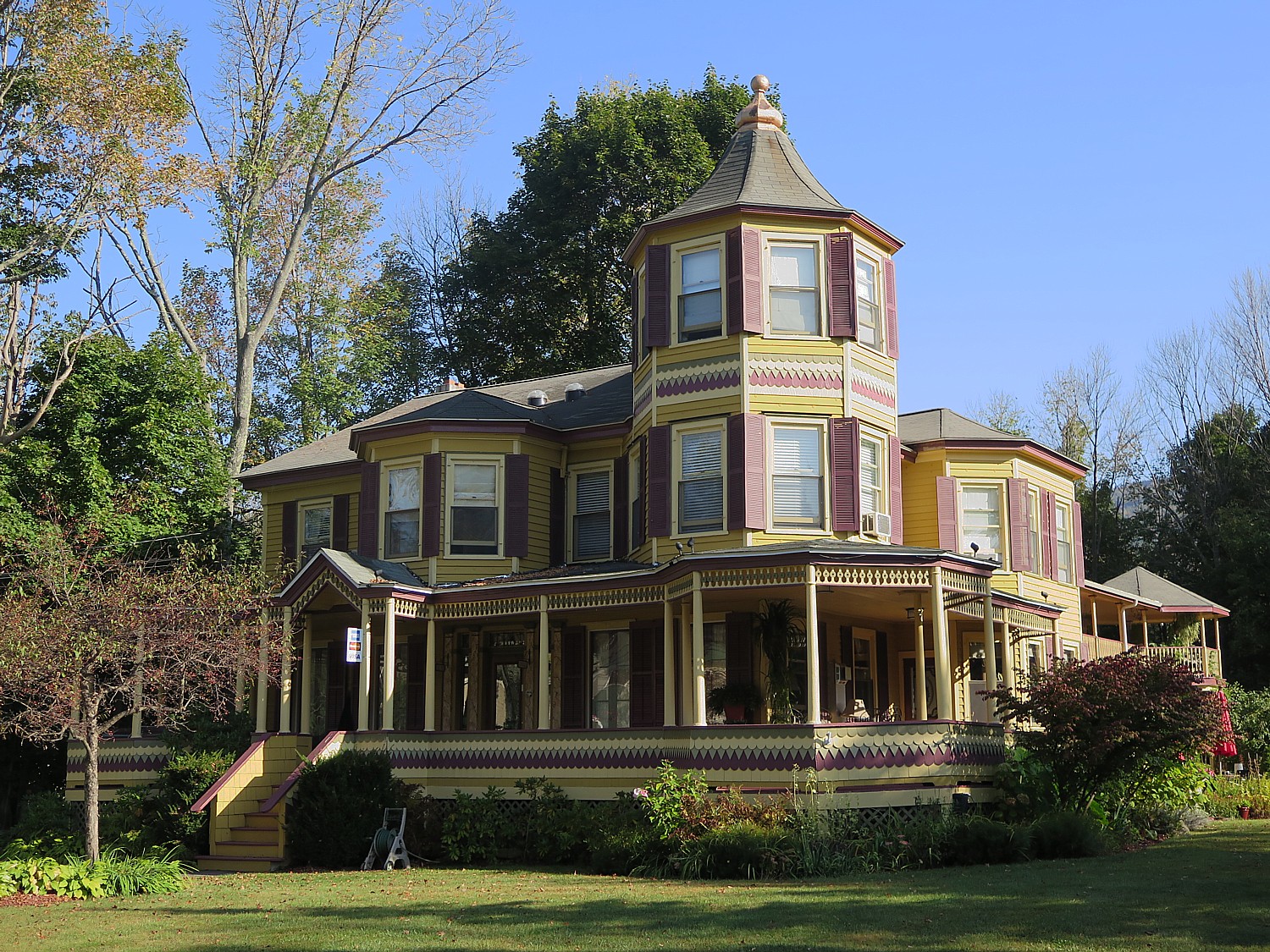 By Karen Rubin, Travel Features Syndicate, goingplacesfarandnear.com
Two hundred years ago, Thomas Cole, the father of the Hudson River School art movement, sailed up the Hudson River to the Catskills and was smitten by the landscape, by the natural world, by the respite from the bustle of New York City. And so convenient to reach, even then, coming by the new steamships which was the "thing to do". He railed against the influx of "progress" even then, and the ravage of the axe that was already decimating the lush forest. It is remarkable that we have Cole and his student, Frederick Edwin Church who built his magnificent Olana on a hilltop with a view over this magnificent Hudson Valley, to thank for its preservation. The Catskills are magnificent any time of the year, but in fall, there is an explosion of color. And like an explosion, it is fleeting.
Less than three hours drive to Hunter, NY, from Long Island, is the Fairlawn Inn, a magnificent bed-and-breakfast inn with an incredible story to tell. It will be my hub to explore the Hudson River School Art Trail that offers some of my favorite hikes in the world. They trace the footsteps of the artists and you can see the very same scenes they painted.
On my way to the inn, I have already visited two of the sites on the trail – relished the view from Kaaterskill Clove, marveling how it still looks much as it did in Thomas Cole's "The Clove, Catskills" (1827), and Asher B. Durand's "Kindred Spirits" (1849) -even the tree just turning red for fall foliage seems the same as the scene in the painting – which you see from the parking lot for the hike up Kaaterskill Falls, then continuing on to take this stunning hike to the heights of the double falls. They are along Route 23A, the scenic byway you take from the Thruway to get to Fairlawn Inn, in Hunter, less than a dozen miles further.
During my all-too brief three-day getaway to the Catskills/Hudson River Valley, I spend two days hiking trails associated with the Hudson River School Art Trail in the Catskills State Park, just beginning to show their fall colors and imagining how the artists walked these trails before me, and one day re-discovering two historic jewels: Olana, Frederick Edwin Church's exquisite mansion home and estate that has become one of New York State's most visited historic houses (for good reason), and the Thomas Cole House Museum, devoted to the artist known as the "Father of the Hudson River School" which has been restored since my last visit with new ways of experiencing the museum that really give you a sense of the man.
The Fairlawn Inn is ideally situated, and so charming and comfortable, you immediately feel whatever city stress or physical exhaustion dissipate as soon as you cross the threshold – all of this the artistry and craftsmanship of the gracious host, Innkeeper Chuck Tomajko, who has anticipated everything to make his guests feel absolutely at home – even providing refrigerated drinks, ready snacks and fruit, a coffee maker and a refrigerator for guests to help themselves.
It is about 5:30 pm when I arrive at the Inn, bathed in the golden light of the late afternoon. Set beside Hunter Mountain (the entrance to the popular ski resort is less than a half-mile away) and with views of the Catskill State Park from its wrap-around porch, the bed-and-breakfast inn is in a Victorian jewel originally built in 1840 and expanded in 1904 as the summer home of a wealthy Jewish philanthropist and real estate developer, Harry Fischel.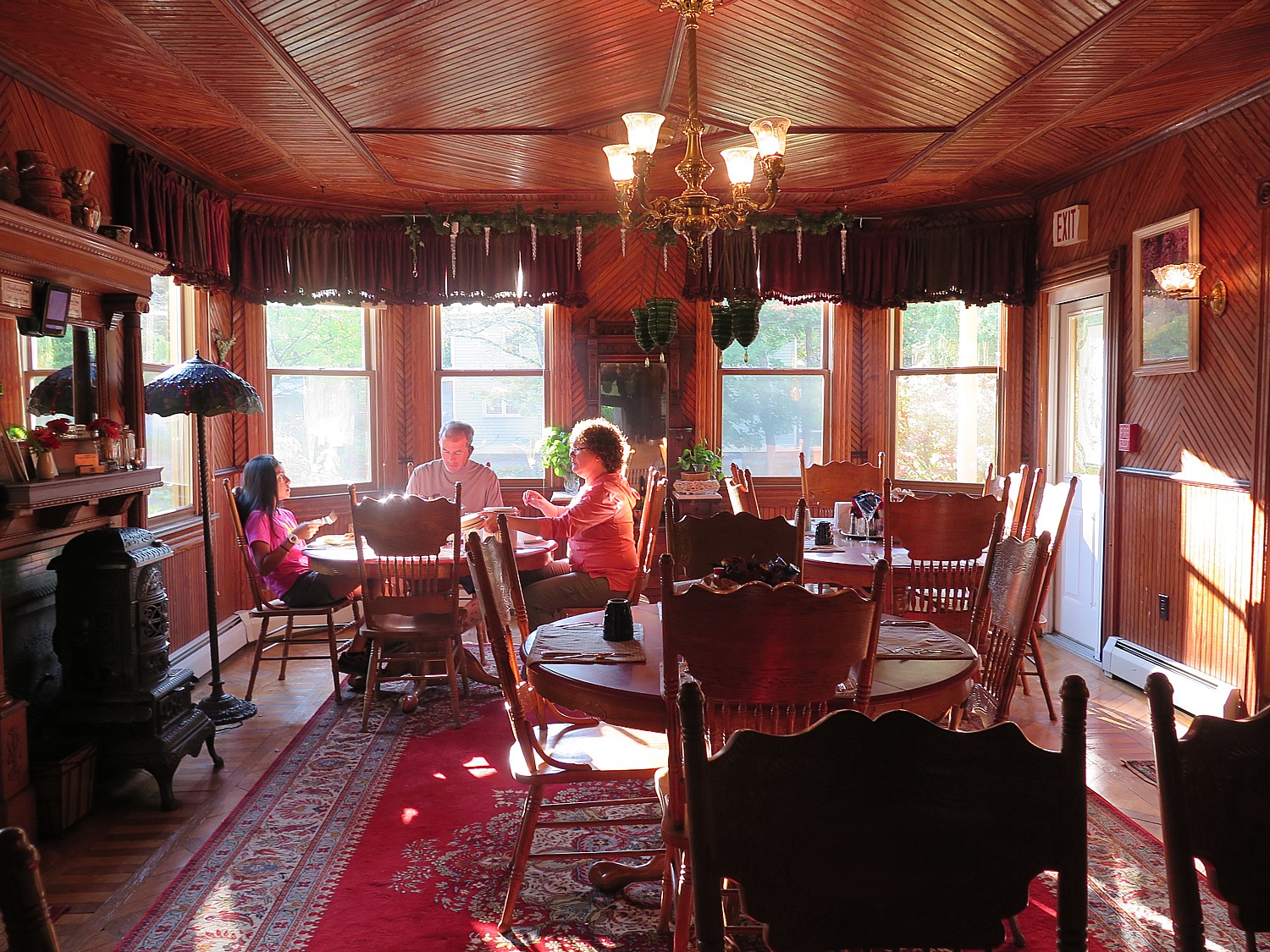 Innkeeper Chuck Tomajko, with 40 years in the fast-food industry, bought the bed-and-breakfast in 2002, and remodeled, redecorated, refitted, and refurnished with stunning antiques and period pieces and other amenities, exposed the gorgeous oak and maple floors and woodwork (hemlock, which was typical of the area because it was a byproduct of the tanning process the area was known for), created the stunning landscaping, added a patio, fire pit and waterfall, all with an eco-friendly eye.
Chuck claims to have the only historic home in North America that has earned a 4-key rating (on a 5-key scale) from Green Key Global, a Canada-based eco-tourism organization and was named Good Earthkeeper for 2013 and #1 Inn in New York for 2010 by New York State Hospitality & Tourism Association.
Indeed, it is quite remarkable for a 113-year old house to get that distinction– Chuck has used composting, solar tubes that bring in natural light to otherwise dark hallways,low-flow shower (yet still wonderful pressure); LED lighting throughout; the outdoor lanterns are solar-powered (from Ikea, no less; he has a plan to use them for Christmas lights).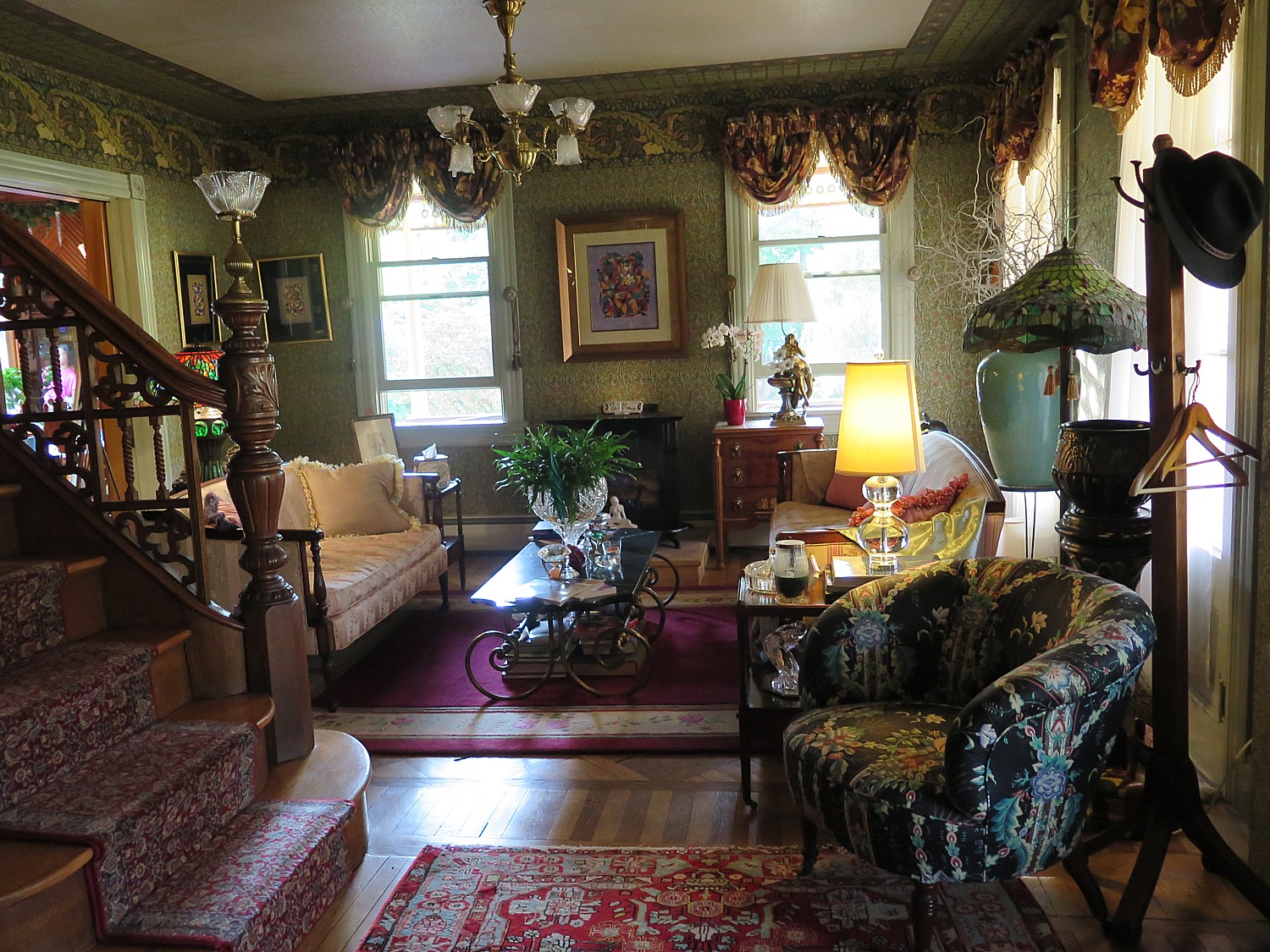 Walking around the inn, there are wonderful sitting areas outfitted with books, a parlor with a bar with snacks and a refrigerator with drinks as well as coffee maker to help yourself; a pool table in another parlor; a living-room area; outside a gorgeous, lushly landscaped patio with waterfall, solar-powered lanterns, a fire-pit.
I love to see Chuck's clever innovations – how he made a wine rack out of crown moldings and planter hooks; a fire pit out of a coal bin; how he turns "shabby chic" into beautiful pieces of furniture.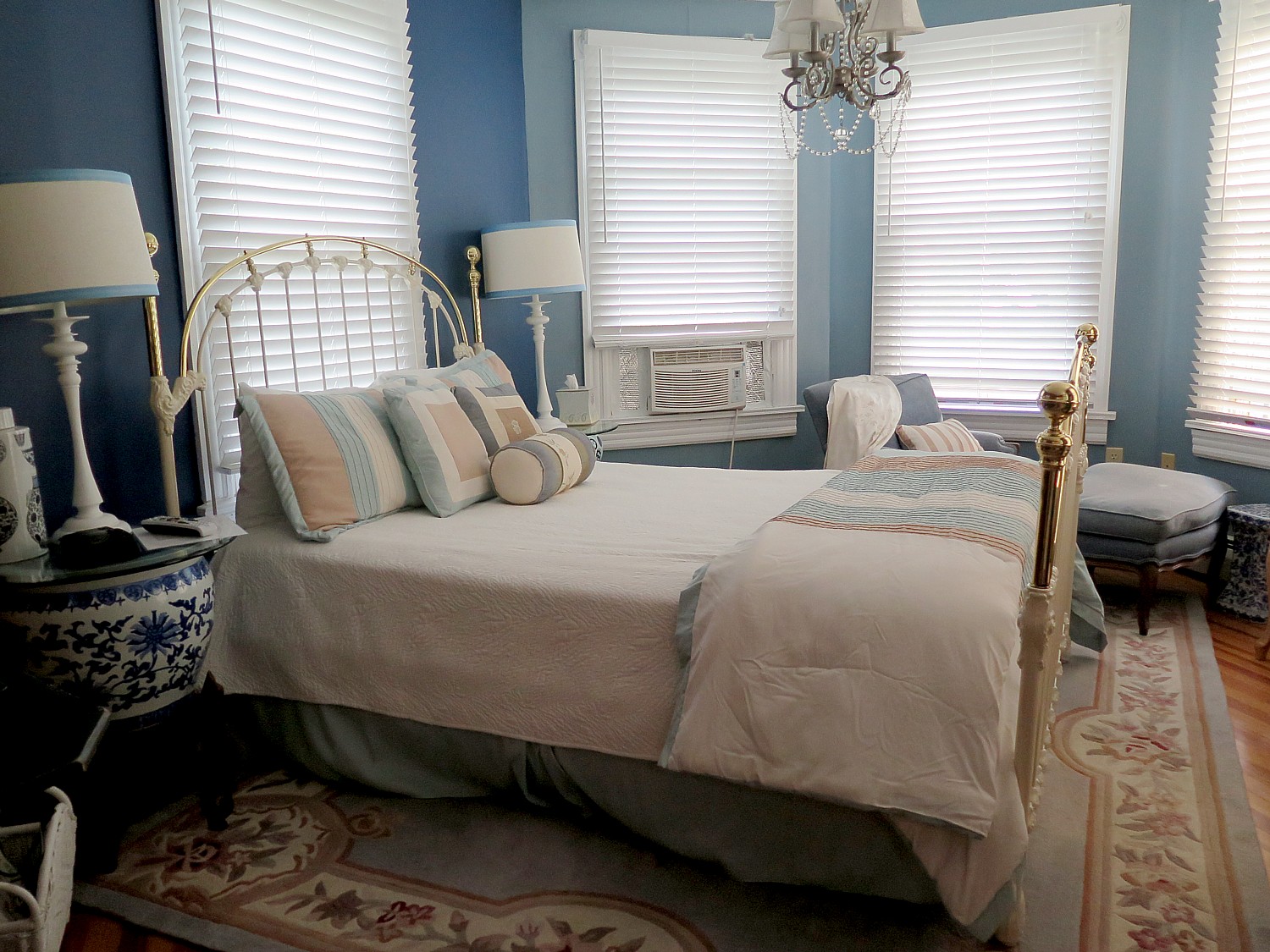 There are 5 rooms upstairs of the main house, each one differently configured and scrumptiously decorated, several with fireplaces. The Glenwood Room has a two-person Jacuzzi and a fireplace. Several rooms are "outside", along a lovely porch with charming sitting areas, in that extension to the home that originally housed the Jewish scholars and served as an ice house. My room, the Spring Valley, was originally a mikvah (a ritual bath for a bride).
The rooms are each uniquely themed and decorated in period furniture (several have clawfoot bathtubs), but with modern amenities (private bathroom in each, free Wifi) and eco-friendly features like solar-tubes which bring in natural light. Several have gas-operated fireplaces; at least one has a two-person Jacuzzi bath.
The Fairlawn Inn, a Gold Eco-Rated Lodging and 2015 Trip Advisor Certificate of Excellence winner. is gorgeous, comfortable, wonderfully situated, excellent amenities, but the best asset is Chuck, himself, who is more than a gracious host.
Bed-and-breakfast inns really reflect the character of their structure and the personality of the innkeeper. The Fairlawn Inn is an expression of Chuck's phenomenal sense of hospitality and his prodigious artistic talents – the interior design and decorative arts, antiquing, painting, landscaping, and culinary arts. He loves to cook.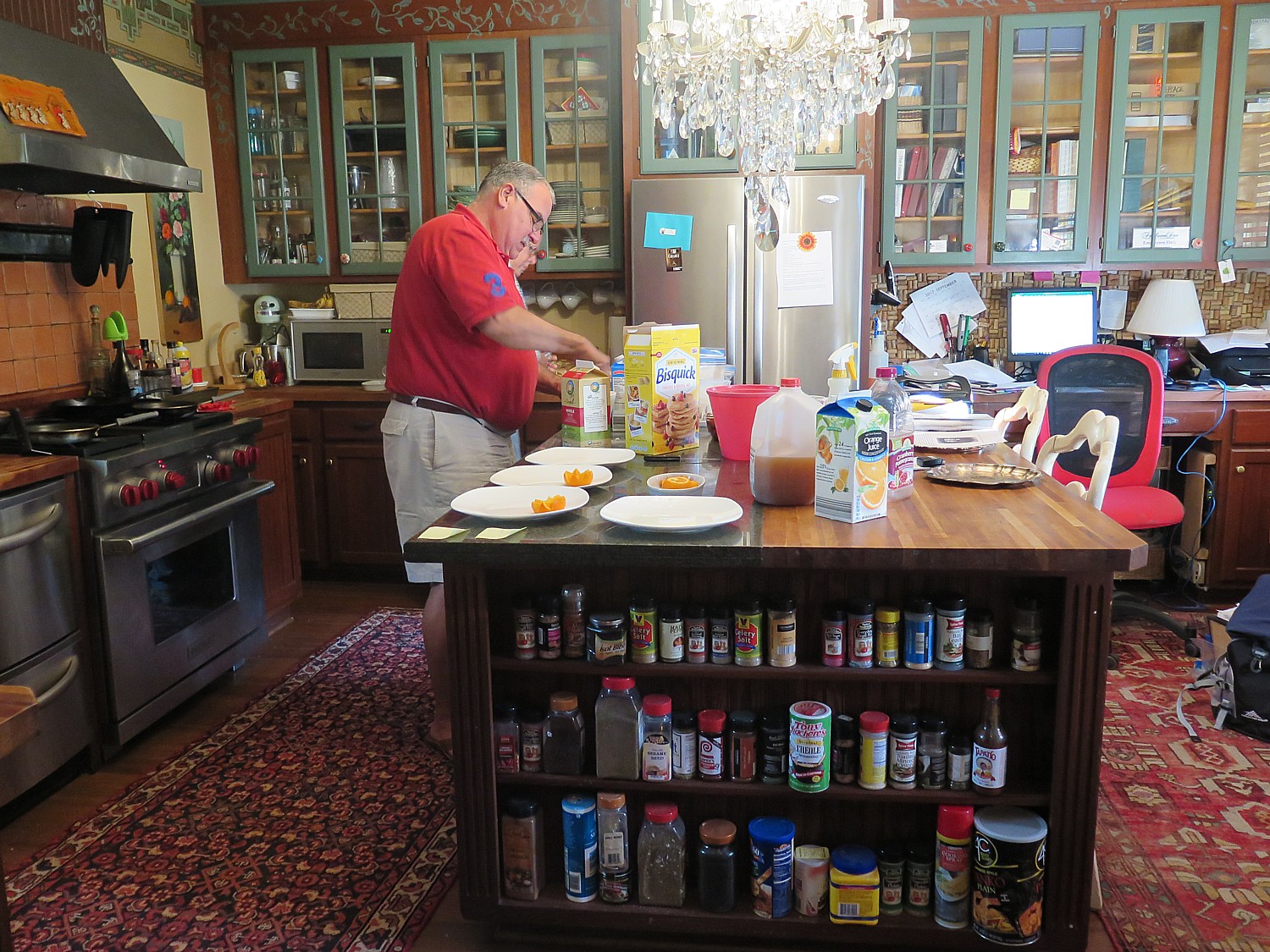 Many bed-and-breakfast hosts love to show off their breakfast creations but Chuck goes beyond: he offers his guests a selection of four different made-to-order omelettes (I enjoy his feta cheese, spinach, kale and arugula omelette) plus a special item like pancakes (selection of fillings), fresh fruit and muffins (pumpkin spice), freshly brewed coffee, served in a gorgeous dining room (just the right size – not too big, not too small), with glorious sunlight flooding in from the windows.
Before we leave the table, he comes out with a bottle of water and snacks to take on our hikes.
Everything is so caring, so thoughtfully arranged, so meticulous – there is even a night light in bathroom and hooks. Little things that matter. There is a remote control for the fireplace which Chuck has decorated himself with antique tiles.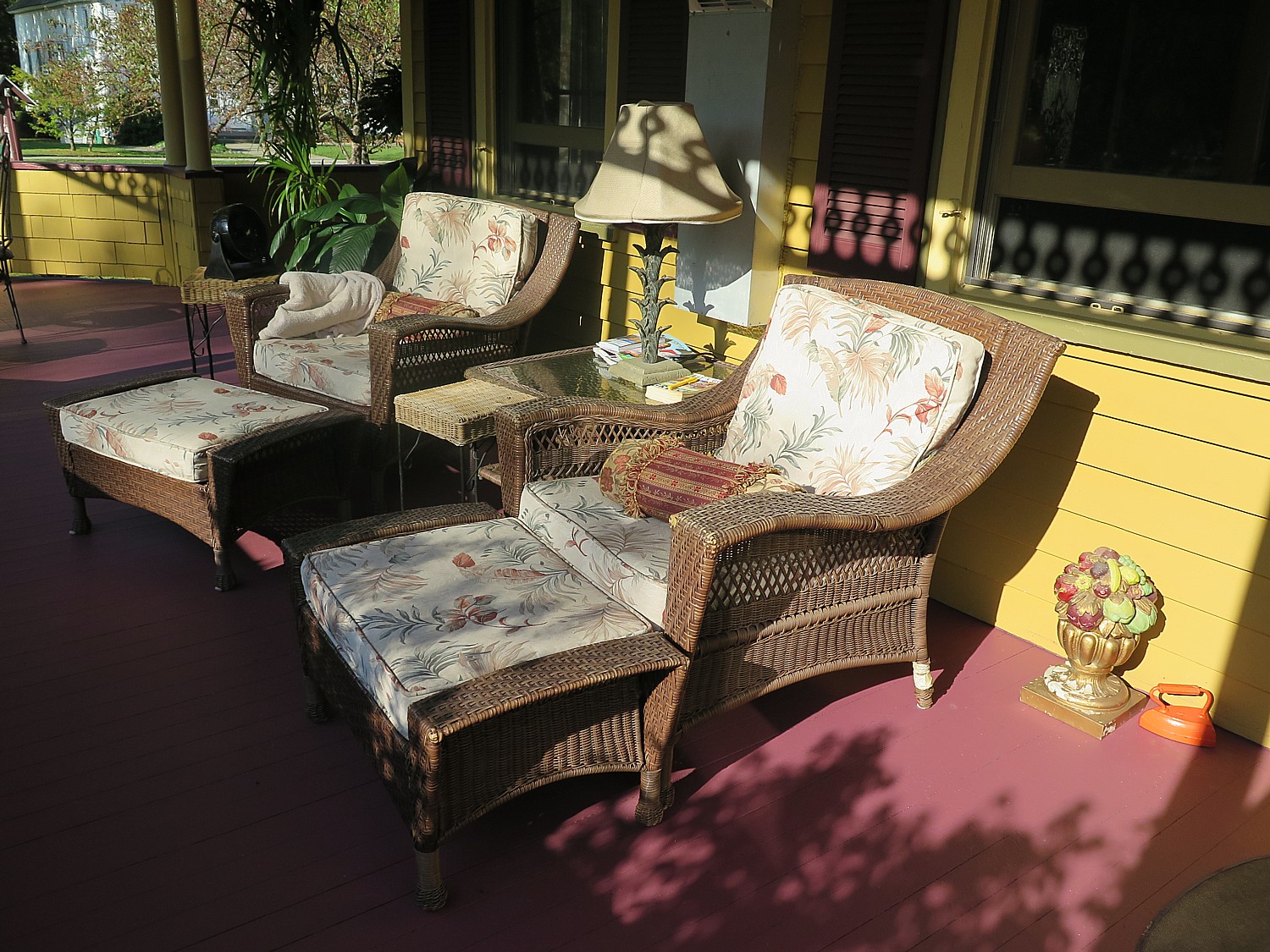 The porch has a delightful sitting area of wicker lounge chairs – even a blanket nearby – as well as tables if you should want to eat al fresco.
I am truly intrigued by Fischel's story which Chuck relates as he gives me a tour of the inn and ask who built the house and why it is so enormous, with a huge two-story extension. Chuck explains that Fischel would house Jewish students in the summer; my room, Spring Valley, actually was a mikvah (a room used for a ritual bath for a bride).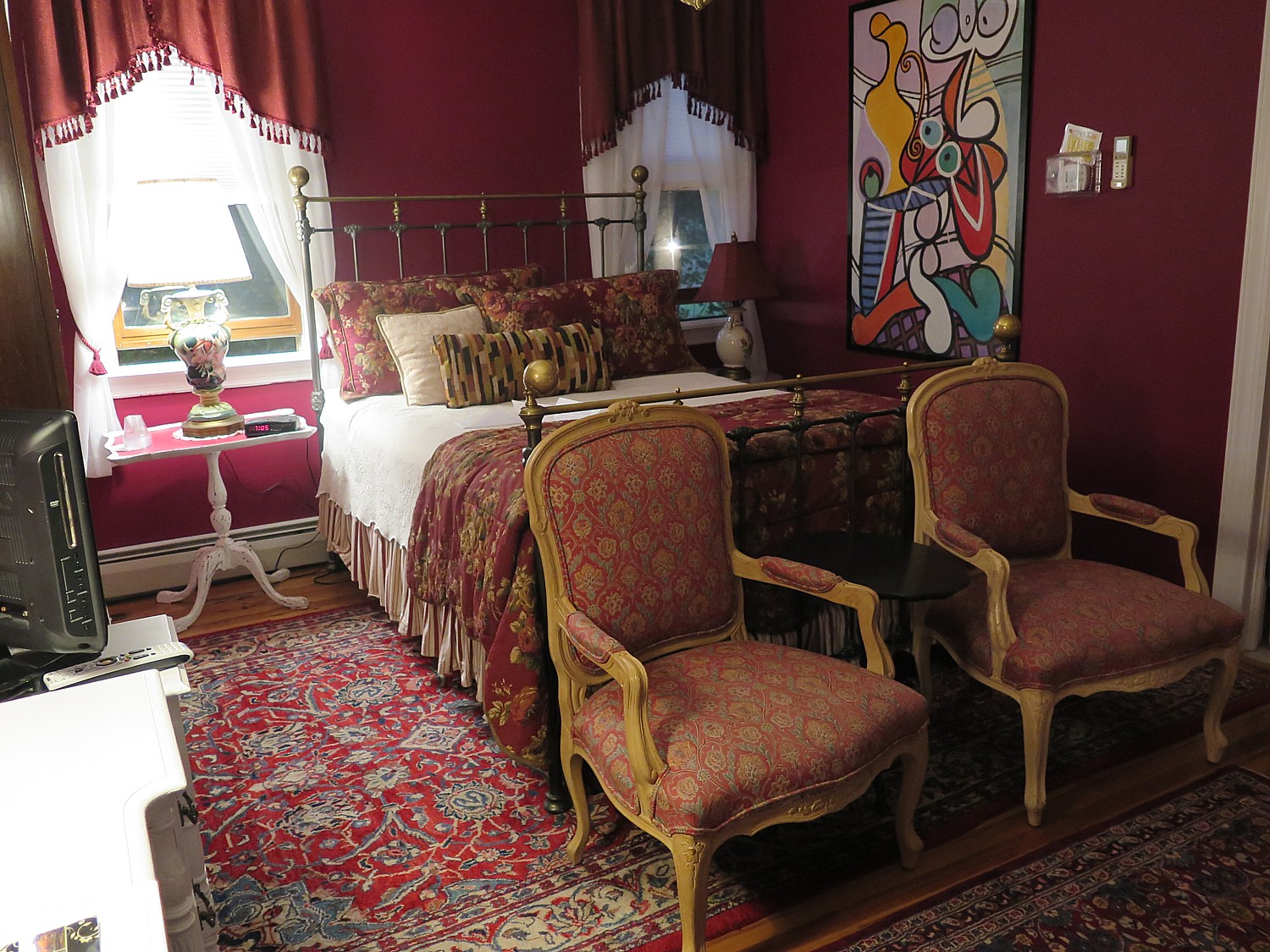 Chuck points to a thick biography of Fischel, written by his son-in-law, Rabbi Harry S. Goldstein. Fischel, I learn, was born in 1865 in a small, isolated  town of Meretz, Lithuania, to poor but pious parents (his father was a cabinet maker). Yisroel Aaron Fischel (later known as Harry) became an architect and a builder by the age of 19. At 20, he emigrated to America virtually penniless ("he had 60 cents in his pocket" Chuck tells me) and earned his first million in real estate at a young age (he pioneered building tenements in the Lower East Side on irregular-shaped lots, becoming the first successful Jewish developer on the Lower East Side). But even when he was earning just $10 a week, so his biography reads, he sent money home to help support his parents. "Fischel was one of the leading pioneers in the growth of American Judaism, in general, and in American Jewish Orthodoxy, in particular, particularly in the dynamic precedent-setting first half of the 20th Century," the Wikipedia biography notes.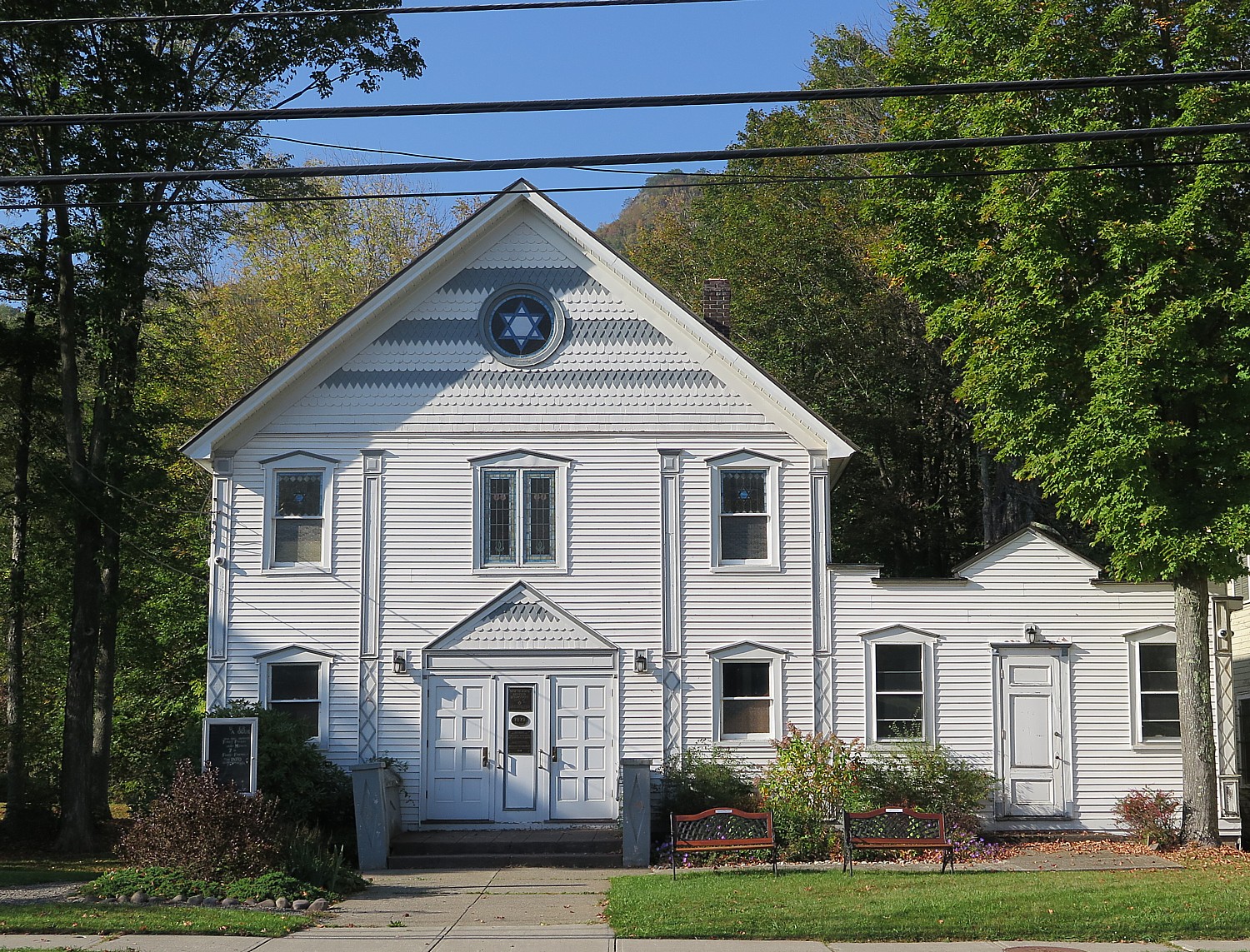 Chuck notes that Fischel laid the cornerstone at Yeshiva University, built a high school for Jewish girls, and personally prevailed on President Taft to install a kosher kitchen at Ellis Island in 1911, so that Orthodox Jewish immigrants could have the opportunity to eat kosher food during a probation period (so they could be strong enough to pass the test to avoid deportation).
He also built the first modern Jewish theater in 1904 (exclusively for Yiddish productions).He was first Treasurer of the Central Committee for the Relief of Jews Suffering Through the War in 1914, a member of the Executive Committee of the Joint Distribution Committee in 1914; organizer of the Palestine Building Loan Association in 1921; built the home, office, yeshiva and synagogue for the Chief Rabbi of Palestine Abraham Isaac Kook at his own expense in 1923; established the Harry Fischel Institute for Talmudic Research in 1931 (which, after the creation of the country of Israel, trained, for many years, a large percentage of the judges who presided over the religious courts in the country); and established the Harry Fischel Foundation on January 4, 1932 (later renamed the Harry & Jane Fischel Foundation). He laid the cornerstone at Yeshiva University.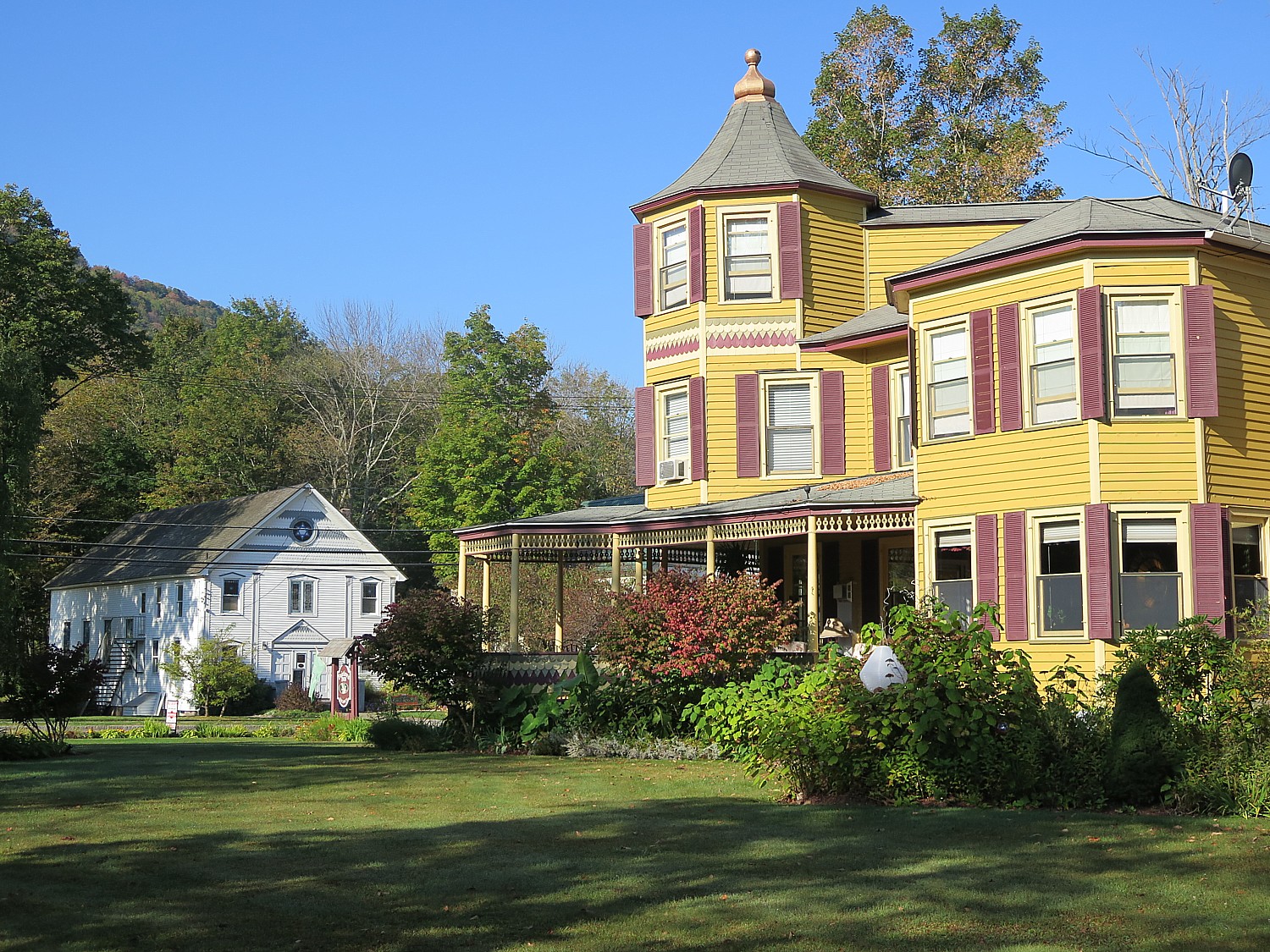 Fischel also built the first synagogue in Hunter, but it burnt down in 1914, so he built a new one across the street from his home – a charming Victorian from 1914 that is on the National Register of Historic Places and is still operating.
Fischel died in 1948, just before Israel became a nation.
The Fischel house remained in the family until 1993, when a couple bought what had become a decrepit structure and devoted 3 ½ years to restore and renovate it into a bed-and-breakfast, which opened in 1996.
Fischel's great grandson, Aaron Reichel, has visited the inn twice, Chuck tells me.
It is interesting to see some of the relics of the past: built 1904 when electricity was considered "transitional" (they didn't know if electricity would last), there are light fixtures that were made to accommodate both electricity and gas; fixtures pointed down (for electric) and up (for gas). Electricity was delivered but made gas on-site – capturing methane released from coal, but sometimes blew up.
The hemlock wood paneling that is so stunning especially in the dining room was actually a by-product of the tanning process that was the major industry in Tannersville and Prattsville.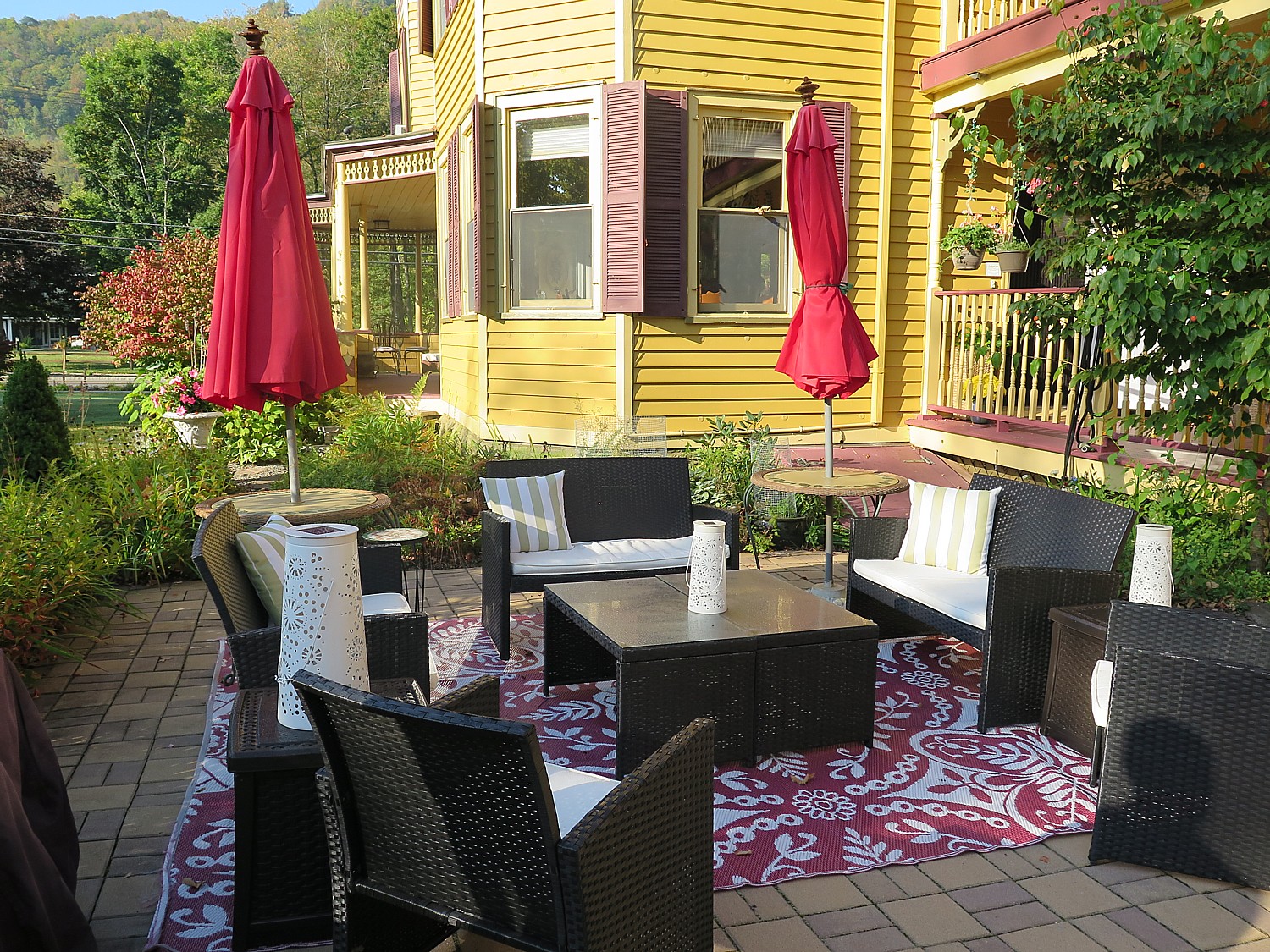 The Fairlawn Inn is perfect for corporate retreat (with all the outdoor activities- from skiing to mountain biking that are so great for team-building); special interest groups, multi-generational getaways, destination wedding with expansive lawns for a tent (Chuck loves to cook and has accommodated weddings with up to 150 guests).
The inn is ideal for a hub-and-spoke itinerary for exploring and enjoying the amazing array of historic, heritage, cultural and outdoor attractions and Chuck offers lists of attractions walking distance and a short drive that fill out a three-day getaway but can also easily fill a longer itinerary. He also can put you on the path for antiquing, and the Hudson Valley Wine & Craft Beverage trail (TravelHudsonValley.com)
(And Chuck can steer you to every one, providing comprehensive lists, brochures, maps, print-outs, and his personal guidance and tips.)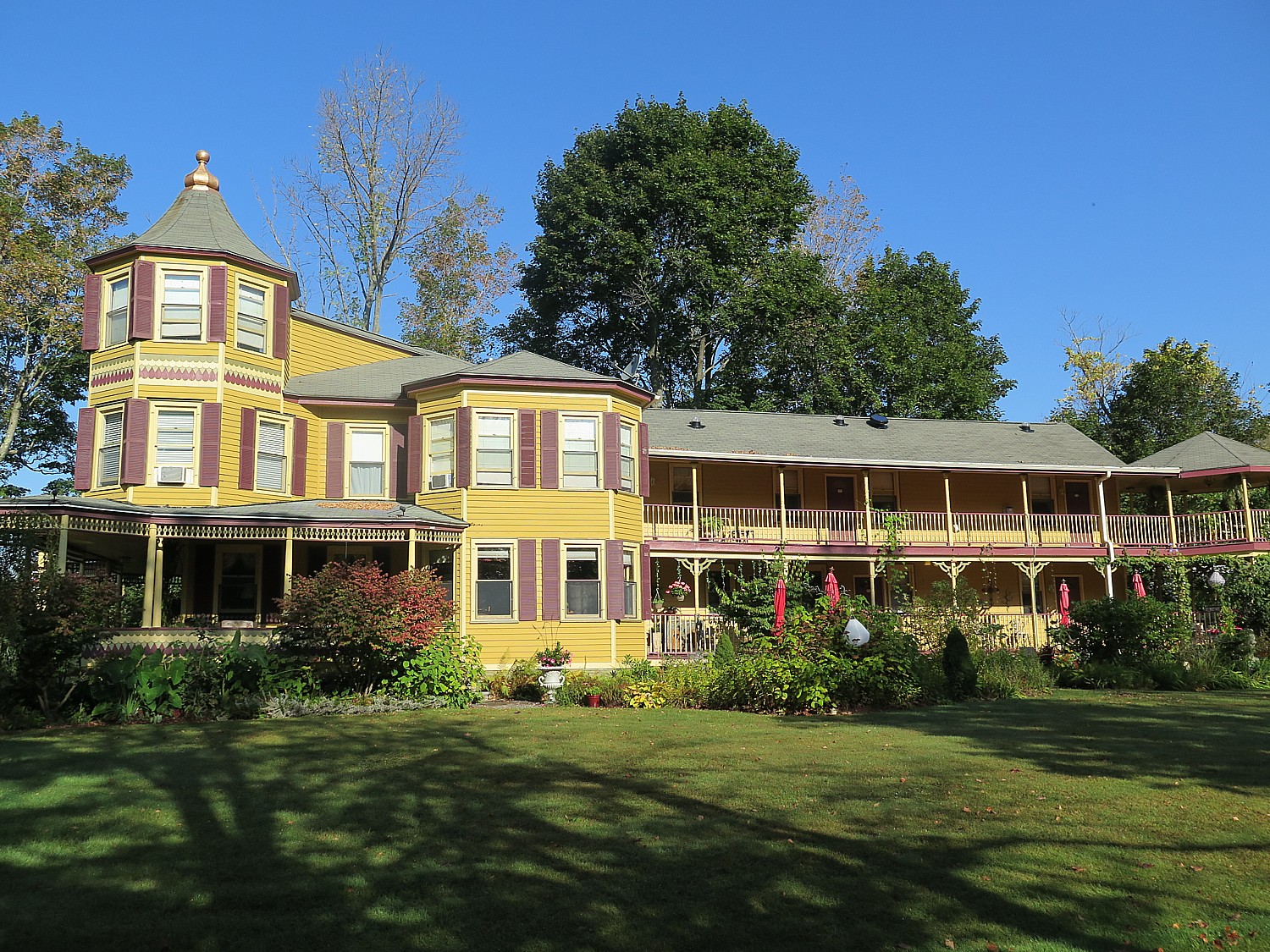 Hiking is a huge activity and for my second day at the inn, I go to the North-South Lake Campground from which there are many trails as well as a fantastic lake (people are actually swimming with the record high temperature for a fall day), and set out for one of my favorite hikes that takes me to more of the Hudson River School artists' favorite spots: North-South Lake (site #6 on the Hudson River School Art Trail), Artist's Rock and Sunset Rock (site #7 on the HRSAT); another trail goes to where the Catskill Mountain House stood (trail site #8).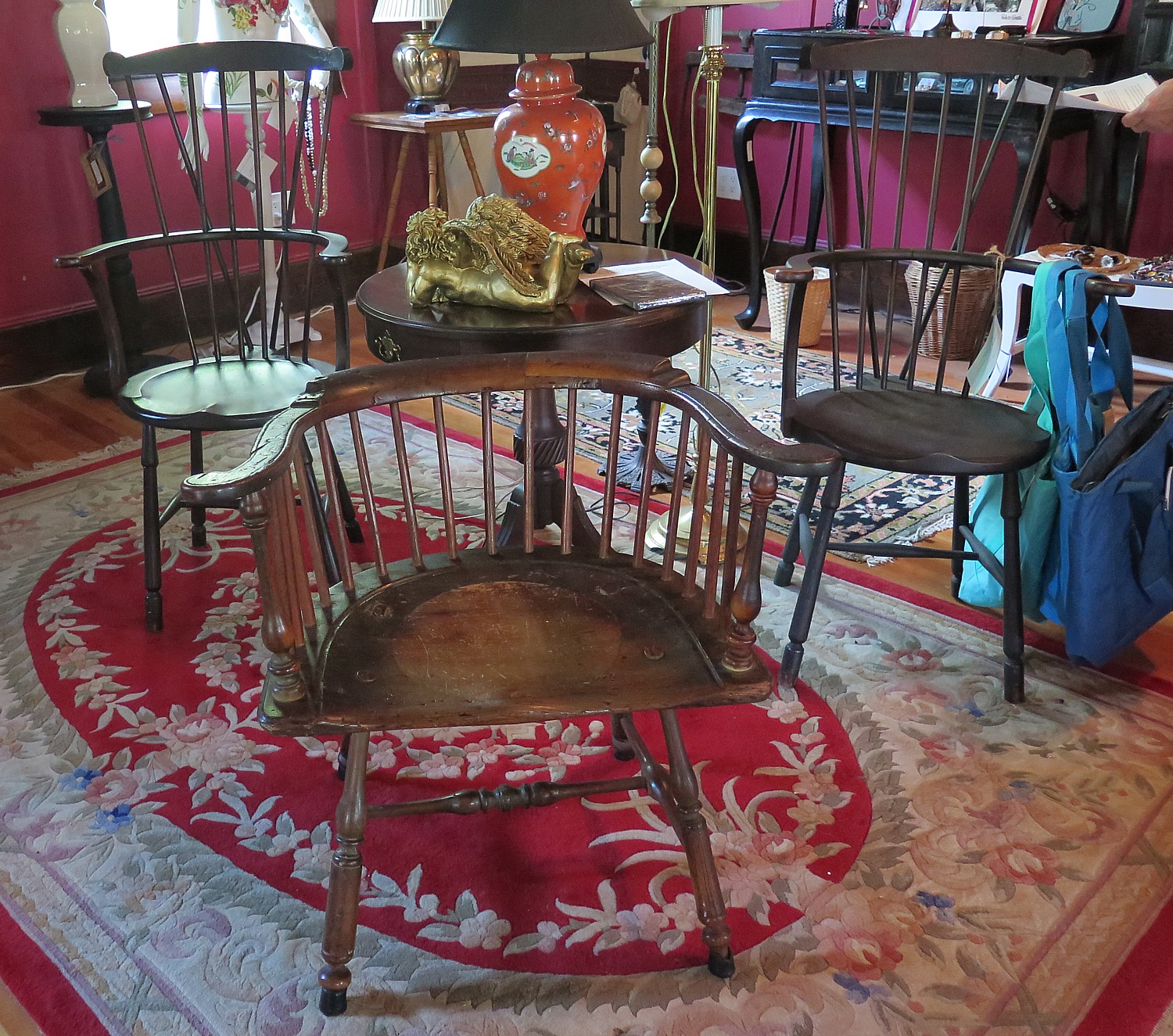 For my third day, Chuck gives me a tour of the Hunter Antique Mall, housed in what used to be the Masonic Lodge, which he also owns, which offers a literal treasure trove of fabulous finds, with fascinating documentation and excellent pricing. He points out a pre-Revolutionary chair made in Philadelphia that easily could have accommodated George Washington, and a pair of chairs signed on the bottom for Elizabeth Abell, a friend of Abraham Lincoln's who introduced Mary Todd to him. (It turns out that chuck is an absolute expert on antiquing, and can steer you to auctions and a "junking" trail where you can find treasures at garage-sale prices). He offers his patrons clever ideas: like turning a stack of vintage luggage into a sidetable that also affords cramped apartment-dwellers storage; and how you can make a bird feeder out of gorgeous blue-and-white China cup and saucer; and decorates otherwise bland furniture with a waxy-press-on craft.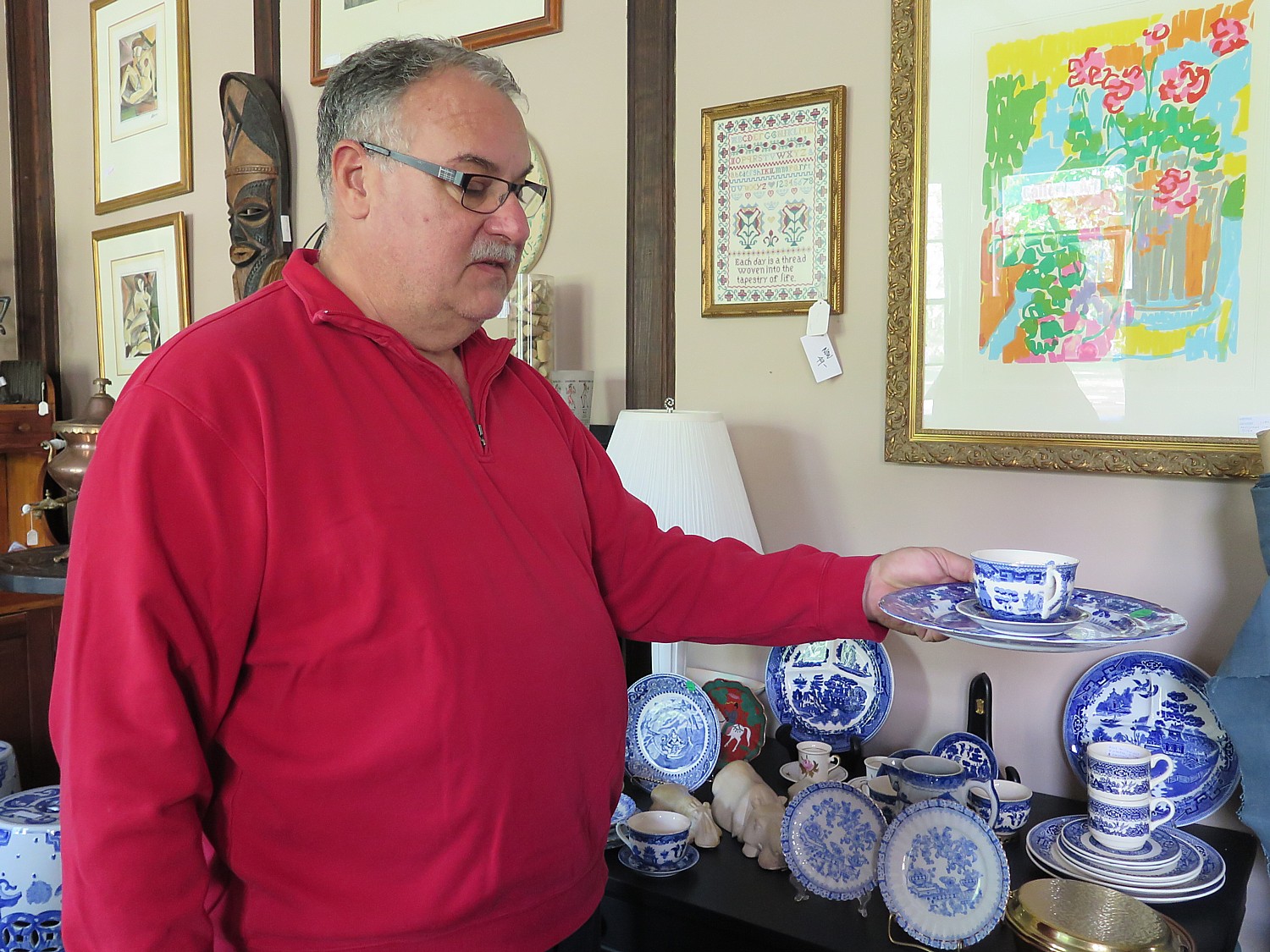 I then go on to the Thomas Cole National Historic Site in Catskill (#1 on the Hudson River School Art Trail, www.thomascole.org) with a sensational guided tour as well as featured exhibit in the New Studio (this year's exhibit is "Sanford R. Gifford in the Catskills"); the house usually closes at the end of October but this year has an extended season of November weekends; and then on to Olana State Historic Site (#2 on the HRSAT), in Hudson NY, which closes for the season on Oct. 28 (www.olana.org).
I prefer hiking to experience fall foliage, but those who prefer driving will find several scenic byways: Greene County's two National Scenic Byways include a 21-mile route that descends from high country peaks to Durham Valley farmland.; along the way, you will find views that stretch across the Hudson River Valley to summits in four neighboring New England states. Then take an excursion along Mountain Clove, a byway that meanders through ravines, historic districts, and waterfalls. In fact, one of the best foliage views in New York State, Chuck notes, is just 2 miles from the Fairlawn Inn door, at the intersection of Rte 214 and 23A – which looks toward Bear Creek and some half-dozen mountains that form layers.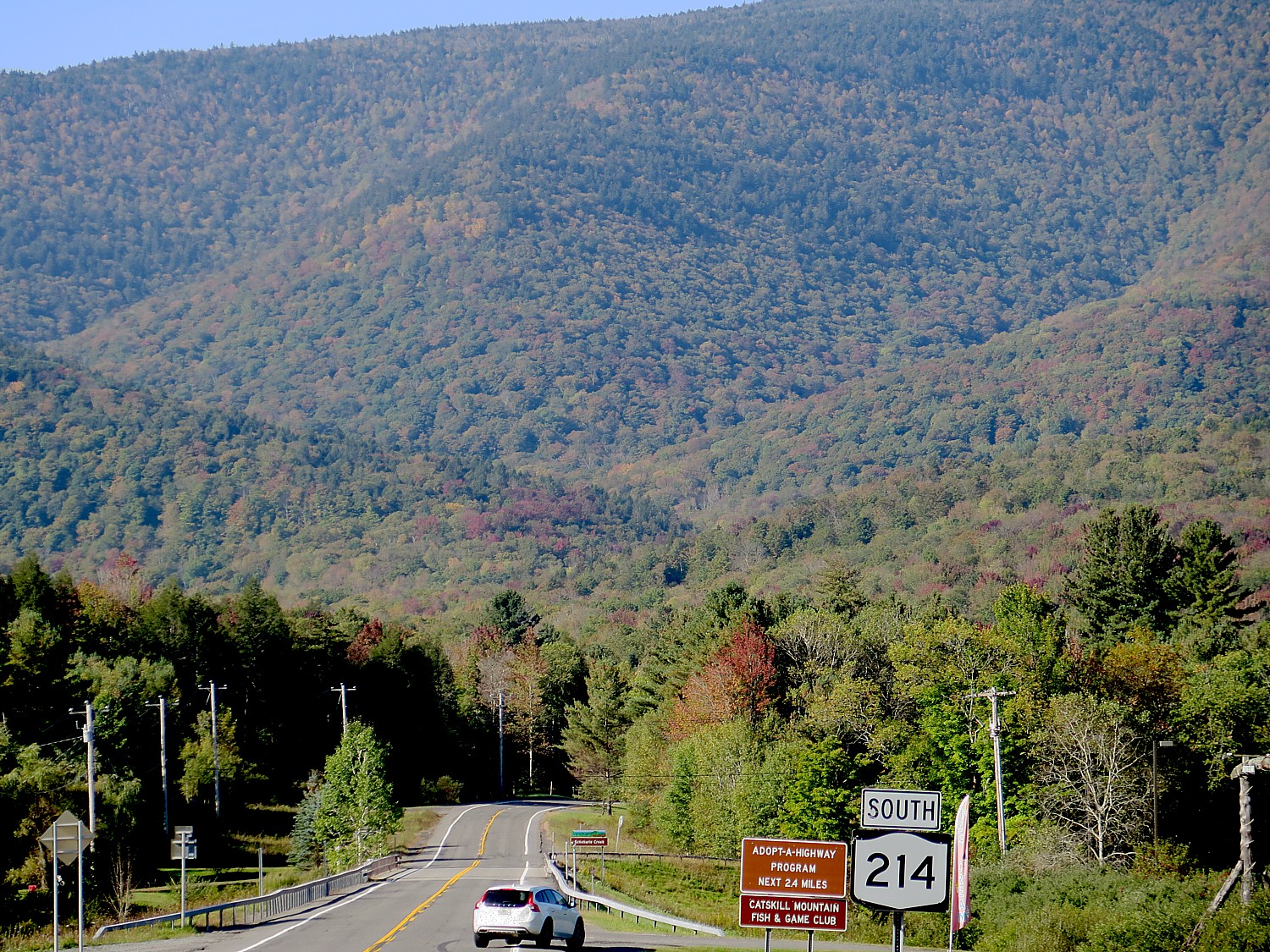 An Arts-Meets-Nature Driving/Exploration Route: The Kaaterskill Clove Experience provides a new self-guided discovery tour through the history of American art, and the primeval landscape that inspired it. Tailored, easy-to-follow itineraries provide a roadmap for families, adventure seekers and leisure travelers to experience the Kaaterskill Clove at your own pace, while enjoying everything that Greene County has to offer, from farm stands to charming cafes.
Other attractions include:
Sky Walkway over the Hudson River alongside the Rip Van Winkle Bridge.
Antiquing (Tannersville and Catskill are the main villages, but Chuck can steer you to auctions and a "junking" trail where you can find treasures at garage-sale prices).
You can follow the Hudson Valley Wine and Craft Beverage trail (travelHudsonValley.com)
Bike (or walk) the 2.7-mile long Huckleberry Trail that follows the old Huckleberry Railroad track and is mostly under trees.
There is mountain biking and golf at Windham Mountain (another wonderful ski mountain just 8 miles up 23A).
Close by in Coxsackie is The Bronck House (in the same family for 400 years) and the quaint town of Hudson with its galleries, antiques, boutiques and restaurants, which is operated by the Greene County Historical Society (http://www.gchistory.org/).
The Fairlawn Inn is within 90 minutes of major attractions including Hyde Park (Franklin Roosevelt's home and library), the Walk Over the Hudson, Hyde Park (FDR),Walk Over Hudson, Huguenot Village in New Paltz (a national historic site with costumed interpreters, www.huguenotstreet.org), Howe Caverns and Cooperstown (Baseball Hall of Fame). And it's just 2 ½ hours from "the universe" of New York City.
The village of Hunter is accessible from Amtrak to Hudson, MTA to Poughkeepsie, where you can find Enterprise and other rental car agencies, car service and Uber.
The Fairlawn Inn, 7872 Main Street (Hwy 23A), Hunter, NY 12442, 518-263-5025, www.fairlawninn.com. (Children must be 10 or older.)
Really helpful sites to plan your getaway include www.greatnortherncatskills.com and its fall hub www.greatnortherncatskills.com/catskills-fall-foliage offered by the Greene County Tourism, 700 Rte 23B, Leeds, NY 12451, 800-355-CATS, 518-943-3223.
____________________
© 2017 Travel Features Syndicate, a division of Workstyles, Inc. All rights reserved. Visit goingplacesfarandnear.com,  www.huffingtonpost.com/author/karen-rubin , and travelwritersmagazine.com/TravelFeaturesSyndicate/. Blogging at goingplacesnearandfar.wordpress.com and moralcompasstravel.info. Send comments or questions to [email protected]. Tweet @TravelFeatures. 'Like' us at facebook.com/NewsPhotoFeatures