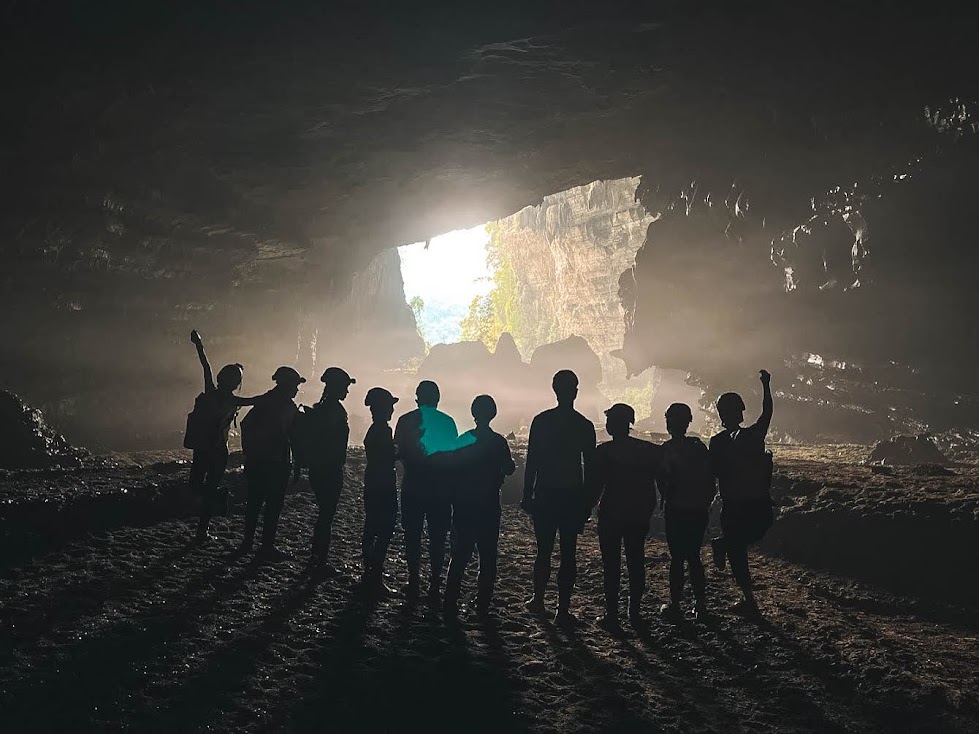 By Eric Leiberman and Sarah Falter, Travel Features Syndicate, goingplacesfarandnear.com
Eric and Sarah are on a 6-month around-the-world sabbatical, joining a huge movement of young people who are choosing to live the nomadic life (at least for a time) and travel or work remotely, becoming immersed in local life and culture. They are filing these dispatches periodically. They previously reported about their month in Mexico. Here's their report from South Korea and Vietnam:
"This is the way so many of the great meals of my life have been enjoyed. Sitting in the street, eating something out of a bowl that I'm not exactly sure what it is. And scooters going by. So delicious. I feel like an animal. Where have you been all my life?" -Anthony Bourdain eating in Vietnam (and we couldn't agree more).
We write this second installment of our sabbatical dispatch from Phu Quoc, Vietnam (an island in the Gulf of Thailand very close to the Cambodian border). We were very stoked to make it into Asia just a couple of weeks after border re-openings, and it's been fascinating (and at times eerie) to be some of the first tourists here.
We spent our first week traveling Asia in Seoul after Eric was denied entry into Vietnam because he accidentally mistyped the entry month on his e-visa (*Note: if you want to read Eric's best Aaron Sorkin impression in further documenting the gripping drama of being turned away at the border, see the PS). In South Korea we saw 100% mask compliance inside and outside everywhere we went (though those smoking cigarettes on the street get a nonsensical pass hehe), and never in our lives have we seen every single person in sight staring at their smartphone! It can look dystopian at times. Sarah happily embraced the quiet, introverted culture. Eric had to fight the impulse to chat up uninterested locals.

Seoul © Eric Leiberman/goingplacesfarandnear.com
But, we came together in our love for chilly mornings spent at the market scarfing down some impressive form of dumpling/kimchi soup while seated on heated benches, saving room for lots of lunch/dinner Korean bbq (and in Seoul you don't lift a finger when prepping your bbq–it's all done for you by extremely impressive waiters who manage 8+ grills at once). We also checked out a local baseball game where cheering is technically banned because of Covid (cheer in your heart), though when a team scores, their fans impulsively scream anyway. To our delight, the stadium allows BYO beer/soju and fried chicken, all conveniently sold right outside.
Joining the fun at a baseball game in Seoul © Eric Leiberman/goingplacesfarandnear.com
Our second attempt at clearing customs in Hanoi went off without a hitch (thanks to Sarah triple checking all of Eric's documents), and being able to finally taste the forbidden fruit made it all the more sweet! We immediately felt invigorated by the delicious smells coming from every direction, and having to be on our toes when crossing the street (the rushing river of cars/scooters never stop, they just, without fail, go around you). We loved figuring out that what seems like complete and utter chaos really has a very predictable and harmonious rhythm to it.
Hanoi, Vietnam © Eric Leiberman/goingplacesfarandnear.com
In the food department, we quickly realized that the best meals come from street stalls with tiny plastic chairs and just one thing on the menu. The insane combination of unlimited chewy rice noodles, tangy broth, chilis, crunchy peanuts, and mountains of herbs make every dish a choose-your-own adventure of deliciousness. We could've been convinced that some of the street food we were eating for $1-2 came off a Michelin tasting menu – the Bun Cha and Banh Cuon were especially incredible. We also learned that the French colonial rule in Vietnam is what sparked the popularity of bread here, consumed daily by millions in Banh Mi, and re-invented with rice flour here. We've enjoyed the food scene endlessly, but there is also a hint of sadness in this reopening world. Many stalls/restaurants we research and can't wait to try have no reviews the last two years, and, we come to find, have just disappeared.
Continuing on in Hanoi (our favorite city in Vietnam) we were captivated by the Hoa Lo Prison, where French colonists imprisoned and killed Vietnamese political activists in the late 1800s through the mid 1900s, and this same location is where American POWs were incarcerated during the Vietnam War. Learning about the many generations of occupation that the Vietnamese have endured brought us deeper meaning and reflection as we thought about the US's recent departure from Afghanistan and Russia's recent invasion of Ukraine. And we also really enjoyed the Vietnamese Women's Museum, where we learned how valued women are in the work and family unit in northern Vietnam, and that Vietnamese women even propose marriage.
With the constant beat of vehicle horns in the air in Hanoi, Eric was beginning to itch to get on a motorbike (no shock there). So, we hopped on an overnight bus north to Sa Pa and hired a motorbike guide named Kin- a pure soul, the same age as Sarah and a father of three. Kind Kin said yes to all of Eric's crazy ideas and before we knew it we were motorbiking from Sa Pa to Ha Giang along the Chinese border (a total of about 500km over 3 days) stopping at small homestays on our scenic way.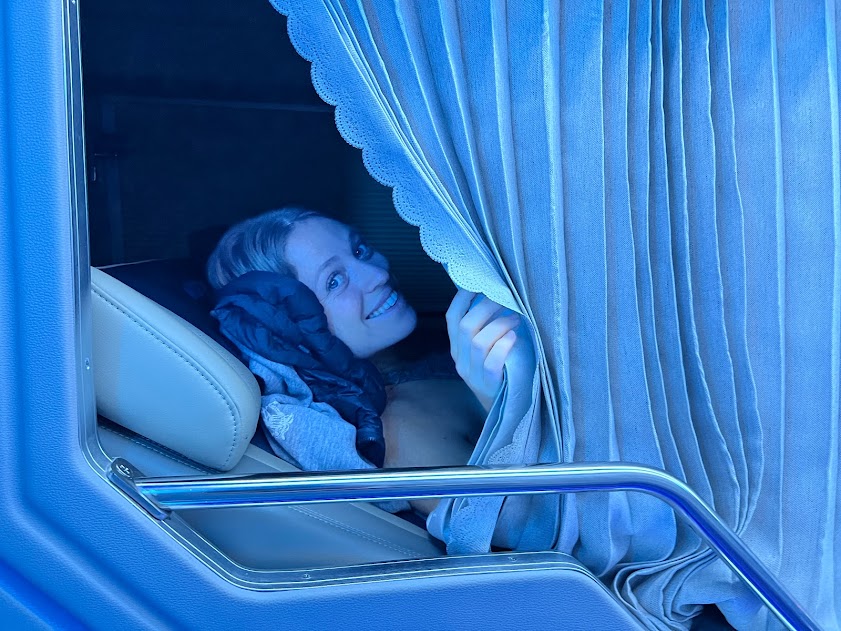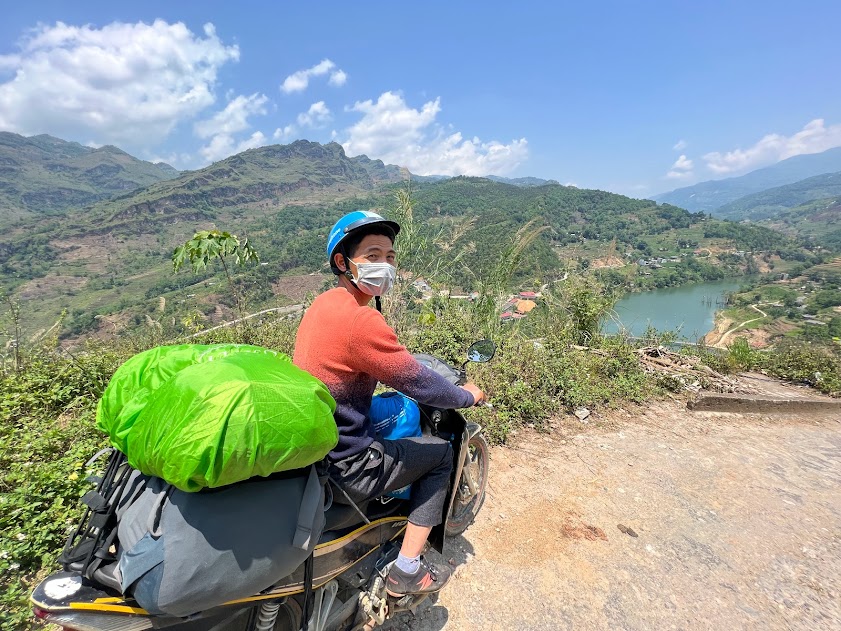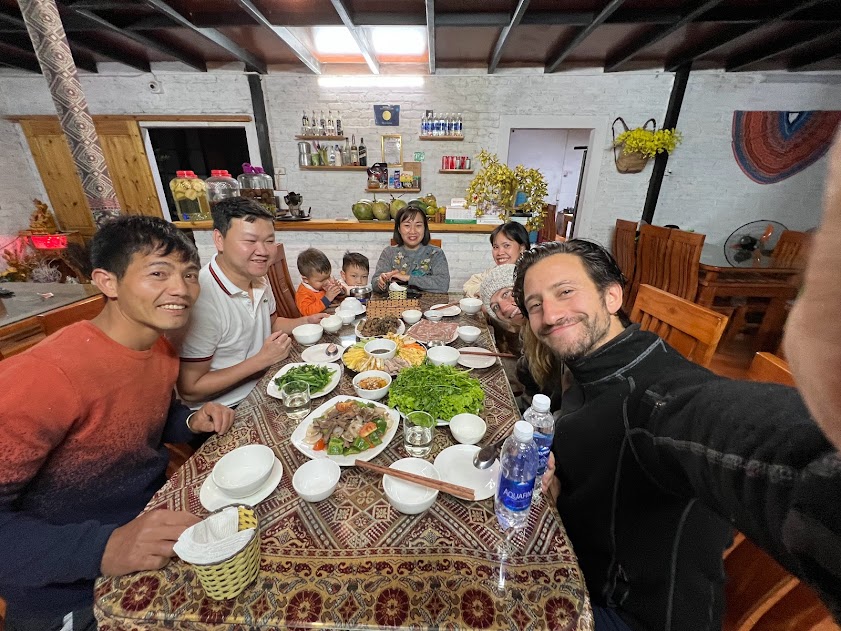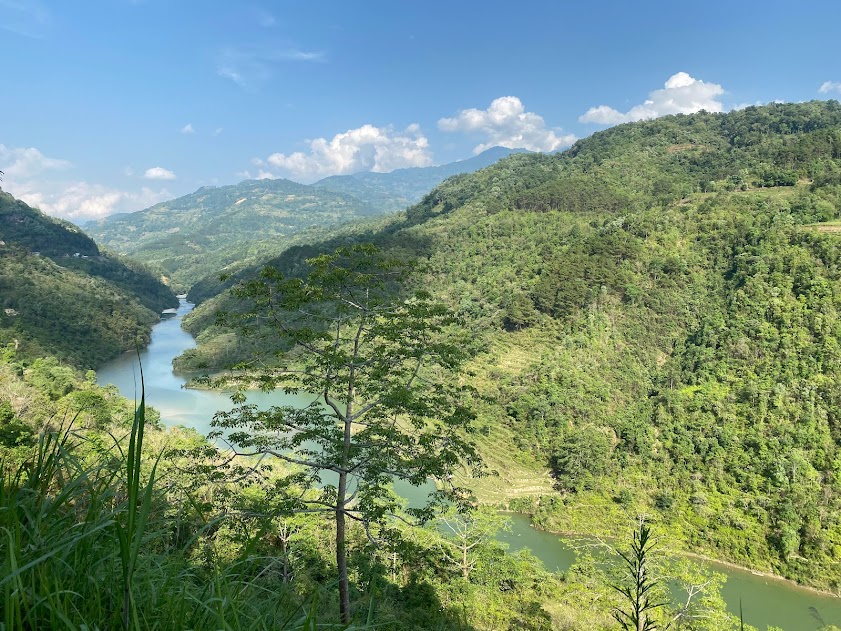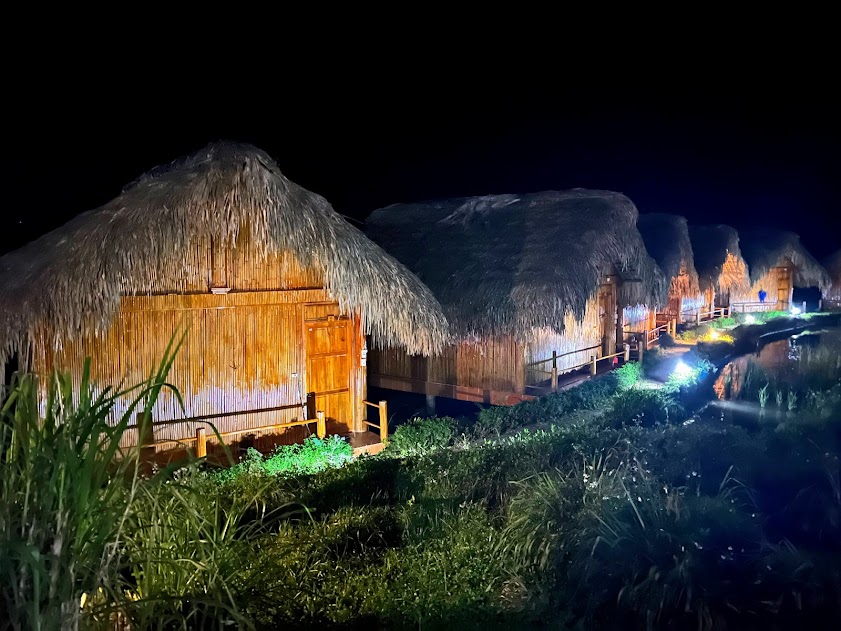 Eric did all of the driving while Sarah dutifully snapped pictures and videos from the bumpy backseat. The scenery was absolutely stunning-terraced rice paddies (which we learned are made that way for irrigation) every shade of green, heaps of green tea drying in the sun, and farmers markets where locals insist we sit down for "Happy Water"–Vietnamese moonshine–which Sarah does happily and Eric does also happily but with more responsibility because he is our forever DD. Lots of fog rolled in in the north, which made us appreciate the views when it did clear, even more.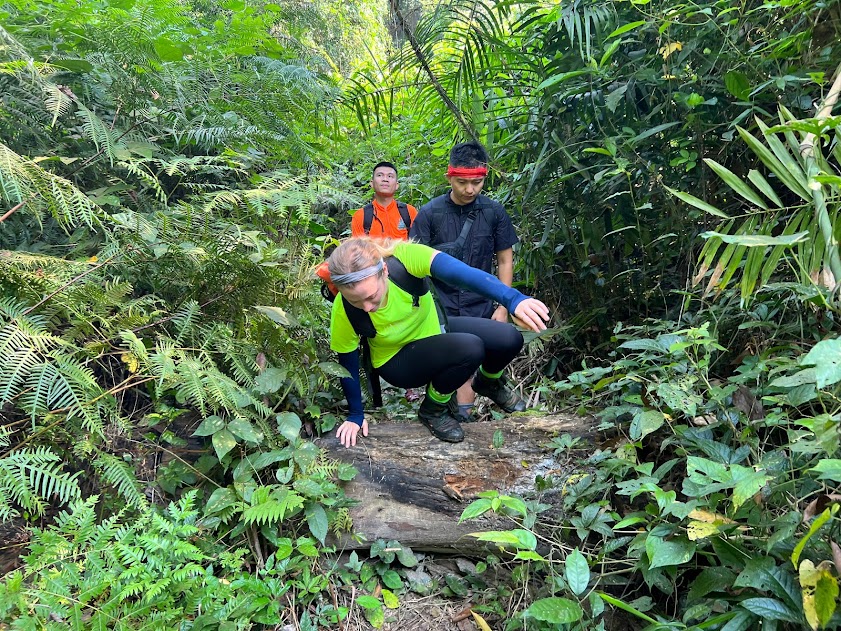 We moved south to central Vietnam so that Sarah could realize her bootcamp potential, signing up for a multi-day jungle trekking & caving tour. The caves in Phong Nha, Vietnam, are otherworldly. In fact, the world's largest cave is here (Hang Son Doong–first discovered by a farmer by accident just three decades ago, and so big it has its own rainforest!). We found availability on a tour of the Hang Tien cave system with the tour company Oxalis (highly recommend), so we strapped on our provided army boots, and spent the next three days walking straight through rivers and caves (fully clothed in long layers to protect against plants and insects), and then scaling rocks up and down in order to capture some incredible Vietnamese nature. Our group of 10 (5 domestic and 5 foreign travelers) bonded Birthright style during the tentside hangouts, and we were fed constantly (and deliciously) which kept us smiling 🙂 despite the unrelenting heat and humidity. (https://oxalisadventure.com/ [email protected])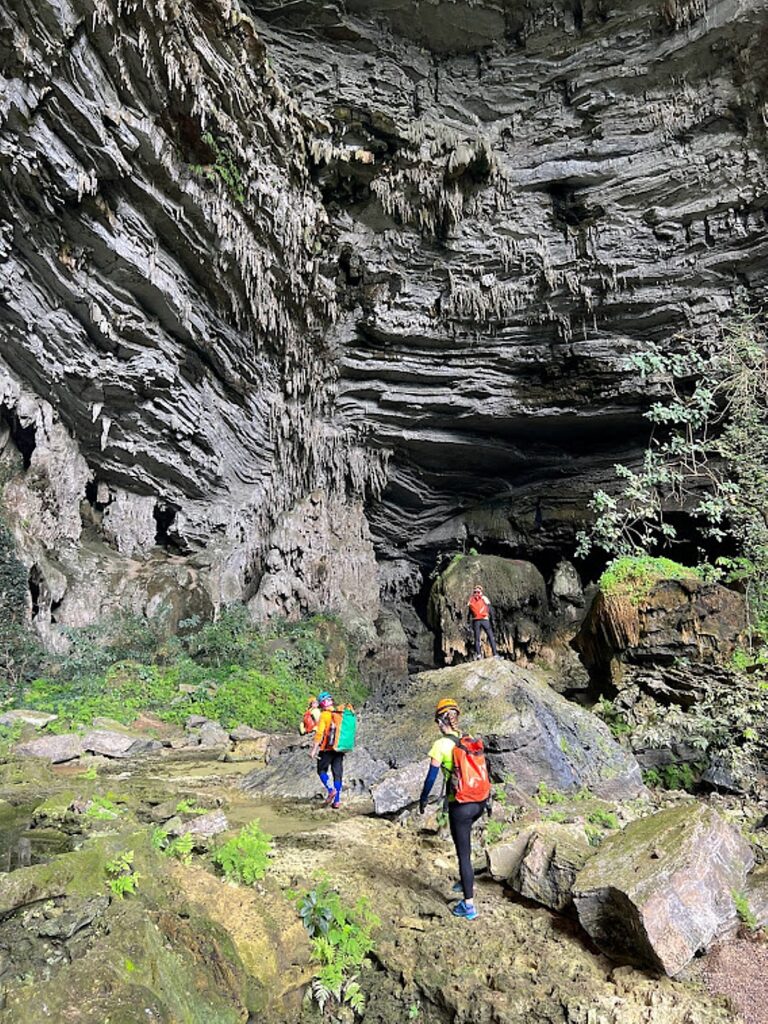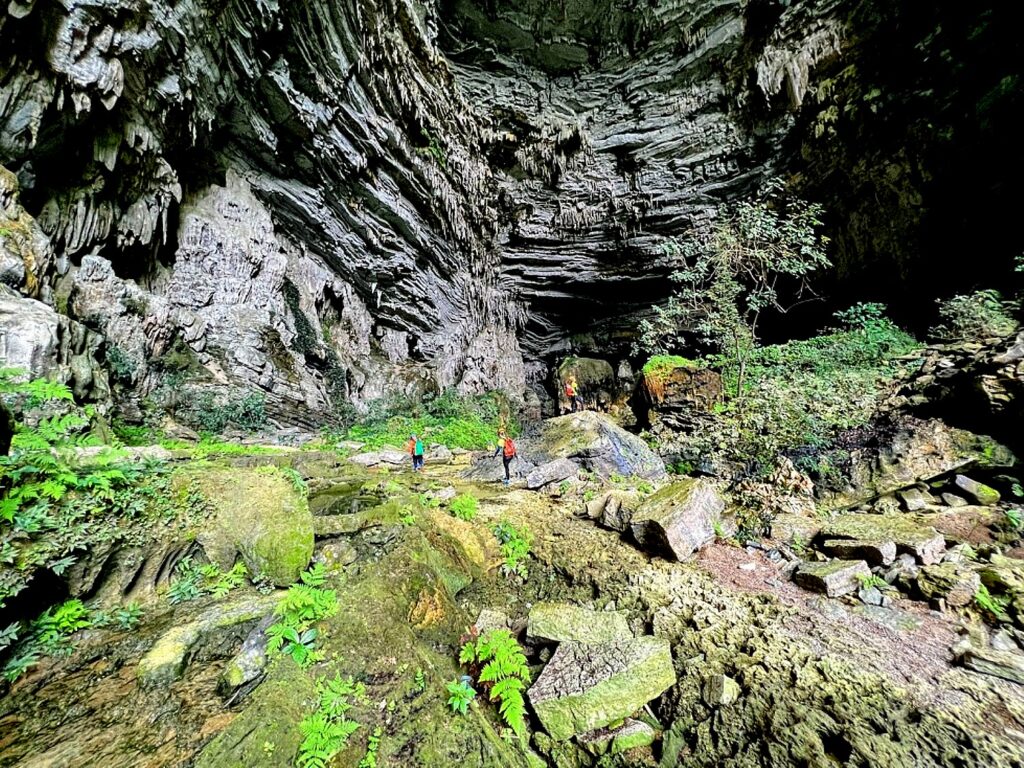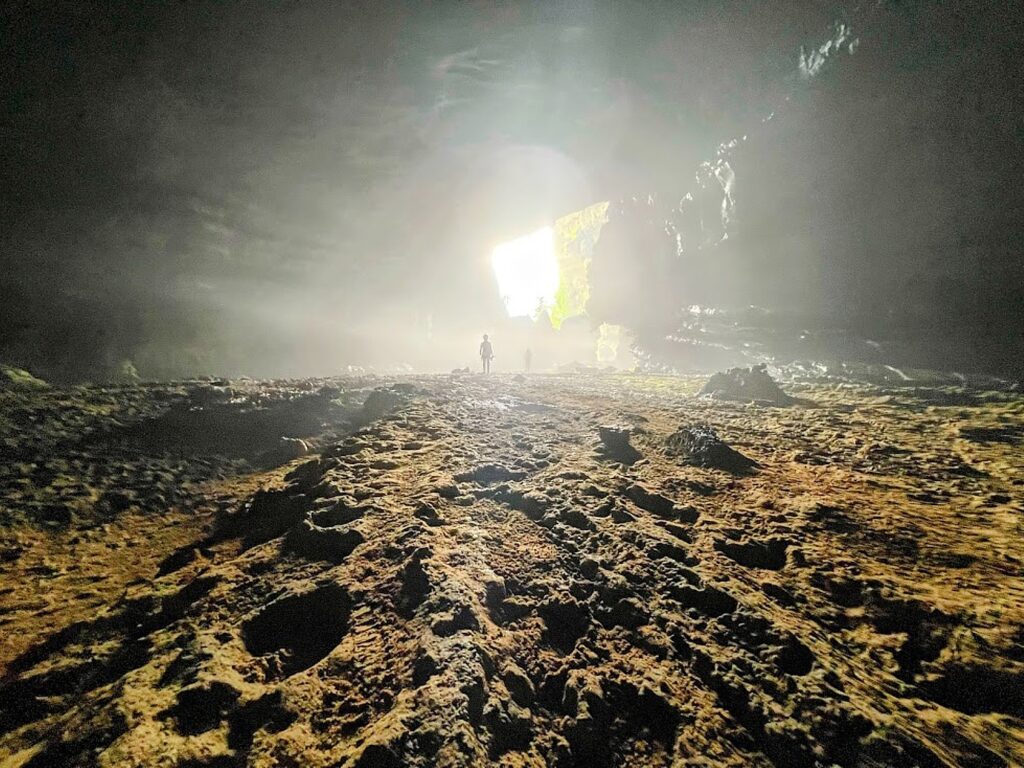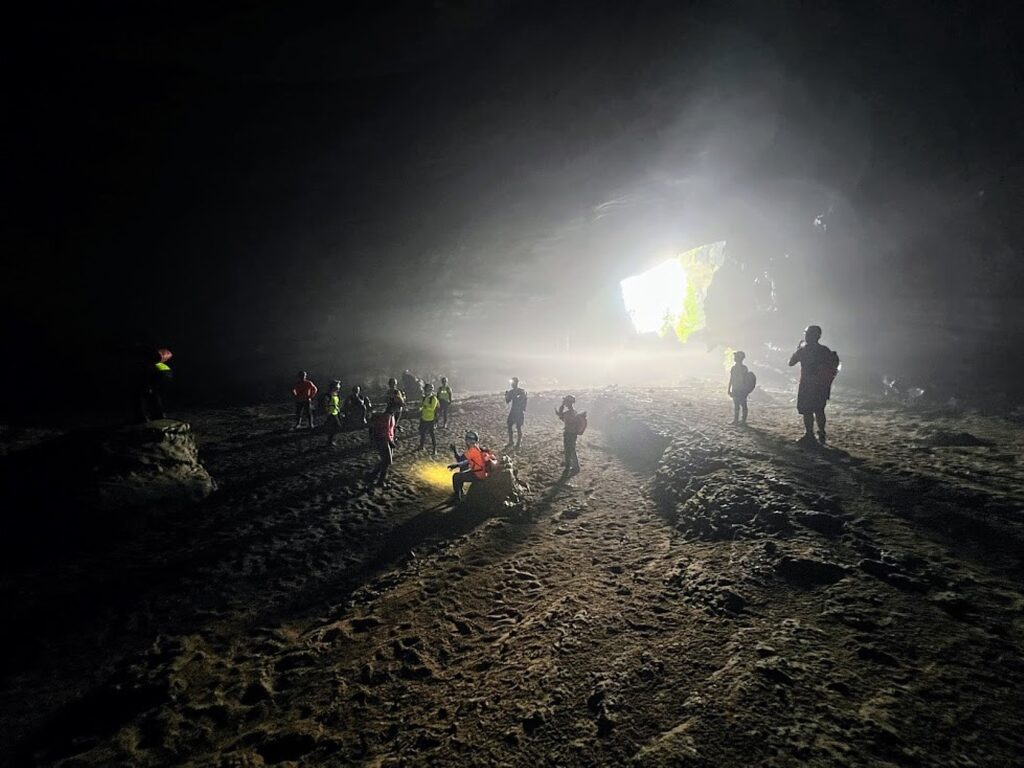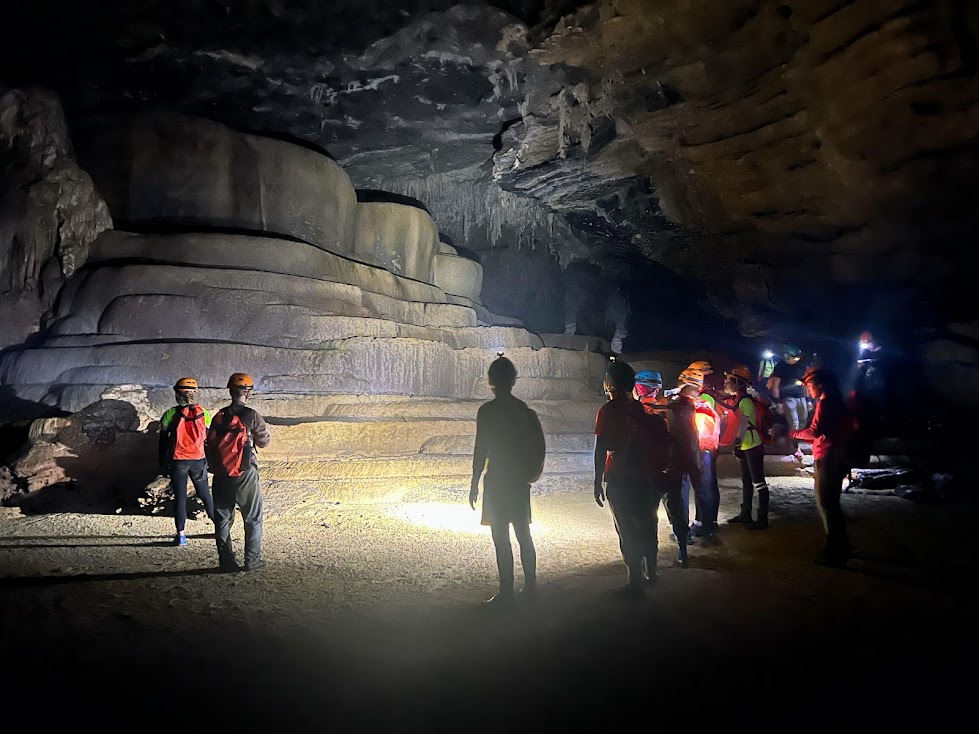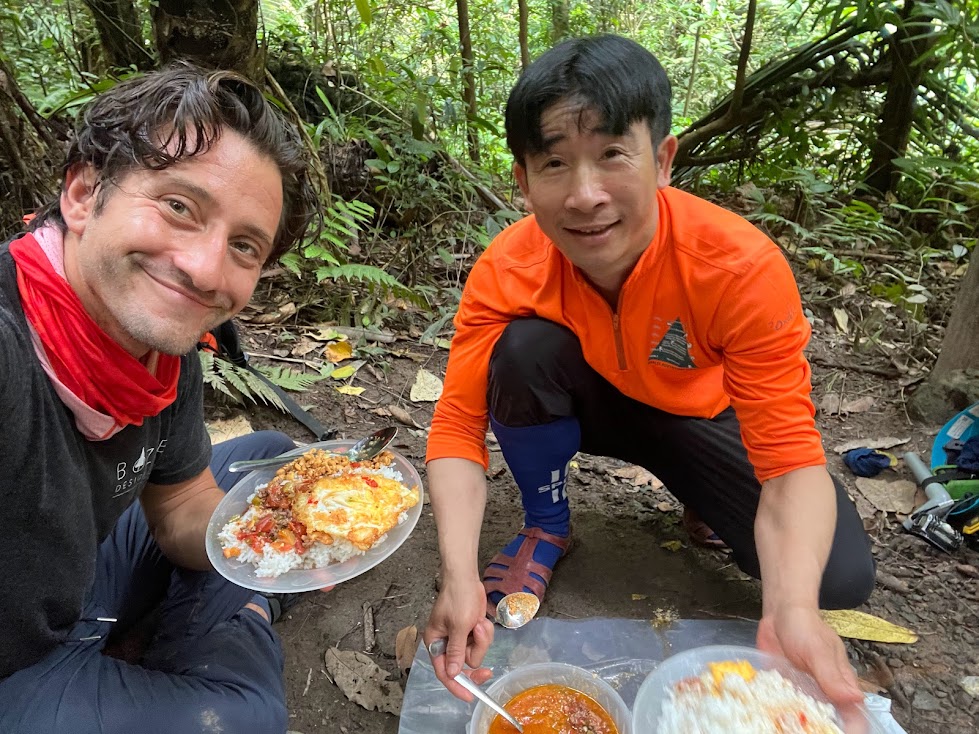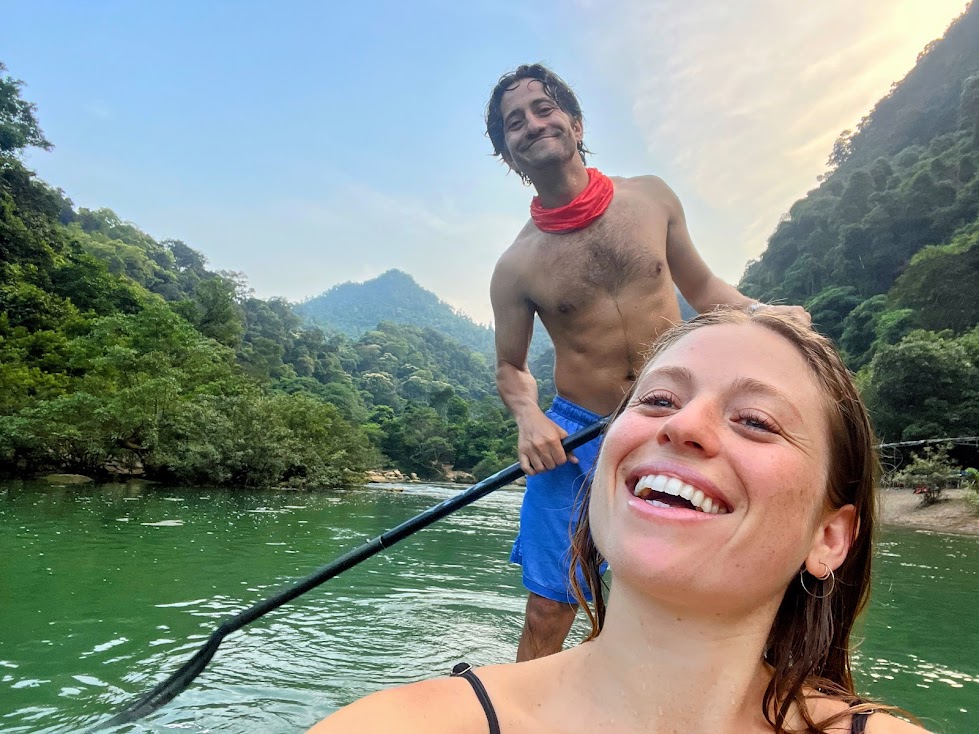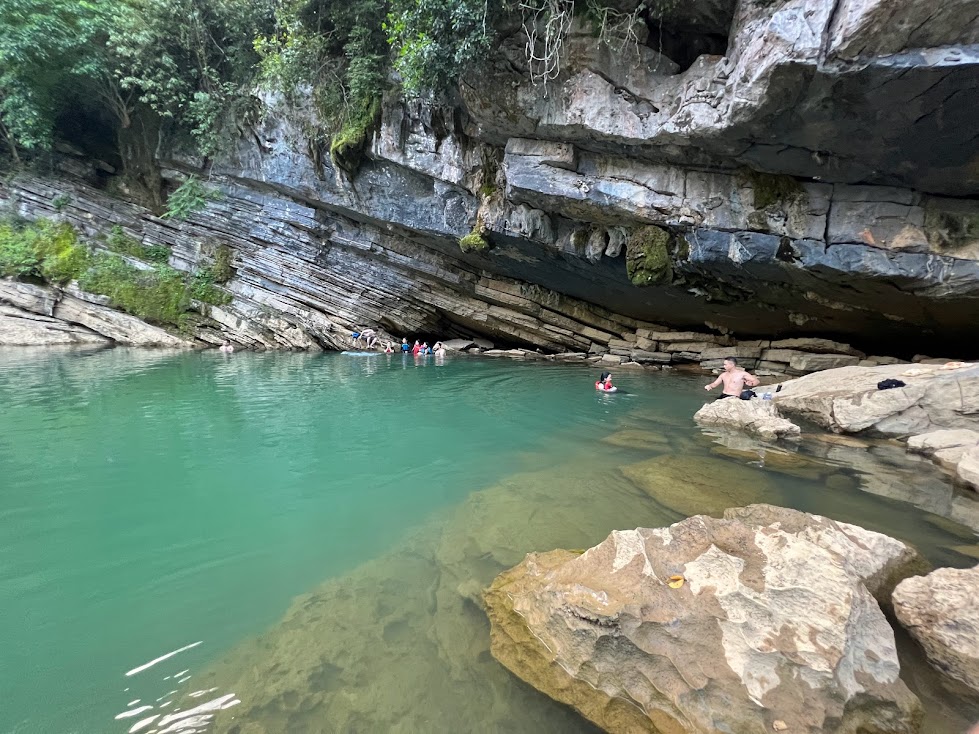 After a desperate shower and laundry session we made our way to Hue, also in central Vietnam. Eric wasted no time seeking out a tailor for his absolute favorite–custom clothes. His request was so specific, that our amazing tailor Bo (we really have met people unbelievably patient with Eric here) offered to take us to the fabric market to pick one out that she didn't carry at her shop. One scooter ride together and a couple of hours later she nailed it! Sarah also got her first custom clothing with Bo and agrees, it is really fun. Another highlight of Hue-the salt coffee. Each region of Vietnam highlights a unique version of their rich coffee, but our favorite variation is this one–salted cream that perfectly compliments the strong black coffee blend creating an almost caramel taste.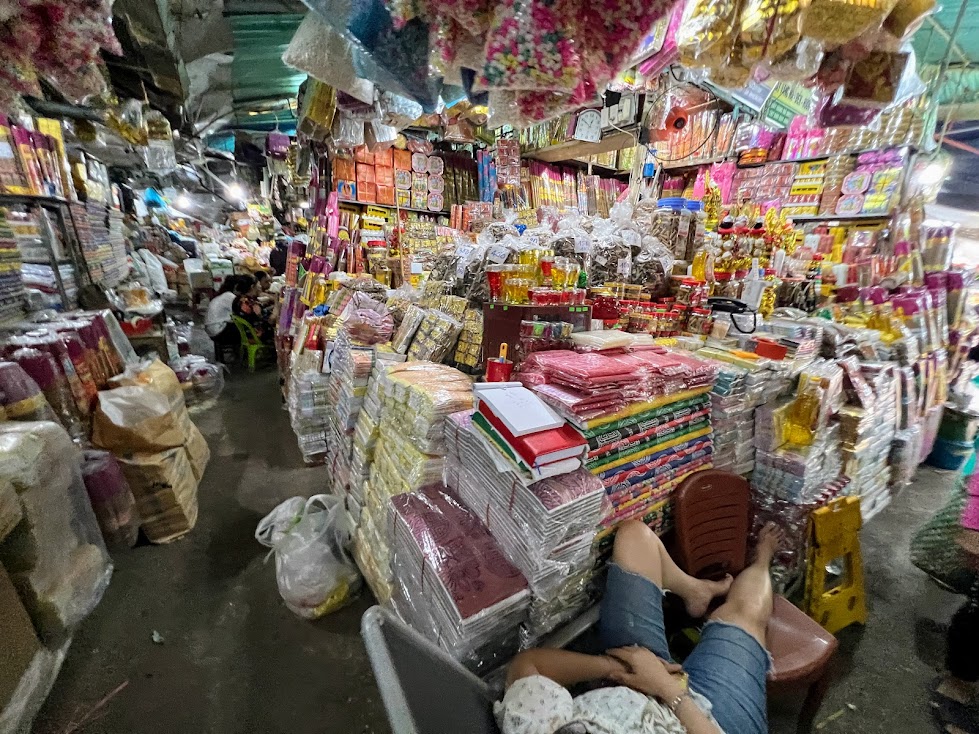 We now find ourselves on the beach in Phu Quoc, southern Vietnam. Sarah is wrapping up book number three and Eric is taking the hotel's paddleboard about 100 times further than the buoy's limits. The hotel seems to be approximately 10% full. Seeing as we now recognize every fellow guest were living out our White Lotus moment giving them all backstories and deciding who will get murdered (just kidding!! and watch the show White Lotus if you haven't yet!). We continue to thrive on almost strictly street food–we went to a nightmarket the other night with a German couple from our cave tour and to Eric's delight, found Banh Mi with steak and runny white cheese a la the Philly Cheesesteak, and sea urchin with herbs and peanuts. No food is left untried. And while Eric has been brave enough to weigh himself this week (somehow lost weight!?), Sarah continues on in ignorant bliss.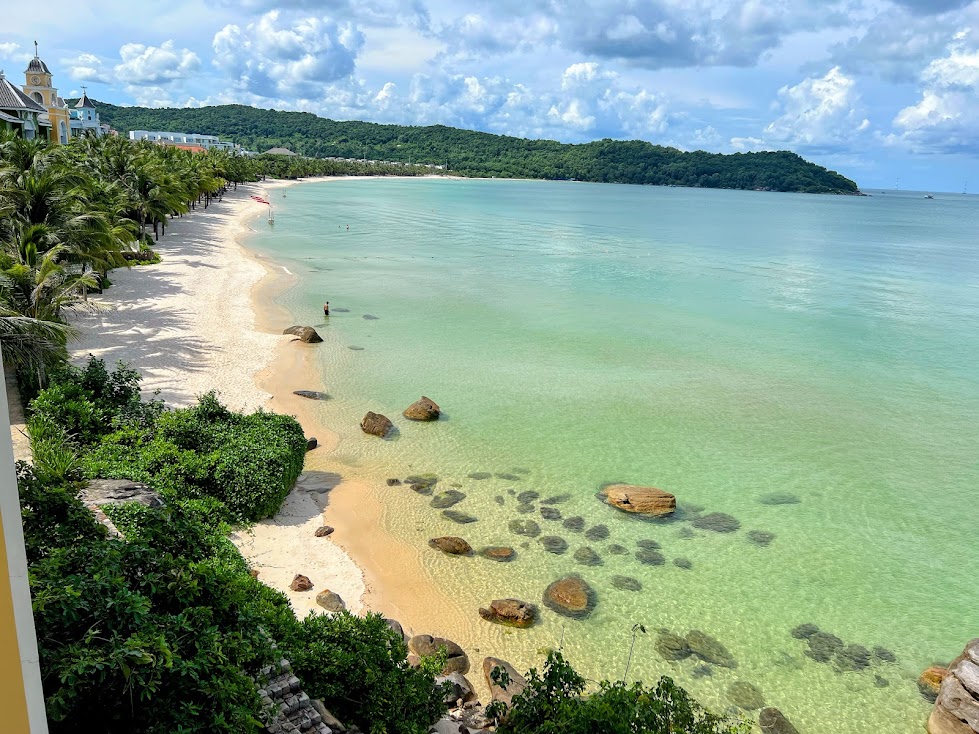 * * *
PS – So there we were..3 flights and 36 hours of travel from Mexico City to Hanoi (by way of Dallas and Tokyo). It was 11PM. We were beyond exhausted because we had to wake up at 2:30AM in Mexico City to return our rental car and get to our first flight. We slept but a wink on the planes, but the in-flight viewing of the Anthony Bourdain and Alpinist docs (both must-sees btw) sustained us and we were stoked to have touched down in Asia.
BUT NOT SO FAST the travel gods said. At immigration in Hanoi, Sarah lifted her bucket hat and mask, flashed her million dollar smile and breezed right through to the promised land. But the immigration officer looked longer at Eric's documents. "You have to go over there," the officer said after a few minutes of scrutinizing the documents. A lot of back-and-forth with immigration officers and airline attendants facilitated by the Google Translate app ensued, and Eric came to realize that the dates on his e-visa were wrong – it was for a May 9th entry, not April 9th. An hour of pleading for a date change on the existing visa or the issuing of a new visa on arrival fell on deaf ears. "You need to get on this plane back to Tokyo now," the officers forcefully told him. "But my partner is on the other side," he pleaded.
The airline officer ran to retrieve Sarah while Eric placed dead end calls to the US embassies in Vietnam, Korea and Japan. Pleading to let us book different flights to countries that were newly open to US tourists like Thailand, Singapore or Korea (instead of Japan, which was still closed, and we expected once we got there they'd tell us we needed to go all the way back to the US) didn't work either because these countries, while open, still needed processing time for visa/Covid paperwork.
After fortunately being reunited at the boarding gate (and Sarah's last attempt at pleas to stay), the officers forced us onto the plane for Tokyo stating our passports were now being held in the cockpit and that we'd be blacklisted from ever entering Vietnam if we didn't board the plane NOW. We felt beyond exhausted and defeated, but quickly fired up our laptop for the 6hr redeye flight back to Tokyo to investigate our options.
Thanks to persistence and a lot of help from our travel savvy family, we were able to show proof of flights and visa documentation in Tokyo to ensure we could enter Korea and wouldn't need to be forced all the way back to the US (and btdubs for future reference, when something like this happens, you are responsible for paying whatever the flights costs which is astronomical because of the same day booking rate; so tl;dr don't be like Eric and always quadruple check the dates on your visas!)
See also:
DISPATCH 1 FROM LIVING THE NOMADIC LIFE, A GLOBAL ODYSSEY: MEXICO
DISPATCH 2 FROM LIVING THE NOMADIC LIFE, A GLOBAL ODYSSEY: SOUTH KOREA TO VIETNAM
DISPATCH 3 FROM LIVING THE NOMADIC LIFE, A GLOBAL ODYSSEY: MALAYSIA TO CAMBODIA
DISPATCH 4 FROM LIVING THE NOMADIC LIFE, A GLOBAL ODYSSEY: INDONESIA
DISPATCH 5 FROM LIVING THE NOMADIC LIFE, A GLOBAL ODYSSEY: AUSTRALIA-NEW ZEALAND-CHILE
__________________
© 2022 Travel Features Syndicate, a division of Workstyles, Inc. All rights reserved. Visit goingplacesfarandnear.com, www.huffingtonpost.com/author/karen-rubin, and travelwritersmagazine.com/TravelFeaturesSyndicate/. Blogging at goingplacesnearandfar.wordpress.com and moralcompasstravel.info. Visit instagram.com/going_places_far_and_near and instagram.com/bigbackpacktraveler/ Send comments or questions to [email protected]. Tweet @TravelFeatures. 'Like' us at facebook.com/NewsPhotoFeatures