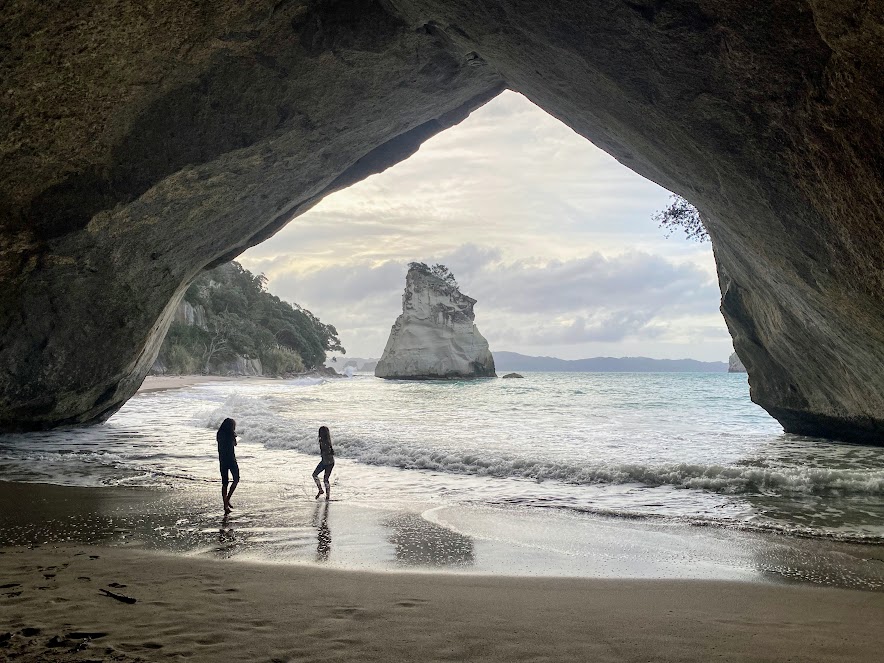 By Eric Leiberman and Sarah Falter, Travel Features Syndicate, goingplacesfarandnear.com
Eric and Sarah are on a 6-month around-the-world sabbatical, joining a huge movement of young people who are choosing to live the nomadic life (at least for a time) and travel or work remotely, becoming immersed in local life and culture. They are filing these dispatches periodically. They previously reported about their adventures in Mexico, South Korea, Vietnam, Malaysia and Cambodia and Indonesia. Here's their dispatch #5 from the Southern Hemisphere: Australia, New Zealand, Chile.
AUSTRALIA Melbourne
We took an overnight flight Bali → Melbourne (actually we flew separately though our flights were minutes apart–cheaper!). Food costs in Australia brought us straight back to SF living, at >$20/meal, but we managed to find $1 oysters our budget can always accommodate!
In the colder Melbourne climate, Sarah expanded her small wardrobe when she realized for the first time she doesn't just fit into Eric's tops, she fits into his pants too! A whole new world. Feeling fresh in Eric's khakis, we spent our few days there wandering hipster neighborhoods, catching an AFL game, exploring a winter food fest (including fake snow), and laughing our arses off at a comedy show (we def missed some local references, but Sarah howled when they mentioned anything Bravo-related). We reckon it was a pretty good time.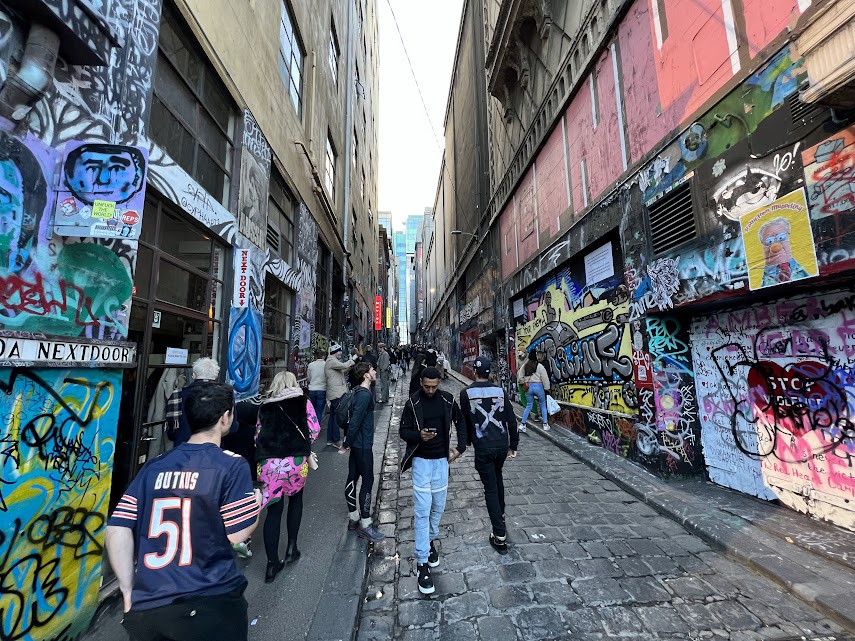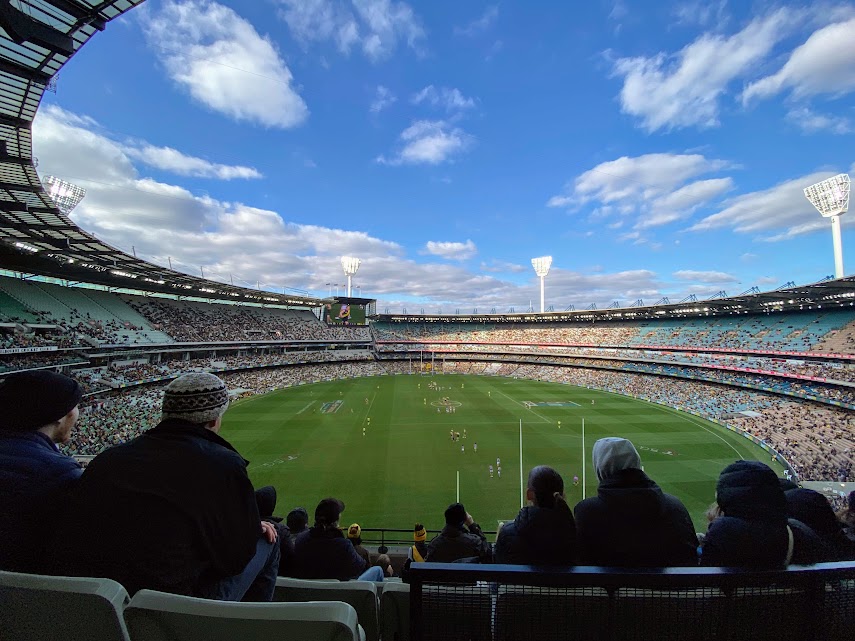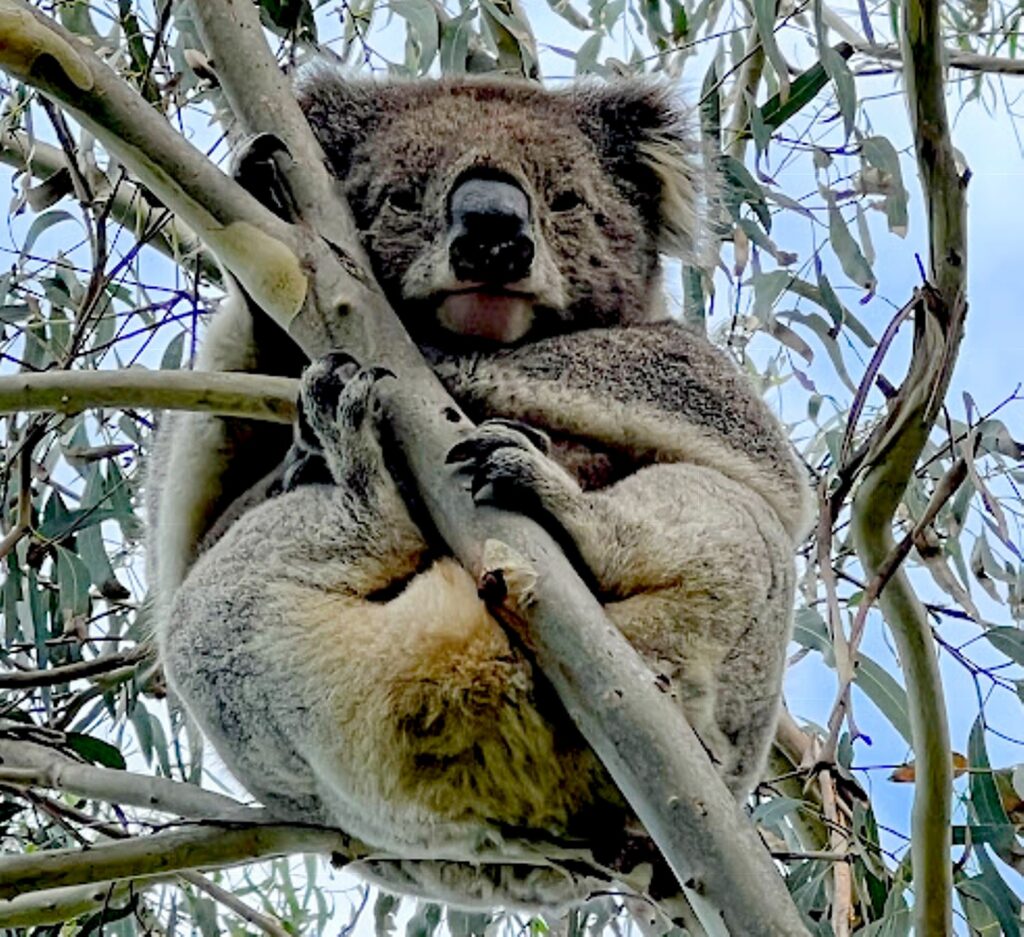 NEW ZEALAND Lake Hawea, Wanaka
We arrived in New Zealand just in time for winter holidays, which meant that our serendipitous trip planning had met its match. When we began our search for an accommodation just three days before arriving, we knew we'd made a mistake – everything was booked solid. One shout out to friends and we were connected with Jack & Cass – our saviors! Jack and Cass showed us their beautiful town of Lake Hawea, South Island, where we hiked around, marveled at views of the humongous lake, drank flat whites in the morning and craft beers in the evening, and got real local watching the All Blacks (rugby) at a local pub.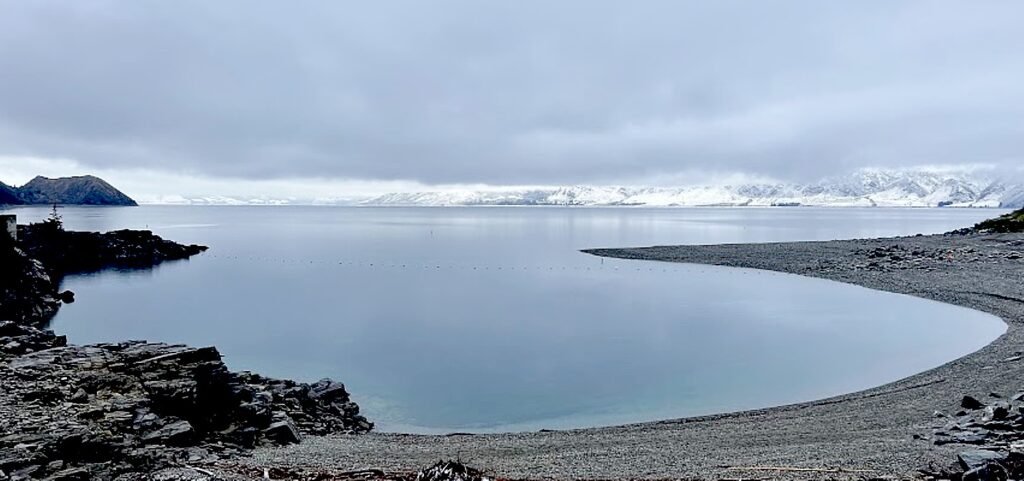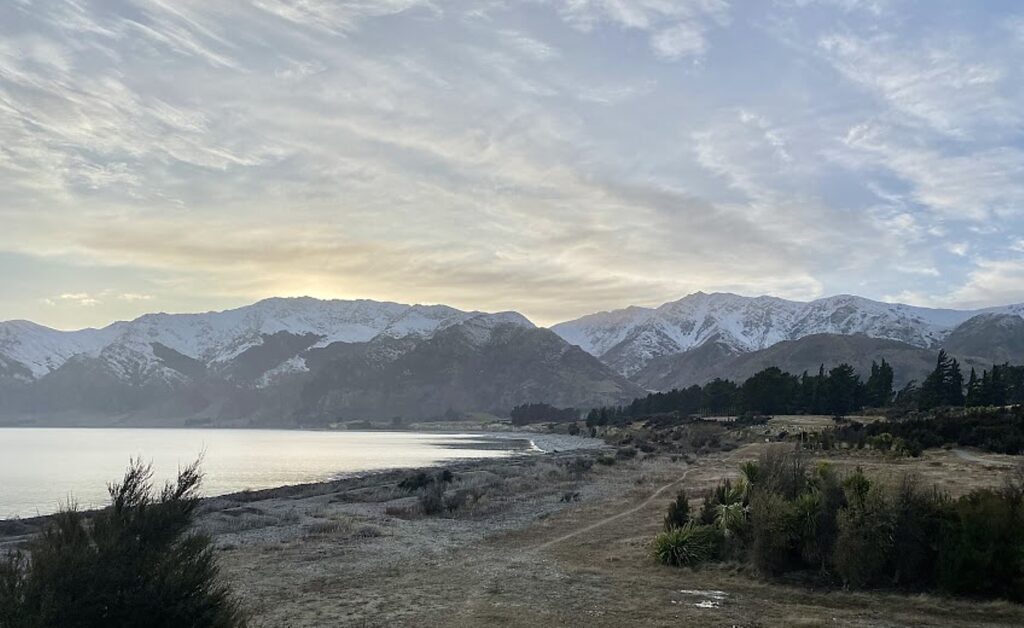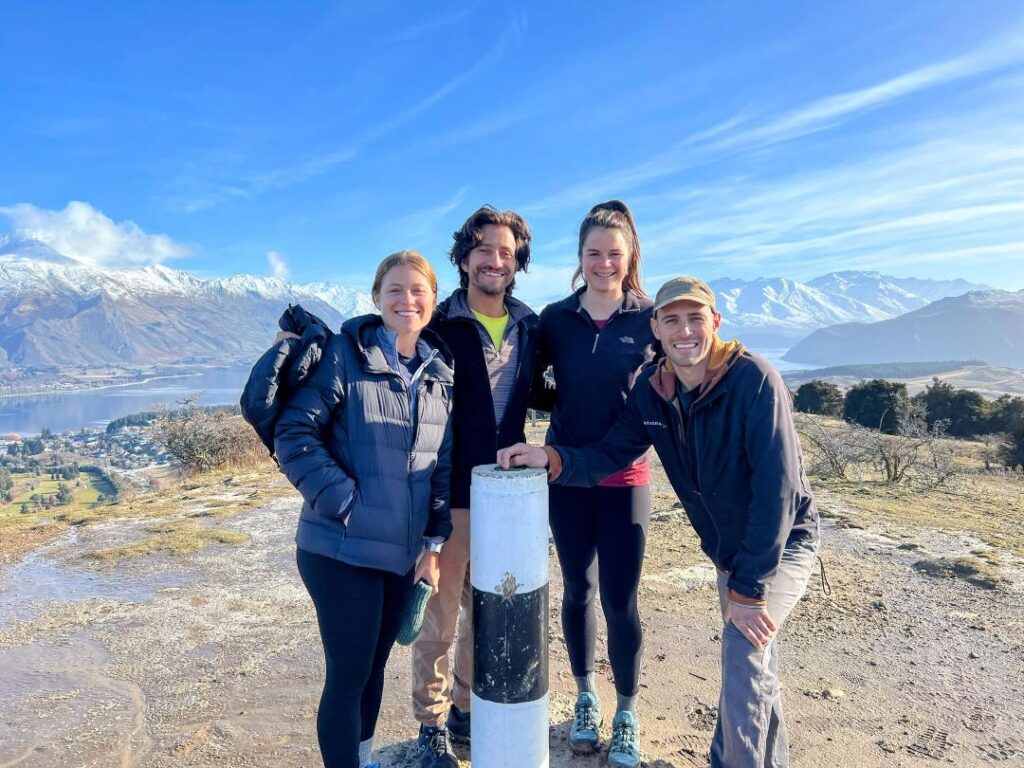 At the Mount Iron Track, we got some gorgeous views of South Island mountains, lakes and ski fields 🙂 Did ya'll know that the only native land mammal in NZ is the bat? Everything else came with the humans…wild. And still to this day, there are no big scary predators or poisonous snakes in all of NZ…paradise. And did we mention the public bathrooms everywhere are beautiful and spotless!? Again, huge shout out to Jack & Cass for showing us their home and such a good time. It was a massive highlight of our whole trip!
Cardrona, Remarkables
Skiing in summer (or actually, our summer, their winter!) was a huge bucket list item. So to round-out our time on the South Island, we hit the slopes at Cardrona ski field with lots of borrowed gear and some thrift store finds Eric couldn't resist ($8 for a helmet, goggles & gloves?!). It was basically a white-out all day on slippery ice, but Sarah only fell once, whined twice, and we were truly stoked to have the chance to ski on this sabbatical.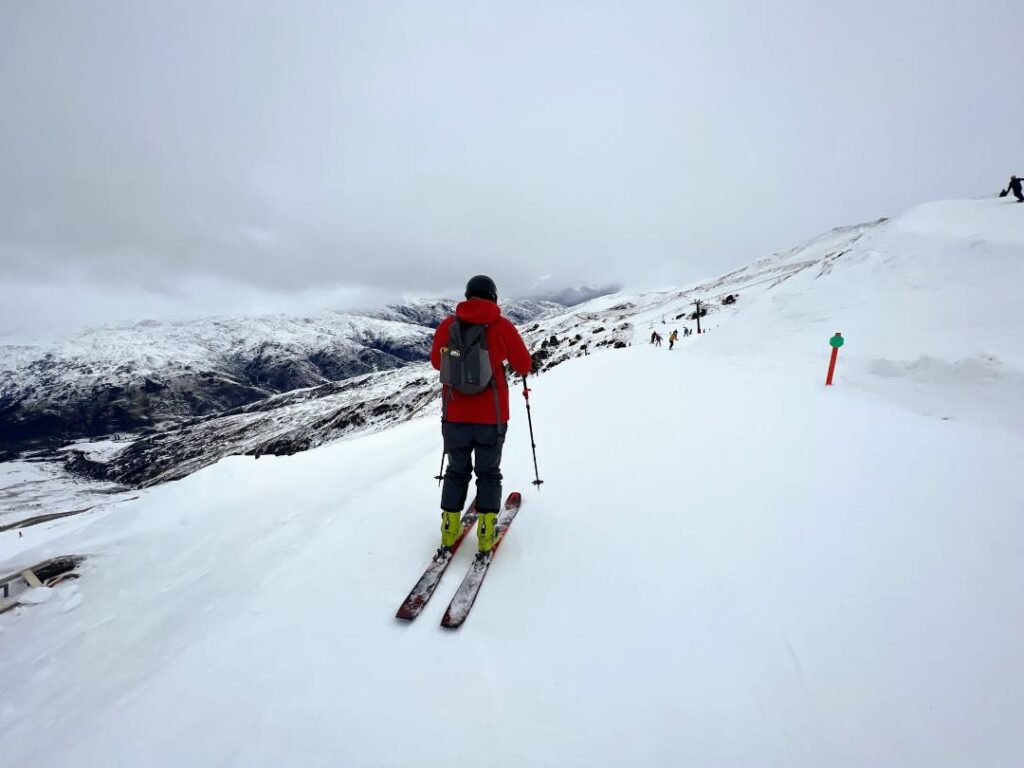 When the opportunity came about to ski again at Remarkables a few days later (about an hour south near Queenstown), Eric jumped at it and lucked out with a bluebird day. Sarah audibled and jumped at a local jewelry-making class.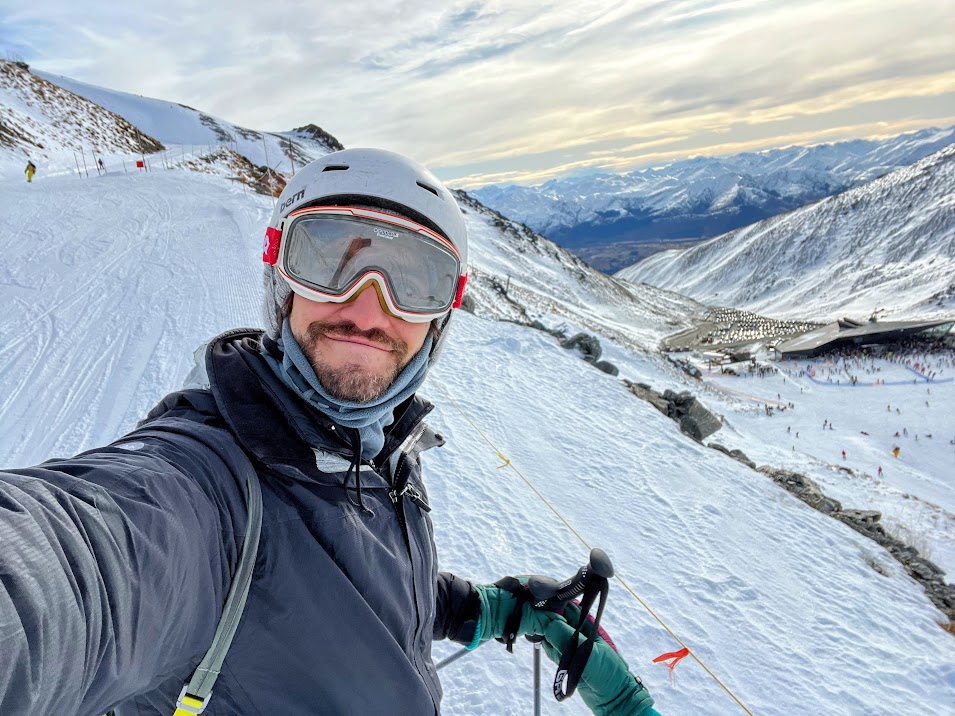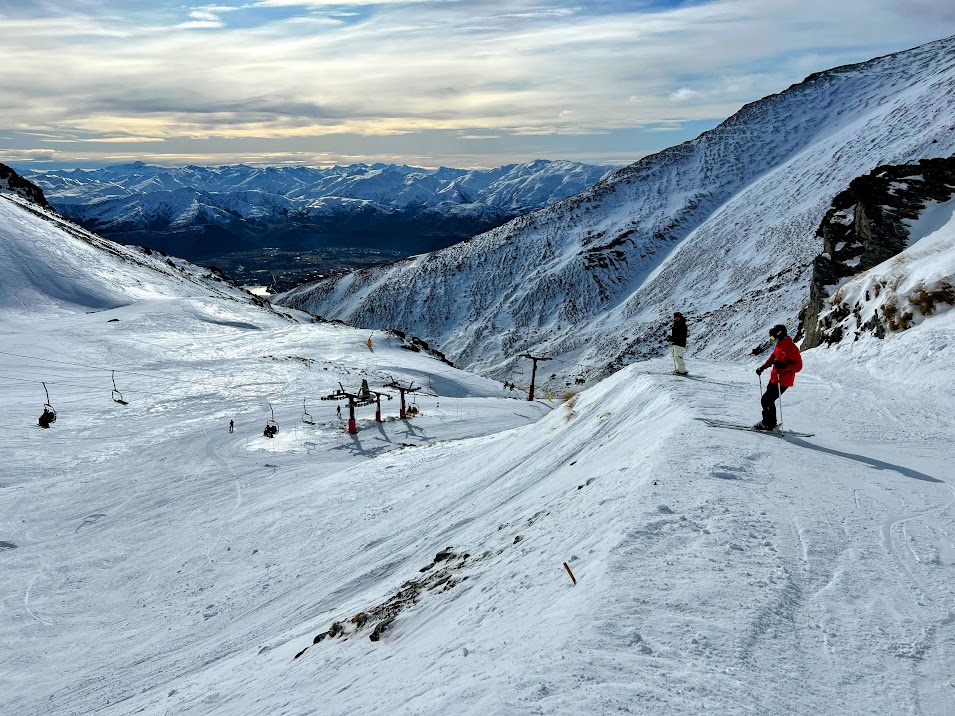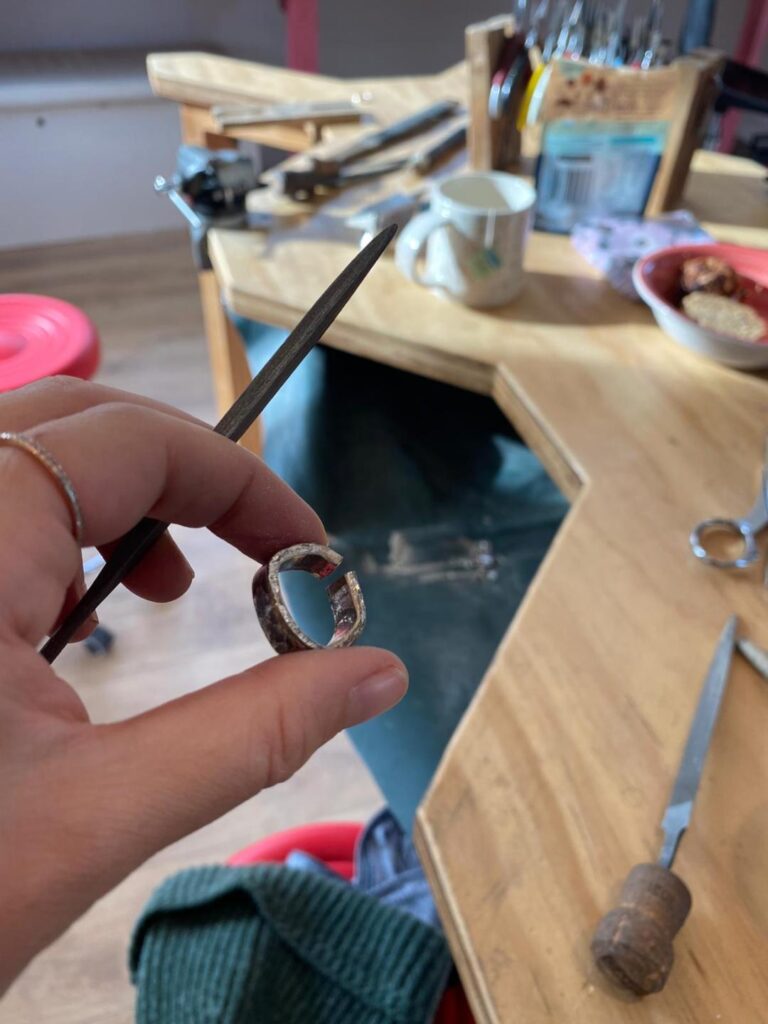 Queenstown
We caught a flight from Queenstown → Auckland, but squeezed in time to explore this charming, twinkly-light town right on the lake. Our Airbnb gave us ghost vibes, so we skipped about town as much as the frigid temps would allow. Notably, we nommed some delicious (and massive) fish n' chips, and washed it down with fried kiwi for dessert (!!).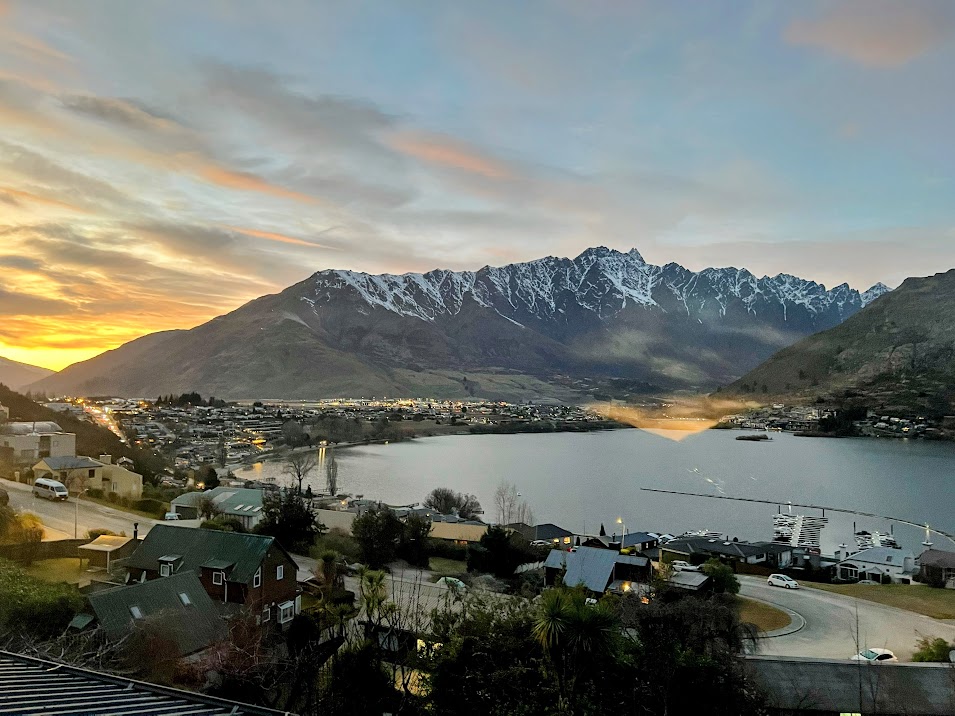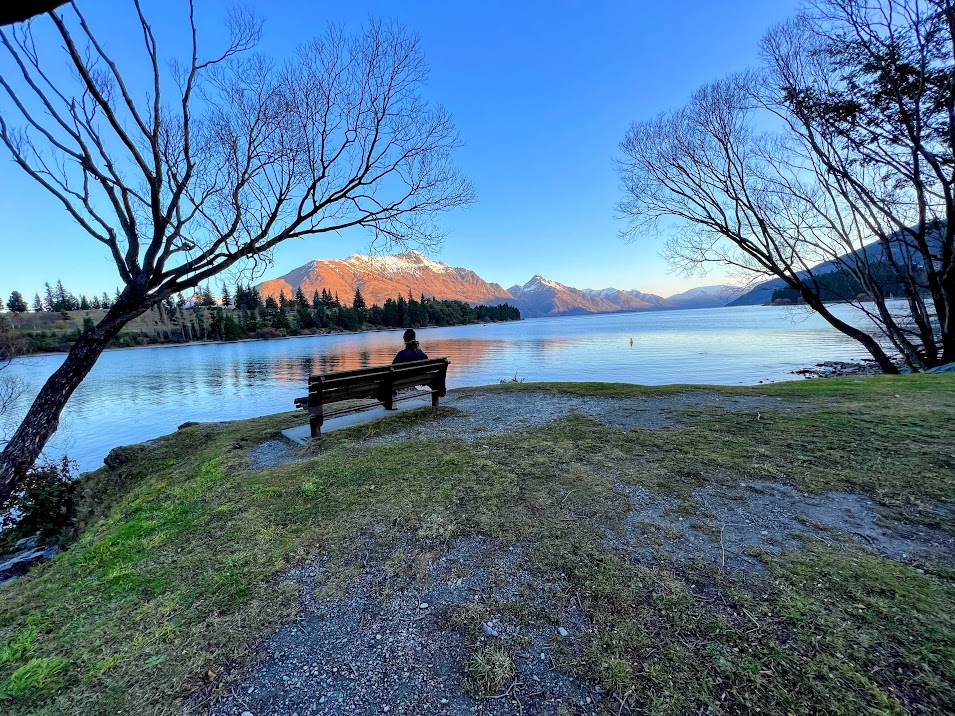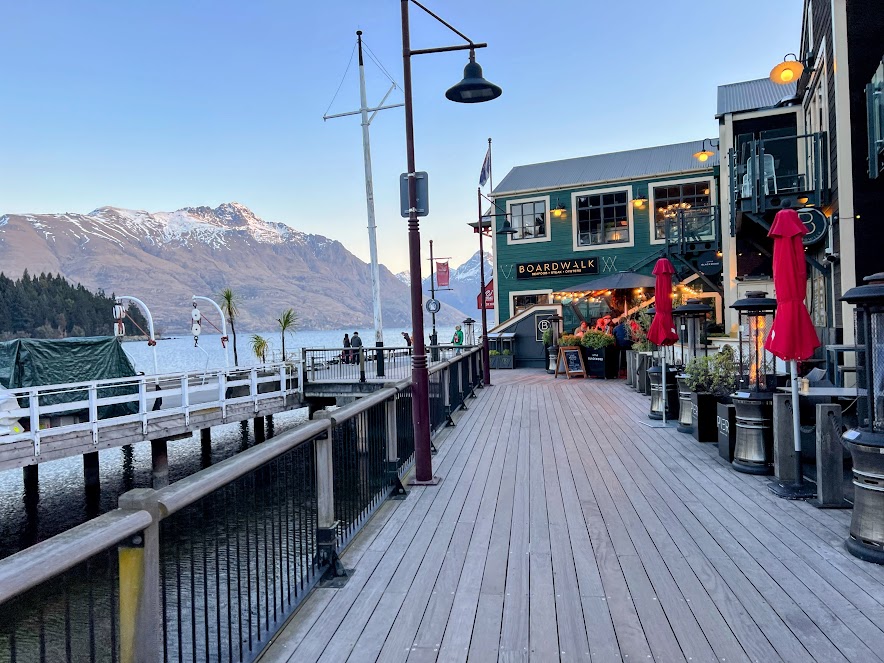 Van Life – Coromandel Peninsula
We zipped up to North Island to begin our week-long van life extravaganza. We hit the road after stocking up on pb&j, chips & craft beer. First stop: Coromandel Peninsula. We were treated to neon greenery, the salty ocean, and cool fog (but thankfully little rain despite the forecast!). Also, no road trip is complete without Taco Bell, and Eric wants everyone to know that TB in NZ is unparalleled – perfectly crispy tortilla, succulent pulled pork & it weighed approx. 1KG. Watch out, San Francisco burritos..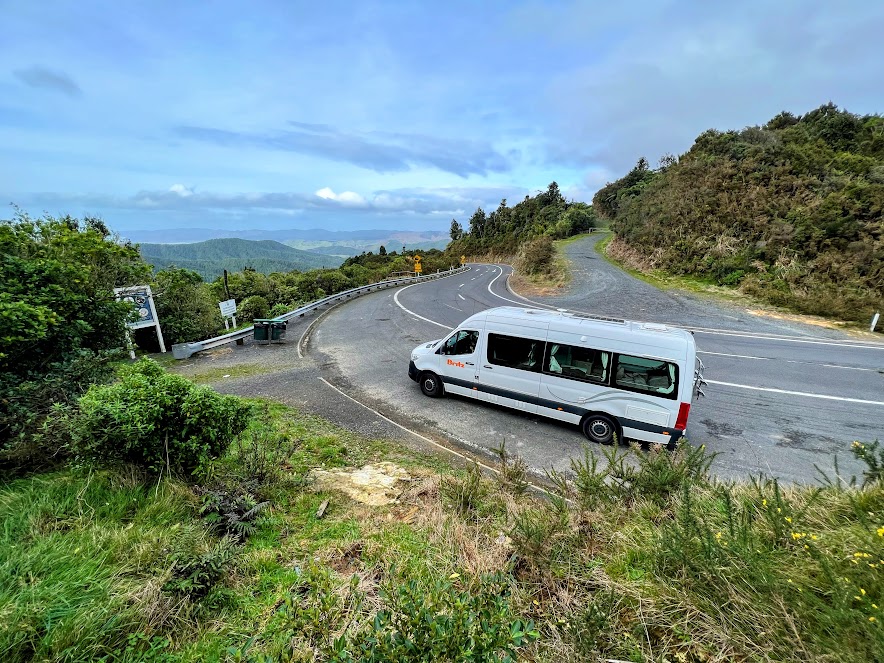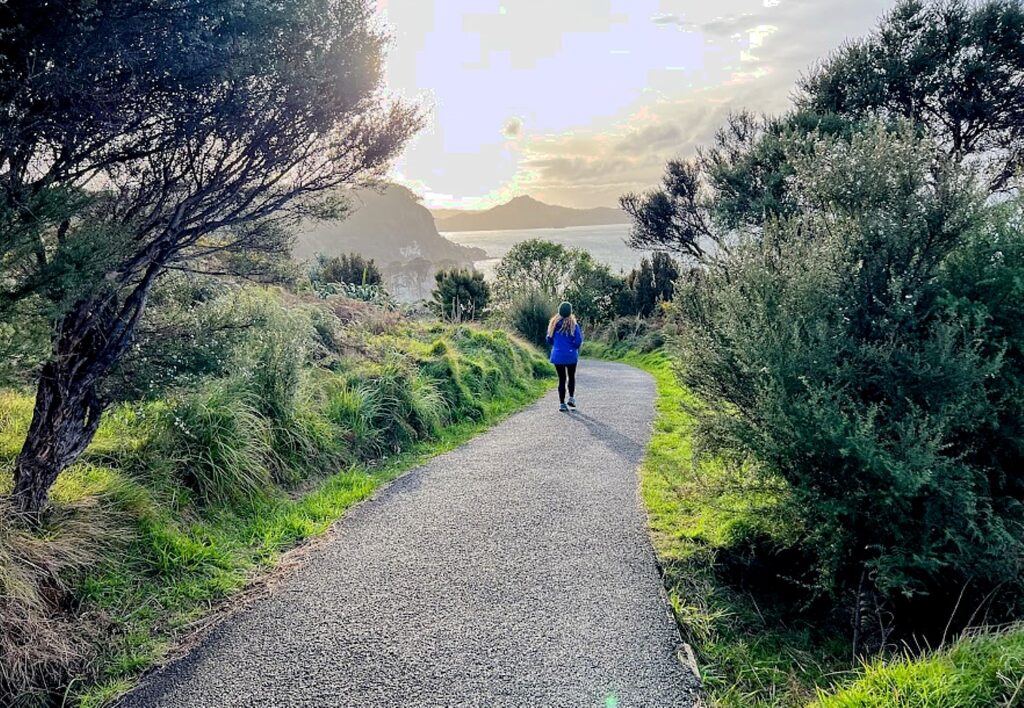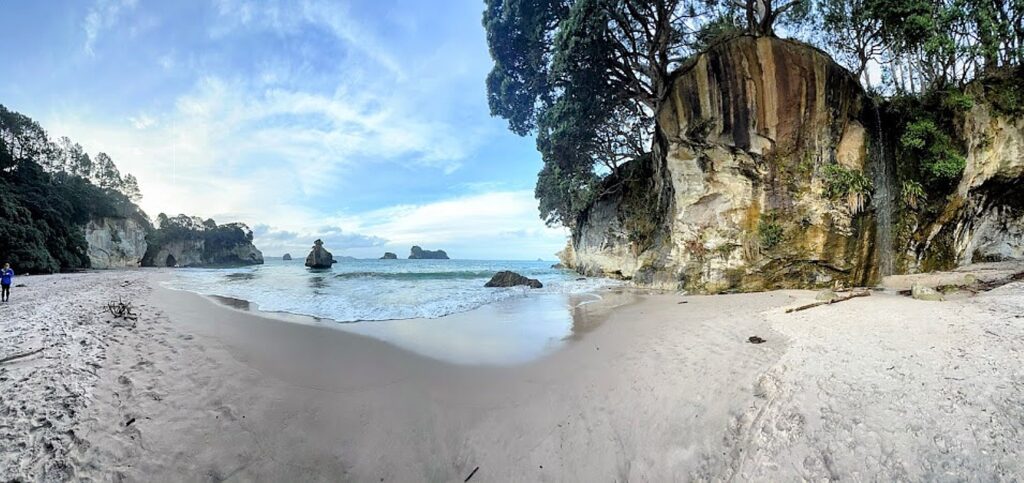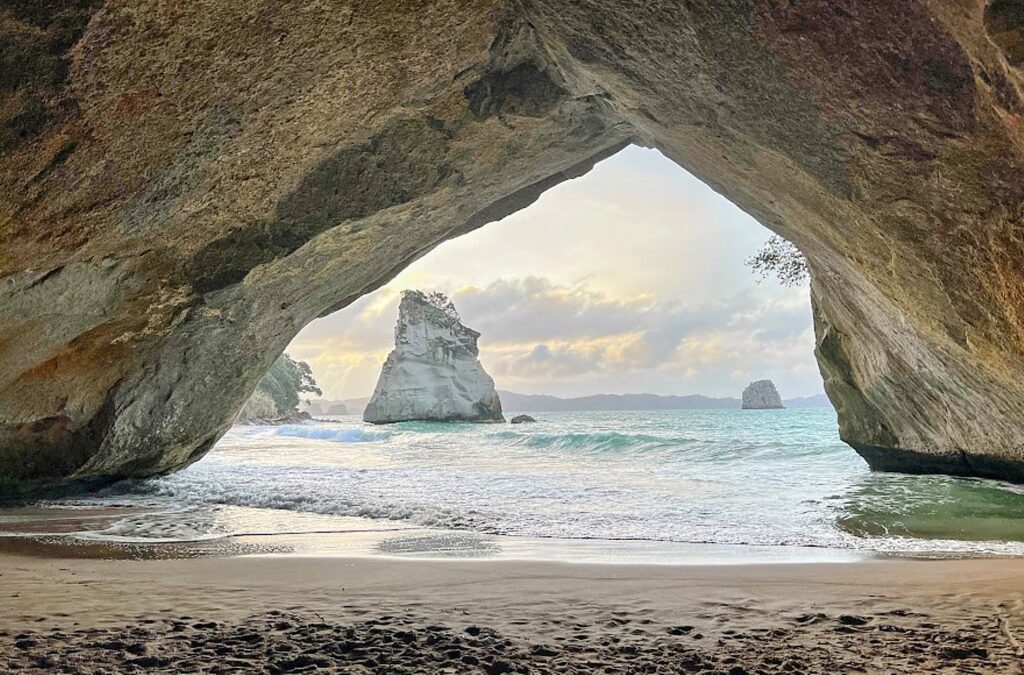 Van Life – Rotorua, Taupo
We continued south in the van, coming to find that NZ is bubbling with thermal activity– especially in Rotorua & Taupo. Geothermal steam oozes from ponds at local parks and Eric veered off the road for any and all opportunity to hop in a thermal bath – his favorite being the Hot N' Cold river where two rivers converge (one piping hot, one ice cold, as the name suggests). It was his dream come true – a natural version of a hot tub and cold plunge!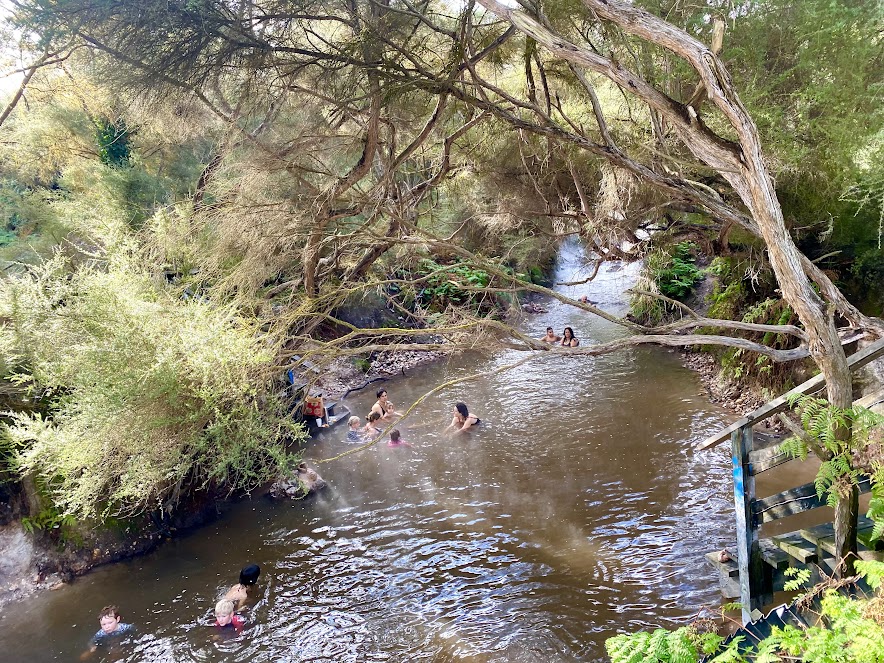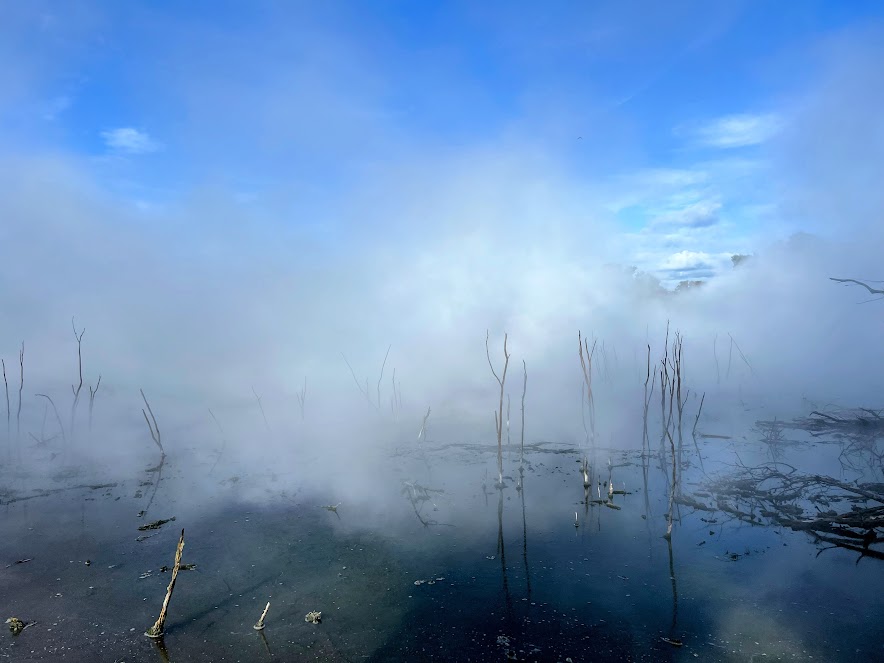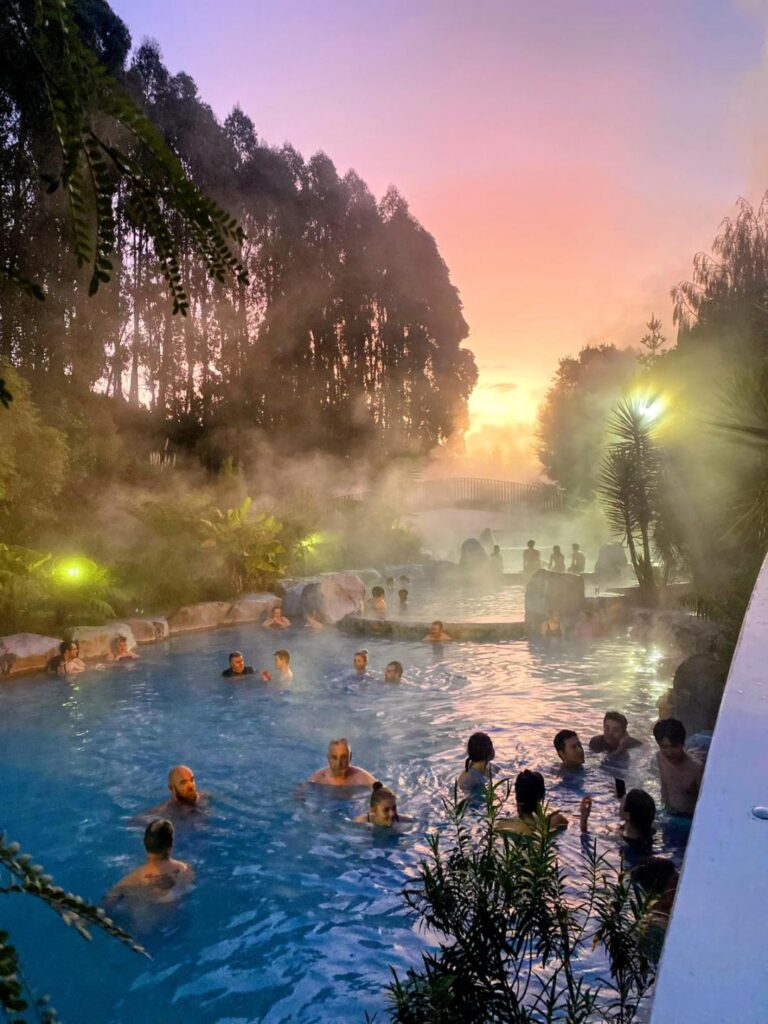 Our campsite in this region was chosen for us when we got our van thoroughly stuck in the mud. Thankfully a lovely Kiwi helped us MacGyver a way out in the morning:) Sarah also tried mountain biking here for the first time, and basically screamed the entire way down.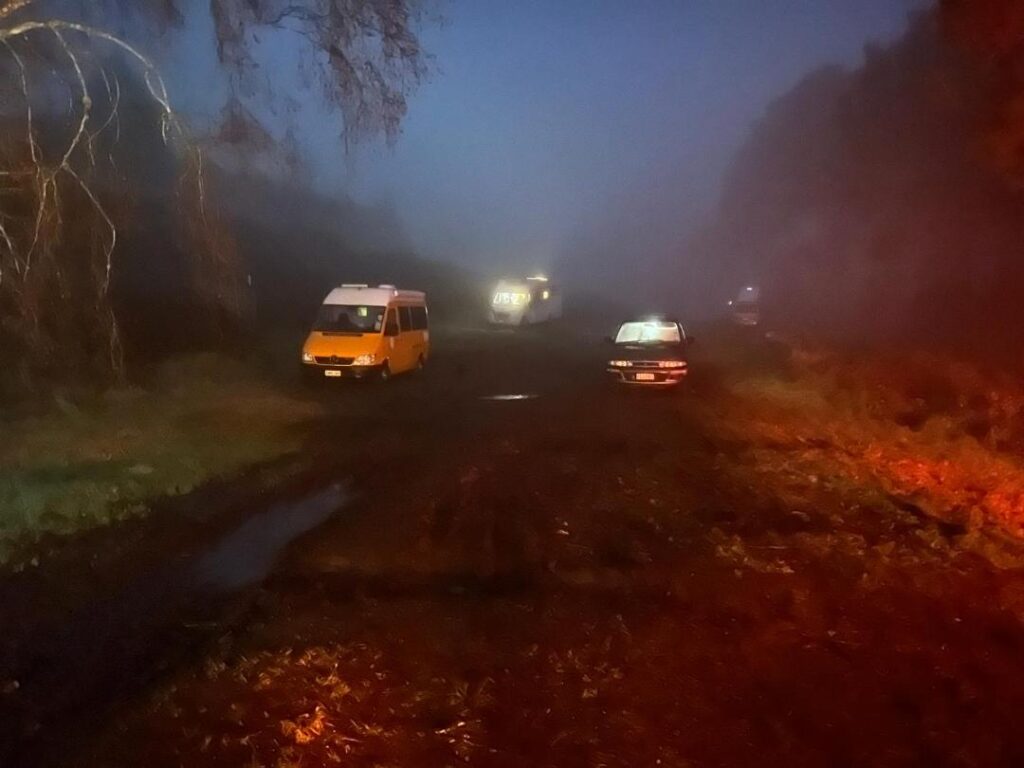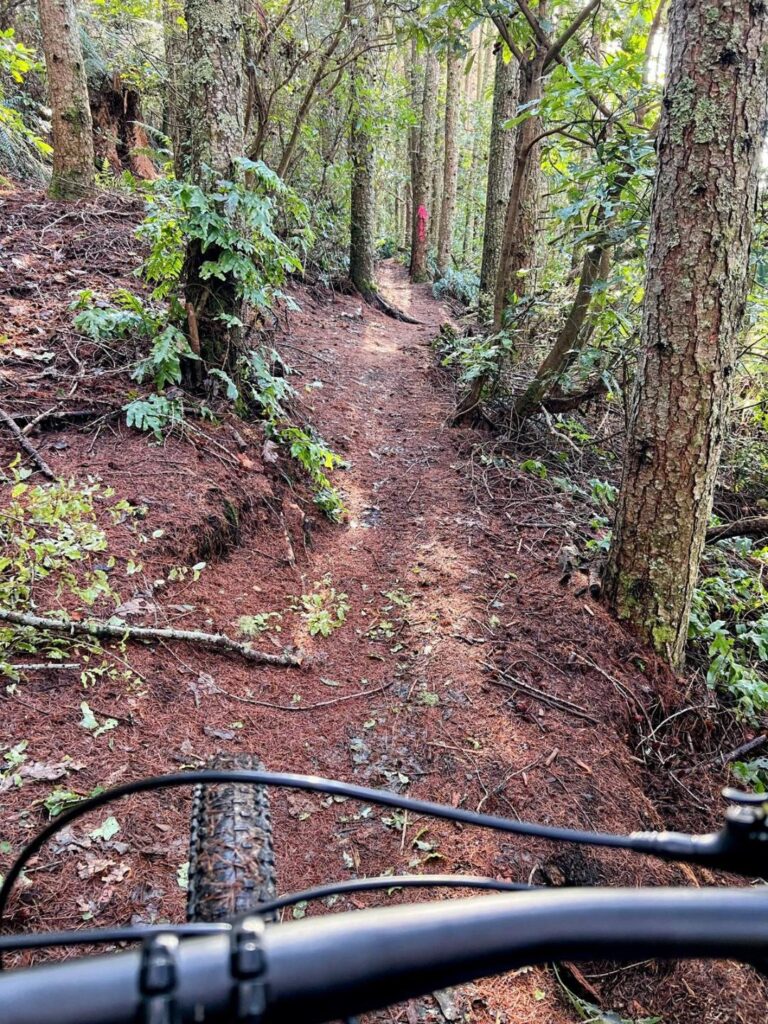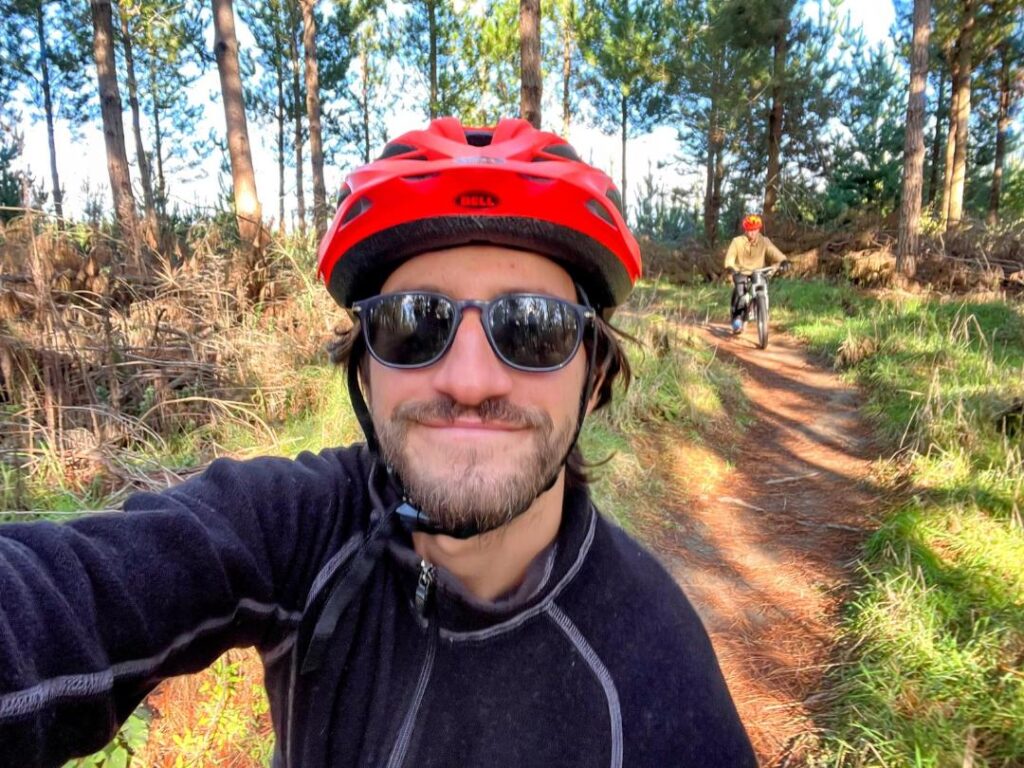 CHILE Santiago, Valparaiso
The direct flight from Auckland → Santiago, being loosely in the direction of home (California), was what ultimately led to the decision of concluding our adventure in South America. We touched down in Santiago and immediately had to gear our stomachs up for cream-sauce & mayo-covered-everything (Eric was ready). Sarah's dad, Joel, joined us for the Chile leg, and we spent the first couple days at parks, drinking pisco sours, and consuming "completos" (local version of a hot dog).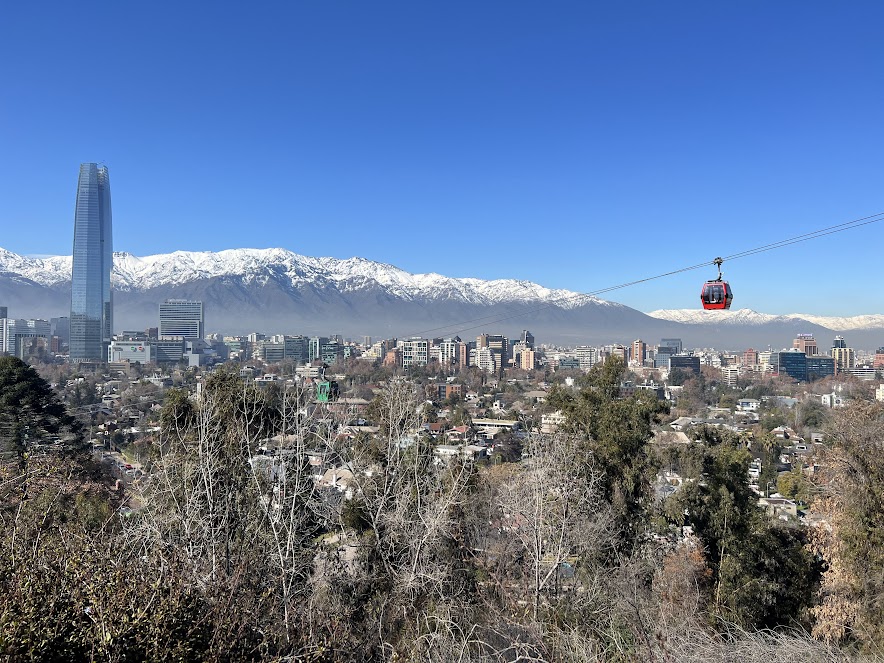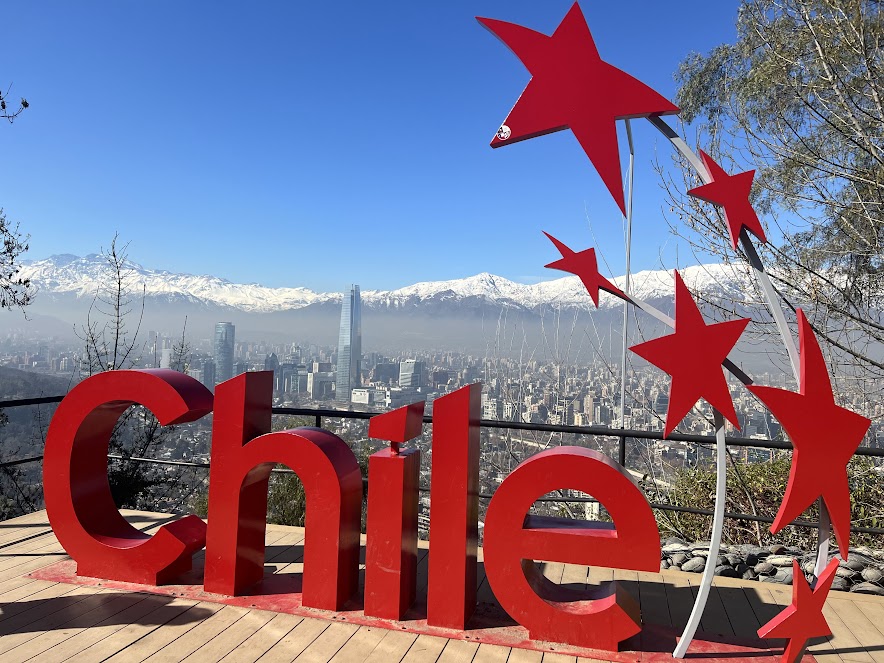 Eric also squeezed in one more day on the slopes of Valle Nevado (ya know, because he had to maximize the return on the thrift store ski gear he picked up in NZ). Then we scooped up a rental car and drove west to Valparaiso, a graffiti-filled port town. We wanted to love Valparaiso, but lots of warnings of crime plus stray dogs and their doodoo on every inch of the street left us feeling a tiny bit meh. Joel did find a really cool hat at the market though——->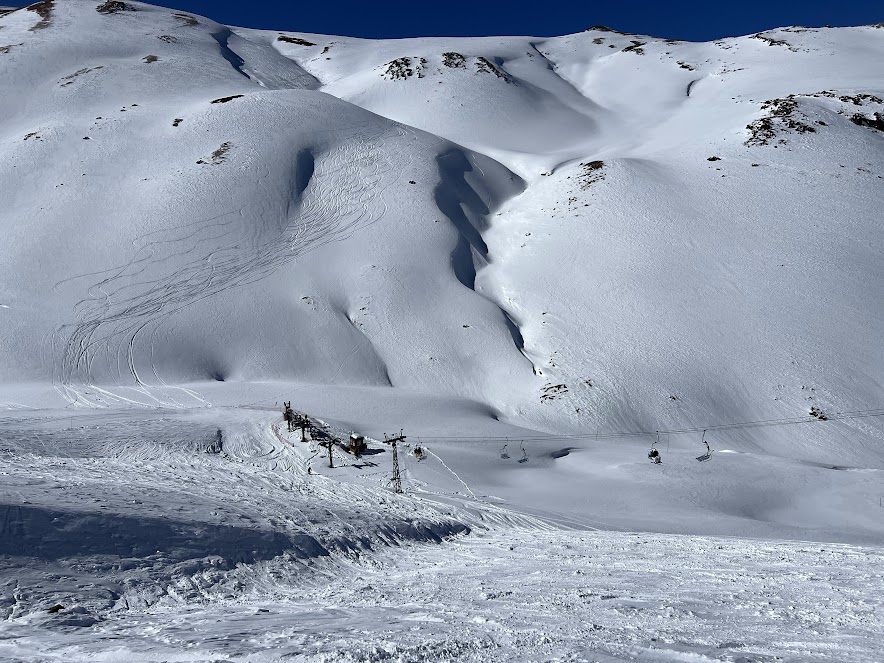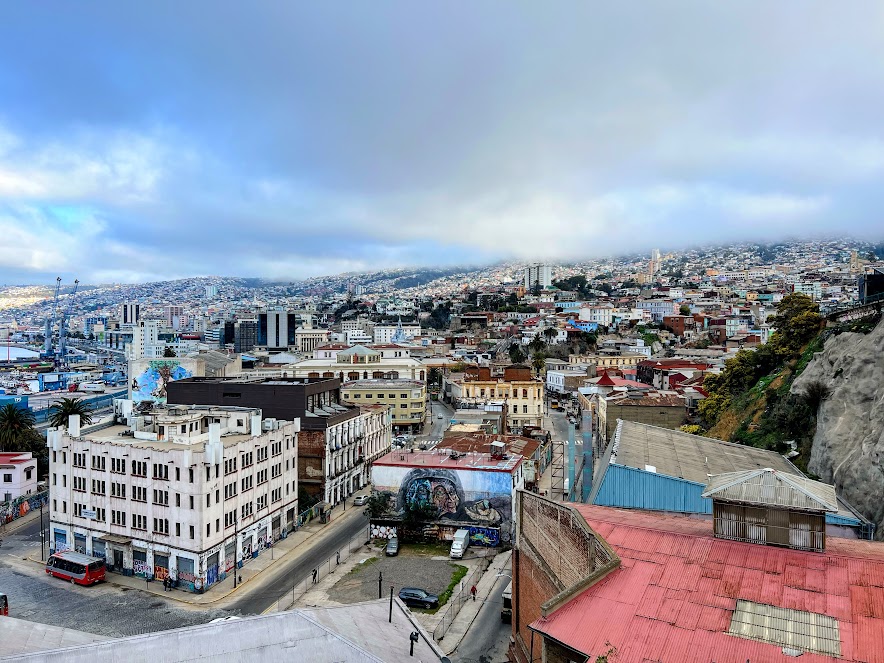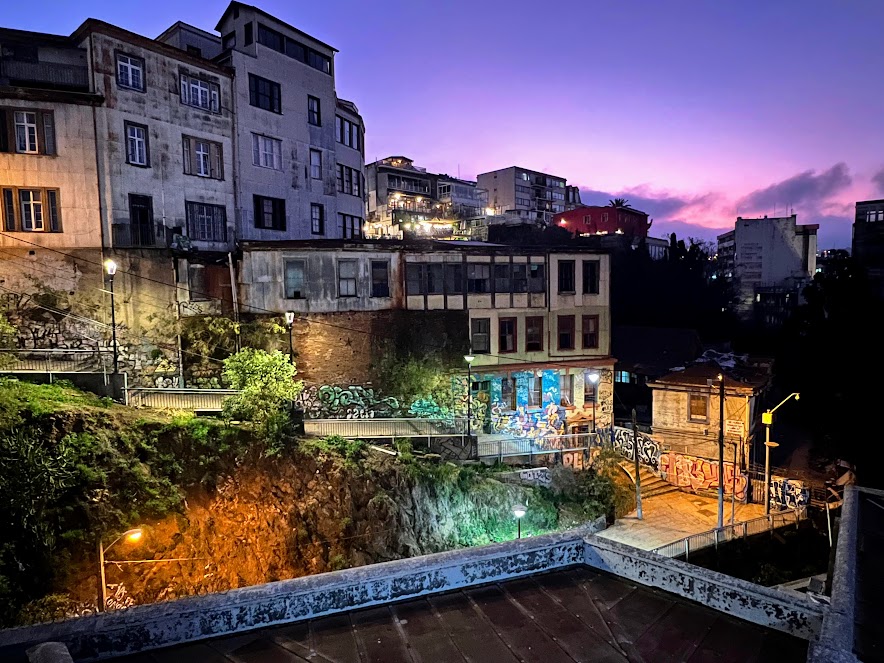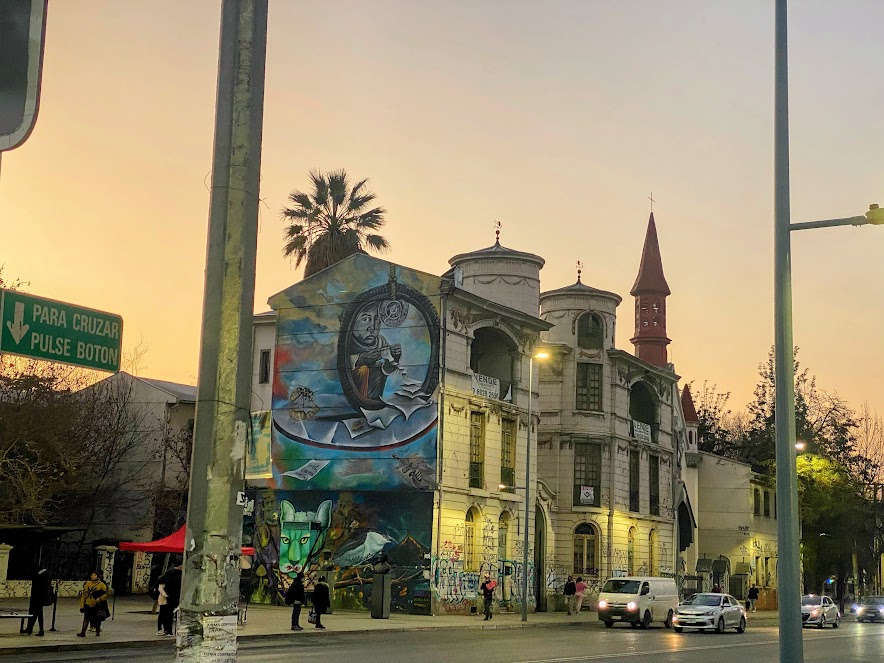 Casablanca, Maipo
We continued on with a stop in Casablanca (wine country) where we sipped some delicious (and inexpensive) vino, ate pizza, and slept in a tiny house overlooking vineyards. We loved the much more chill and less elitist vibes of the wineries we visited (compared to Northern California).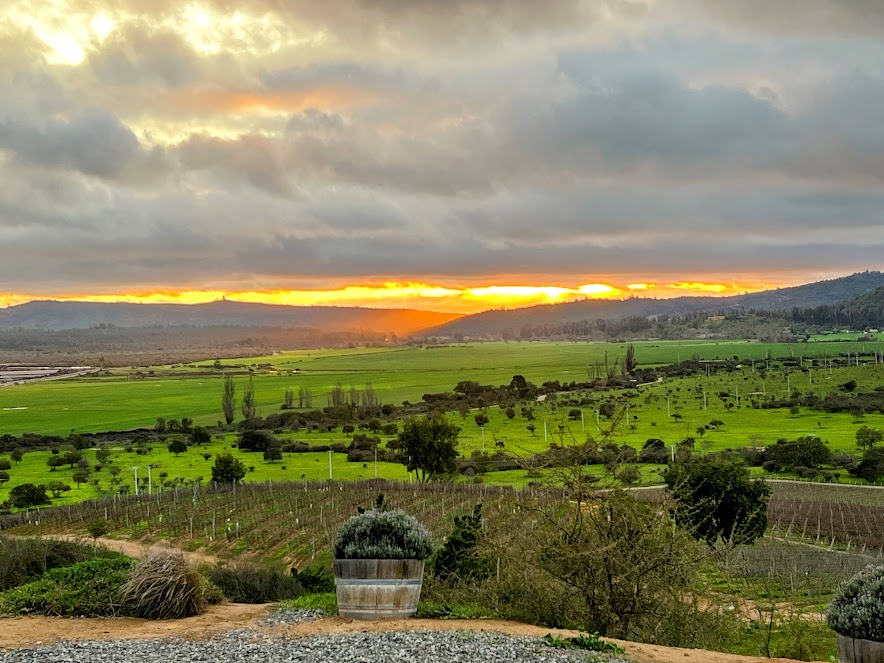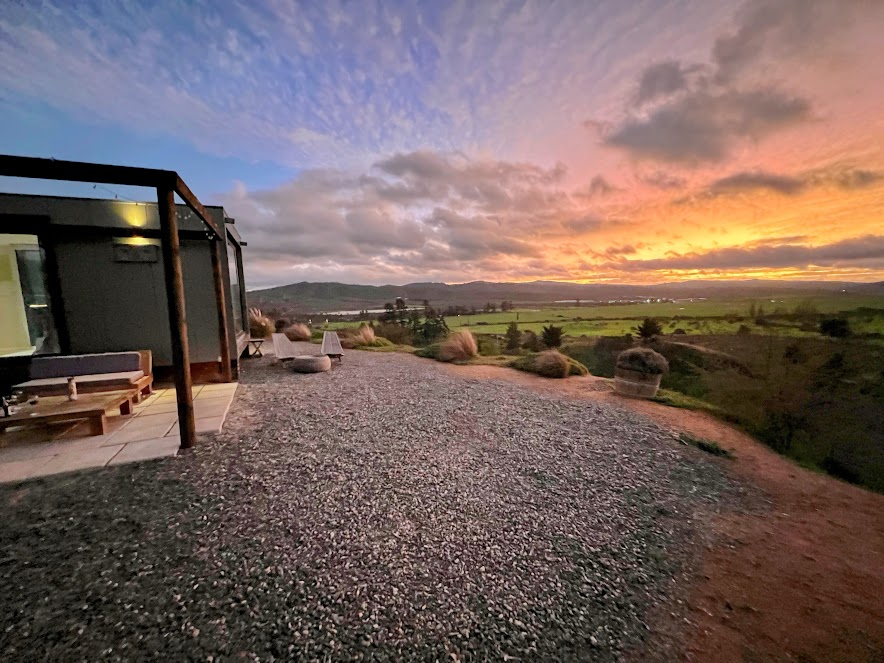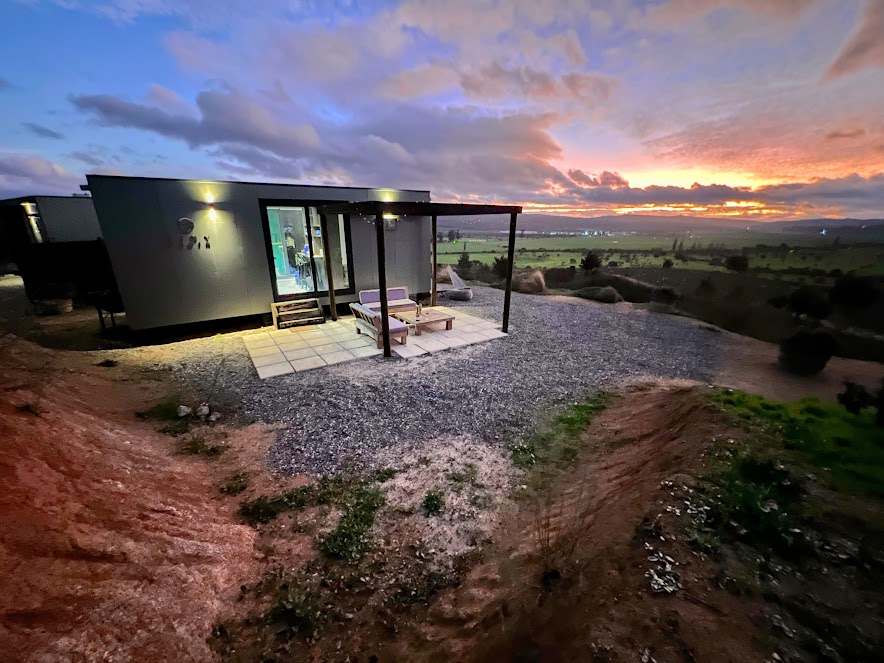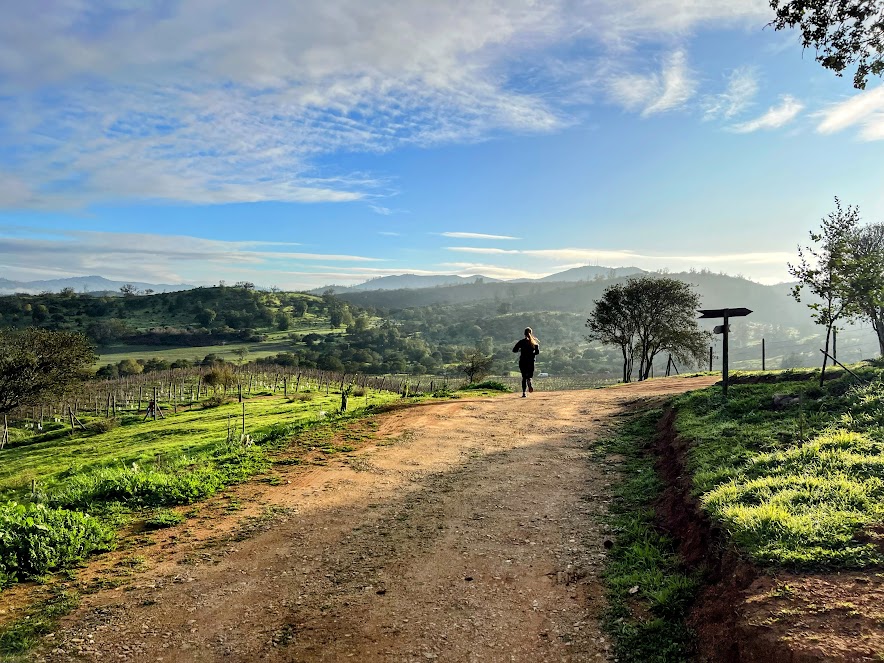 And to round-out the road trip, we visited the mountains of San Jose de Maipo. We stocked up on food and took the hosts 4×4 van up the steep and rocky road to our Airbnb. The cute cabin had one furnace, so Eric and Joel got to practice the manly skill of fire building 24/7, and we all slept in four layers of clothing. We spent the days cooking meals and going for lots of walks with mountain views (the neighbor's sweet dog accompanied us wherever we went).
Atacama Desert
Last stop in Chile: The Atacama Desert, the driest and one of the highest deserts in the world. Lots to see in this vast dryland, which often felt like another planet – salt flats, sand dunes, lagoons with flamingos (did you know flamingos are born white, and their diet of exclusively sea monkeys turns them pink!?), multicolored canyons & geothermal springs.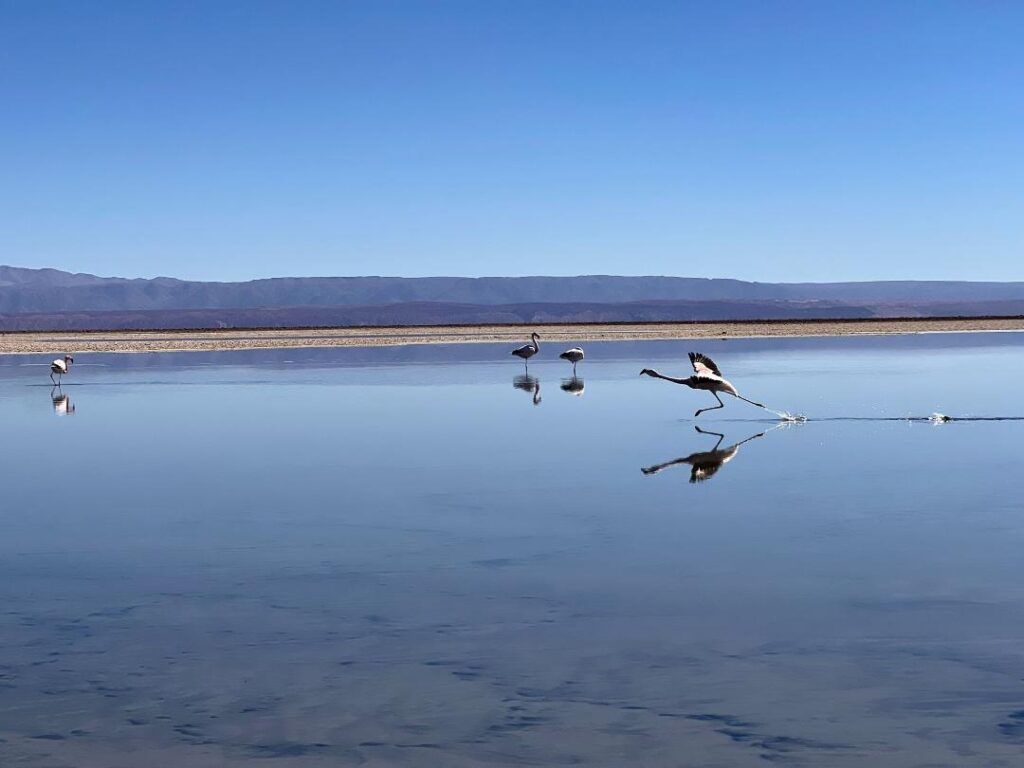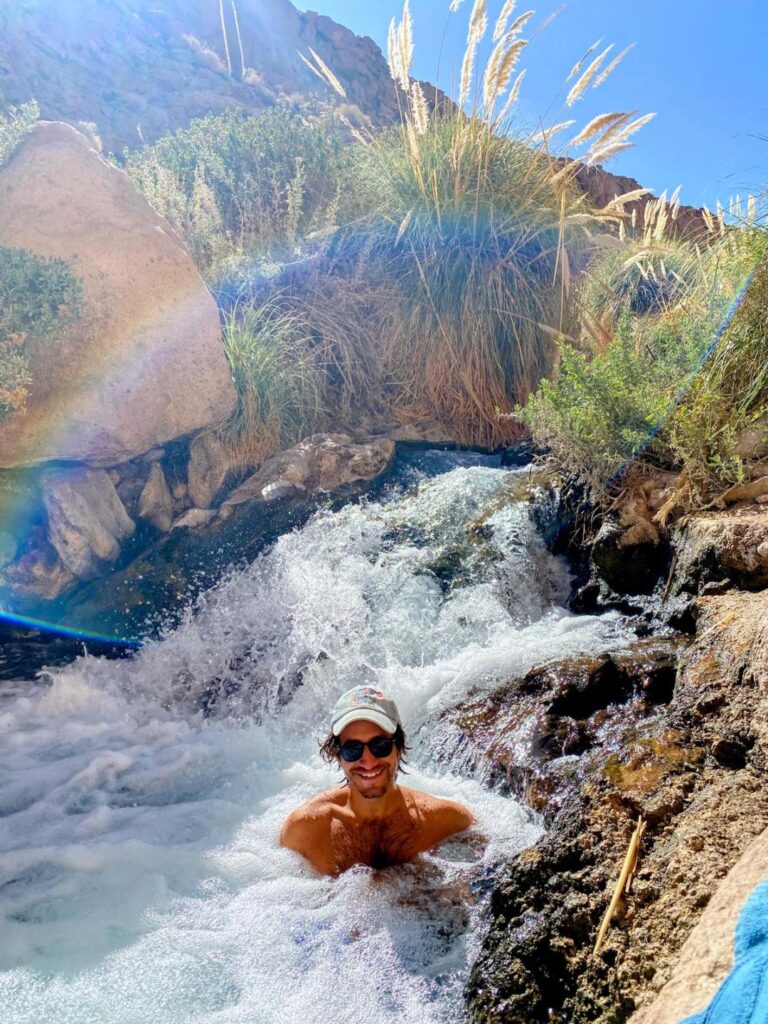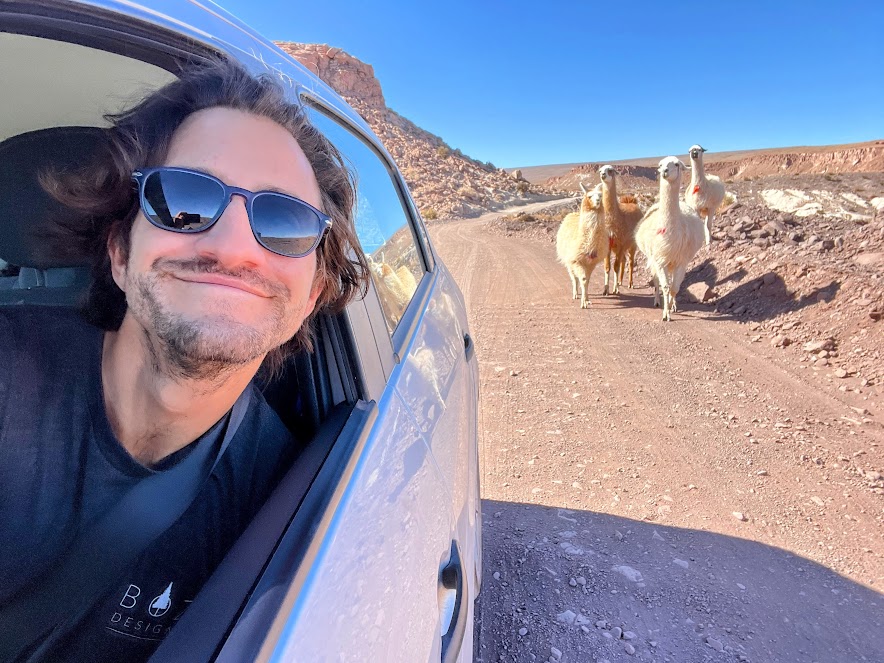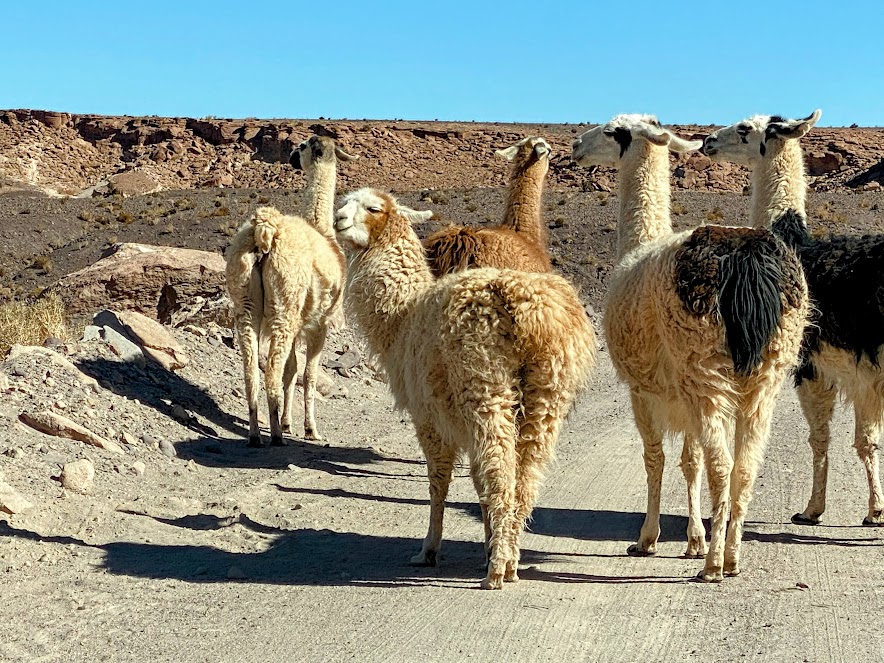 At one point we were locked out of our car in the middle of the desert, but thankfully we are small humans and were able to climb in through the trunk back to mobile safety. After the panic subsided we were treated to a herd of llamas trekking alongside our car for 30 minutes. This desert oasis has an added bonus– a Death-Valley-meets-Albuquerque boho-chic little town called San Pedro de Atacama. Lots of funky cool souvenir shops and live music to check out.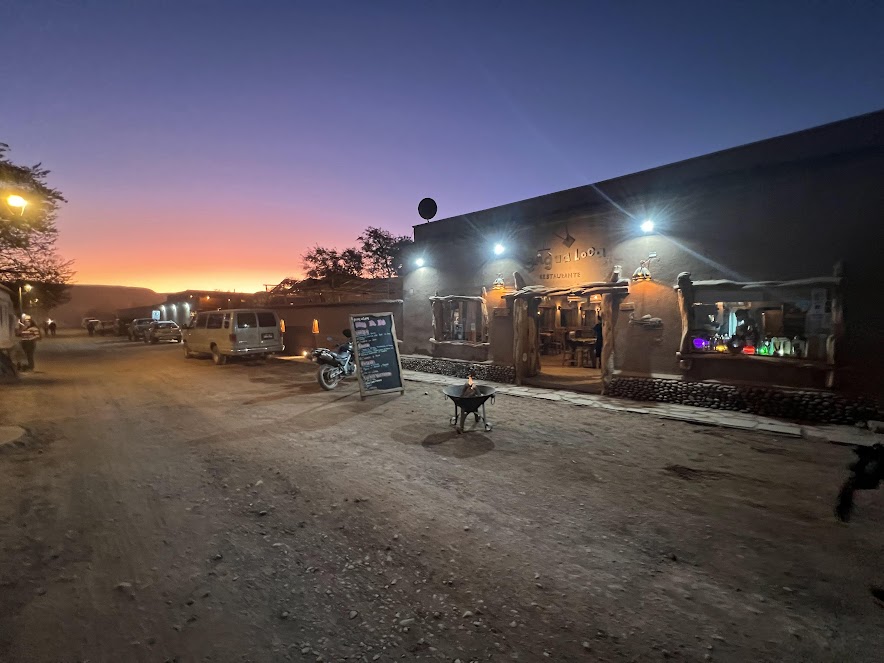 Now off to Peru and Ecuador for trekking and wildlife viewing, the grand finale of our six-month odyssey.
See also:
DISPATCH 1 FROM LIVING THE NOMADIC LIFE, A GLOBAL ODYSSEY: MEXICO
DISPATCH 2 FROM LIVING THE NOMADIC LIFE, A GLOBAL ODYSSEY: SOUTH KOREA TO VIETNAM
DISPATCH 3 FROM LIVING THE NOMADIC LIFE, A GLOBAL ODYSSEY: MALAYSIA TO CAMBODIA
DISPATCH 4 FROM LIVING THE NOMADIC LIFE, A GLOBAL ODYSSEY: INDONESIA
DISPATCH 5 FROM LIVING THE NOMADIC LIFE, A GLOBAL ODYSSEY: AUSTRALIA-NEW ZEALAND-CHILE
____________________________
© 2022 Travel Features Syndicate, a division of Workstyles, Inc. All rights reserved. Visit goingplacesfarandnear.com, www.huffingtonpost.com/author/karen-rubin, and travelwritersmagazine.com/TravelFeaturesSyndicate/. Blogging at goingplacesnearandfar.wordpress.com and moralcompasstravel.info. Visit instagram.com/going_places_far_and_near and instagram.com/bigbackpacktraveler/ Send comments or questions to [email protected]. Tweet @TravelFeatures. 'Like' us at facebook.com/NewsPhotoFeatures