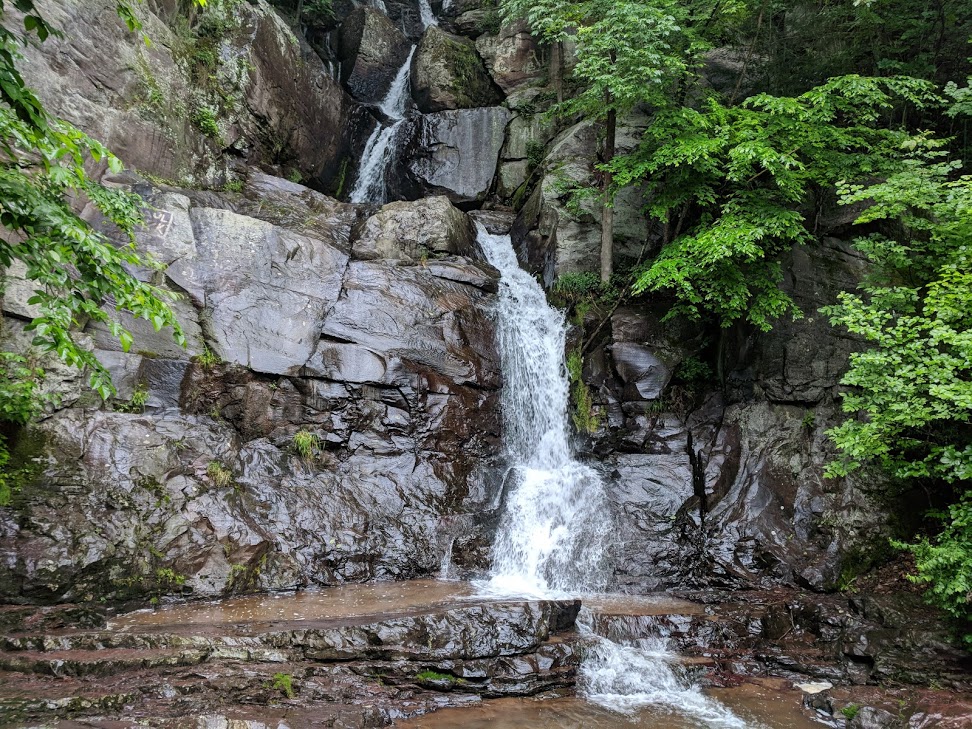 by Karen Rubin
Travel Features Syndicate, goingplacesfarandnear.com
Fall is a superb time to bike some of the phenomenal multi-purpose trails repurposed from rail lines and canal tow paths.
This year, I became acquainted with one of the best in our area – the Delaware-Lehigh Trail just across from New Jersey in Pennsylvania, a 165-mile long trail that follows the Delaware Canal State Park and the Delaware Lehigh National Heritage Corridor. The trail was featured in this year's Rails-to-Trails Conservancy's Sojourn, an annual multi-day supported biking/camping trip. The itinerary included riding a portion of one of my favorite trails on the planet, the Delaware-Raritan on the New Jersey side of the river.
Rails-to-Trails has offered these supported Sojourn biketours annually since 2002 to showcase repurposed rail trails and highlight the need to advocate for future projects. These trips are incredibly popular and the 300 of us on this year's trip were saddened to learn that this Sojourn would be the last, because RTC will be focusing on advocacy and leave such organized bike tours to local organizations. Appropriately, the focus of the last Sojourn was also the trail for its first.
Still, it is there for all of us to enjoy, any time.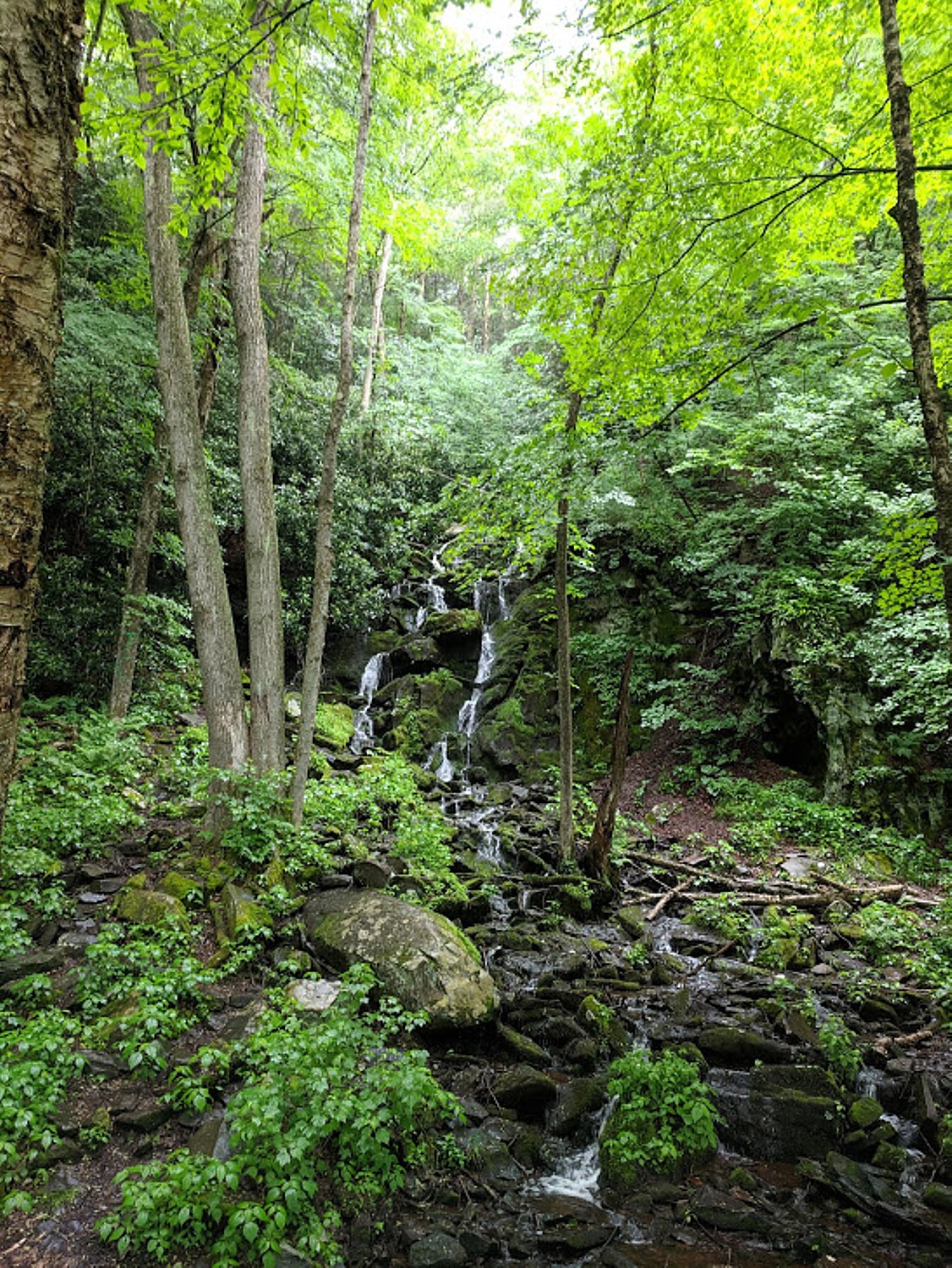 The Delaware & Lehigh National Heritage Corridor (D&L) follows the Delaware and Lehigh Canals and the old Lehigh Valley Railroad as it stretches through five counties, from the city of Wilkes-Barre in the mountainous coal region of northeastern Pennsylvania, to historic Bristol borough, along the Delaware River near Philadelphia.
Congress established the Heritage Corridor in 1988 at a time when the region was economically depressed with the collapse of coal and steel industry that had birthed these communities – the mining towns, factory and milltowns –  to begin with.
With 86 of the D&L Trail's 165 miles located within two state parks (Lehigh Gorge and Delaware Canal), the advocates to create the trail out of disused towpath had a jumpstart to connect people to the region's story—one of innovation, conservation and industrialization.
About 92 percent of the D&L Trail is built and the goal is to connect all 165 miles by 2022. Three gaps will have been closed in 2018, including the opening of the $4.1 million Mansion House Bridge across the Lehigh River at Jim Thorpe (we get to participate in the opening ceremony and are among the first to cross), a road/railroad crossing at Middleburg Road in Luzerne County and a connector in Delaware Canal State Park at Tyburn Road in Bucks County.
These trail projects inspire local groups, breathing new life into the small downtowns along the corridor. Three regional revitalization efforts in particular: a 2004 move to greener programming; a 2005 Superfund reclamation project at Lehigh Gap Nature Center (which we visit); and Tales of the Towpath, an educational curriculum that now has 80 schools participating, which we get to sample at the National Canal Museum at Hugh Moore Park in Easton. And all along the way, we get to see participants in the Get Your Tail on the Trail wellness program who so far have logged more than 3 million miles.
As we, the beneficiaries of all this effort, appreciate over the course of our Sojourn, the trail showcases and immerses us into two significant revolutions in American history: the American Revolution (particularly when we get down to our most southerly point, Washington Crossing) and the Industrial Revolution. All along our route, which follows the canals built to transport anthracite coal from the mines to the markets, we see the markers and remnants amidst a beautiful setting.
Indeed, for me, the big surprise was seeing remains of the historic canal, the locks and gates, dams and lockmaster houses all along the ride.
Here we see the underpinnings, the infrastructure of the Industrial Revolution, which enabled the United States to ascend as a world power. Yet, from where we are on the trail alongside the canal with trees on one side, in a more natural state, except when we come upon long-shuttered steel mills that now seem like oversized sculpture.
A Soggy Day One
We meet up at Hugh Moore Park in Easton, Pennsylvania, (which we learn is land donated by the man made rich through the manufacture of Dixie Cups) where we park our cars and register. Interestingly, we will be returning here to camp the next night.
Rain starts just as we board the buses that take us an hour and a half to the start of the D&L trail near the quaint mountainside community of Glen Summit. But instead of stopping as forecast, the drenching rain continues on, and on, and on, throughout the day and into the night – almost 24 hours before it stops. I've never been outside in the rain for a full 24 hours before.
We set out on the ride – 160 miles over the course of five days – at the highest, steepest part of the trail, literally in the mountains where anthracite coal was mined. The trail becomes muddy and slick in the steady rain. I make myself feel comfortable with the feeling of slipping, but soon enough, the trail flattens out. The trail is surprisingly still solid enough to keep the tires from sinking or catching.
But we miss the gorgeous views for which this part of the trail is renowned.
I am loving the new poncho that I bought at the Bike Expo before the NYC 5 Boro Bike Tour, but thinking about having to set up my new REI tent in the rain which I have never done before, kicking myself that I didn't use the Comfy Camper service (closest thing to glamping) so that my tent would be up, with an air mattress, when I arrived.
Instead of just enjoying the scenery and the thrill of biking downhill, this becomes an interesting physical and mental  challenge that tests character, an adventure in overcoming obstacles, that when it is accomplished, changes you because you know you have done it and can do it– a value of a biking/camping trip in itself.
We ride along the river and see people out there in canoes and kayaks having a rollicking good time – clearly a great day for a waterborne activity.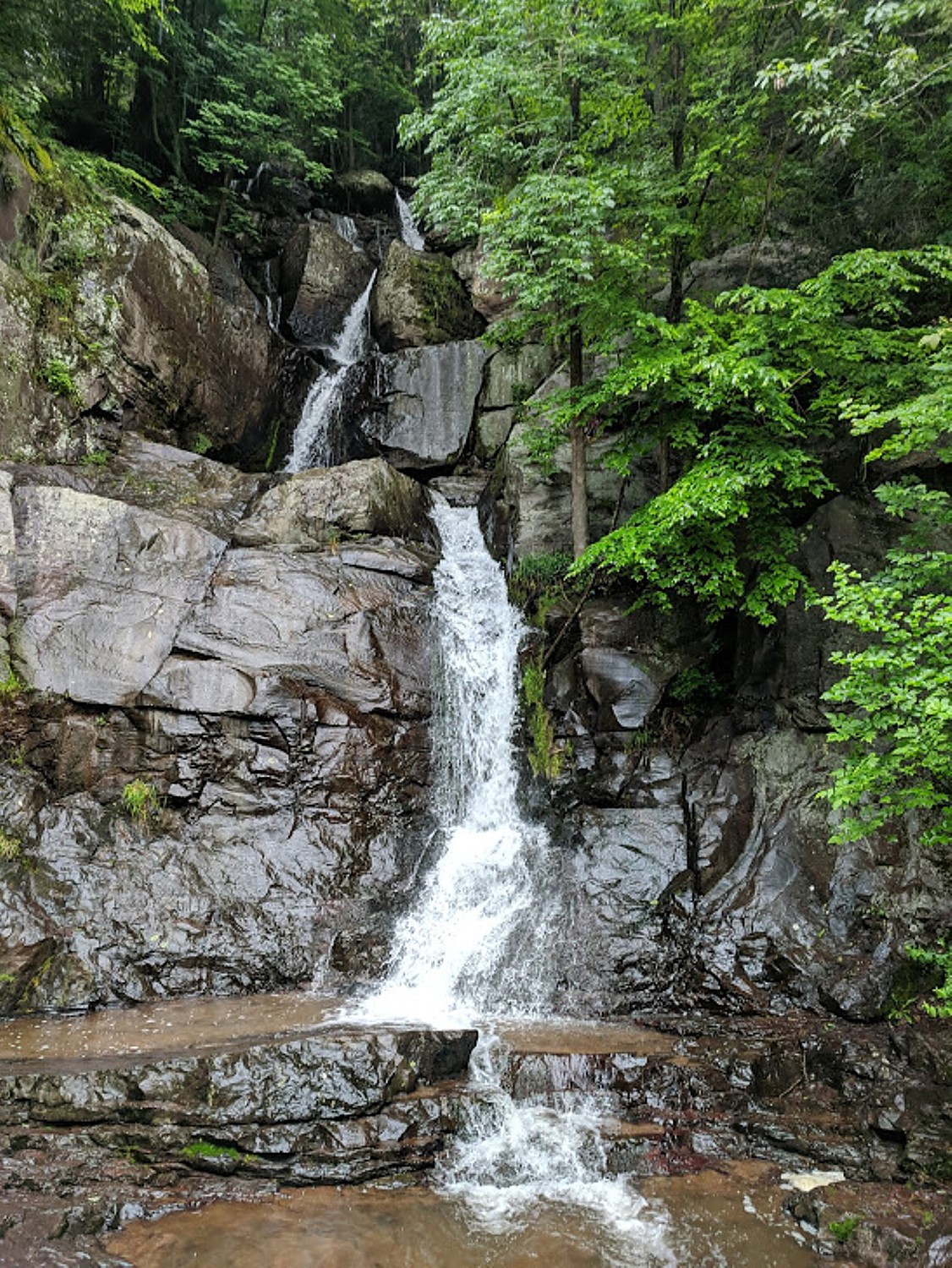 This first day, we bike 35 miles southeast along the rushing Lehigh River, passing the most rugged and natural landscape of the ride – 800-foot hillsides of the Lehigh Gorge. At Moosehead Lake there are the remnants of highlift locks that were part of the Lehigh Canal's Upper Grand Navigation.
Even this grey day cannot mar the beauty of the waterfalls we come upon, particularly Buttermilk, which cascades down in tiers.
Jim Thorpe, PA
We bike to the quaint town of Jim Thorpe, which (we discover), because of its steep hillsides, narrow streets, and terraced gardens is known as the "Switzerland of America." I think of it as the San Francisco of Pennsylvania.
Our campsite is on a baseball field literally a 1.5 mile hike up a steep winding narrow road from the center of this charming town, pushing our bikes up (it's only about half-mile walk back down along a steeper route). The rain is unfortunate because unlike most campgrounds on these trips, the only cover are a couple of dugouts that we have commandeered to stow our stuff (one woman has set up her tent inside one), but no pavilions.
I overcome one of my anxieties, setting up my brand new tent in the rain, fortunately, which has abated to more of a drizzle.
We stand outside in the rain waiting out turn for the shower truck to clean off the mud before walking back down into the town for dinner (tonight's dinner is on our own).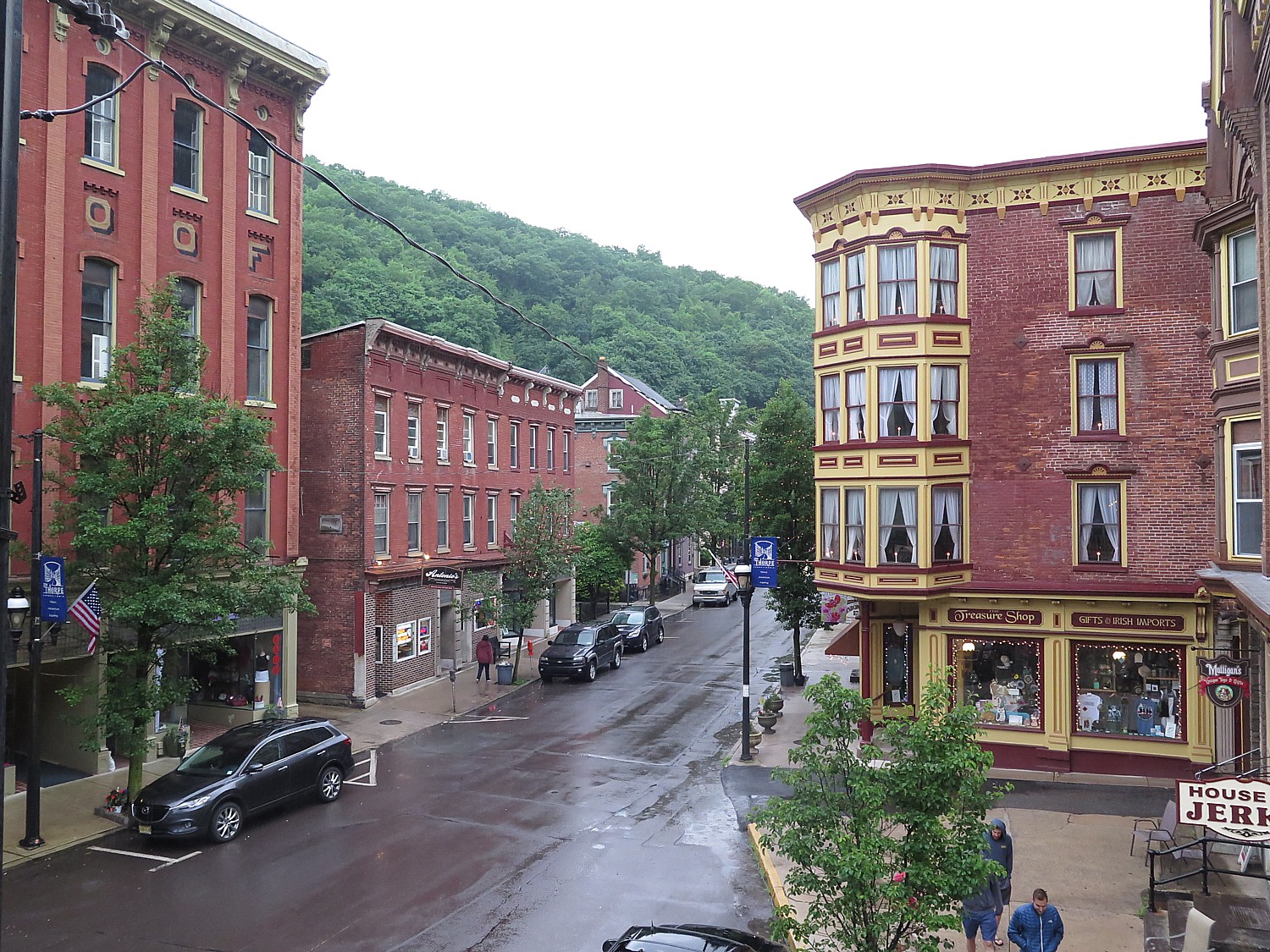 The town of Jim Thorpe is absolutely charming even in this weather that has many of us buying up sweatshirts and sweatpants and even taking lodging in one of the many charming inns and guesthouses instead of camping out.
I am invited to join some new friends from the Sojourn I meet on the walk down for dinner at the Molly McGuire pub-style restaurant, which I learn is named for the Molly McGuires, labor agitators who were executed here (you can visit the Old Jail).
I stroll around awhile – struck by the many American flags and other patriotic displays, and in one of the charming historic inns, I find a poster of Jim Thorpe.
Established in 1818 as Mauch Chunk, which means "Mountain of the Sleeping Bear," the name the Lenni Lenape Indians gave to the nearby mountain, it was later renamed for an Oklahoma-born Native American, Olympic hero, Jim Thorpe, who is buried there. Thorpe was born in Oklahoma in 1888 and raised on the Sac and Fox Reservation and had never set foot in the borough.  But Patsy Thorpe, Jim's third wife, cut a deal with two struggling towns in Pennsylvania, that if they would merge and rename themselves Jim Thorpe and build a memorial to honor him, she would present them his remains for burial. 
Here, entrepreneurs led by Josiah White formed the Lehigh Coal & Navigation Company in the 1820s (we can still see the brick building), which shipped tons and tons of anthracite coal and other goods to market via the Lehigh and Delaware Canals which they constructed. The town grew in importance when it was named Carbon County's seat in 1843.
I explore this charming town before taking one of the shuttles the organizers have arranged for us to ferry us back up to the campground.
I am comfortable in my tent despite the rain which continues to fall, At 1:45 am, I hear the rain abating, so I race to the bathroom and get back to tent just in time for the rain to start up again. It stops in the early morning, so I rush to take down the tent before it rains again.
This morning's breakfast as been arranged in a restaurant a short walk from the campsite.
I remember that they have arranged for us to have a guided tour of the Asa Packer Mansion (before the bridge dedication) and I race over there.
Asa Packer Mansion
Two things stand out as I regard the exquisite decoration and furnishings in the Asa Packer Mansion in Jim Thorpe, Pennsylvania, a charming town on the Delaware-Lehigh trail: the house, which dates from 1861, was vacant from 1912 to 1954, but never disturbed, never vandalized, never burgled despite the fantastic riches it contained; and Asa Packer, who I had never heard of before, was a rags to riches American Dream come true story, who became one of the richest people in the world (Queen Victoria even gave him a table which we see in the house), but was always beneficent to his workers (he built housing for them and paid in cash from a strongbox), founded Lehigh University (was originally for boys who attended tuition-free), hospitals. In fact, everything that he built is still in existence and used for good purpose. Cornelius Vanderbilt hated him because Packer, an intensely religious man, made the miser look bad.
The mansion, built in 1861 by Philadelphia architect, Samuel Sloan, and containing the original furnishings and exquisite architectural details, is spectacular in its own right.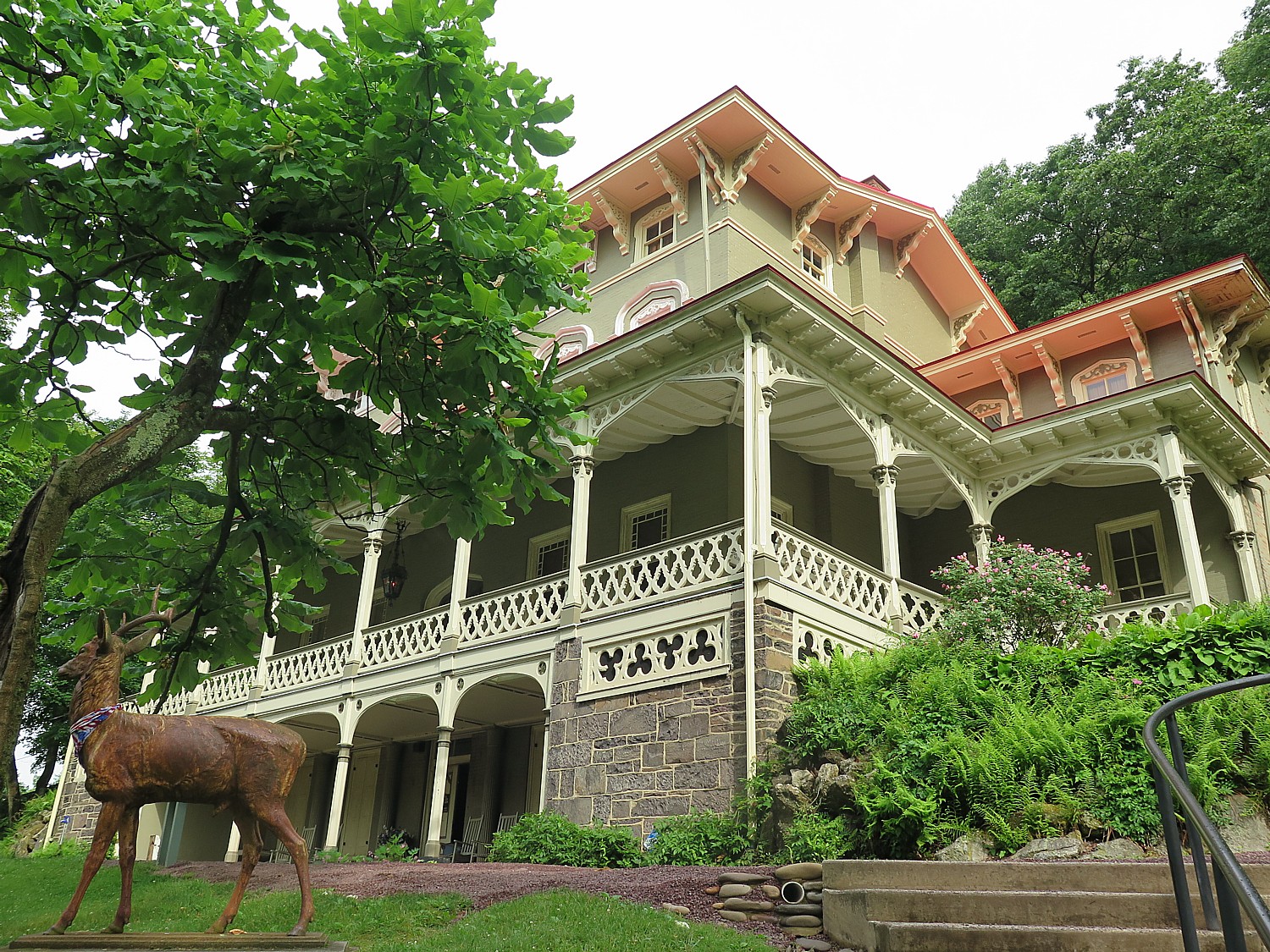 The mansion was constructed over a span of two years and cost a total of $14,000 dollars.  Topped by a red-ribbed tin roof and a central cupola, or belvedere, the home was built over a cast iron frame and consists of 3 stories, 18 rooms and approximately 11,000 square feet of living space.
The furnishings are exquisite – a "Mermaid" chandelier, an important grandfather clock by Bailey Bay Banks & Biddle of Philadelphia, a table that was a gift of Queen Victoria. The mansion had gasoliers (capable of both electric lights, which was new, and gas) and a self-cleaning stove. But out of all this splendor, there is a "settler bench," dating from the 1700s, that seems out of place: Asa kept it as a reminder of where he came from.
The mansion is spectacular enough, but  what fascinated me is the story of Asa Packer, one of the early Industrial Revolution millionaires (he became one of the richest people in the world), but who never forgot his humble beginnings, acted honorably to his workers, antagonized the likes of the cheapskate Cornelius Vanderbilt, and whose beneficence created many important institutions that are still operating today, including Lehigh University (which was tuition free when it opened) and St. Lukes Hospital, because there weren't any hospitals in the area. He made considerable donations to the Gothic Revival  St. Mark's Episcopal Church in downtown Jim Thorpe. "Everything he built is still operating," the docent tells me.
The mansion – in contrast to Cornelius Vanderbilt II's Breakers mansion in Newport – is a testament to Asa Packer's humanism: he kept a safe from which he would pay workers' wages and from the mansion you can look out on row houses on Ray Street that he built for workers; he built an entire new wing on the mansion and hung gold wallpaper (literally gold) for his 50th wedding anniversary gala at a time when few people lived long enough to celebrate a golden anniversary. He took in two orphan girls who became cooks – their rooms were actually quite splendid (especially compared to the servants' quarters at The Breakers); the butler's room had a copy of Lincoln's bed and was where the son, Harry, would stay when the Bishop visited. (Just next door to the Asa Packer Mansion is the Harry Packer Mansion which was a wedding present; the Victorian mansion is also a jewel, indeed it was the model for Disney's Haunted Mansion; today, it is an inn and hosts murder mystery weekends and wine tasting events.)
Born in Mystic, Connecticut, Asa Packer (1805-1879) left home when he was 17, setting out on foot to Brooklyn, Pennsylvania where he apprenticed as a carpenter to his cousin, Edward Packer. In 1828, he married Sarah Minerva Blakslee (1807-1882) and the couple tilled a farm they rented from Sarah's father.  But after four years, they were just as poor as when they started. So hearing that men were needed to captain coal barges on the Lehigh Canal, Asa traveled to Mauch Chunk, Pennsylvania, in the winter of 1832. He used his skill as a carpenter to build and repair canal boats. He resettled his family in Mauch Chunk and became the owner of a canal boat that carried coal to Philadelphia, then opened his own firm, A. & R. W. Packer, which built canal boats and locks for the Lehigh Coal & Navigation Company.
He tried to get the company to build a railroad, but was refused. So, in October 1851, risking financial ruin, Asa purchased nearly all the controlling stock and interest for the unfinished Delaware, Lehigh, Schuylkill and Susquehanna Railroad (later known as the Lehigh Valley Railroad).  By November, 1852, he expanded the railroad from Mauch Chunk to Easton, Pennsylvania, in exchange for the company's stocks and bonds, and later into New York State.
He became the third richest person in the world and parlayed his business success into political success, serving asja Judge, a state representative, a two-term Congressman (1853-7), and challenged Ulysses S. Grant for the Democratic presidential nomination in 1868. He narrowly lost election to become Pennsylvania's Governor in 1869.
The Packers settled in their Italianate Villa in Mauch Chunk, Pennsylvania in 1861 and on January 23, 1878, Asa and Sarah celebrated their 50th wedding anniversary with a fantastic gala (a newspaper printed in gold described it, and the man who performed their wedding attended). Asa died just 18 months later. For all his success, their life together was marked by tragedy.  Daughters, Catharine, Malvina and Gertrude all passed away before the age of three.  Lucy Eveline (1832-1873), Robert Asa (1842-1883) succumbed to pneumonia. Harry Eldred (1850-1884) passed away from cirrhosis of the liver (the mansion next door was built for him and is operated as an inn today). Mary Hannah (1839-1912), was the last of their children to pass away; she was supposed to sail on the Titanic, but got sick in 1912; she was legally blind when she died.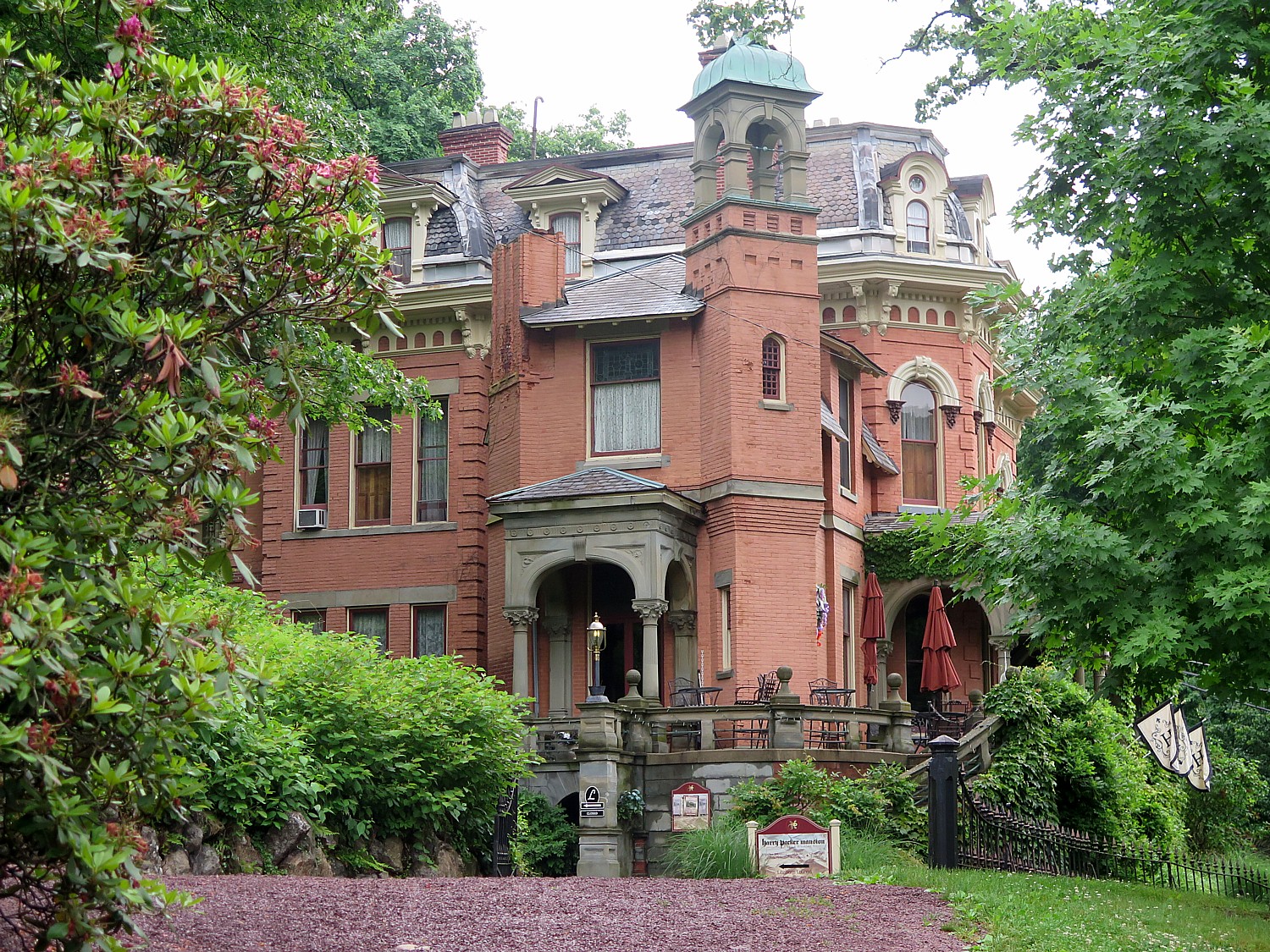 "Asa never fully forgot his humble beginnings, his generous deeds spoke for him. A philanthropist throughout his lifetime, Asa gave $33 million to the town of Mauch Chunk and the Lehigh Valley.  At the time of his passing, Asa retained an estate valued at $55 million."
Asa's daughter, Mary Packer Cummings, who moved into her mother's bedroom when she got sick, inherited the mansion and estate as the last surviving child of seven (becoming the second richest person in the world after the Queen of England). When Mary died in 1912 (the calendar on the desk is from 1912); she bequeathed the home and all its contents to the Borough of Mauch Chunk as a memorial to her father and his accomplishments. But the house remained shuttered from 1912 to 1954, until the Bear Mountain Lions became trustees and reopened the mansion to the public in 1956. Remarkably, the true testament to Asa Packer and his family is that in all that time the mansion was vacant, with all these priceless antiques inside, it was never vandalized or burgled.
"Robert, the only grandchild who survived, didn't want the house after Mary died," the docent relates. "Robert's great granddaughter and her daughter came on tour once," she recalled."
(The Asa Packer Mansion Museum, Jim Thorpe PA  18229, 570.325.3229, www.asapackermansion.com).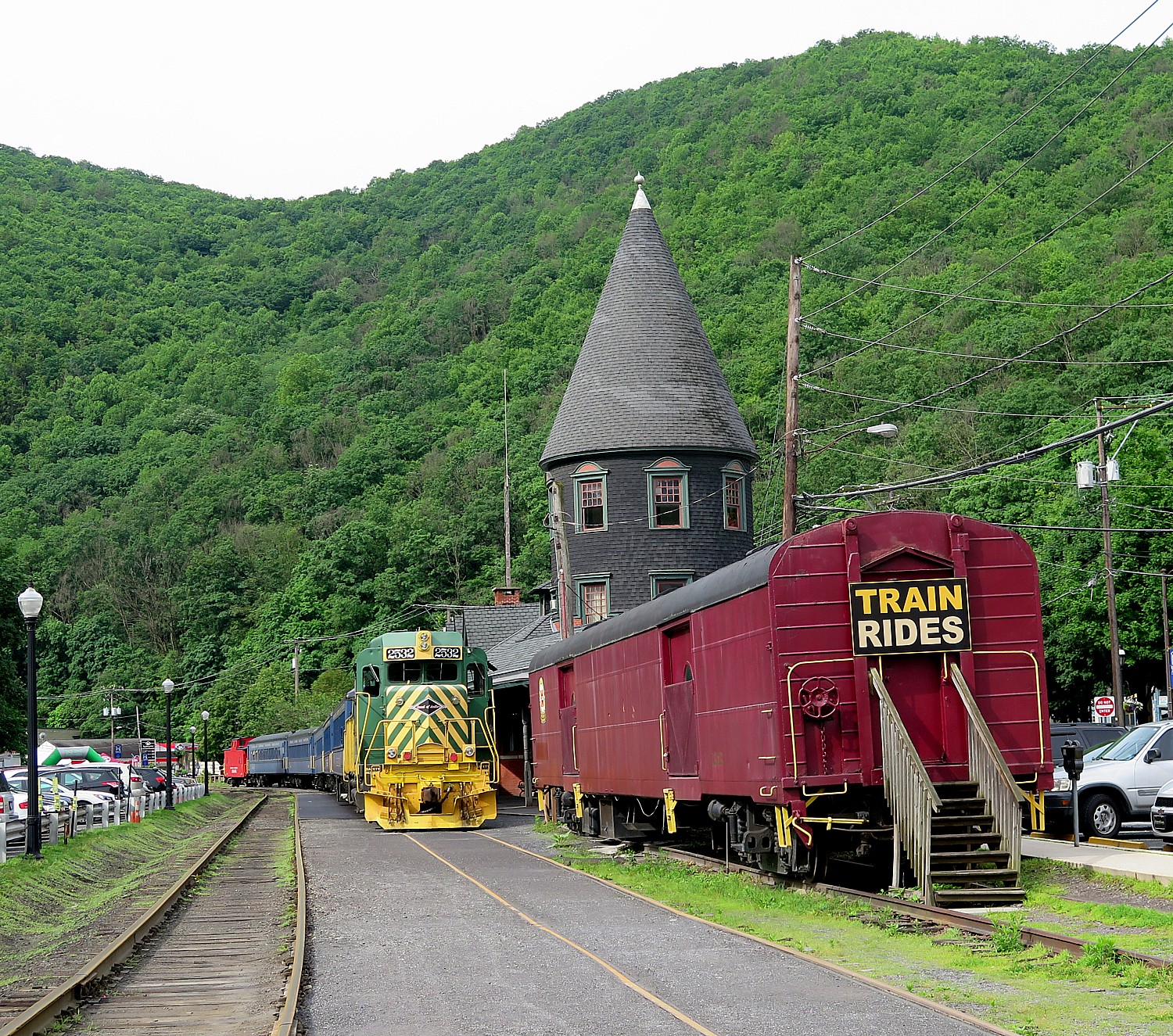 This quaint village of Jim Thorpe, Pennsylvania is actually a hub for many marvelous natural and historic attractions including the Harry Packer Mansion; the Old Jail Museum (where the Molly McGuires were jailed; Cell 17 with its mysterious handprint on the wall, under the gallows on which seven of the accused Molly Maguires were put to death, and down into the eerie dungeon); the Lehigh Gorge Scenic Railway, the St. Mark's Church, Historic Stone Row, the Mauch Chunk Opera House, Anita Shapolsky Art Center, Mauch Chunk Museum and Old Jail Museum, plus wineries, distilleries (Big Creek Vineyard and Stonekeep Meadery), biking, hiking and rafting (PoconoBiking.com, PoconoWhitewater.com, Adventurerafting.com.
There are a score of historic bed-and-breakfasts, inns and guesthouses.
Jim Thorpe Visitors Center, 2 Lehigh Ave., Jim Thorpe PA 18229, 570-325-3673, jimthorpe.org. 
The Delaware & Lehigh National Heritage Corridor, 2750 Hugh Moore Park Road, Easton, PA 18042, http://delawareandlehigh.org/ (It also has a description of the bike trail.)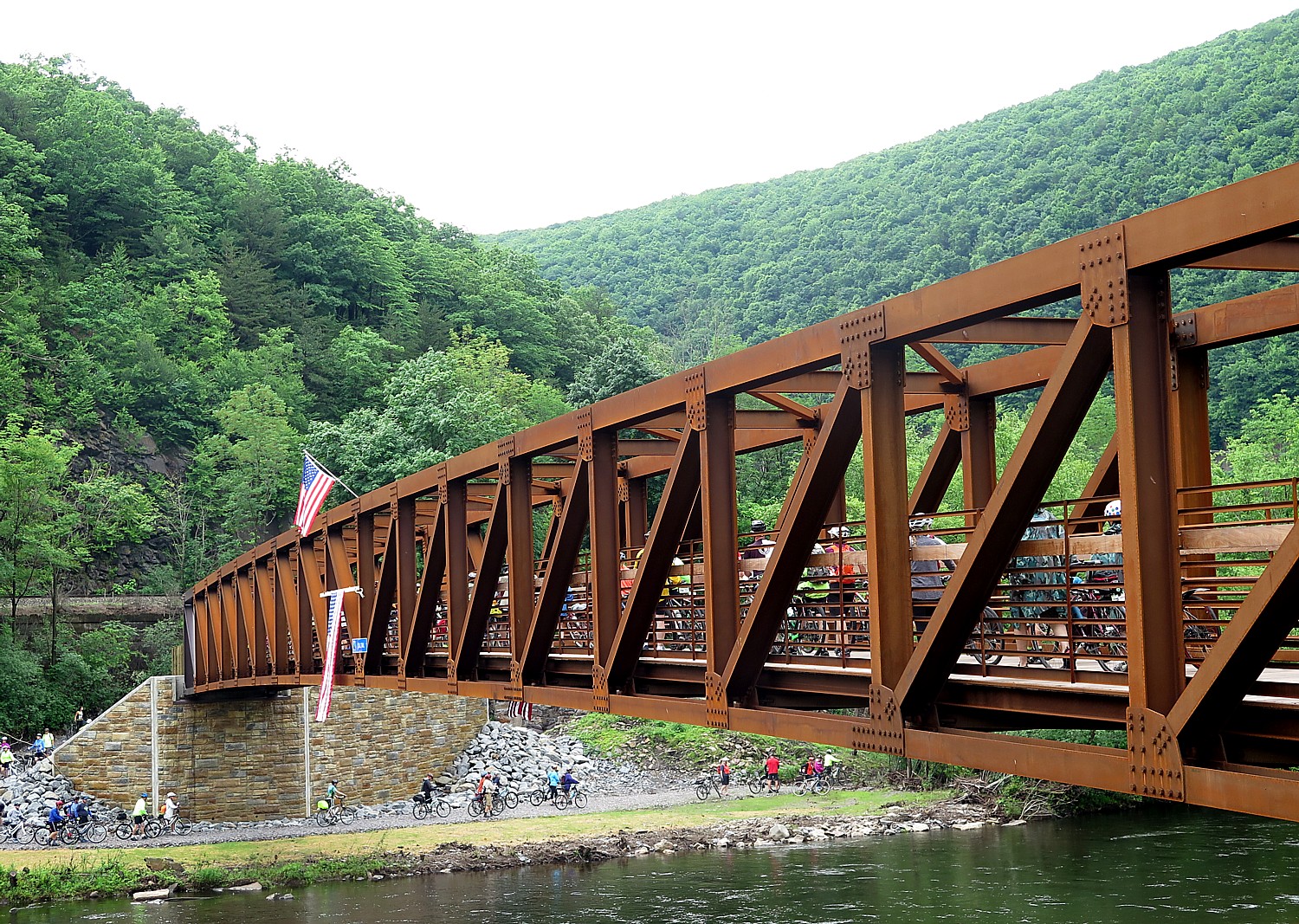 Rails-to-Trails Conservancy is a nonprofit organization dedicated to creating a nationwide network of trails from former rail lines and connecting corridors; it advocates for  its 160,000 members and supporters, 31,000 miles of rail-trails and multi-use trails, and more than 8,000 miles of potential trails waiting to be built, with a goal of creating more walkable, bikeable communities in America. RTC offers TrailLink, a free service that lets you access RTC's 30,000 miles of trail maps and itineraries and downloadable mobile app.
Rails-to-Trails Conservancy, 2121 Ward Court, NW, Washington, DC 20037, 866.202.9788, railstotrails.org,TrailLink.com.
Next:
Rails-to-Trails Sojourn on Delaware-Lehigh Trail Showcases Repurposed Canal Towpath & History of Industrial Revolution
_____________________________
© 2018 Travel Features Syndicate, a division of Workstyles, Inc. All rights reserved. Visit goingplacesfarandnear.com,  www.huffingtonpost.com/author/karen-rubin , and travelwritersmagazine.com/TravelFeaturesSyndicate/. Blogging at goingplacesnearandfar.wordpress.com and moralcompasstravel.info. Send comments or questions to [email protected]. Tweet @TravelFeatures. 'Like' us at facebook.com/NewsPhotoFeatures