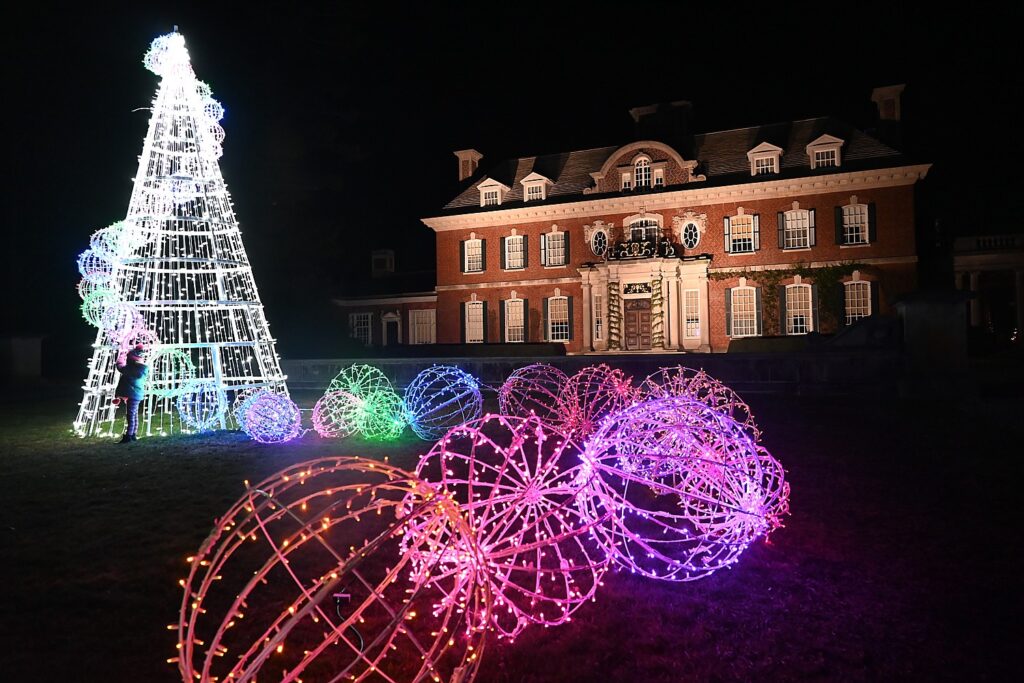 By Karen Rubin, Travel Features Syndicate, goingplacesfarandnear.com
The timing of Old Westbury Gardens' "Shimmering Solstice" debut could not be more perfect, as people craving holiday cheer in winter's darkness are looking for outdoor experiences to share. Old Westbury Gardens' first-ever light show walk, presented by Catholic Health, opened November 20 and runs through January 9, 2022.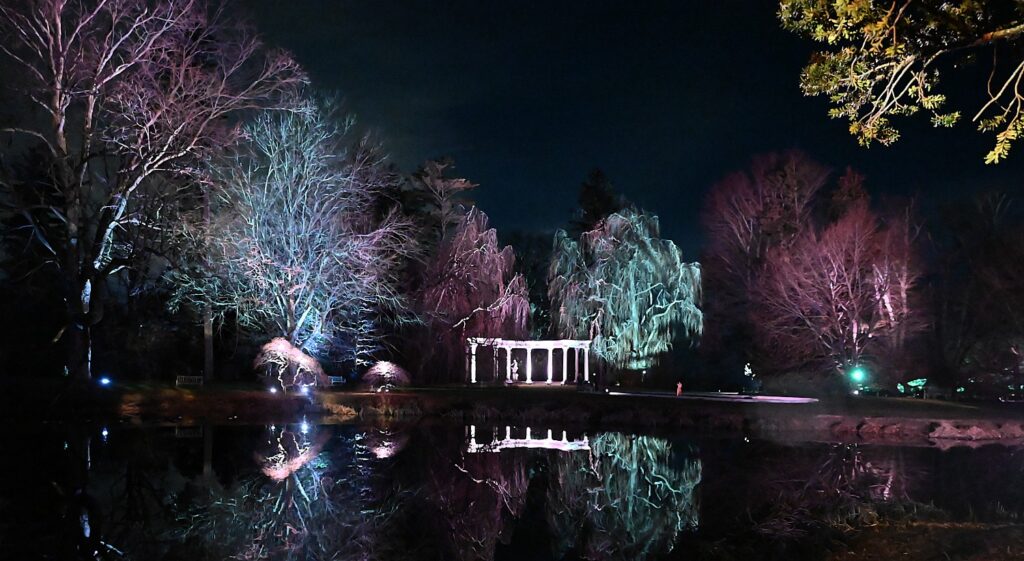 Words like "magical" and "enchanting" are in oversupply during the holiday season, but are most apt in this case. Indeed, the effect is to feel a little like Alice discovering Wonderland, a dreamscape of beauty – there are even giant dandelions of light.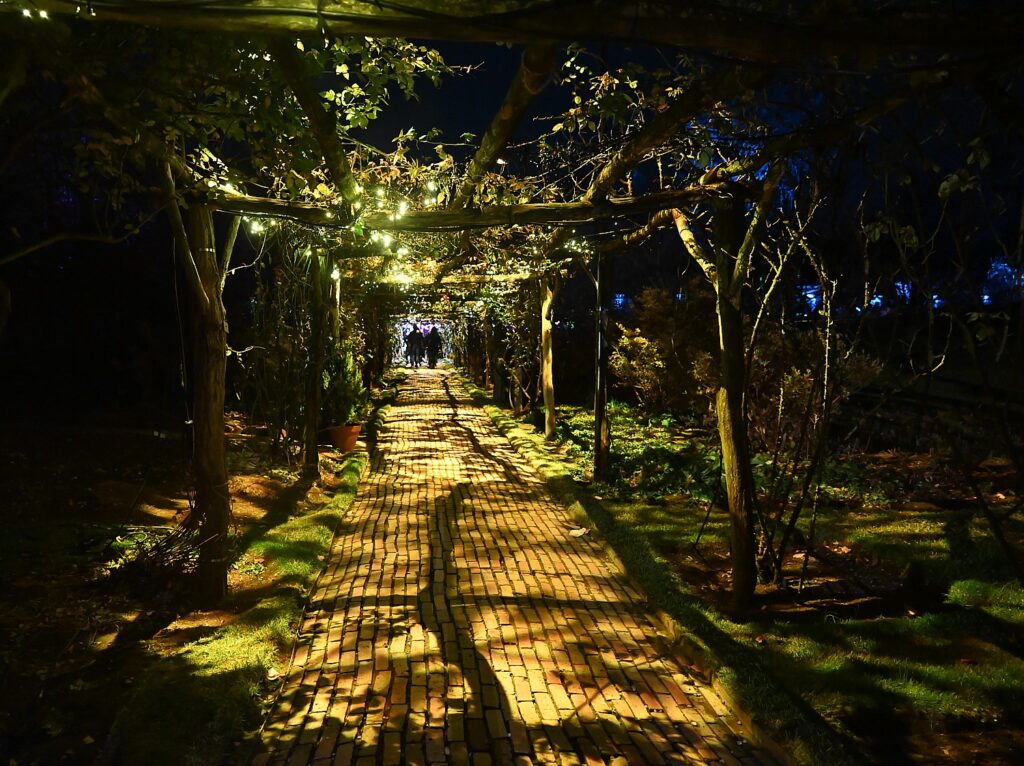 The walk-through, immersive experience was developed out of a desire to creatively adapt the land and gardens around Westbury House into a visitor location that can be enjoyed during the fall and winter holiday season and that would remain consistent with the mission of Old Westbury Gardens, on the famed Gold Coast of Long Island, New York.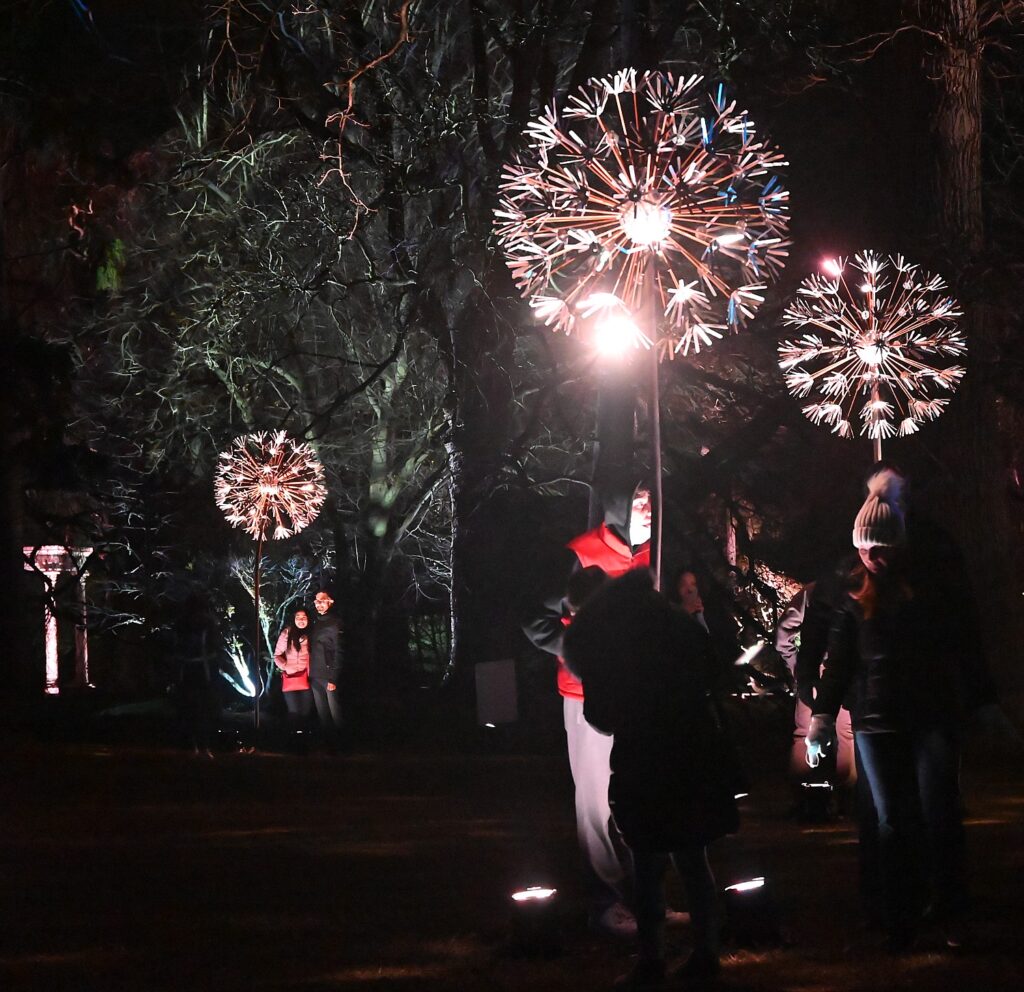 In fact, the historic site – the stunning Gilded Age mansion and formal gardens of John S. Phipps and his wife, Margarita Grace Phipps, which was opened to the public in 1959 by their daughter, Peggie – has been looking to offer just such a winter experience for 10 years. Over that time, the technology has advanced – LED lights, computer-synchronization – to create the experience they wanted: one that enhances and celebrates the gardens and architecture, giving visitors a new way to appreciate them.
"This is a celebration of our space," said Maura McGoldrick-Brush, Director of Horticulture at Old Westbury Gardens. "Instead of flowers, the gardens will be blooming with light. This is truly an enchanting combination of the beauty of the gardens and the magic of the season."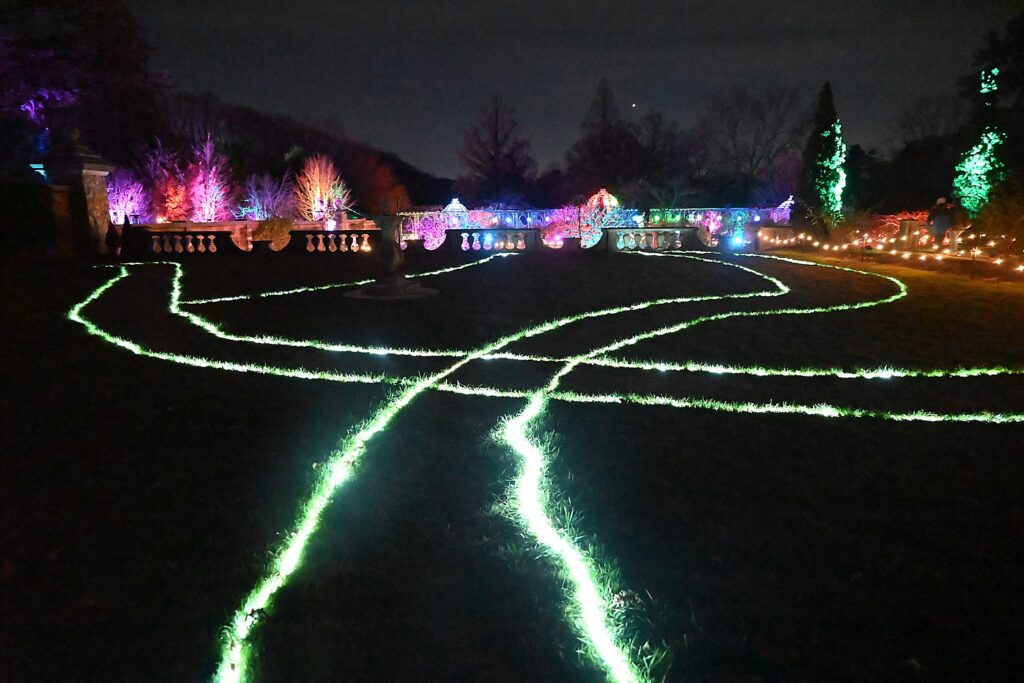 Old Westbury Gardens worked with Lightswitch, a collective of internationally recognized lighting, media, and visual designers to create a show that would celebrate and cherish the Gardens' history and environment during the fall and winter seasons.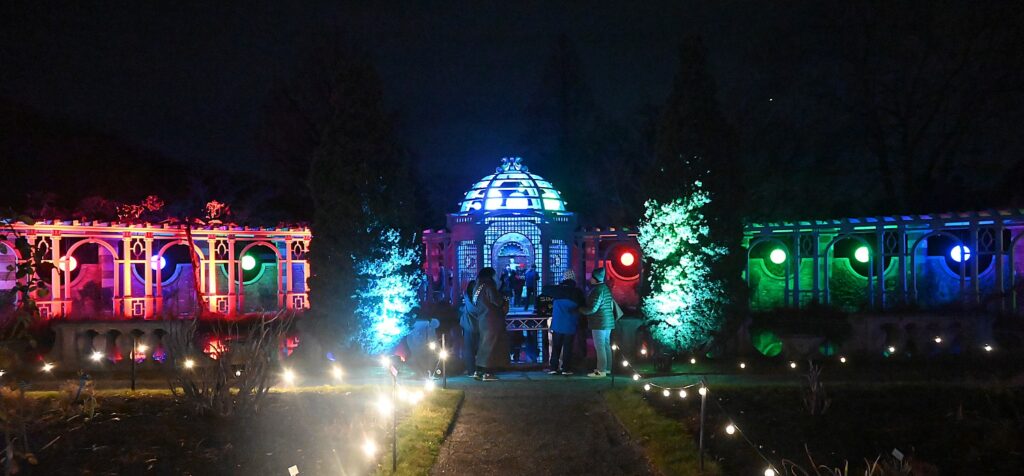 "Shimmering Solstice" is a completely custom-built show that has been specifically designed to highlight the features of Old Westbury Gardens. Lightswitch's assignment was to "truly embrace the gardens" and use the gardens and water features and architectural elements to stunning effect. It took a year and a half to plan "Shimmering Solstice."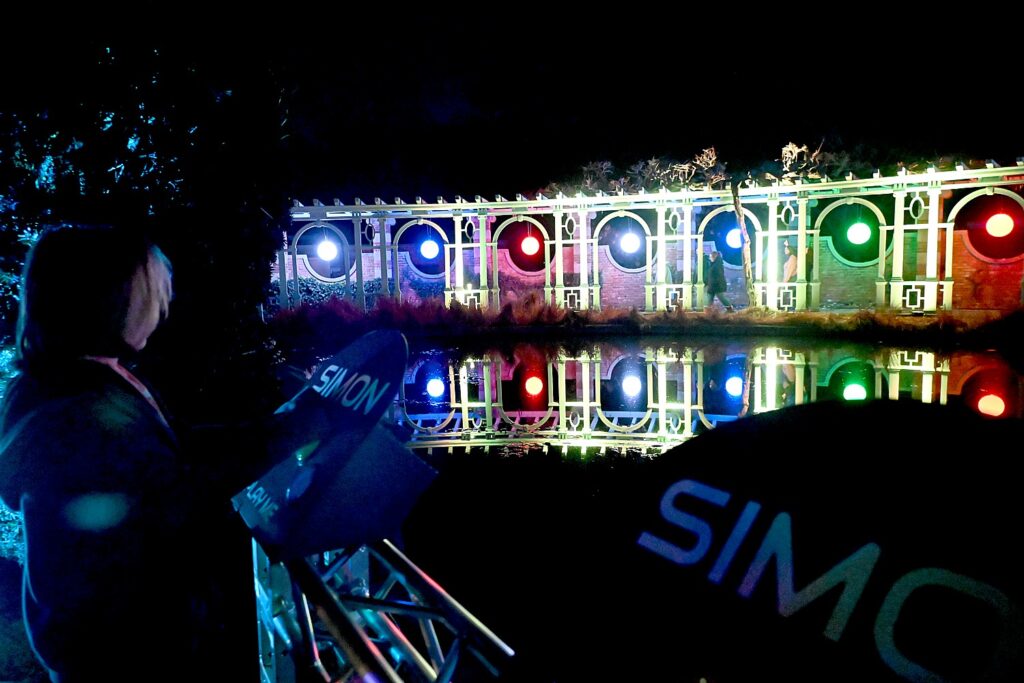 The formal Rose Garden and Walled Garden bloom with beautiful light and twinkle in lively rhythmic patterns, beautiful paths lead you through to the South Lawn and Allée. Giant dandelions line the edge of the pond and a Christmas tree made entirely of lit globes decorates the front of Westbury House.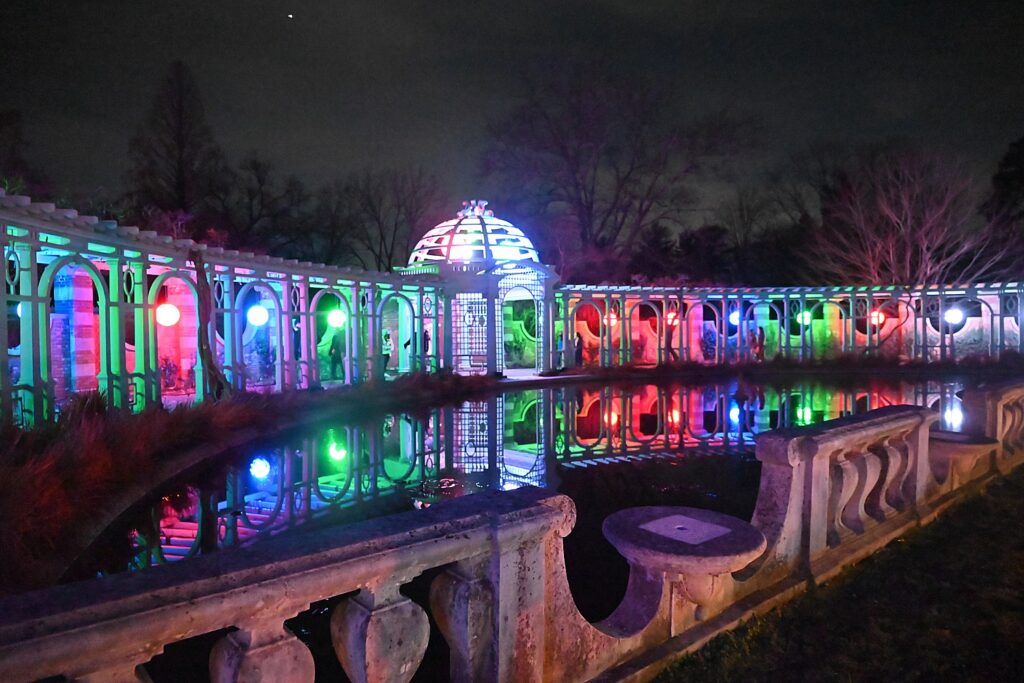 There are interactive features as well, such as a "Simon" set up where you push buttons to alter the color patterns, a labyrinth and a maze of lights, and immersive features, where you walk amid the lights, even a "Ghost Walk".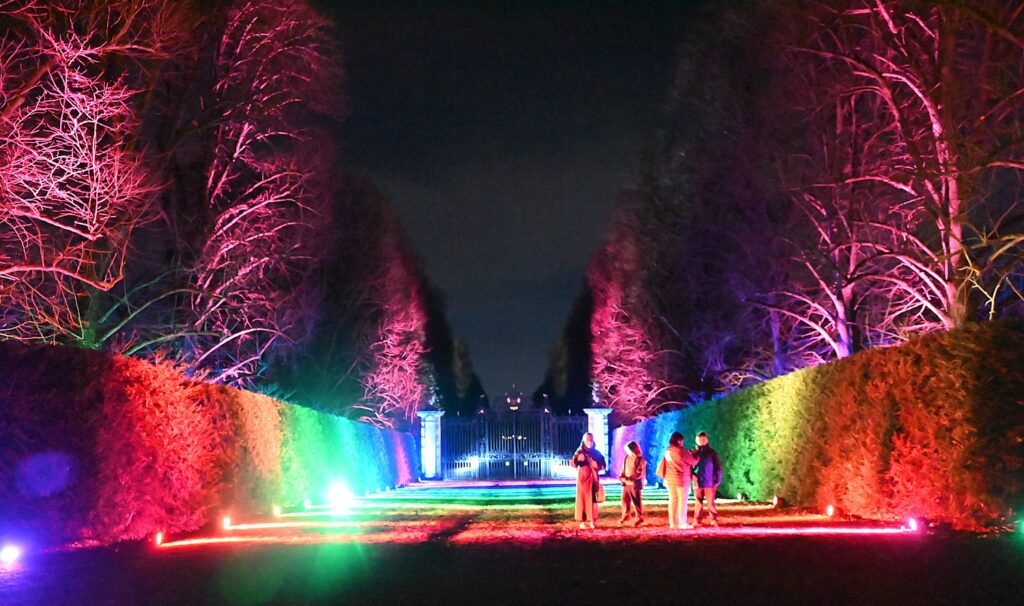 The grand finale is a sound and light show celebrating the seasons and holidays, in which the mansion itself is the canvas with musical accompaniment including Vivaldi's "Four Seasons" and classical holiday music.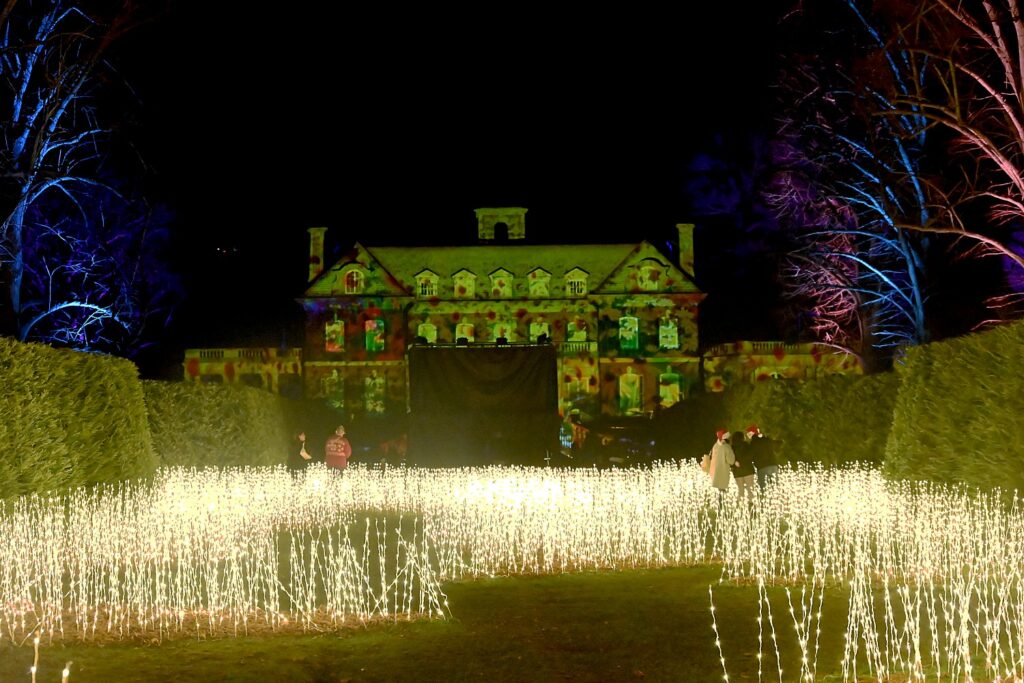 It is beautifully spaced and there are paths geared for strollers and wheelchairs. In all, you walk about a mile and visit at your own pace (typically 60-75 minutes to really enjoy).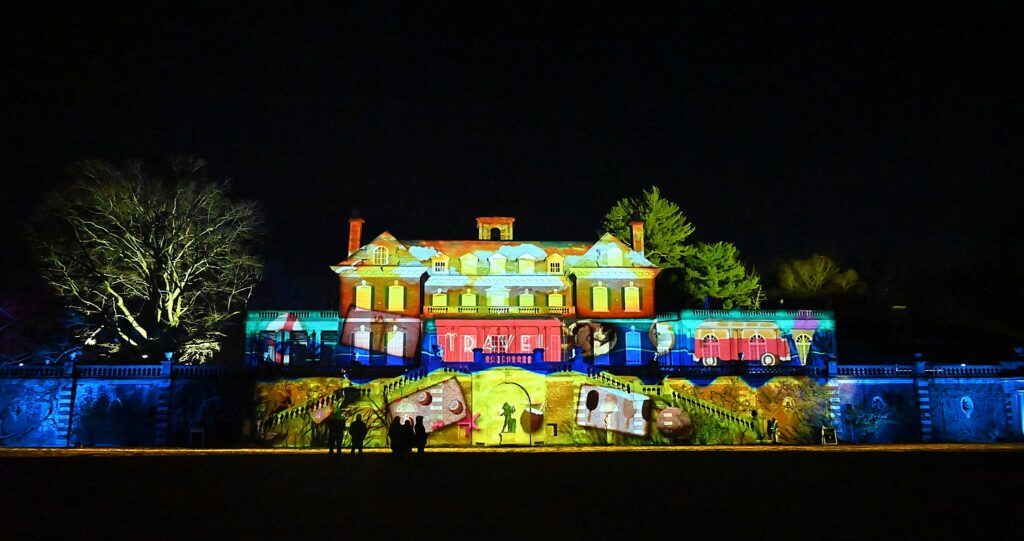 "We are excited to offer this brand-new experience for our visitors to enjoy," said Nancy Costopulos, President and CEO of Old Westbury Gardens. "This walk-through lightshow has been designed specifically for Old Westbury Gardens and offers a one-of-a-kind experience that we intend to become a new annual holiday tradition. We are also thrilled to have Catholic Health as our presenting sponsor for this inaugural event. Their commitment to the communities they serve mirrors our own, and we welcome their support as we bring this spectacular event to Long Island."
A selection of hot foods, hot and cold beverages and snacks is available in a tent.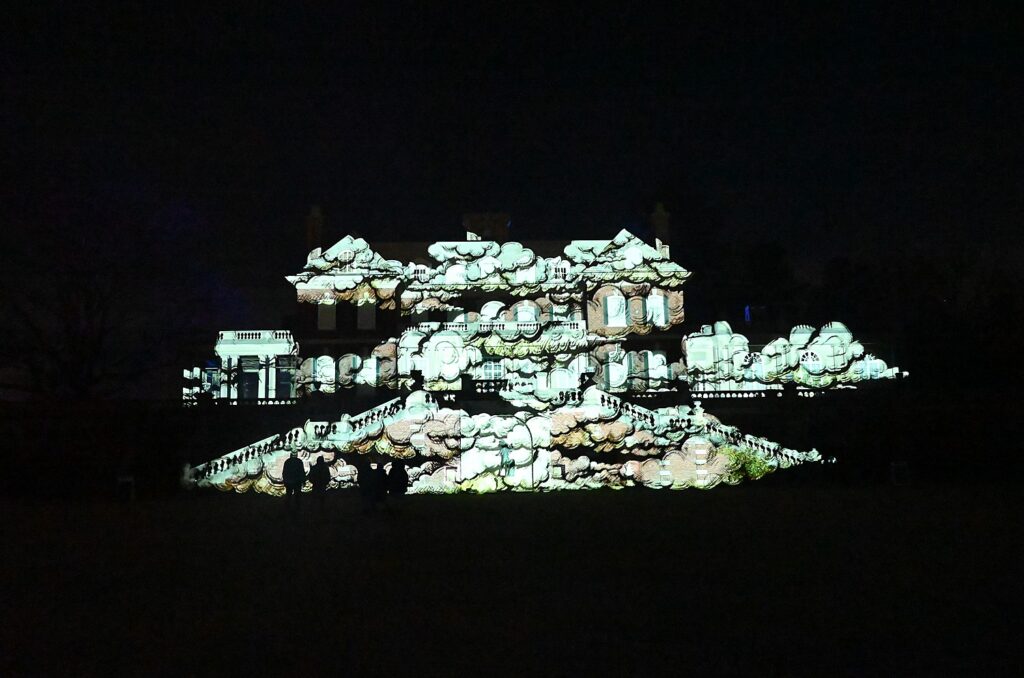 This is the first season, but there are already plans to expand in future years, said Paul Hunchak, Director of Visitor Services, Programs and Services. "We were looking for things to do in this season. We always wanted outdoor light show."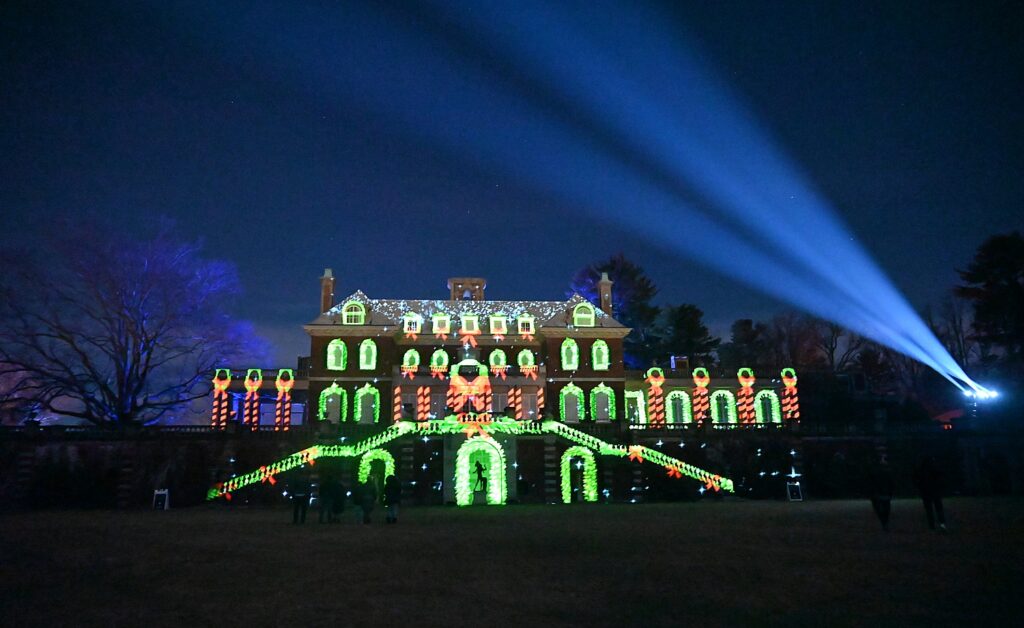 The event is organized to be COVID19-safe – tickets must be purchased in advance online and they space admissions.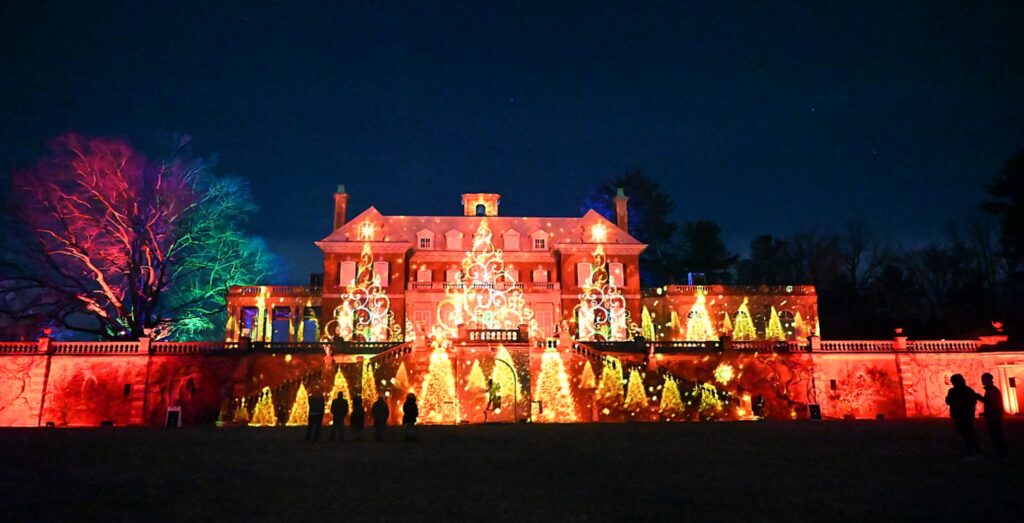 Tickets for Shimmering Soltice must be purchased online in advance; priced by peak and off peak, from $29.95-32.95/adult, $16.95-17.95/child. Senior Discounts on Off-Peak Mondays (ages 62+) $24.95; an Any time/Any Day Experience is $75. (closed Dec. 24-25, Jan. 4); Entry times are every 15 minutes, from 5:30-9:30 pm. (last entry is at 9:30 pm – great for a date!). Purchase at https://shimmeringsolstice.com/.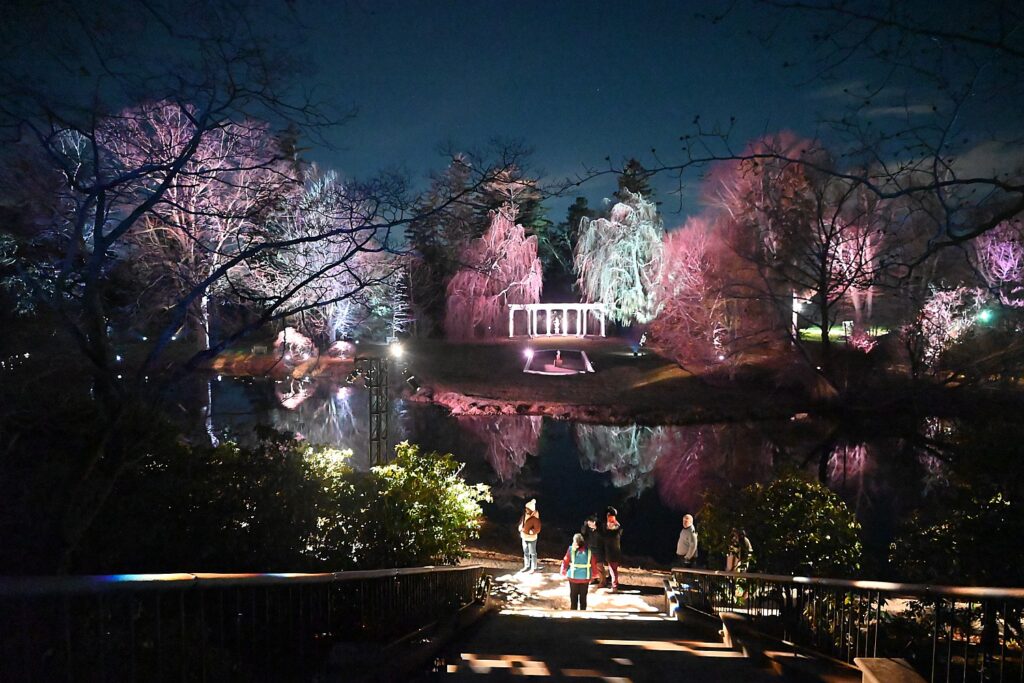 Old Westbury Gardens, listed on the National Register of Historic Places, is the former home of John S. Phipps, his wife, Margarita Grace Phipps and their four children. Completed in 1906 by the English artist and designer, George A. Crawley, the magnificent Charles II-style mansion is nestled amid 200 acres of formal gardens, landscaped grounds, woodlands, ponds and lakes. Westbury House is furnished with fine English antiques and decorative arts from the more than 50 years of the family's residence.
John S. Phipps was the son of Henry Phipps, Jr., an American entrepreneur and a partner with Andrew Carnegie (a childhood friend of Henry's) in the Carnegie Steel Company. Henry was also a successful real estate investor (he invested heavily in Cape Cod and Palm Beach and Fort Lauderdale, Florida; his mansion in Lake Success has become the Great Neck Public Schools administration building and the grounds the South schools campus). After selling his stock in Carnegie Steel, Henry devoted time and money to philanthropic works.
After her parents, Margarita and John S. Phipps, passed away, their daughter Peggie inherited the Old Westbury estate and, in 1959, formed a nonprofit charity to open the grounds to the public to honor the memory of her mother and share the beauty of the 216 acres of gardens, fields and woodlands.
Visitors today experience the grounds and gardens, which remain largely untouched from the Phipps era, with many English-style perennials and biennials preserved. There are rare plant species—including foxgloves, delphiniums – not usually found in public gardens. These plants have been well-maintained for decades by the dedicated horticulture staff, which grow many of the herbaceous plant material right on-site in the private greenhouse, preserving the original vision of John S. Phipps' and George Crawley.
You can take virtual tours of the mansion (www.oldwestburygardens.org/tourthehouse) and the gardens (www.oldwestburygardens.org/tourthegardens).
Old Westbury Gardens, 71 Old Westbury Road, Old Westbury, NY, 11568, oldwestburygardens.org.
______________________
© 2021 Travel Features Syndicate, a division of Workstyles, Inc. All rights reserved. Visit goingplacesfarandnear.com, www.huffingtonpost.com/author/karen-rubin, and travelwritersmagazine.com/TravelFeaturesSyndicate/. Blogging at goingplacesnearandfar.wordpress.com and moralcompasstravel.info. Send comments or questions to [email protected]. Tweet @TravelFeatures. 'Like' us at facebook.com/NewsPhotoFeatures