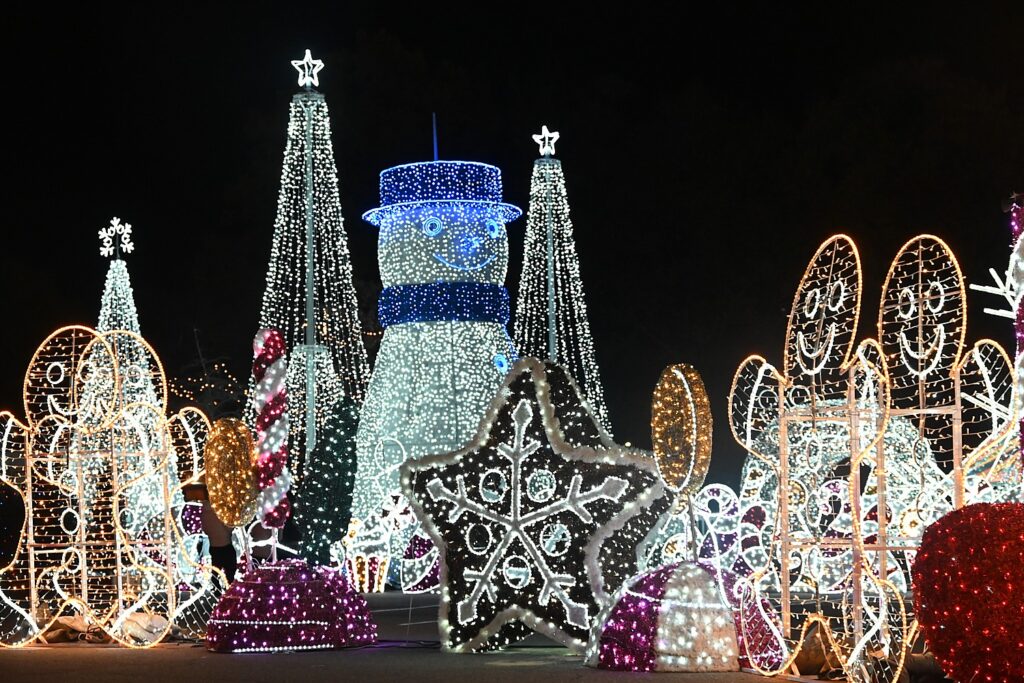 By Karen Rubin, Travel Features Syndicate, goingplacesfarandnear.com
Traveling this holiday season? There are so many special activities and attractions to enjoy. Here are some of our favorites:
Shimmering Solstice at Old Westbury Gardens
Shimmering Solstice at Old Westbury Gardens, a Long Island landmark, returns for its second year. You are enchanted by a series of magical light displays as you walk along the beautiful meandering paths through Old Westbury Gardens' Walled Garden, Rose Garden, South Lawn, and Allée.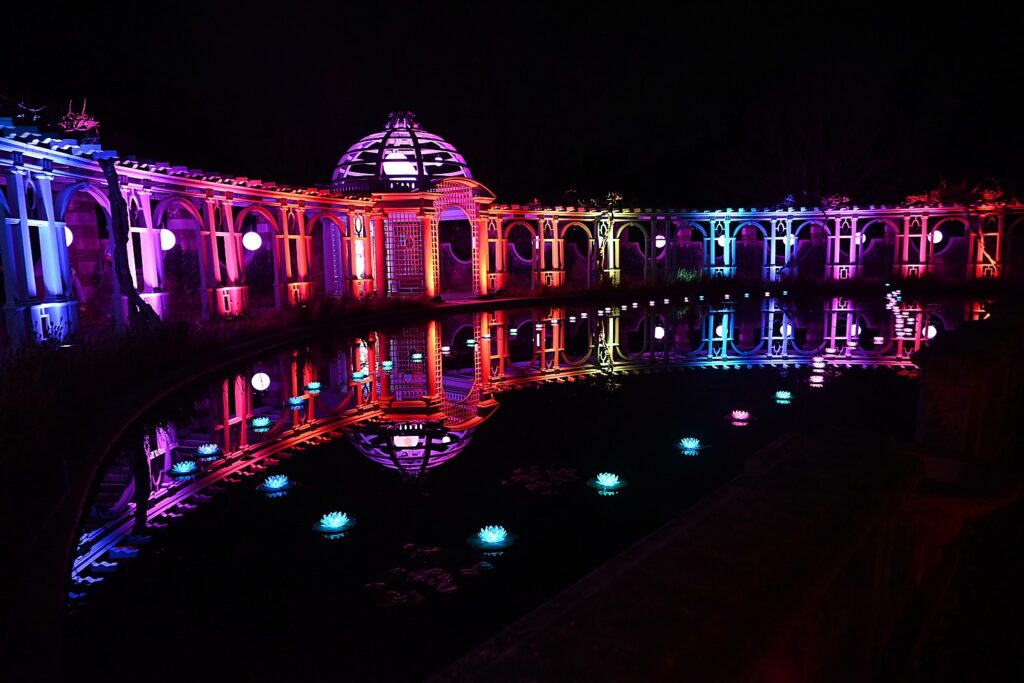 "This walk-through light show is uniquely designed specifically for Old Westbury Gardens, a beautiful Long Island landmark" said Nancy Costopulos, President and CEO of Old Westbury Gardens.
This year, even more beautiful visuals have been added including a re-designed interactive area featuring three new exhibits that will engage adults and children alike; seasonal music throughout the expanded illuminated event path, a new illuminated water feature on the West Pond, and the Garden of Appreciation will be turned into a lively warming area with a concession stand for seasonal snacks and
drinks.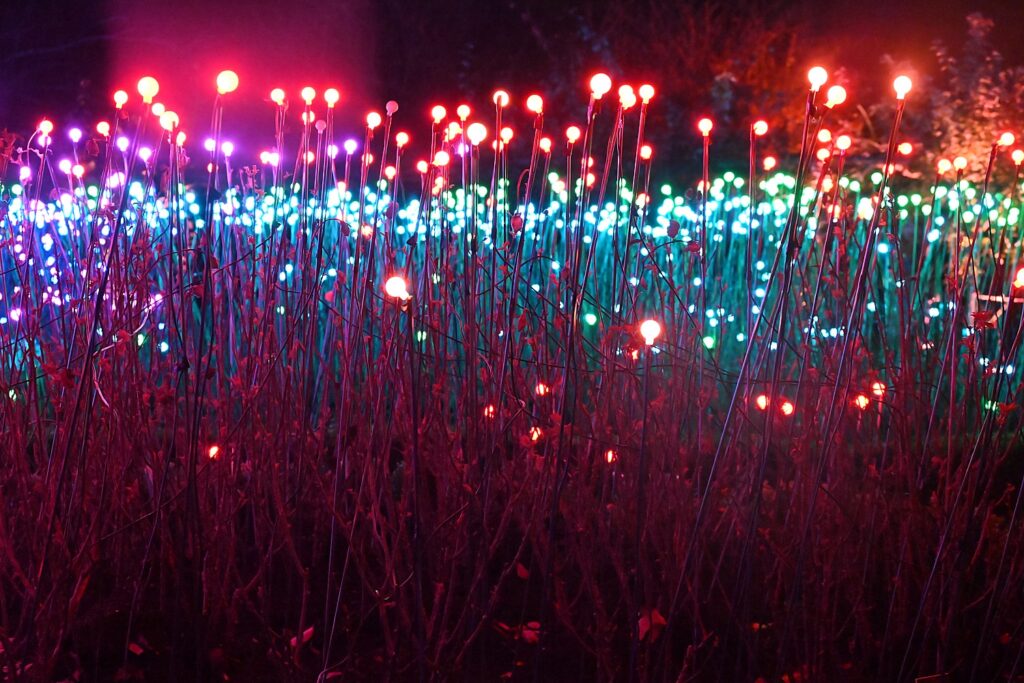 Shimmering Solstice is a completely custom-built show by Lightswitch, a collective of internationally recognized lighting, media, and visual designers that has been uniquely designed to highlight the features of Old Westbury Gardens. The goal was to turn the gardens into a visitor location that can be enjoyed during the fall and winter holiday season and that would remain consistent with the mission of Old Westbury Gardens.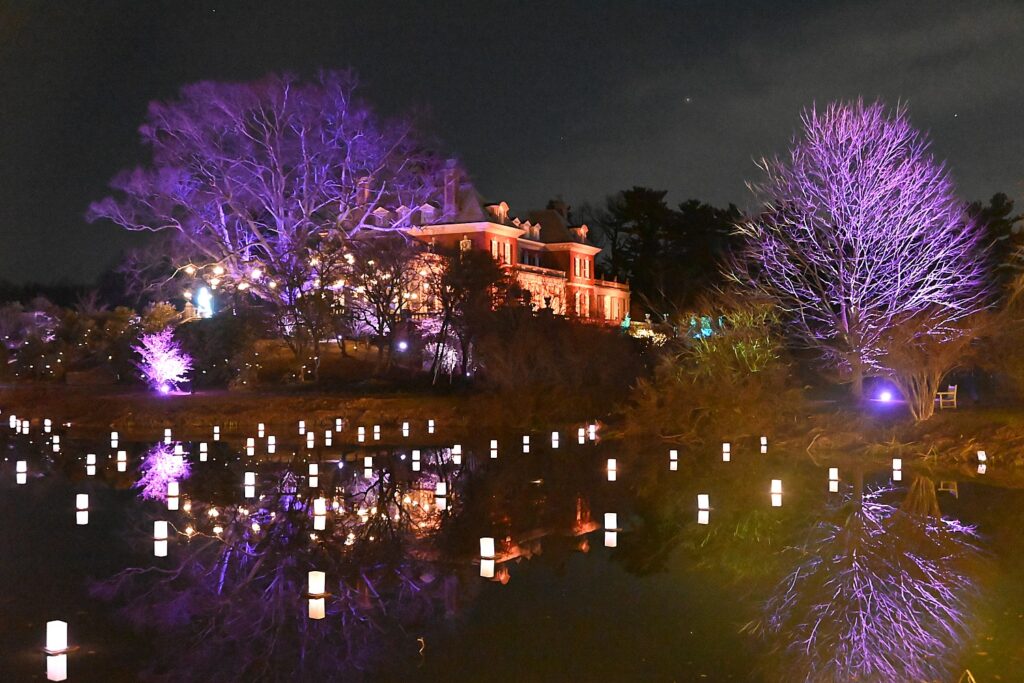 "Shimmering Solstice was designed to be a celebration of our space," said Maura Brush, Director of Horticulture at Old Westbury Gardens. "The features that define Old Westbury Gardens such as the formal allées, ponds, and statuary are all illuminated so visitors can view them in a completely different light."
This walk-through show is a family friendly experience people of all ages can enjoy and is designed to explore at your own pace. For the exciting finale, you are again be dazzled to see the south facade of Westbury House come alive with magical lights and seasonal sounds—this year with an exciting twist!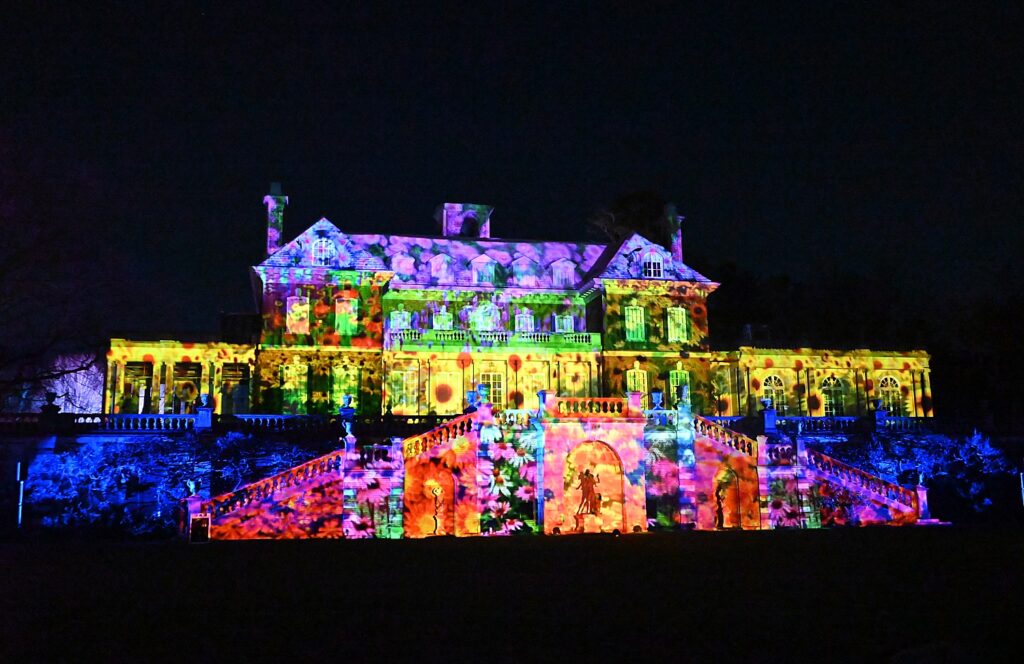 Tickets are $34.95/adults, $19.95/kids 2-13, $26.95/Senior Sundays (65+), $80/Anytime, Any Day.
The show runs on select dates through January 1, 2023. The admission time starts at 5:30 p.m. Check website for available dates and times.
Old Westbury Gardens, 71 Old Westbury Rd., Old Westbury, NY 11568, https://shimmeringsolstice.com/.
Amaze Light Festival, NYC's Newest Holiday Attraction, Dazzles at Citifield
A million lights fashioned into fanciful characters and iconic symbols of the holiday season – so big you can walk or climb through, sit inside a train locomotive, a gigantic teddy bear, a Christmas tree, Santa's hat, a giant Frosty the Snowman. Teams of reindeer. A Castle of lights.  This is the Amaze Light Festival – a new immersive, interactive holiday attraction for New York City, taking up a sprawling 50,000 square feet of outdoor space at Queens' Citifield where this is plenty of space to run around in the winter night air (bundle up).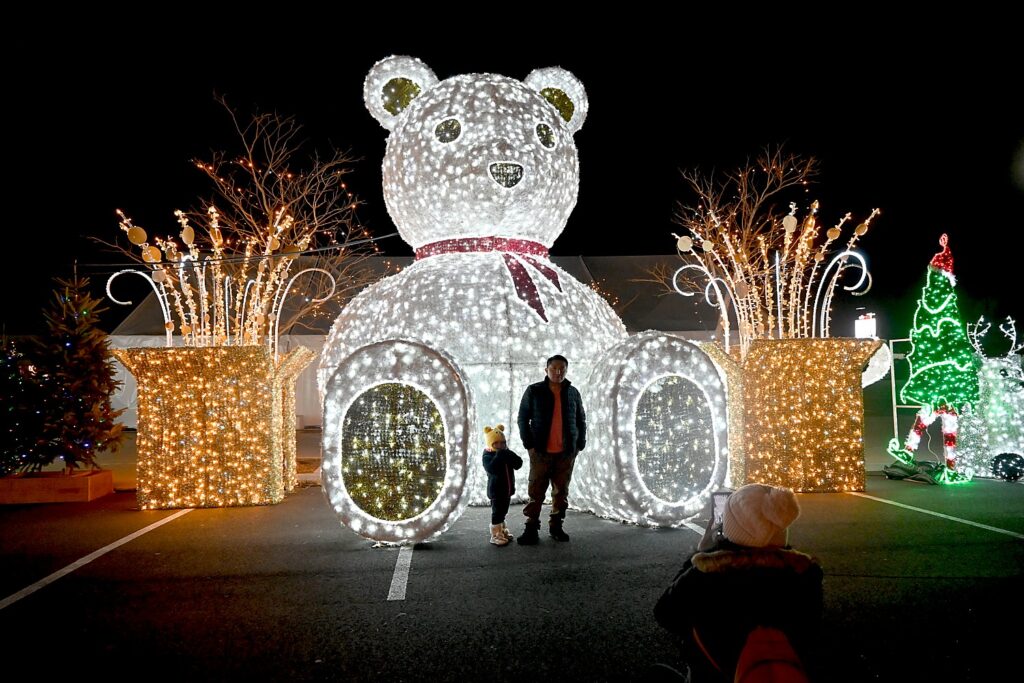 The Amaze Light Festival is produced by Artistic Holiday Designs, a holiday decoration design firm known for designing interactive experiences, in partnership with Leblanc Illuminations. Debuting  last year at Rosemont in Chicago, Amaze Light Festival has expanded this year to two new sites, running simultaneously in New York City's iconic Citi Field and Chicagoland's Odyssey Fun World in Tinley Park, Wednesdays through Sundays through January 8.
Amaze Light Festival, designed as an 'immersive" storybook experience, takes you on an "illuminous holiday adventure" inspired by storybook characters Zing and Sparky through five thematic displays, each one offering dazzling photo opportunities.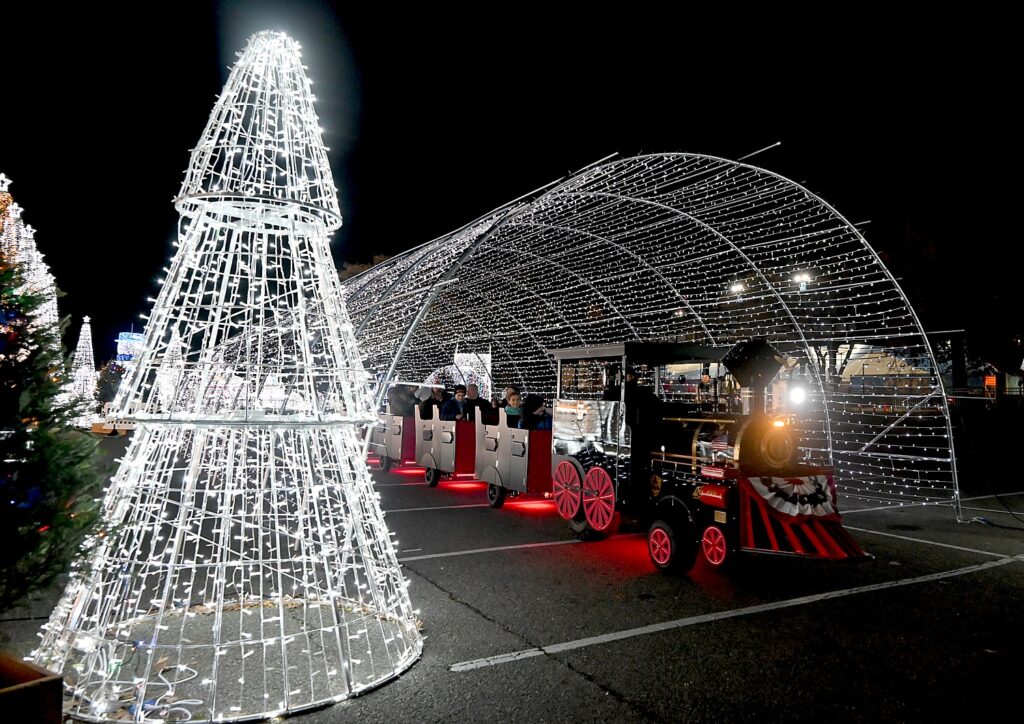 There are also a couple of optional rides available: a cute Arctic Express Train ride through a light display headlined by a giant Frosty the Snowman ($10 pp) that takes about four minutes, and a tubing experience down Zing's Thrill Hill ($5/per ride or $10 for 3 rides) that lasts about 10 seconds.
There are also live performances every two-hours and a light show every 30-minutes. Throughout, classic holiday music plays, weaving together the experience.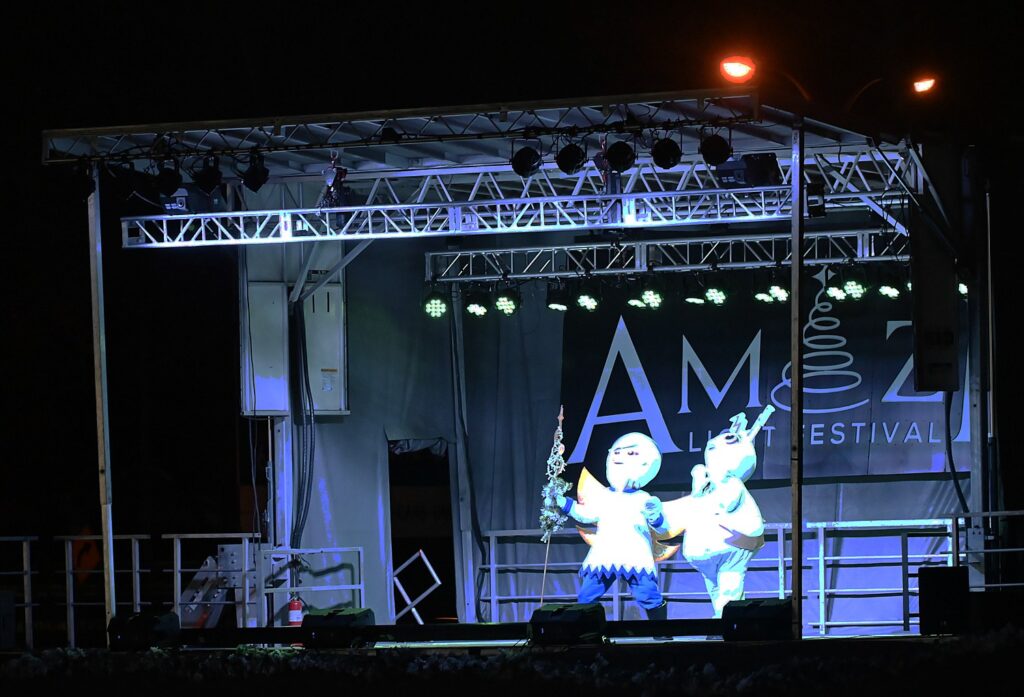 German-styled cottages housing goodies and featuring local small business offering special gifts fill the Amaze Market, a version of a Christmas market. You can also find an array of sweet and savory dishes and festive beverages including: baked goods, hot cocoa, savory plates, sweet dishes, and crafted cocktails, plus various items from food trucks.
Additional highlights include the candy-fueled Sparky's Sweet Spot, an enclosed candy emporium, and Zing's Toyporium, selling a selection of educational-style toys, where you also find Zing's Buddy Builder, a toy machine which provides the opportunity to donate to Make-A-Wish Southern Florida, Hurricane Ian Relief (American Red Cross) or Toys for Tots (simply press a button and watching the magic happen). Participants can choose the charity and Amaze Light Festival will donate $1 for each participant.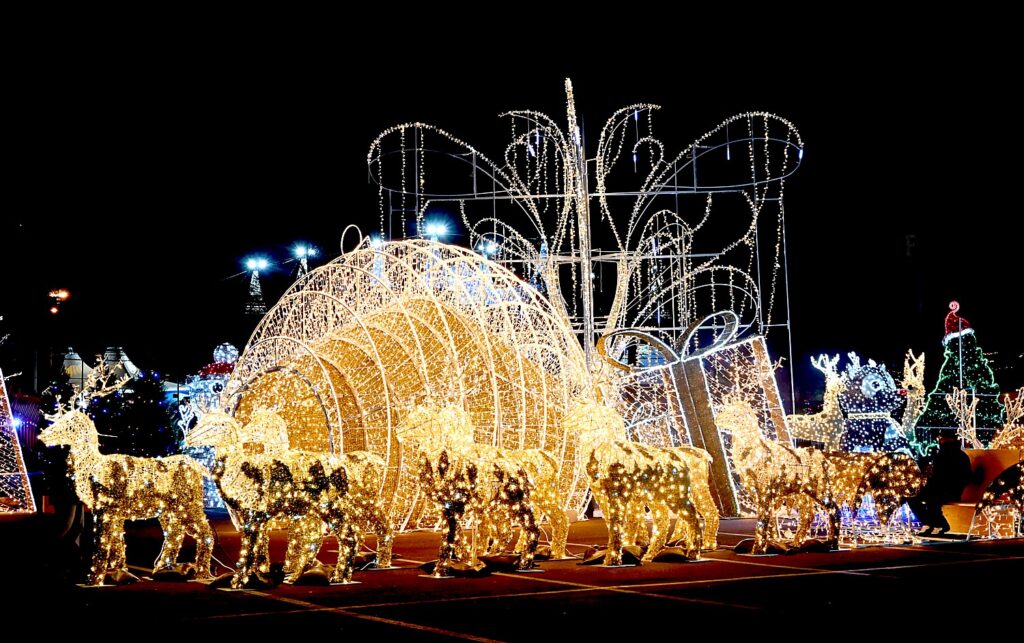 Amaze Light Festival is open Wednesdays through Sundays, 4-10 p.m (you choose your time slot, but VIPs can stay as long as they like), with the last ticket sold at 9 p.m. In Chicago, ticket prices start at $30 for children and $36 for adults while in the New York City location, adult ticket prices start at $44 and $36 for children.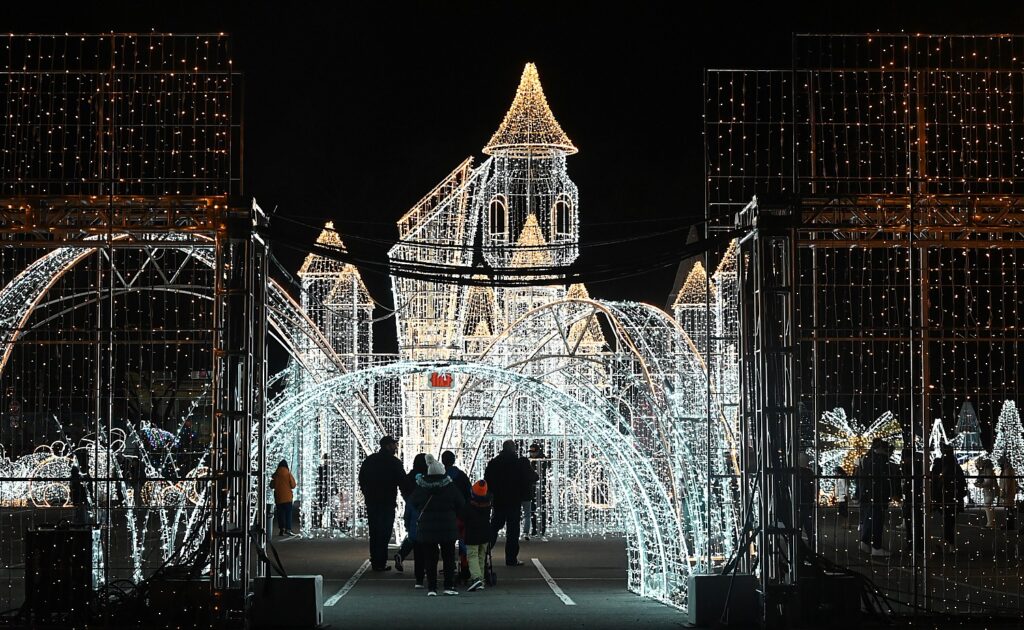 There is the option of a VIP upgrade ($50 more) that provides reserved seating during the live performances and light shows; exclusive access to mingle with the Masters of Light, Zing and Sparky; enjoy complimentary holiday themed food items (it was Greek souvlaki from a truck when I visited), in a heated indoor lounge where you can purchase hot chocolate ($5 and $6) and premium craft cocktails.
An Amaze App provides pre-arrival information including festival maps, venue details, food and beverage menus and Frequently Asked Questions. Customers are able to purchase festival tickets and buy add-ons in real time, such as to Zing's Thrill Hill and the Arctic Express Train Ride and use the Amaze Pay mobile wallet, a completely contactless method of payment.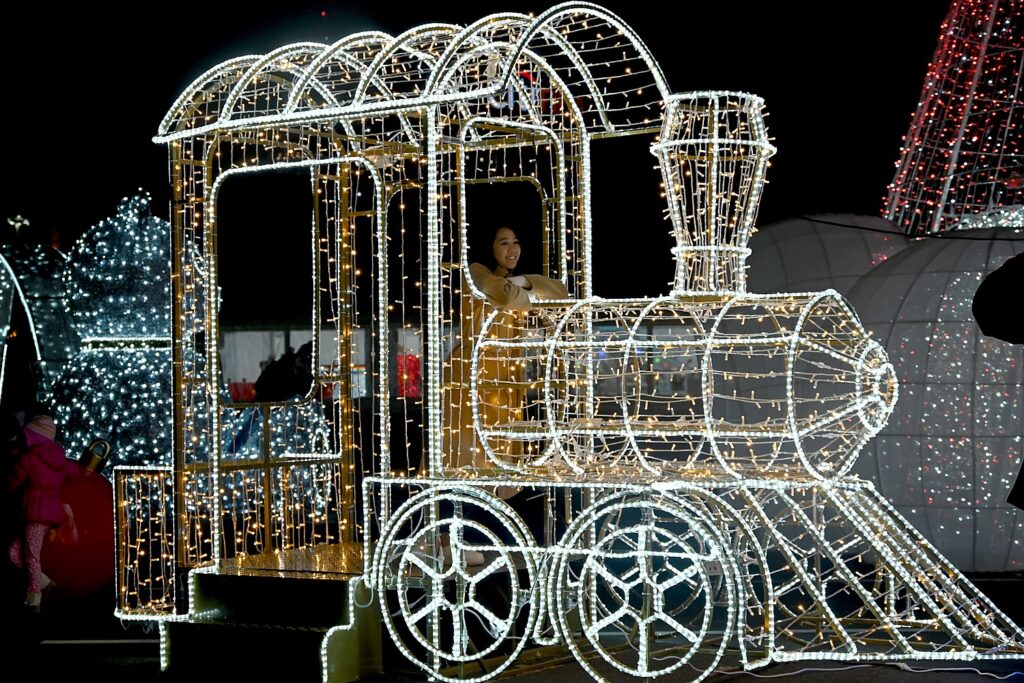 If you drive, there is parking at the Southfield lot and Stadium View lot, which costs $30 per car (credit or debit card only, no cash accepted); or you can take the 7 train or the Long Island Railroad to Mets-Willetts Point.
Amaze Light Festival runs through January 8, 2023. Tickets for Chicago are available at amazelightfestival.com/chicago-tickets/and tickets for New York City are available for purchase at amazelightfestival.com/newyork-tickets/. There are limited tickets for peak time slots and guests are encouraged to purchase their tickets in advance for this limited season run. Additional information for New York City can be found in the NYC FAQ and for more information on Chicago see the FAQs.
Polar Express at B&O Railroad Museum, Baltimore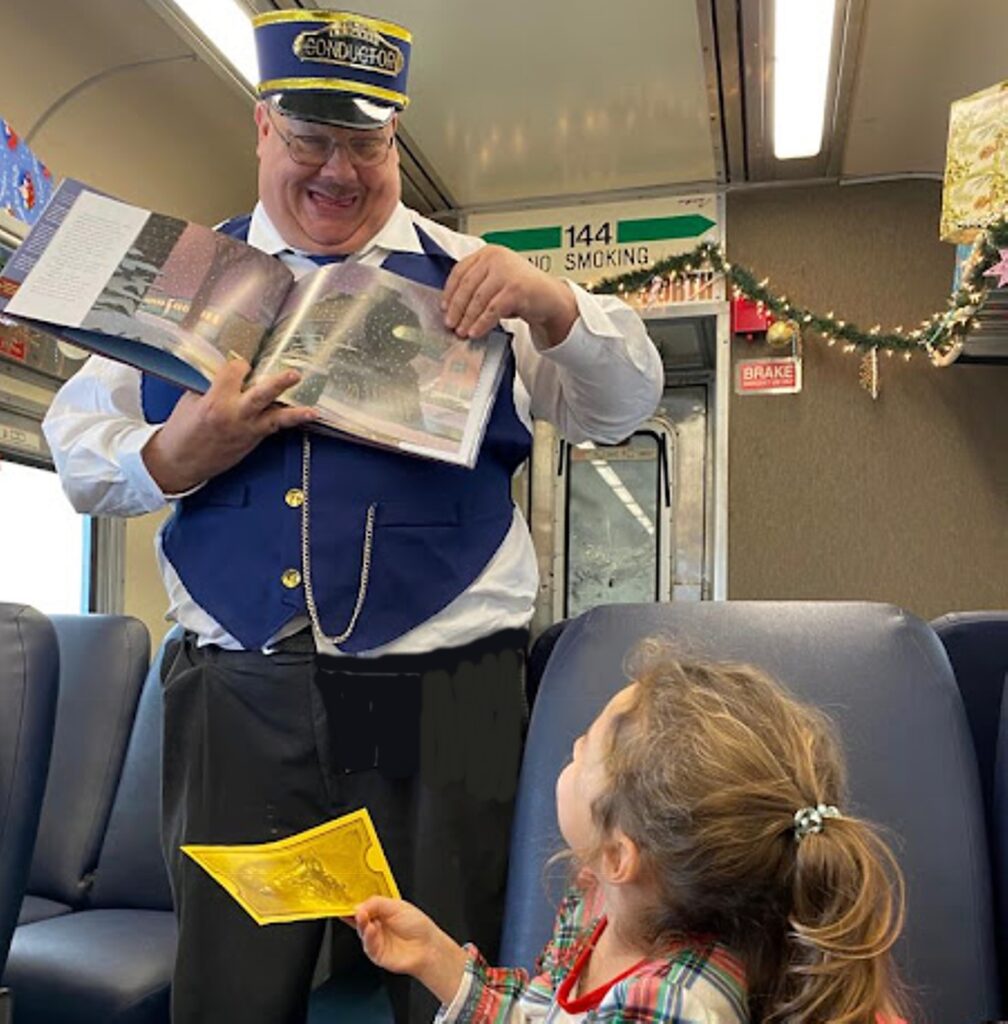 Our kids, 5 and 8, were so excited about the prospect of riding the Polar Express at the B&O Railroad Museum in Baltimore, they purchased special pajamas for the trip. This wasn't just a hop on a train through some holiday scenery. We were amazed by how closely to the story/movie (really recommended to see the Tom Hanks movie before you go), the event tracks – down to the golden ticket (exactly like the movie), the conductor, the flush of steam and blow of the train whistle of the vintage train, where you meet the Hero Boy and the Conductor from the classic tale.
The event starts with a DJ and dance party (reminiscent of the scene in the movie with the kids dancing as the boy gets on). Then you get on an actual train (not vintage)- its windows frosted just like in the story – for a 45 minute train ride. Chefs dance to the "Hot chocolate" song, delivering the sweet beverage and a sugar cookie. At the end, the kids come into the North Pole – the historic Roundhouse (just like in the movie), decorated for Christmas, with a 35-foot tree, and get to meet Santa.
Then there are activities (spend as long as you like) – making tree ornaments, and holiday crafts, see model train layouts and enjoy the museum exhibits. All the participants receive the "first gift of Christmas" – an actual sleigh bell (just like in the movie). With such high expectations, I was worried the event would fall flat, but the kids came home more excited than they left. (Purchase timed tickets in advance at https://www.borail.org/events/polar-express-4/)
(B&O Railroad Museum, 901 W. Pratt Street, Baltimore, MD 21223, 410-752-2490, www.BORail.org)
Zoo Lights Returns to the Maryland Zoo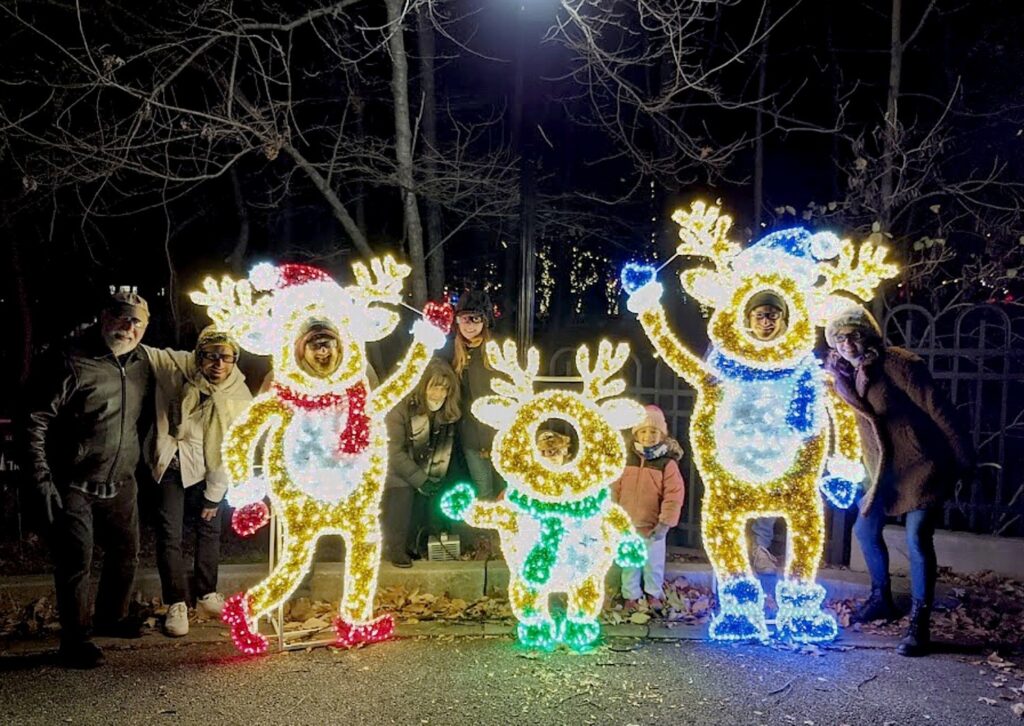 Zoo Lights has returned to the Maryland Zoo in Baltimore through January 1, with seasonal lights, including displays shaped like the Zoo's animals and a full roster of special events like BRRR Fest (which includes unlimited beer and wine sampling), food truck rallies, ice sculptures, holiday choruses, crafts, Santa Saturdays, and Hanukkah readings provided by the Enoch Pratt Free Library.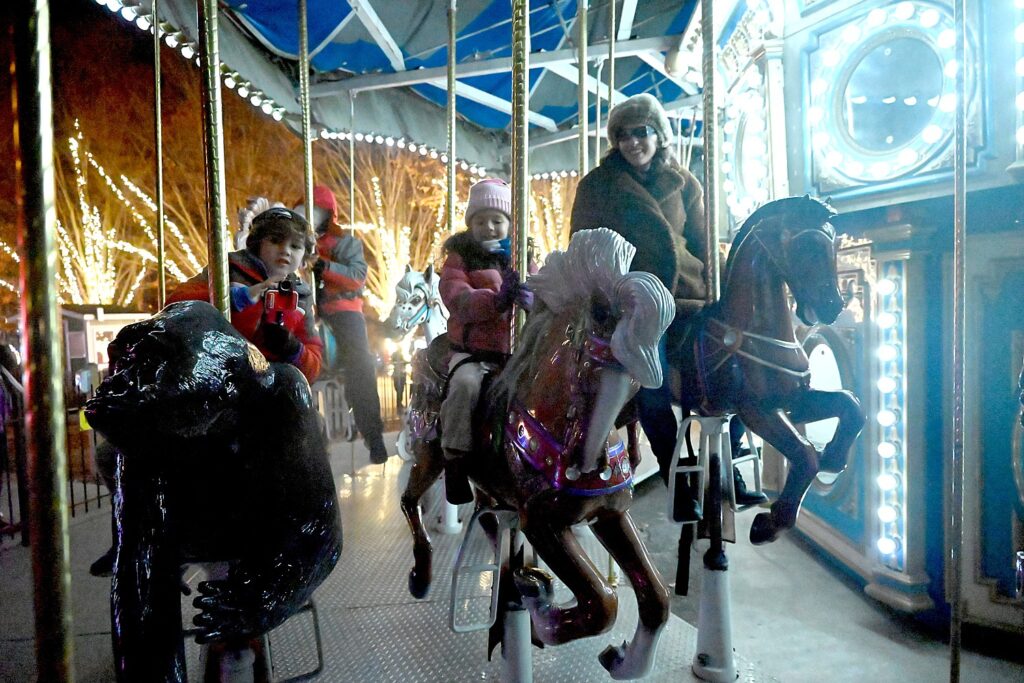 Free rides on the popular carousel and train are included in the admission price. Proceeds directly benefit the Zoo's animal care and conservation programs. All event information, including times, entry prices, and the event schedule is available at: Marylandzoo.org/events (1876 Mansion House Drive, Baltimore MD 21217, www.marylandzoo.org ).
Ride Vintage Train, Trolley Car in a Hidden Valley in Pennsylvania
The East Broad Top Railroad, a small narrow-gauge railroad, and the adjacent Rockhill Trolley Museum in Rockhill Furnace (Orbisonia), PA are celebrating the holidays in true retro style with a one-ticket/two-ride event themed "Christmas in Coal Country" through December. Enjoy a one-hour train ride aboard a selection of heated cars. The train departs from the historic Orbisonia Station and travels north, where you encounter Santa who gives every child a special gift. Trains leave at 5p.m., 6:30 p.m. and 8 p.m. Each "Christmas in Coal Country" ticket includes a ride on a vintage trolley car through the Blacklog Narrows, decked out in holiday lights. Trolley rides depart frequently throughout the evening and can be enjoyed before or after your train ride. Tickets also include writing letters to Santa. Every passenger enjoys a cup of hot chocolate and a cookie and each child takes home a gift. Tickets are $25 for adults and $20 for children. If you want to ride in the caboose, the cost is $30 for adults and $25 for children. For more information visit www.eastbroadtop.com

Newport Mansions Add More Sparkle to Holidays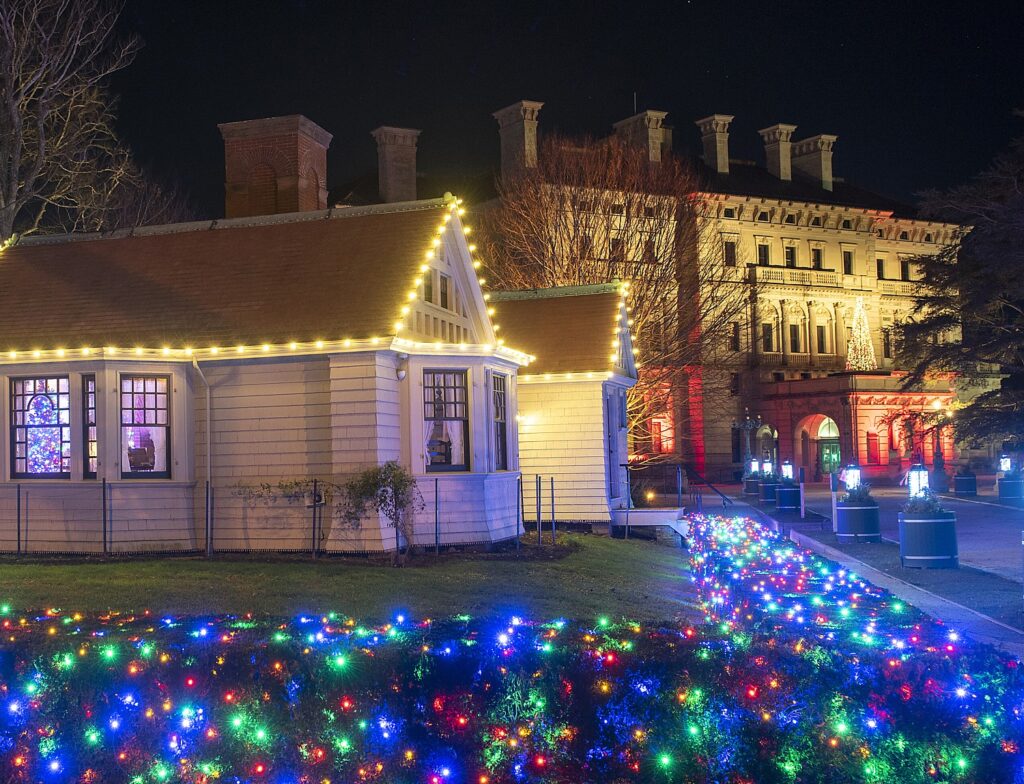 Holidays at the Newport Mansions, in Newport, Rhode Island, returns to The Breakers, Marble House and The Elms, 10 a.m. to 4 p.m.daily, through January 1. Beautiful seasonal decorations, including themed Christmas trees, wreaths, garlands and fresh floral arrangements, add a festive holiday décor to these spectacular Gilded Age houses.
Once again, the 15-foot-tall poinsettia tree in the Great Hall of The Breakers – made up of 150 individual poinsettia plants – provides a wonderful holiday photo opportunity. New this year, the Music Room of The Breakers – prominently showcased in Season 1 of Julian Fellowes' "The Gilded Age" series on HBO – will feature a vignette of mannequins dressed in elegant Gilded Age fashions.
New at this year's "Sparkling Lights at The Breakers" visitors can stroll in a complete loop around the property, enjoying a half-mile-long path glittering with hundreds of thousands of holiday lights while music fills the air. Highlights include a dazzling 50-foot-long tunnel of light and illuminated snowmen and reindeer. Guests will also want to stop by the Van"deer"bilt selfie station, or pause to watch the tree of lights change colors above the illuminated façade of the mansion. Also new this year, five fire pits light the way and help visitors stay warm. The back terrace has warming stations and adult beverages. holiday sweets and treats including s'mores kits to cook over the fire pit, are available to purchase. The Breakers Welcome Center also has snacks and non-alcoholic beverages for purchase.
Now in its third year, "Sparkling Lights at The Breakers is open Thursdays through Sundays, 4:30-6:30 p.m. through December 23, and every evening from December 26-January 1, 4:30-6:30 p.m. Tickets are for a specific date and time and include admission to the interior tour of The Breakers.
Visit www.newportmansions.org/events/holidays-at-the-newport-mansions to learn more.
Zoo Lights at Palm Beach Zoo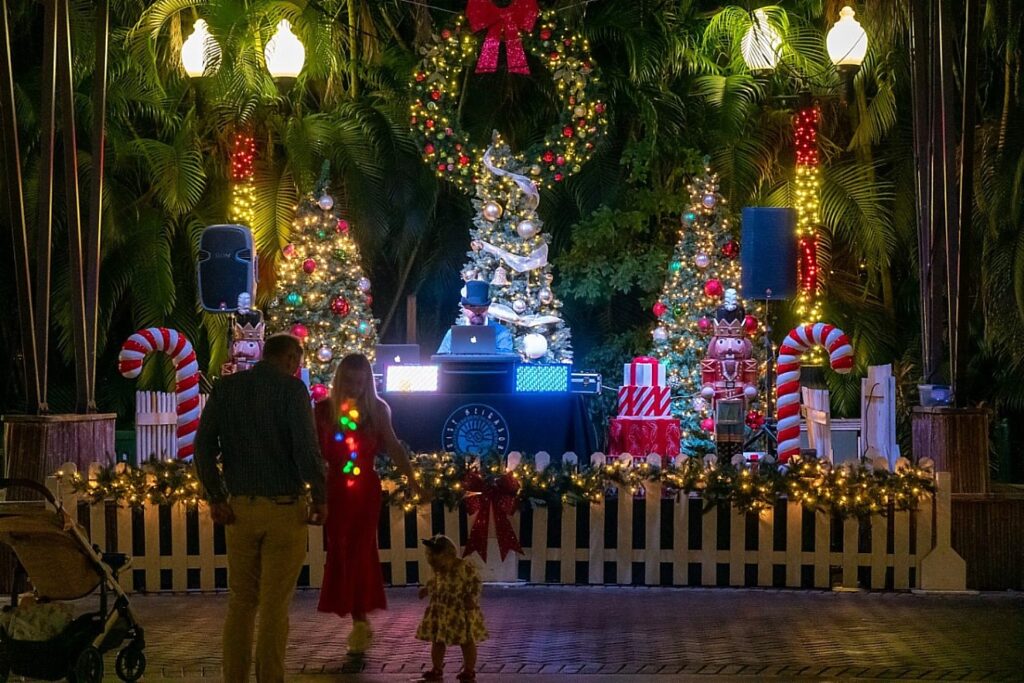 Zoo Lights presented by Florida Power & Light Company's FPL SolarNow™ is illuminating Palm Beach Zoo & Conservation Society for the holidays on select nights through January 1, 2023 for the fourth year. New this year and to add a little extra icing to the night, "snow" will fall periodically in the Fountain Plaza. Each evening of Zoo Lights features a WILD holiday celebration including photos with Santa, decadent treats, snowfall, a DJ dance party and plenty of holiday charm. The Zoo's Winter Wonderland Pavilion will include a special holiday visual experience, not to be missed. Zoo Lights attendees can select from two specific times for entry; 6:00 PM and 6:45 PM. Tickets are limited each evening to allow for plenty of room to move about the Zoo.
Visit www.palmbeachzoo.org/zoolights to purchase your tickets in advance.
The Grand Canyon Railway's Polar Express Train Ride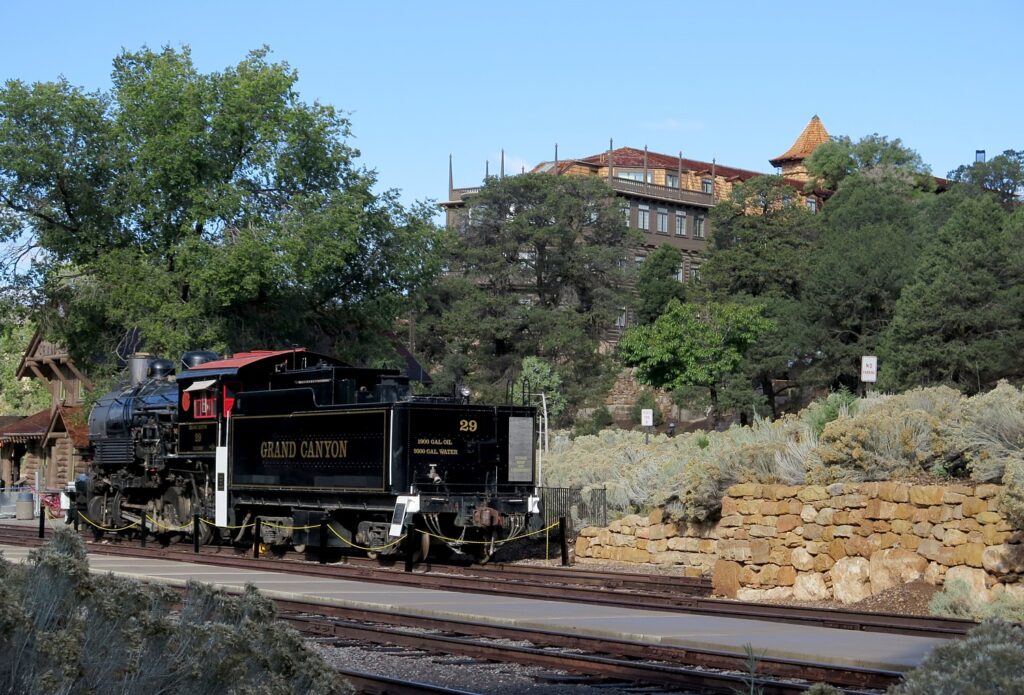 Grand Canyon Railway & Hotel's perennially popular Polar Express onboard holiday experience brings the pages of Chris Van Allsburg's classic children's book to life, with chefs offering hot chocolate and cookies, and, of course, Santa Claus himself. Now in its 22nd season, The Polar Express runs on select dates through December 30, departing the Railway's historic depot in Williams, Arizona, to the North Pole, leaving at 5:30 p.m. and 7:30 p.m. The train rides and visits with Santa at the North Pole last 90 minutes. Tickets are available Sunday through Thursday for $57 (adults) and $38 (children); Friday and Saturday for $69 (adults) and $52 (children); and The Christmas Eve Limited for $95 (adults) and $64 (children). The Grand Canyon Railway & Hotel also offers the POLAR EXPRESS™ Package, which features overnight accommodations and POLAR EXPRESS™ Train Ride tickets for guests. Included in this package is the POLAR EXPRESS™ train excursion, a one-night stay at the Grand Canyon Railway Hotel, and breakfast and dinner at the Fred Harvey Restaurant.
Book online at www.thetrain.com/polarexpress or call 1-888-848-3511.
Holiday Happenings in the Wilmington/Brandywine
Yuletide at Winterthur: Through January 8, Henry du Pont's mansion is transformed into a magical holiday spectacle, with food, music, exhibits, a gingerbread house, holiday programs and activities, and a Christmas tree display featuring decorations inspired by past First Ladies. Reservations are recommended for the Yuletide exhibits, and it's your last chance to see Jacqueline Kennedy and Henry Francis du Pont: From Winterthur to the White House before it closes on January 8.
Holidays at Hagley: Step back in time to 1803 as you visit the du Pont ancestral home Eleutherian Mills decorated in vintage holiday charm. There is also an "All Creatures Great and Small" exhibit celebrating stories of pets, wildlife, and other animals which made their habitat at Hagley over the last 200 years, both in the historic home and outdoors. "Holidays at Hagley: All Creatures Great and Small" features Holiday Home and Garden Tours, the fifth-annual Gingerbread House Competition, Santa Days, evening Twilight Tours, and more.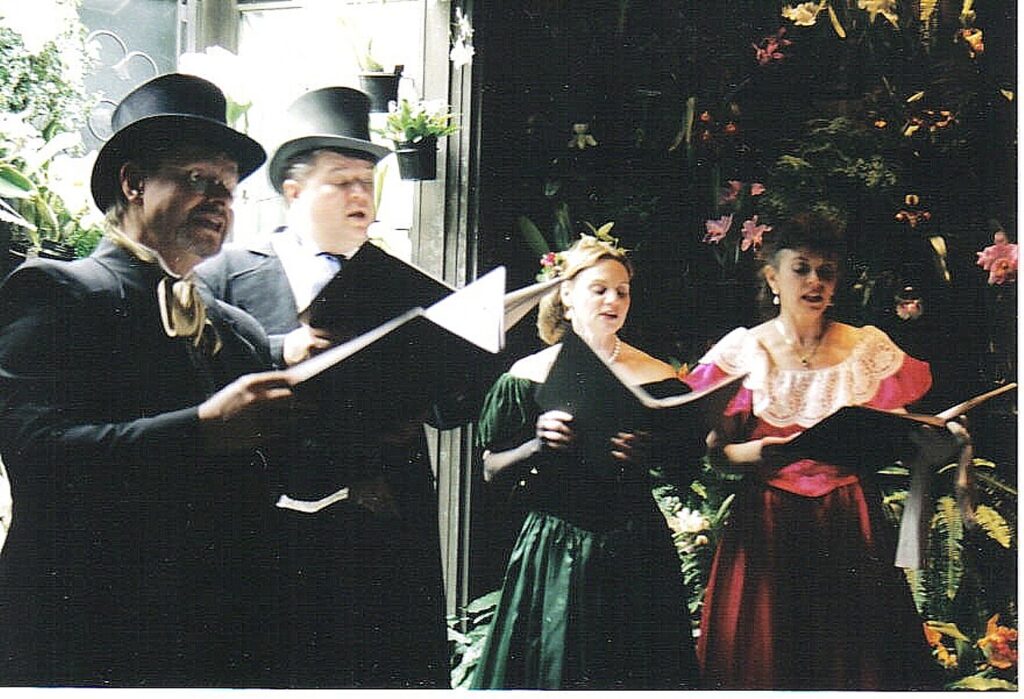 A Longwood Christmas: Through January 8, stroll past poinsettias, pinecones, snowflakes as you tour the special holiday gardens. As the sun sets, you see thousands of dazzling lights strung across miles of trees; warm up in the four-acre Conservatory with holiday sing-alongs sung to a 10,010 pipe Aeolian organ – the largest organ ever constructed in a residential setting. You can also grab a hot chocolate and cozy up to one of the many fire pits.
Brandywine Christmas at Brandywine Museum of Art: Renowned for its collection from three generations of Wyeth family artists, during the holiday season the museum is famous for showcasing the region's most impressive model train display, this year, celebrating its 50th anniversary. Throughout the season they display festive trees and have crafts, live musical performances, and imaginative "Critter" ornaments made by local volunteers.
Holiday Light Express: In Wilmington, throughout the month of December you can take a 45-minute ride in 100-year old (heated) coaches and experience thousands of holiday lights of decorated homes along the route.
Irving Berlin's White Christmas at the Candlelight Theatre's performance of White Christmas. Filled with laughter, romance, spectacular dance numbers and the unforgettable songs of Irving Berlin.
More information and planning tools from Visit Wilmington, www.visitwilmingtonde.com, 800-489-6664.
Washington, DC is that Shining Holiday Beacon on a Hill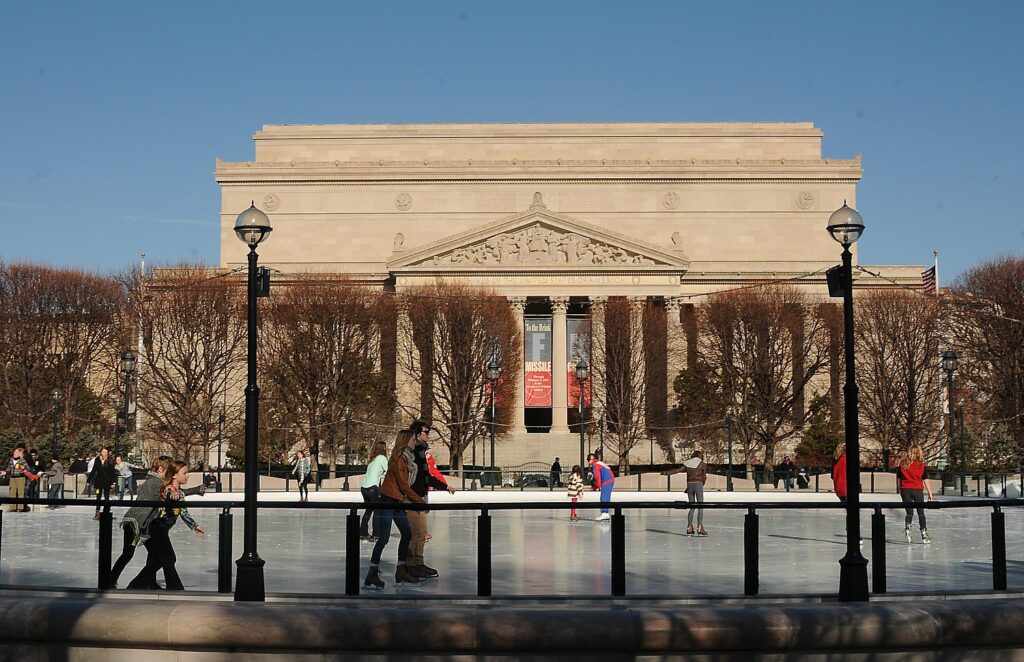 Destination DC (Washington.org) offers up a score of holiday happenings including the 100th annual National Christmas Tree. Highlights include:
Dazzling Light Displays
Holiday Events and Performances
Experience Charles Dickens' beloved Yuletide story of transformation and redemption, "A Christmas Carol," at Ford's Theatre, through Dec. 31.
The Washington Ballet presents "The Nutcracker" through Dec. 30.
Bells of Bethlehem at Museum of the Bible showcases six bells from the Church of the Nativity in Bethlehem. This is the first time any of the bells is on display in the United States.
Winter activities include ice skating at Washington Harbour Ice Rink and in the shadow of the National Gallery of Art (through March 5, 2023).
More information and planning help at Destination DC, washington.org/winter.
__________________
© 2022 Travel Features Syndicate, a division of Workstyles, Inc. All rights reserved. Visit goingplacesfarandnear.com, www.huffingtonpost.com/author/karen-rubin, and travelwritersmagazine.com/TravelFeaturesSyndicate/. Blogging at goingplacesnearandfar.wordpress.com and moralcompasstravel.info. Visit instagram.com/going_places_far_and_near and instagram.com/bigbackpacktraveler/ Send comments or questions to [email protected]. Tweet @TravelFeatures. 'Like' us at facebook.com/NewsPhotoFeatures