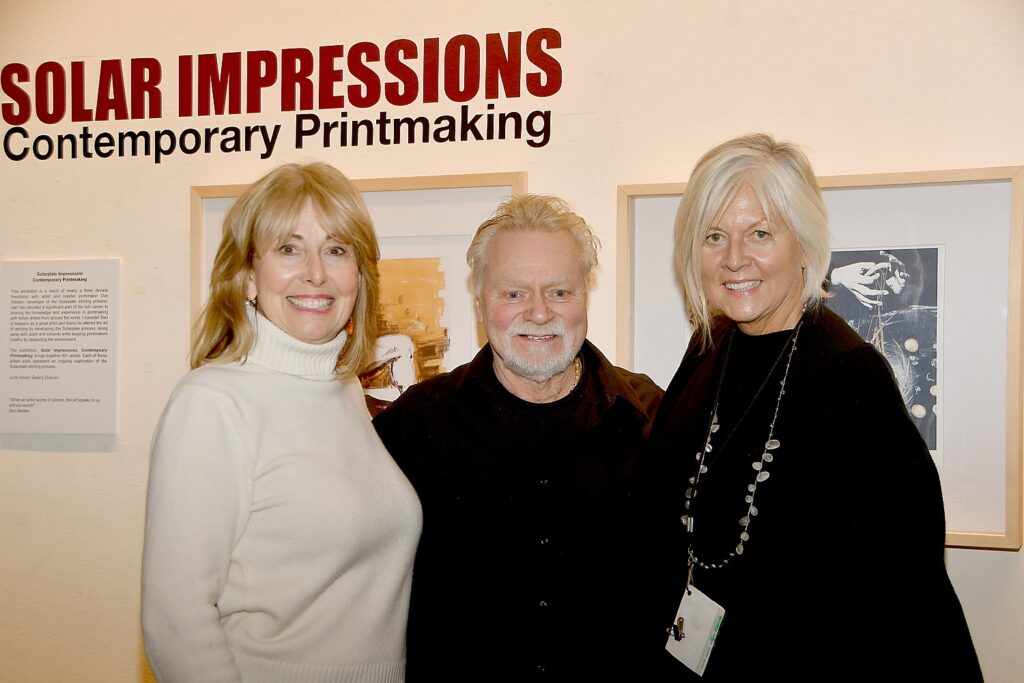 by Karen Rubin, Travel Features Syndicate, goingplacesfarandnear.com
"Solar Impressions," a new art exhibit featuring works using the innovative Solarplate print-making process, has opened at the Gold Coast Arts Center in Great Neck, Long Island. The exhibit, which runs through April 10, 2020, brings together the works of more than 40 artists including internationally acclaimed American painter Eric Fischl. Each work of art is a representation of an ongoing exploration of the Solarplate etching process developed by Dan Welden, and reflects the extraordinary diversity of applications of the technique.
Noted artist, master printmaker, educator, and author, Dan Welden, was among scores of artists and art lovers on hand at an opening reception that took place on Sunday, January 26. Welden, director of Hampton Editions, Ltd., in Sag Harbor, is the developer of the Solarplate etching process, which uses light-sensitive material applied to a metal plate, and then hardened by the sun. The innovative process is a simpler and safer alternative to traditional etching that uses corrosive acids and is now used at universities and art schools all over the world.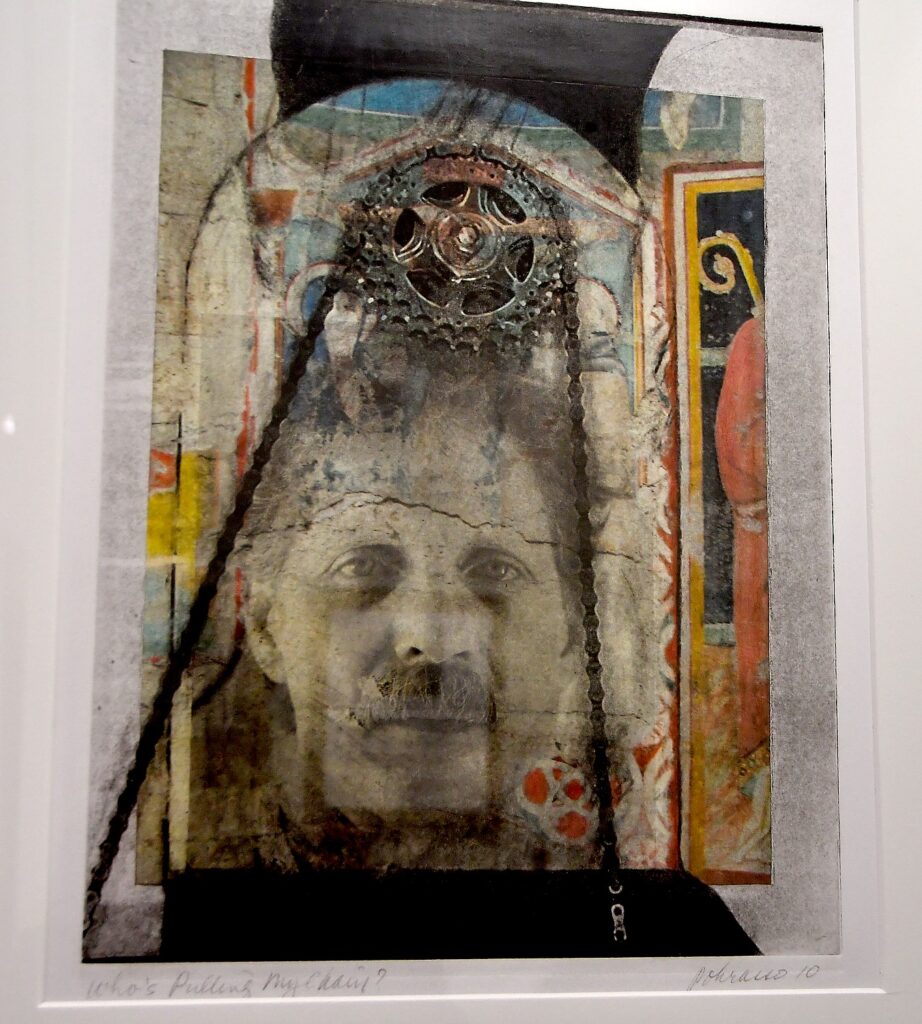 Solarplate eco-friendly sunlight and water to fix an image from a photograph or drawing into a steel plate which has been treated with polymer. Artists can apply color by hand into the ridges and grooves, or use a silk-screen process.
What is impressive is the versatility of the Solarplate process for artists across various media – photographers, painters, printers, collage makers – as well as the materials they use – paper, textured paper, Mulberry paper, fabric – which is very much on view in the Gold Coast exhibit.
"Rather than using all of these harmful materials that get inside an artist's lungs and immune system, solarplate etching uses sunlight and water," Welden said in an interview with Robert Pelaez of Blank Slate Media. "It's pretty easy to grasp for people of all ages, and you don't need an extensive artistic background for this."
Solarplate is a light-sensitized steel-backed polymer material. Artist can work on the plate directly, with opaque materials in nonwater-based pigments, or by expose the plate through a transparent film with artwork on it. The artwork is printed on the plate through UV exposure for 2 to 5 minutes depending on light exposure, time of day and other variables.
When Welden first developed the technique, he called fellow artist Jude Amsel. and current Gold Coast Gallery Director Jude Amsel. More than 30 years later, Amsel, the Gold Coast Gallery Director, brought together 40 pieces of solarplate etching from across the country for the Gold Coast exhibit.
"At first I definitely had some questions about the process," Amsel told Pelaez during a studio tour. "But once I did it, I realized how revolutionary an art form this would be for artists all over the world."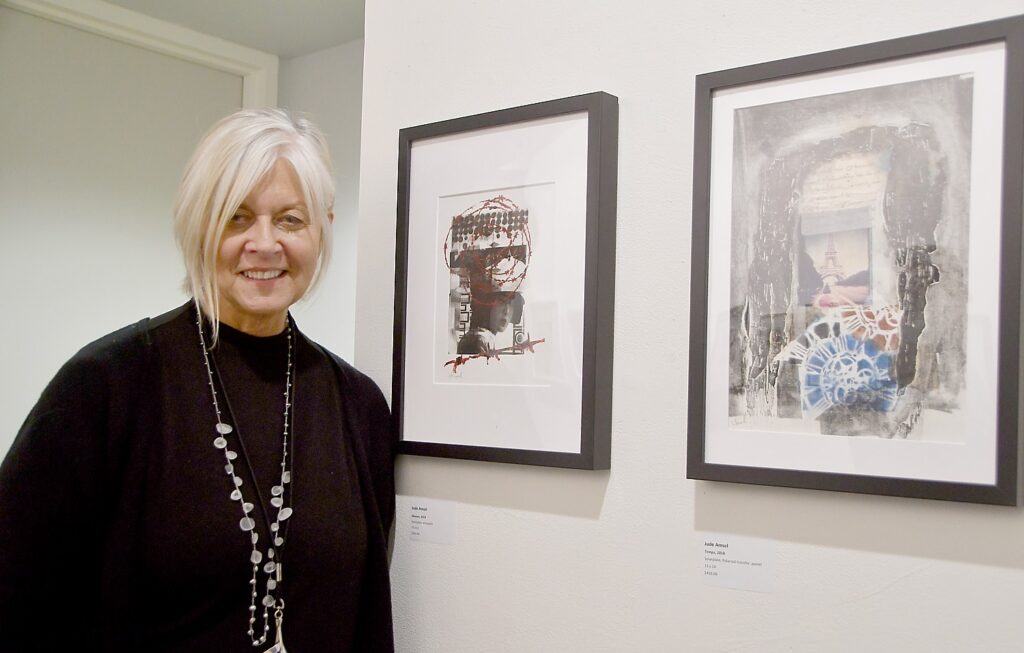 "There's a common ground of personal creativity," Amsel said. "Some feature nature, traveling, or aspects of life that resonate with an artist, but there's no limit to what can be done with solarplate etching. It's one of the many things I think is fascinating about it."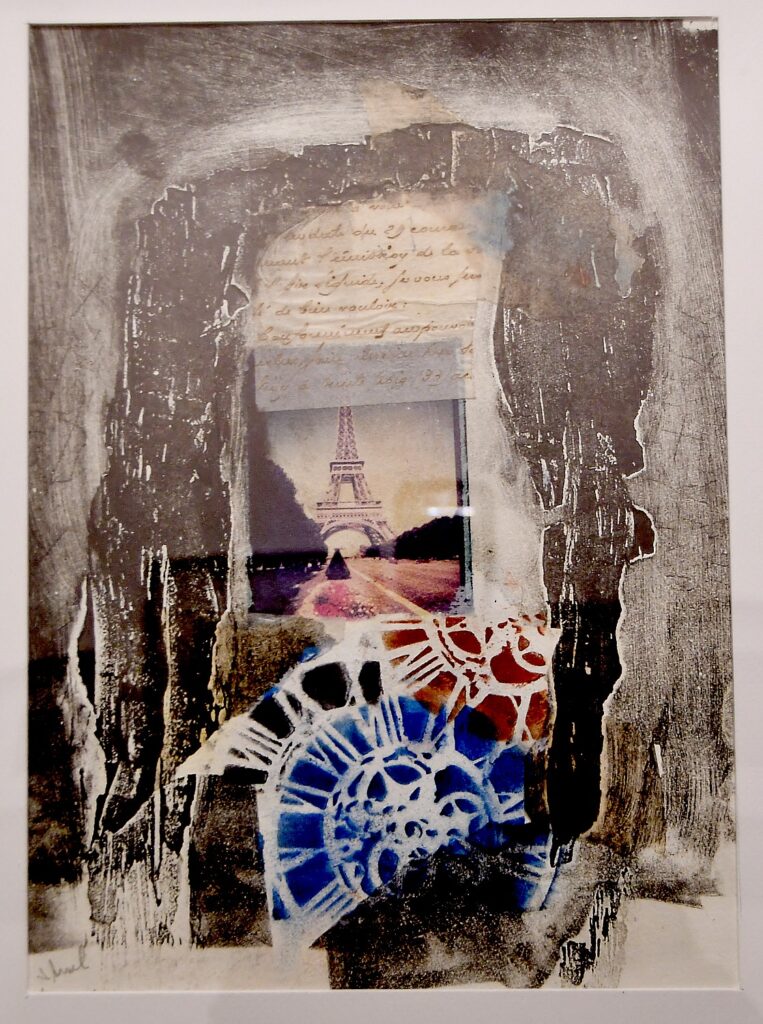 Amsel said artists from all backgrounds are able to use the technique. Even photographers can use the art form by reprinting and then shading in the outline of their subject through etching.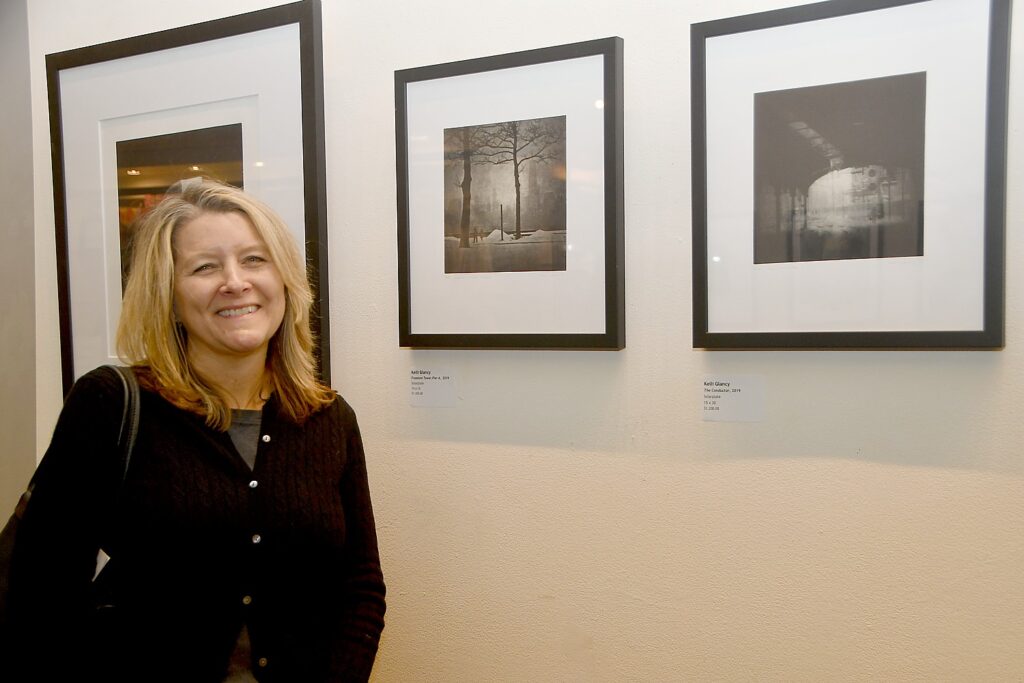 One of them, photographer Kelli Glancey, has two pieces in the exhibit. Using the process, she has created photo images – shot in color on a phone – that harken back to Steichen and Stieglitz. Two of her works, "Freedom Tower, Pier A" (2019) and "The Conductor" (2019), are images taken from the 1907 Lackawana train depot in Hoboken, NJ, pay homage to Steiglitz who lived in Hoboken.
Describing herself as a "newbie" to solarplate, Lori Horowitz said, "Artists are so fixated on making art we poison ourselves. This is safe process for print making." She holds up the original color photograph from which she made the black-and-white solarplate.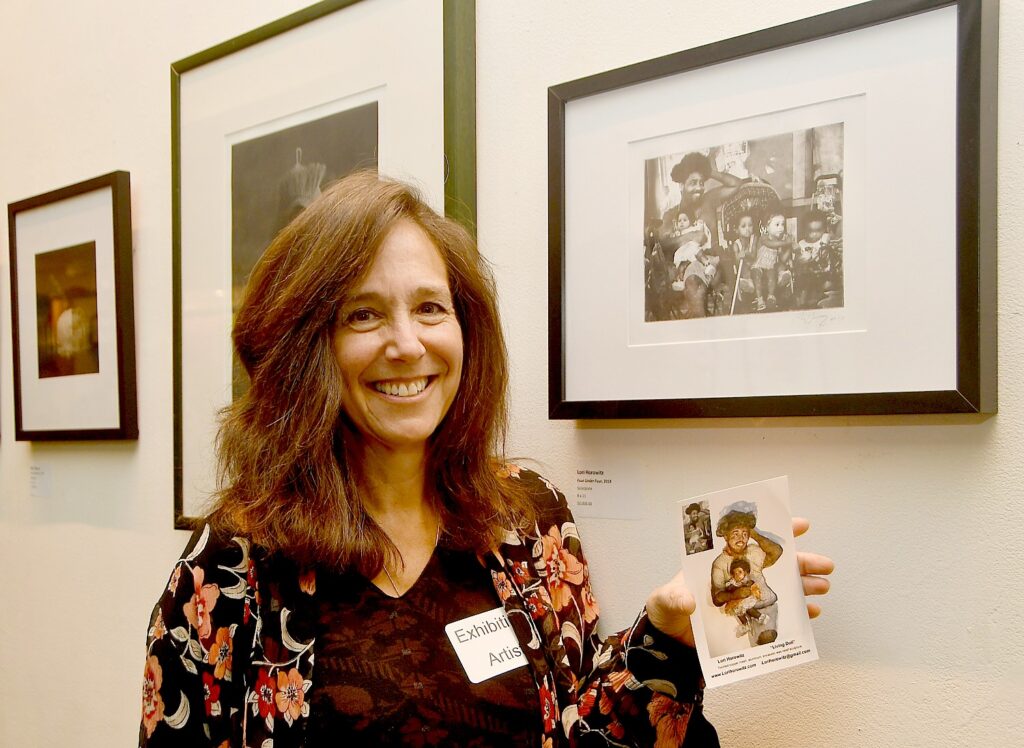 "The realm of possibilities is really endless with solarplate," Amsel told Pelaez. "My personal relationship with Dan makes this exhibit even more special. Watching him work and being a part of the early stages of this art is a blessing."
Welden innovated the process but says he has not patented it. "I did it to share, not to own." He travels around the world giving workshops in the technique.
Printmaking, which is almost 2,000 years old, developed in China with the invention of paper, is a process used in art to transfer images from a template onto another surface. The design is created on the template by working its flat surface with either tools or chemicals. Traditional printmaking techniques include engraving, etching, woodcut, lithography and screen-printing. In the 1970's, Dan Weldon, a Long Island printmaker created Solarplate, a new printmaking technique.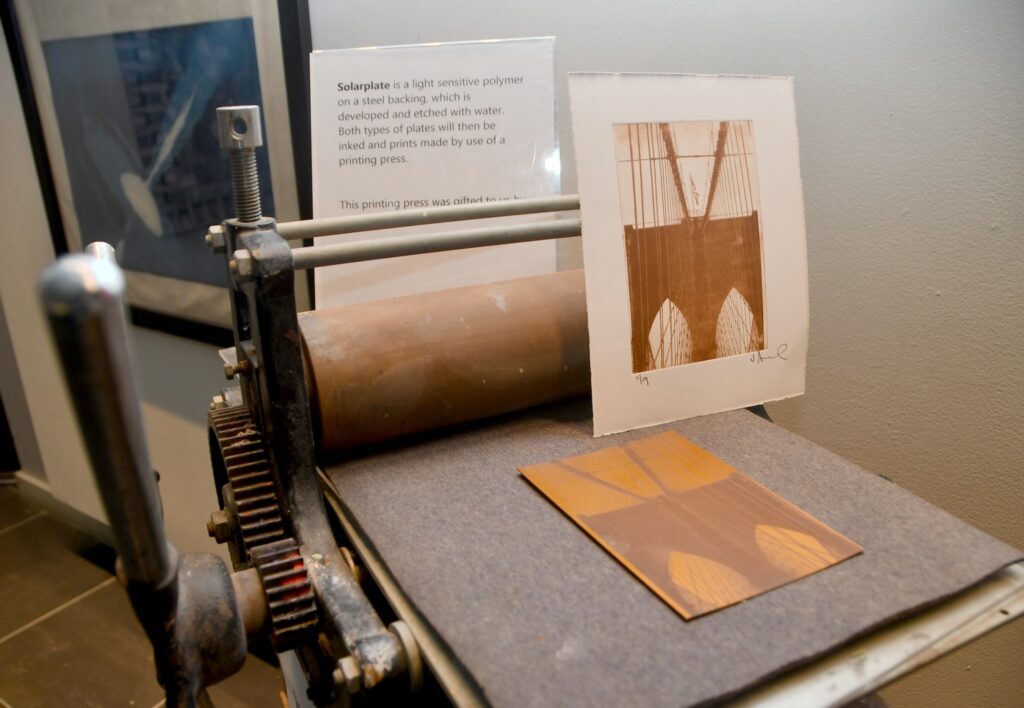 "Printmaking with Solarplate is a simple approach and safer alternative to traditional etching and relief printing," Amsel writes in the introduction to the exhibit. "Solarplate is a prepared, light-sensitive polymer surface on a steel backing for artists to produce fine prints. Since Dan Welden's development of the process in the 1970s, printmakers, painters, photographers and art teachers interested in multiple impressions have found printmaking with Solarplate a new tool. All an artist needs is inspiration, a graphic image crated on a transparent film (acetate or glass), sun or UV light, and ordinary tap water. Both positives and negatives can be utilized; intaglio and relief printing techniques can be applied.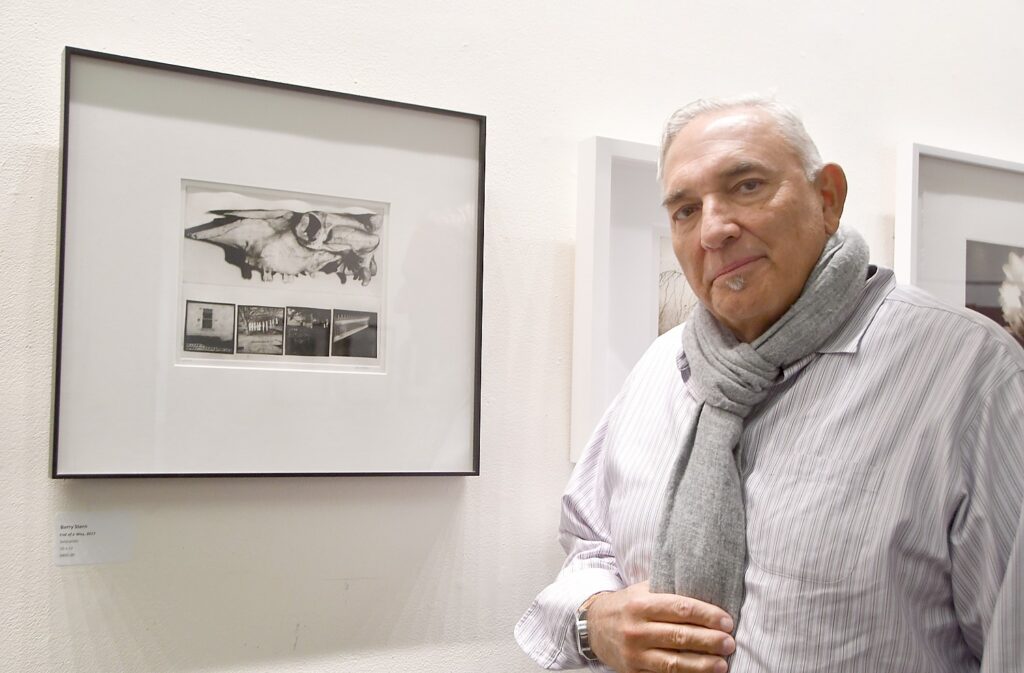 "Universities and art schools all over the world are using Solarplate as part of their curriculum. The simple, spontaneous approach also makes it faster and more economical for use in professional printmaking workshops and collaborations with artists. Educators are replacing traditional acid techniques with Solarplate because of safety regulations. Photographic in nature, Solarplate incorporates a broader range of techniques than any other printing medium," Amsel writes in the introduction to the exhibit.
Welden's 50-year career includes collaborations with numerous artists, including Willem and Elaine de Kooning, Jimmy Ernst, James Brooks, Kurt Vonnegut, and Eric Fischl, andis among those on display at the Gold Coast Arts Center Gallery. Fischl's work graces the cover of the "Solar Impressions" souvenir catalog guide.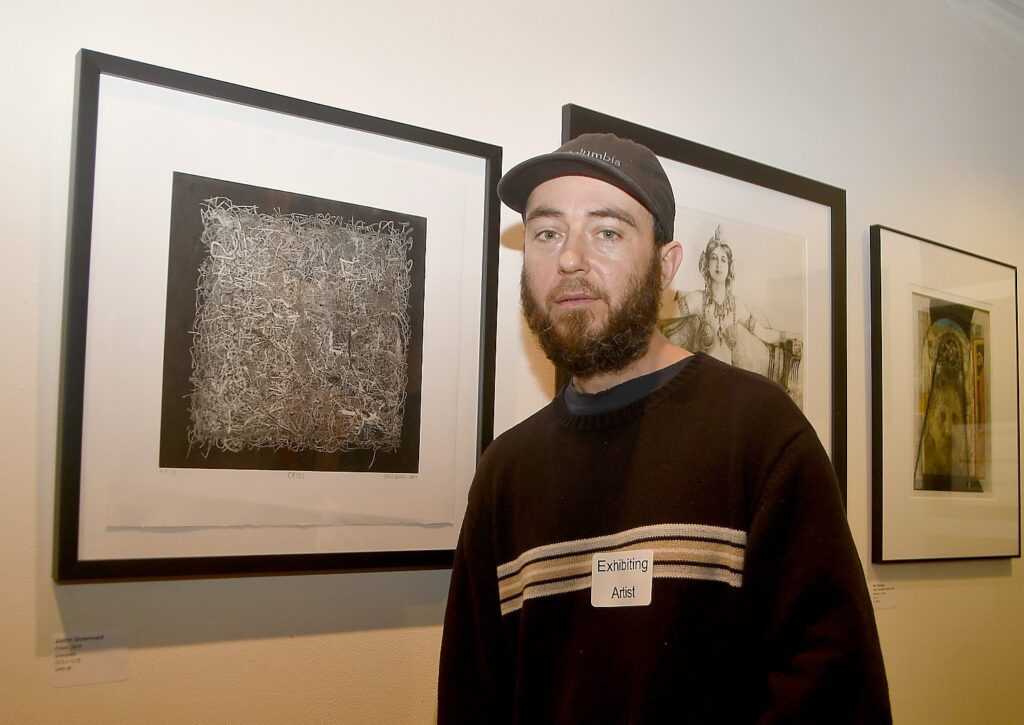 Artworks in the exhibit are available for sale to the public, according to Regina Gil, Founder and Executive Director of the Gold Coast Arts Center. The artists have priced the art well to make them affordable to art lovers and collectors.
"'Solar Impressions' presents the public with a display of unique and creative works of art using Dan Welden's innovative process now used by artists and art students around the world," Gil said. "This is an opportunity for everyone to acquire some of these outstanding pieces."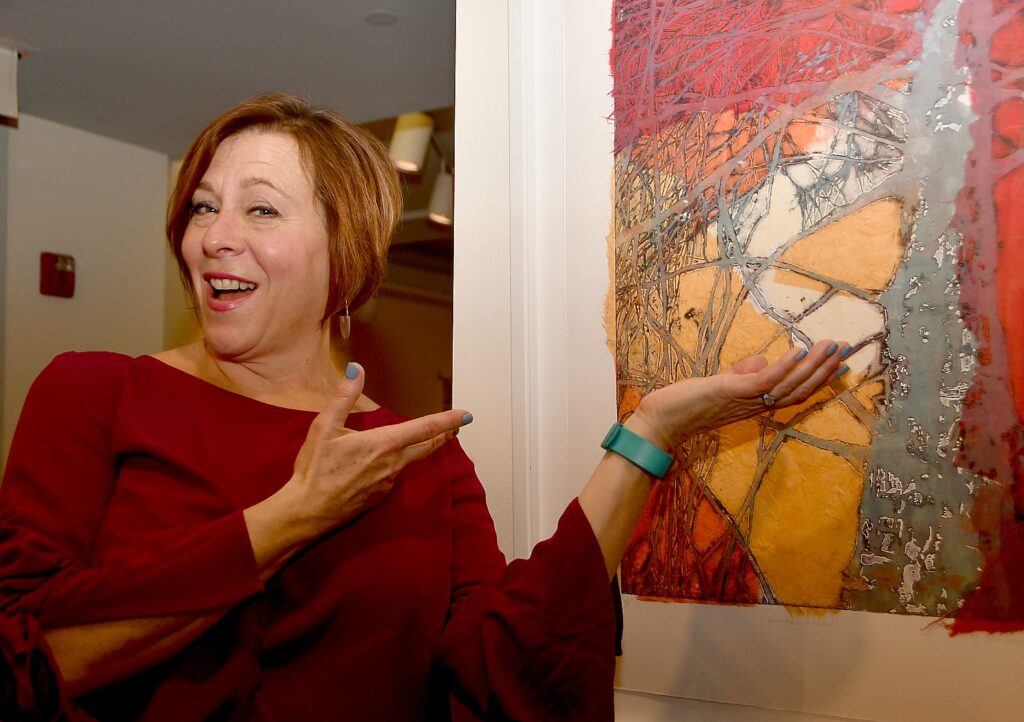 The gallery is open to the public and is free. For more information about "Solar Impressions," including gallery hours, visit www.goldcoastarts.org. For tour information or to register for classes, visit https://goldcoastarts.org/art-gallery/ or call 516-829-2570.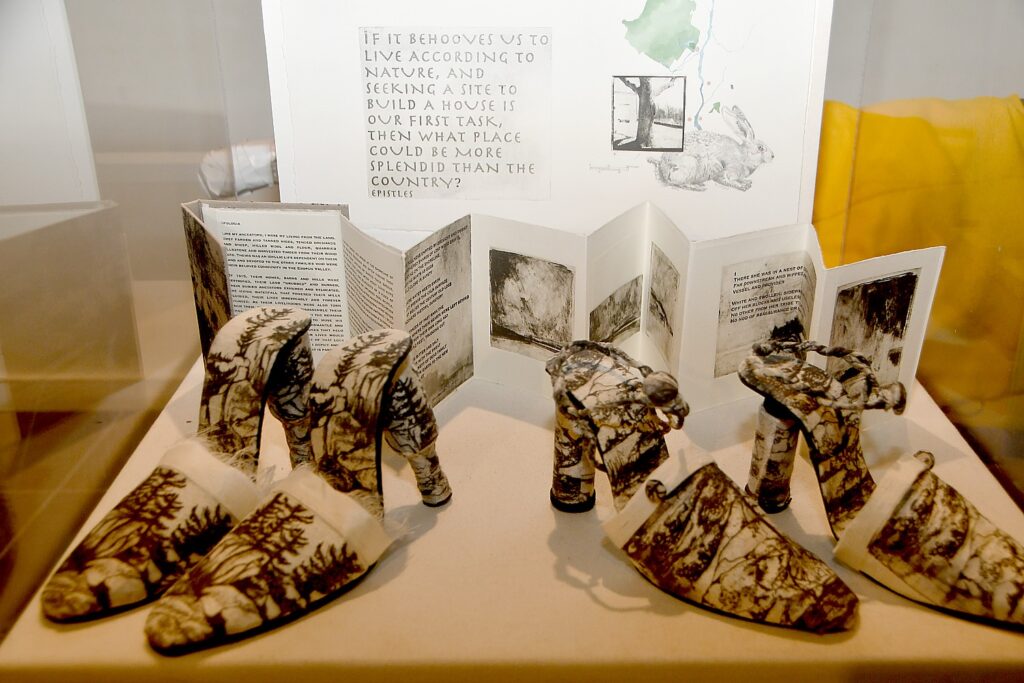 Printmaking workshops for adults will be offered at the Gold Coast Arts Center on Sunday, March 15, from 12-3 p.m. No experience necessary. (For information, visit https://goldcoastarts.org/event/solarplate-printmaking-workshop/)
Gold Coast Arts Center is a 501(c)(3) multi-arts organization dedicated to promoting the arts through education, exhibition, performance, and outreach. For a quarter-century, it has brought the arts to tens of thousands of people throughout the Long Island region. Among the Center's offerings are its School for the Arts, which holds year-round classes in visual and performing arts for students of all ages and abilities; a free public art gallery; a concert and lecture series; film screenings and discussions; the annual Gold Coast International Film Festival; and initiatives that focus on senior citizens and underserved communities. These initiatives include artist residencies, after-school programs, school assemblies, teacher-training workshops, and parent-child workshops. The Gold Coast Arts Center is an affiliate of the John F. Kennedy Center for the Performing Arts "Partners in Education" program and the National Gallery of Art in Washington, D.C.
Gold Coast Arts Center, 113 Middle Neck Rd., Great Neck, NY 11021, 516-829-2570, www.goldcoastarts.org.
_________________________
© 2020 Travel Features Syndicate, a division of Workstyles, Inc. All rights reserved. Visit goingplacesfarandnear.com, www.huffingtonpost.com/author/karen-rubin, and travelwritersmagazine.com/TravelFeaturesSyndicate/. Blogging at goingplacesnearandfar.wordpress.com and moralcompasstravel.info. Send comments or questions to [email protected]. Tweet @TravelFeatures. 'Like' us at facebook.com/NewsPhotoFeatures