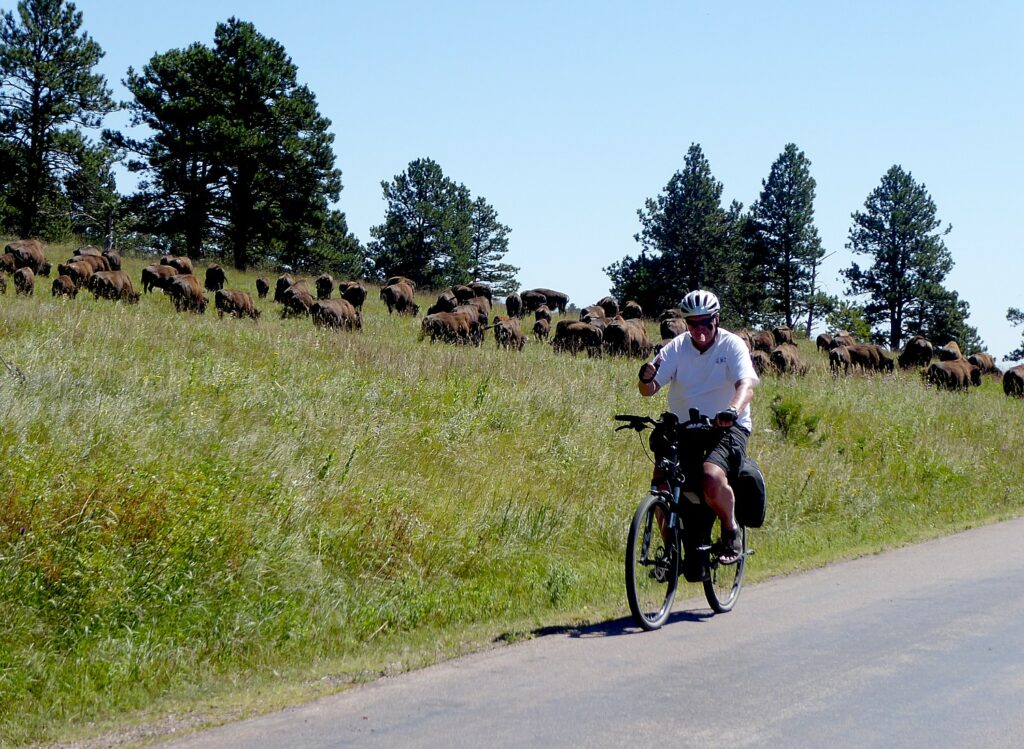 by Karen Rubin, Travel Features Syndicate, goingplacesfarandnear.com
I find myself mere feet from a swarm of buffalo (or more accurately, bison). I am walking my bike and have wisely chosen to walk between two cars that are essentially stopped as the herd crosses a road in Custer State Park, in the Black Hills of South Dakota. From this vantage point, though, I can shoot photos from the left hill and the right field and feel reasonably protected even though there is really nothing between me and them.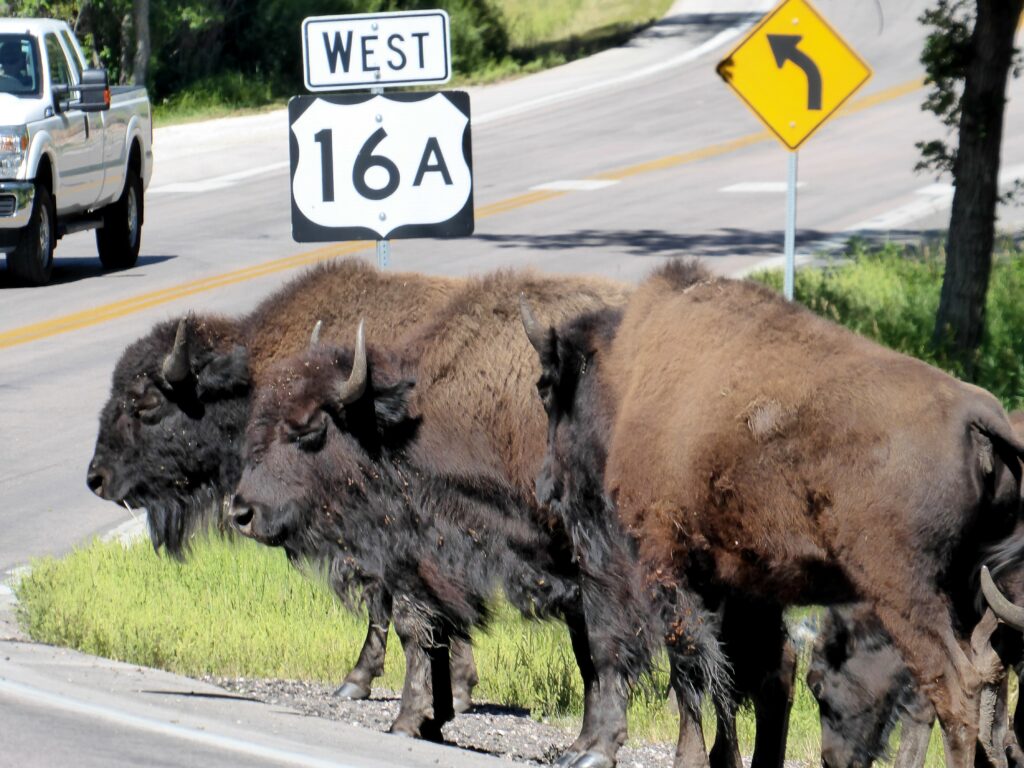 This is the second encounter today with this herd – the first came as our small group biked from the enchanted Sylvan Lake to our lunch stop in Custer State Park at the new Visitors Center. The herd had parked itself right on the field outside the center, as if orchestrated by our tour operator, Wilderness Voyageurs. (I am told this isn't necessarily a regular thing, but was a fortuitous occurrence on this day). It is only just one thrilling experience in an incomparable day, in an incomparable six-days of biking through South Dakota's Badlands and Black Hills.
In the days before, we biked through Badlands National Park, completely surprised and enthralled by the stark scenery – essentially an ocean floor that had risen up as the Rocky Mountains formed. I had never realized that the Badlands is a gold mine of fossils from about 65 million years ago and from 35 million years ago (with a curious gap of 30 million years) – a transition period from dinosaurs (which went extinct around 65 million years ago) and mammals. Some 600,000 specimens have already been excavated just from this area, supplying every major museum and paleontology laboratory in the world. On this day, in the Visitors Center, we walk into an astonishingly fine Paleontology lab to watch two paleontologists painstakingly chipping away ever so carefully to release fossilized bones from rock.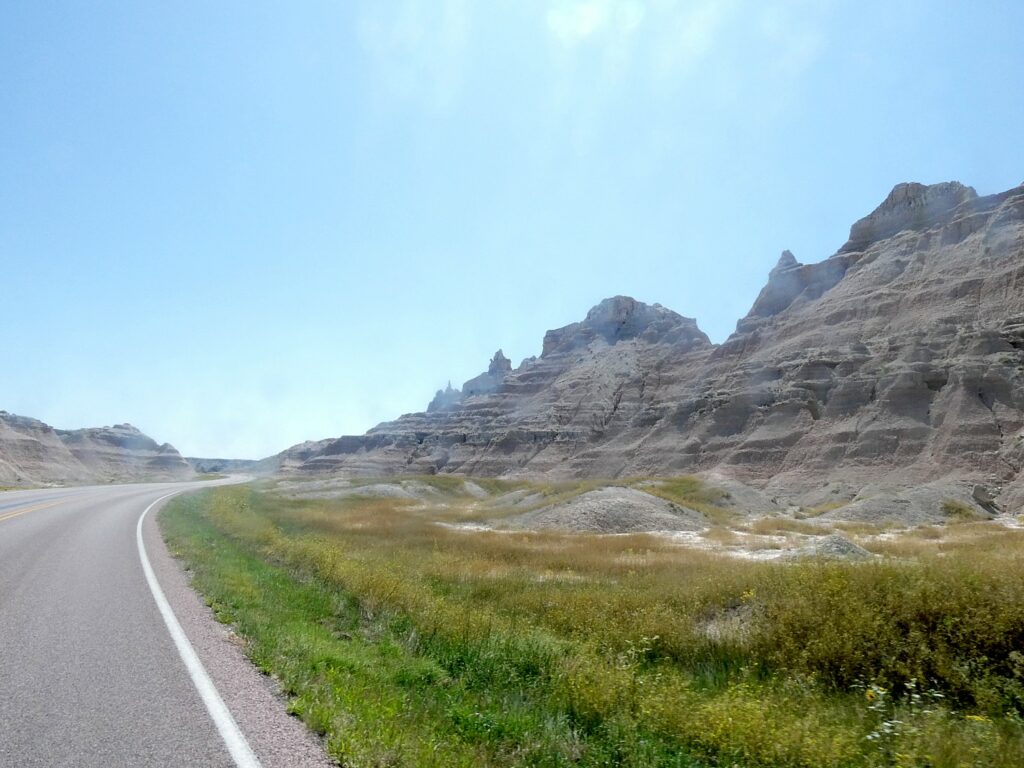 The fossils are so plentiful – and more are being exposed with erosion – that fossil-hunting should be added to the list of activities that visitors to the Badlands National Park can enjoy. There is an entire "heroes" wall filled with photos of visitors who have made their own fossil finds just this year alone, alerting the paleontologists to their location. One of those visitors from years ago – he is a legend – was a photographer who happened on a couple of fossils; when the paleontologists came, thinking it was an afternoon's worth of digging, they found a tennis-court sized bone field that so far has yielded 19,000 specimens over 15 years of excavation.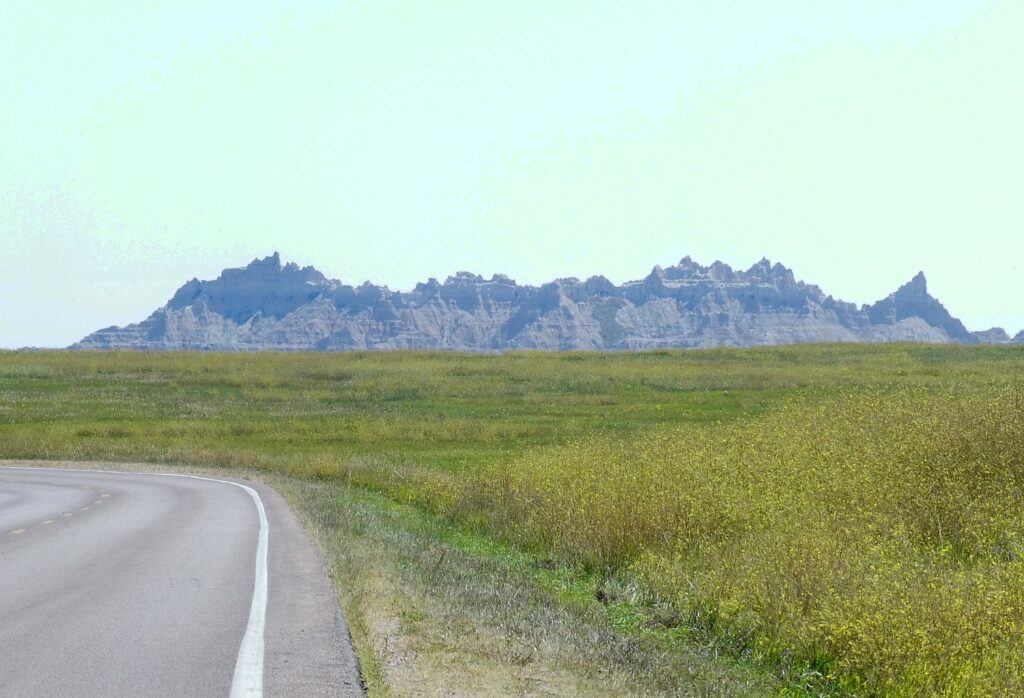 Each day of biking through the Badlands and Black Hills of South Dakota, the landscapes change so dramatically, along with such variety of visual and experience, from nature and natural wonders to heritage to history.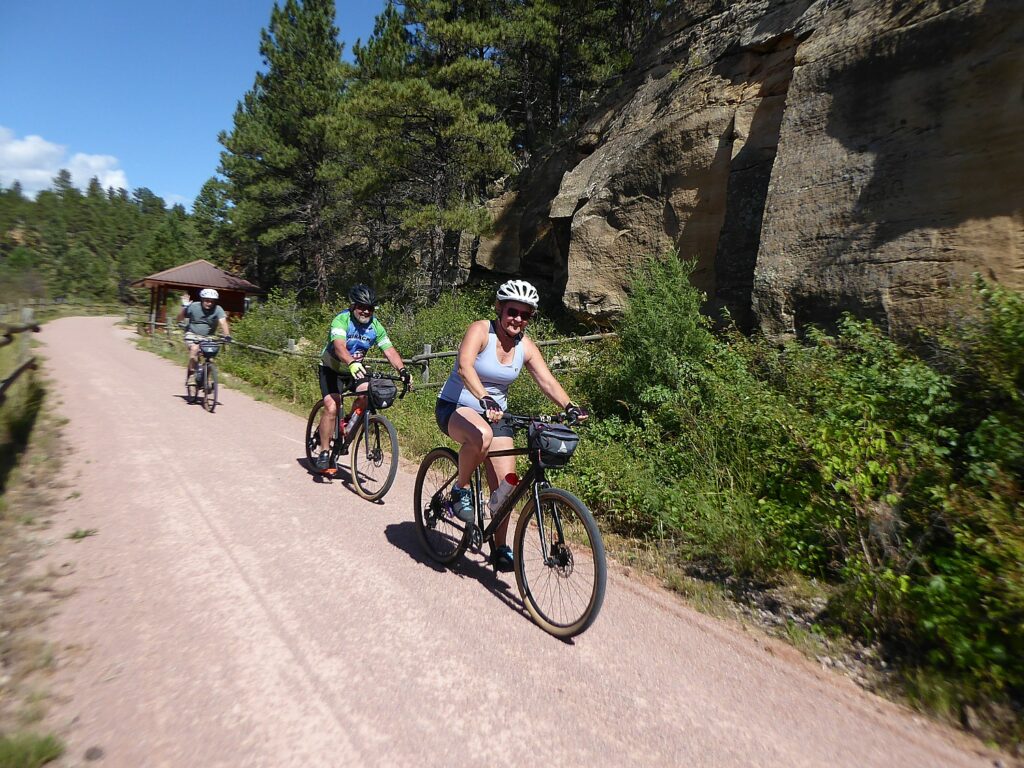 Over the course of the six days of riding, we bike the entire 109-mile long Mickelson Rail Trail (one of Rail-to-Trails Conservancy's "Hall of Fame" award-winning trails), taking us through ranch land and towns, ending at the historic town of Deadwood (but not all at once – the Wilderness Voyageurs guides have broken up the rides so we get the best ride and the best itinerary); we ride through Badlands National Park and Custer State Park, with the stunning scenery of the Needles Highway, and ride the Wildlife Loop giving us close encounters with herds of buffalo (actually bison).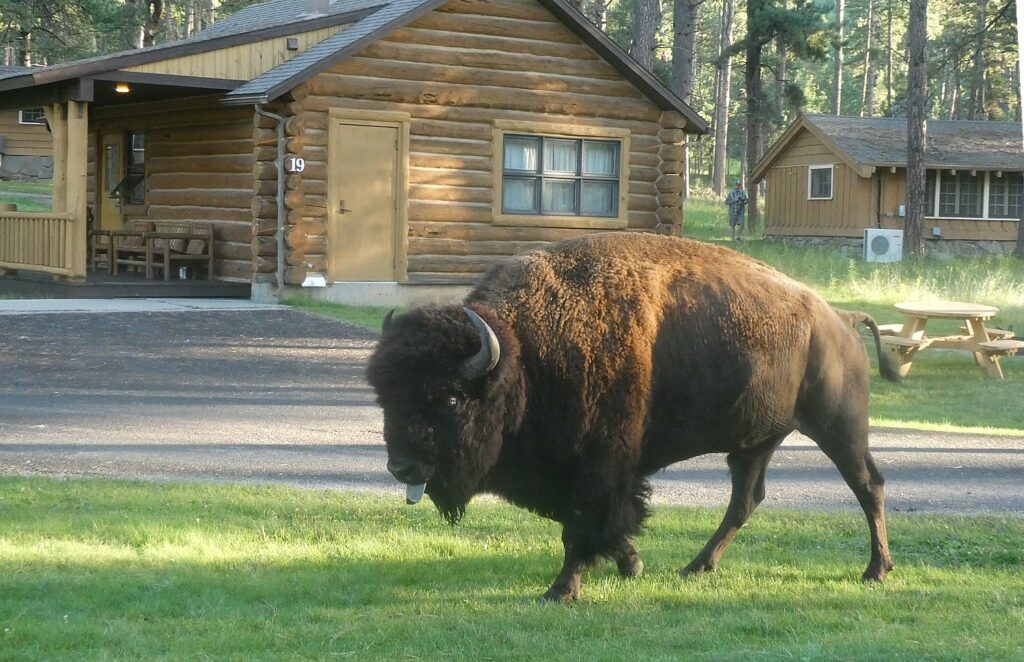 The lodgings are also distinctive: after the Badlands ride, we stay at a guest house on a ranch, and after our ride through Custer State Park, we overnight in luxurious log cabins at the Blue Bell Lodge. The attractions are epic: we hop off the Mickelson trail to visit the Crazy Horse Memorial (who knew it wasn't finished, but that decades after the death of sculptor Korczak Ziokowski who designed and carved the head, two more generations have worked on it and it will likely take decades more to finish); and finish our tour at Mount Rushmore National Monument (who knew that famous sculpture of the presidents Washington, Jefferson, TR Roosevelt and Lincoln also was not finished but never will be?).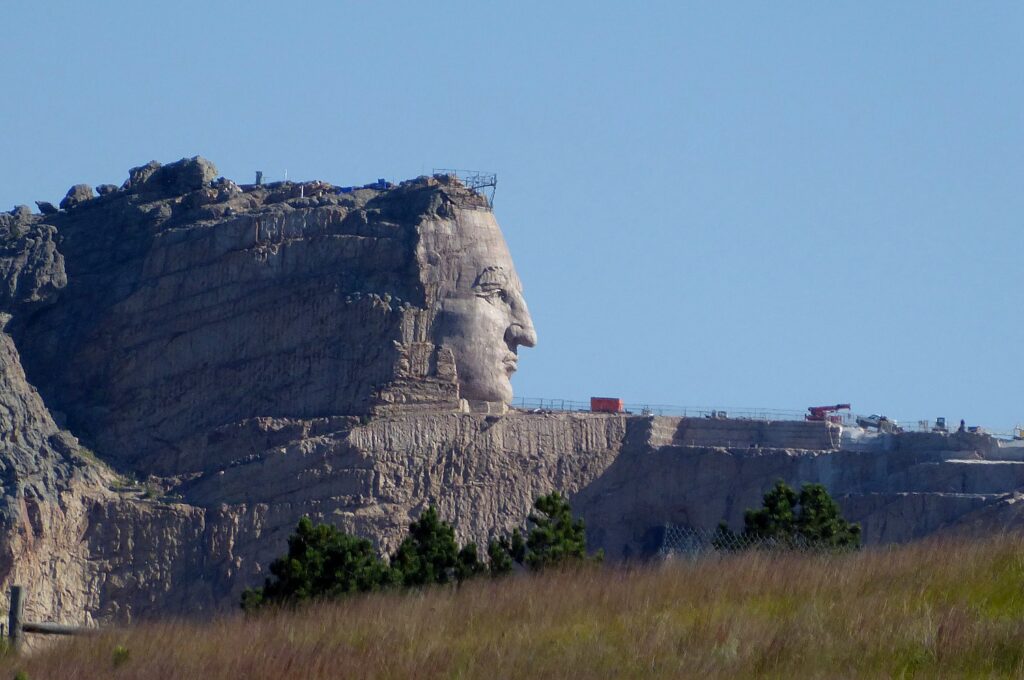 I love that the focus is not on racing from point A to B as fast as possible, but that our bikes are our vehicles to explore, to discover, to immerse, to revel in this glorious landscape and history – the bikes become an endorphin-making machine, filling you with exultant feelings. "This is your vacation," our guide, James Oerding says more than once. I am so glad that most of the rides do not depend upon us all ending up at the van for a shuttle ride, so I don't have that nagging feeling of holding up other people by stopping for photos or listening to a ranger talk, watching a film or looking at an exhibit.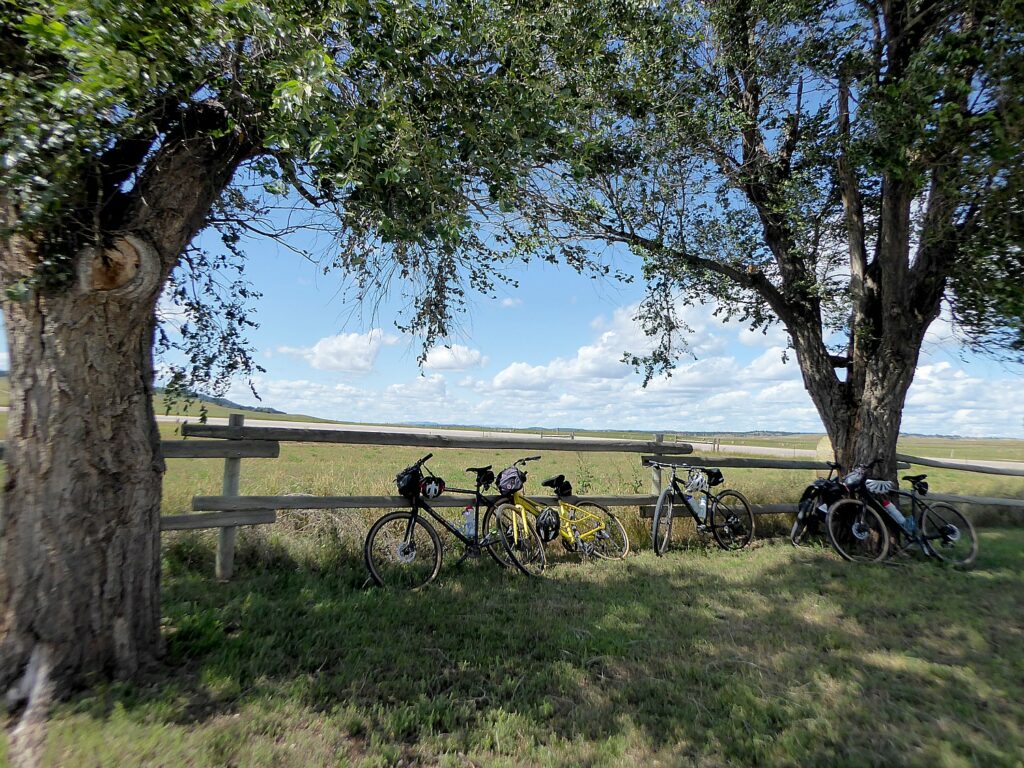 That attitude, "This is your vacation," follows into how they carefully the route is constructed for the best possible ride and experience. So we don't do the Mickelson Trail end to end. We start in the middle and go in one direction, then on another day, are shuttled back to that middle starting point to go in the other direction.
The group – small enough so we all fit in one van – is absolutely delightful. After a dozen bike tours, I have found there is a certain self-selection process that goes into choosing a bike tour – bikers (and especially bikers on trips that involve camping) are welcoming, open, interested, congenial, love and respect nature and heritage.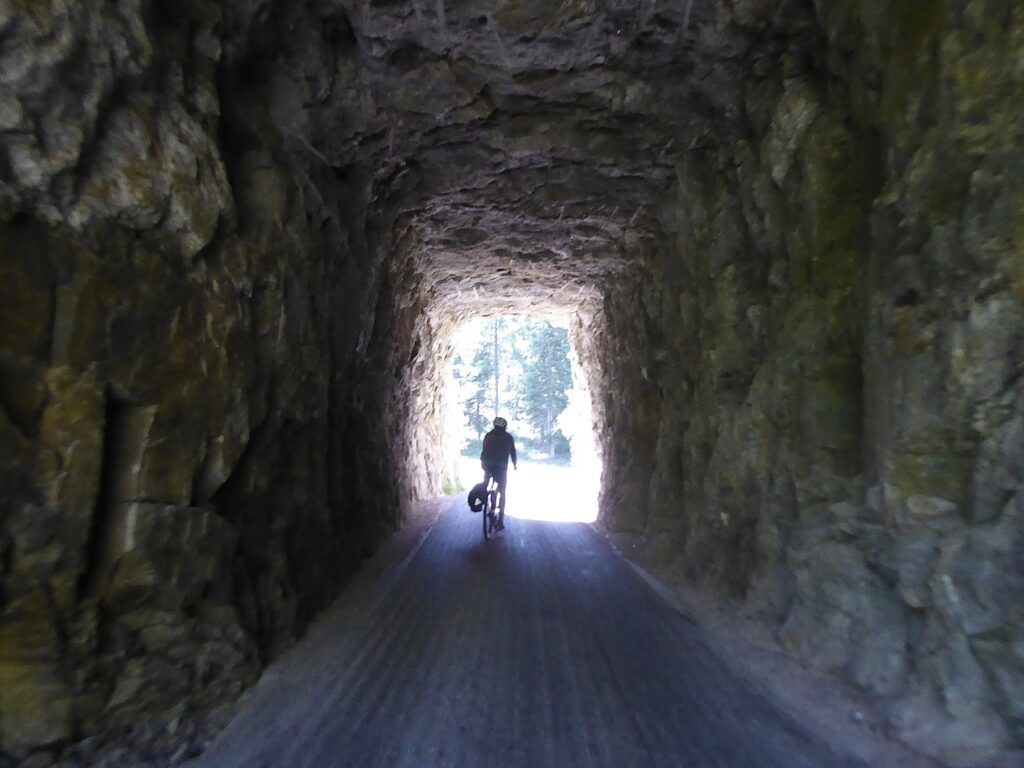 The six-day bike tour is spectacular in every way, and once again confirms why bike trips are my favorite form of travel: the pace you travel is ideal to really see things (even stop when you want to more closely observe or explore), but fast enough to provide unending interest. The scenery is certifiably spectacular – the idyllic setting on Sylvan Lake, the stone spires of the Needles, the tunnels cut through stone, the expanse of trees that become prairie. Then there is the wildlife – especially as you ride the Wildlife Loop in Custer State Park. Plus there is that element of physical challenge that gets the endorphins going (not to mention the pure fresh air, scented with pine and the altitude).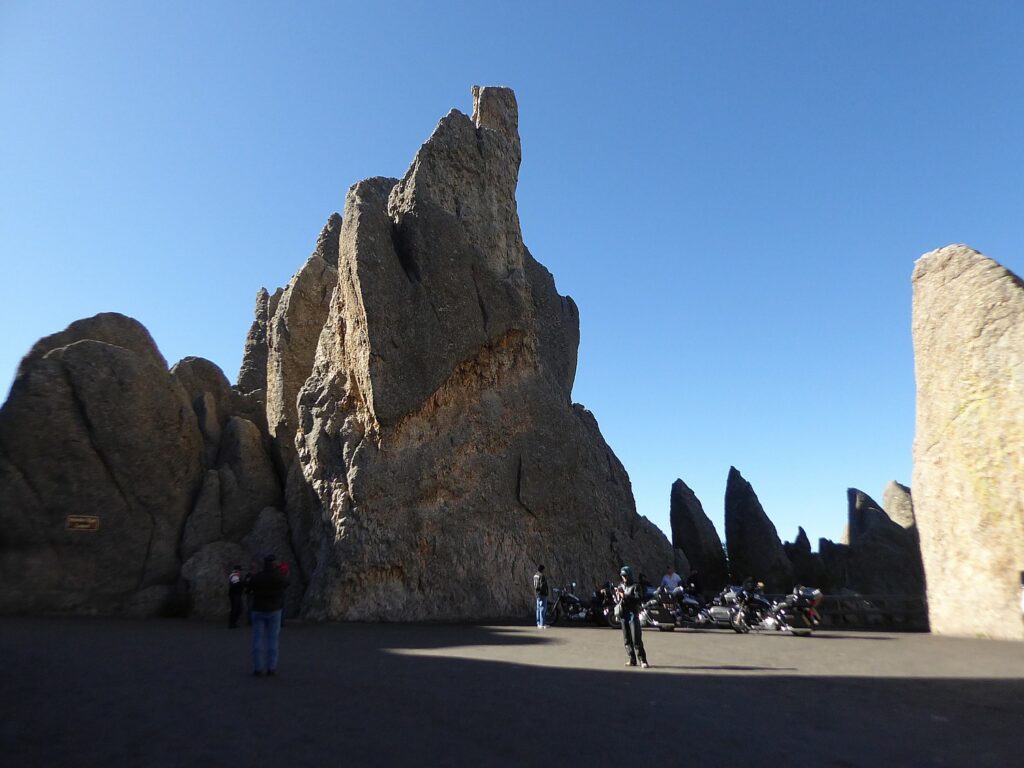 Not to mention the delightful places Wilderness Voyageurs organizes for us to stay – Circle View Guest Ranch and the cabin at the Blue Bell Lodge were so fantastic (more on that later), the excellent food – breakfast at the lodgings, lunch as satisfying as any gourmet feast, usually served from the back of the van on a table under a lean-to, with ingredients fresh from the farmer's market or store, wonderfully prepared sandwiches and wraps on request, and dinners at the guides' favorite restaurants (they sure know how to pick 'em).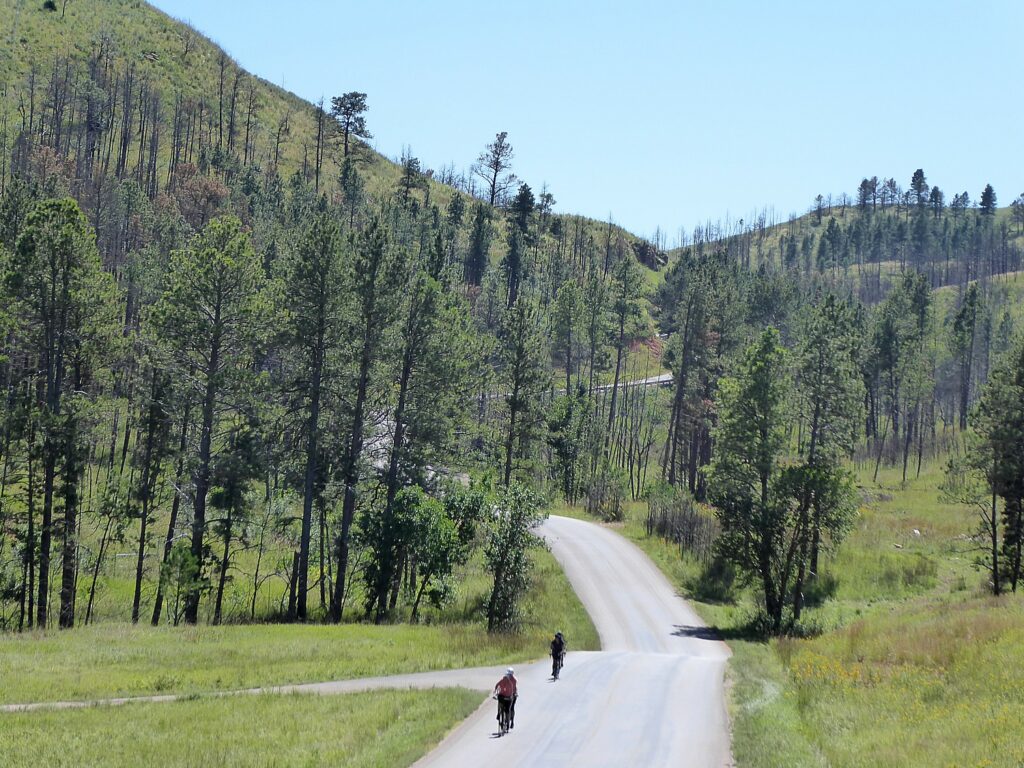 The guides on our trip – James Oerding and John Buehlhorn – are not only experienced and skilled, but take care of us like Father Hens (rescuing me on that dark night at the lodge when a buffalo was on the path back from the restaurant to my cabin). And then there are the companions you travel with – on this trip, there were three couples and three single women from all over the country, who contribute immeasurably to the pleasure of the experience.
Each day brings its own highlights and surprises – such variety and diversity in the experience and the visuals on top of the normal adventures of biking and travel. Biking is its own experience – you are in your own head, in control of your own transportation. Wilderness Voyageurs, a company I became familiar with as the tour operator for Rails-to-Trails Conservancy's Sojourns on the Great Allegheny Passage (the company is headquartered in Ohiopyle, PA, on the trail) operates the bike tour in an ideal way – we ride at our own pace; the second guide serves as "sweeper" hanging back with the last rider (most often me!). Neither John nor James ever push me along or discourage me from stopping, exploring, taking photos.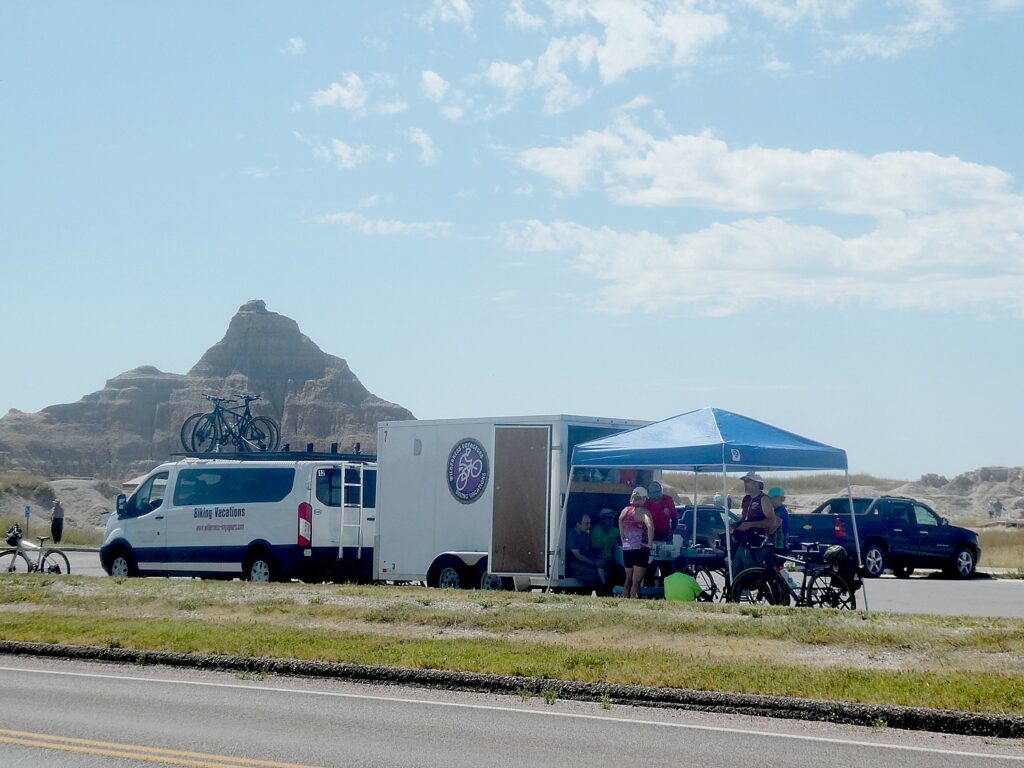 We have cue sheets and a Garmin that show us the route, and can download an app that talks the directions (though there aren't a lot of turns – I still manage to go off route three times). (This style of guided bike tour is not always the case; I recently was on a bike tour with one guide who we had to follow, no cue sheets or directions and plenty of turns; we all had to ride together at the pace of the slowest rider, and if I wanted a photo, I had to ask for the whole group to stop).They also provide wonderful meals including a few dinners at restaurants where we order off the menu. Guided bike tours are not cheap, but there is excellent value in Wilderness Voyageurs' tour price.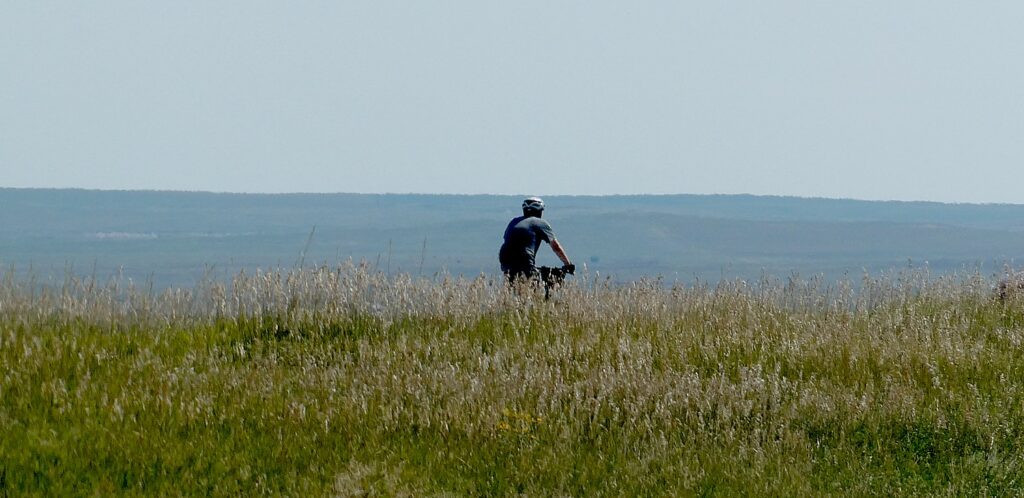 This is a part of the country I have never been before. And frankly, it is ideal for anyone – especially international visitors – who yearn to immerse themselves in America's mythic Western past. The combination of nature, open country, historic and heritage attractions that go so deeply into America's psyche, is unbeatable. And on top of that is the endorphin-rush you get from biking.
A key part of the tour is riding the 109-mile long Mickelson Trail, one of 30 rail-trails to have been named to the Hall of Fame by Rails-to-Trails Conservancy.
Also known as "The Big Mick," The George S. Mickelson Trail (originally named the Black Hills Burlington Northern Heritage Trail), was dedicated in 1998 in memory of the late South Dakota governor who acted in strong support of transforming the former rail line into a multi-use trail.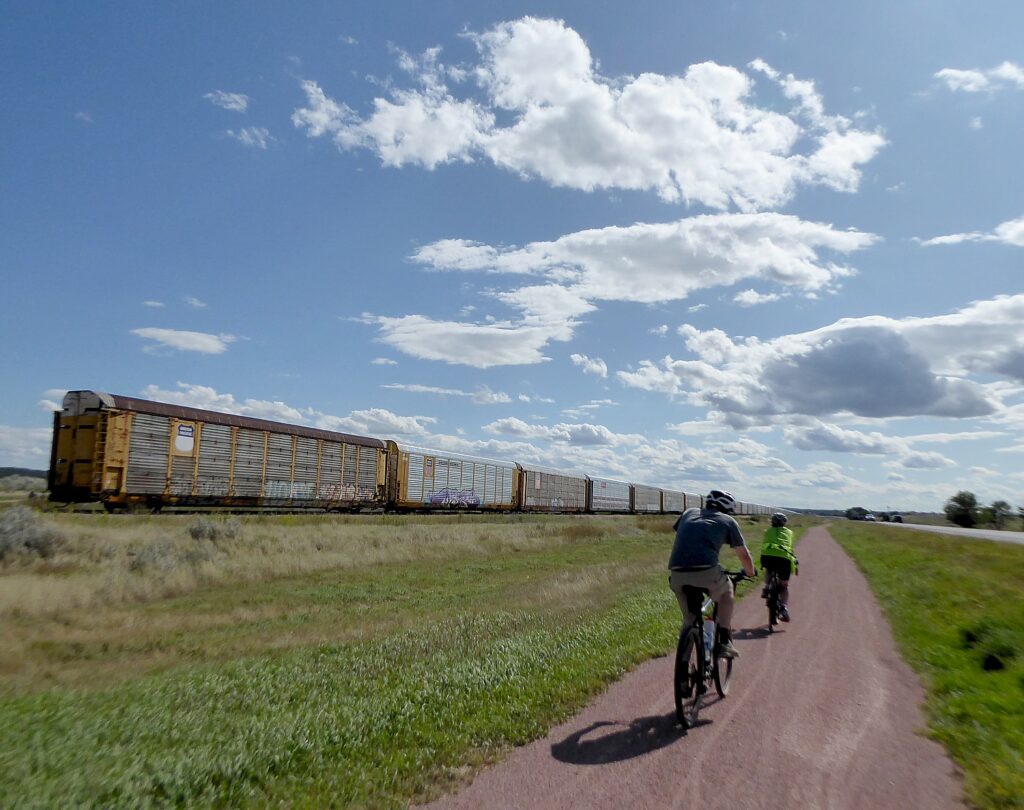 The trail follows the historic Deadwood to Edgemont Burlington Northern rail line that passes through the Black Hills and was abandoned in 1983. After strong activism by locals and Governor Mickelson, the first six miles of trail was opened in 1991. Another decade under Governor Jacklow and the trail was completed in 1998 with the help of the US Forest Service, SD Department of Transportation, SD Department of Corrections, the National Guard, SD Department of Game, Fish and Parks, the Friends of the Mickelson Trail and hundreds of volunteers.
There is a strong link between the very existence of this trail and the railroads, and the Crazy Horse Memorial which we will visit, which pays homage to the indigenous peoples who lived here.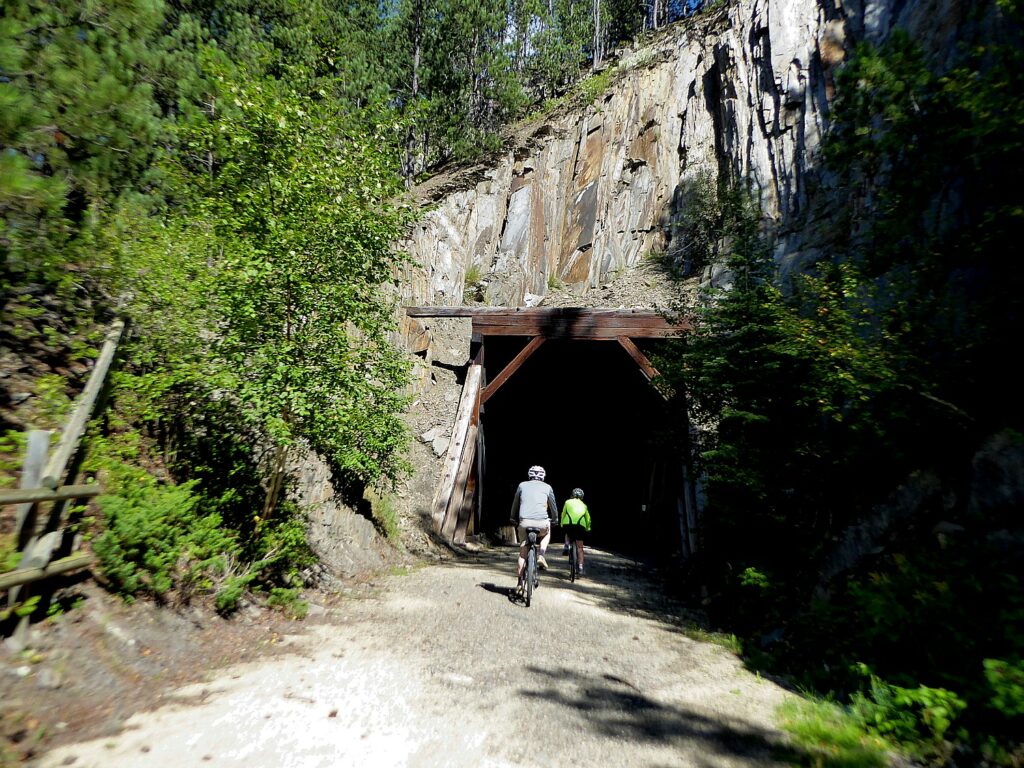 I am reminded that the railroads through these Black Hills can be traced back to 1874, when the infamous Lt. Colonel George A. Custer discovered gold as part of an exploration team. This discovery caused an explosion of miners hoping to strike it rich. Within a few years, many other towns were founded and quickly grew. But what led to the development of railroads, was not the need to transport the gold itself, but to move people and supplies.
Along the trail, we see some mining shafts and go through the towns that developed with the railroads, and will even stay in a casino hotel in Deadwood that was re-created from a slime plant (slime is the waste left when they use cyanide to decompose rock to release the gold), that was part of the Homestake Mine, the largest and deepest gold mine; it produced the most gold and was longest in operation, from 1885 to as recently as 2001.
The trail, largely crushed limestone and gravel and beautifully maintained with rest stops and water cisterns, offers wonderful diversity in landscapes as well as attractions. It travels along creeks, across open valleys, and through forests besides ranches; we ride over 100 bridges and through four tunnels. (See more at www.traillink.com/trail/george-s-mickelson-trail)
Over the course of our trip, we will ride the full 109 miles of the trail, but Wilderness Voyageurs has broken it up in such a way as to intersperse attractions and, in a word, make it easier.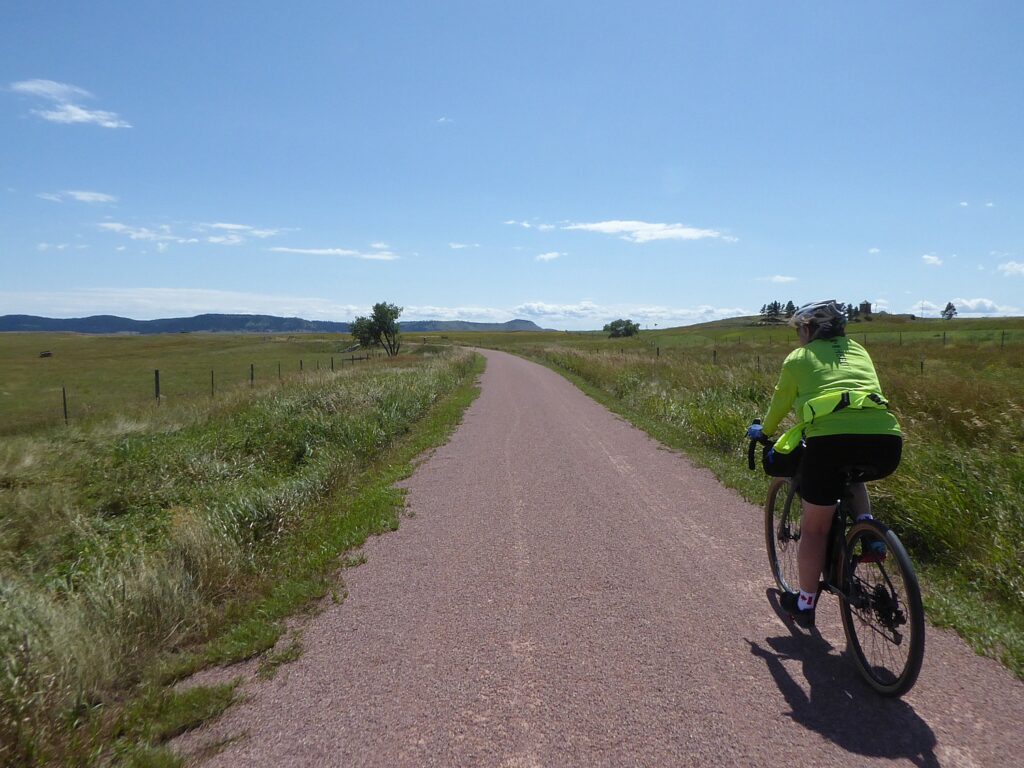 The Wilderness Voyageurs Badlands trip starts in Rapid City where I cleverly organize my trip to arrive the day before, staying at the famous, historic Alex Johnson Hotel (famous on its own, but made eternally famous for the part it played in Alfred Hitchcock's classic film, "North by Northwest" – an autographed caricature of Hitchcock is behind the front desk).
Indeed, the Alex Johnson Hotel is a major attraction in itself (it's red and white sign atop the building is iconic symbol of the city) – the hotel even provides a walking tour. (Hotel Alex Johnson Rapid City, Curio Collection by Hilton, 523 Sixth Street,Rapid City SD 57701, 605-342-1210, alexjohnson.com.)
The next morning, our guides pick us up with the van at our hotels, and we drive 55 miles down the highway (following what seems like hundreds of Corvettes who have gathered in Rapid City for a convention) to Badlands National Park, for our first day's ride and the start of our Badlands adventure. But first, we stop at Wall, a literal hole-in-the-wall town that rose up to serve the Westward-bound settlers. On this spot, a drug store opened – more of a general store – and this quaint Western-looking town has become a must-see tourist stop. Delightful. I keep seeing a sign for a museum but can't find it before it is time to get back to the group.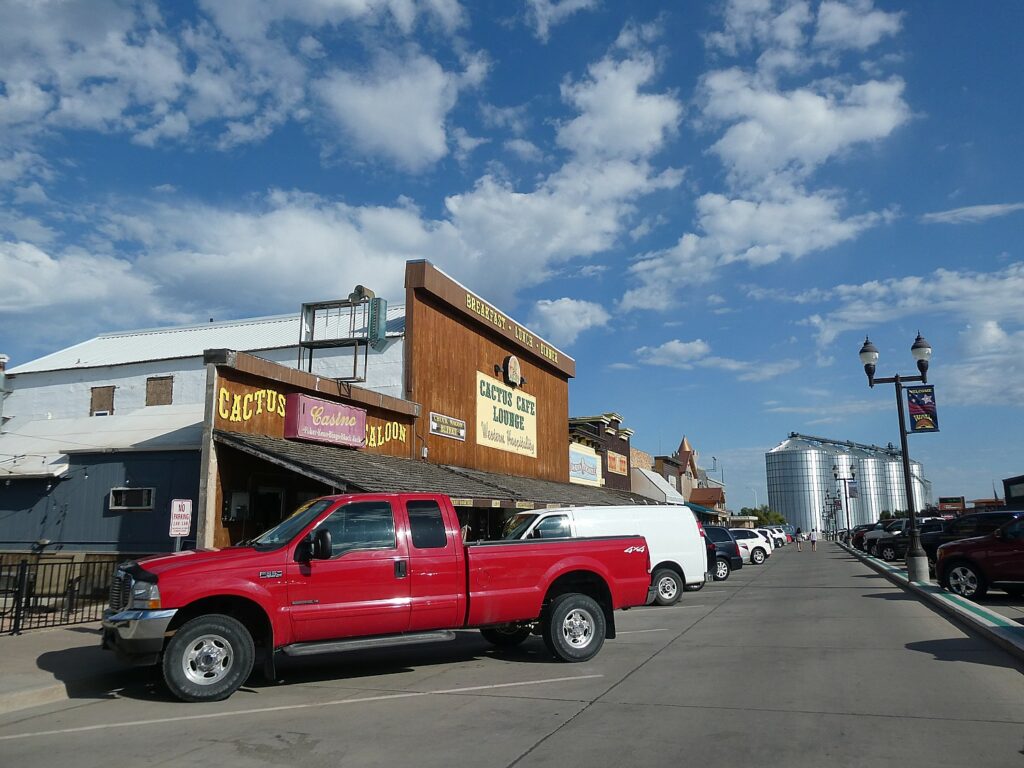 Wilderness Voyageurs started out as a rafting adventures company 50 years ago, but has developed into a wide-ranging outdoors company with an extensive catalog of biking, rafting, fishing and outdoor adventures throughout the US and even Cuba, many guided and self-guided bike itineraries built around rail trails like the Eric Canal in New York, Great Allegheny Passage in Pennsylvania, and Katy Trail in Missouri.
There are still a few spots left on Wilderness Voyageurs' Quintessential West Cuba Bike Tour departing on March 21.
Wilderness Voyageurs, 103 Garrett St., Ohiopyle, PA 15470, 800-272-4141, [email protected], Wilderness-Voyageurs.com
_________________________
© 2020 Travel Features Syndicate, a division of Workstyles, Inc. All rights reserved. Visit goingplacesfarandnear.com, www.huffingtonpost.com/author/karen-rubin, and travelwritersmagazine.com/TravelFeaturesSyndicate/. Blogging at goingplacesnearandfar.wordpress.com and moralcompasstravel.info. Send comments or questions to [email protected]. Tweet @TravelFeatures. 'Like' us at facebook.com/NewsPhotoFeatures