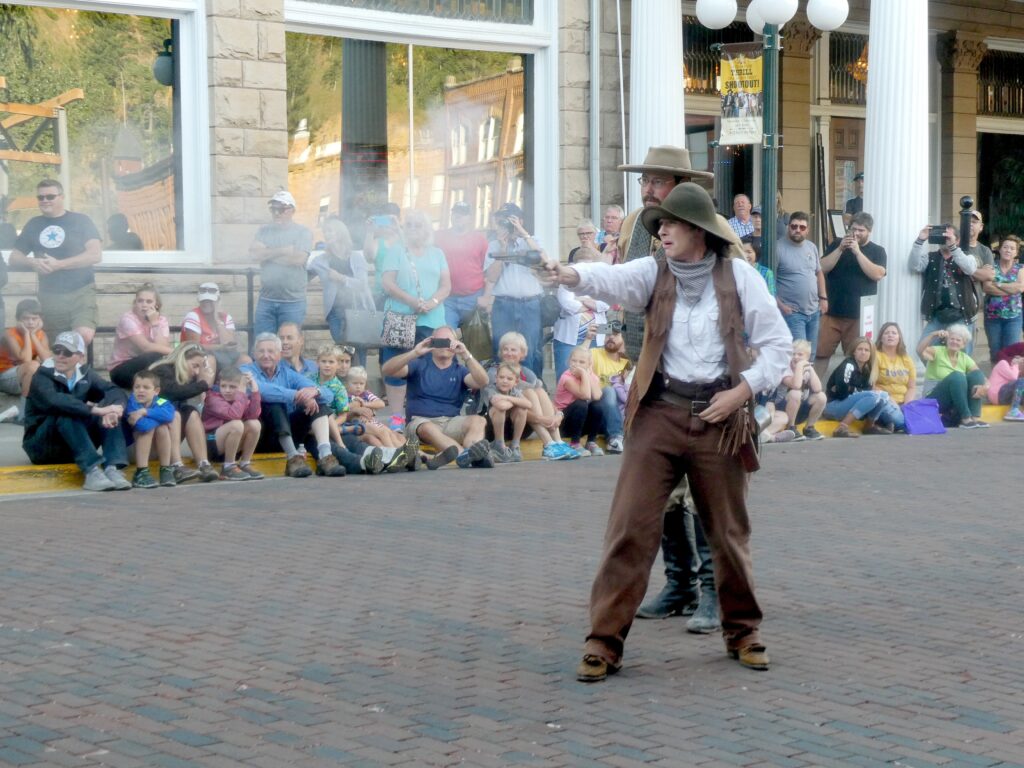 by Karen Rubin, Travel Features Syndicate, goingplacesfarandnear.com
It strikes me as somewhat ironic, or perhaps appropriate, that Deadwood, South Dakota, so famous for being the place where Wild Bill Hickok was killed in a saloon playing poker, after being mining boomtown and a virtual ghost town, has been reincarnated as a casino gaming mecca.
Our hotel, the Deadwood Mountain Grand Resort, actually reflects both these traditions: it has one of the biggest casinos and the building has repurposed what used to be a slime plant (slime is the waste left when they use cyanide to decompose rock to release the gold), that was part of the Homestake Mine. The Homestake Mine was the second-largest gold producer in the United States and the longest continually operating mine in US history, operating from 1885 to as recently as 2001.
We've arrived at Deadwood at the end of biking the 109-mile long Mickelson Trail, a bike trail converted from a former railroad line named to Rails-to-Trails Conservancy's Hall of Fame, which we have covered in three days of the six-day Wilderness Voyageurs "Badlands and Mickelson Trail" bike tour of South Dakota.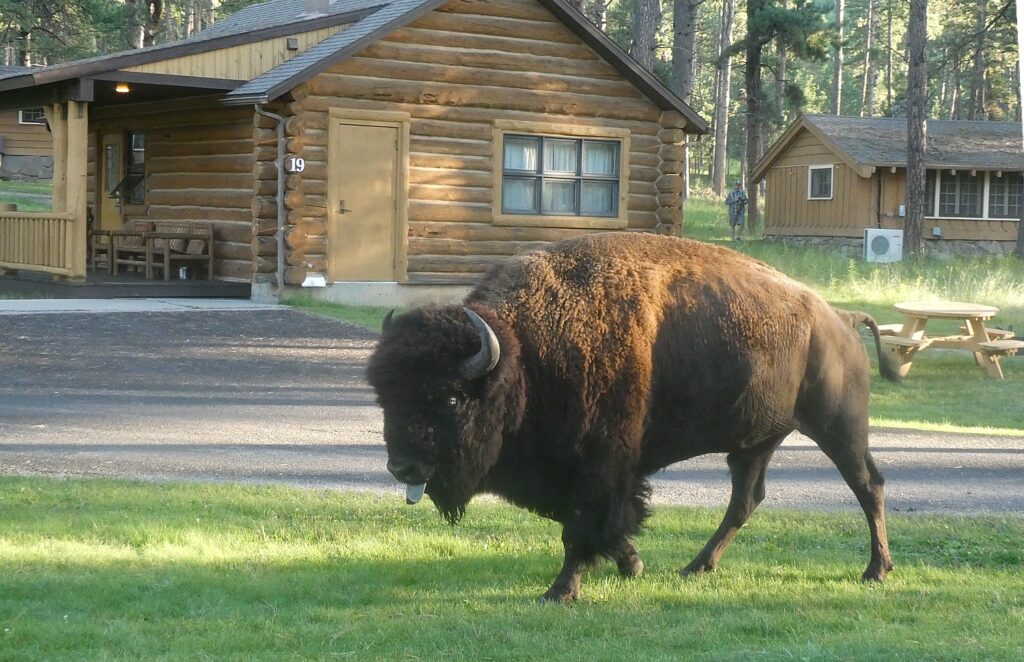 My day begins at the Blue Bell Lodge in Custer State Park, with a buffalo strolling up to the porch of my cabin. We then are shuttled in the Wilderness Voyageurs van to the Mystic Trailhead, to ride the remaining 34 scenic miles of the Mickelson Trail into Deadwood.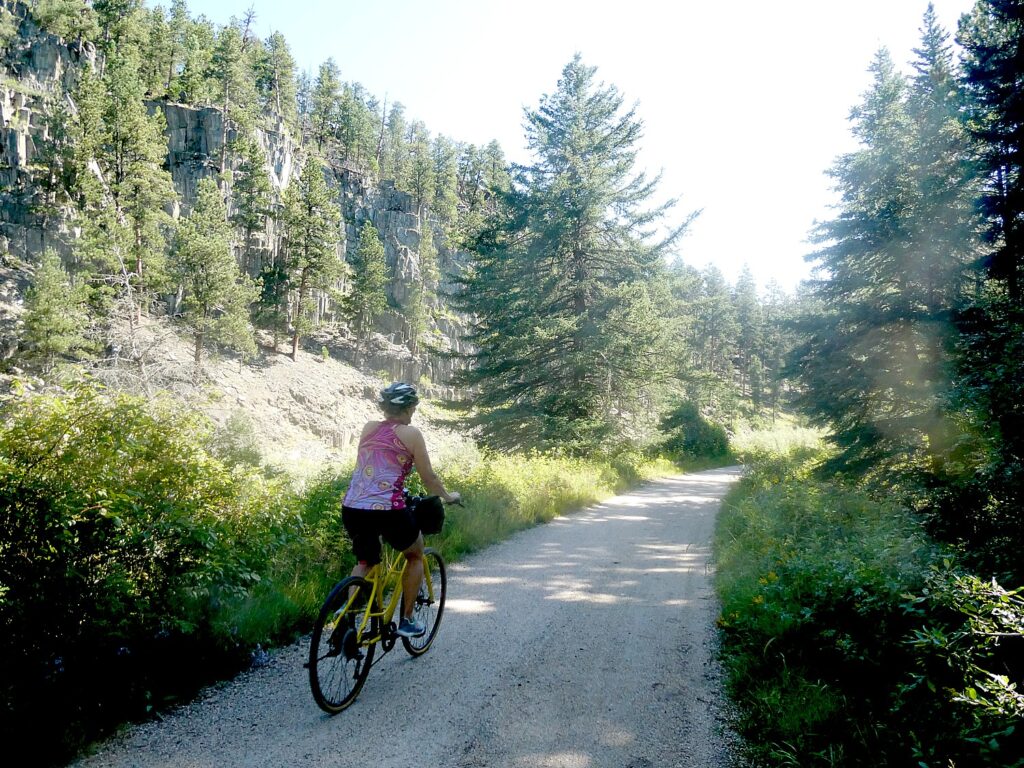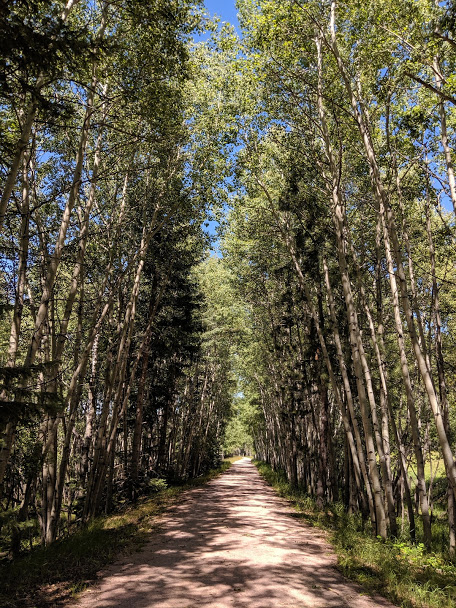 It's already about 3 pm, and armed with a list of activities that take place which I have obtained from the concierge (the shootout on Main Street at 6 pm, for example), I quickly drop my things to rush out to get to the Mount Moriah Cemetery which I remember the Alex Johnson Hotel manager, Ross Goldman, telling me about. Though the concierge and the visitor bureau guy discourage me from walking up there (there isn't a public bus and the bus tour which makes a quick stop at the cemetery doesn't make sense, I head out anyway – the hike, up 4,800 ft. to a high ridge overlooking Deadwood Gulch – the highest point in Deadwood – proves no big deal (especially compared to the hills we biked yesterday in Custer State Park) and takes just about 20 minutes.
At the entrance, they provide an excellent map with information and location of the notable graves of the important people who are buried here for you to do your own self-guided walking tour.
The major lure – and why there is a line of people – is the side-by-side plots of James Butler (Wild Bill) Hickok and Calamity Jane, whose legends continue to animate Deadwood even today.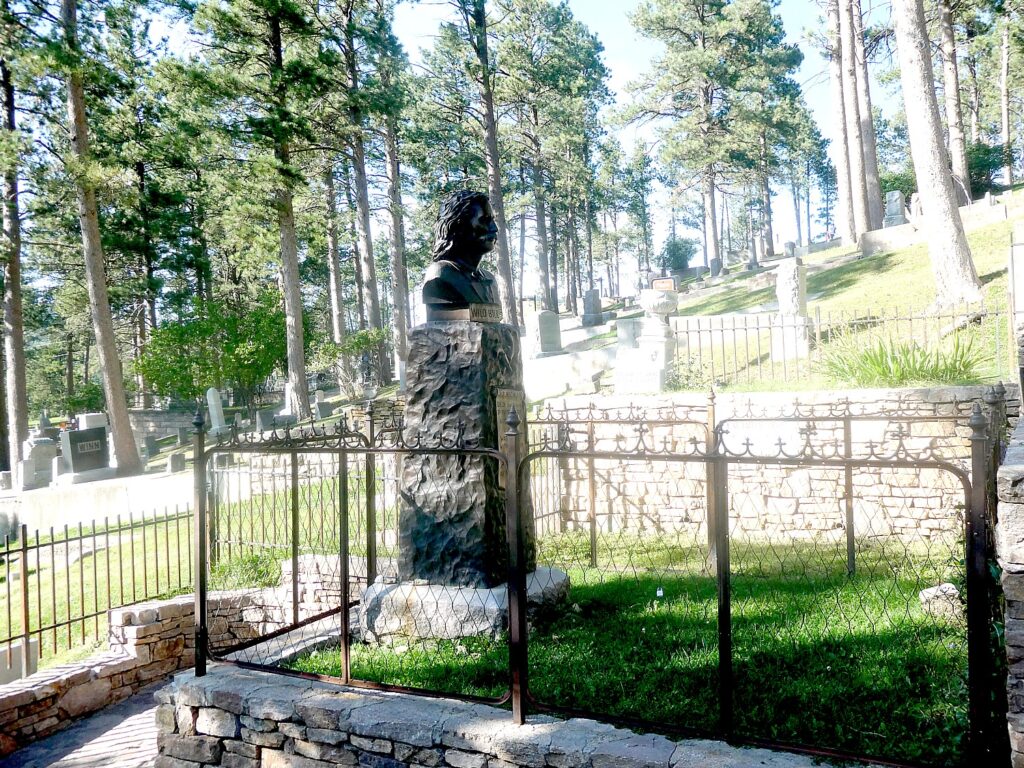 According to the guide, James Butler Hickok was murdered in Deadwood on August 2, 1876. He came, along with so many others, to the Deadwood gold camp in search of adventure and fortune. But his true passion was gambling. While playing a game of cards, he was shot in the back of the head by Jack McCall. "Wild Bill's colorful life included service as a marshal, an Army scout and other tasks which called for a fast gun and no aversion to bloodshed." (Later, you can see the re-creation of the arrest of Jack McCall, and then a re-creation of the hastily convened miners' court, by the Deadwood Alive troop.)
Martha "Calamity Jane" Canary (1850-1903) also had a colorful life, which she largely created and which may or may not be true. "She worked on a bull train, performed in Buffalo Bill's Wild West show and was a prostitute." She claimed to have been Wild Bill Hickok's sweetheart (and even that they were married and had a daughter). Her grave marker calls her Martha Jane Burke because she married Clinton Burke after Hickok's death. She is known for acts of charity and willingness to nurse the sick. In 1903, Calamity Jane died in the Terry mining camp, her dying wish, "Bury me beside Wild Bill" was carried out.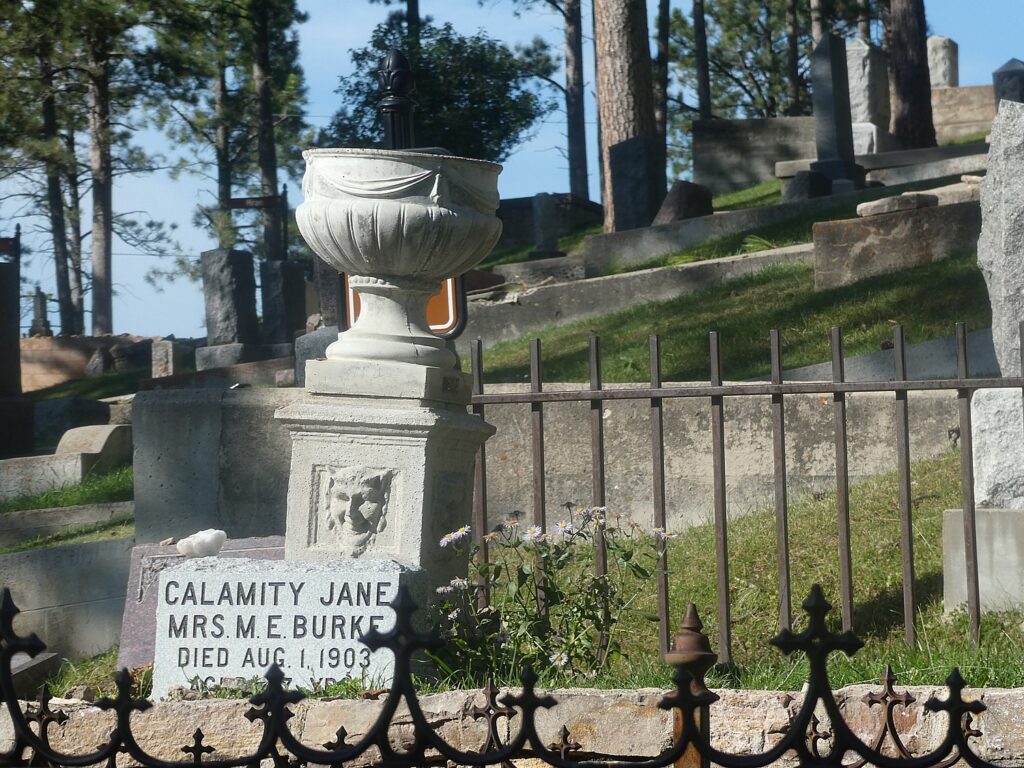 The cemetery was established in1878 and actively used until 1949. There are some 3,627 people buried here including a children's section with 350 who died in of scarlet fever and diphtheria epidemic 1878-1880; a Civil War section, a Jewish section (surprisingly large) and a Chinese section (there is even a Chinese altar and ceremonial oven), and several notable and colorful characters who are described in the guide with directions to their gravesites.
I am struck by the wrought iron gates at the entrance which have symbols representing the Independent Order of Odd Fellows, Freemasonry and the Star of David. Indeed the name Mt. Moriah was chosen for its religious affiliation with both the Christian Bible and the Jewish Torah (Mount Moriah is located within Jerusalem, the site of Solomon's temple.)
It takes about an hour to visit. ($2/entrance, 108 Sherman St., Deadwood 57732, 605-578-2082, www.cityofdeadwood.com).
Deadwood, it turns out, was named for the dead timber on the surrounding hills, not for its shoot-outs. The discovery of gold in the Black Hills brought thousands of new people to the area.
I get back down to the historic Main Street in plenty of time for the 6 pm "Main Street Shootout", featuring a fantastic Calamity Jane character.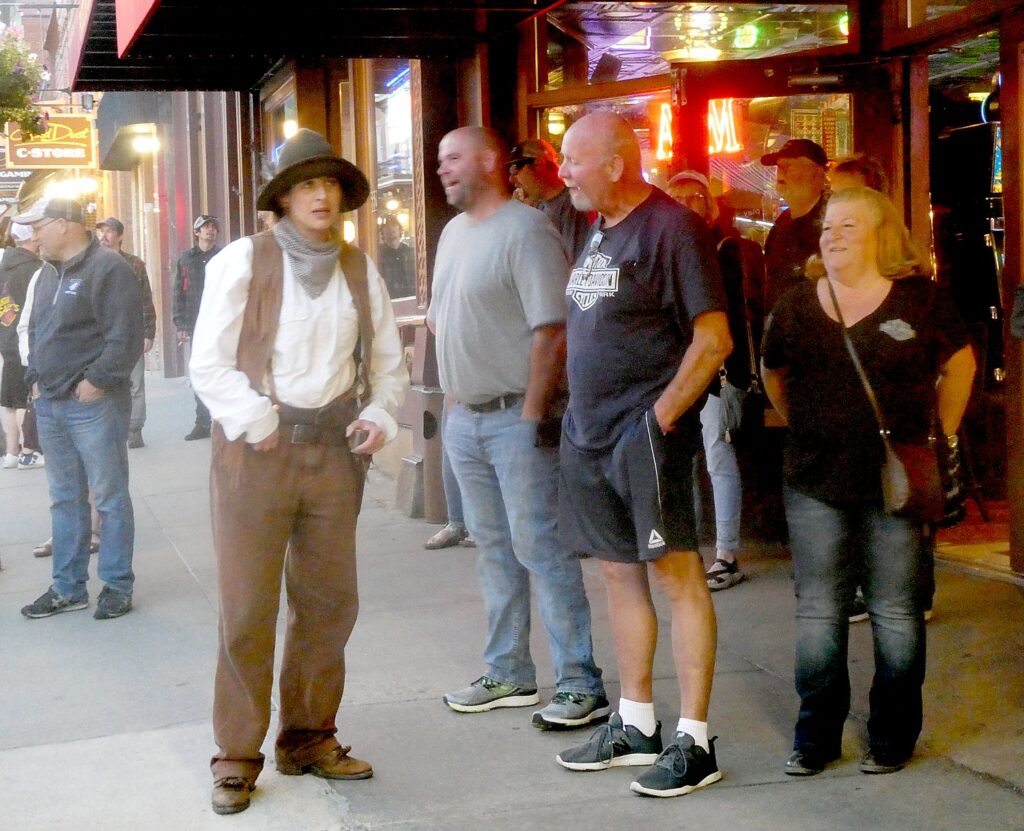 There are free shows throughout the day on Historic Main Street (reminiscent of a theme park's re-creation of a Wild West town): Deadwood's True Tales; a 2 pm Main Street shootout; a Rootin'Tootin' Card Game for kids and old-thyme musical show; Dr. Stan Dupt's Travelin' Medicine Show; 4 pm Main Street shootout; 4:30 Old Thym Hoe Down; 5:45 Deadwood's True Tales on the steps of the historic Franklin Hotel.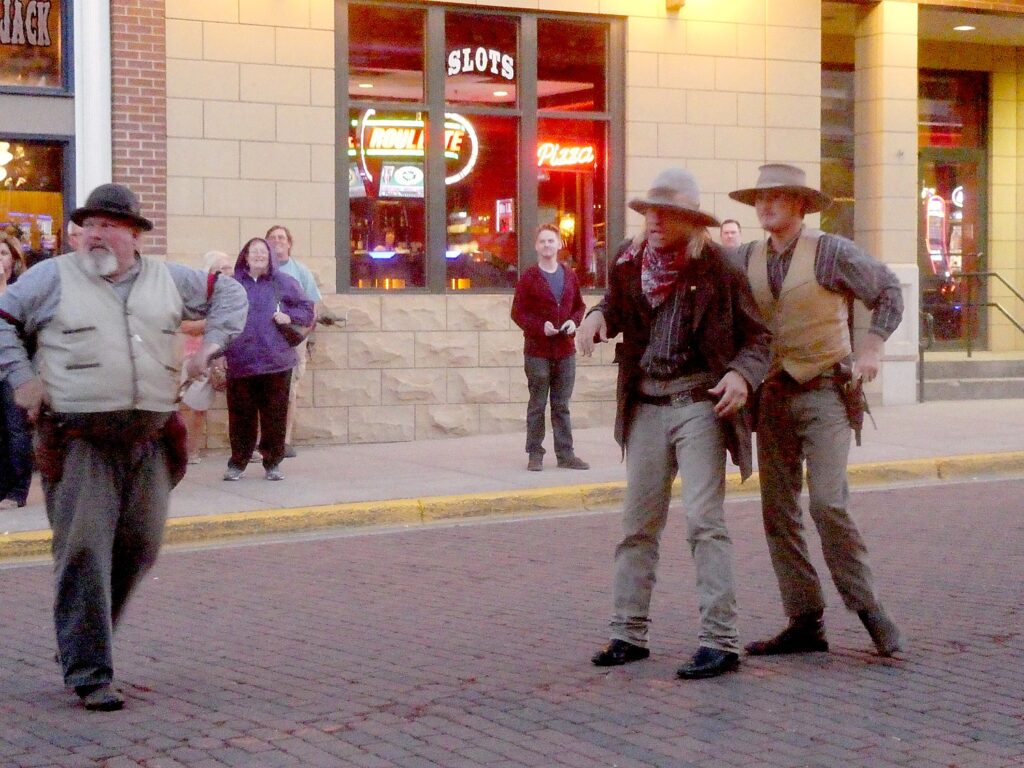 After the 6 pm shootout, I check out the shops and grab a burger with another couple from our bike tour who I meet up with on the street, and come back for the 7:30 pm "Capture of Jack McCall" outside Saloon 10 (there is the "original Saloon 10 where Wild Bill was actually shot).
From there, we all march up the street to the Masonic Temple for the 8 pm "Trial of Jack McCall".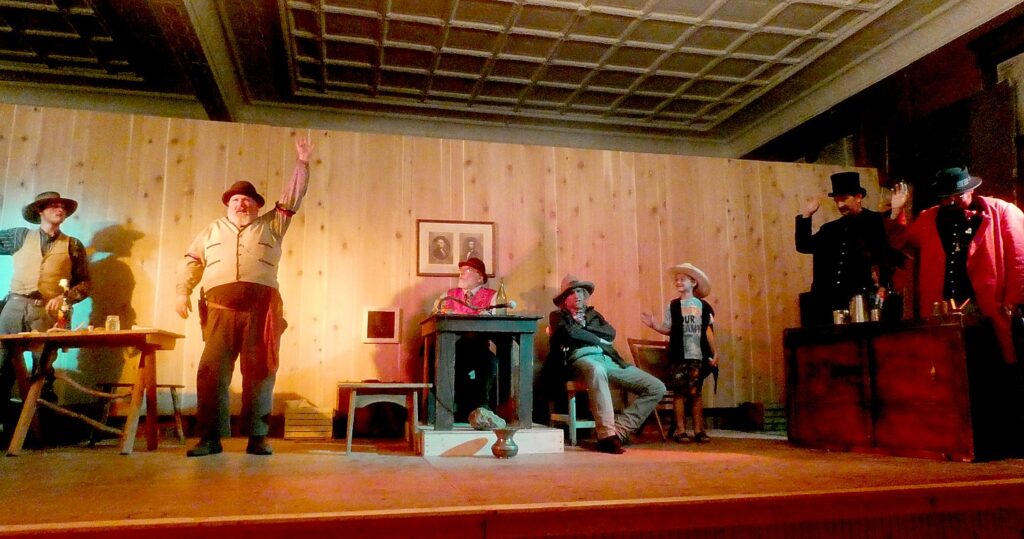 "The Trial of Jack McCall" has been performed steadily, I am astonished to learn since 1925, making it one of the nation's longest running plays. It began as an annual presentation during Statehood Days. The script is based on news accounts of the actual trial which took place in the mining camp of Deadwood after Jack McCall murdered James Butler "Wild Bill" Hickok. Wild Bill was playing poker in Nuttal and Mann's Saloon No. 10 and was shot in the back of the head while holding Aces and Eights, forever known as the "Dead Man's Hand". (People leave the cards at his grave.). Though based on fact, it is done with great humor (if a murder trial can be fun). "It has to be accurate," any "Cookie" Mosher who plays John Swift, Clerk of the Courts and Executive Director of Deadwood Alive, tells me because Deadwood Alive, a nonprofit, is supported in part by Historical Preservation Society. (It reminds me of the "Cry Innocent," recreation of a Salem Witch Trial, in Salem, Massachusetts).
They even recreate the edition of the Black Hills Pioneer which reported the story of Hickok's murder, on August 3, 1876. "A dastardly murder was committed in Deadwood gulch yesterday afternoon. The fiendish murderer who shot him in the back is in jail. The dead man is Wild Bill Hickok, whose prowess with the pistols is known far and wide. Single-handed, he captured robbers and trouble makers in the south, at Dodge city, Abilene and Hays, Kansas, in Nebraska, in all the south. Men feared him, feared his quickness on the draw, the deadly and accurate aim which send more than one roustabout sprawling.
"But on this terrible, bloodstained afternoon in the wild gold camp of the Black Hills, Wild Bill never had a chance."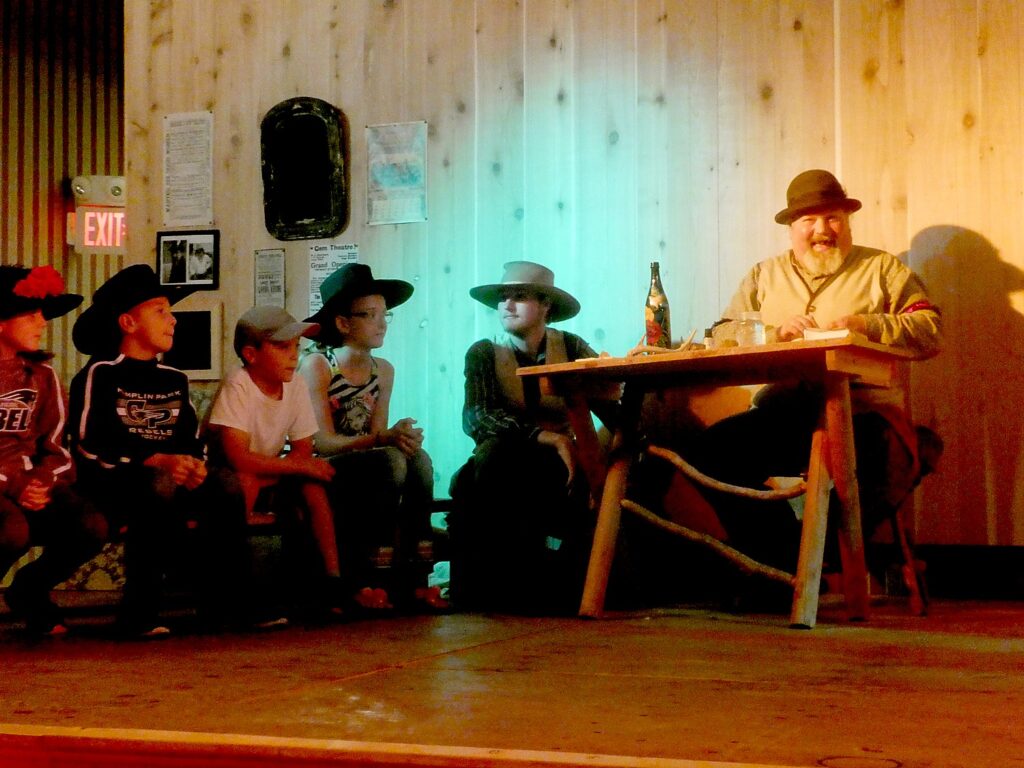 This is a family-friendly show where the selected members of the audience participate in the performance serving as jurors in the trial- the jury of miners is made up of "minors" – kids who get to wear various hats and sit on a bench). The show is held nightly Monday through Saturday with the schedule as outlined below.
It proves extremely entertaining as a trial for murder could possibly be.
In 1876, Deadwood didn't have a courthouse so the trial was held in Deadwood Theater (the narrator/court manager explains they have to wait for auditions to finish – so there is music provided by Calamity Jane as the audience files in. The theater was tearing down from the previous week's show and getting ready for the next, so you see various props.The trial was held just the day after McCall's arrest.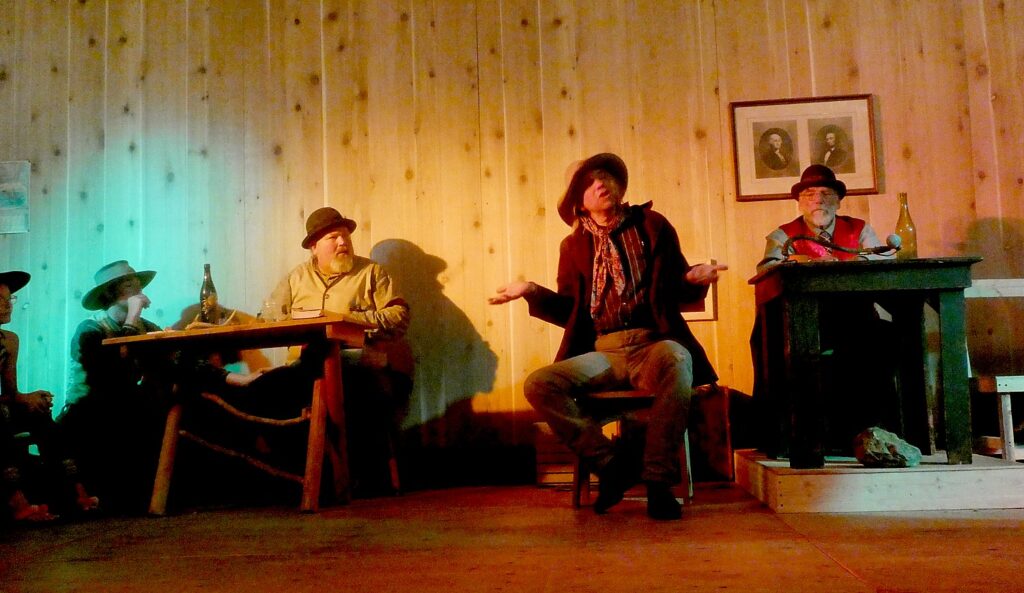 A boy is given the role of sheriff; wearing an oversized cowboy hat, he seems just itching to shoot the toy gun he hold on McCall.
They call "witnesses" and John Swift, the clerk of Courts (played by Mosher) goes into the audience and pulls somebody up – then after jokes (swearing on "Bartenders Guide" instead of bible), "sneaks" them a script. He grabs a guy as a witness who is wearing shorts so he puts shawl over his leg for modesty; he grabs a woman to play McCall's' employer and pretends to flirt. (It's very Shakespearean the way they go in/out of character and talk to audience.)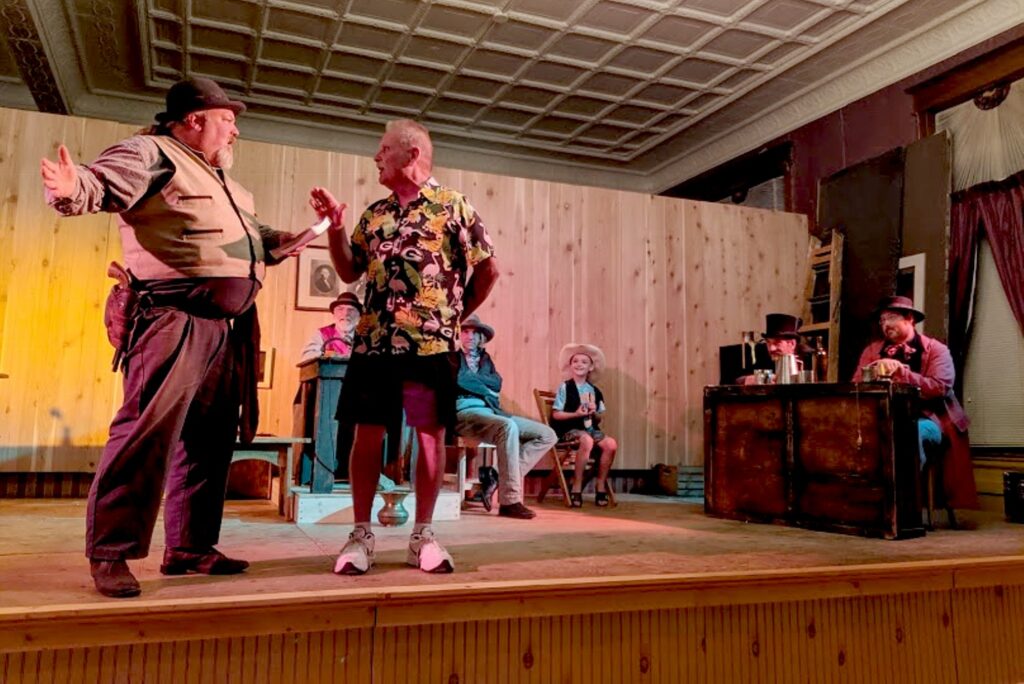 One witness says Wild Bill asked him to move his chair so Wild Bill could sit with his back to wall, and he refused.
The "minors" on the jury pretend to sleep during Defense's summation.
As in real life, McCall was found Not Guilty. Then, in an epilogue, the Clerk relates that McCall was driven from town but bragged about killing Wild Bill over a game of cards. The federal government said that because the crime was committed in Indian Country the feds still had jurisdiction to try McCall without violating the rule against double jeopardy. McCall was rearrested in 1877, got a new trial, was found guilty and hanged.
Deadwood Alive has been entertaining visitors for over 20 years with Main Street shootouts and regular performances of the Trial of Jack McCall. The Deadwood Alive troupe of superb actors consists of over 10 characters and provide entertainment throughout the year including daily shootouts, guided walking tours, musical performances and the famous Trial of Jack McCall. Deadwood Alive is managed by a non-profit board of directors and employs up to a dozen individuals each summer to re-enact several historically accurate incidents of Deadwood's past and make a visit to Deadwood so entertaining for people of all ages (($6 adults, $5 seniors, $3 children, 800-344-8826, www.deadwoodalive.com).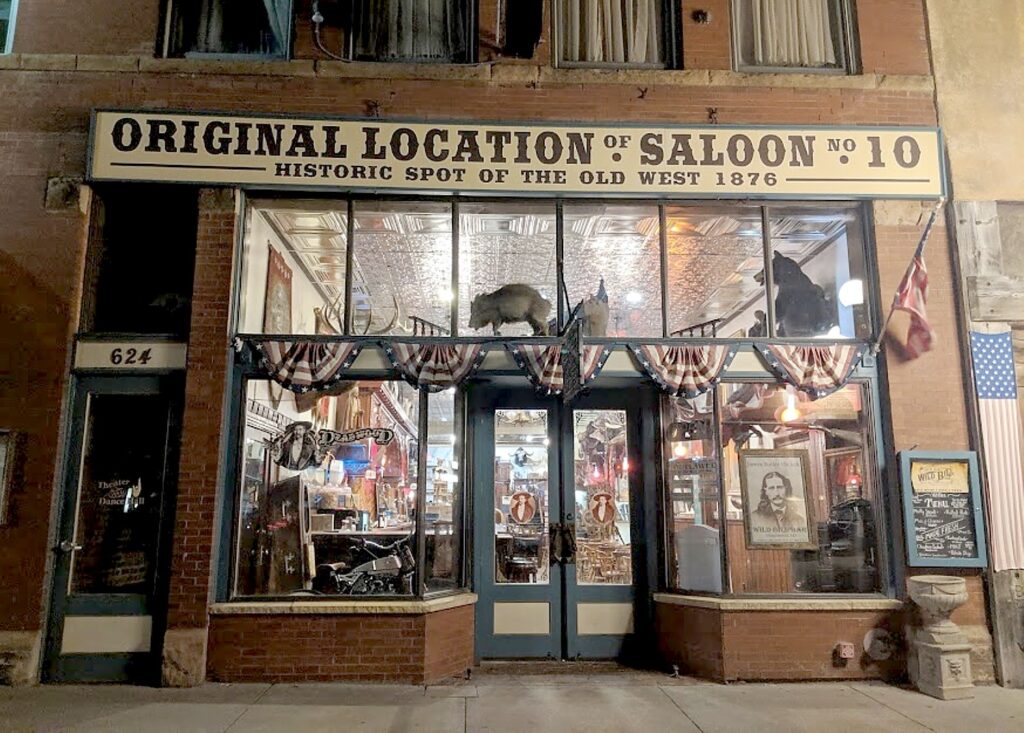 I enjoy the charm of the Main Street. I stop in to the Franklin Hotel, opened since 1903, a beautiful, elegant hotel, now with a casino in the lobby.
Deadwood actually offers a lot of history and attractions, which unfortunately, I do not have time to experience): The Adams Museum (554 Sherman St); Days of '76 Museum (18 Seventy Six Dr), and Historic Adams House (22 Van Buren St.). (DeadwoodHistory.com, 605-722-4800).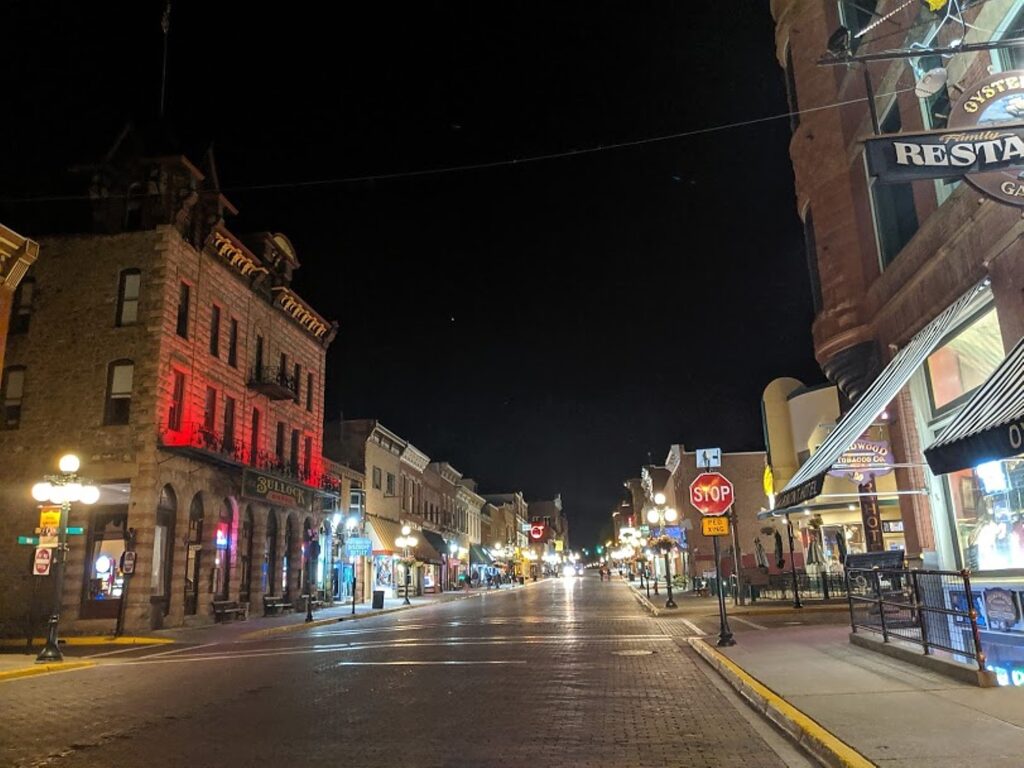 More visitor information at Deadwood South Dakota, 800-344-8826,www.deadwood.com.
Wilderness Voyageurs started out as a rafting adventures company 50 years ago, but has developed into a wide-ranging outdoors company with an extensive catalog of biking, rafting, fishing and outdoor adventures throughout the US and even Cuba, many guided and self-guided bike itineraries built around rail trails like the Eric Canal in New York, Great Allegheny Passage in Pennsylvania, and Katy Trail in Missouri.
Wilderness Voyageurs, 103 Garrett St., Ohiopyle, PA 15470, 800-272-4141, [email protected], Wilderness-Voyageurs.com
_________________________
© 2020 Travel Features Syndicate, a division of Workstyles, Inc. All rights reserved. Visit goingplacesfarandnear.com, www.huffingtonpost.com/author/karen-rubin, and travelwritersmagazine.com/TravelFeaturesSyndicate/. Blogging at goingplacesnearandfar.wordpress.com and moralcompasstravel.info. Send comments or questions to [email protected]. Tweet @TravelFeatures. 'Like' us at facebook.com/NewsPhotoFeatures