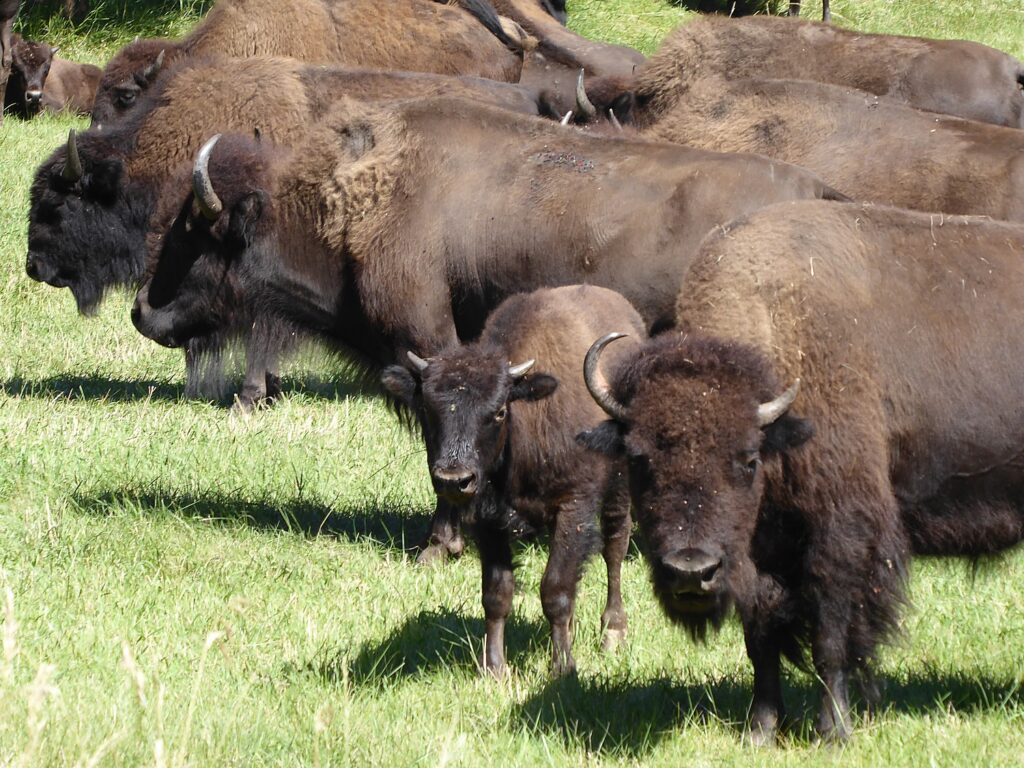 by Karen Rubin, Travel Features Syndicate, goingplacesfarandnear.com
I didn't think I could be wowed more than yesterday's bike ride along the Mickelson Trail to the Crazy Horse Memorial. But today's ride through South Dakota's Custer State Park, starting on the Needles Highway, and riding the Wildlife Loop for incredibly close encounters with the state's famous animal life, finishing at a rustic (but luxurious) lodge in the woods, is over the moon.
The Wilderness Voyageurs guides shuttle us in the van from the town of Custer to Sylvan Lake in Custer State Park to start our ride through South Dakota's first and, at 71,000 acres, its largest state park. Like the town, its namesake is the infamous Lt. Colonel George Armstrong Custer, who in addition to being the army commander who brutally fought Indians (meeting his master at the Battle of Little Big Horn), was an "explorer and fortune hunter". In 1874, Custer found gold in these Black Hills, prompting a mad gold rush that resulted in the Indians being displaced from their sacred lands. But be that as it may, the park, which preserves and protects the precious buffalo (actually American bison), and so much more, seems a measure of justice.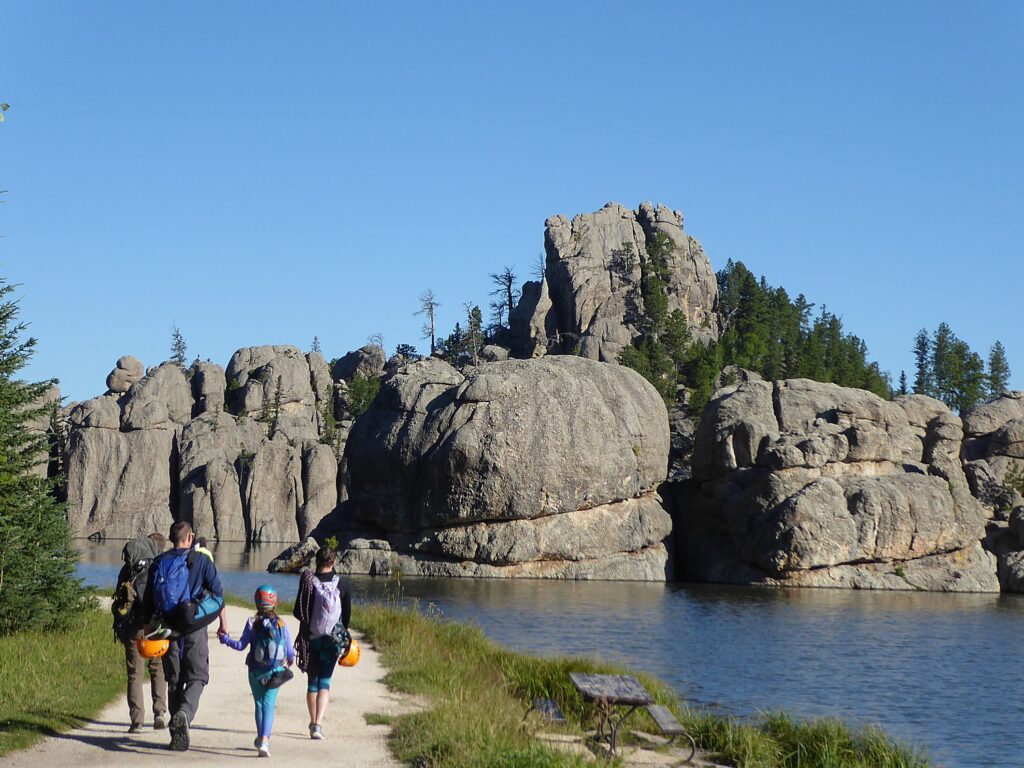 The scenery is spectacular, beginning with this first view of the enchanting Sylvan Lake. There is the Sylvan Lake Lodge (35 Lodge rooms, 31 cabins and a specialty "Cathedral Spires Cabin" that sleeps 20), one of a few lodges in the park, a superb hub for people who have come to fish, kayak, hike, rock climb or like us, bike through Custer State Park and the fabulous Wildlife Loop.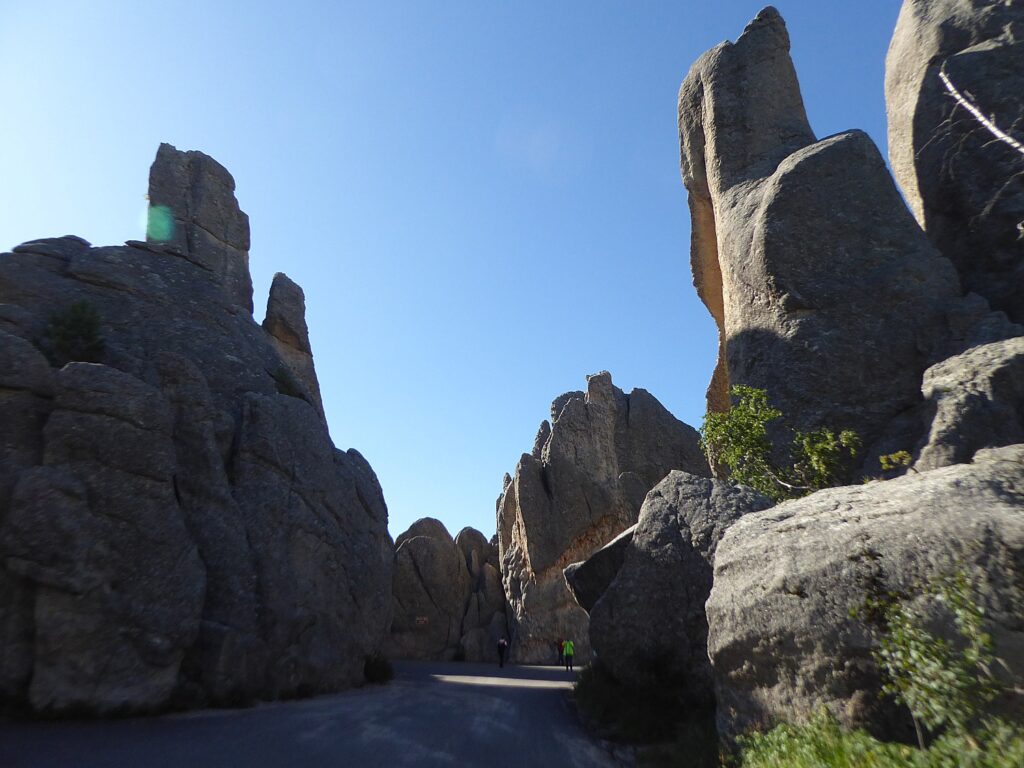 We bike along the Needles Highway. "14 miles of winding turns, granite spires and rock tunnels, the Needles Highway is a marvel of engineering," a marker reads. "Peter Norbeck [South Dakota's first governor, U.S. senator and a conservationist] walked and rode the future highway on horseback, laying out a route many deemed impossible.
"Norbeck asked his engineer, Scovel Johnson, 'Scovel, can you build a road through here?' Scovel answered, 'If you can furnish me enough dynamite.' It took 150,000 pounds of the explosive, and the highway was opened in 1922."
Before long, we find ourselves in the midst of a section known as The Needles, with monster spires (fantastic for rock climbing).
We ride through the Needles Eye tunnel – carved just wide and high enough to accommodate the van (they have to take off the bikes) and soon after, the Cathedral Spires. The breathtaking scenery makes you contemplate your place in the natural world.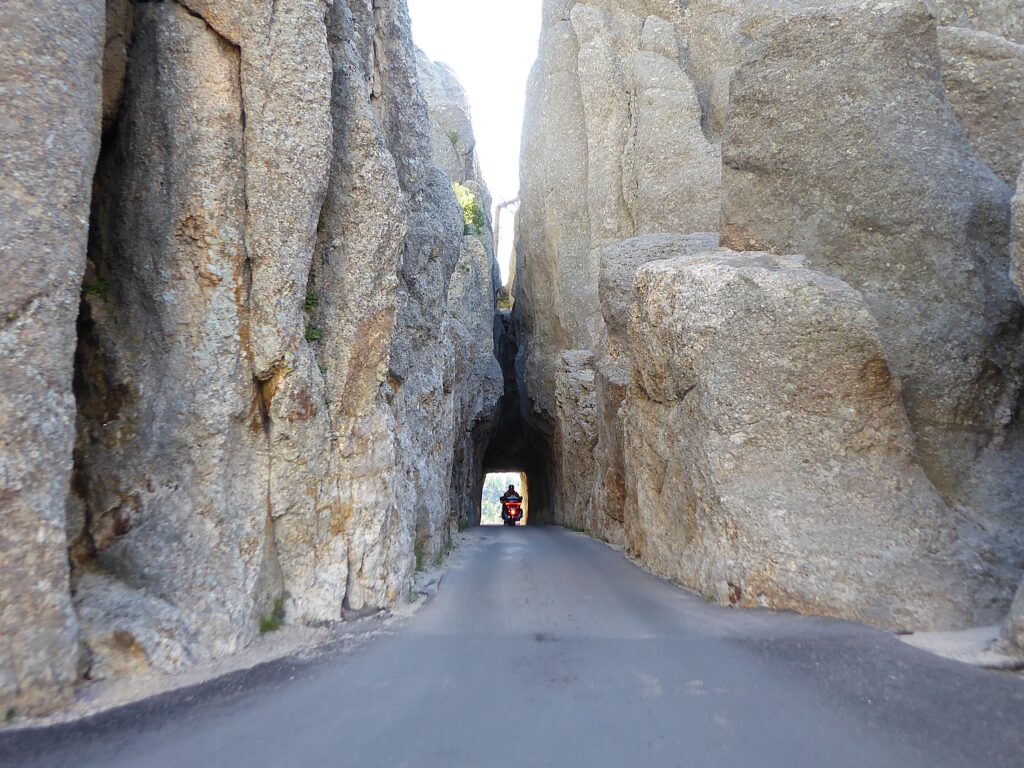 James Oerding is the guide today (while John Buehlhorn drives the van), and once again, I am last, lingering to take in the view, which means that James pretty much accompanies me. James is a master wildlife spotter and sees a pair of mountain goats on a spire and then we see their kid they are trying to convince to jump across a cavern between the spires. They seem genuinely puzzled how to get down, though I can't figure out how they got up to this promontory in the first place.
We find a place where we can climb down to get a better view.
James let's me bike at my own pace and doesn't hurry me along.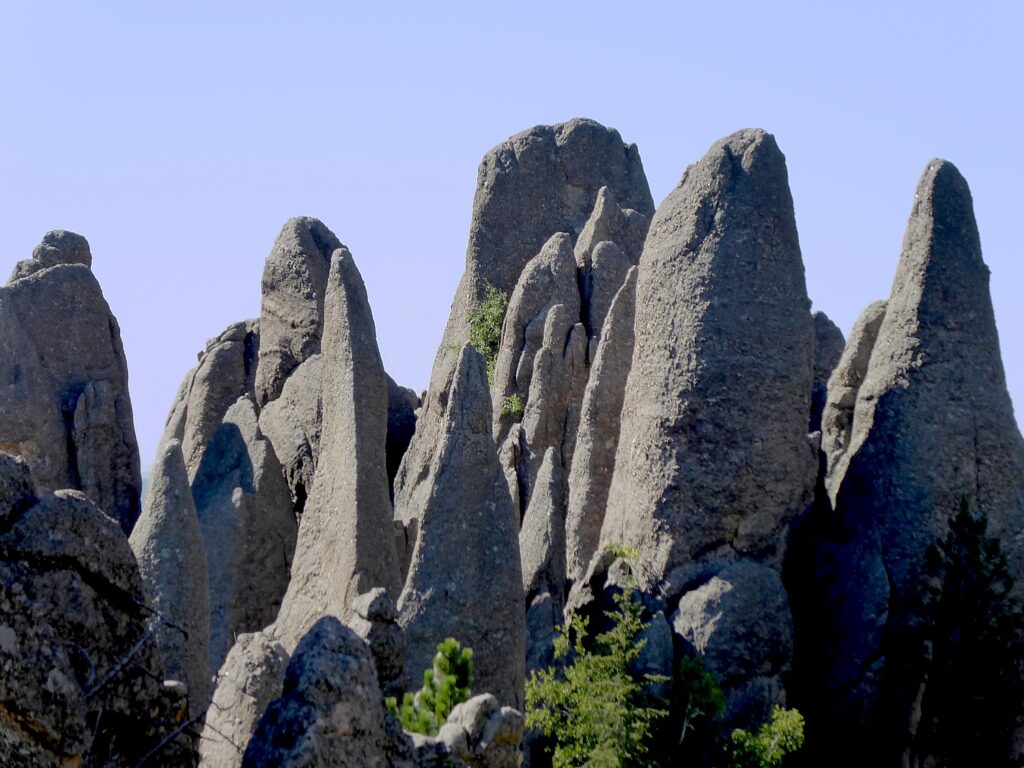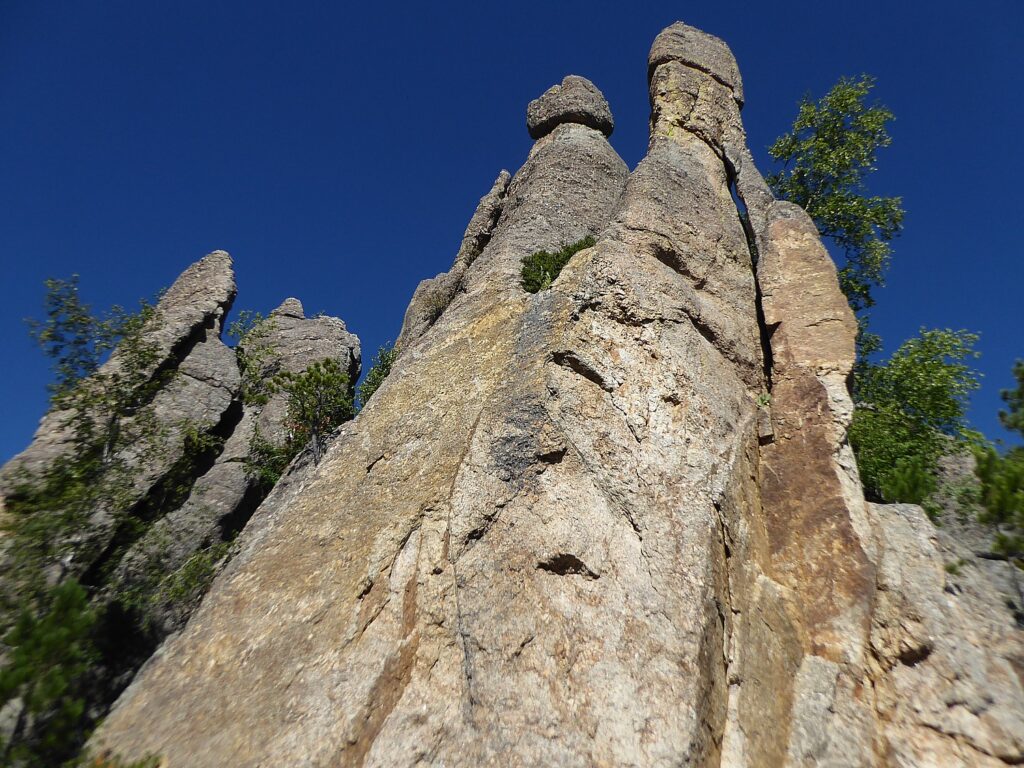 No sooner does the landscape change completely from the tall spires to plains, than we come across a whole herd of buffalo (actually, American bison) just where we get to the Visitor Center, where John has lunch for us. Traffic has stopped where the bison have chosen to cross the road.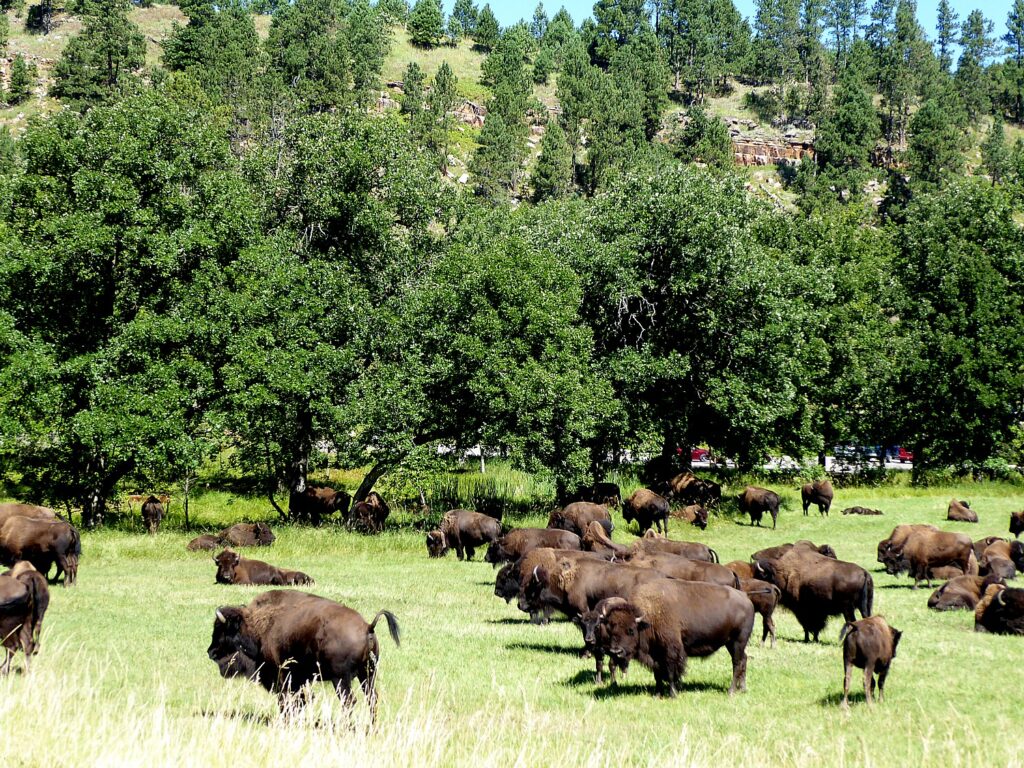 There seem to be a hundred bison gathered on a large field just in front of the Visitor Center, and people are casually picnicking (like us) within arm's length – a surreal scene for a city kid.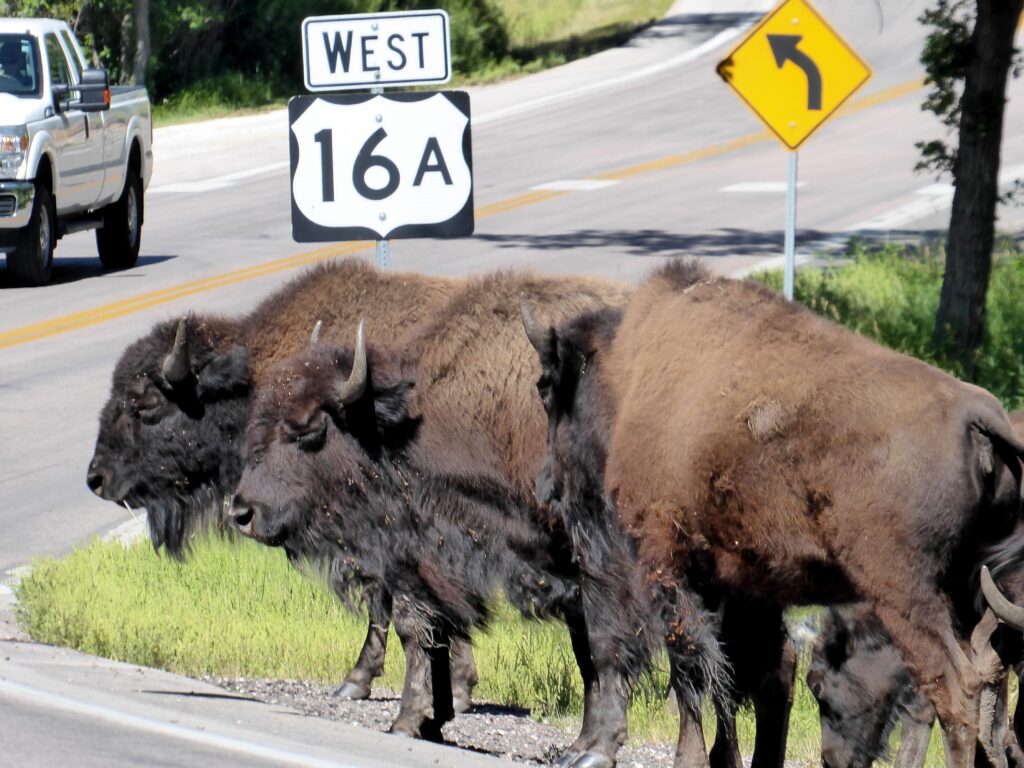 The Custer State Park Visitor Center is a stunning modern building, offering an array of exhibits, including a large interactive map, a 20-foot scale model of the Cathedral Spires and displays describing the natural world of the Park – as well as warnings about how not to interact with the bison (a bison can run 35 mph; if it lifts its tail, it is getting into fighting position; bison communicate to the herd with their tail). There is a wonderfully comfortable theater which offers a not to be missed 20-minute film narrated by Kevin Costner who reminds us that this was the very land (in fact used in the film) of "Dances With Wolves."
"The buffalo – tatanka – are an enduring symbol of the Old West symbolizing abundance, strength, power and an enduring symbol of Indian culture."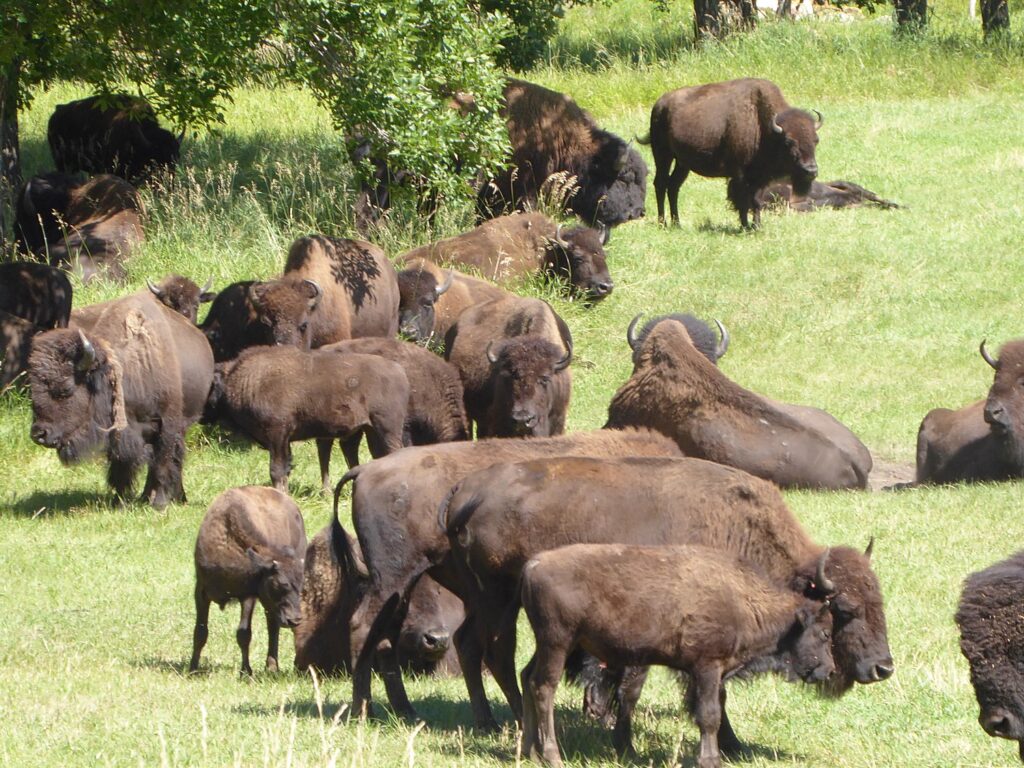 In the Lakota language, the word "tatanka" is translated as "buffalo" or "buffalo bull." But native Lakota speakers say the literal translation is more like "He who owns us."
"The Lakota and other tribes believed that a white buffalo is the most sacred living thing on earth. … The American buffalo or bison is a symbol of abundance and manifestation. Tatanka is the root of all life."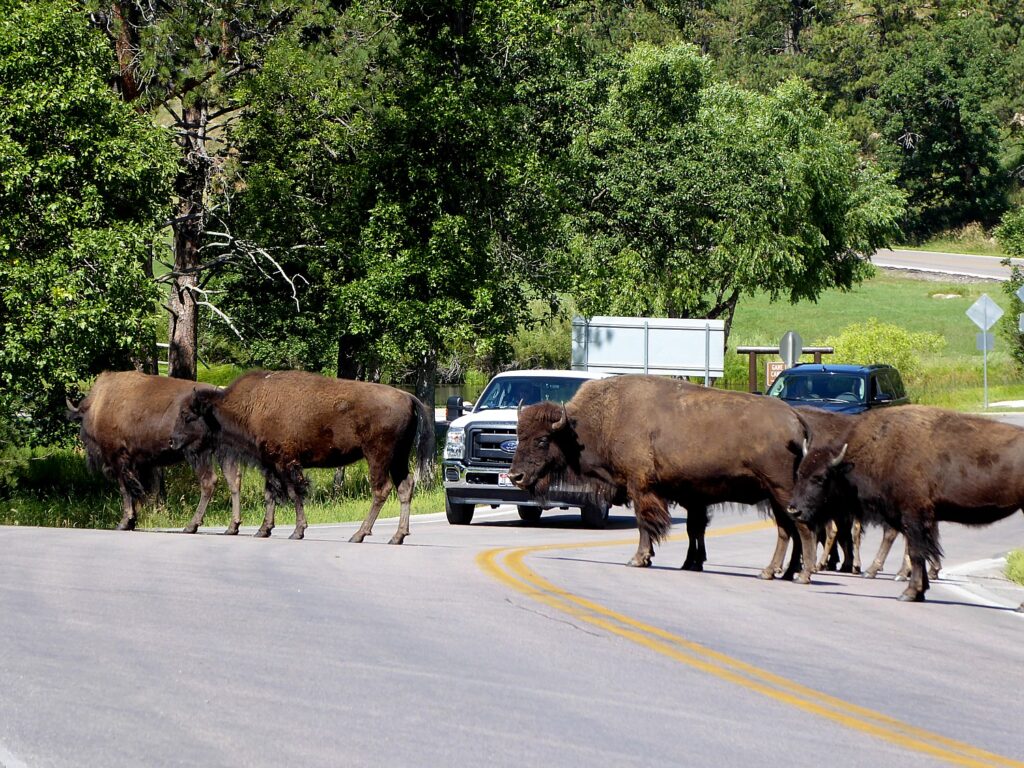 At Custer State Park, "the spirit is Tatanka," the film intones. "71,000 acres….towering granite spires… an incredible American landscape. Choose your own path."
The park sits between Crazy Horse Memorial at one corner, Mount Rushmore National Memorial at the other.
The park's history dates back to 1897; but it was officially named a state park in 1919; the Needles Highway was completed in 1922; by 1924, the bison herd totaled 100. In 1927, President Calvin Coolidge and his wife spent three months at the Game Lodge. The park was expanded in the 1930s as part of FDR's government works projects and became one of largest state parks in the United States. By 1966, the park received 1 million visitors; now, some 2 million visitors come each year.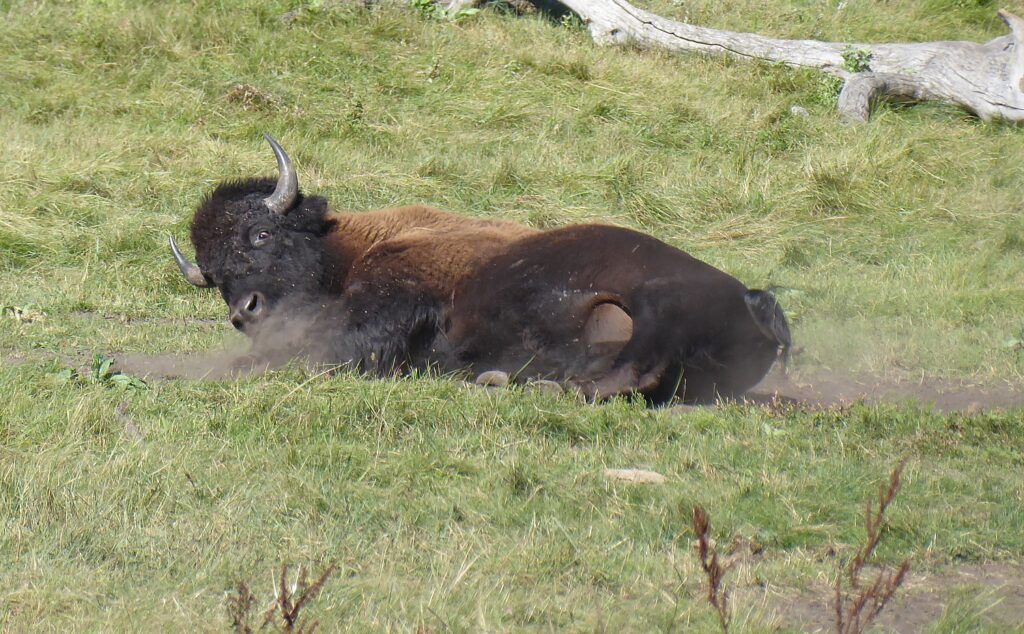 The park has played a vital role in saving the American bison. There were 30-60 million bison roaming North America in the 1500s when Europeans first arrived; by the late 1880s-1890s, fewer than 1000 were left. In the early 1900s, the Yellowstone herd was protected; then the Custer State Park herd. In 1914, 36 bison were purchased and by 1924, the herd totaled 100. Today, there are some 500,000 bison in North America, with 400 born a year here at Custer State Park.
Each September, there is a Buffalo Roundup which this year, brought out over 19,440 visitors for the 54th Annual roundup, to watch as 60 horseback riders wrangle the herd of 1,400 bison into corrals for their annual health check. The annual roundup helps the park manage its herd; some 445 bison are sold at the annual auction. The park also hosts a three-day arts festival in conjunction with the roundup. (Upcoming Buffalo Roundups will be held on Friday, Sept. 25, 2020, and Friday, Sept. 24, 2021.)
From here, we get back onto the road to bike on Custer State Park's Wildlife Loop.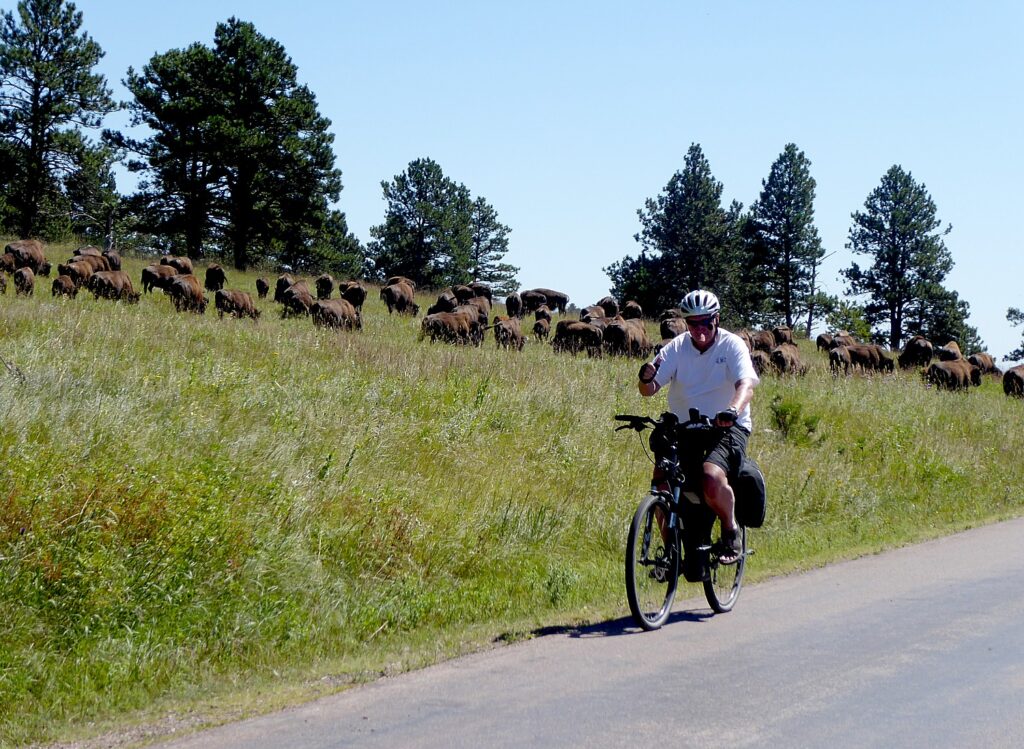 Encompassing 71,000 acres in the Black Hills, Custer State Park, is one of the best places in North America to see a range of animals in their natural habitat.
Along the Wildlife Loop, there are buffalo (bison), deer, elk, pronghorn antelope (the fastest land animal on the Continent; 12 pronghorn were brought here in 1914), burros, yellow-bellied marmot, prairie dogs, big horn sheep – native to Black Hills – unique in Custer State Park. And before the end of day, we will see just about every one.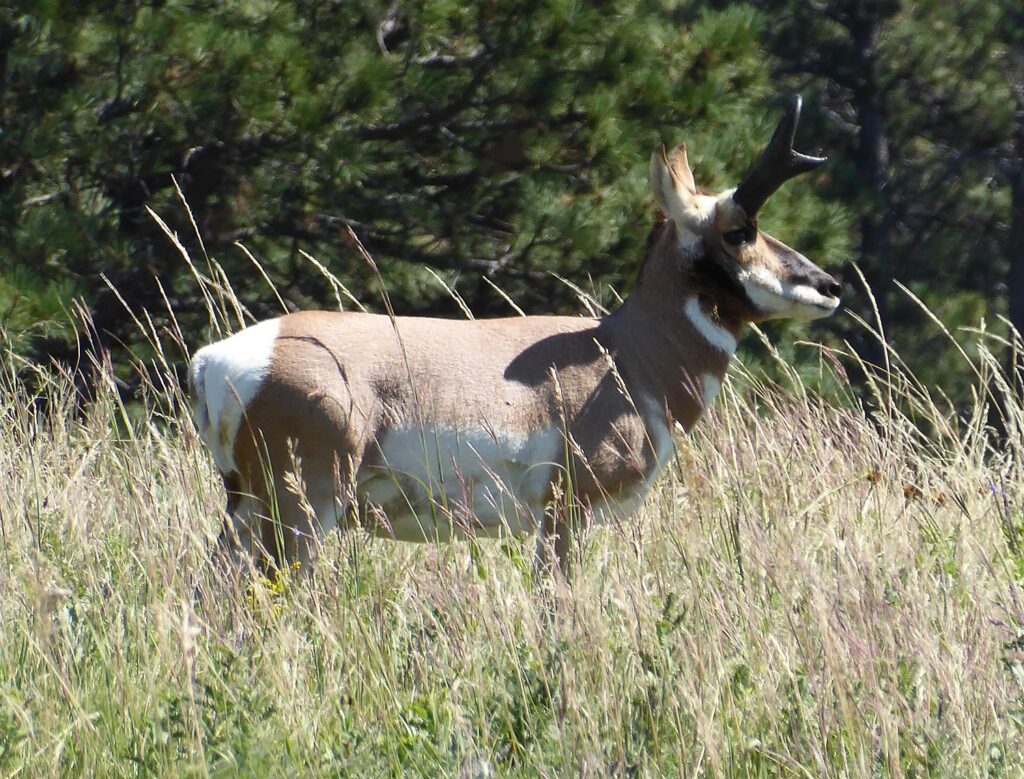 Just beyond the visitor center, where the herd has now moved on from the field, all the cars are stopped in both directions to allow the bison to cross the road. I put myself between two cars which I think will give me some protection.
I've never been in a situation like this, so close to these fearsome creatures without any barrier between (well except for the time I biked in tall grass in the tiger reserve in India). I am in their habitat.
Bison are the largest terrestrial animal in North America, standing up to six feet tall. A male can weigh upwards of a ton and a female can weigh 900 pounds, according to the National Wildlife Foundation. Bison fight by crashing their massive heads or horns together. Both male and female bison have short, curved, black horns, which can grow to two feet long. American bison like to live and travel in groups. For most of the year herds are divided by sex, with females and calves in one herd and males in another herd. When the breeding season begins in the summer, many males temporarily join the female herd and begin looking for a mate.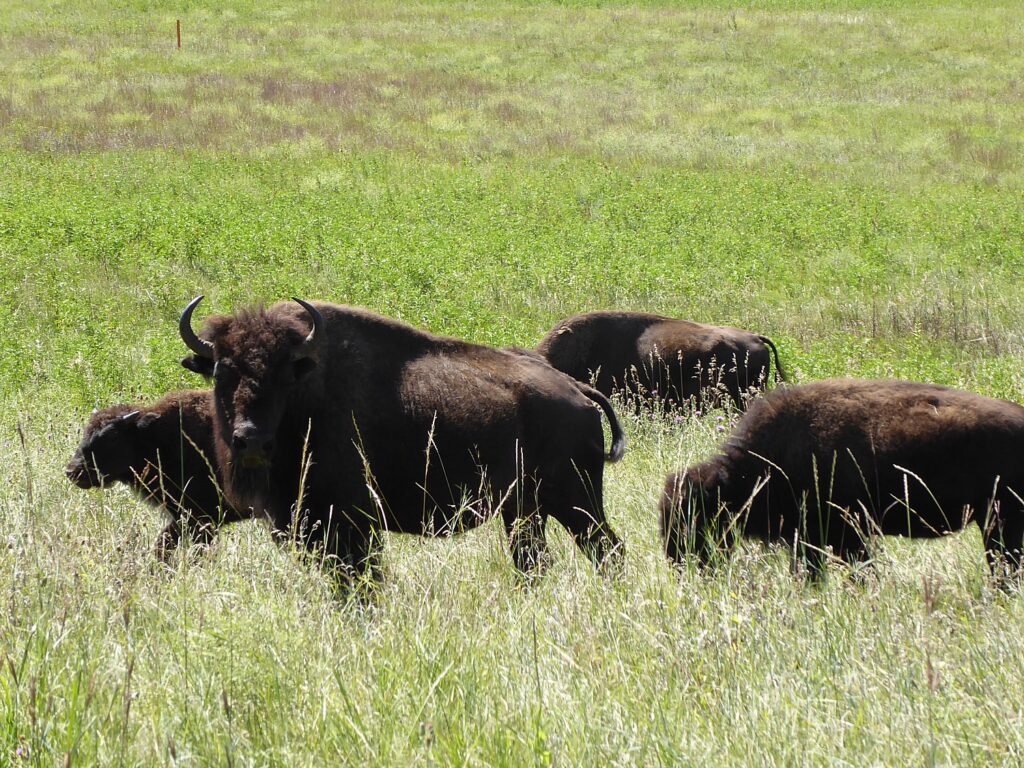 Standing on the road, waiting for the buffalo to cross the road, is an opportunity to study their behavior. It occurs to me as I watch, that unlike dolphin which seem to show great emotion with their expressions and interactions, the buffalo don't seem to have the means to show emotion, except perhaps a flick of a tail or their blue tongue. I wonder how one seems to emerge as a leader that the rest follow.
It strikes me how little interest or interaction there is among buffalo – except for a mother close with her calf, the buffalo don't seem to have any connection, communication with each other, except all facing same direction and walk almost together. They all turn in one direction and move in one direction – who is leader? How is the leader selected? I later learn that one way they communicate is with their tails.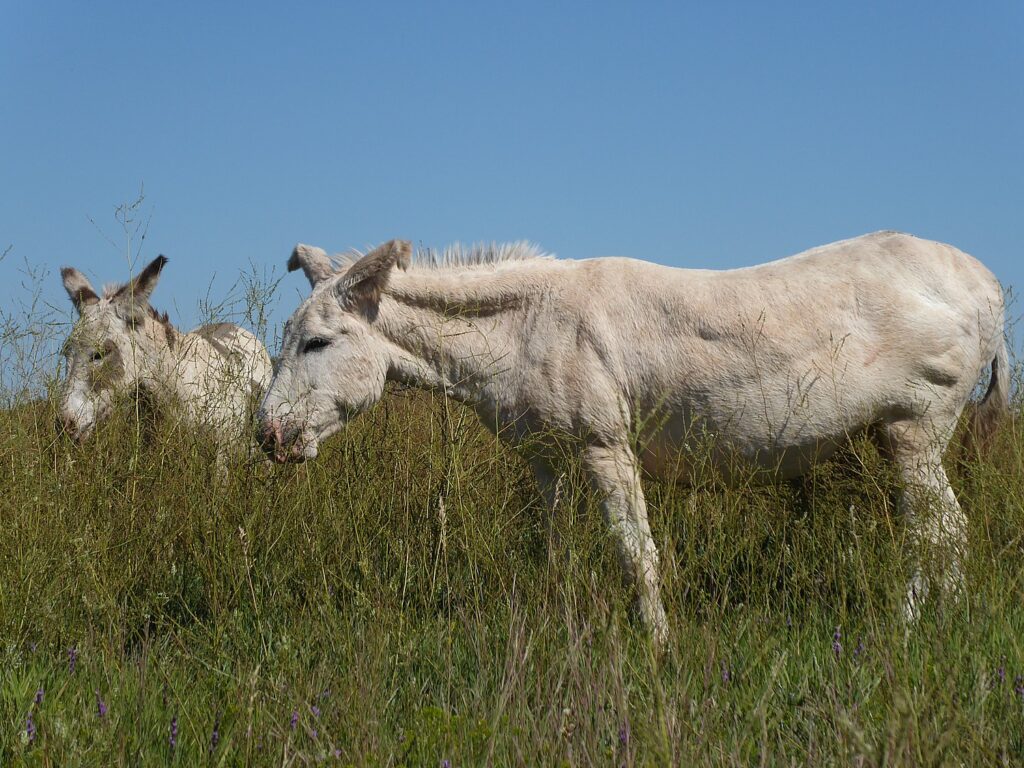 It turns out that bison, who are almost constantly moving, actually vote on the direction they will travel, orienting their bodies in the direction they would like to go, and eventually choosing to follow an "initiator"; they communicate through grunts and growls, from smells and hearing, I subsequently learn from Scientific American.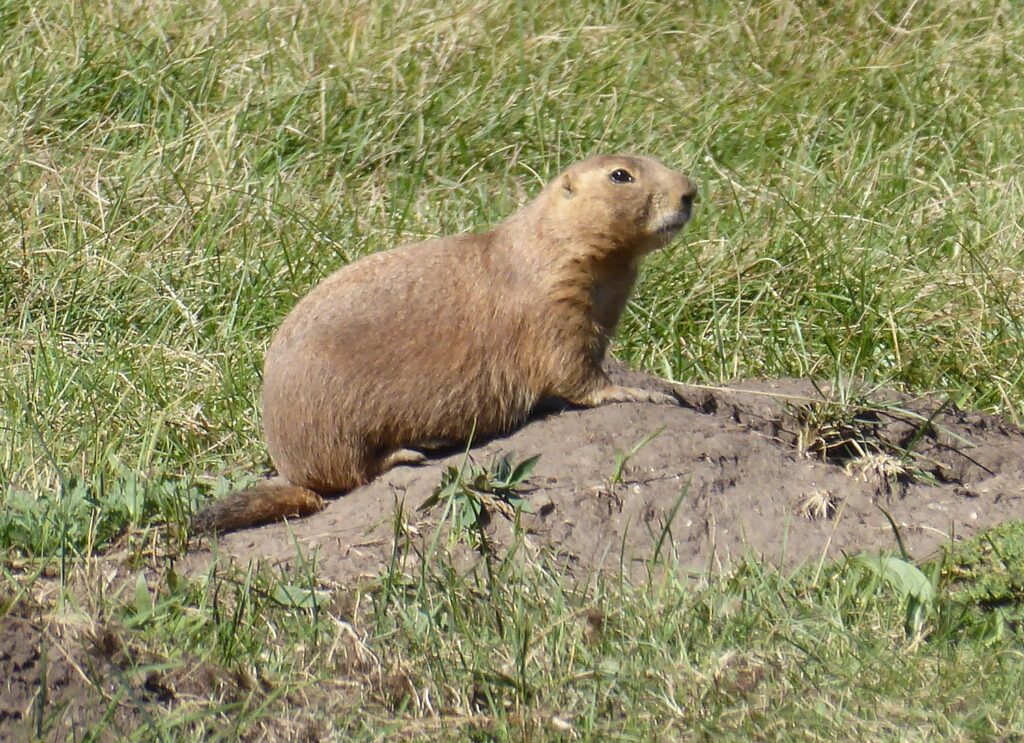 There are also mountain lions in the park (we don't get to see any), which are monitored with radio-collars and tranquilized for routine medical testing. James tells me that once he came upon the medical staff tranquilizing a mountain lion in order to take its vitals.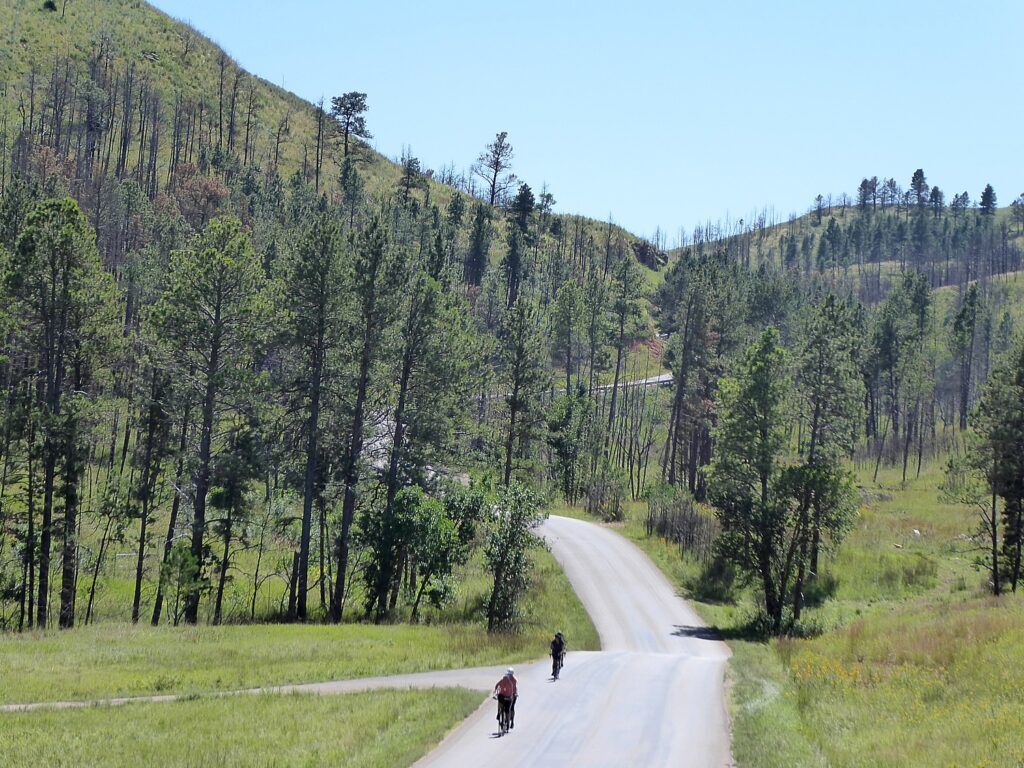 Now we come to the toughest ride of the trip – of the 39 miles we bike today, it seems three-quarters are uphill; there are lots of long, steep ascents and sweeping downhills too. This is the difference between a road and a rail trail. I plug through.
At one point, I lose momentum altogether and wind up walking the bike the equivalent of a city block and am annoyed with myself. But I make the remaining ascents, including the final half mile steep, corkscrew rise at mile 37 to the Blue Bell Lodge. I have a strategy of stopping where the road levels a bit, then resetting my concentration. (The van is available to drive people who choose not to bike.)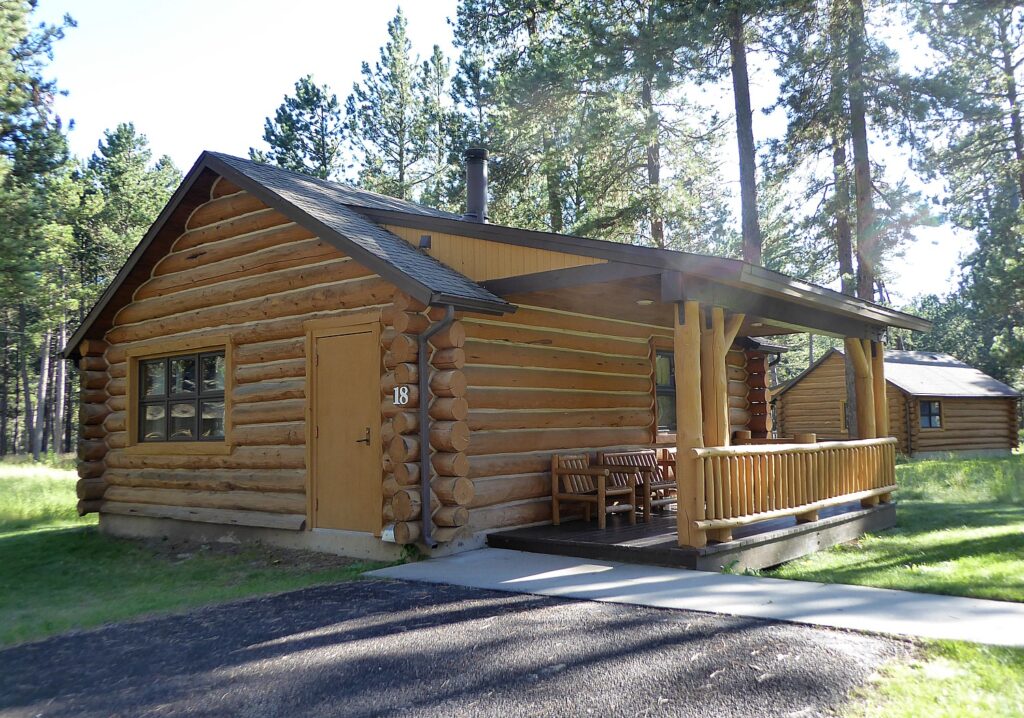 The Lodge is so beautiful – 30 gorgeous log cabins among the pines (a specialty Ponderosa Cabin accommodates 20).
I have my own cabin – fireplace, deer head, two double beds, dining table/chairs, tv, kitchenette, porch with 3 chairs. Heaven.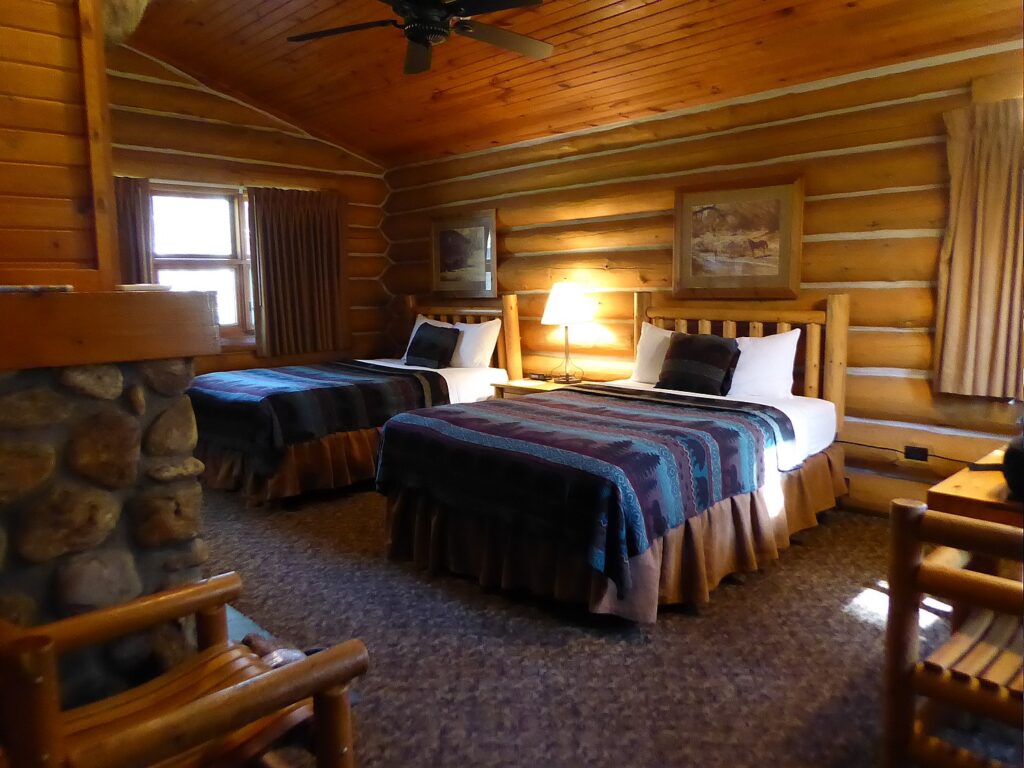 Wilderness-Voyageurs makes all of this it possible – you couldn't do this itinerary on your own because it isn't contiguous. They shuttle us to starting and ending points so we have the best route. We aren't carrying our own gear from inn to inn.
The guides, James Oerding and John Buehlhorn, make a big difference – their knowledge not only of the trail, the route, but the places we will experience, the animals and sites we see, down to lunch recommendations. And SOOOO helpful – like father hens.
Good humored, patient, interesting. "You're on vacation," they say. They don't rush us along or show impatience if we are slow or stop a lot. And they cheer us on to get through the touch climbs. Not only in their knowledge and experience but extremely helpful, patient, kind, considerate – go out of way to help guests – which is really clear this day. Van is there to help if necessary.
The trip is organized with pit stops, snacks, breakfasts and most lunches and hosted dinners, (just one lunch and two dinners on our own) as well as the admissions to sites.
Tonight, we dine at the Blue Bell Lodge's Tatanka Dining Room (locally known as the Blue Bell Lodge Dining Room) – a lovely western themed (obviously) room. We order what we like from the menu (booze is on our own), which has some distinct items: rattle snake and buffalo sausage (tasty!); buffalo tenderloin.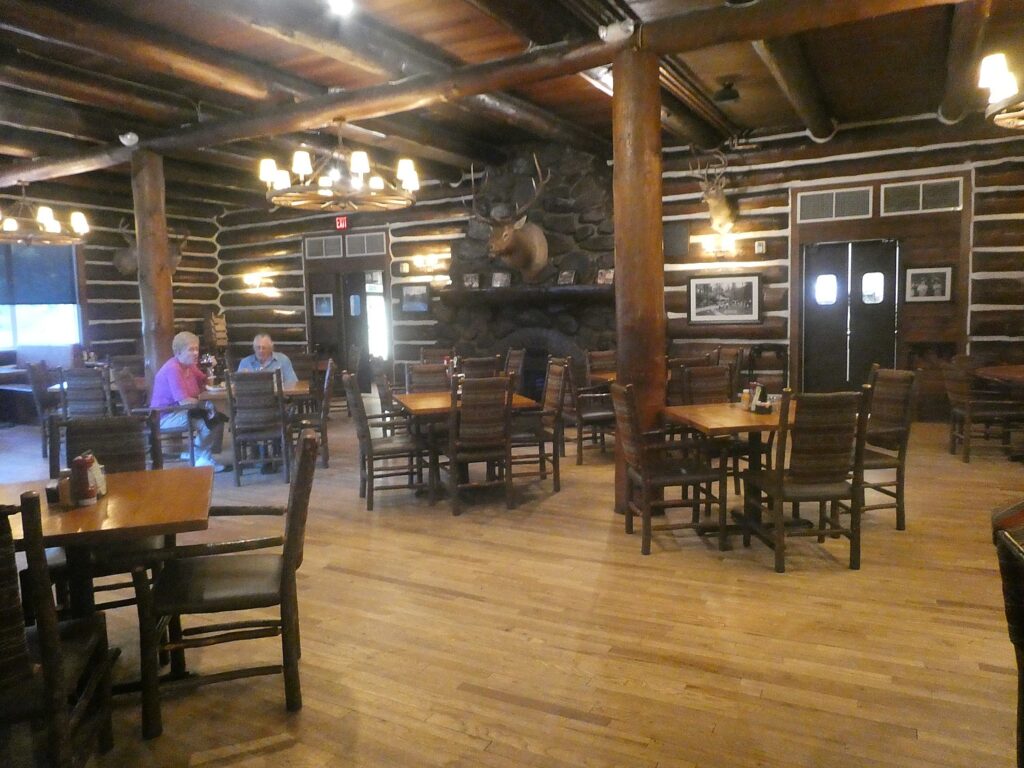 The historic Blue Bell Lodge was originally a hunting lodge for friends- named (it is believed) for the telephone company, now run by Regency Hotel Management. A nightly chuck wagon dinner is offered that goes out 5-8 pm, with a ride to the valley; live music, dinner, dancing, for as many as 100 people.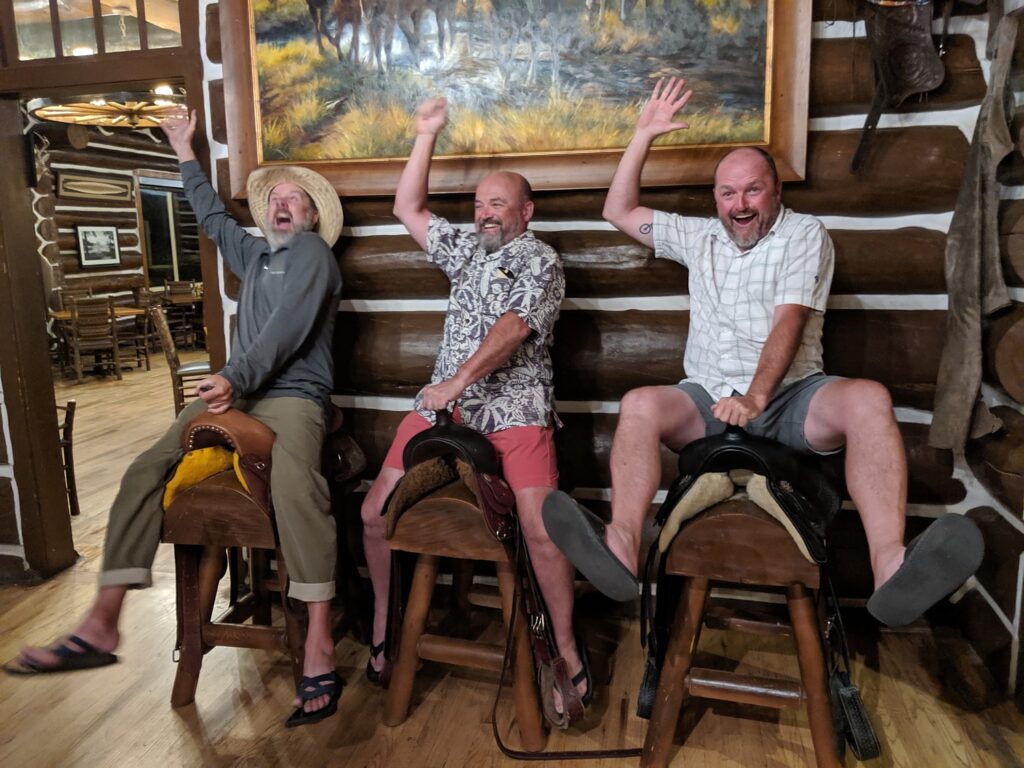 I stay behind at the lodge to look at my email when I get a call from James telling me a giant buffalo is just off the path in the pitch darkness. I see it when a car comes by and lights up the buffalo.
James offers to drive the van over to pick me up – I insist on finding a way to walk the short distance, and he tries talking me through but I have trouble finding the path. Finally, I find the path and see James and John walking over to rescue me.
The stars are gorgeous. I can see the Milky Way.
The lodge and Custer State Park, are open year-round. I can imagine how spectacular it is in winter.
(Open year round, Custer State Park, 13329 US Highway 16A, Custer, SD 57730, https://gfp.sd.gov/parks/detail/custer-state-park/ 605-255-4515,  800-710-2267. [email protected])
Day 5: Finishing the Mickelson Trail in Deadwood
I wake up early to sit on the porch of my cabin at the Blue Bell Lodge with a book and a cup of coffee, thinking this is the ultimate in luxury, but the peace of the moment is soon broken when I spy the buffalo from last night right outside. It lumbers toward my porch and takes a drink from a puddle.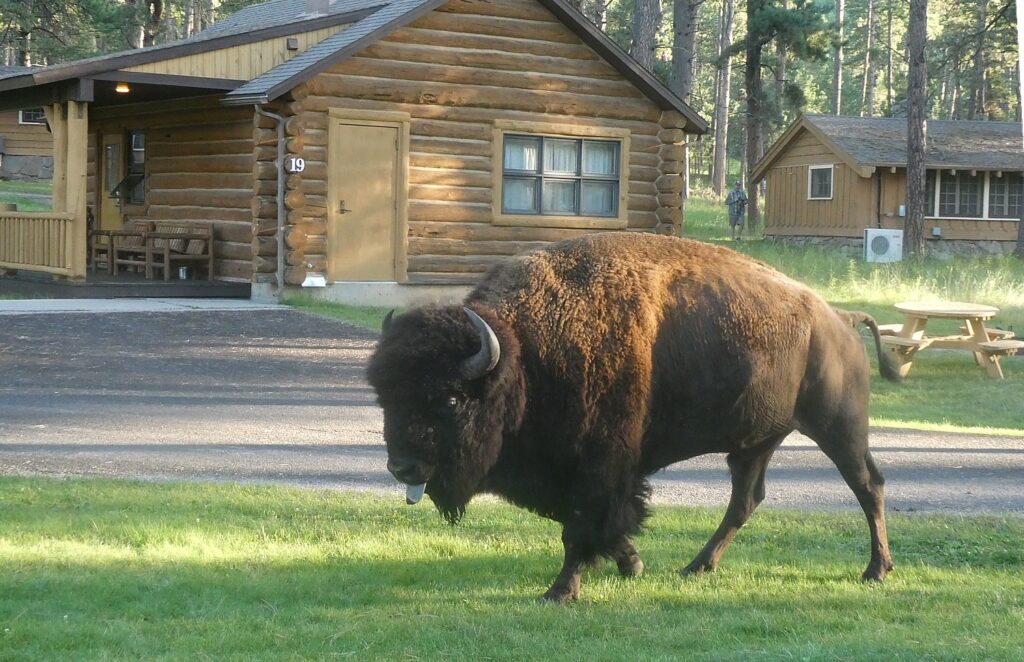 James and John – not wanting to chance any confrontation with the buffalo – call us to tell us they will drive the van to pick each of us up at our cabins at 8 am. We drive back to Custer for breakfast at a cute café before starting today's bike ride.
Day 5 of the Wilderness Voyageurs Badlands and Mickelson Trail tour is our final day on the Mickelson Trail. We ride the last miles all the way to Deadwood, a true wild west town made famous by the murder of Wild Bill Hickok.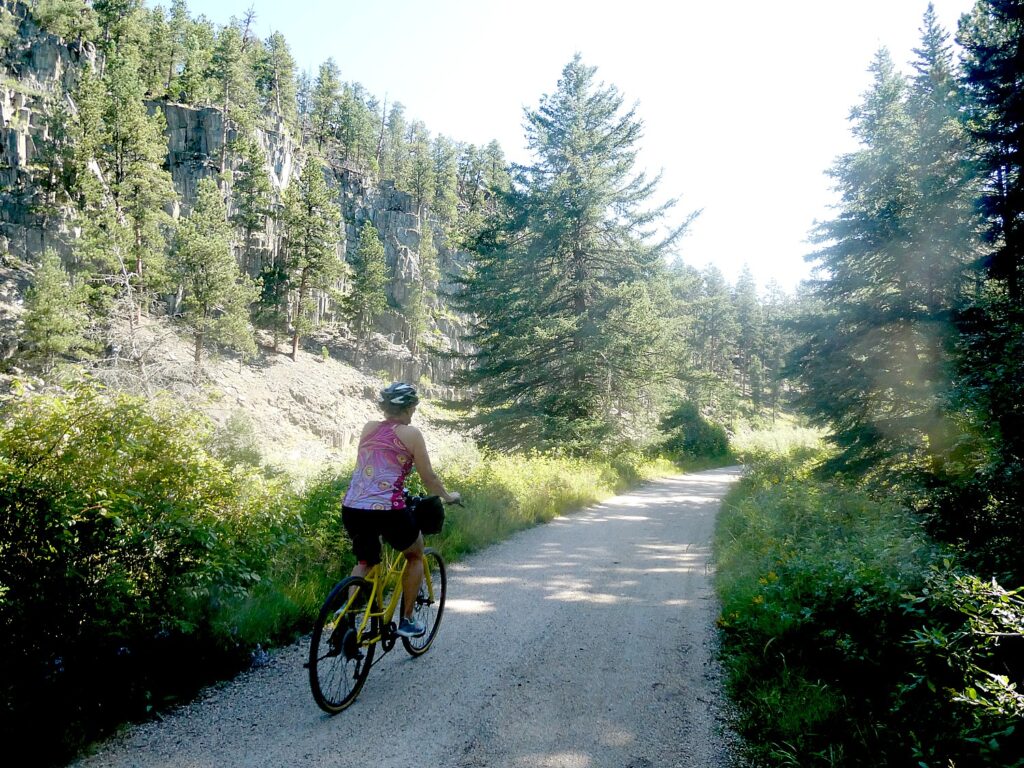 We are shuttled back to Mystic where we left the trail two days ago, and ride 18 miles up hill, and then down the slope, for a total of 34 miles to end of Mickelson at Deadwood, at mile 109.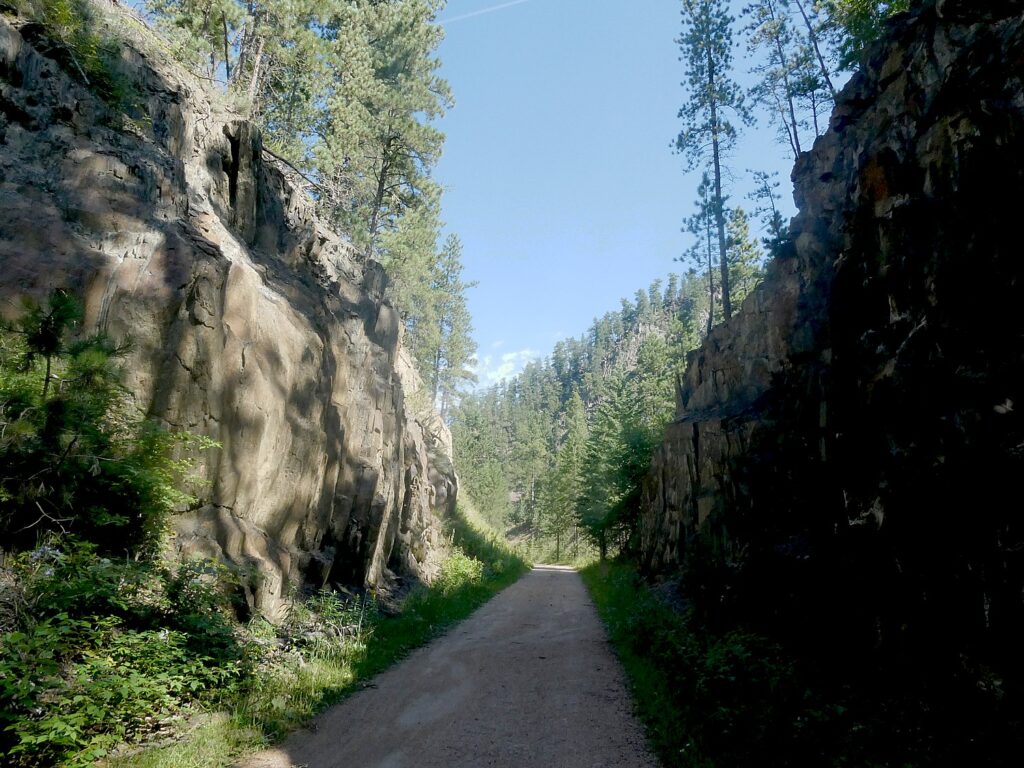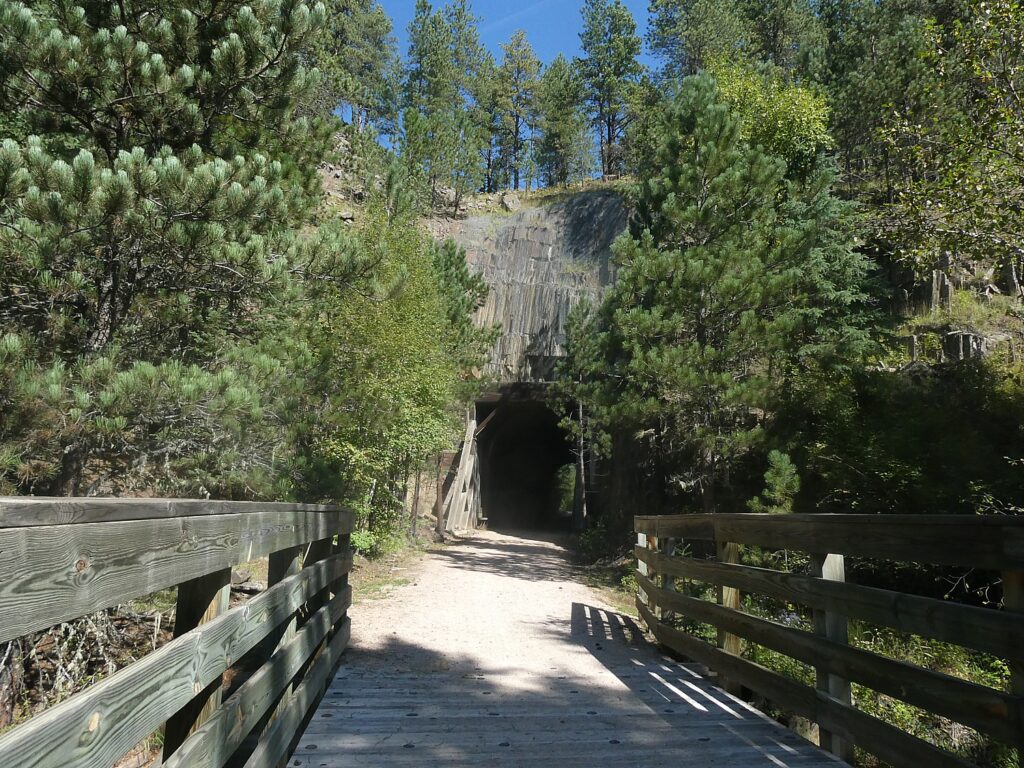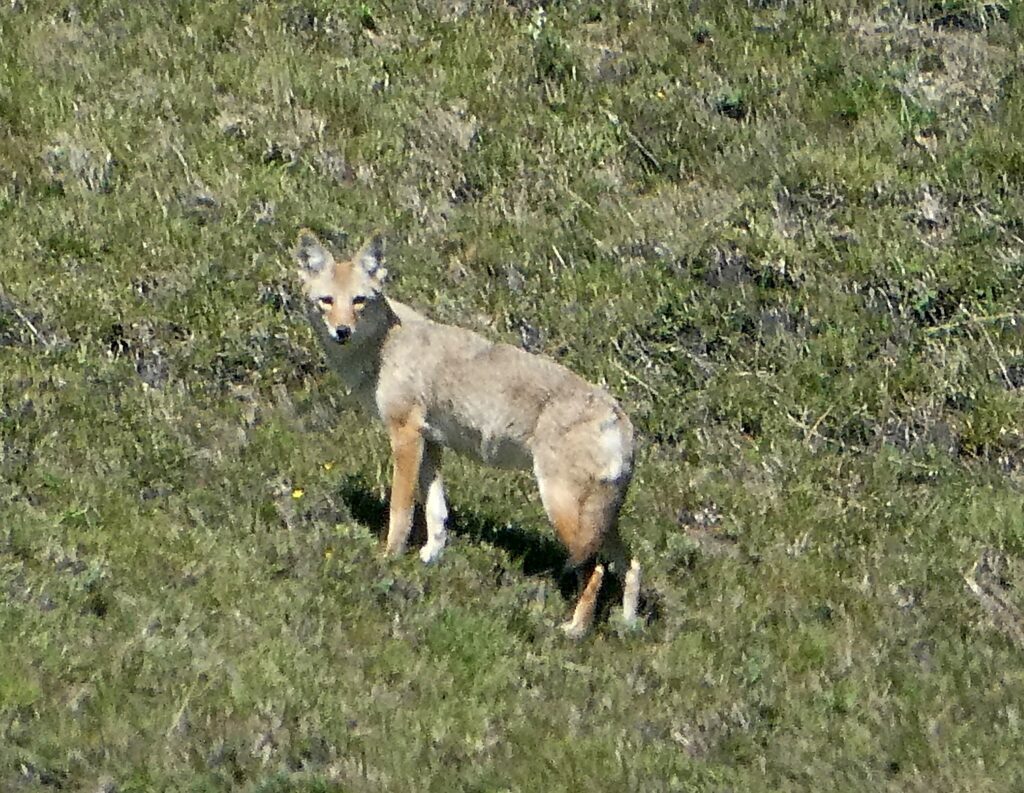 John comes to pick us up with the van, making back-and-forth trips from the trailhead to our hotel, the Deadwood Mountain Grand Resort, which has an enormous casino (it seems fitting for a town that was born out of the gold rush and made famous by a poker game).
We are on our own to explore Deadwood and discover its many charms. Fortunately, I've had some tips from the Alex Johnson Hotel manager in Rapid City, and head straight out to the cemetery.
Wilderness Voyageurs started out as a rafting adventures company 50 years ago, but has developed into a wide-ranging outdoors company with an extensive catalog of biking, rafting, fishing and outdoor adventures throughout the US and even Cuba, many guided and self-guided bike itineraries built around rail trails like the Eric Canal in New York, Great Allegheny Passage in Pennsylvania, and Katy Trail in Missouri.
Wilderness Voyageurs, 103 Garrett St., Ohiopyle, PA 15470, 800-272-4141, [email protected], Wilderness-Voyageurs.com
_________________________
© 2020 Travel Features Syndicate, a division of Workstyles, Inc. All rights reserved. Visit goingplacesfarandnear.com, www.huffingtonpost.com/author/karen-rubin, and travelwritersmagazine.com/TravelFeaturesSyndicate/. Blogging at goingplacesnearandfar.wordpress.com and moralcompasstravel.info. Send comments or questions to [email protected]. Tweet @TravelFeatures. 'Like' us at facebook.com/NewsPhotoFeatures