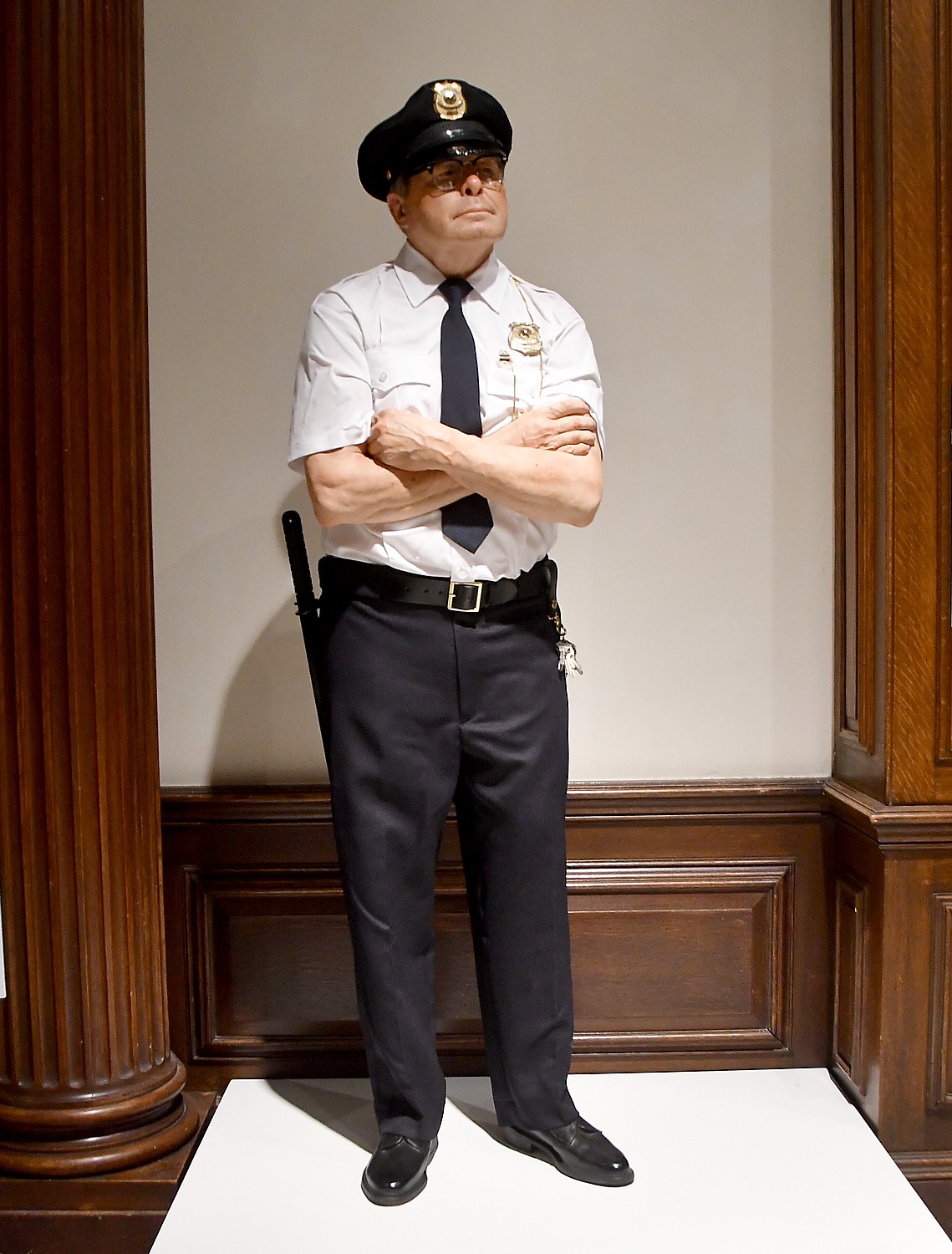 By Karen Rubin, Travel Features Syndicate, goingplacesfarandnear.com
You walk into the Nassau County Museum of Art, housed in the stunning mansion built for Childs Frick in 1919, the scion of Henry Clay Frick, and are confronted by a guard, hands crossed in front of his chest. You do a double-take – it takes a bit of questioning in your own mind what you are seeing to realize the guy isn't moving, isn't even breathing. In fact, it is a sculpture, so realistic you have to double-check your brain. This is just the first of an entire exhibition devoted to art that literally "fools the eye."
One could argue that all art fools the eye – you are, after all, taking a living, changing, three-dimensional (even four-dimensional) subject and using manufactured materials and constructions converting it to two- or three-dimensions, in an assimilation or approximation of what is lives in a moment in time.
But these artists, gathered together in the "Fool the Eye" exhibit now on view at NCMA, employ fascinating techniques that keep you guessing as you walk from gallery to gallery: Is it a flat surface or a sculpture? Is it a photograph or a painting? Is it made of wood or bronze, rubber or steel? Is it real or faux?  The works on view date back to 1870 ("A Canvas Back" by William Davis), to as recently as a weeks ago (Ben Schonzeit's "The Fantasticks") showing that these artistic devices of fooling the eye are well entrenched in artists' palette.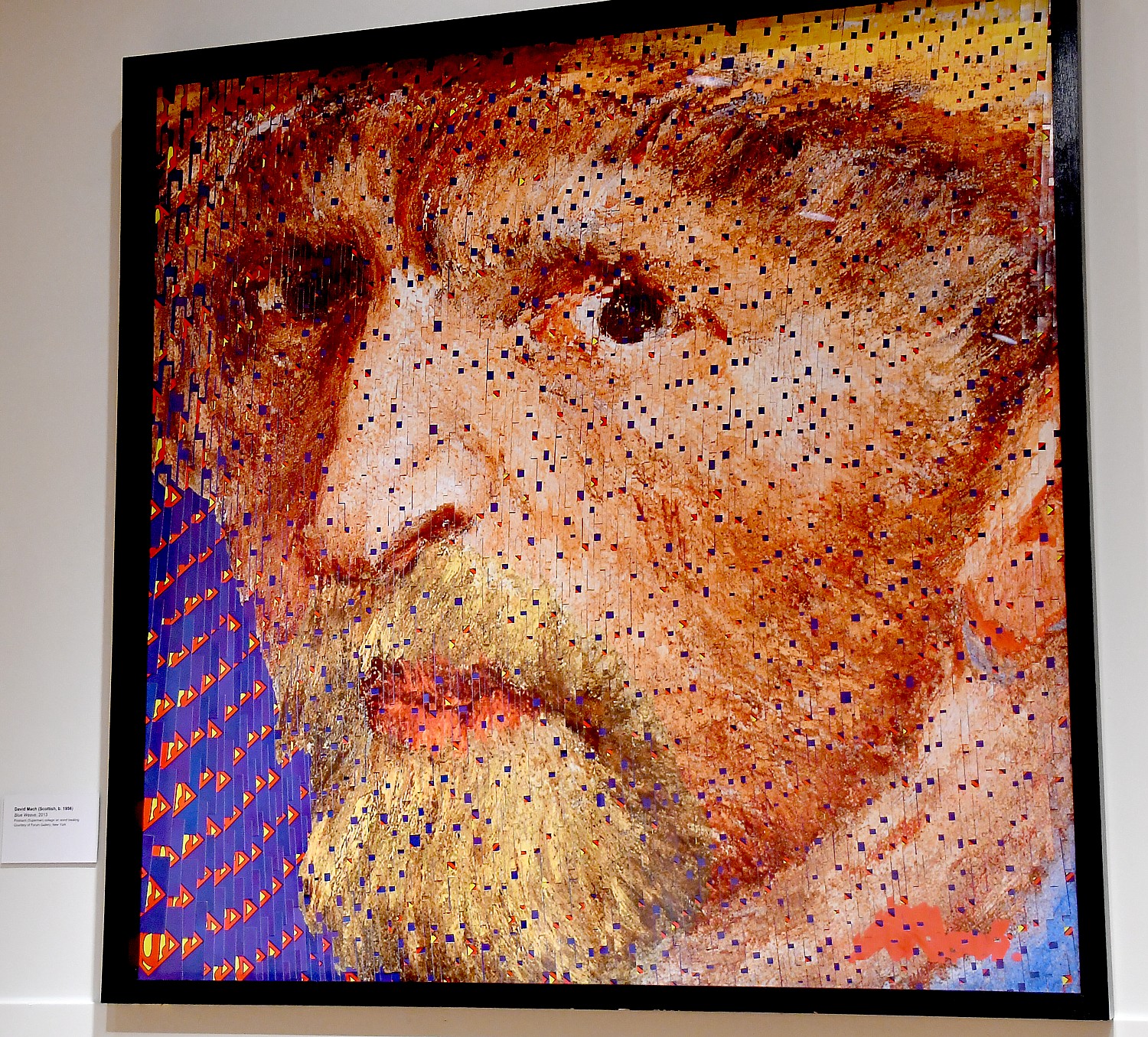 You see a re-creation of a portion of the famous Van Gogh self-portrait with all the vibrant color and exciting brushstrokes, only to realize that David Mach created "Blue Weave" (2013) as a postcard collage out of individual strips. Similarly, a vibrant, richly textured portrait, "Blue Hair" by Federico Uribe (2014) is a collage made entirely of small colored pencils, and Chuck Close's "Self Portrait" (2004) is actually a woodcut in 19 colors.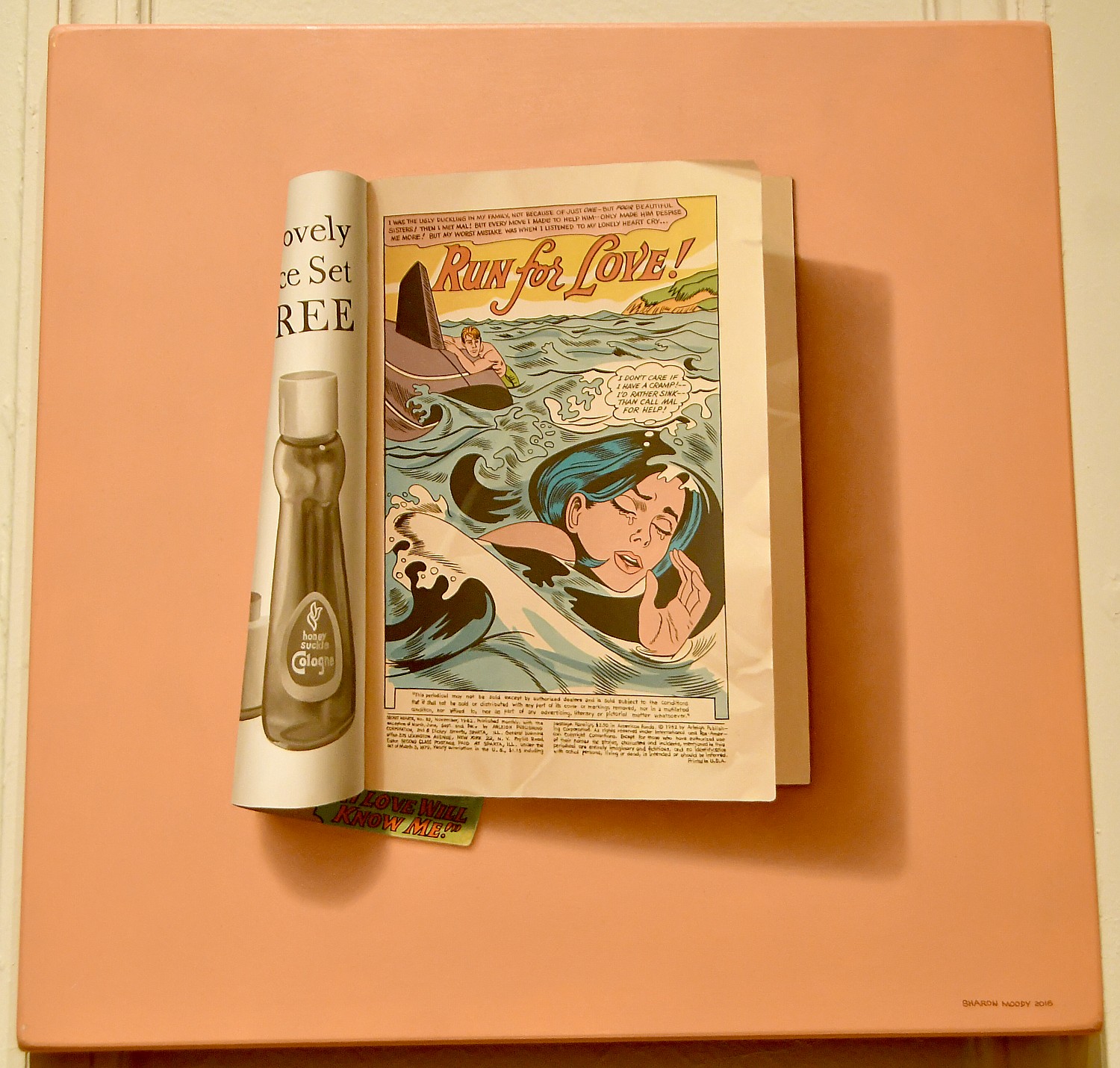 You see a famous photo of Marilyn Monroe taped to a board, and realize that except for the tape, the entire piece is a painting ("Gold Marilyn" by Otto Duecker); similarly, Dueker has made such a painting of a Frank Sinatra "photo." "Drowning Girl Secret Hearts Vol. 1, No. 83," is Sharon Moody's oil painting that you are convinced is an actual comic book appended to a board. Then there are the hypnotic geometric abstractions, like Victor Vasarelly's "TITOK-L" (1972).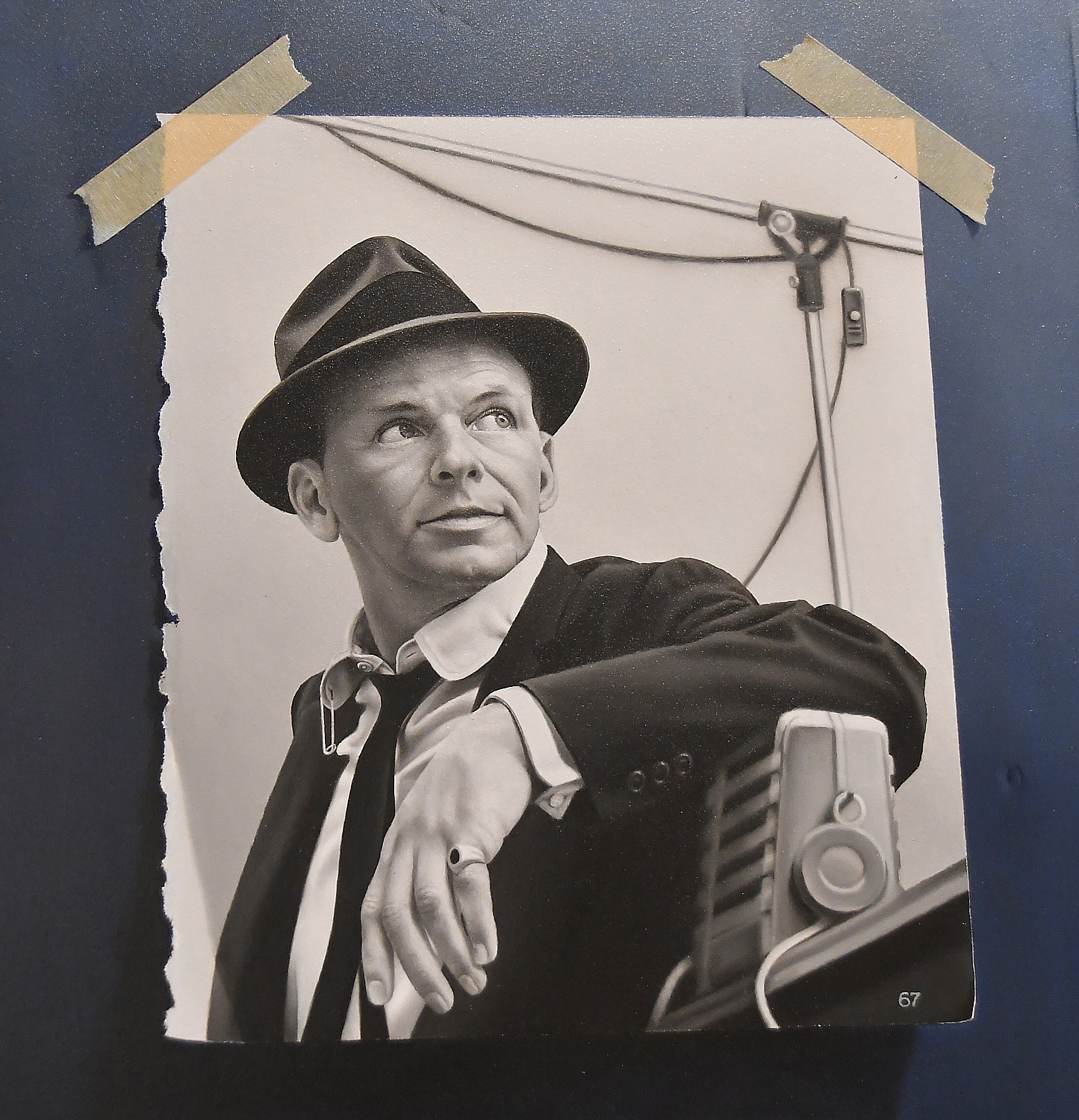 Fool the Eye, on view at Nassau County Museum of Art's Saltzman Fine Arts Building through March 4, 2018, challenges you to experience the wonder of masterful artistic techniques. This exhibition includes examples of traditional trompe l'oeil (meticulously painted, hyper-real images) and a wide range of other approaches to illusion. See larger-than-life oversized objects, hypnotic geometric abstractions, sculptures made of unexpected materials, images with mind-bending impossibilities and fine art so seemingly realistic, they are (nearly) indistinguishable from real things. The magic will provoke debates in every gallery about reality and deception.
There is the shocking sense that a work of art is "following you" – changing as you move slightly and change your angle of view. Disorienting. Jarring. Creepy even. That's the case with Patrick Hughes' "Living Library" (2017), and two stacked Brillo boxes, Patrick Hughes' oil on board construction homage to Andy Warhol, "Warholly," 2008). Most of the time, though, you come away with a sense of amusement, realizing you've been played.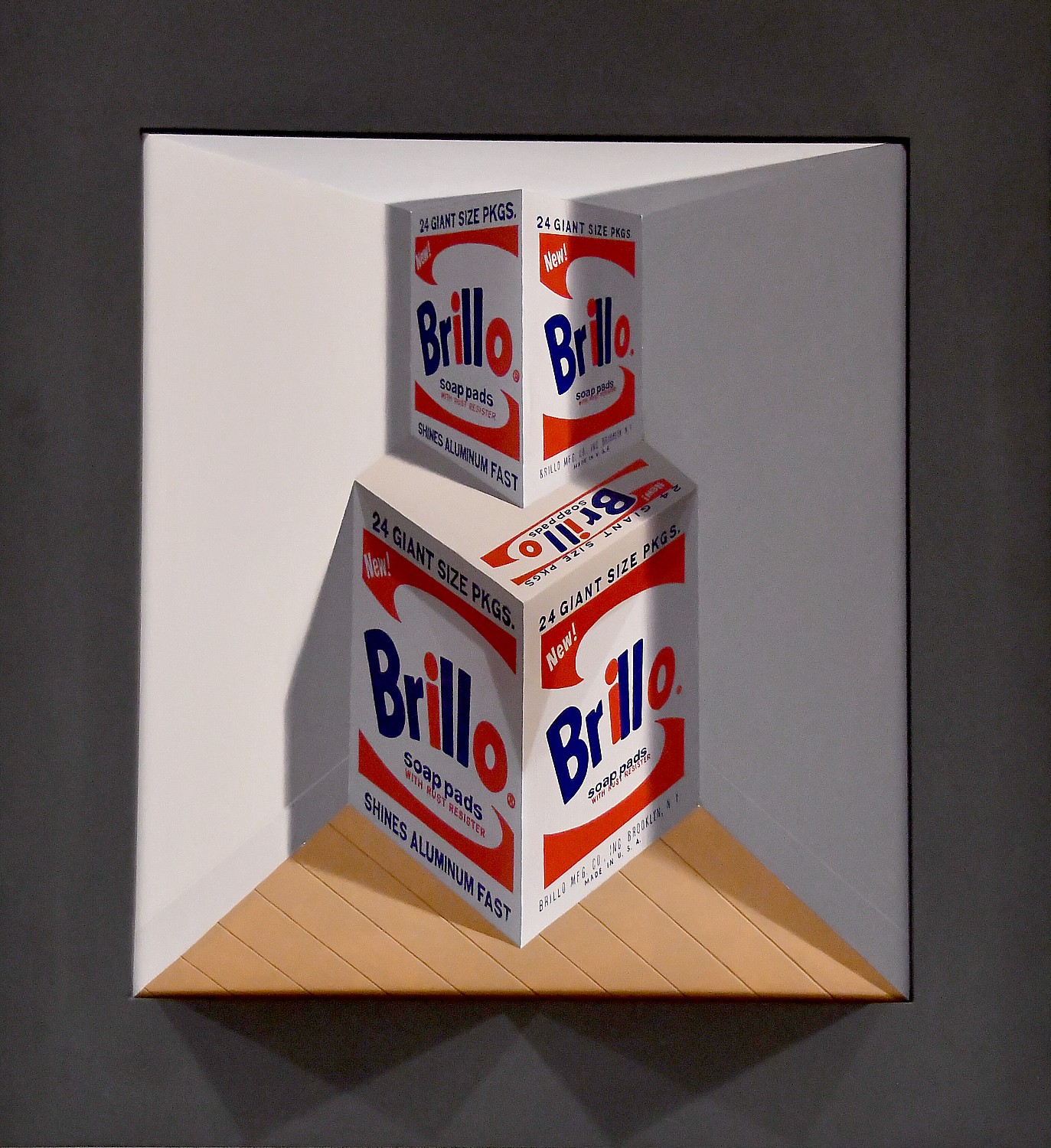 Artists throughout the ages have been intrigued by perceptual illusions, devising visual tricks to manipulate the perception of space, incorporating spatial illusion as an aspect of their art. Featured in this exhibition are 20th- and 21st-century artists whose work has explored illusion, including Salvador Dali, Janet Fish, Audrey Flack, Jasper Johns, Judith Leiber, Roy Lichtenstein, Vik Muniz, Ben Schoenzeit, and Victor Vasarely.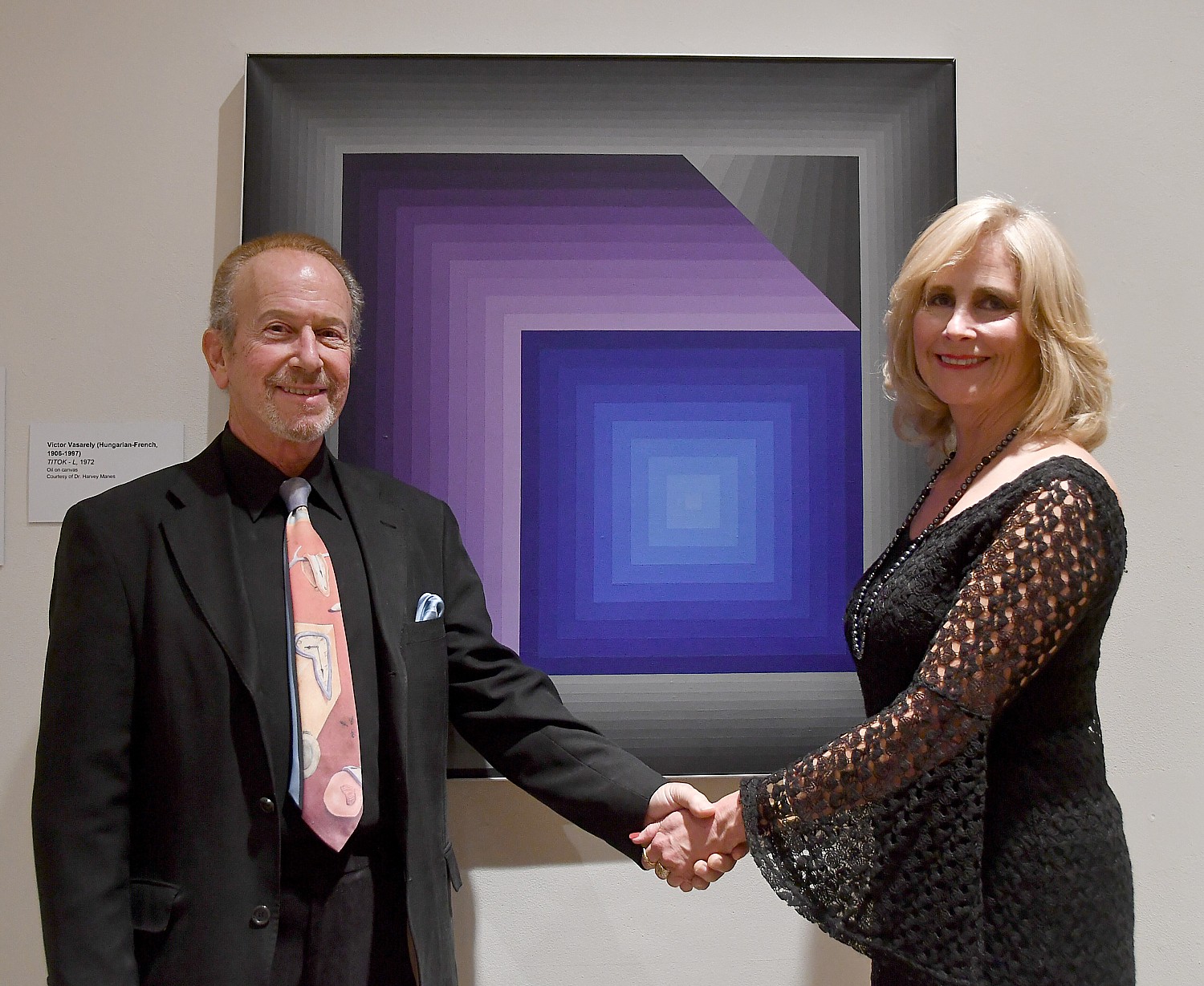 "Fool the Eye" is guest-curated by Franklin Hill Perrell with Debbie Wells whose previous collaborations for the Museum have included Feast for the Eyes (July 2016), The Moderns: Long Island Collects (July 2015) and Garden Party (March 2014).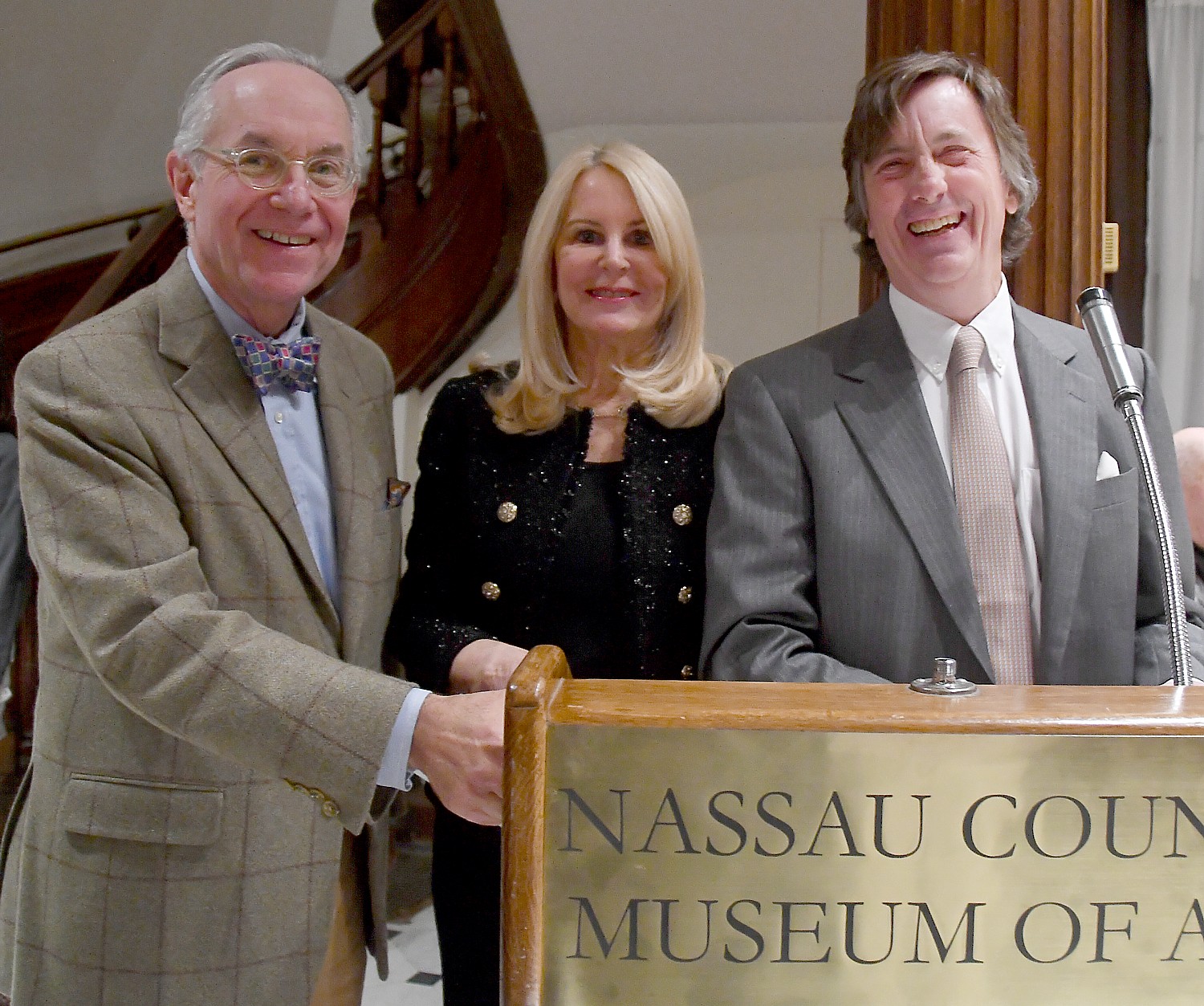 "This show is the work of a superstar curator," Charles A. Riley II, NCMA's Director, said. "One thing that brings it all together: when an artist guides you in how to see… How artists create the illusion of life. Is it real or isn't it? Is it or isn't it? That question prevails through the whole show…There is a vitality."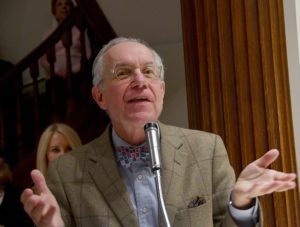 "All the art has to come from some place, someone has to arrange," Perrell tells the gathering at the opening reception on November 17. "No other museum scurries around country convincing people to give up things they don't want to give up- then have to get it here."
Perrell rattles off a long list of nearly 60 galleries and private collections where the works have come, including NCMA trustee Dr. Harvey Manes who loaned five works including two Salvador Dalis and a Roy Lichtenstein.
One of the works – Ben Schoenzeit's "The Fantasticks" – was painted specifically for the show, as I learn (one of the best things about an opening reception is that some of the artists show up).
"I was just finishing a piece when Franklin came to my studio in Soho and wanted a painting not yet finished," says Schoenzeit, who has been featured often at NCMA. "I didn't know how to finish it. I knew [the show's theme] was tromp d'oeil, so I painted this with this show in mind."
He says it took a month to make "The Fantasticks" (in between other projects), which is based on a collage.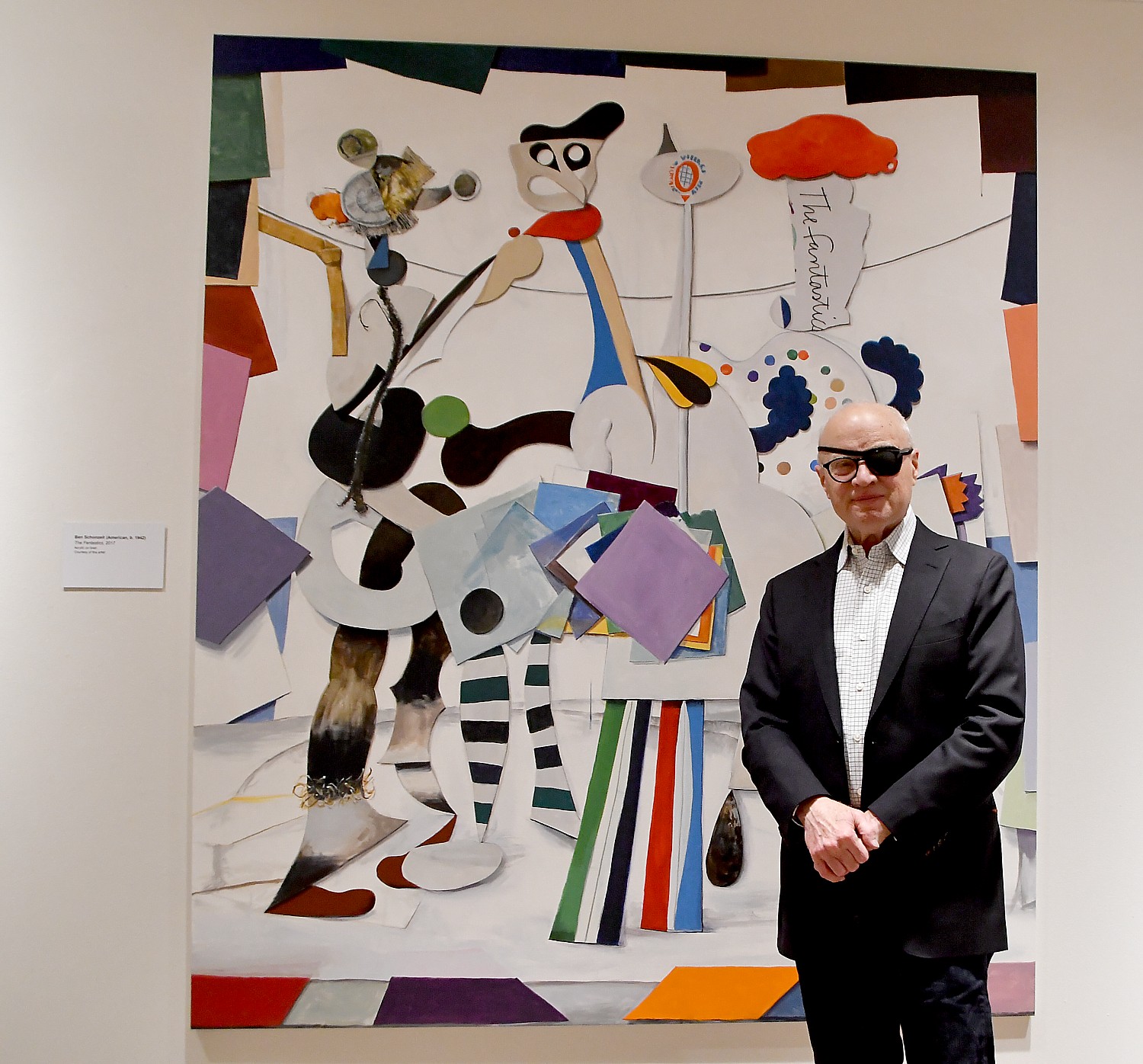 "It's funny – it came out funny," he says, using the word "they" to describe his paintings. "They surprise me…I don't have a finished concept when I start. They tell me. These things come to me."
How do you know when it's done? "When it walks away. When I have nothing more to say. When adding more makes it worse, or the idea you add doesn't fit," Schoenzeit says.
He steps back from the over-sized canvas. "I like to see it out of the studio, how it feels in real world, rather than in the chaos of my loft."
Why "The Fantasticks?" "This was a long-running show in Greenwich Village [which he saw more than 30 years ago]. At the end, they threw colored tissue paper squares into the audience. I picked [some] up and put them in a collage. The paper is the envelope that I wrote 'The Fantasticks' on: There are other references in the painting (acrylic on linen): a stage, curtain.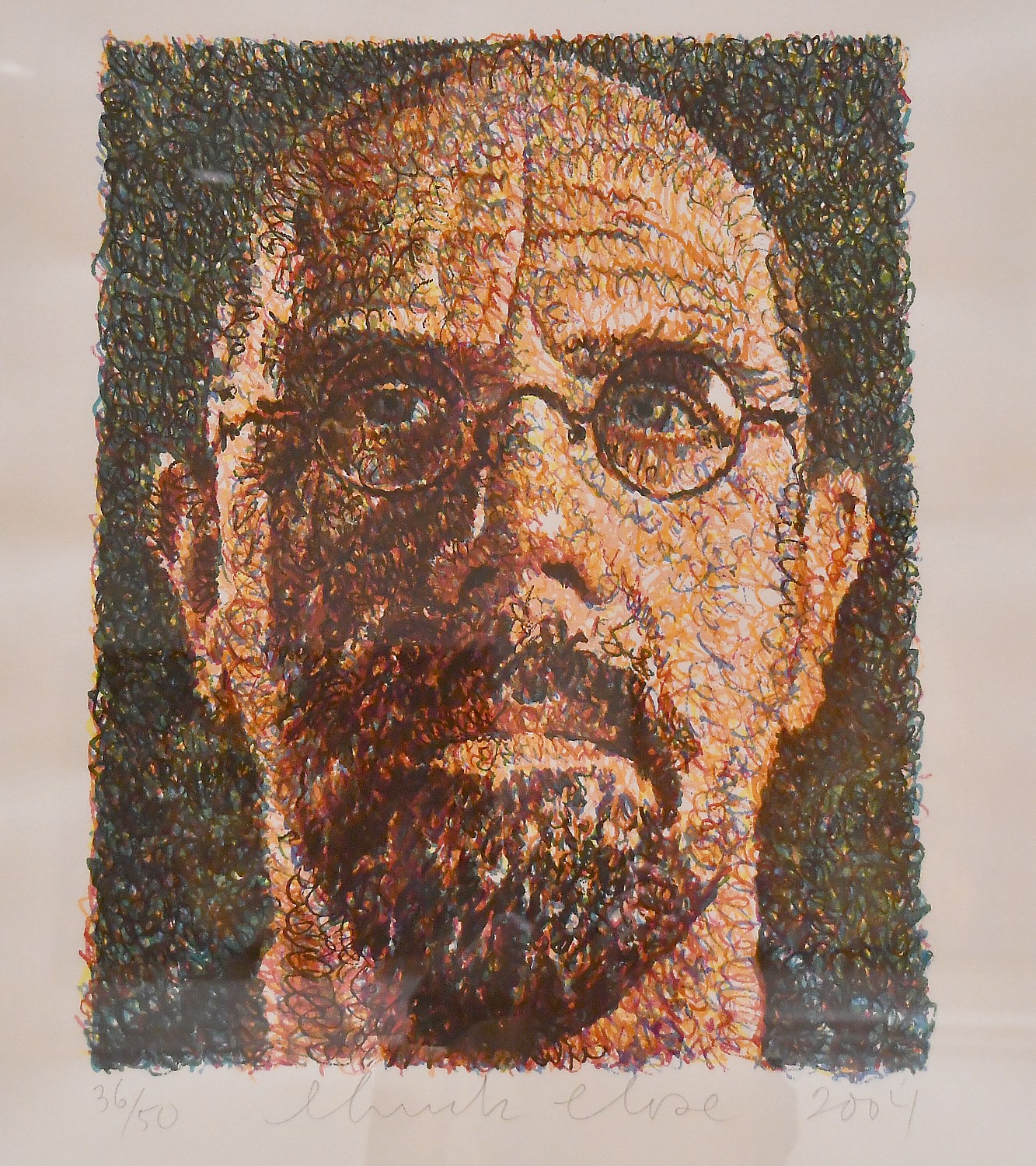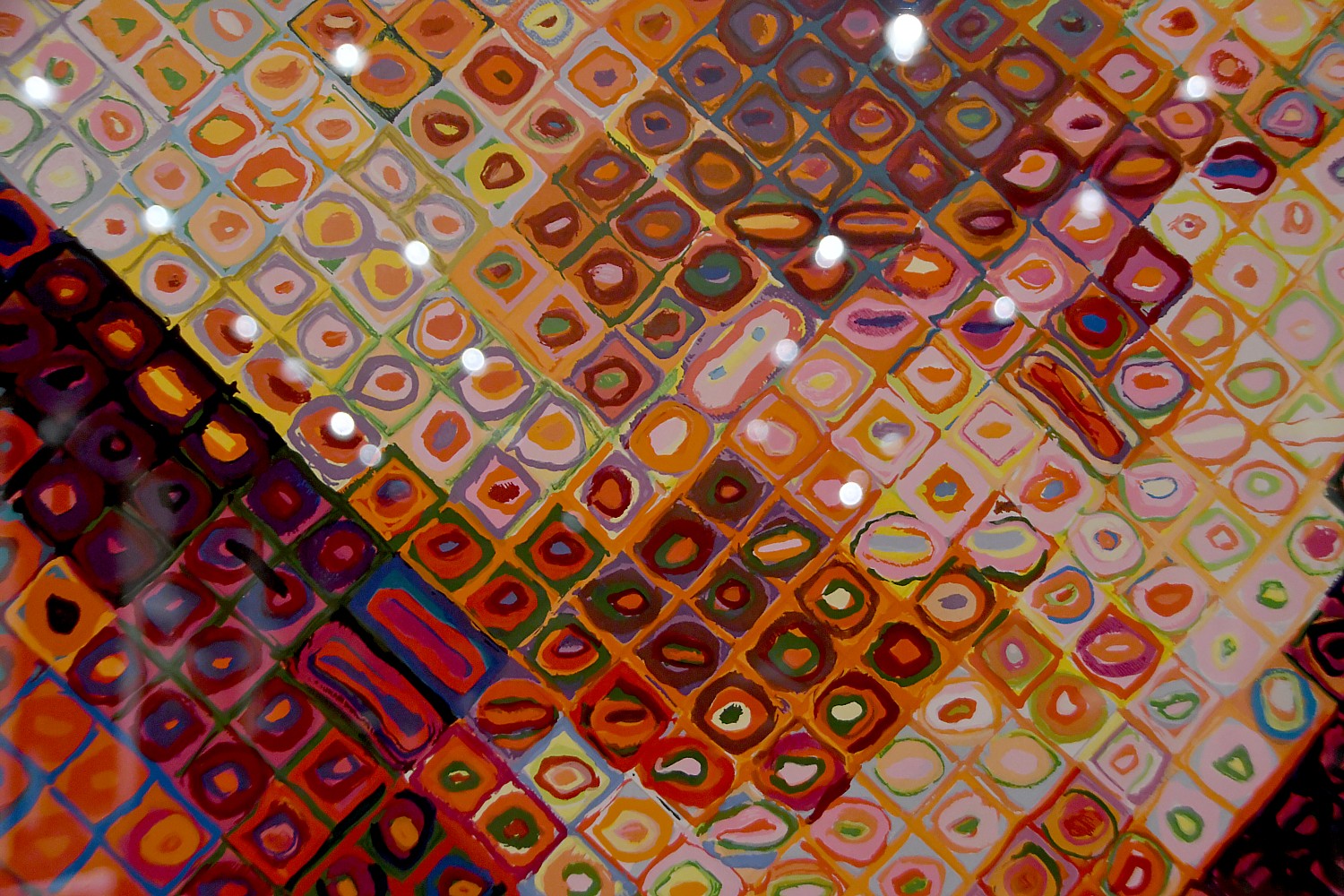 Programs that NCMA is offering the public in conjunction with Fool the Eye include: Paper Medium Rare: All Things Paper, a film that is screening daily; Fool the Eye Meets Fool the Palate, a December 10 talk by guest curator Franklin Hill Perrell; Brown Bag Lectures presented by Museum Docent Riva Ettus on December 14, January 4 and February 1; Sketching in the Galleries with Glenna Kubit on December 19, January 9 and February 6; and artist Dale Zinkowski in the galleries on March 4 to meet with visitors and answer questions about his work. Docent-led tours of the exhibition are offered every day at 2 p.m. Call 516-484-9338 for current exhibitions, events, days/times and directions or log to nassaumuseum.org/events for details and registration.
"Fool the Eye" exhibit also marks the first in the museum under the helm of its new director Charles A. Riley II.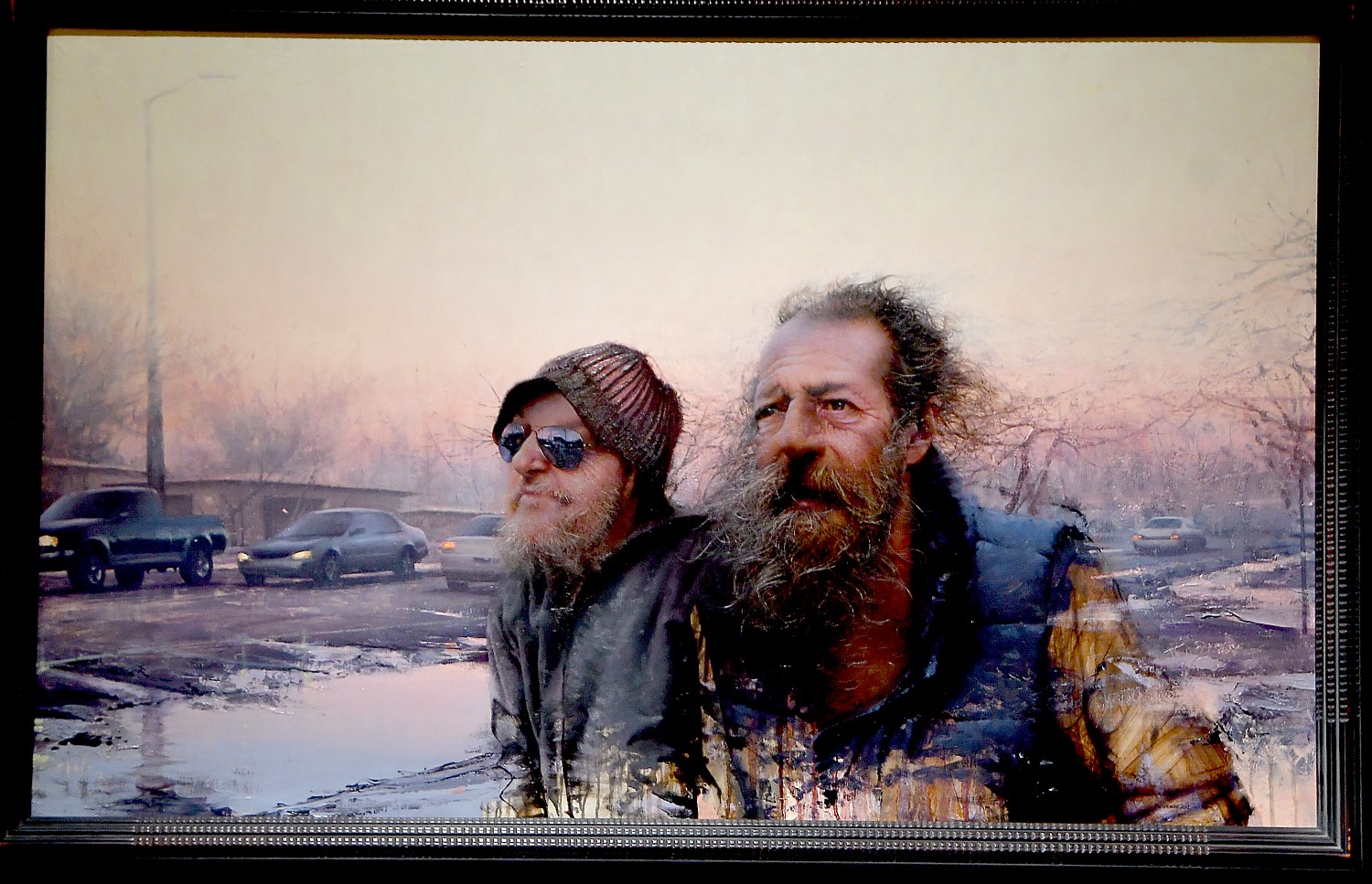 Dr. Riley's long association with Nassau County Museum of Art includes having served as curator-at-large and popular presenter of many lectures offered for many exhibitions. He helped curate the Museum's Picasso, Surrealism and Abstract Expressionist exhibitions and recently curated the permanent installation of Western art at a major new private museum in Taiwan as well as several exhibitions in Berlin, Amsterdam, Lausanne, Manhattan and Long Island's East End.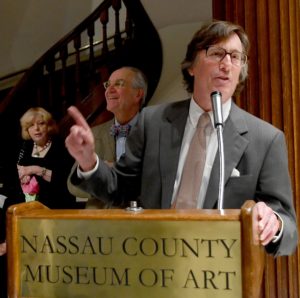 Dr. Riley is a prolific arts journalist, reviewer and essayist and a celebrated public speaker. His 32 books on art, business and public policy include the recently published Free as Gods: How the Jazz Age Reinvented Modernism, The Jazz Age in France, The Art of Peter Max, Art at Lincoln Center, The Arts and the World Economy, Color Codes, and The Saints of Modern Art. Dr. Riley's next book, a study of Rodin in Chinese and English, will be published by the Chimei Museum in fall 2017.
The next exhibit to open is "The Jazz Age: Picasso, Matisse, Chanel, Gerwin, Joyce, Fitzgerald and Hemingway" (March 17-July 8, 2018), based on Riley's book, "Free as Gods." 
An Art Destination
The Nassau County Museum of Art is an entire art destination:
Sculpture Park has some 30 works, many of them monumental in size, by renowned artists including Fernando Botero, Tom Otterness, George Rickey and Mark DiSuvero among others, are situated to interact with nature on the museum's magnificent 145-acre property.
Walking Trails: The museum's 145 acres include many marked nature trails through the woods, perfect for family hikes or independent exploration.
Gardens: From restored formal gardens of historic importance to quiet little nooks for dreaming away an afternoon, the museum's 145 acre property features many lush examples of horticultural arts. Come view our expanded gardens and beautiful new path to the museum.
Nassau County Museum of Art, consisting of the Arnold & Joan Saltzman Fine Art Building and The Manes Family Art & Education Center, is located at One Museum Drive in Roslyn Harbor, just off Northern Boulevard, Route 25A, two traffic lights west of Glen Cove Road. The Museum is open Tuesday-Sunday, 11 a.m.-4:45 p.m. Admission is $12 for adults, $8 for seniors (62 and above) and $4 for students and children (4 to12). Admission to the Saltzman Fine Art Building includes admission to The Manes Family Art & Education Center. Members are admitted free. Docent-led tours of the Saltzman Building exhibitions are offered at 2 p.m. each day; tours of the mansion are offered each Saturday at 1 p.m.; meet in the lobby, no reservations needed. Tours are free with museum admission. Call (516) 484-9338, ext. 12 to inquire about group tours. The Museum Store is open Tuesday through Sunday, 11 a.m. to 4:30 p.m. Call (516) 484-9338 for current exhibitions, events, days/times and directions or log onto nassaumuseum.org. Call (516) 626-5280 to reach The Manes Center directly.
(Artists and art-goers would also do well to visit the new exhibition, "Our Senses: "An Immersive Experience" now on view at the American Museum of Natural History to better understand the physical, cognitive and emotional underpinnings to achieve such illusions; visit amnh.org. See: American Museum of Natural History Creates Immersive Experience for Understanding 'Our Senses')
_______________________
© 2017 Travel Features Syndicate, a division of Workstyles, Inc. All rights reserved. Visit goingplacesfarandnear.com,  www.huffingtonpost.com/author/karen-rubin , and travelwritersmagazine.com/TravelFeaturesSyndicate/. Blogging at goingplacesnearandfar.wordpress.com and moralcompasstravel.info. Send comments or questions to [email protected]. Tweet @TravelFeatures. 'Like' us at facebook.com/NewsPhotoFeatures