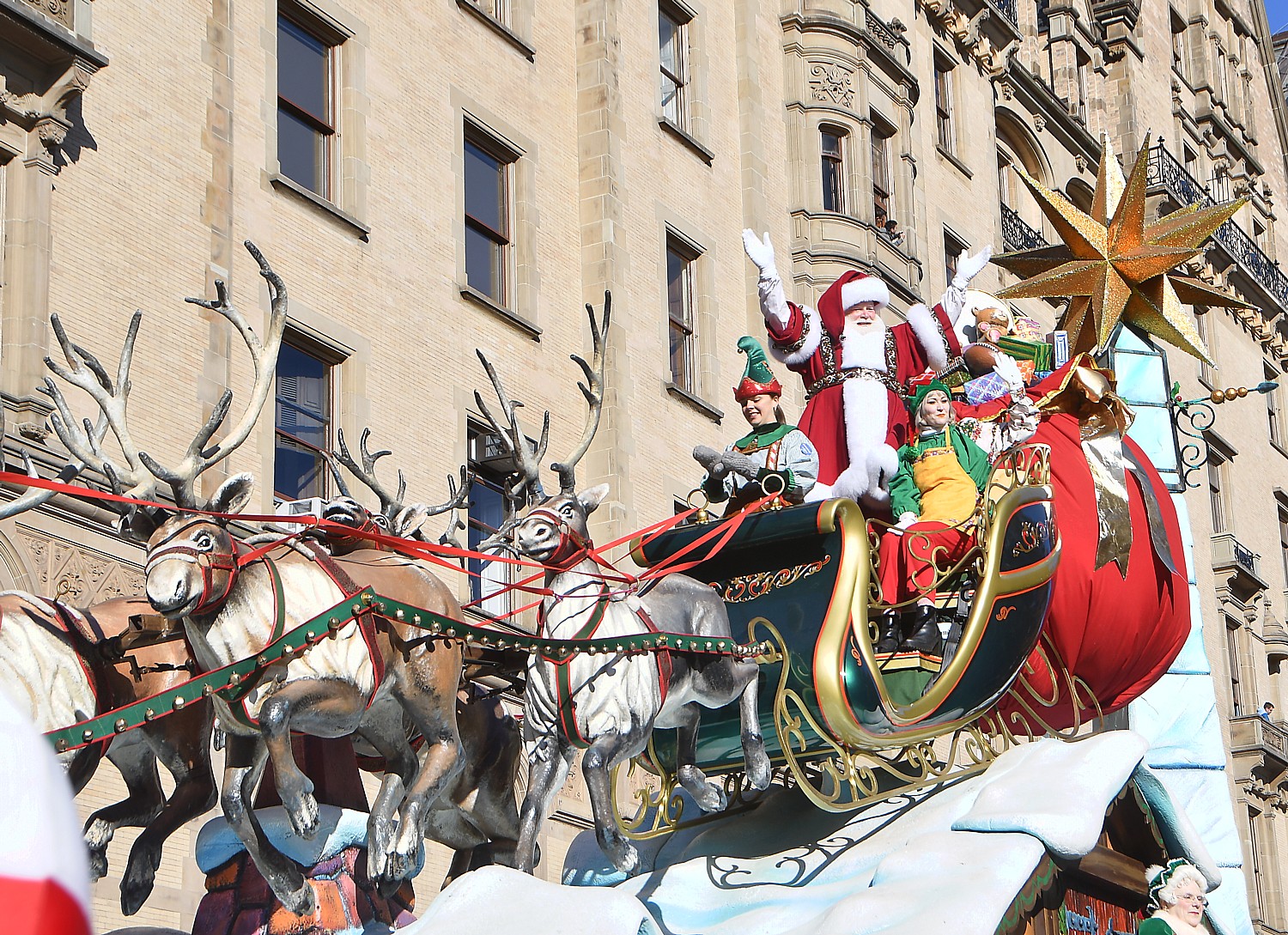 by Karen Rubin
Travel Features Syndicate, goingplacesfarandnear.com
The winter holiday season may well be New York City's most magical time of the year and gets underway with the annual Macy's Thanksgiving Day Parade, continues with the iconic Christmas Tree lighting ceremony at Rockefeller Center, and constantly delights with festivals, special events and attractions, and all the dazzle of holiday decorations right through New Year's Day.
"The holiday season in New York City is a spectacle unlike any other," said NYC & Company President and CEO Fred Dixon "It is a time when the vibrant energy that makes up the very fabric of our city is magnified through the joy of dozens of multicultural celebrations among New Yorkers and global visitors who make the five boroughs a centerpiece of their annual festivities."
Highlights include landmark events and first-time New York–style holiday celebrations of a nearly endless variety for travelers to enjoy this winter. Visitors delight in historic and new shopping destinations, world-famous department store window displays (Barneys, Bergdorf Goodman, Bloomingdale's, Macy's, Nordstrom and Saks Fifth Avenue), unrivaled outdoor ice-skating rinks and more scattered all throughout Manhattan, Brooklyn, the Bronx, Queens and Staten Island. The five-borough-wide season wraps up in a fashion as dazzling as ever with various New Year's Eve celebrations.
As always, three iconic events bookend the introduction and conclusion of the holiday season in New York City:
Macy's Thanksgiving Day Parade featuring larger-than-life helium balloons, performances by the casts of Broadway musicals, select marching bands from across the nation and celebrity appearances—kicks off the holiday season on November 22 at 9 am. A staple of the holiday season since 1924, the 92nd edition, the line-up will feature 16 giant character balloons; 43 novelty balloons, heritage balloons, balloonicles, balloonheads and trycaloons; 26 floats; 1,200 cheerleaders and dancers; more than 1,000 clowns; and 12 marching bands (macys.com/parade).
But the event has a pre-quel, The Great Balloon Inflation, that takes place the night before, when the streets around the Museum of Natural History on Central Park West are literally flooded with tens of thousands of people coming to delight in seeing the massive balloons being inflated by hundreds of volunteers.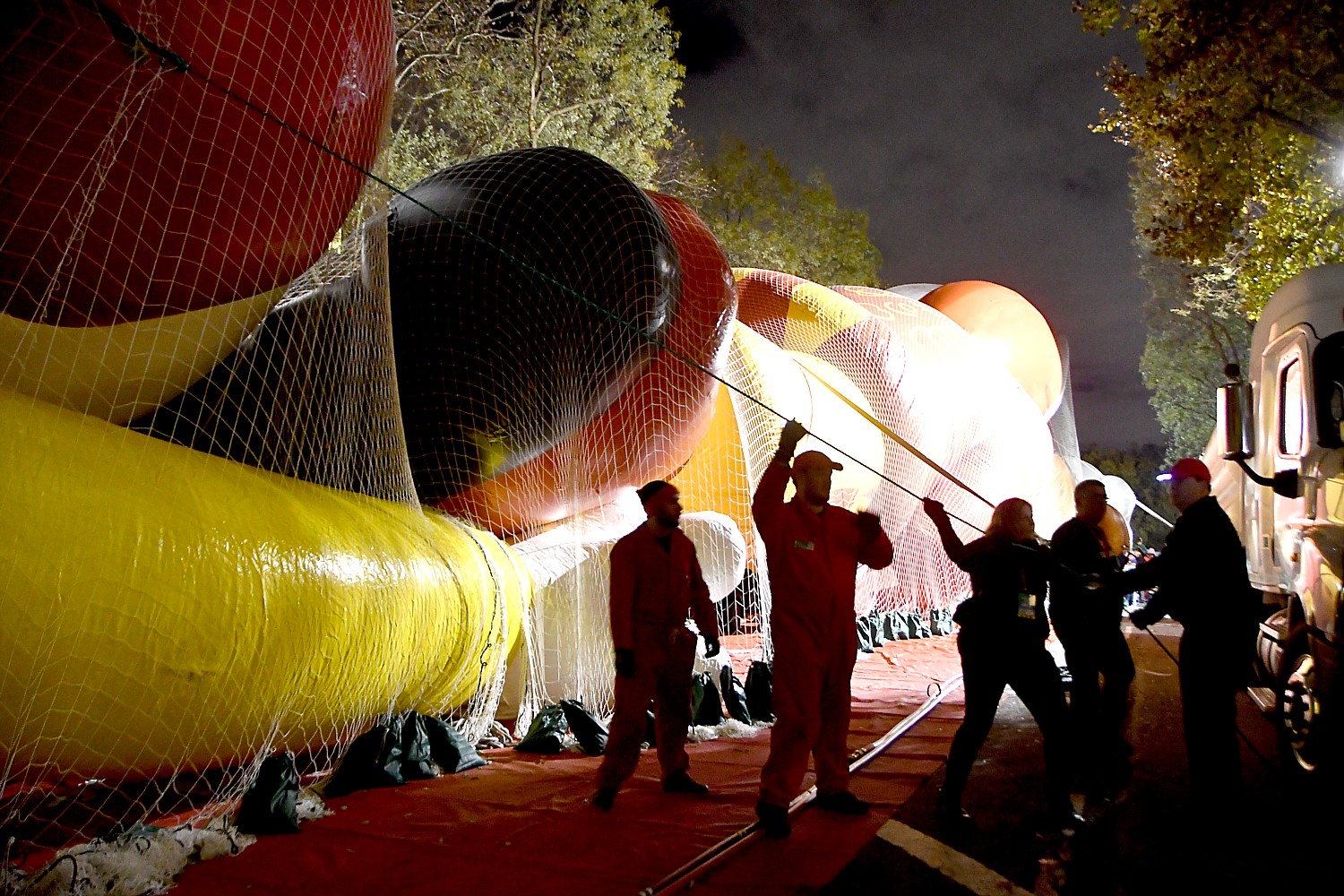 Rockefeller Center Christmas Tree Lighting Ceremony, Manhattan, November 28, 2018: A lineup of live performers rivaled by few events all year will help light up New York City's biggest and brightest home for Santa's Christmas eve delivery again. The more than seven-story tree will spread holiday cheer to the millions of visitors it welcomes until the lights dim on January 7 (rockefellercenter.com).
New Year's Eve Times Square Ball Drop, Manhattan, December 31, 2018–January 1,2019: In 1904, the former New York Times owner convinced the City to rename Longacre Square in honor of the world-famous publication. In addition to the name change and the opening of NYC's first subway line, that year marked the inaugural Times Square New Year's Eve celebration, and the "Crossroads of the World" has been the historic backdrop of the City's New Year's Eve celebration ever since. Approximately 1 million visitors are expected to gather to watch the ball drop in person again this year. This is something that should be on every bucket list to do at least once in a lifetime (timessquarenyc.org).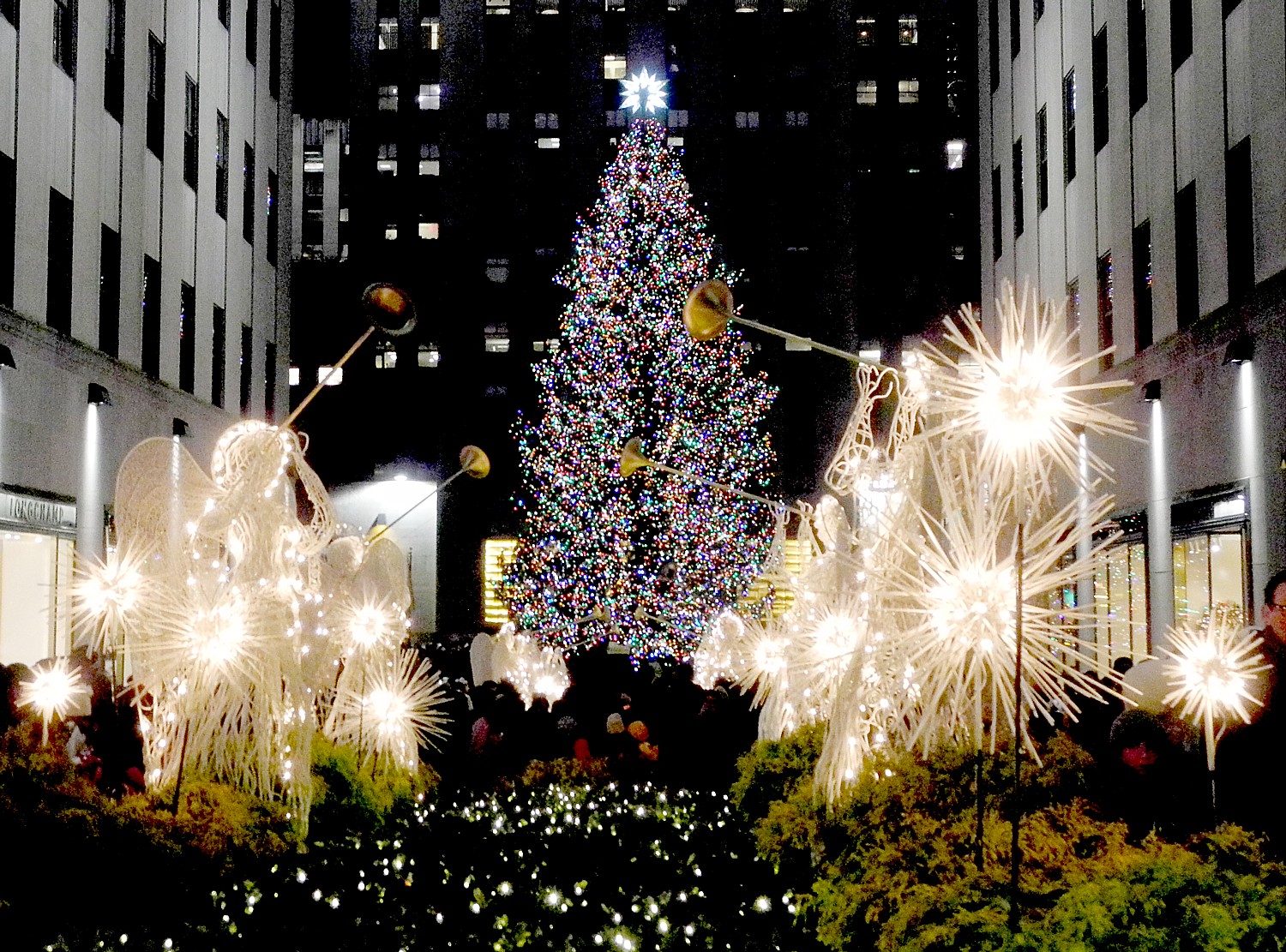 My favorite activity for the holidays is an evening stroll to see the holiday windows and decorations. My route typically goes from Macy's (this year's theme, "Believe in the Wonder of Giving"), up to Fifth Avenue to Saks Fifth Avenue which is directly across from Rockefeller Center (from which you can see the amazing light show that is projected onto Saks building) and across the street from St. Patrick's Cathedral (stop in), up to Bergdorf Goodman. Separately, I will take in Bloomingdale's (a "Grinch" theme this year, connecting with the new movie), and Barney's downtown on Broadway.
Meanwhile, there are more than a dozen celebratory events to delight this holiday season in NYC.
23 Days of Flatiron Cheer, Manhattan, December 1–23, 2018: The Flatiron/23rd Street Partnership welcomes visitors this December to enjoy contests, performances, free neighborhood walking tours, giveaways from local businesses and an interactive installation in the North Public Plaza. Other unparalleled offerings can be found in the historic 103-block neighborhood stretching from 23rd to 28th Street, bordered by Third and Sixth Avenues (flatirondistrict.nyc).
A Slice of Brooklyn Christmas Lights Tour, Brooklyn, December 1–30, 2018: Every holiday season, more than 100,000 visitors descend on Brooklyn's Dyker Heights neighborhood to view the most extravagant Christmas displays in the New York City area. This tour, operated by born and raised Brooklynites, stops by the most over-the-top exhibits of the season while telling patrons the story of how "Dyker Lights" came to be nearly 40 years ago (asliceofbrooklyn.com).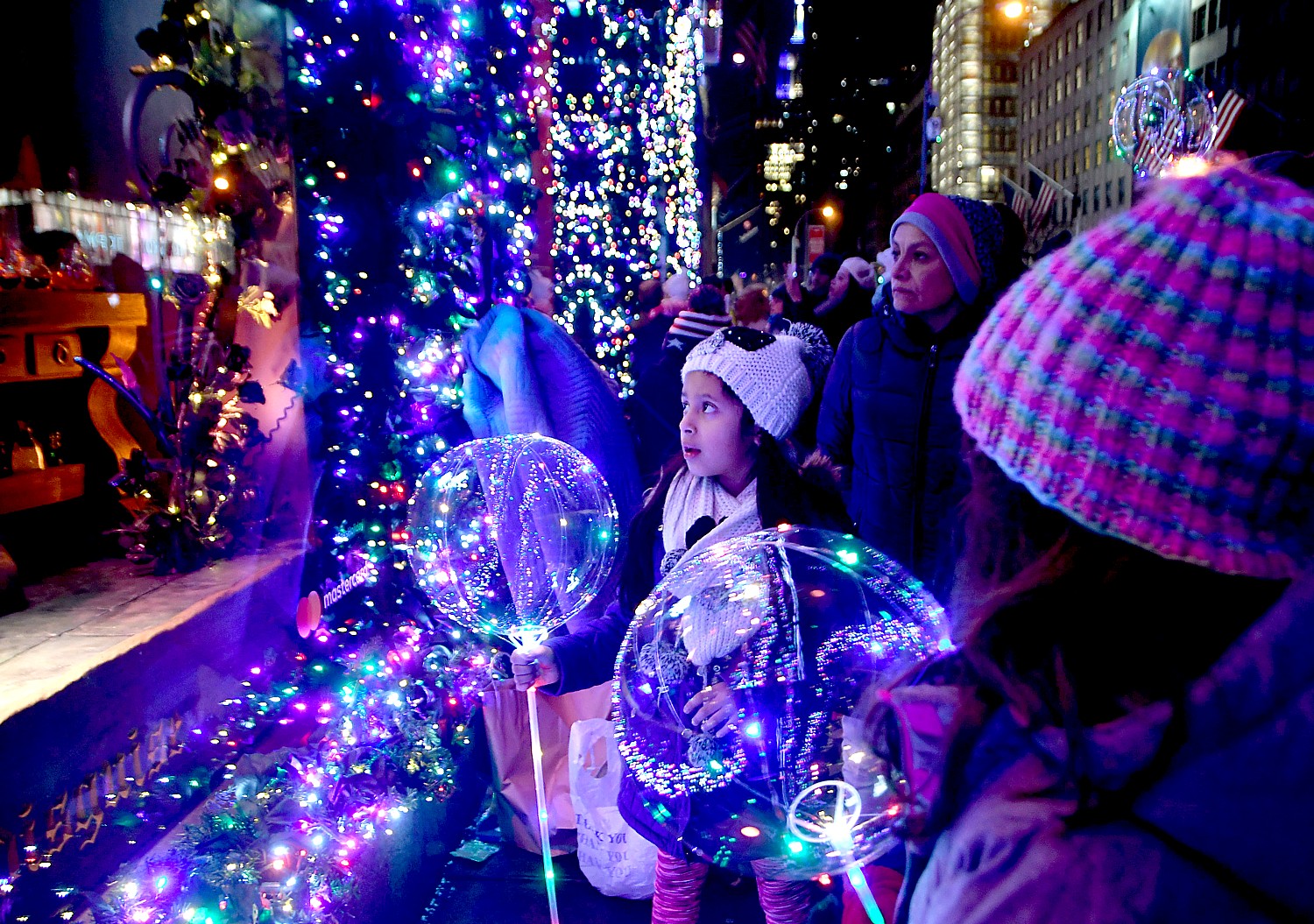 Another popular tour is the holiday edition of The Ride, "a 21st century sleigh ride" aboard patented $1.5 million travelling high-tech theaters with floor-to-ceiling gigantic glass windows featuring side-facing VIP seating making the streets of New York the stage. Original seasonal music, videos and hilarious hosts support the dazzling Holiday performances along the 4.2 mile journey through Midtown Manhattan (http://experiencetheride.com, 212-221-0853).
Alvin Ailey American Dance Theater's Holiday Engagement at New York City Center, Manhattan, November 28–December 30, 2018: City Center's 75th Anniversary Season will feature a wide range of performances including new productions, annual favorites, live music and Alvin Ailey's feature performance Revelations. A special show on December 11 celebrates City Center's opening performance in 1943 (alvinailey.org).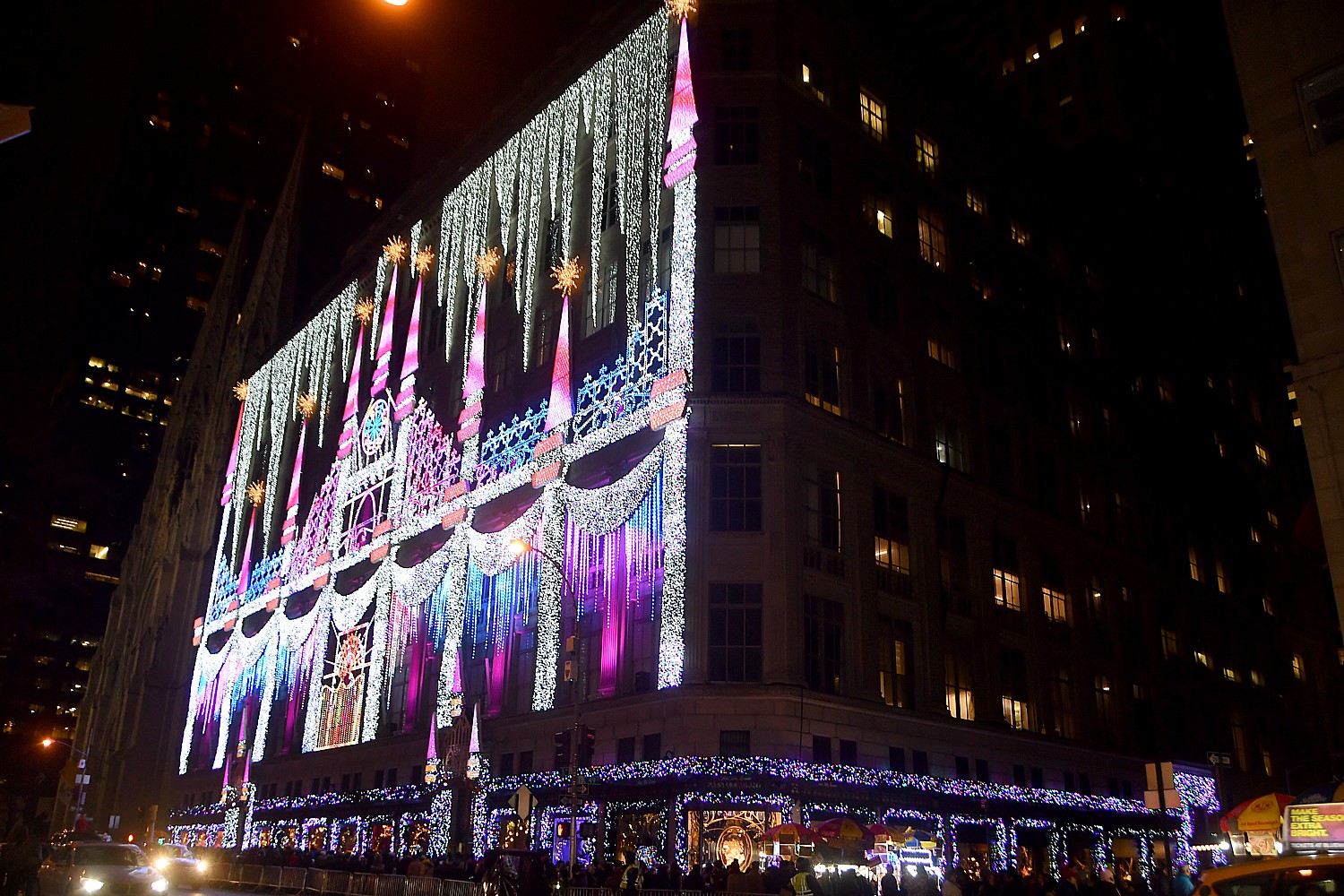 American Museum of Natural History's Holiday Season, Manhattan, November 20, 2018–January 7, 2019: The museum's cultural celebrations begin with the decoration of the Origami Holiday Tree—complete with more than 800 hand-folded paper models created by local artists—and continue through the New Year. On December 29, the AMNH will host its 40th annual Kwanzaa celebration. The festival of African-American heritage celebrates the seven core principles of Kwanzaa while exploring the rich history behind its traditions. Family-friendly activities, musical performances and an international marketplace are also included (amnh.org).
Apollo Theater Presents "Kwanzaa Celebration: Regeneration Night," Manhattan, December 29, 2018: The legendary Harlem theater is celebrating Kwanzaa with visitors for the 12th consecutive year with a night of music and dance that honors the principles of Kwanzaa—family, community and culture (apollotheater.org).
Brooklyn Ballet's Nutcracker, Brooklyn, December 14, 2018: The hip-hop and ballet infused replication of the holiday classic, reimagined in various Brooklyn neighborhoods, is hosted by the iconic Kings Theatre, in Flatbush, for the first time this year (brooklynballet.org).
Dr. Seuss' How the Grinch Stole Christmas! The Musical: Hulu Theater at Madison Square Garden, Manhattan, December 13–30, 2018: Dr. Seuss' holiday classic is sure to cause audiences hearts to grow at least three sizes when they watch the story of the true meaning of Christmas come to life in this limited engagement at the world's most famous arena (msg.com/hulu-theater-at-msg).
Gingerbread Lane at New York Hall of Science, Queens, November 10, 2018–January 21, 2019: Since 2013, the edible village at the New York Hall of Science in Flushing Meadows Corona Park, Queens, has set the Guinness World Record for the largest collection of gingerbread houses and structures with each new installment. The record is sure to be challenged again this year (nysci.org).
Grand Army Plaza, Largest Menorah Lighting, Brooklyn, December 2–10, 2018: With the help of local synagogues, the Grand Army Plaza, located in Park Slope, Brooklyn, has hosted the nightly lighting of the 32-foot menorah since 1984. Visitors are invited to celebrate the holiday with concerts and gifts for children through each day of the Jewish Festival of Lights (largestmenorah.com).
Holiday Workshop Weekend at Wave Hill, The Bronx, December 8–9, 2018: At this holiday craft fair, in addition to creating the usual wreaths and treasure boxes, families are invited to work on the feature project: the hamsa, or hamesh, the multicultural symbol of an open hand. Guests explore the spiritual side of the holidays as they make the palm-shaped amulets (wavehill.org).
New York Botanical Garden's Holiday Train Show, The Bronx, November 17, 2018–January 21, 2019: The annual exhibition of classical model trains moving through a hand crafted display of New York City's built environment is back for the 27th year. More than 175 miniature iconic city structures such as Yankee Stadium, The Brooklyn Bridge and The Statue of Liberty are replicated entirely out of plant parts and will coincide with other holiday celebrations such as a cappella performances, Bar Car Nights and more at the New York Botanical Garden (nybg.org).
The New York City Ballet presents George Balanchine's The Nutcracker, one of the most beloved and anticipated holiday classics, November 23–December 30 at Lincoln Center (nycballet.com).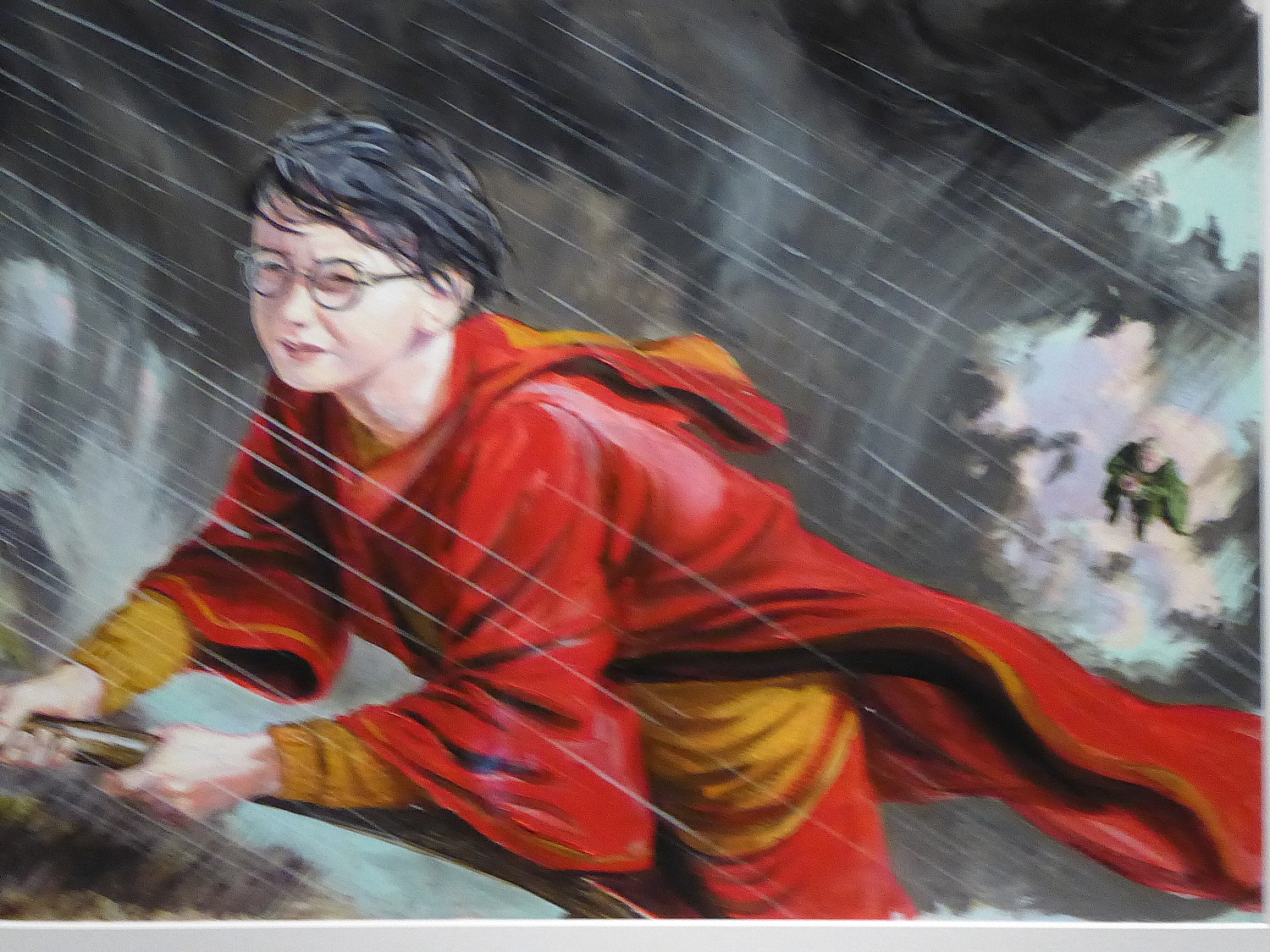 New-York Historical Society Presents "Harry Potter: A History of Magic", Manhattan, through January 27: Quite literally, the most magical place to be during this holiday season is at the NYHS. Harry Potter: A History of Magic captures the traditions of folklore and magic at the heart of J.K. Rowling's Harry Potter stories through centuries-old treasures, including rare books, manuscripts, and magical objects from the collections of the British Library, the New-York Historical Society, and other museums, as well as never before seen material from Harry Potter publisher Scholastic and J.K. Rowling's own archives. The New York exhibition, showcasing a selection of objects not featured in the London presentation that are on view to the public for the very first time, is sponsored by Audible. There are also a slew of special events and family programming in conjunction with this not-to-be-missed exhibit, which vanishes, poof, after January 27, 2019. The tickets are timed; you can order online. Also visit The DiMenna Children's History Museum, created for children  8-13, which presents 350 years of New York and American history through character-based pavilions, interactive exhibits and digital games. (New-York Historical Society, 170 Central Park West (at 77th Street), 212-873-3400, nyhistory.org)
New York Philharmonic Presents "Home Alone in Concert, " Manhattan, December 20–21,2018: The acclaimed New York Philharmonic will perform John Williams' score live to the classic Christmas film Home Alone, for a 2018–19 holiday season special event—booby traps and lovable bandits not included (nyphil.org).
New York Transit Museum Gallery Annex and Store at Grand Central Terminal Holiday Train Show, Manhattan, November 15, 2018–February 3, 2019: A staple of Grand Central Terminal during the holiday season since 2001, the train show features a 34-foot-long track where vintage trains from the museum's collection travel through a miniature New York City and countryside scene all the way to the North Pole (grandcentralterminal.com).
Radio City Christmas Spectacular Starring the Rockettes, Manhattan, November 9, 2018–January 1, 2019: Everyone's favorite high kickers dance their way from Thanksgiving through New Year's Eve and champion the holiday spirit of New York City with their extravagant costumes and breathtaking state-of-the-art production (rockettes.com).
St. Thomas Church which is famous for the Saint Thomas Choir of Men and Boys, and its annual performances of Handel's Messiah (Dec. 4, 6). Also this year, "A Ceremony of Carols" by Benjamin Britten (Dec. 13). (Purchase tickets, www.saintthomaschurch.org/music/concerts); also take a tour of this magnificent edifice, built in 1913 in the French High Gothic style. (5th Avenue and 53rd Street, www.saintthomaschurch.org).
Visiting St. Patrick's Cathedral on Fifth Avenue is also a highlight of the holidays and it is remarkable that you can just walk in and enjoy an inspirational service.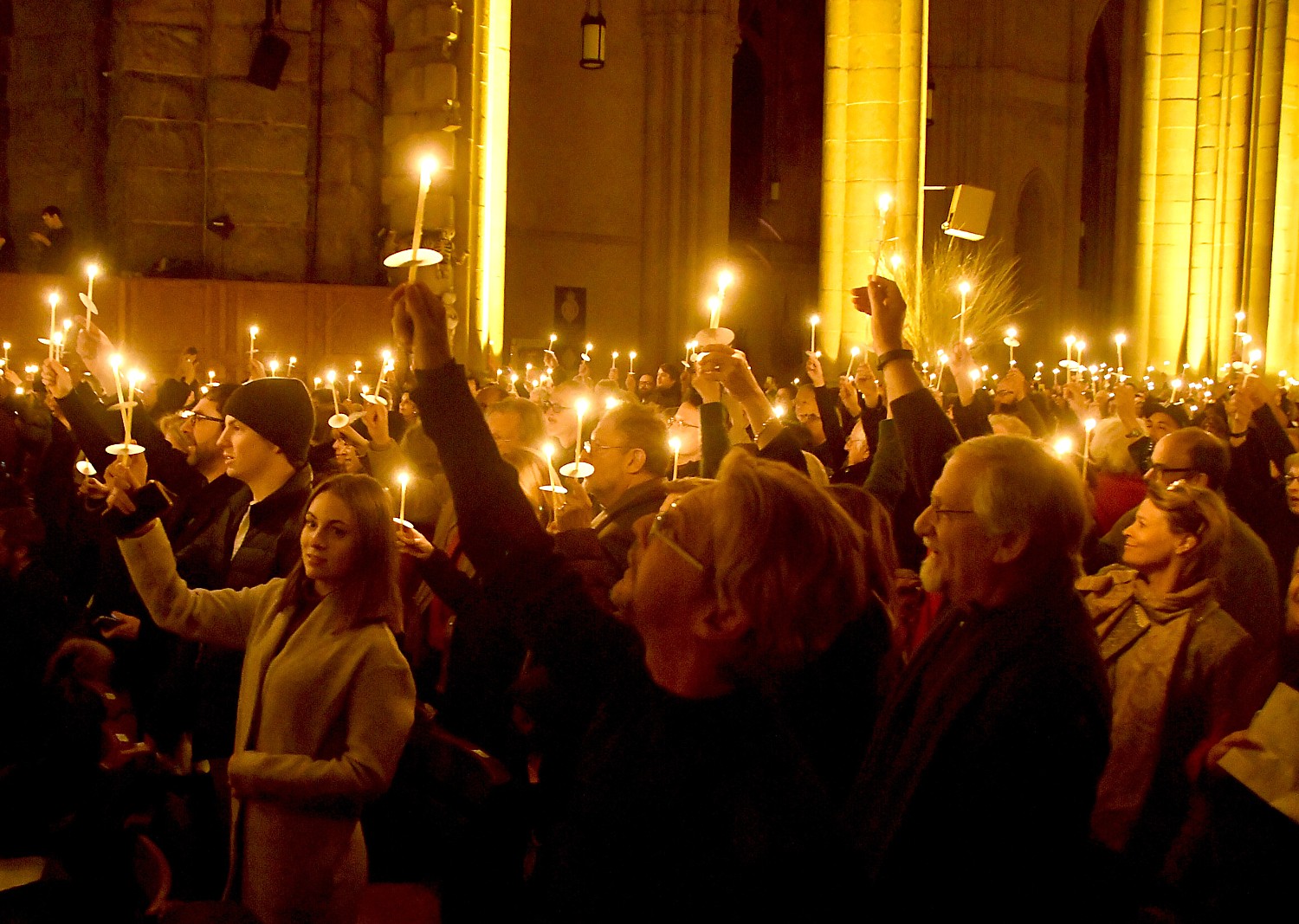 I personally love to close out the holiday season on New Year's Eve at the Cathedral of St. John the Divine which presents the most magnificent annual Concert for Peace, founded by Leonard Bernstein in 1984 with the idea of bringing together New Yorkers and visitors from around the world for an evening filled with uplifting music in a most magnificent setting. Indeed, the cathedral offers a rich calendar of concerts throughout the holiday season, as well as tours of this architectural jewel. Check the website for details.(The Cathedral of St. John the Divine, 1047 Amsterdam Avenue, at 112th Street, New York, NY 10025, 212-316-7540, [email protected], www.stjohndivine.org)
Favorite Places to Catch the Holiday Spirit
Central Park is magical in any season, but particularly for the holidays. In addition to the Wollman Rink (wollmanskatingrink.com), The Swedish Cottage is an enchanting place that is home to one of the last public marionette companies in the country. The cottage was originally constructed as a model pre-fabricated schoolhouse, and became Sweden's entry in the 1876 Centennial Exposition in Philadelphia. After the exhibit, Central Park's co-designer Frederick Law Olmsted had it placed in Central Park, where it has been headquarters for the Marionette Theater since 1939 (West Side at 79th Street). Currently playing is "Yet, Set, Snow!", an original story and production from the Swedish Cottage Marionette Theatre, with performances through the season until Feb. 24, 2019. (Purchase tickets, www.cityparksfoundation.org/arts/swedish-cottage-marionette-theatre)
Other favorite venues to get into the Christmas Spirit: Bryant Park, with its massive Christmas tree, ice skating rink, festive holiday markets, cafes, and carousel (wintervillage.org) has become one of the city's iconic holiday places. Of course, there is skating right below the magnificent Christmas tree at the Rink at Rockefeller Center (therinkatrockcenter.com). There is also skating and The Rink at Brookfield Place opens November 1 (230 Vesey St., 860-209-3459, gpice.com).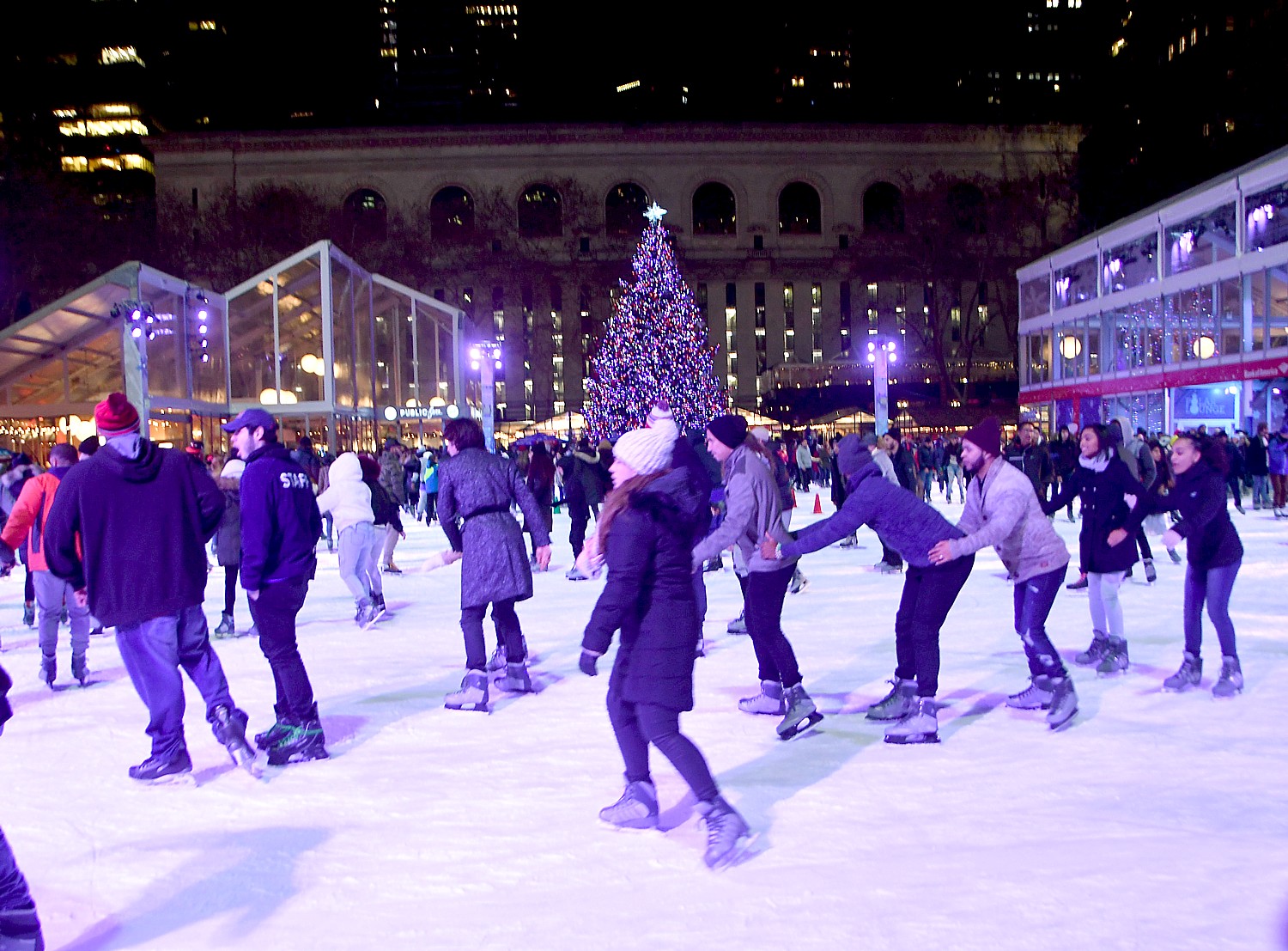 Besides Bryant Park, there are holiday markets at Union Square, Columbus Circle, and Grand Central Terminal.
For a festive place to shop: The Shops at Columbus Circle, a destination within a destination that draws more than 16 million visitors per year to its 50 shops, renowned restaurants, bars and that free priceless view of Central Park (not to mention temperature-controlled and pet-friendly). But there are some spectacular happenings for the holidays:
Broadway Under the Stars is a five-week series of free public performances from today's hottest Broadway musicals performing on the second floor mezzanine at The Shops at Columbus Circle. Participating shows include: Beautiful: The Carole King Musical, Chicago, Dear Evan Hansen, Head Over Heels, Kinky Boots, The Phantom of the Opera, School of Rock, Waitress and Wicked (check out theshopsatcolumbuscircle.com for schedules). Performances begin Monday, Nov. 12 and take place for five consecutive Mondays through Dec. 10. Shows begin at 5 pm and last approximately 20 minutes.  (Free and open to the public, no reservations or tickets are required.)
Holiday Under the Stars is The Shops at Columbus Circle's holiday lights display, featuring 12 massive 14-foot stars which hang from the 100-foot-high ceilings. This is claimed to be the largest specialty crafted exhibit of illuminated color display in the world. There is a 5-minute daily musical light show every half hour from 5 pm to 9 pm, through the end of the year.
Culinary Delights:  Among the restaurants are six Michelin Stars: from Chef Masayoshi Takayama's Masa, the only three-star Michelin Japanese/Sushi restaurant in the U.S., to the gastronomic jewel box that is Thomas Keller's Per Se). The Bluebird London restaurant in London and Momofuku Noodle Bar are newly opened and join the Landmarc and Porter House restaurants.
Also, from the 150-foot-high panoramic windows,  visitors can take in the breathtaking views of Central Park. It's one of the few indoor places in Manhattan where you can enjoy this vantage point.
(Visit www.theshopsatcolumbuscircle.com for ever-changing list of events and happenings.)
For more information regarding the most wonderful time of the year in the five boroughs, find NYC & Company's official guide to the holidays in New York City at NYCgo.com/holiday.
_____________________________
© 2018 Travel Features Syndicate, a division of Workstyles, Inc. All rights reserved. Visit goingplacesfarandnear.com,  www.huffingtonpost.com/author/karen-rubin , and travelwritersmagazine.com/TravelFeaturesSyndicate/. Blogging at goingplacesnearandfar.wordpress.com and moralcompasstravel.info. Send comments or questions to [email protected]. Tweet @TravelFeatures. 'Like' us at facebook.com/NewsPhotoFeatures