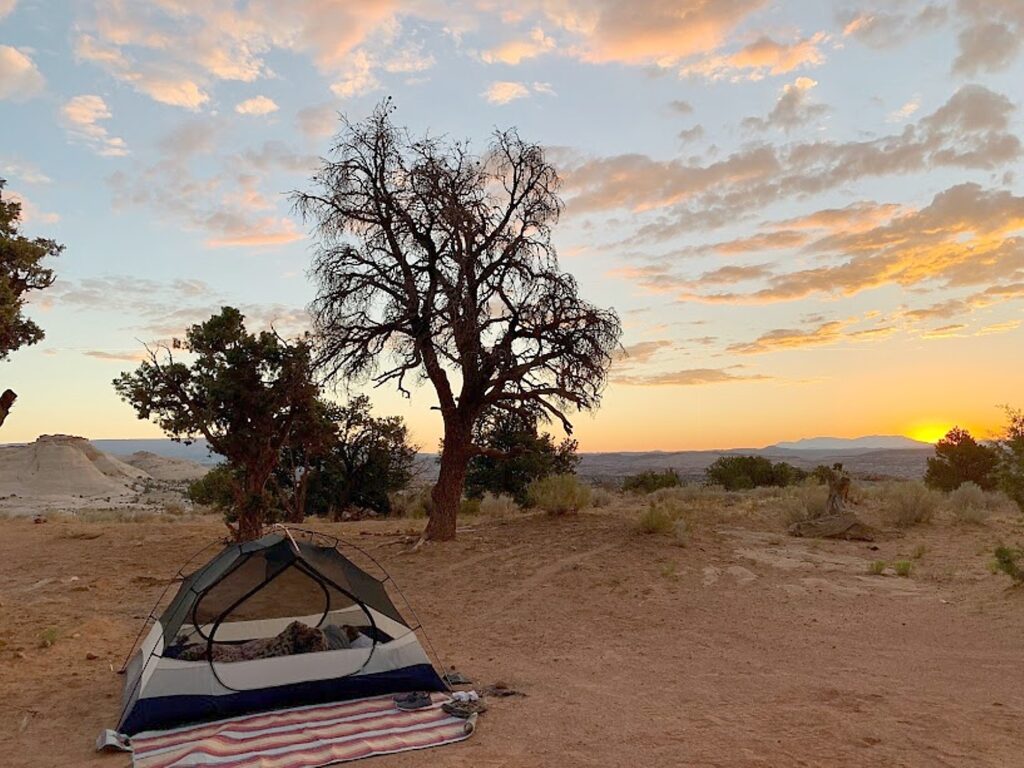 By Laini Miranda & Dave E. Leiberman
Travel Features Syndicate, goingplacesfarandnear.com
We just returned home from two months living out of our Subaru while we traveled around the country. Without much pre-planning, our route took us 8,300 miles from upstate New York through Wisconsin, South Dakota, Wyoming, Idaho, Washington, The San Juan Islands, Oregon, Utah, Colorado, Missouri, Ohio, Pennsylvania, and back home to New York.
We outfitted our Subaru Forester with a platform bed and two drawers underneath to maximize storage, which we designed and built ourselves, and brought along enough creature comforts so that we didn't miss a thing while we were on the road or wild camping (other than friends and family, of course!).
Here's a round-up of some of the things we learned we can't live without, in no particular order: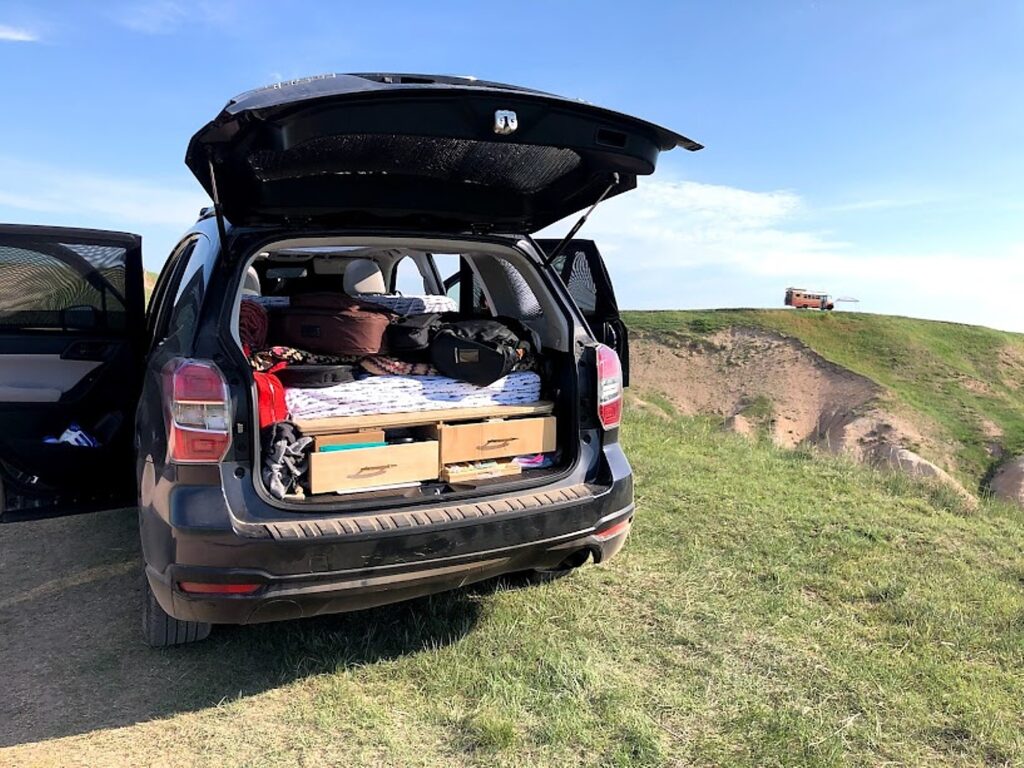 500W Jackery Power Bank – $499
We keep the Jackery Power Bank on the floor behind our front seats, plugged into the 12V cigarette lighter in the rear of the car. The Jackery powers our car fridge, cell phones, laptop and fans. The 2.4A in the USB outlet charges our phones so much faster than the car USB does, we've actually been keeping it in the car even when not on a road trip. While driving any substantial distance, the Jackery stays at a healthy 99% and rarely drops below 50% even overnight when not drawing power from the car. We use the 60W solar panels to top off the Jackery on days we aren't driving.
Alpicool C9 Mini Refrigerator – $159.99
Our car fridge sits next to the Jackery on the floor behind the driver's seat and stays plugged into the 12V plug on the Jackery at all times. We keep the fridge on "Eco" mode, which fluctuates between about 38 and 44 degrees. We opted for the C9 because that was as much space as we could dedicate in our Subaru and it worked well for us, but I definitely see the benefits of the larger C20 model with the raised lid if you have the extra room. Most days our Alpicool stored: 1L milk, 1 block of cheese, turkey, 4 or 5 string cheeses, jam, hot sauce, and 3 beers, with a little room to stuff random things on top if needed. This refrigerator is miraculously quiet. We almost never notice it while driving, and even when sleeping in the car, the compressor isn't loud enough to be heard over our earplugs, even with it located just below our heads. The great thing about keeping the Alpicool behind the driver's seat is that the passenger can easily access its contents with the lid on top. We love never having to deal with melted ice as we used to with our cooler, and find that this size fits enough for a week in the desert.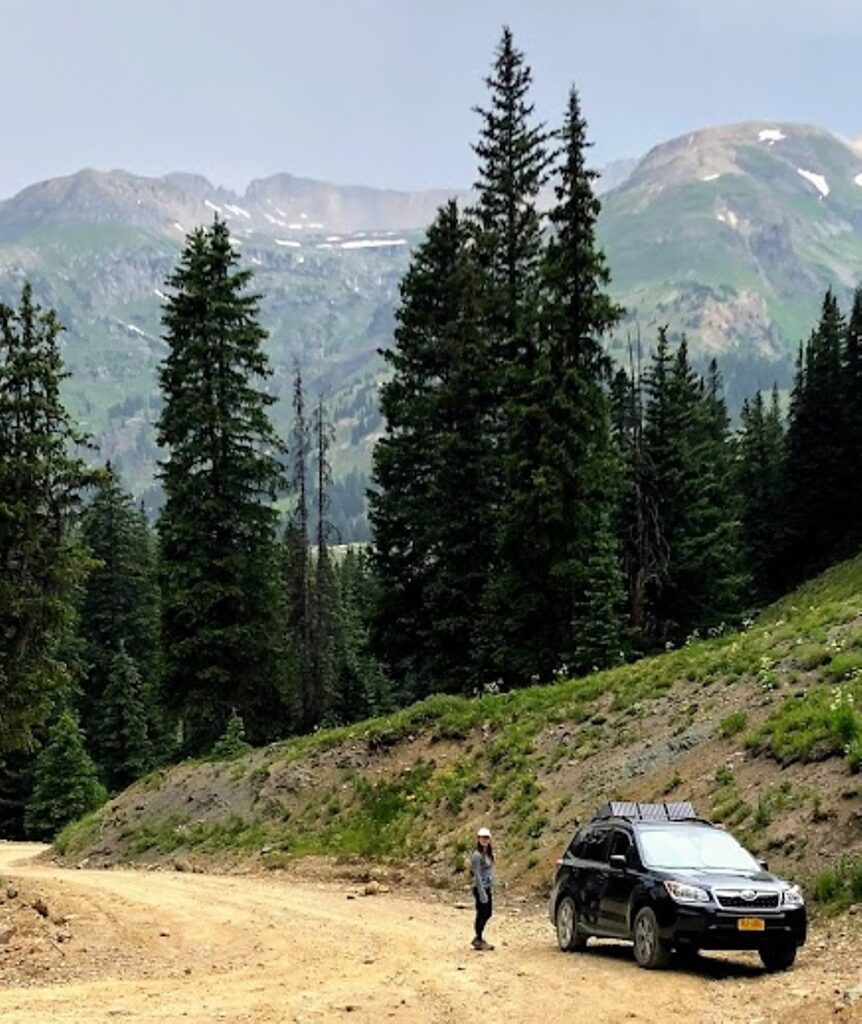 60W Rockpals Portable Solar Panel – $159.99
This is a cleverly designed, high quality solar "briefcase" that we use to top up our Jackery when not driving. The 20-25 watts we get with full sun keeps our Jackery from depleting even when powering our Alipicool fridge throughout the day and night. It's easy to position it for optimal sun exposure on top of or beside the car, especially with the two kickstands attached to the back. It then folds up into a slim briefcase we can quickly slide into any free gaps in our car.
Best Choice Tri-Fold Mattress – $89 at time of purchase
This 4-inch foam mattress is what kept us on the road for 7 weeks and has us wanting to go right back out. The tri-fold feature of this mattress allows us to keep it semi-folded when not in use, and easily move it between the car and our tent to make every night as comfortable as sleeping in our bed at home. The twin is 75 x 39" and perfect for two small adults. We purchased this for $89.99, but it does seem to fluctuate on Amazon so we recommend grabbing it whenever you see a good deal, even if you're not car camping anytime soon! We plan to use this in place of an air mattress whenever we need an extra guest bed.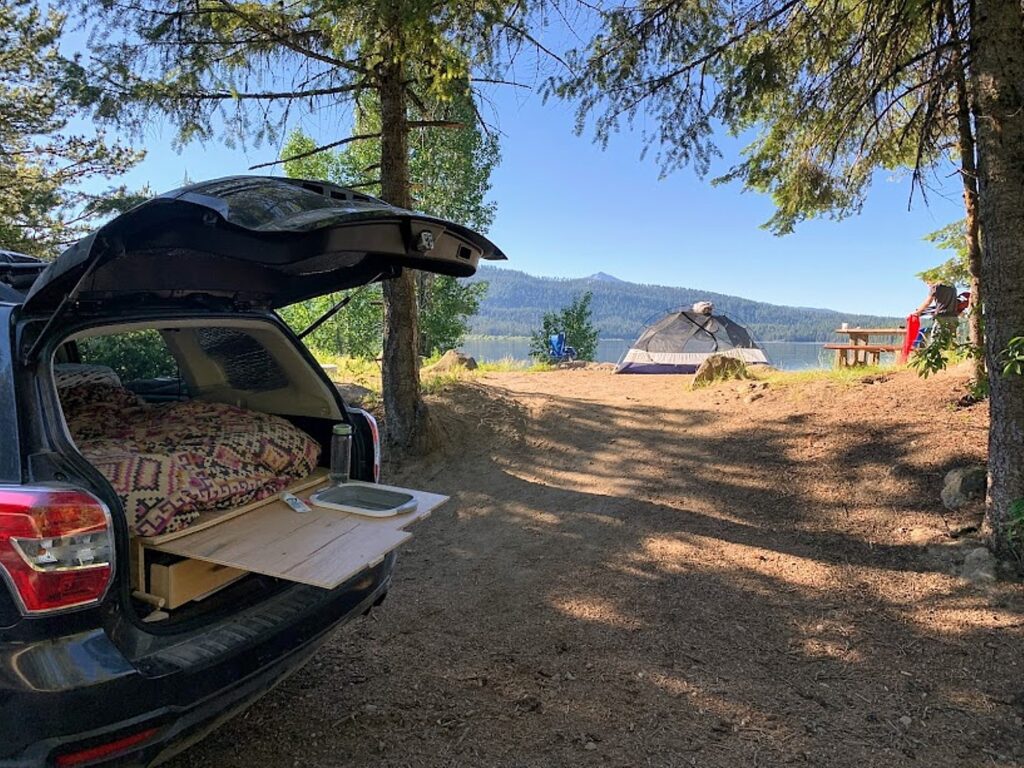 Collapsible Sink and Cutting Board – $16.99
This is an integral part of our kitchen and bathroom setup. We cut a hole in our pull-out wood counter exactly the size of this sink, pop it in, and immediately have a basin for washing dishes, brushing teeth, doing laundry, and everything in between. It has a push drain to release water when ready, and collapses down to a perfect sized cutting board. At just over an inch collapsed, it's easy to store anywhere. It does drip a bit with the drain plugged, but since we only use it outside that doesn't really bother us. We now can't imagine ever camping without this.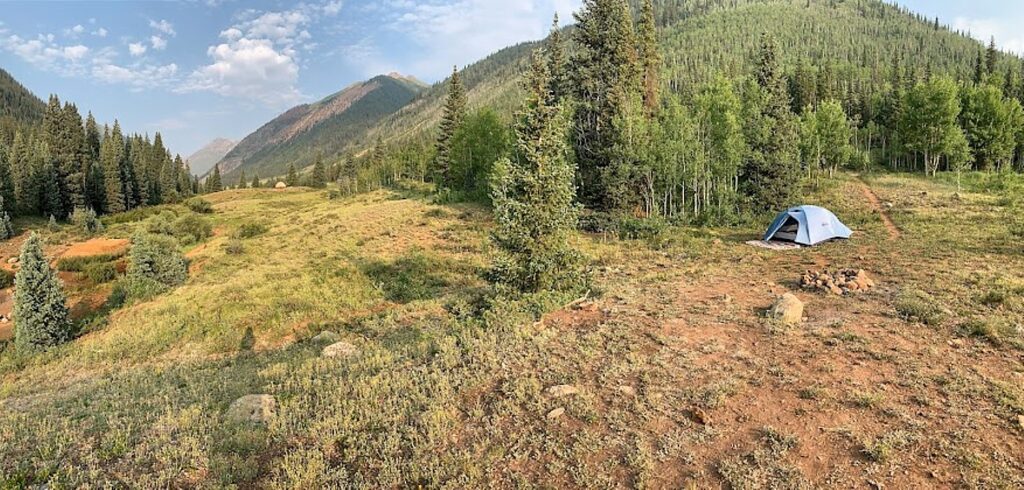 Wireless Auto Water Pump – $12.99
Did you think you can't have running water in your car?? We bought a longer silicon tube for this pump, inserted it into our 7 gallon water container and have water on demand. We use this baby constantly–filling up our water bottles while driving or before hikes, making food, washing dishes, brushing teeth, etc., and we only had to charge it ONCE in our 7 weeks on the road. While these water pumps are generally made to be used on top of a water cooler jug, we fashioned a bottom for it with inspiration from a YouTube video by Todd Parker: cut a notch in a roll of electrical tape, stuff that inside the base, add adhesive neodymium rare earth magnets to the bottom, affix a metal plate to the surface you want to hold the pump, and you have a beautiful faucet with running water! We most often use this pump either from the front seat to fill up water bottles during long drives, or affixed to the metal plate next to our pop-in sink in the back of the car for cooking or washing up. We bought this 25-ft braided sleeve so we can move the long hose back and forth without the silicon tube collecting dust and grime, also a brilliant Todd Parker recommendation. (Note: we do not personally know Todd Parker.)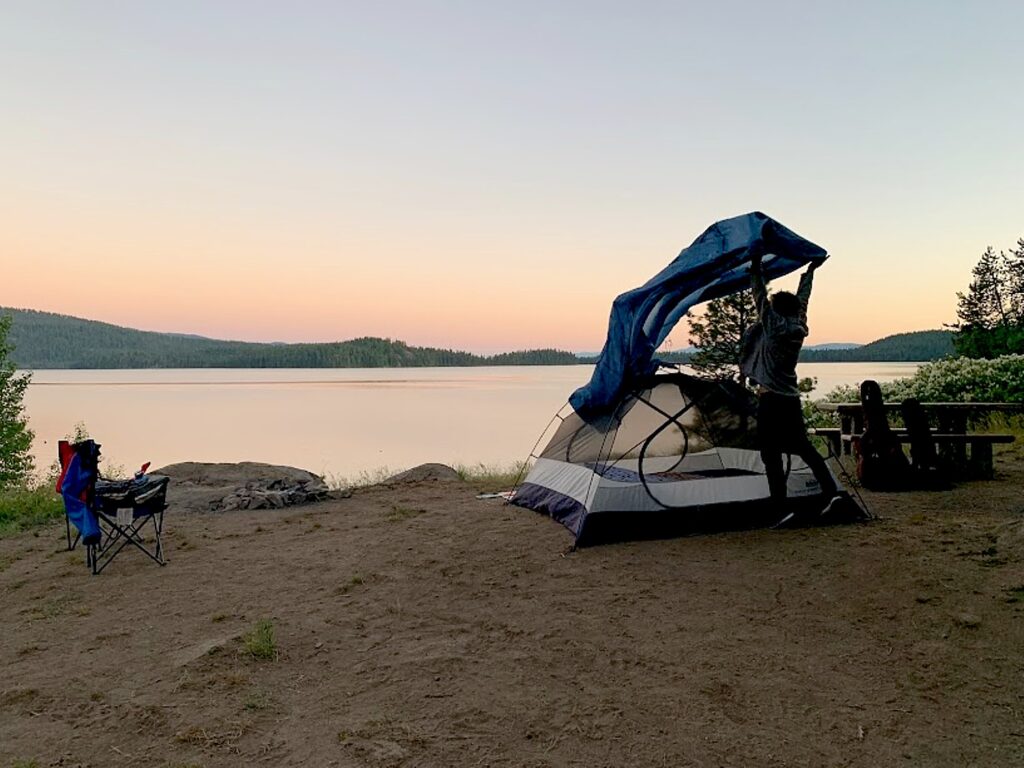 Car Rear Window Shade – 2 pack – $12.99
This is a simple product that lets us turn our car windows into screens. On the nights we opt to sleep in the car instead of setting up our tent, we put one of these window sleeves on each door, open the window, and voila, great airflow without the mosquitoes. We also leave one of these on the rear window above the refrigerator during the PNW heat wave to reduce the heat in the car, but we don't recommend them on any other windows while driving since they also reduce visibility (an added plus for when you have to sleep in the Cracker Barrel parking lot).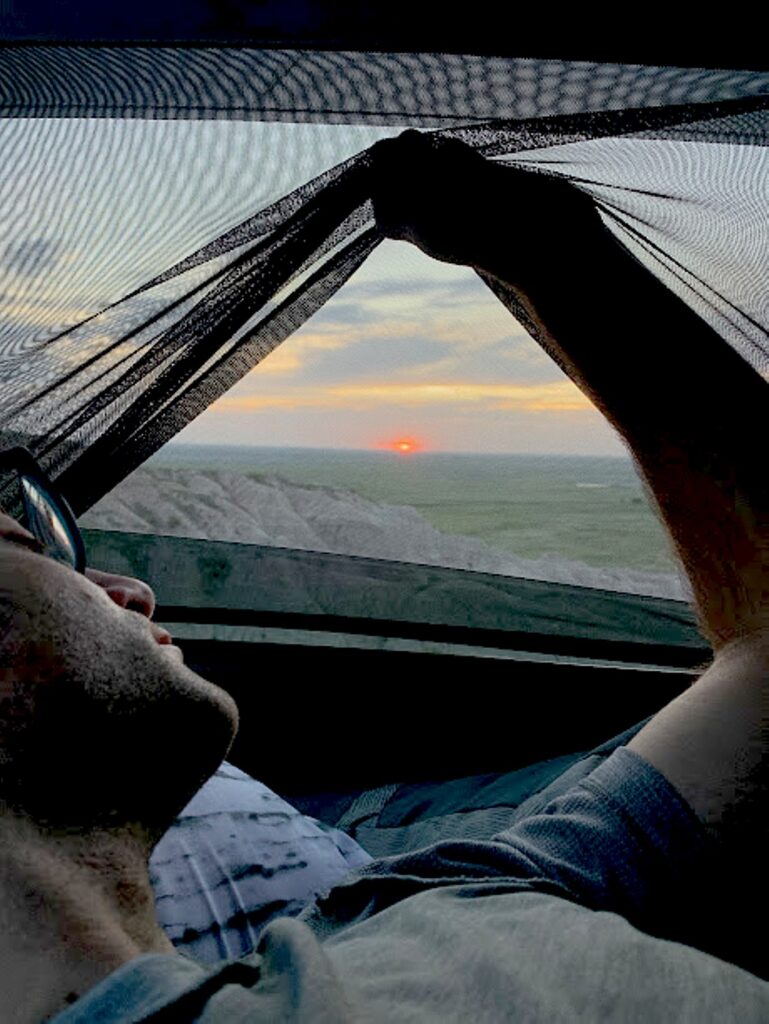 EzyShade Windshield Sun Shade – $12.97
Sun Shades are a must when leaving the car in the desert sun. We tried two different kinds and like these the best. It takes about 10 seconds to stuff these two rounded rectangular pieces into our windshield and just as long to collapse them back into a small circle that fits in the car door pocket. We use ours so frequently we just keep it in the slot between the seat and the door.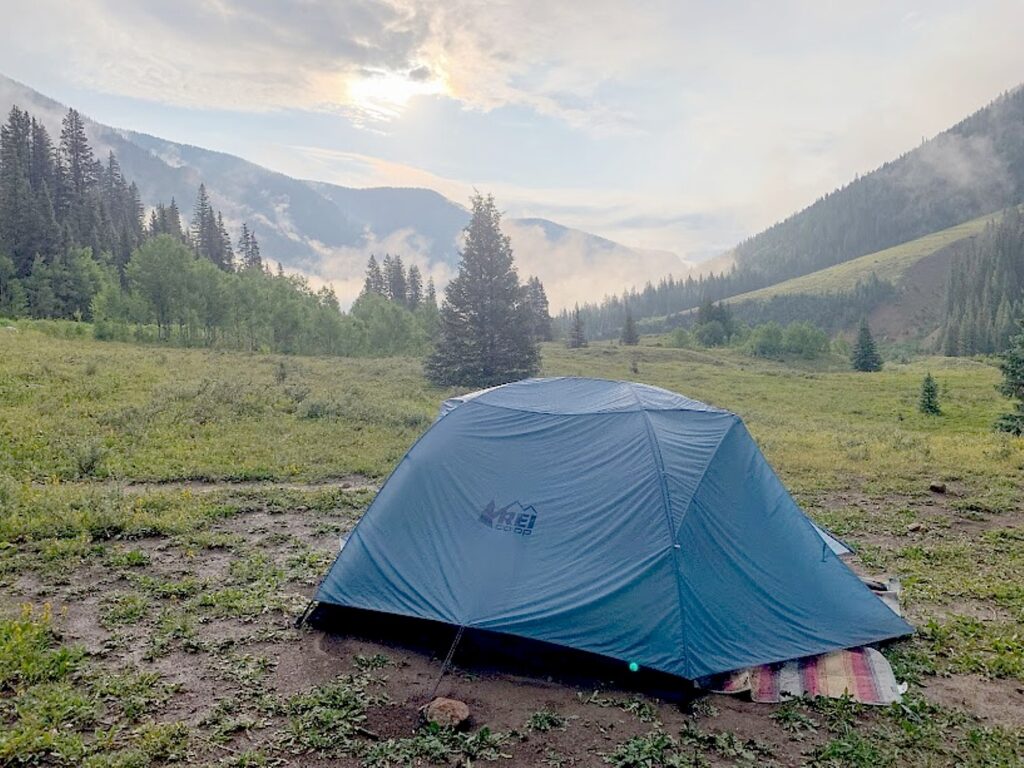 REI Half Dome 3 Plus Tent – $329
This tent is brilliant. Its color-coded poles and ingenious architecture enables us to pitch it in under 2 minutes. Usually one of us pitches the tent while the other starts the fire or preps food. The upper portion of the tent is full mesh, which allows for optimal air flow and viewing of the Milky Way. In the desert we tend to not need the fly, but for the few days of torrential downpours and strong winds we encounter in the Colorado mountains, when we are thrilled at the durability and protectiveness of the fly and footprint. We used to use the 2 Plus model, but the 3 Plus is extra luxurious and easily fits our 4" tri-fold foam mattress plus plenty of room to hang out on rainy nights (Note: the 2 Plus would also fit the twin 4" tri-fold). We also love the location and quantity of pockets and hanging loops for all our tent gear.
Nemo Victory Blanket – $29.99 (40% off at Mountain Steals at time of writing)
We use this blanket daily, whether it's the rug by our tent (the 2P is the exact length of our REI Half-dome 3), or a blanket on a pebbly beach. The fabric side is extremely soft and delightful to lay on, while the under-side is waterproof and more durable. Though it is thick enough to keep us comfortable even on a lava rock ground in Craters of the Moon, it is light enough that I barely notice carrying it on a 2 mile hike to Third Beach in Olympic National Park. It even dried remarkably fast after 2 straight days of torrential downpours in Colorado. One of us remarks almost every day about how much we love this blanket.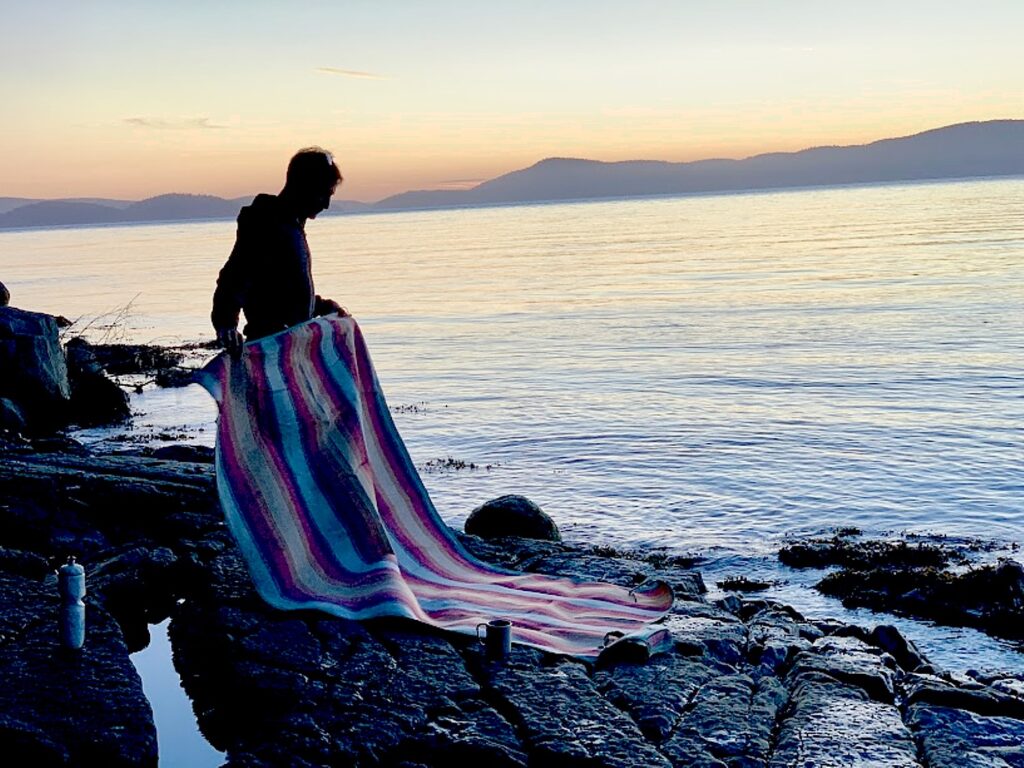 MPowerd Solar Lights – $24.95 – $49.95
This brand has nailed the compact solar light game. We highly recommend their Luci Solar String Lights and the Luci Lux Inflatable Lantern. Both give off warm light and offer 3 different brightness settings, as well as a battery level indicator. The string lights are long enough to provide light to our tent between a couple trees, and the Luci Lux (which flattens to less than an inch) is the only lantern we now use while camping. The attached strap lets us easily hang it from the opened hatch of our Subaru or the tent ceiling. The lowest setting, warm light, and frosted/matte finish also makes for a perfect pillow-side lamp.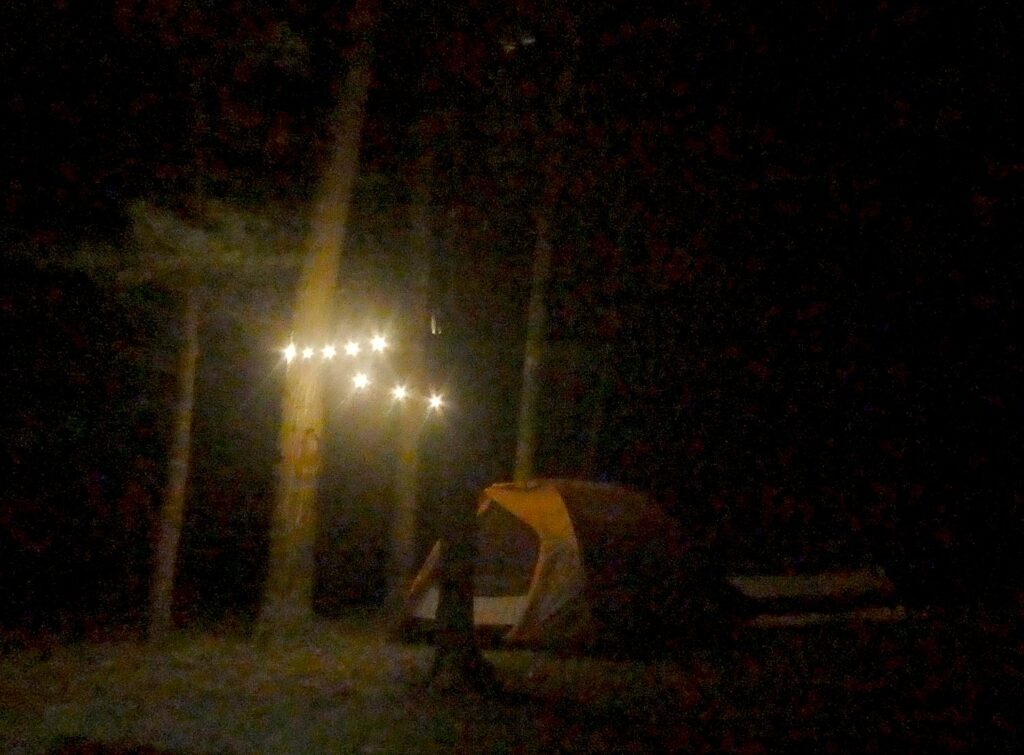 Next: More of our favorite hiking & camping gear
_____________________
© 2021 Travel Features Syndicate, a division of Workstyles, Inc. All rights reserved. Visit goingplacesfarandnear.com, www.huffingtonpost.com/author/karen-rubin, and travelwritersmagazine.com/TravelFeaturesSyndicate/. Blogging at goingplacesnearandfar.wordpress.com and moralcompasstravel.info. Send comments or questions to [email protected]. Tweet @TravelFeatures. 'Like' us at facebook.com/NewsPhotoFeatures