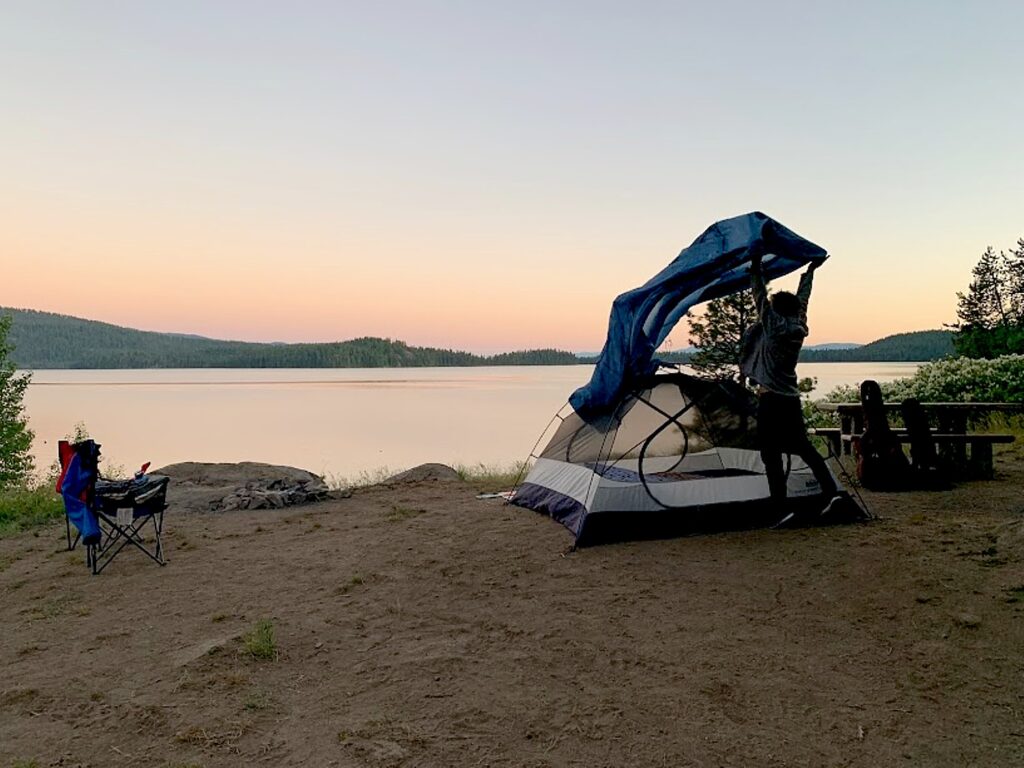 *Black Friday & Cyber Monday Deals*
By Laini Miranda & Dave E. Leiberman, Travel Features Syndicate, goingplacesfarandnear.com
We just returned home from two months living out of our converted Subaru while we traveled 8,300 miles around the country. We outfitted our Subaru Forester with a platform bed and two drawers underneath to maximize storage, which we designed and built ourselves, and brought along enough creature comforts so that we didn't miss a thing while we were on the road or wild camping.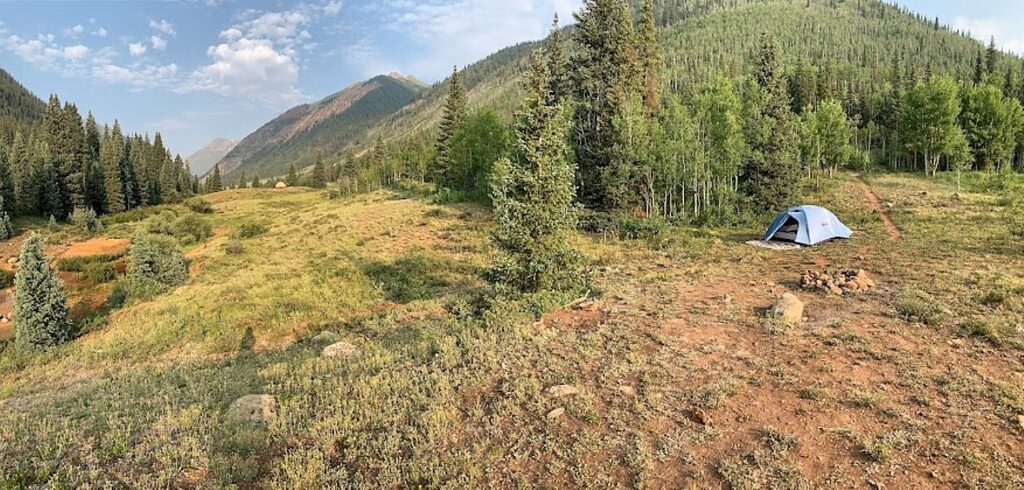 Here's more of our round-up of our favorite hiking and camping gear (See also: Car Camping in Comfort: How We Turned our Subaru into Our Home On the Road):
WEARABLES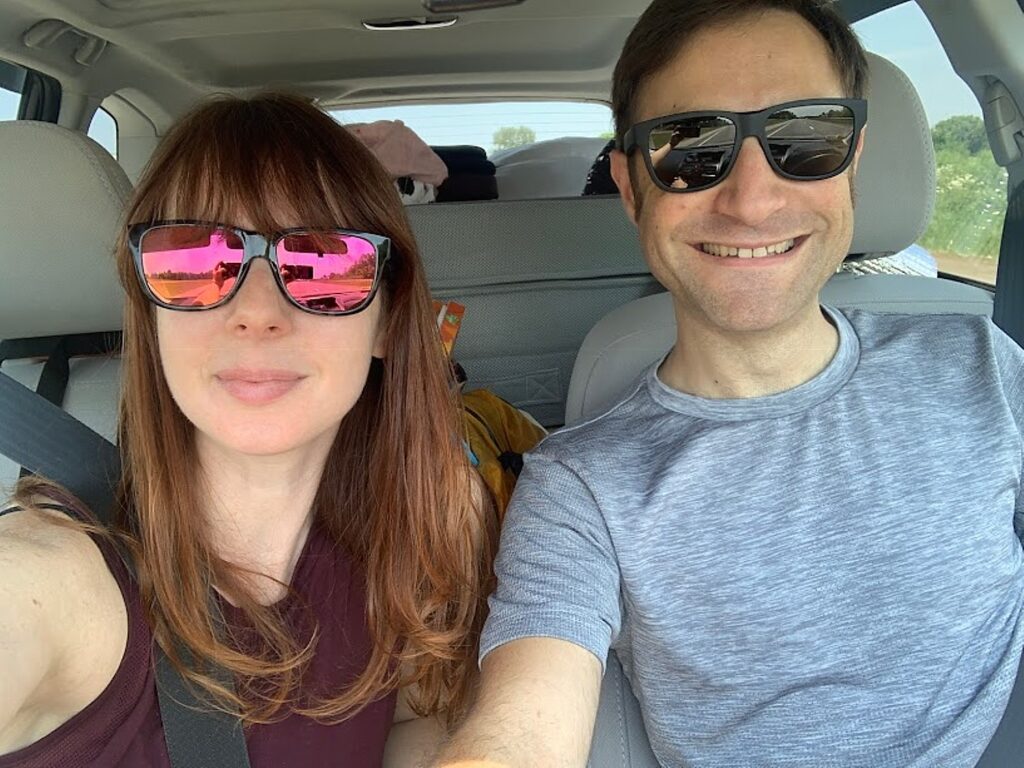 Smith Chromapop Sunglasses – $179.99
These sunglasses are probably the most important gear we own and the most noticeable improvement to this trip versus our previous desert adventures. Dave has enjoyed Warby Parkers in the past and both of us are usually very happy with our standard >$20 sunglasses. These Smith glasses, however, are game changers. I have the rose gold lenses, Dave the green/grey, and we both love how they don't change the color of the world outside but just enhance it. The polarization is different from any other "polarized" glasses we've tried.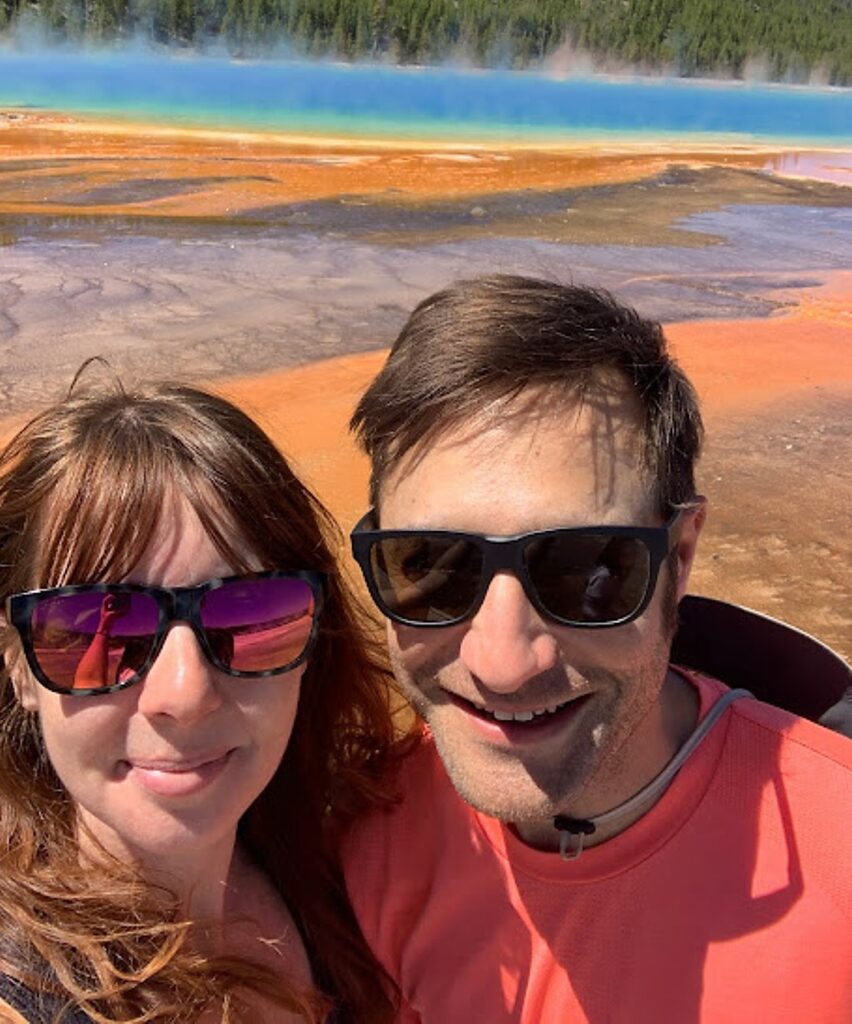 Outside almost all day everyday on this trip, we notice that the way the Smith Chromapop Sunglasses filter intense sun while balancing shadows and contrast throughout the day is nothing short of magic. They are also light enough that you don't notice you're wearing them all day. Dave even wore them inside a few times without realizing they were still on.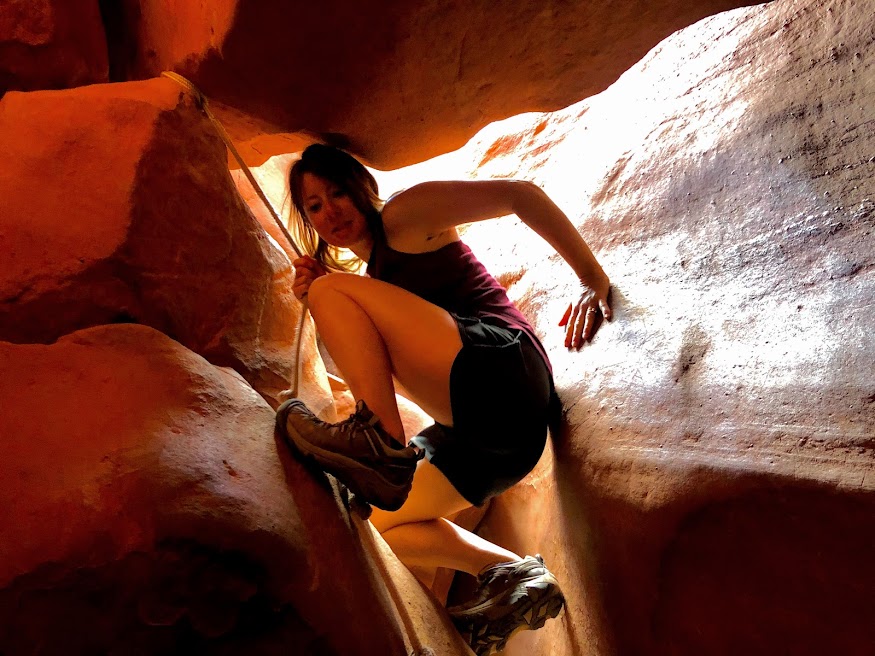 Keen Targhee – $130-150
Merrell Moab Ventilator – $100
Good hiking shoes are everything. Laini initially bought these Keen Targhees for a 6-day Salkantay trek to Machu Picchu and has sworn by them for the past 11 years. The soles have just finally started to come loose a bit, but it wasn't anything that some Shoe Goo (another recommendation) couldn't fix. Dave has also owned his Merrels for many years and had a similar issue with his sole towards the end of our road trip. Both shoes provide so much comfort and support that we barely even notice our feet on 7+ mile hikes. We especially love these shoes for their Vibram soles that seem to let us scale pretty vertical slickrock boulders with zero slippage. They are also both waterproof, making them perfect for creek hikes (for deeper or more frequent waters we'd recommend an actual water shoe like Keen's Newport style).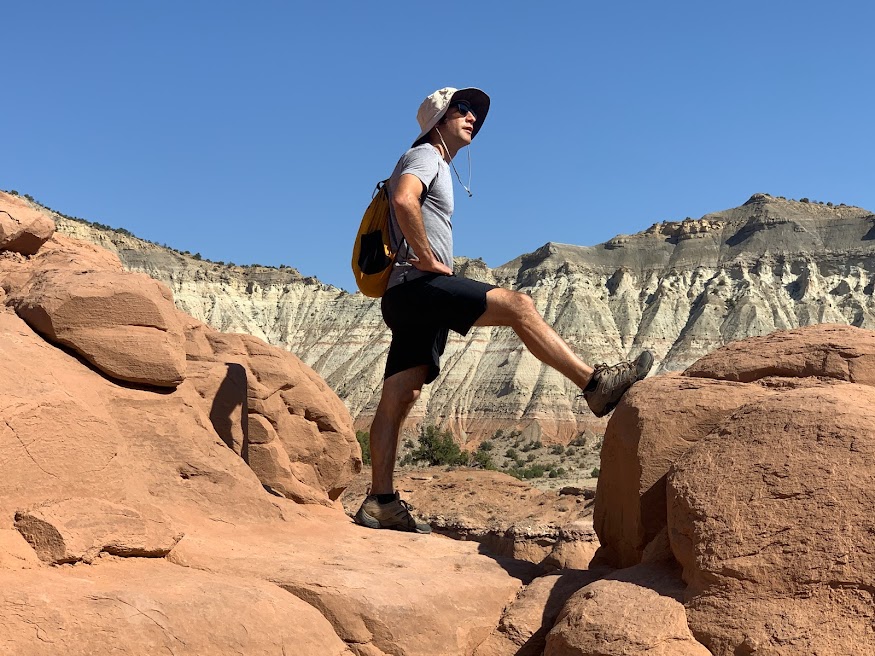 Darn Tough No show Lightweight Hiking Sock – $17
We bring multiple pairs of socks with us, but find ourselves washing these out overnight to reuse them since they're the most comfortable, lightest weight socks we've tried. The merino wool lets you wear them for two or three days straight before you even need to wash them (we try to stick to no more than two). These work great for our low hiking shoes, but they also make them in mid-calf for boot styles.
HYDRATION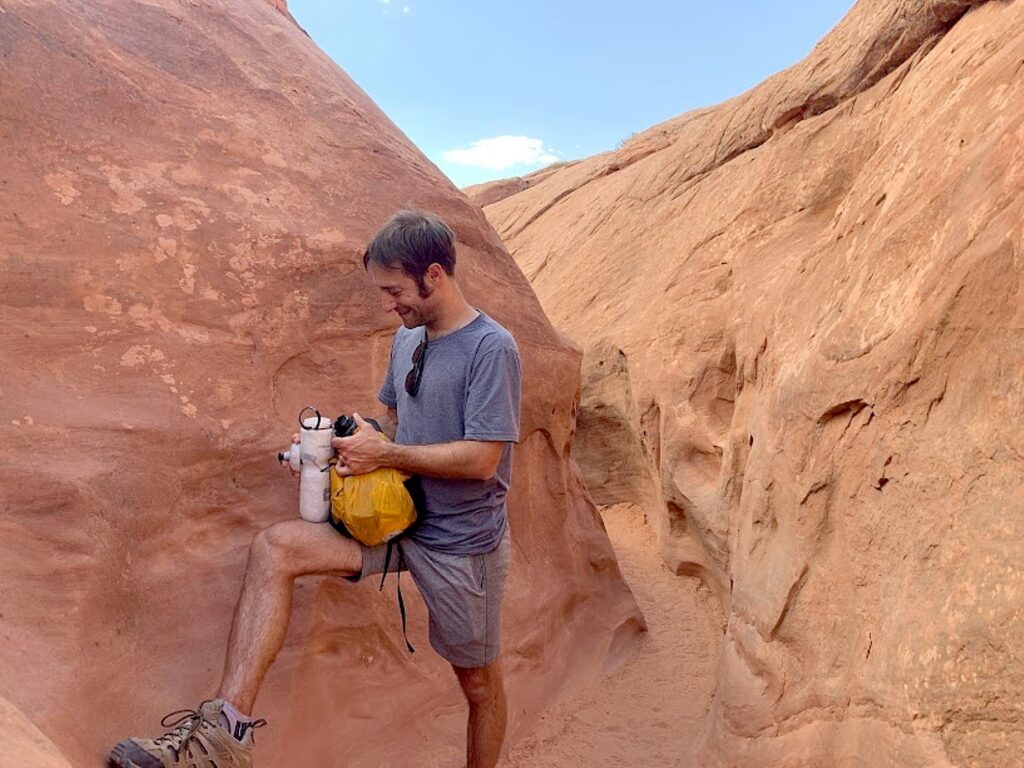 Hydrapak 4L Seeker – $28
This collapsible water bottle/bag is indispensable for us on our long hiking days. We fill up with our water pump, throw it in a backpack on our way out, and roll it up when we're finished with it. The super durable handle is also useful for clipping to a backpack and the large threaded mouth is both pleasant to drink out of and compatible with most 42mm threaded filters. The BPA & PVC-free material can also be frozen or filled with hot water. Generally this 4L container plus two water bottles hydrates both of us for 6-7 mile hikes. On longer hikes we bring a water cube and stash it after a mile or so. They also sell a handy Plug-N-Play Cap Kit that can turn your Seeker into a solar shower or camp tap.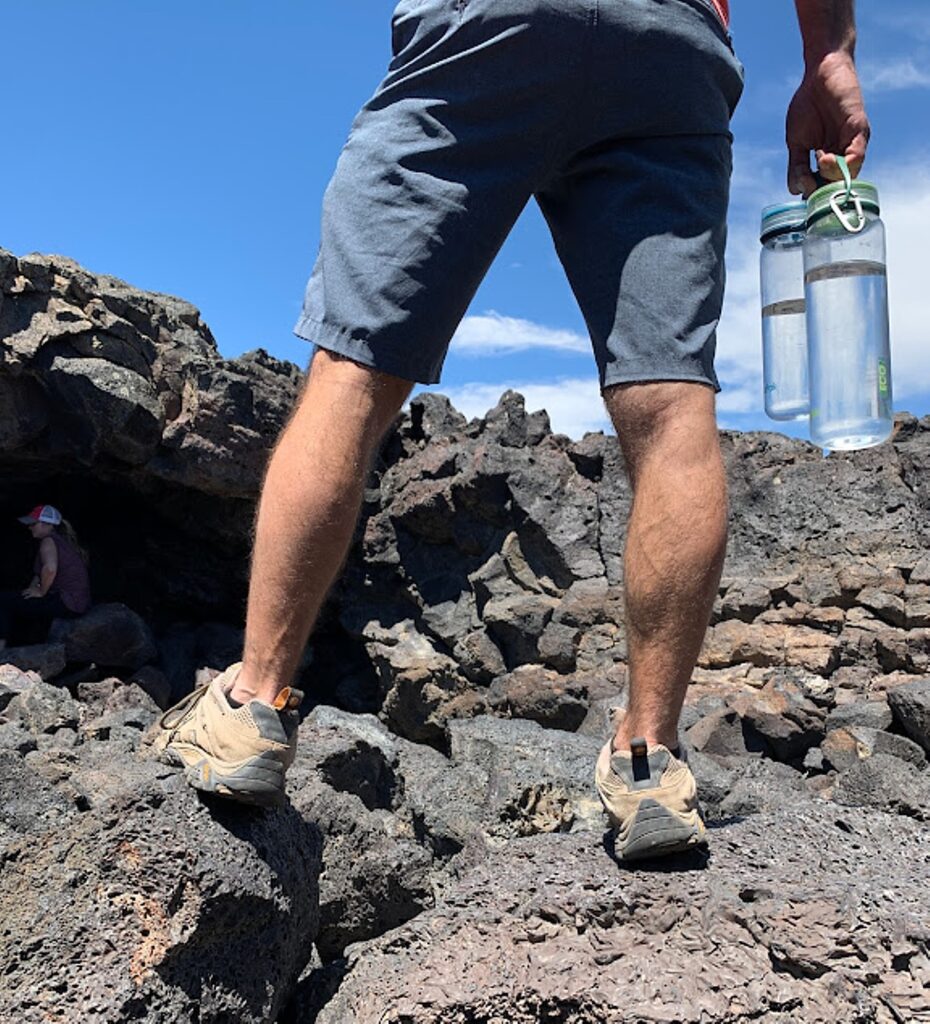 Recon Hydrapak Water Bottle – $17
Made from 50% recycled plastic, this water bottle is super lightweight, has a great drinking spout, and doesn't spill when closed tightly. It touts a "patented twist cap that provides an experience like drinking out of a glass", and as someone who hates drinking out of Nalgenes, I can attest to that branding. It's so lightweight and comfortable to carry with its durable and flexible handle, I usually prefer to hold it while hiking instead of clipping to my backpack.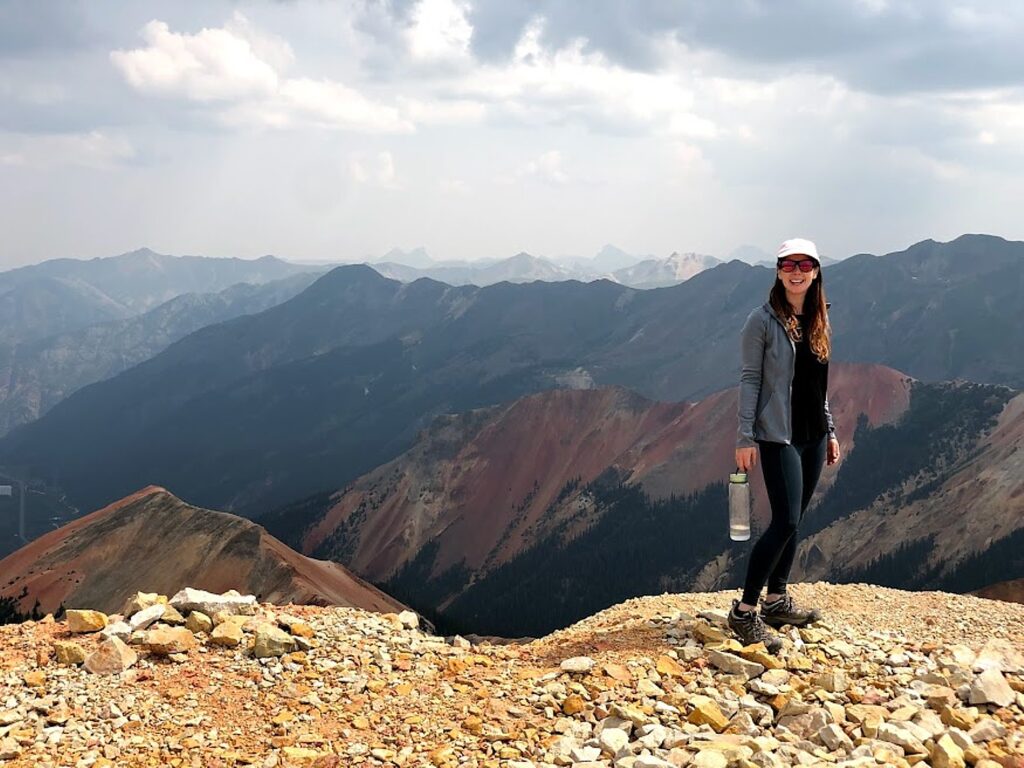 FANS
Karacel Battery Operated Rechargeable Fan – $16.99
Rechargeable Tent Fan with Light – $29.99
These fans are indispensable in desert camping. We did a ton of research to find ones that were rechargeable, kept their charge throughout the night, and didn't make too much noise. We prefer the convenient hook and fan/light combo of the $29.99 model and find that this is all we need for most nights in the tent, but the Karacel is a great second fan for extra hot nights in the tent or car.
COOKING ESSENTIALS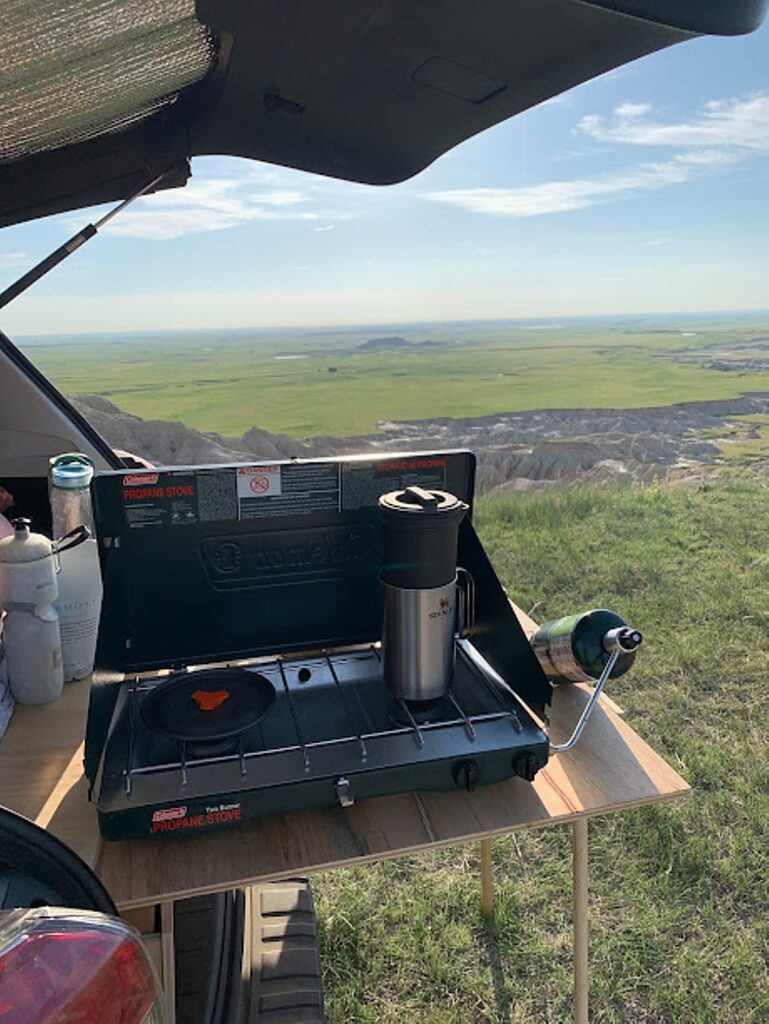 Stanley Boil + Brew French Press – $25
Does just what the name suggests and makes a delicious cup of coffee. We also love that it's the same height as a standard 16oz Propane tank and our mess kit so all three fit perfectly side by side in the front compartment of our car kitchen drawer.
Overmont Lightweight Mess Kit – $28.99
This may not be the best mess kit out there, but for the price you really can't beat it. We've used this for the past 3 years and love it. The food-grade anodized aluminum is super lightweight, compact, and everything nestles inside each other to fit in one small carrying case. On our road trip we only take with us the two pots, sponge, and spatula, and keep our mugs inside the pots.
2-piece Stainless Steel Travel Mugs – $17.99
Again, there are certainly better versions out there, but we love how lightweight and inexpensive these mugs are. They fit perfectly in the pot of our mess kit and can be clipped to our backpack if we're on the move.
Coleman Classic 2-Burner Stove – $43.99
It's a classic for a reason.
PERSONAL CARE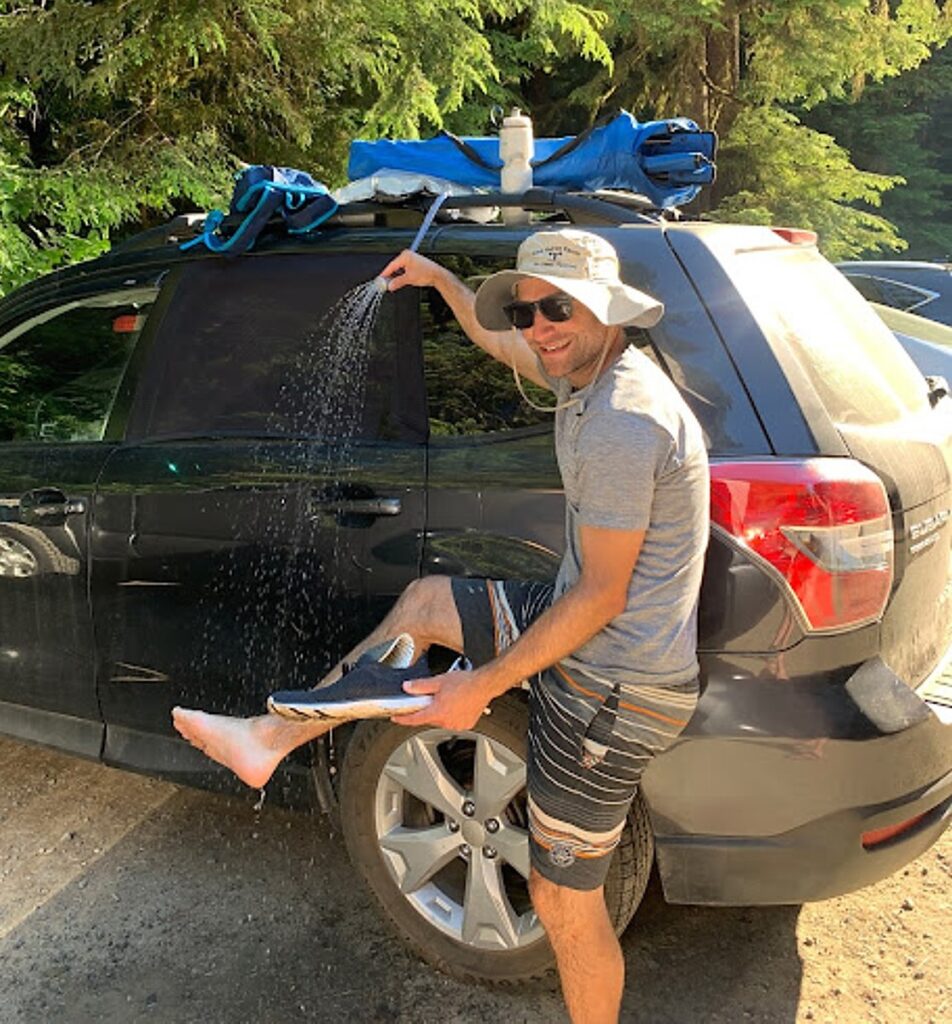 5 Gallon Solar Shower – $34.99
We shopped around a bit, but I ended up going with Wirecutter's pick for best solar shower. With the hooks on each edge of the bag and some reusable zip ties, we strap this to our roof rack clear-side-up and by the time we reach our campsite the water is as hot as our home shower (sometimes after extra long summer drives we actually need to leave it in the shade for a bit to cool it off before using––the thermometer on the bag is really helpful for this scenario). The durable strap is made to hang from a tree, but we use it just as much from the roof of our car. In the backcountry of the desert when no one else is around for miles you don't even need to worry about a privacy tent. Pull the nozzle down from the hose to open the valve, push it back up to close. Two of us can shower (one of us with long knotty hair), and we still have water left in the bag.
Triptips Portable Toilet – $38.99
You might wonder where one goes to the bathroom when backcountry camping. If you must know, this portable toilet is actually excellent. The accordion wall design collapses to a mere 2 inches and fits in its own carrying bag when traveling. When we set up camp, we pop in the bottom circle which makes the accordion take its cylindrical form, place the seat over the top, and it can apparently hold up to 330 lbs. The seat is surprisingly comfortable for being so small, and it closes so tightly that you really can't smell a thing when it's latched. We use these compostable toilet bags (only for solid waste) and tie them to the roof rack until we get to a dump station. TMI? Sorry.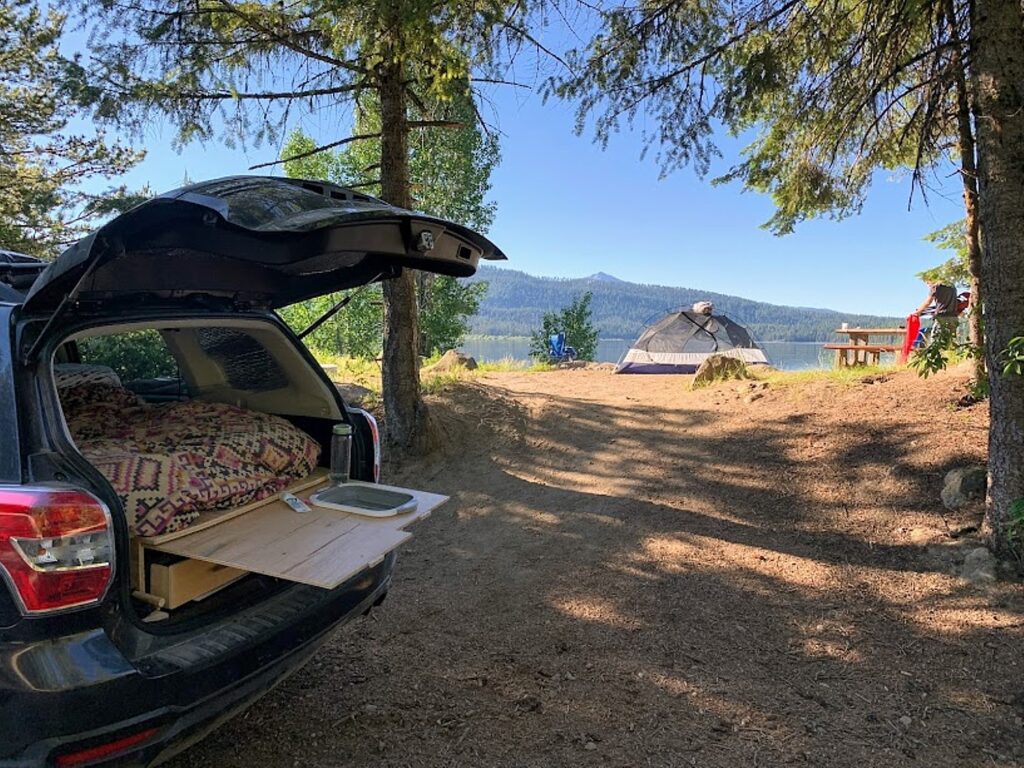 MISCELLANEOUS
Bamboo Charcoal Air Purifying Bags/Shoe Deodorizers – $14.79/12-pack
This is perhaps the best $15 we spent in our car living. We stick one of these in each shoe when we take it off and don't even notice we have several pairs of sweaty sneakers and sandals in our car. These things may actually be magic.
Thermarest Compressible Travel Pillow – $25.99 (bought for $14.99 at Mountain Steals)
Ok, so our secret to comfy camping is that we bring our big pillows from home because we generally prioritize our sleep, but a last minute thought to throw one of these in the car was great for our long driving days. We continue to keep this in the car since it compresses into such a compact log, and even becomes a nice lumbar support. In the future we may just bring two of these on longer road trips since they are actually quite comfortable––just make sure you give it enough time for the shredded foam filling to fully expand. The attached cover is so soft you don't even need an extra pillow case.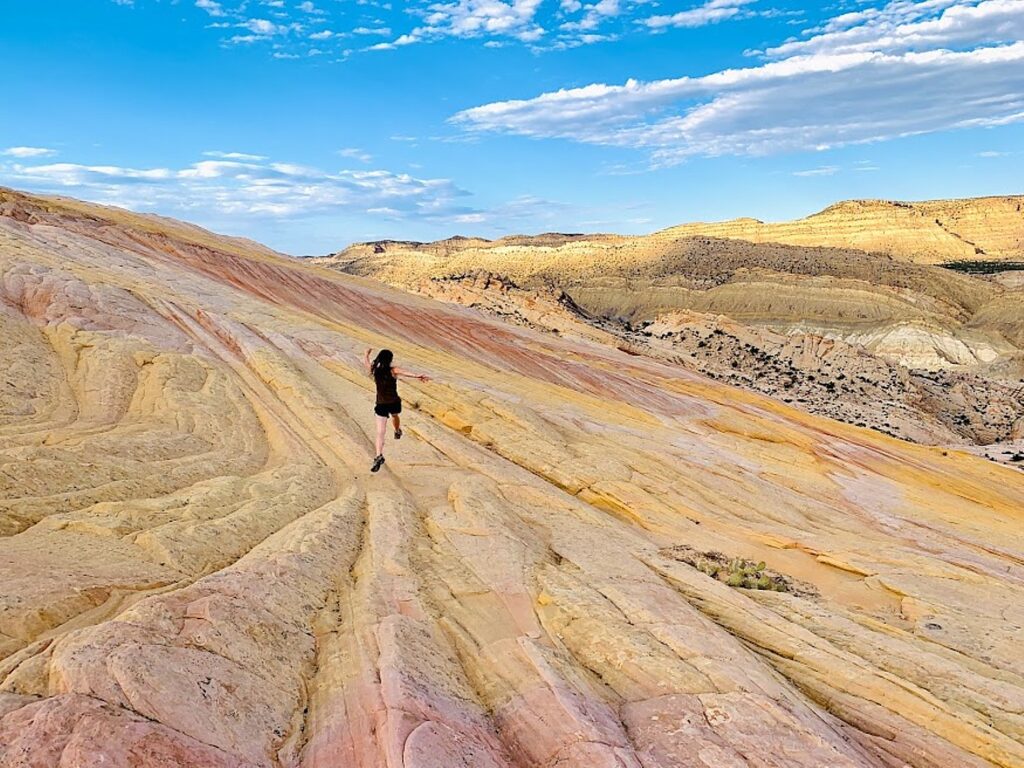 Shoe Goo – $3.98
This 1oz tube is a lifesaver for when you need a quick shoe repair on-the-go. Parts of both of our soles came loose at certain points with all the hiking we do between slickrock and loose dirt. We use this goo at night, hold it in place with some masking tape (painter's tape, really), and the shoe is good to go the next morning.
Reusable Zip Ties, 100 pack – $13.99
We use these for so many things while camping we can't leave them off the list. The 10" ties hold up to 50 lbs, and are sturdy enough to secure our solar panels and solar shower to our roof rack even while driving on major highways.
See also: Car Camping in Comfort: How We Turned our Subaru into Our Home On the Road
____________________
© 2021 Travel Features Syndicate, a division of Workstyles, Inc. All rights reserved. Visit goingplacesfarandnear.com, www.huffingtonpost.com/author/karen-rubin, and travelwritersmagazine.com/TravelFeaturesSyndicate/. Blogging at goingplacesnearandfar.wordpress.com and moralcompasstravel.info. Send comments or questions to [email protected]. Tweet @TravelFeatures. 'Like' us at facebook.com/NewsPhotoFeatures