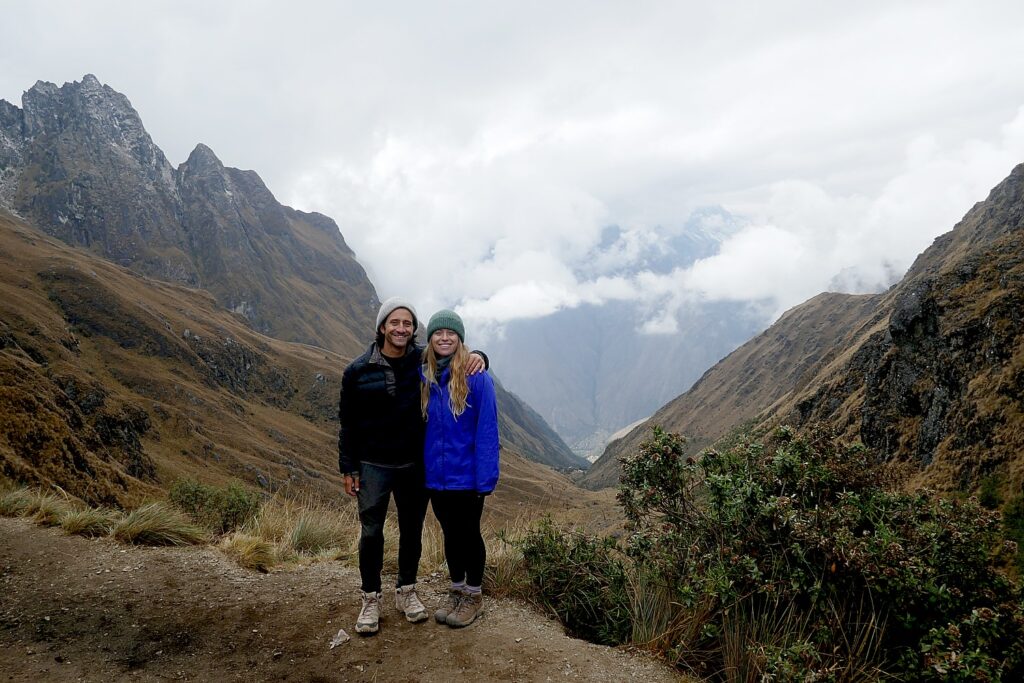 By Karen Rubin, with Eric Leiberman and Sarah Falter
Travel Features Syndicate, goingplacesfarandnear.com
This is the day I have been dreading for weeks. This is the day of reckoning. Dead Woman's Pass.
Everyone – and not just my about-to turn-71-year-old self, some 25 to 40 years older than the other 14 in our pack – seems to have the same anxiety over Day 2. It is the longest, most challenging day of the four-day trek on the Inca Trail to Machu Picchu, when we will hike for four hours up to 13,829 ft over what I hope is not presciently named Dead Woman's Pass (the name comes from its shape, not an event).
In fact, the climb up to Dead Woman's Pass is only the first four hours of the full day's hike, followed by two hours down, then rest and lunch. But then (and this is what could do me in), another hike up another mountain, to Runcuraccay Pass at 13020 ft albeit not quite as high, but steeper, 1,378 ft in elevation (more like a stadium staircase times 100 that I had imagined the whole way up to Dead Woman's Pass would be), and then a steeper (1,220 ft), challenging decline to our campsite at Choquicocha. In fact, it is theRuncuraccay Pass that proves the more fearsome, as I soon discover, but actually unfolds to some of the most dramatic and interesting views and sites of the entire 26-mile Inca Trail trek. In all, we will hike a total of 10 miles this day, which includes a mile's worth of up and downs.
One of my fears is that I won't make it into camp before dark (there are 12 hours of daylight) so I keep my headlamp handy in my day pack, which helps alleviate my high anxiety.
(I used Day 1, the second hardest of the four day-hike, as a test, fully well expecting that our guide would politely tap me on the shoulder and suggest I walk back down the way I came, which also was my strategy if I decided the trek was too hard. But he didn't. And I didn't. But pressed on.)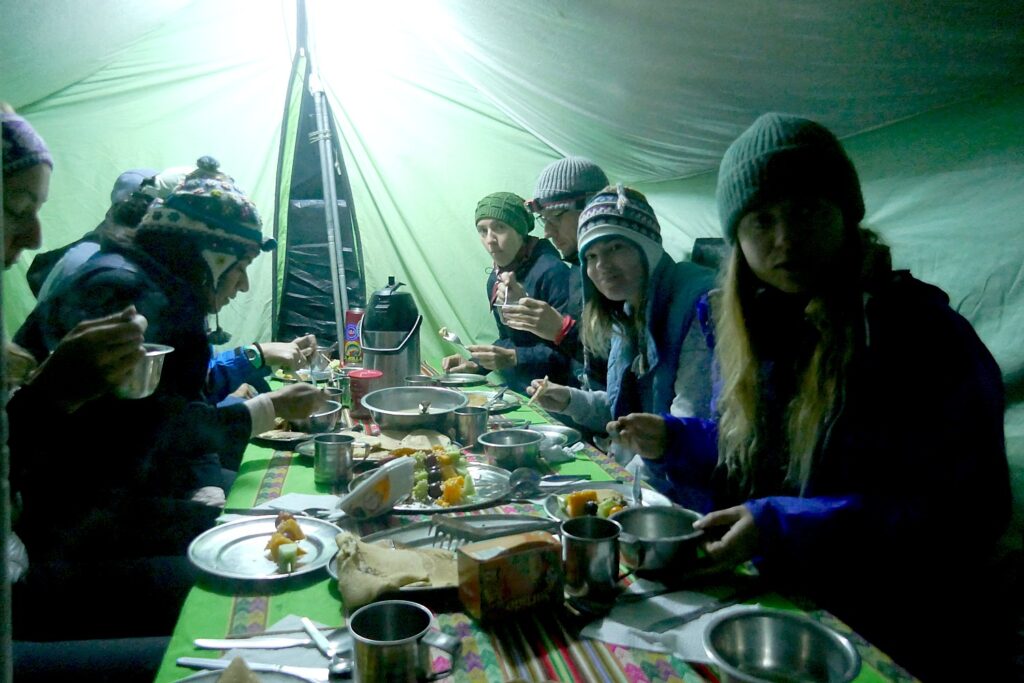 It's 5 am when we are wakened in our tents with basins of hot water and soap and hot coca tea (to help with the altitude).
Breakfast is sensational, providing excellent energy food (porridge is especially good). Indeed, breakfast typically offers some combination of scrambled eggs or omelette, pancakes, porridge, cereal, fruit salad, toast, orange juice, milk, tea, coffee, hot chocolate. We are always supplied enough drinking water – tap water that is boiled for us.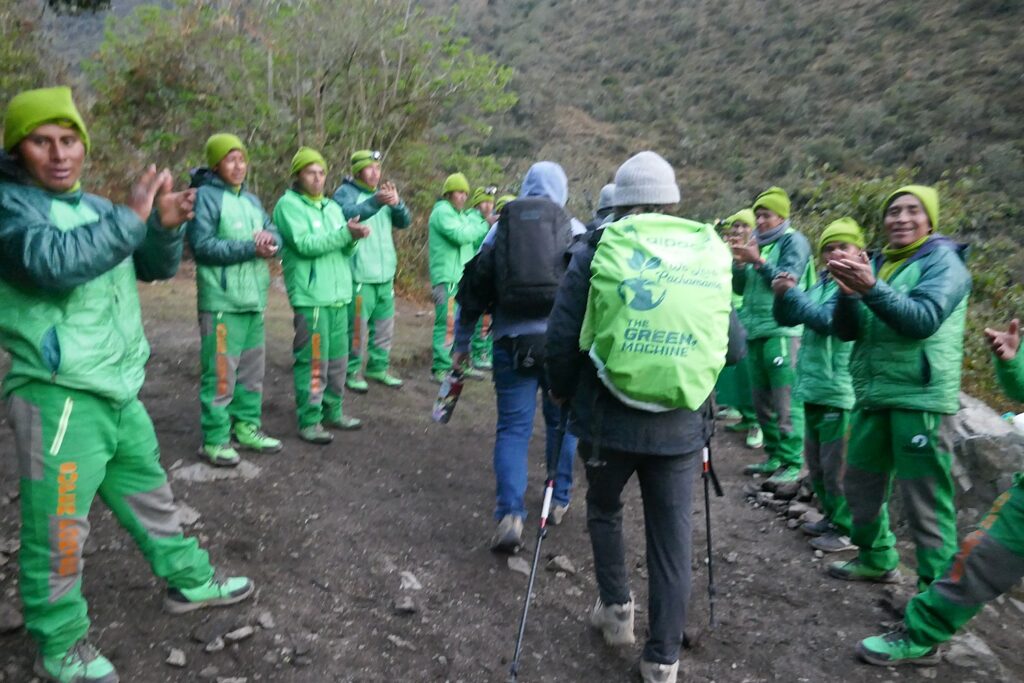 As we leave camp at just about 6 am with the first light, the porters line up and applaud for us, giving us that extra boost of encouragement.
As we get higher, Lizandro stops to tell us little stories – a clever ploy so that we rest and acclimate to the higher altitude (in fact, I hear that older people such as myself do better with the altitude precisely because we go slower and stop more often).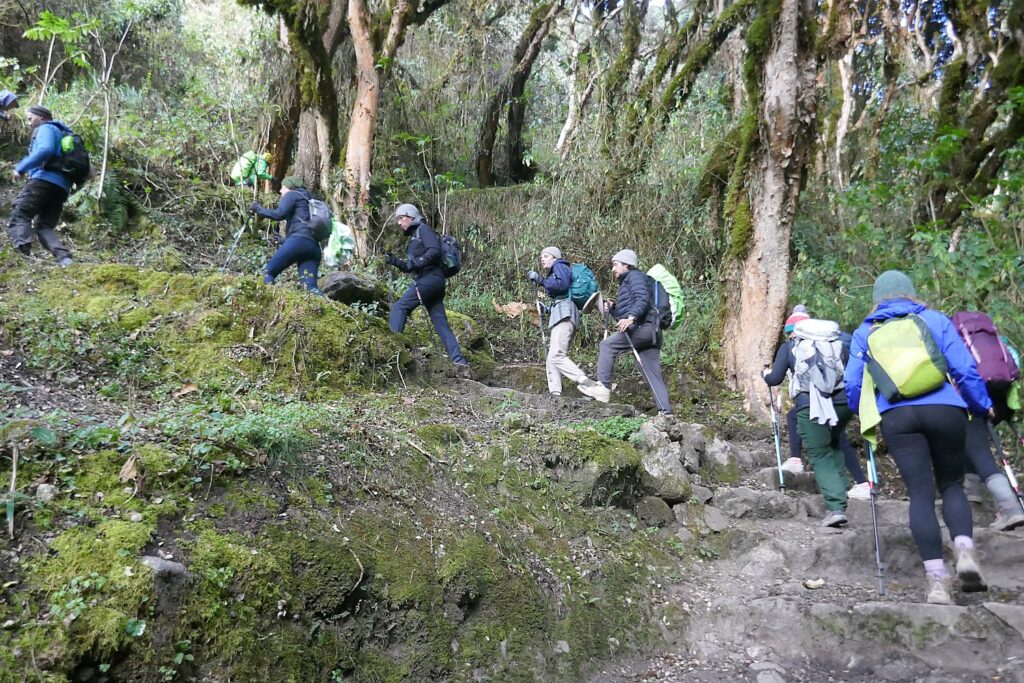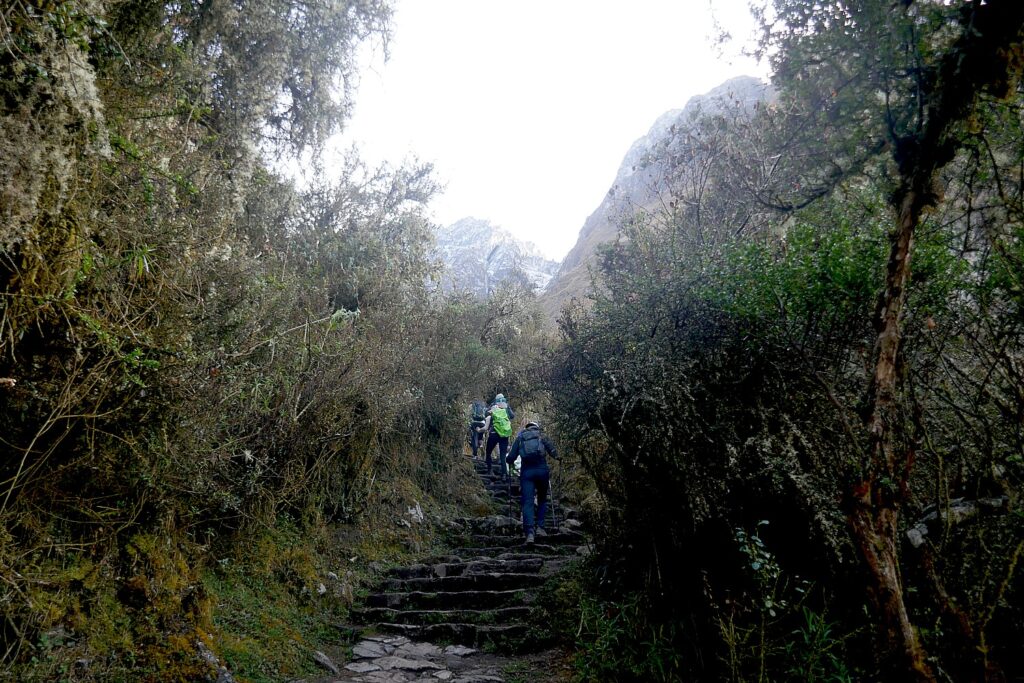 At another point, he distributes coca leaves and instructs us how to stuff it into a cheek and let the liquid blend with saliva to get its benefit of countering altitude sickness. Then, at another stop, he distributes a kind of plant oil (like eucalyptus) and shows us how to clap three times, then breath in the vapor, which opens up our air passages so we can can in more oxygen.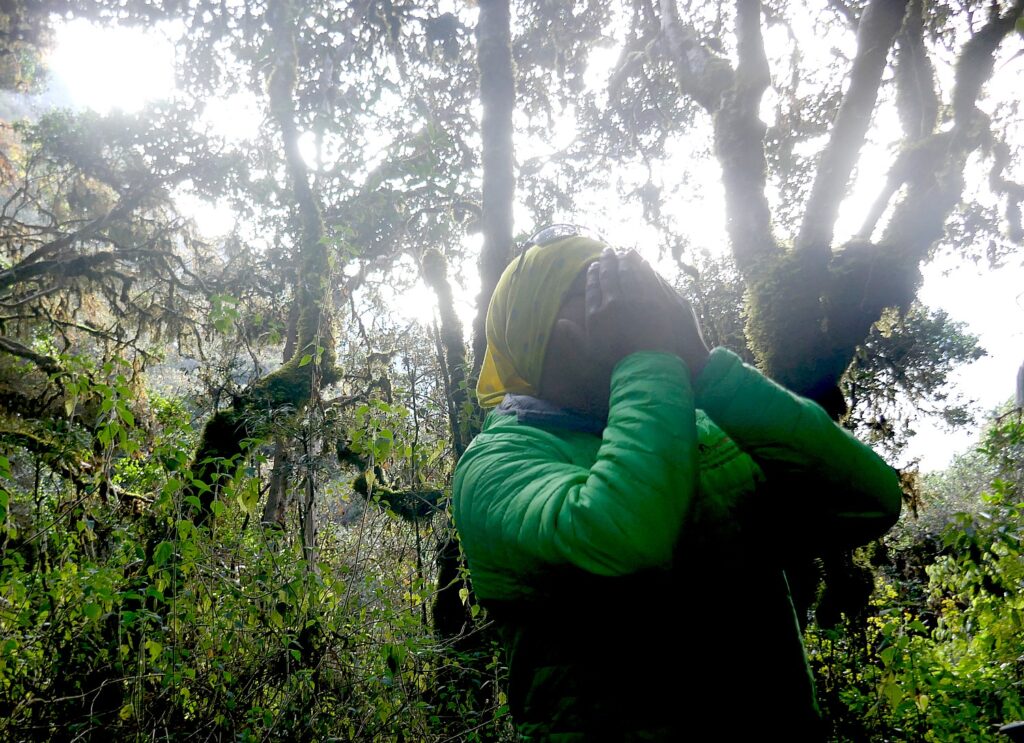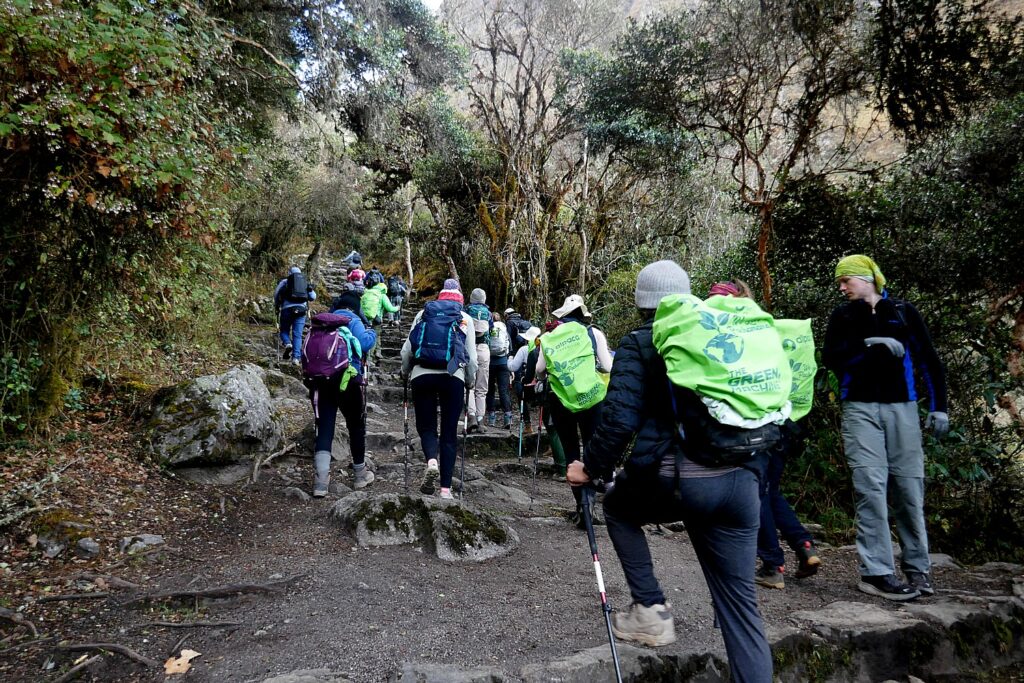 Before the last ascent to Dead Woman's Pass, there is a rest stop at Llulluchampampa (the best public restrooms on the trail!) and a stand where locals sell snacks and such. There are llamas with a baby grazing and hummingbirds. We see snow on the peaks.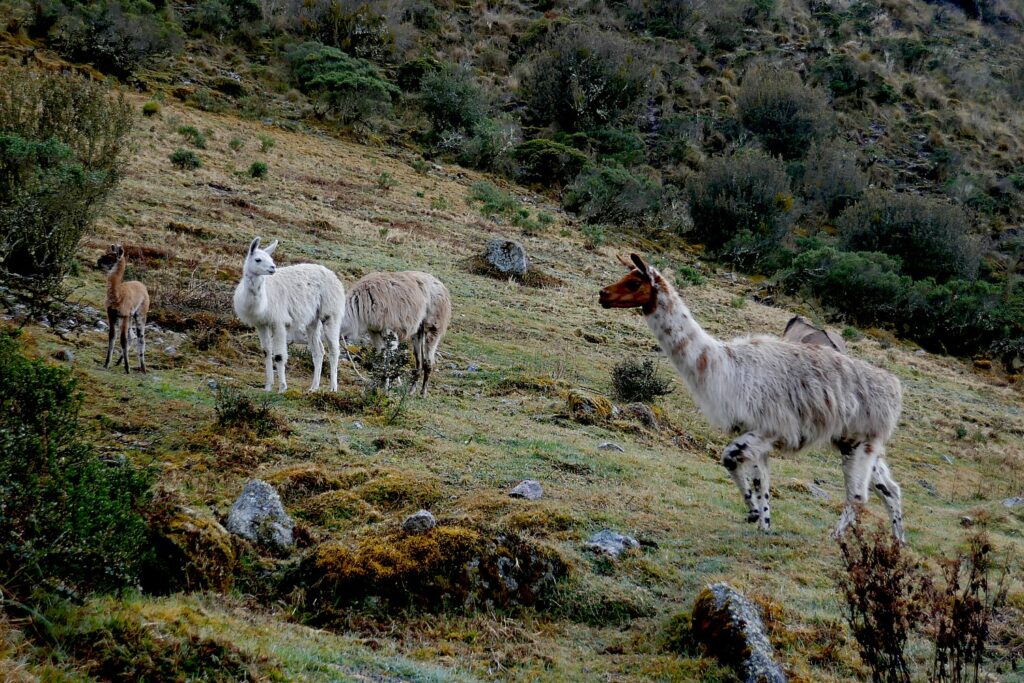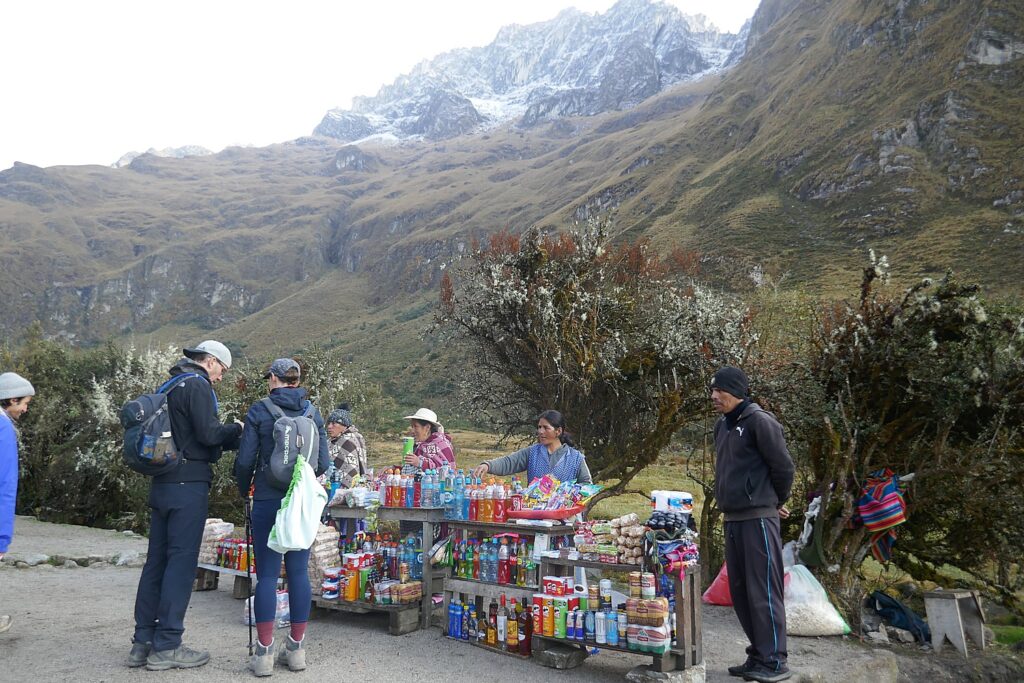 Actually, I make it up to Dead Woman's Pass by 9:15 am – coming in not at the end of the pack as I expected, but more towards the middle, Eric tells me. Everyone cheers. I honestly don't remember feeling pain or discomfort, though I know I stopped several times along the way.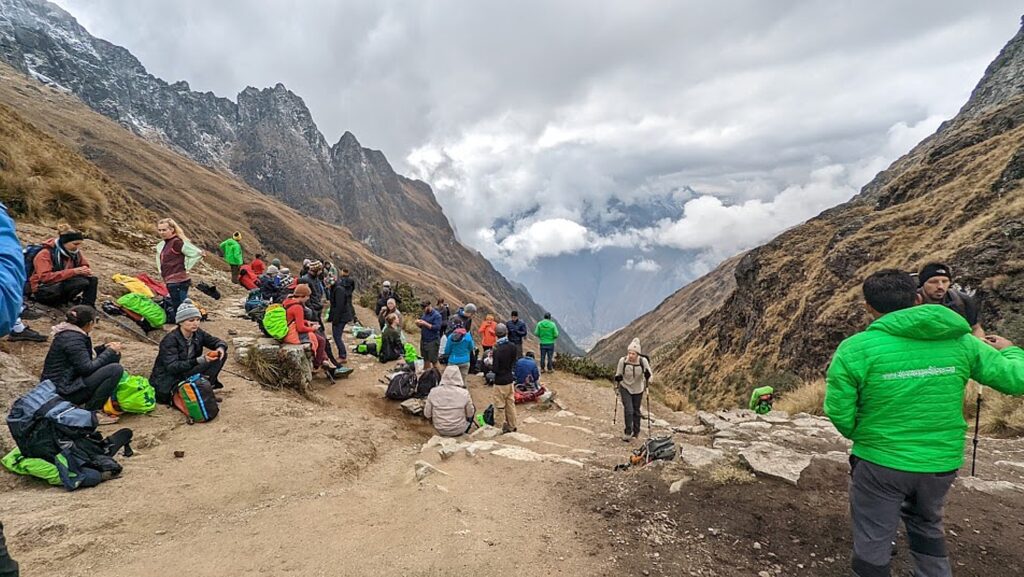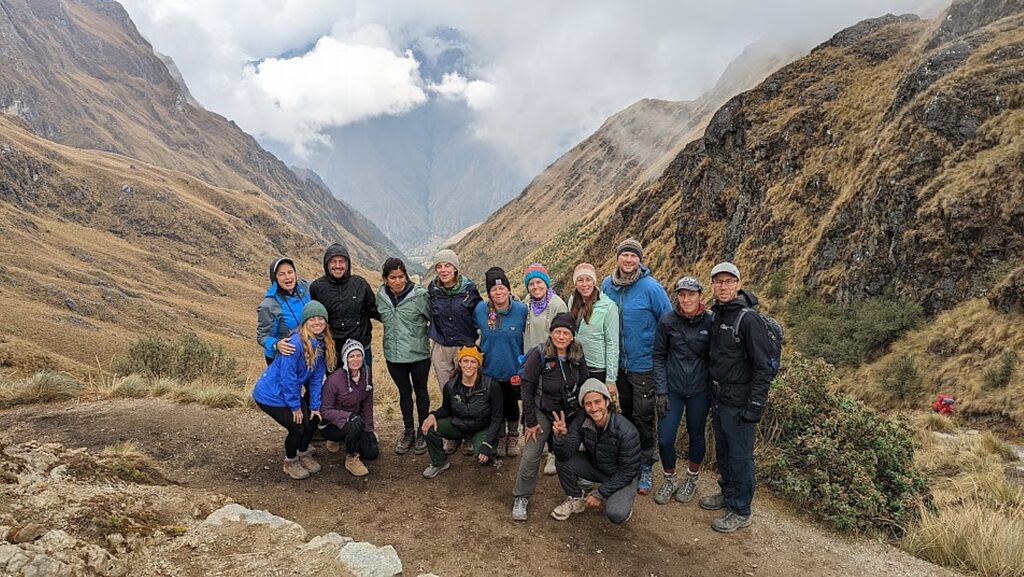 On reaching the pass, we stop for a short break to enjoy the views and take photos (our guide, Lizandro, patiently takes each of our photos and a group photo), and we each indulge in the self-satisfaction of the accomplishment before setting off again to descend to Pacaymayu Valley, Hidden River. It's another hour and a half down the side of the valley – to our lunch spot.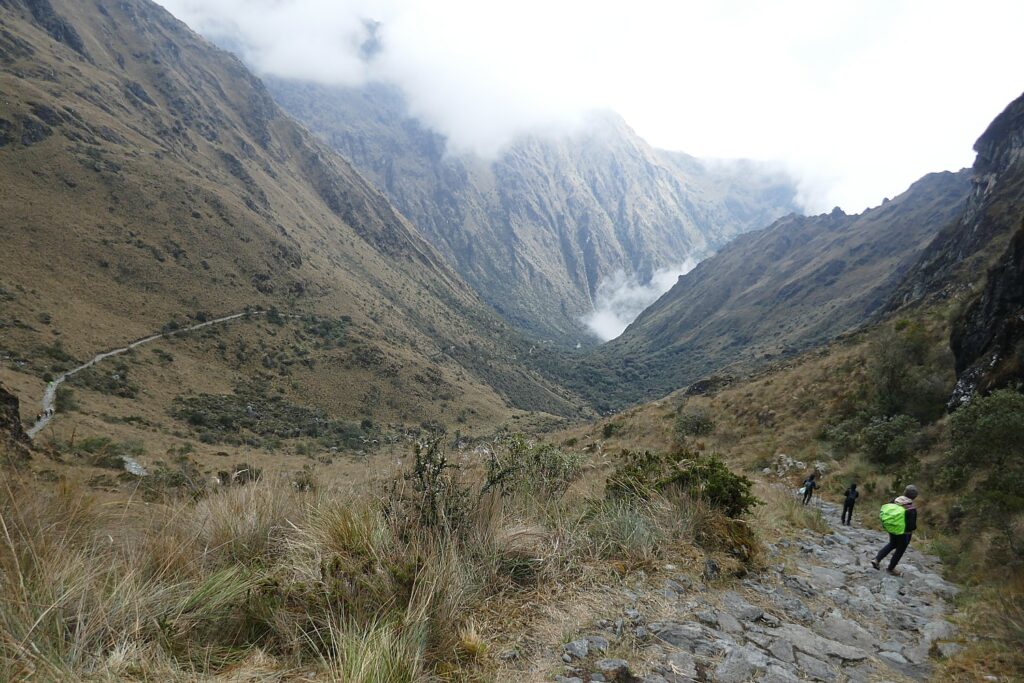 I get in at 11:15 am to the cheers of the porters and fellow trekkers, where I find mats have been laid out for us to rest, but Mary Kate (who is part of the group of six women who are friends or friends of friends or friends of friends of friends of Caroline), is leading yoga stretches.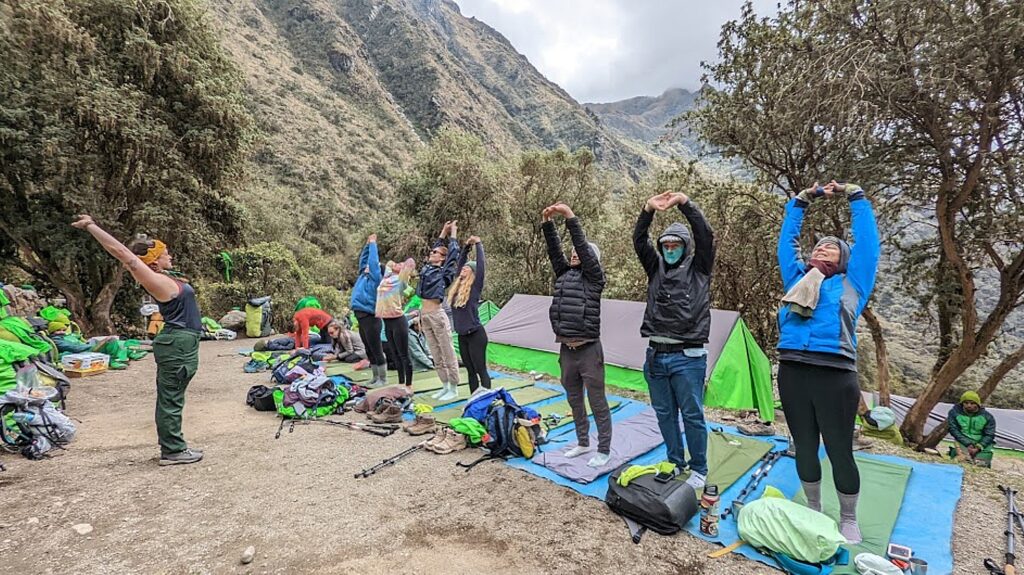 We enjoy a snack and then a fantastic and welcome lunch served in the dining tent (delectable chicken salad appetizer; Sara Lawa soup which is a kind of egg-drop soup made with corn flour, eggs, ginger) and I am struck by how really excellent the food is – I mean as good as the finest restaurant in Peru. Alpaca Expeditions boasts the best chefs in the mountains, and I am inclined to agree.
Chef Mario seems to use spices, flavors, textures (hot soups, energizing carbs, reinforcing proteins) that are medicinal or at least appropriate to the activity, whether to hike, acclimate, rest, sleep or wake. All the food is prepared from fresh ingredients purchased in the Cusco local market and carried up for us by the porters, then prepared by the chef (no canned or rehydrated food) who also caters to vegetarians, lactose intolerant and food allergies with heaping platters.
Lunch typically includes a delicious soup (like corn or mushroom) and some combination of chicken and rice, sausage, fried fish, ceviche, steak, beans, fried rice, french fries, boiled potatoes, vegetables, salad.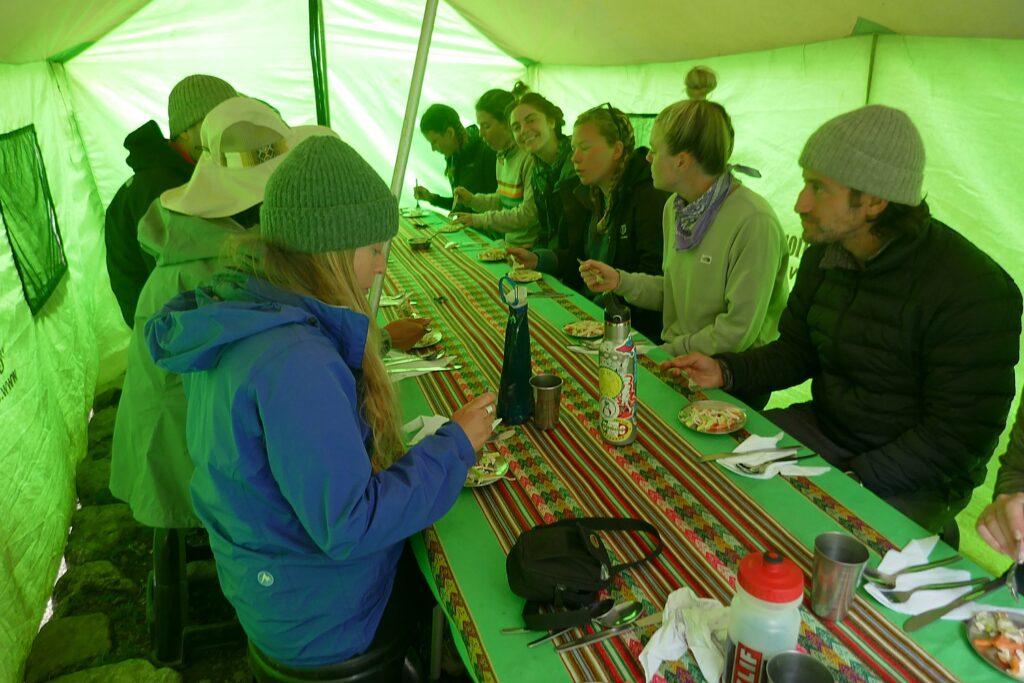 There is such a lot of food but it is not just for us – the porters and staff eat the same food as we do (which, we learn, was not always the case for the trekking companies and a feature of Alpaca Expeditions that we really appreciate).
After this delightful lunch, the realization sets in: this is only the half-way mark of this challenging day. We actually have another mountain to climb and descend.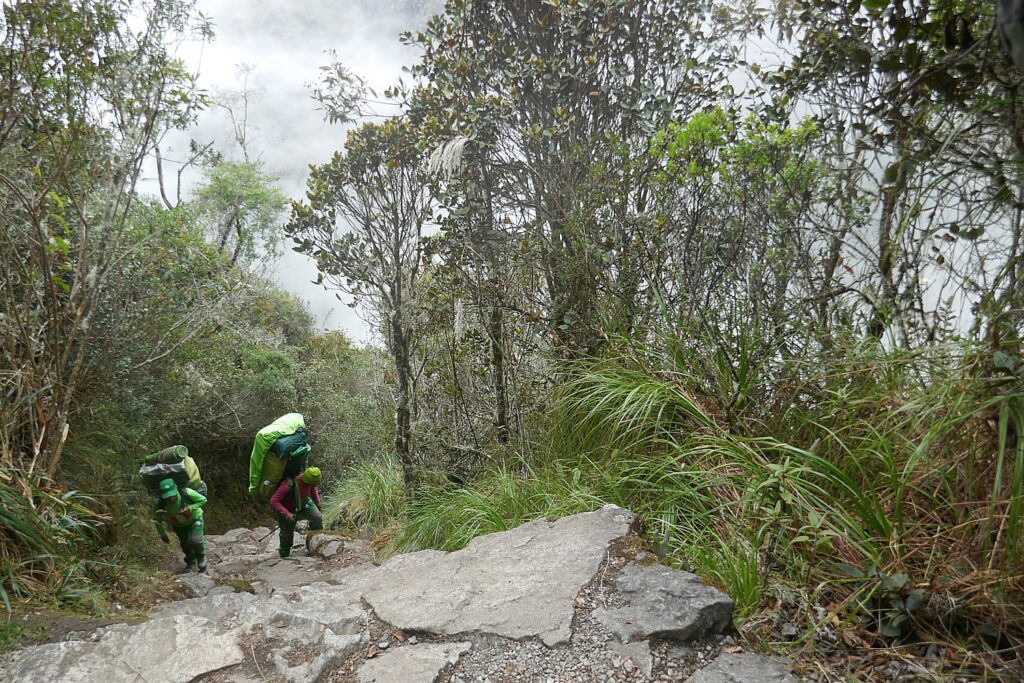 In fact, the two-hour climb up the next mountain to Runcuraccay Pass is steeper though shorter – really what I had envisioned (and feared) the Dead Woman's Pass would be like – and altogether more challenging.
We stop at a small Inca site (Runcuraccay) and see two huge waterfalls cascading down the opposite side of the valley.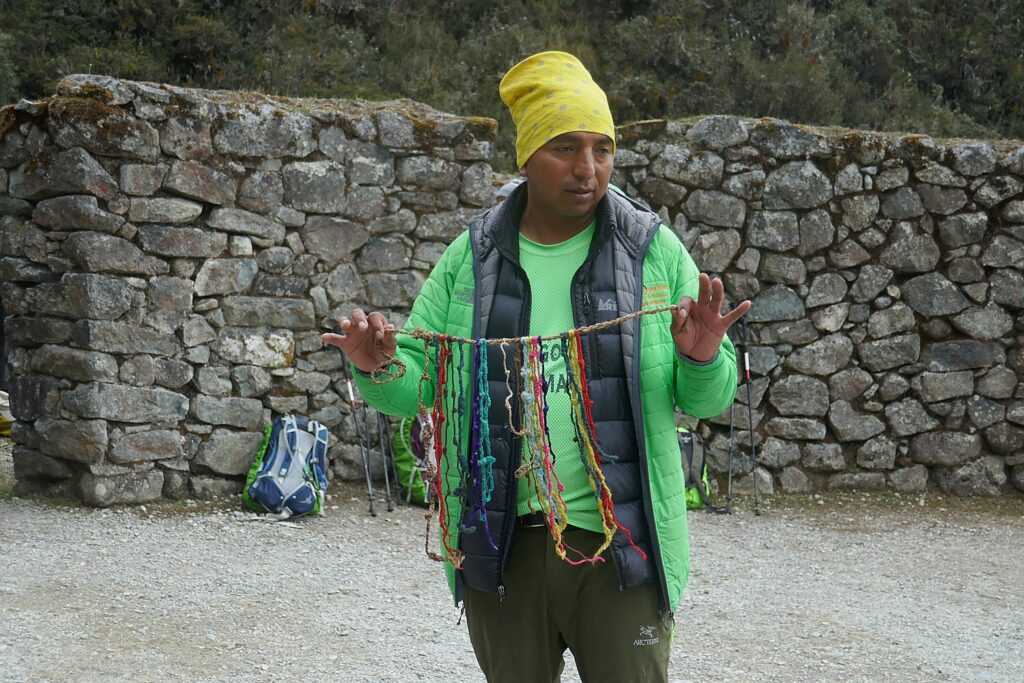 After the second pass, it's another hour of a steep downhill hike to reach the magnificent Inca site, Sayacmarca (an otherwise inaccessible village).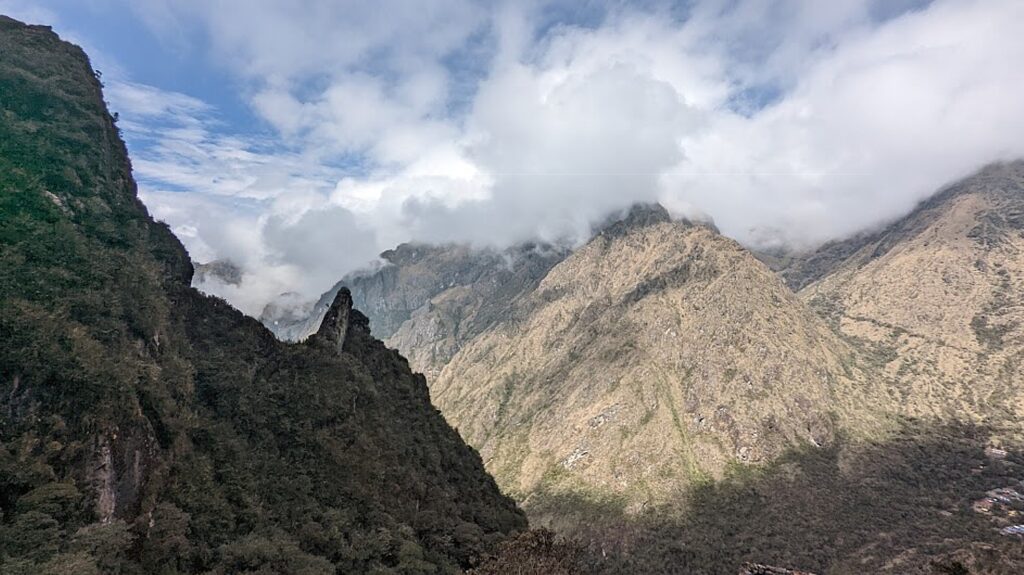 This part of the trek has actually been the hardest. Eric and Sarah, who had just 10 days before hiked Rainbow Mountain, a 6.2-mile out-and-back trail near Pitumarca, Cusco, where they hiked 1,627 ft in elevation up to 16,000 feet (and suffered altitude sickness), are skipping up and down these peaks like a mountain goat. I'm a tortoise, taking my sweet time, going slow and steady, stopping for the views.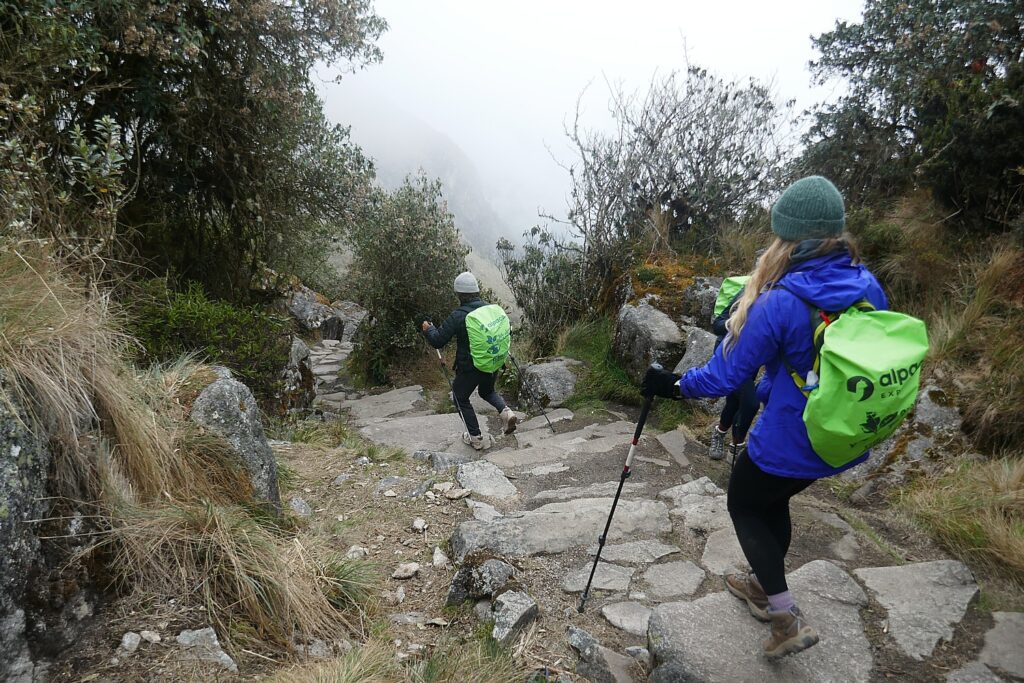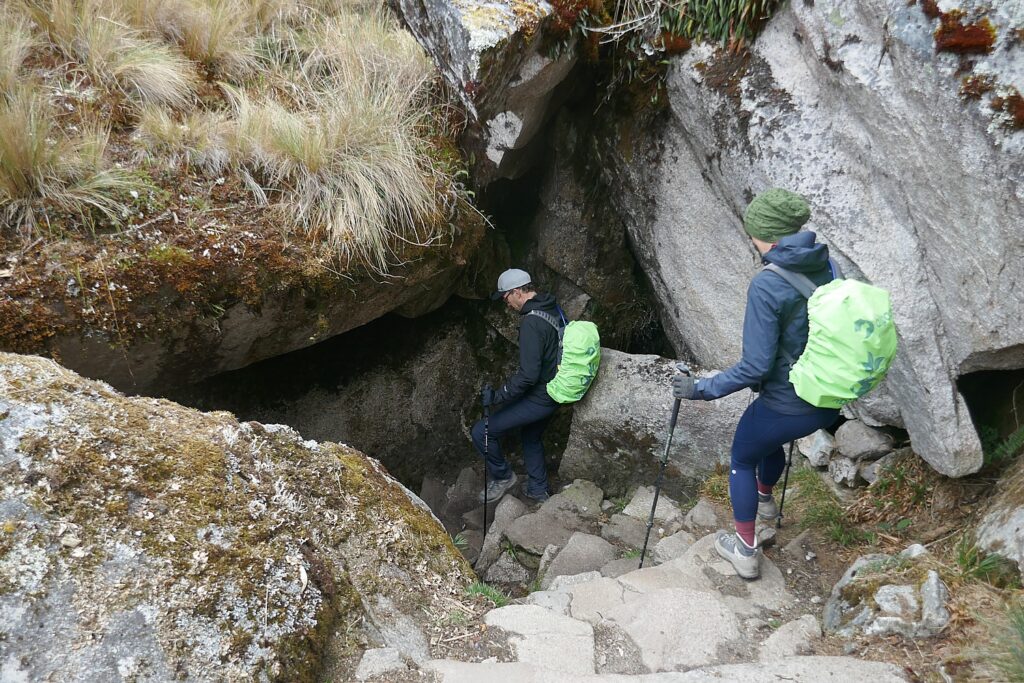 The trail disappears as a thin line hugging the mountainside, the people are mere dots of color, and then, in the distance, this amazing and improbable fortress, Sayacmarca, appears. This is an astonishing view as we descend (it is steep), with the mountain mist – even more astonishing because you are not prepared for it as you are for Machu Picchu. And to realize that this construction was basically to protect Machu Picchu. (Here, though, as Lizandro warned, we encounter the meanest mosquitoes.)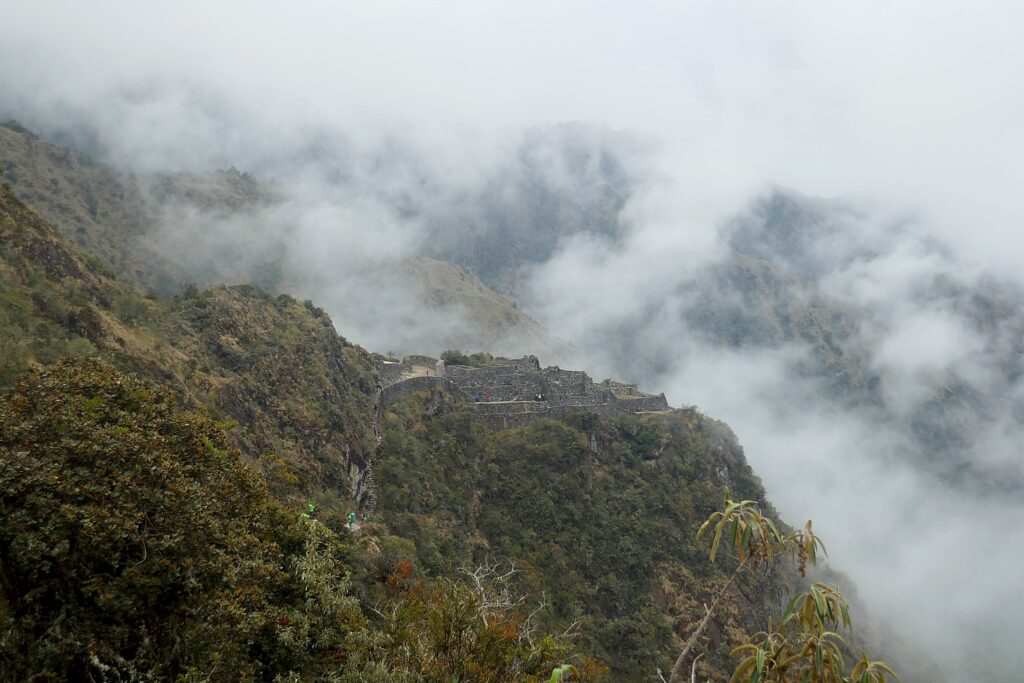 In 1941, an archeaologist came upon Sayacamaka, which was completely buried under the overgrowth and named it "inaccessible village." The site is strategic – on top of mountain, surrounded by valleys, and protected. We see what would have been a watch tower. These structures were used for resting places, like a hostel, for the pilgrims, nobles and travelers, spaced 20-25 km apart so they could be reached in a day's hike and travelers knew there would be food and drink ready, Lizandro tells us.
The Inca would build a temple just for storing idols (gold), but would worship in open area – more important than a temple, because being in contact with nature was the essence of their religion.
Some 16 small rooms have been excavated – the ones with windows were storage rooms; homes did not have windows (too cold). There were no farming terraces here; food came from other places, supplied by other community people.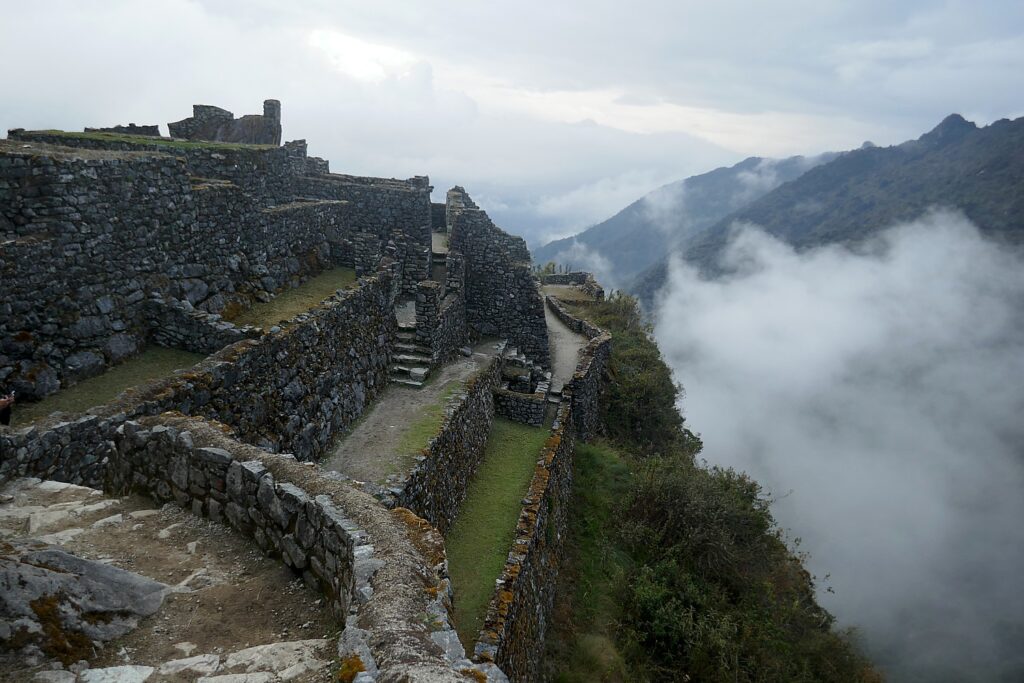 There is a huge rock in the middle of a house that was natural, part of mountain, in the same shape as mountain. "The Inca made a replica to be closer to mountain (it was considered a god)."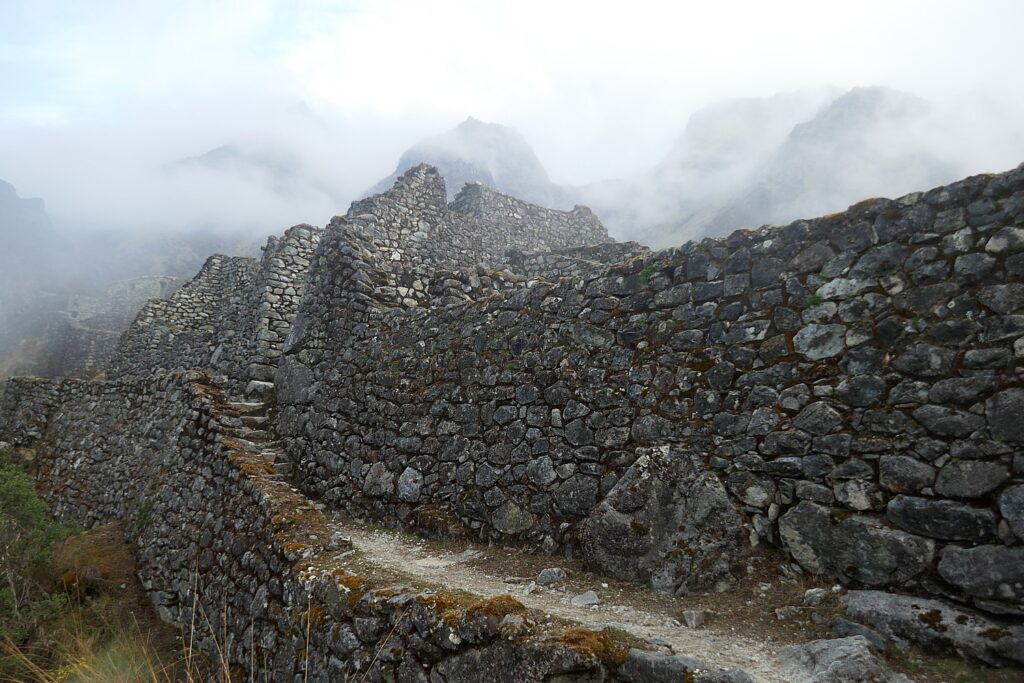 How did they get the building stones there? Lizandro points to where a quarry would have been on the other side of the mountain; the building stones would have been brought up the steep trail using only human power. How many would have built the village, and over what period of time, I wonder.
They also engineered canals to bring drinking water – we see three small, square constructions that served as water fountains.
Peru's Ministry of Culture and Ministry of Environment is responsible for these sites and rangers protect them. While they excavate and can restore, they cannot rebuild any of the structures, so if there is a stone that has fallen off and they are not sure where it came from, they leave it where it fell.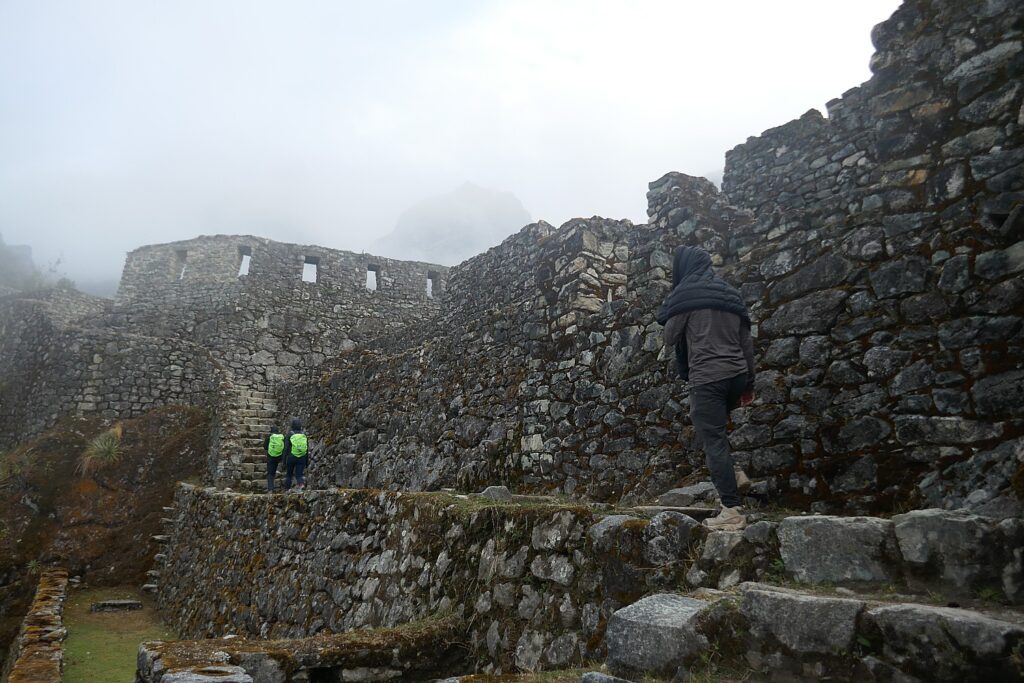 In 1915, the archaeologist Hiram Bingham, who is most responsible for uncovering Machu Picchu, found 8 of these Incan trails. One of the trails led to Vilcambaba, the last refuge of the Inca. In 1538, these sites along the Inca Trail to Machu Picchu and Machu Picchu were destroyed by order of Manco Inca, the last Incan king to protect them from the invading Spaniards. Portions have been restored.
After exploring Sayacamaka, it's only 20 minutes further to our second campsite, Chaquicocha (Dry Lake) at 11,808 ft. altitude, as the sun sets over the Vilcabamba mountain range.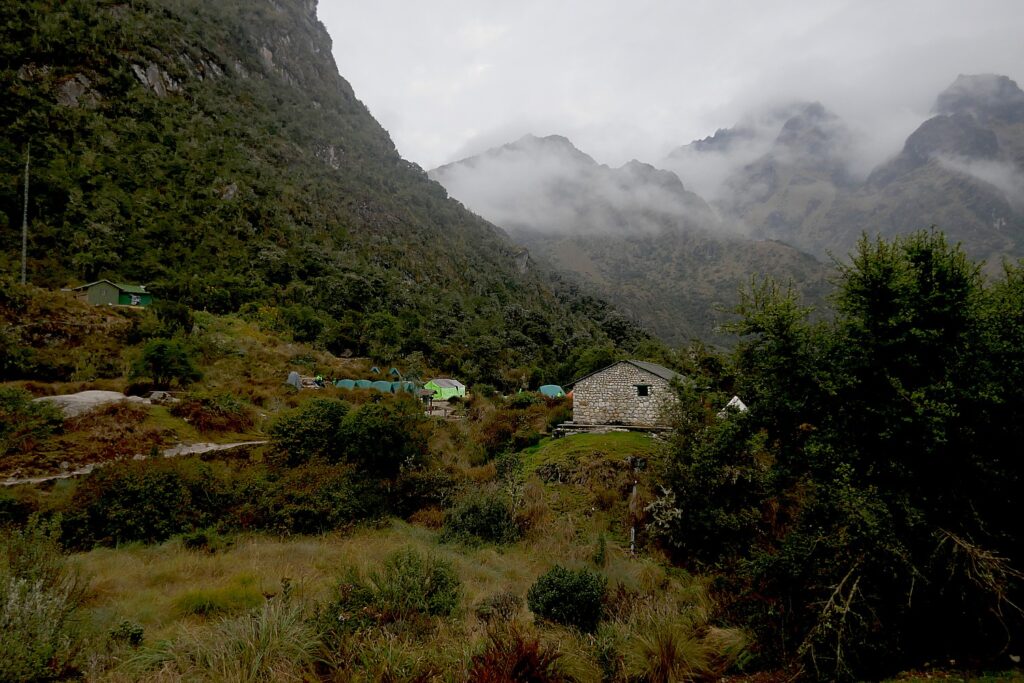 After exploring Sayacamaka, it's only 20 minutes further to our second campsite, Chaquicocha (Dry Lake) at 11,808 ft. altitude. We reach the campsite at around 6:30 pm, as the sun sets over the Vilcabamba mountain range, having met the toughest challenge of the trip (and my life).
The Chaquicocha campsite is described as a recently restored Inca settlement at the gateway to the jungle, nestled between two eco-systems – high ground and cloud forest. It has one of the most picturesque settings with a fantastic view of the night sky to observe the stars, except it is cloudy tonight. It is also quite cold, and I am so happy with my $4 purchase of knee-high alpaca wool socks.
"Happy Hour" ( tea time) before dinner consists of popcorn, fried wontons, tea, coffee, followed by another superb dinner (the menu might consist of some combination of stuffed chicken, vegetable tortillas, pizza, spaghetti, pork cutlet, sauteed vegetables, salad).
The permits to do the Inca Trail trek are limited to 500 a day for all the trekking companies (which includes 200 for trekkers and 300 for porters and staff) and get booked up months in advance.
More information: Alpaca Expeditions, USA Phone: (202)-550-8534, [email protected], [email protected], https://www.alpacaexpeditions.com/
Next: Day 3 on the Inca Trail
See also:
VISIT TO PERU'S SACRED VALLEY IS BEST WAY TO PREPARE FOR INCA TRAIL TREK TO MACHU PICCHU
INCAN SITES OF PISAC, OLLANTAYTAMBO IN PERU'S SACRED VALLEY ARE PREVIEW TO MACHU PICCHU
ALPACA EXPEDITIONS' INCA TRAIL TREK TO MACHU PICCHU IS PERSONAL TEST OF MIND OVER MATTER
DAY 1 ON THE INCA TRAIL TO MACHU PICCHU: A TEST
DAY 2 ON THE INCA TRAIL TO MACHU PICCHU: DUAL CHALLENGES OF DEAD WOMAN´S PASS, RUNCURACCAY
DAY 3 ON THE INCA TRAIL TO MACHU PICCHU: TOWN IN THE CLOUDS, TERRACES OF THE SUN & FOREVER YOUNG
DAY 4 ON THE INCA TRAIL: SUN GATE TO MACHU PICCHU, THE LOST CITY OF THE INCAS
__________________
© 2022 Travel Features Syndicate, a division of Workstyles, Inc. All rights reserved. Visit goingplacesfarandnear.com, www.huffingtonpost.com/author/karen-rubin, and travelwritersmagazine.com/TravelFeaturesSyndicate/. Blogging at goingplacesnearandfar.wordpress.com and moralcompasstravel.info. Visit instagram.com/going_places_far_and_near and instagram.com/bigbackpacktraveler/ Send comments or questions to [email protected]. Tweet @TravelFeatures. 'Like' us at facebook.com/NewsPhotoFeatures