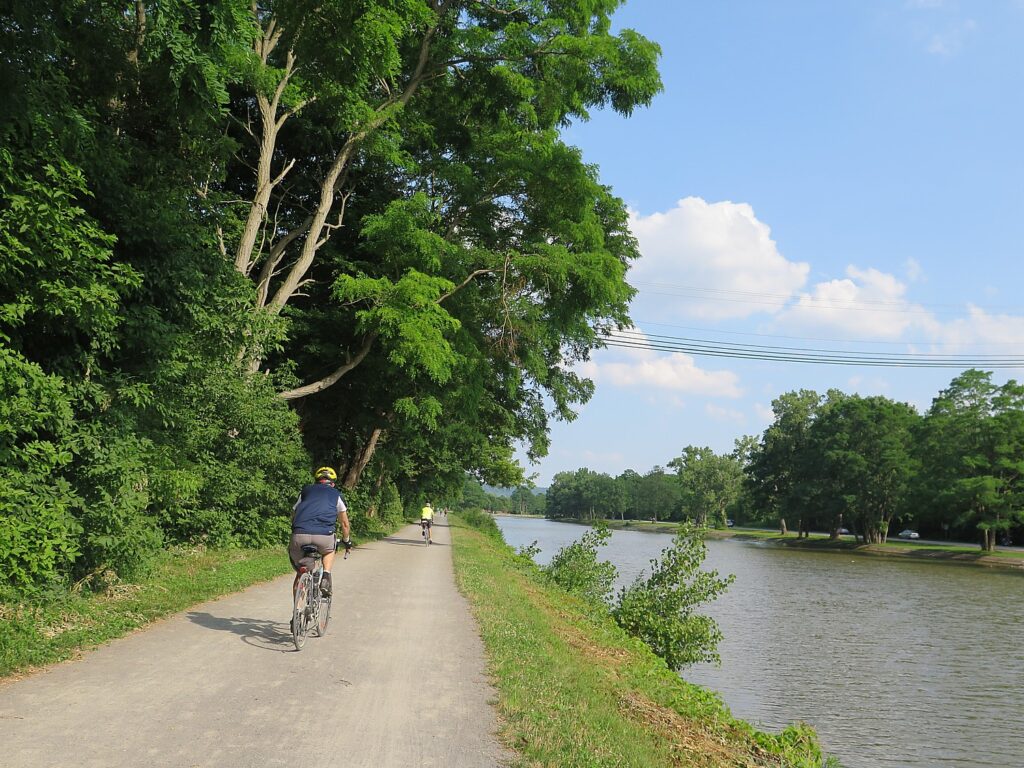 by Karen Rubin, Travel Features Syndicate, goingplacesfarandnear.com
This time last year I was getting set for an around-the-world Global Scavenger Hunt which took me to places that I had always hoped to see – Petra, Jordan; Myanmar; Vietnam; Morocco, just to list a few. The coronavirus pandemic has made that experience impossible this year. But it just goes to show: Don't put off experiences, especially not a trip of a lifetime.
These are uncharted waters for the travel industry, and for travelers.
With the worst of the crisis appearing to be coming under control, state governments are looking to gradually reopen and lift their lockdowns. The same is true for people venturing out of doors. People are burning with cabin fever but may be cautious.
Here is the antidote to cabin fever: I'm thinking outdoors, great open vistas, clean air. This is a great time for a throwback to the 1950s family road trip to enjoy the Great Outdoors. Instead of a station wagon, pack up the SUV and set an itinerary that revolves around national and state parks, wildlife areas, nature preserves. I'm thinking camping (koa.com) or glamping (glampinghub.com). I'm thinking hiking, biking, rafting, kayaking.
"It's vital that people find ways to engage in physical activity during this time; the benefits to our immune systems and our mental health are significant. But it is critical that we do so in ways that will keep us safe and minimize the spread of the pandemic," writes Ryan Chao, President, Rails-to-Trails Conservancy.
Rails-to-Trails' Conservancy has compiled resources, provides information on the latest on trails, walking and biking and the COVID-19 pandemic (Visit railstotrails.org/COVID19), and provides a trail-finder website and app, TrailLink.com, which is free for anyone to use to find particulars on more than 37,000 miles of multi-use trails nationwide, including trail maps, walking and biking directions to get to the trail, and contact information for local trail management organizations (visit railstotrails.org).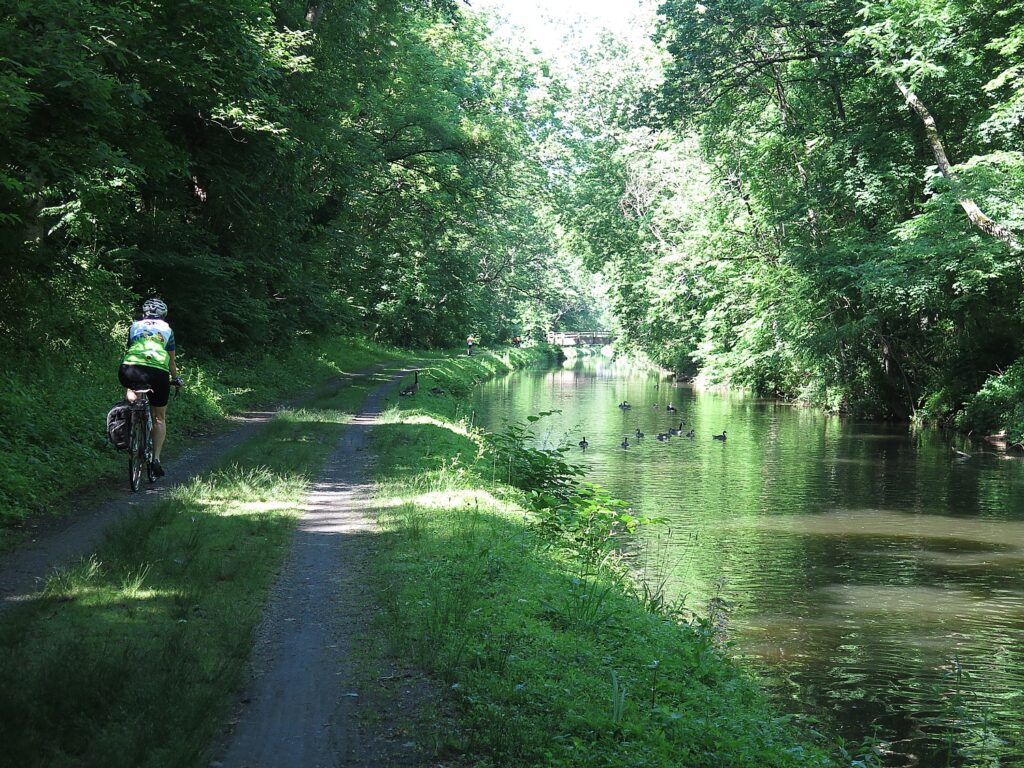 Here are more ambitious ideas:
An ideal trip (and also one of my favorite bike tours ever) which hits all of these criteria (driving distance, biking, camping) is the Cycle the Erie, an eight-day 400-mile, fully supported biking/camping trip, from Buffalo to Albany, operated by Parks & Trails NY. At this writing, the 22nd Annual Cycle the Erie was still taking place July 12-19, 2020. (they expect to make a decision on May 12; they have eased the cancellation policy and would transfer the registration at this year's fee next year if they have to cancel.) For information on Cycle the Erie Canal, call Parks & Trails New York, 518-434-1583, email [email protected] or visit www.ptny.org/cycle-the-erie-canal.
Hopefully, other supported biking/camping rides that also support nonprofit organizations will also run, such as the BikeMaine 2020: Katahdin Frontier – a seven-night ride 340 mile-loop (17,455 feet of climbing), from Old Town, September 12-19, 2020 (www.bikemaine.org)
The next best thing is an organized bike tour – self-guided trips obviously have the fewest people to interact with, and guided – that utilize inn-style accommodations are our favorites. We have enjoyed trips around the world – the Danube Bike Trail, Greek islands bike/boat trip, Venice-Croatia, Slovenia, and Albania (Biketours.com is a great source), and I'm still hoping to take my family on a self-guided bike trip of northern Portugal in late summer – but there are fabulous trips within driving distance that can be done on rail-trails with camping, inns and airbnb.com, such as the Delaware-Lehigh trail in Pennsylvania and the Great Allegheny Passage which can be linked with the C&O trail that can take you from Washington DC all the way to Pittsburgh, PA, and the Erie Canalway.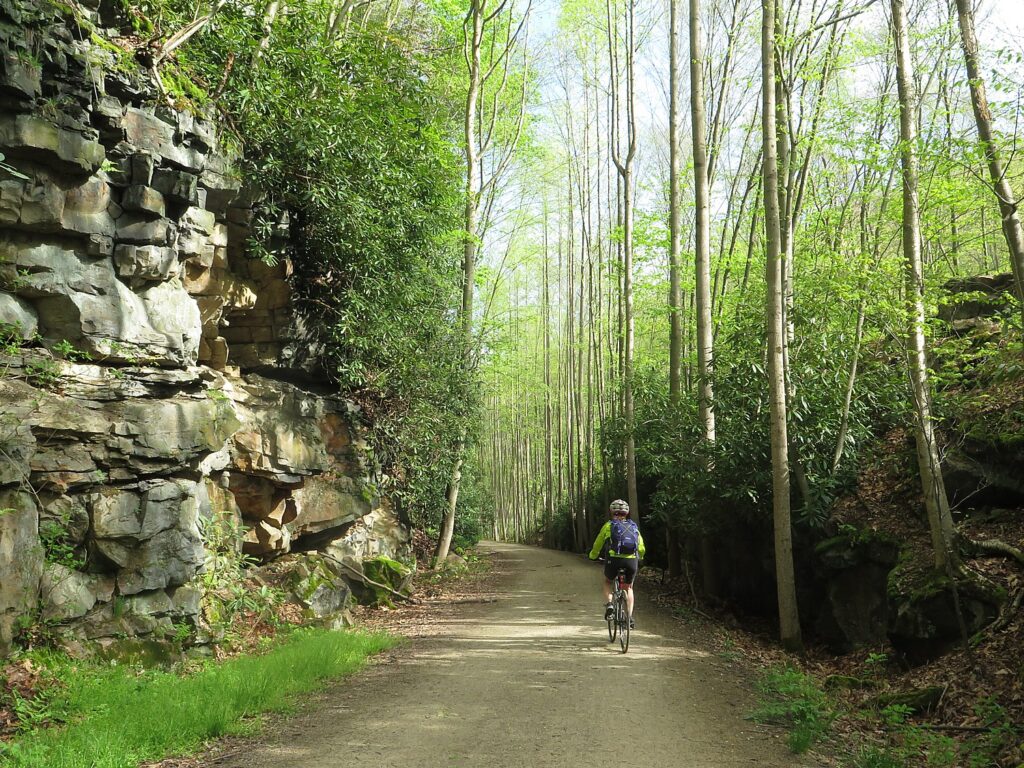 Wilderness Voyageurs, a wide-ranging outdoors company with an extensive catalog of biking, rafting, fishing and outdoor adventures throughout the US and even Cuba, offers many guided and self-guided bike itineraries built around rail trails like the Eric Canal in New York, Great Allegheny Passage in Pennsylvania and Katy Trail in Missouri. Last year we thoroughly enjoyed the six-day "Badlands and Mickelson Trail" bike tour of South Dakota. Wilderness Voyageurs, 103 Garrett St., Ohiopyle, PA 15470, 800-272-4141, [email protected], Wilderness-Voyageurs.com.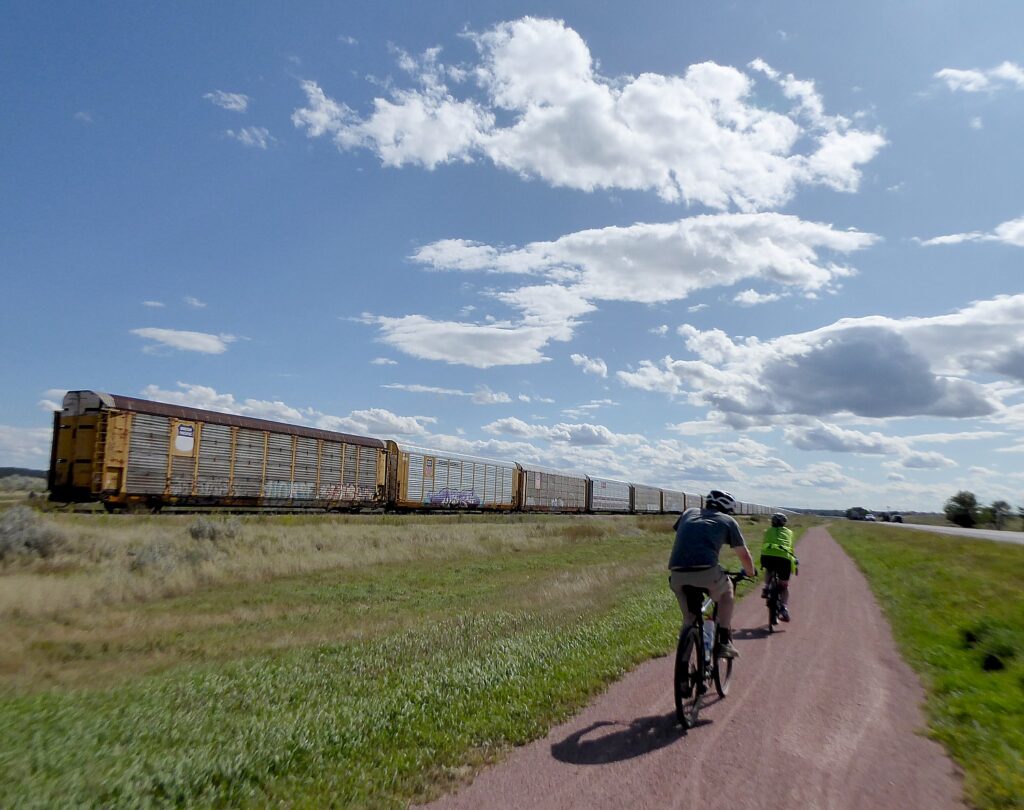 Bicycle Adventures is offering 6-day bike tours of Oregon Columbia (riding and hiking); South Dakota's Mickelson Trail; and Washington San Juan Islands. Bicycle Adventures, 18047 NE 68th St, Ste B140, Redmond, WA 9805 (425-250-5540, bicycleadventures.com).
Tour Operators to the Great Outdoors
Tour operators are in a position not only to have access to permits and accommodations in places that are likely to be overrun this year, but are better plugged in to what is happening on the ground, can move passengers around, adapt itineraries. Wilderness adventure travel companies so far are still offering trips this summer.
Based in Billings, Montana, Austin Adventures has spent over 35 years building an international reputation as a top provider of luxury, small group, multisport tours for adults and families to the world's most captivating destinations. Austin Adventures has perfected the art of creating itineraries featuring exceptional regional dining, distinctive accommodations, incredible guides and exhilarating activities, all while keeping all-inclusive rates and services the norm. In addition to scheduled group departures on all seven continents, Austin Adventures has developed a reputation as the leader in customized trip planning and execution, all backed by the industry's best money-back satisfaction guarantee. For information on Austin Adventures' trips, cruises and distinctive accommodations on seven continents:800-575-1540, [email protected], www.austinadventures.com.
Western River Expeditions escorts more people down rivers on professionally guided rafting trips in Utah, Idaho and Arizona than any other company and is the largest licensed outfitter in the Grand Canyon. (866-904-1160, 801-942-6669, www.westernriver.com).
Moab Adventure Center, a division of Western River Expeditions and the largest single tour provider in Moab, UT, is a one-stop resource for a myriad of outdoor adventures that take you to Arches National Park and Canyonlands and river rafting. (435-259-7019 or 866-904-1163, www.moabadventurecenter.com)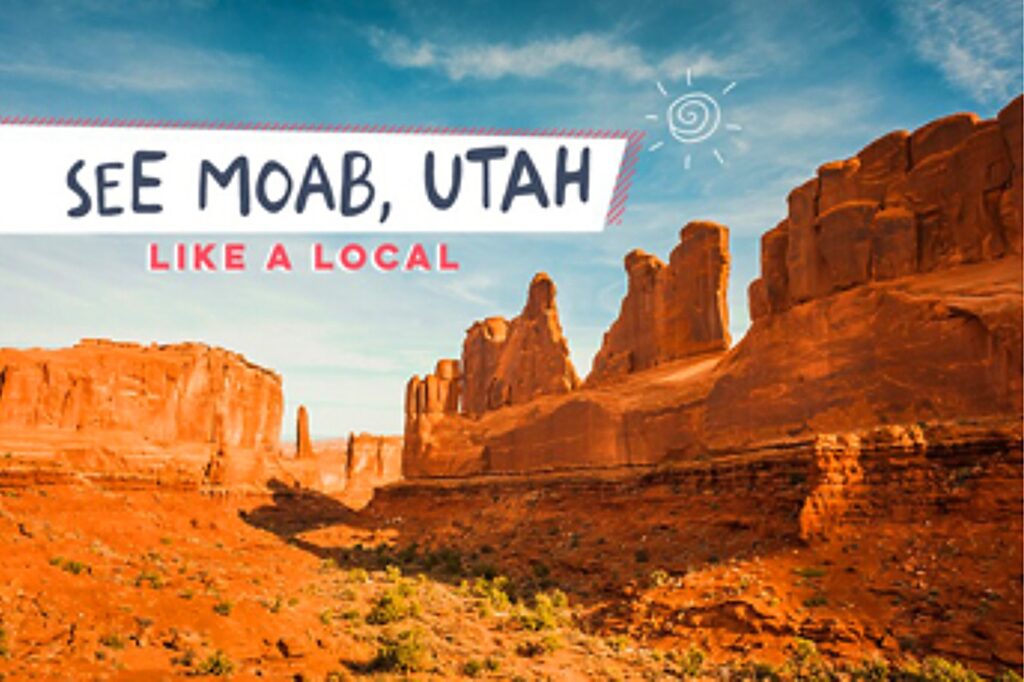 Holiday River Expeditions hopes to be offering its river rafting trips from the end of June through the end of the season in October. The company, operating out of Green River Utah, offers trips on the Colorado, Green River, San Juan and out of Vernal, on the Yampa, in heart of Dinosaur National monument.
Holiday River has just put out The Complete Guide to Whitewater Rafting Trips in Utah, for do-it-yourselfers as well as people who are more than happy to use a commercial outfitter. This new resource for every kind of adventurer is offered free and online.
Here are the seven river trips chosen for inclusion in this new resource:
The Colorado River through Cataract Canyon 
The Colorado River through Westwater Canyon
The Green River through Desolation Canyon
The Green River through Lodore Canyon
"Oar power is the most natural way to experience the river and the absence of motors makes high water trips as exciting as it gets. Rafters experience the rush of wind, a chatty raven or a churning rapid absent the drone and smell of a motorized raft," said Tim Gaylord, Director of Operations and Holiday employee since 1978. (For information, availability, reservations or the catalog, 800-624-6323, [email protected], www.bikeraft.com)
Rethink "Lodging"
A perfect corollary for any sojourn into the wilderness, instead of staying in a hotel, consider glamping – basically luxury camping that brings you into the most gorgeous and distinctive places, close to nature, in comfort but affording very distinctive experiences.
With the popularity of glamping surging, an array of glamping destinations have popped up around the world in recent years, offering everything from geodesic domes to Airstream RVs to tiny homes. For example:
Fireside Resort: By combining the amenities of a luxury boutique hotel with the atmosphere of a wooded campground, Fireside Resort offers Wyoming's best glamping experience. The lodging options reflect the heritage of the valley's original homesteader cabins, with cozy fireplaces, full kitchens, private furnished decks, and outdoor fire pits. Situated on wildlife-filled acres where moose, elk, red-tailed hawks, bald eagles and deer roam, Fireside Resort is just seven miles from Jackson's bustling town square.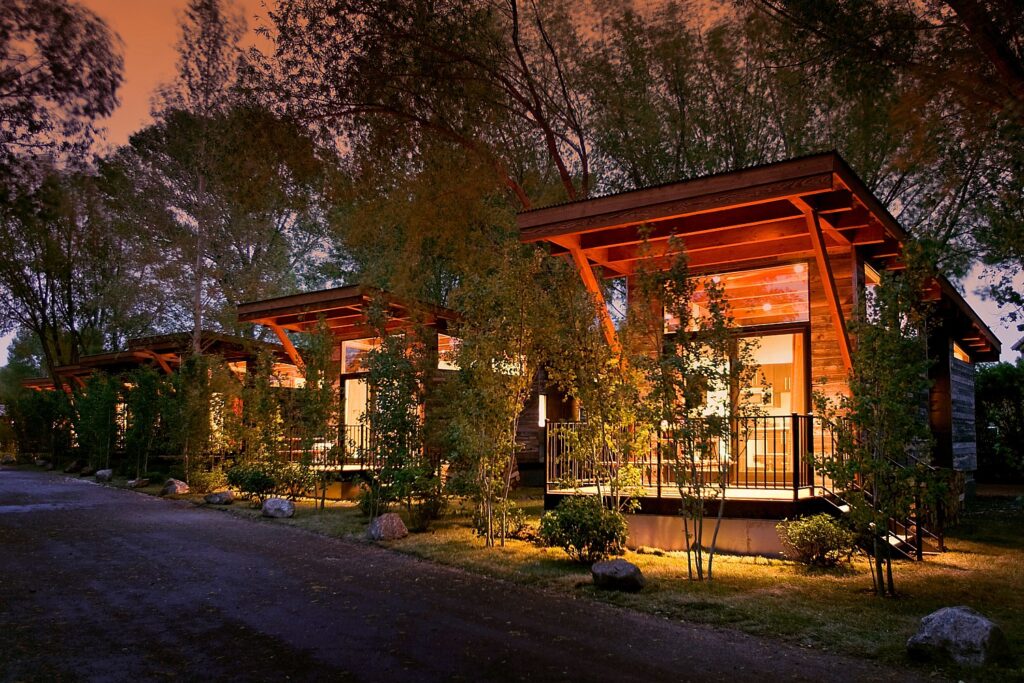 Kestrel Camp: The American Prairie Reserve in Montana is piecing together what will be the largest nature reserve in the lower 48 states, totaling 3.5 million acres, and restoring habitat and species in the process. APR's Kestrel Camp offers five yurt-style luxury suites set around a central lounge and dining room serving chef-prepared meals, as well as a safari-style experience with special access to tour the reserve's ecosystem with personal naturalists.
A great source to finding glamping accommodations is GlampingHub.com, an online booking platform for unique outdoor accommodations across the globe. With over 35,000 accommodations in over 120 countries, Glamping Hub's mission is to connect travelers with nature in order to create authentic experiences in which travelers can stay in the great outdoors without having to sacrifice creature comforts—camping with added luxuries and five-star amenities. Guests can find over 27 different types of glamping accommodations to choose from on Glamping Hub from safari tents, tree houses, and cabins to tipis, villas, and domes. (glampinghub.com)
Or, think cottage on a beach (Cape Cod, Martha's Vineyard are my favorites).
Rethink "resort".
I'm thinking dude ranch: Duderanch.org lists 100 in Wyoming, Montana, Colorado and such, but there are also dude ranches as close as the Catskills and Adirondacks in the wilds of New York State, like the Pine Ridge Dude Ranch (30 Cherrytown Road, Kerhonkson, NY 12446, pineridgeranch.com), Ridin' Hy, year-round inclusive ranch resort in the Adirondacks Preserve near Lake George, Warrensburg, NY 12885, 518-494-2742, www.ridinhy.com);  and the ever-popular Rocking Horse Ranch (reopening June 12, 600 State Route 44/55, Highland, NY 12528, 877-605-6062, 845-691-2927, www.rockinghorseranch.com).
And while many will choose to venture within driving distance – biking, hiking (check out the Hudson River School Art Trail in the Catskills and camping at the North-South Campground, for example) – I will pretty much bet that traveling by air will be absolutely safe because of the regimen that every airline has imposed (going as far as to leave middle seats empty; sanitizing surfaces and utilizing hospital-grade ventilation/air purification systems). I would bet that the most dicey part of an airline trip will be getting through airport security.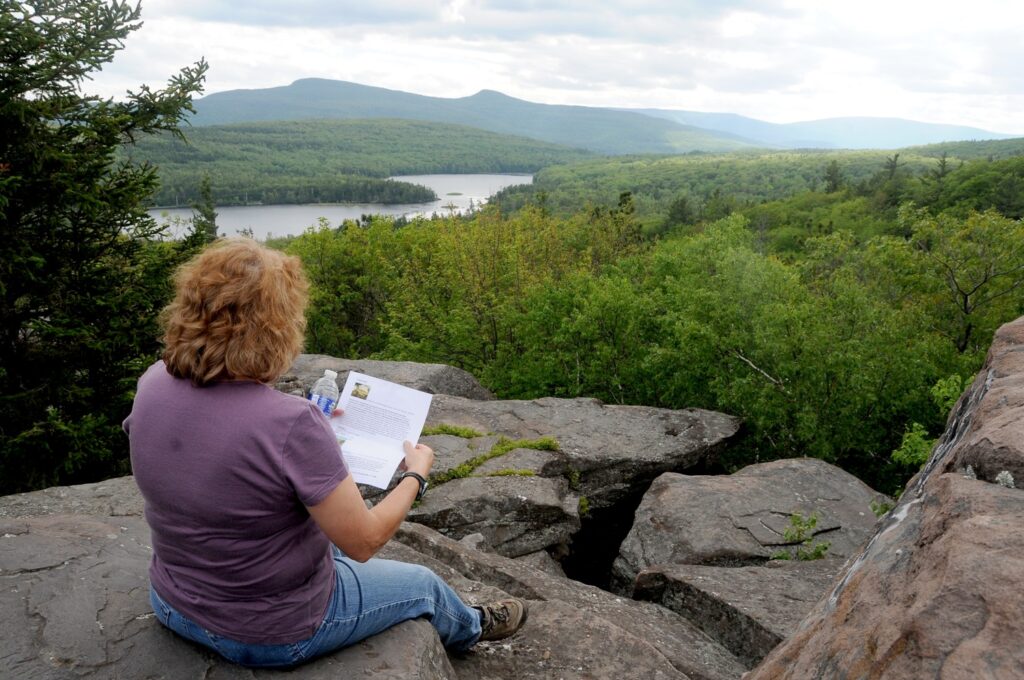 Air Travel
Airlines are doing their best to allay passengers' concerns – both from the point of view of health as well as easing up cancellation, change and refund policies. This from Delta is fairly typical of the major carriers:
"In the current environment, it's important for all of us to travel smarter and more consciously. That's why I want to personally update you on the situation with COVID-19 (the coronavirus) and the steps we are taking to ensure your health and safety in your travels," writes Delta CEO Ed Bastian.
"For more than a decade, Delta has been preparing for such a scenario. As a global airline, we have strong relationships in place with health experts including the Centers for Disease Control (CDC), the World Health Organization (WHO), the Federal Aviation Administration (FAA) and local health authorities worldwide. We are in constant contact with them to make sure our policies and procedures meet or exceed their guidelines.
"Operations are our lifeblood. We've learned from past experience with outbreaks like H1N1 and Ebola, and have continually refined and improved our ability to protect our customers. That includes the way we circulate clean and fresh air in our aircraft with highly advanced HEPA filters, the new fogging procedures in our cleaning process, how we sanitize aircraft between flights and how we respond if a customer is displaying symptoms.
"A full report on the measures Delta is taking to help you have a healthy flying experience..outlines our expanded cleaning and disinfecting at our airports and on board our aircraft; distribution of hand sanitizer and amenity kits to help customers stay clean; and the technology on our aircraft to filter and replace cabin air.
"A command center in Atlanta has been stood up to guide our response, leading our global team of thousands of Delta professionals dedicated to this effort. That includes our reservations specialists handling thousands of incoming calls, our flight crews and Airport Customer Service (ACS) agents taking extra care of our customers, and our TechOps and operations coordination teams keeping the airline moving. This world-class group of airline employees has your back, and I have never been prouder of the women and men of Delta.
"To ensure you always have access to the latest information and guidance, we have a website on the COVID-19 situation that is continually being updated with cleaning policies and actions we're implementing to keep you safe, ways you can stay healthy while flying, and changes to our flight schedules and waiver information. Transparency is one of our core values, and we are committed to keeping you fully informed as the situation evolves.
"While we're committed to providing you with information you need to make informed decisions around your travel, we also understand the need for flexibility based on your individual circumstances. To make sure you can travel with confidence, we're offering flexible waivers, and we've also adjusted our network in response to guidance from the State Department.
"We understand that in today's world, travel is fundamental to our business and our lives, which is why it can't – and shouldn't – simply stop. I believe Delta's mission of connecting the world and creating opportunities is never more important than at times like this."
_________________________
© 2020 Travel Features Syndicate, a division of Workstyles, Inc. All rights reserved. Visit goingplacesfarandnear.com, www.huffingtonpost.com/author/karen-rubin, and travelwritersmagazine.com/TravelFeaturesSyndicate/. Blogging at goingplacesnearandfar.wordpress.com and moralcompasstravel.info. Send comments or questions to [email protected]. Tweet @TravelFeatures. 'Like' us at facebook.com/NewsPhotoFeatures