By Laurie Millman and Martin Rubin,
Travel Features Syndicate, goingplacesfarandnear.com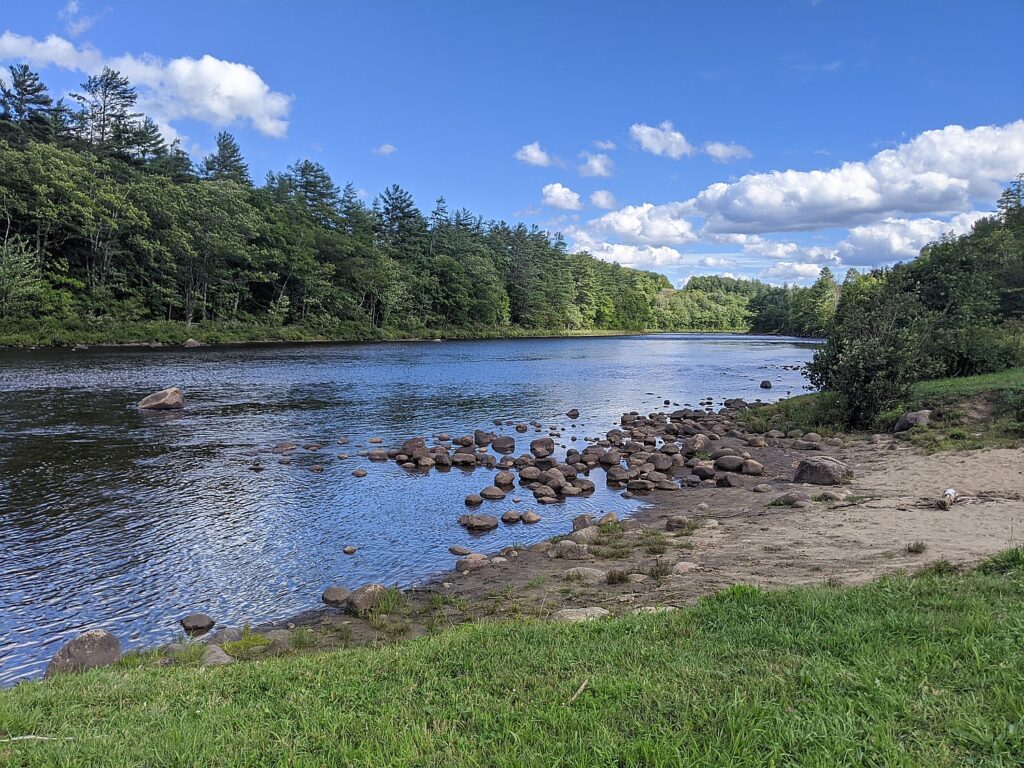 Less than a half hour from Lake George Village, in upstate New York, you can discover cultural and artistic venues in smaller hamlets in the Adirondack State Park all year long without the crowds usually found in the Village. The draw to the small town shops and restaurants are in the quality of locally sourced products they sell and use in food preparation.
Check out some of the Adirondack State Park towns we discovered while driving around Lake George and following the Hudson River:
North Creek, NY – in addition to this town being the location of Gore Mountain ski resort, it is taking off as the art center of the Gore region in the State Park. To get to North Creek, we drove north of Lake George on Rte 9 and Rte 28 for about 35 minutes. The short journey took us along a shallow, yet scenic section of the Hudson River. We found glassblowing, mosaics, local artist exhibits, and regional foods – we spent a day here, but we could easily have stayed over at a local hotel to do more in town and in the surrounding mountains.
Widlund Gallery at Tannery Pond Center – also called the Adirondacks Art Center (228 Main St, North Creek, NY 12853; 518-251-2505 x128; https://tannerypondcenter.org ), runs exhibits by local artists continuously throughout the year (even during ski season). Each exhibit runs for 6-7 weeks. Check out the Center's site for upcoming exhibits. Socially distanced, outdoor events will begin early Spring, 2021.

We toured the oil paintings of Elizabeth MacFarland whose art reflects local, natural settings. We purchased a beautiful poetry book for our granddaughter from the Center — Butterfly, Dragonfly – Poetry for Children, which was both written and illustrated by Ms. MacFarland – you can also find this book on Elizabeth's website (https://www.elizabethmacfarland.com/).
The Center is handicap accessible, with parking spots across the street and a ramp leading up to the main entrance. The main floor contains the exhibits. A performance hall on the lower level can be reached by an elevator. Expect to wear masks while visiting.
North Creek Mosaic Project – just a couple of blocks from Tannery Pond Center, we found artist Kate Hartley working on the last major section of the 180-foot long mosaic relief along Main St. For the past 10 years, this project has been a labor of love for Hartley who conceptualized covering the retaining walls on this street with beautiful mosaic scenes representing activities in the Adirondacks. A project of this scale has drawn more than 2000 volunteers to help place pieces of tile, glass, and stone on the walls with Hartley's guidance. Laurie is now one of those volunteers, by adding one of the last pieces to the mosaic that day. The Mosaic Project, now fully tiled, can be easily viewed from your car, but we recommend walking up to the walls to see close up the variety of materials used to build it. (For more information about this project follow https://www.facebook.com/northcreekmosaicproject/, or go to http://visitnorthcreek.org/project/the-north-creek-mosaic-project/.)
Artist-in-residence, Gregory Tomb (https://www.gregorytglass.com) – Reserve a 1-2 hour glassblowing class when Gregory returns to the region as Artist-in-Residence from late spring through late September 2021. For a private class, contact Gregory at 530-318-9413 or

[email protected]

. Gregory's temporary studio is located at the North Creek Railroad Station Complex (21 Railroad Place, North Creek, NY 12853). Gregory helped Laurie learn to use glassmaking tools to create a beautiful paperweight; Marty learned to blow hot glass and shape it into a bud vase. The building is handicap accessible with parking on a gravel lot, but no bathroom is located on premise.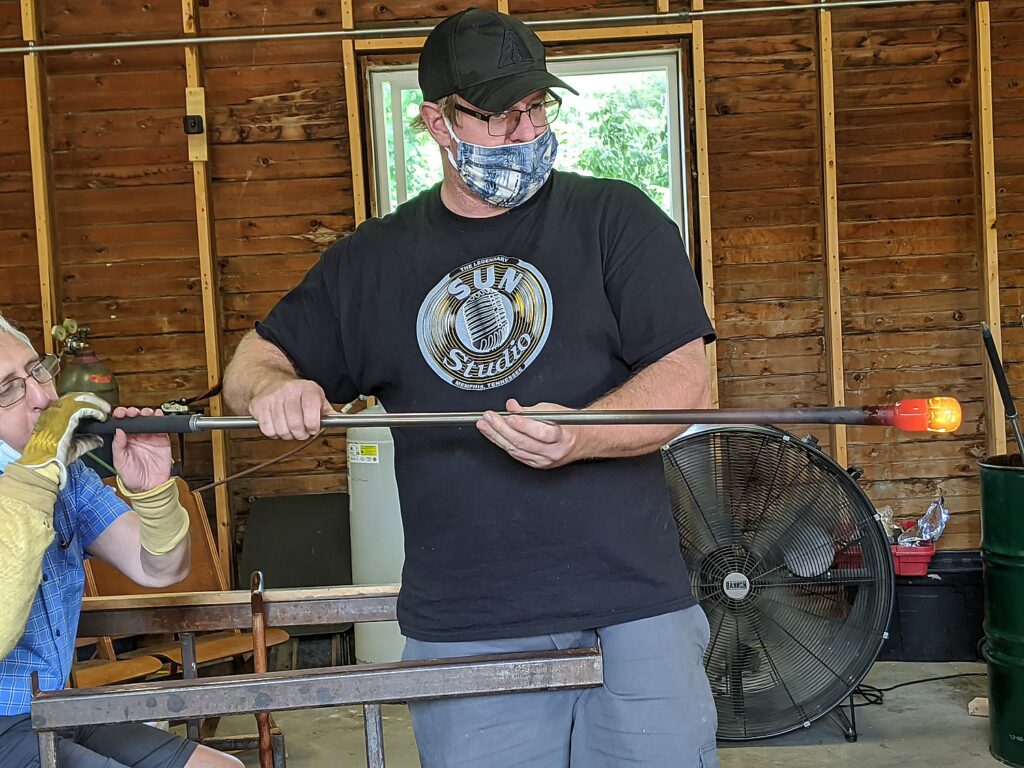 Hudson River Trading Company – across the street from the North Creek Mosaic Project, the 7,000 sq. foot, multi-level store (292 Main St., North Creek, NY; 518-251-4461) is filled with items for sale which represent Adirondack life and culture. The store has souvenirs distinctive of the region, including NY State maple-covered nuts and confections, accessories and wares for every room in your house, accessories for pets, and clothing for all ages.

As we toured the store, owner Laurie Prescott Arnheiter explained to us how she preserved the original 1898 walls and floors from its days as a livery and stables and later a butcher shop. Look for the posts and numbers where the horse's yolks were hung on the walls of the lower room. The retail store also has a kids' section to keep them occupied while their parents shop – there is a puppet stage, a small piano, and a reading corner (note to us, bring our granddaughter next time). We purchased an Adirondack hoodie sweatshirt for our daughter, an apron for Laurie, some dog treats, local honey, and NY maple-coated peanuts and candies.

Arnheiter also owns the small gourmet shop next door — The Hungry Crow — which is also in a historic building, and offers all locally made shelf and refrigerated food, such as cheeses, ground coffee, chocolates, and pastas. She even scooped for us berry-infused ice cream freshly made from a local dairy. Check the website, https://hudsonrivertradingco.com, for spring reopening and hours.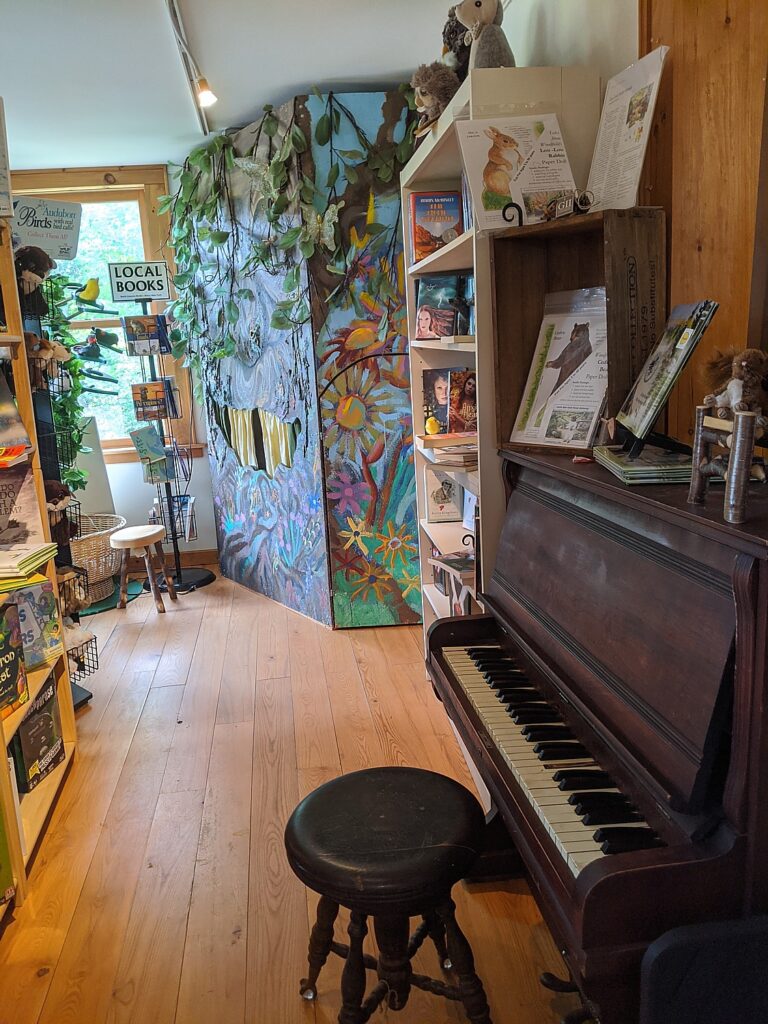 Gore Mountain – this Adirondack ski resort offers downhill and cross-country skiing and snowboarding. Gore Mountain remains open the rest of the year for activities such as scenic hiking trails, a mountain skyride, downhill mountain biking, and nine-hole disc golf. The 2020/2021 season pass packages start from $499/adult. The pass applies to some of the summer and fall activities, and includes an additional ticket for sharing a winter activity. (793 Peaceful Valley Rd, North Creek, NY 12853; 518-251-2411, https://goremountain.com)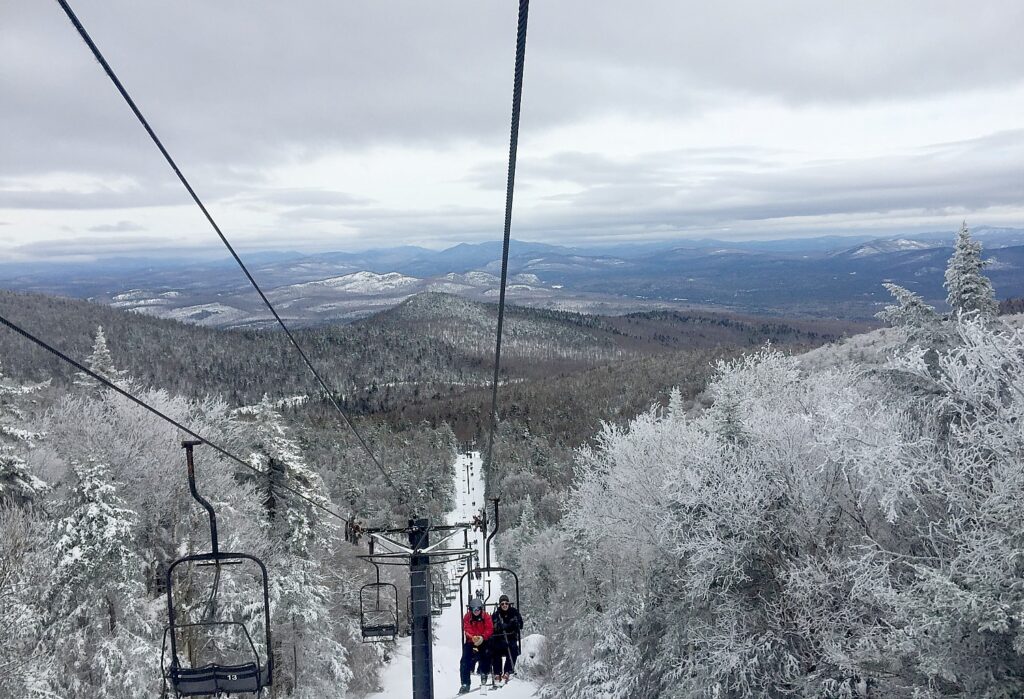 Bolton Landing, NY – this lakeside hamlet is just 15 minutes north of Lake George Village, as you drive along the lake. Beautiful views of Lake George and shopping in small businesses with plenty of parking was a huge draw for us to stop and spend an afternoon here. Bolton Landing is also the home of the historic luxury hotel, The Sagamore Resort.
Lake George Adirondack Winery – for a fun and educational wine tasting experience for up to four people, book online or call any of their three locations in the region: Bolton Landing 518-708-6672; Lake George Village 518-203-2597; Queensbury 518-668-9463, https://www.adirondackwinery.com/. We opted for the Bolton Landing location.
This family-owned winery uses northern New York State and Canadian fresh grapes and fruit to create delicious red, pink, white, and ice wines. Adirondack Winery also effectively infuses semi-sweet red and white wines with seasonal fruit. The Adirondack Winery shops and production facility are open seven days a week for wine tasting and shopping – confirm hours online.
For the "Original Wine Tasting Experience" (just $8/person) we each selected seven different wine samples from a choice of 32 Adirondack Winery prepared wines. We added the "Locavore Sampler" and the "Cheese Lover's Sampler" for an additional $10/person, which allowed us to sample local Adirondack cheeses along with the wines. Our platter included a mild goat cheese, a champagne-infused cheddar which paired deliciously with Adirondack Winery's very own "Berry Breeze wine-infused" jam, locally made chocolate truffles, and crackers and pretzels to eat with them. We finished off the wine tasting with a refreshing wine slushy of the day (additional $5/person). Masks and social distancing are still required in the wine-tasting room, even though masks may be removed when you are sitting for the tasting experience. Based on our sampling, we chose four different, full-bodied wines to take home, a block of the champagne cheese and the "Berry Breeze" jam — they were a big hit with our multi-generational family.
Adirondack Extreme Adventure Course is perfect for a multi-generational family with over 100 obstacle courses and 15 ziplines for adults and older kids, and two courses and a playground for younger children. Whether you are a newbie to ziplining, treetop climbing and swinging obstacle courses, or an experienced adventurer, this aerial park offers something for everyone to spend a thrilling day in the wonderful mountain air and beautiful views of the Lake (5 Westwood Forest Ln., Bolton Landing, NY; 518-494-7200, https://adirondackextreme.com)
The aerial adventure park reopens in April 2021. Check the website for hours of operation, pricing of course packages, and minimum age requirements. Reservations and payment in advance by phone or online are required. Masks are required at check-in, during harnessing procedures, and walking throughout the park; masks are not required while climbing the courses. Social distance between separate groups is expected.
North River, NY – a small hamlet on the banks of the Hudson River, North River is the home of the world's largest, commercial-grade garnet deposits found on Gore Mountain. In 1969, Governor Nelson Rockefeller officially named the ruby red Barton garnet as New York State's gem stone.
Garnet Mine Tours – currently closed due to Covid-19 restrictions; check the web site (garnetminetours.com) to learn when they will reopen for tours of the historic Barton Mines (1126 Barton Mines Rd., North River, NY).

Garnet Hill Lodge – just 15 minutes from the center of North Creek and around 45 minutes from Lake George, this rustic, Adirondack wood lodge, high up on a mountain, boasts a scenic canyon view of Thirteenth Lake from the resort's meadow.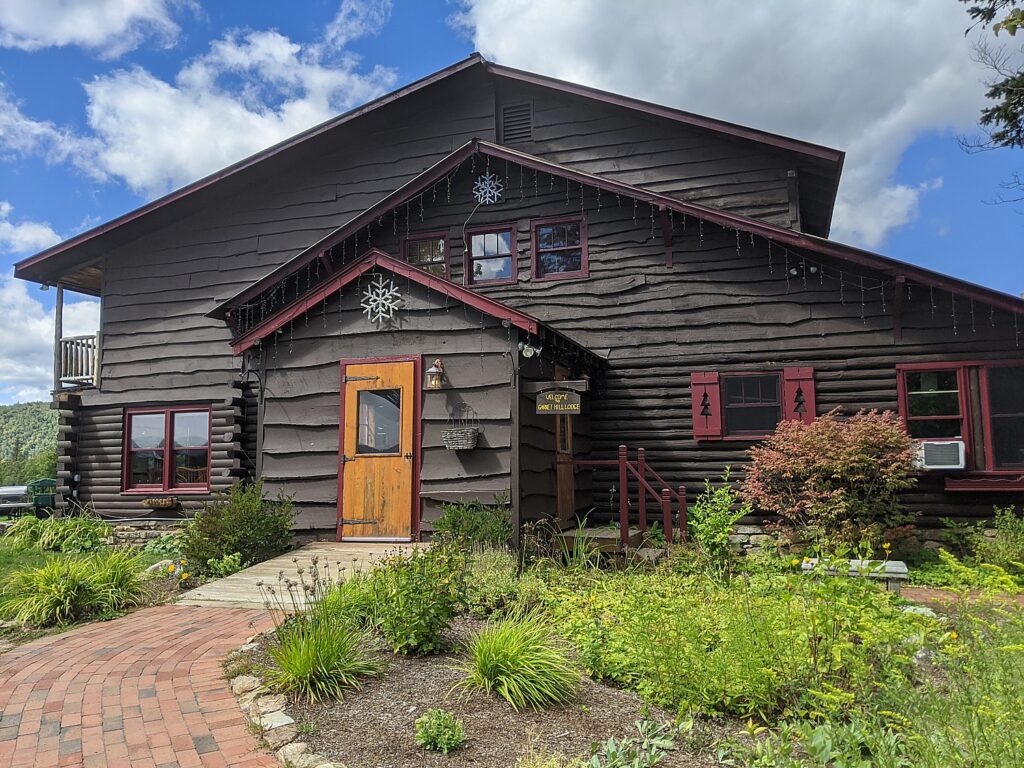 The Garnet Hill Lodge is a perfect one-stop resort for four seasons of outdoor activities. During winter months, the Lodge offers 35 miles of groomed cross-country ski trails and six different snowshoe trails starting immediately outside the lodge and its Outdoor Center. Every stay at the lodge comes with complimentary trail passes. The full service ski shop assists guests with equipment, clothing, repairs, rentals, and lessons.
Throughout the rest of the year, lodge guests can enjoy the mountain's hiking trails, the resort's tennis courts, sign out complimentary mountain bikes, canoes and kayaks, and enjoy the Lodge's staff-attended private beach on Thirteenth Lake. While walking around the mountain, in addition to looking out at the beautiful Adirondack mountain scenery and looking up at the beautiful clean sky, try looking down – you just might find a rock with garnets! (garnet-hill.com; 39 Garnet Hill Road, North River, NY 12856; 518-636-1652)
With continued Covid-19 flying and quarantine restrictions continuing throughout the country and world, this secluded, Adirondack State Park lodge and resort is ideal for a destination wedding. Pre-Covid, Garnet Hill was able to accommodate up to 120 guests for an outdoor or indoor ceremony and reception from June through October, and up to 80 guests between November and May.
A two-night minimum booking for guests at the Lodge included food and beverages in the lodge's full-service restaurant and pub, the Bobcat Bar and Grill. Guests have complimentary use of the lodge's outdoor equipment in all seasons, including the lake beach and well-marked hiking and mountain biking trails. Contact Nicole at 518-251-2444 to discuss current capacity limitations, to book a getaway, or a visit and tour of Garnet Hill Lodge for a potential wedding or other group event. Nicole will assist with planning all aspects of a destination wedding or event within state guidelines and restrictions.
Glens Falls, NY
Reclining in zero-gravity chairs, wearing street clothes and covered up with warm, fluffy throw covers, we took off our masks, closed our eyes, and breathed in the medical-grade salt that was being released into the room. Listening to relaxing music, we immediately fell into a deep sleep. Forty-five minutes later, owner Dawn gently woke us. We walked out of the room feeling quite relaxed, with Laurie commenting that she no longer had the acid reflux cough she came in with, and Marty left with clear sinuses. The experience was a success for both of us! We have one recommendation: the room is cool even with the warm comforter, so be sure to wear layers: long-sleeved shirt, jacket, or sweater, socks or booties, long pants.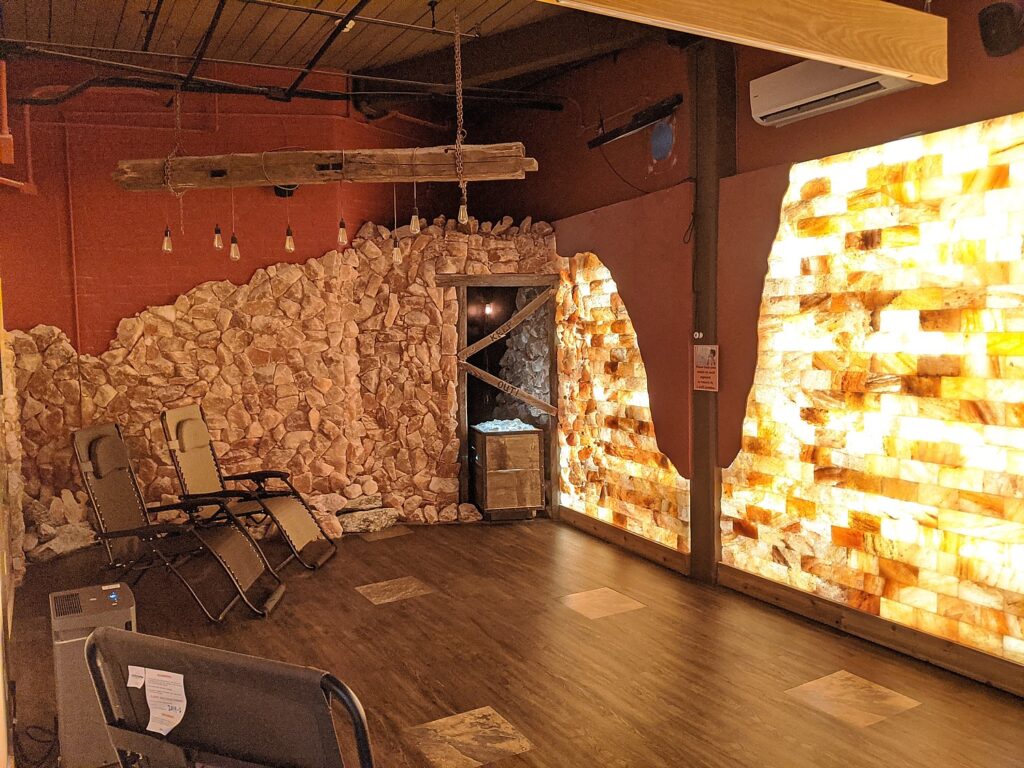 The Wellness Center is a holistic healing arts center which also offers Swedish massage, Shiatsu, Reiki, Esthetician services, therapeutic reflexology, and other massage therapy services.  Owners Dana and Greg Russell renovated a 123-year old collar and shirt mill, built out therapy rooms and the large "salt cave" room while preserving the original wood floors, brick walls, and tall windows for lots of natural light in the waiting area. Over 7,000 lbs of Himalayan salt blocks went into creating the long, beautiful, backlit wall that is the focal point of the man-made "salt cave" room. They also built out the front desk and the base of the benches with salt blocks. For pricing of services and packages and to make an appointment,  visit adirondacksaltcave.com, call Dana at 518-798-2343, or email her at [email protected]. Please tell her that Laurie and Marty sent you! (11 Broad St., Glens Falls, NY 12801).
More information at https://visitadirondacks.com/.
__________________________
© 2021 Travel Features Syndicate, a division of Workstyles, Inc. All rights reserved. Visit goingplacesfarandnear.com, www.huffingtonpost.com/author/karen-rubin, and travelwritersmagazine.com/TravelFeaturesSyndicate/. Blogging at goingplacesnearandfar.wordpress.com and moralcompasstravel.info. Send comments or questions to [email protected]. Tweet @TravelFeatures. 'Like' us at facebook.com/NewsPhotoFeatures