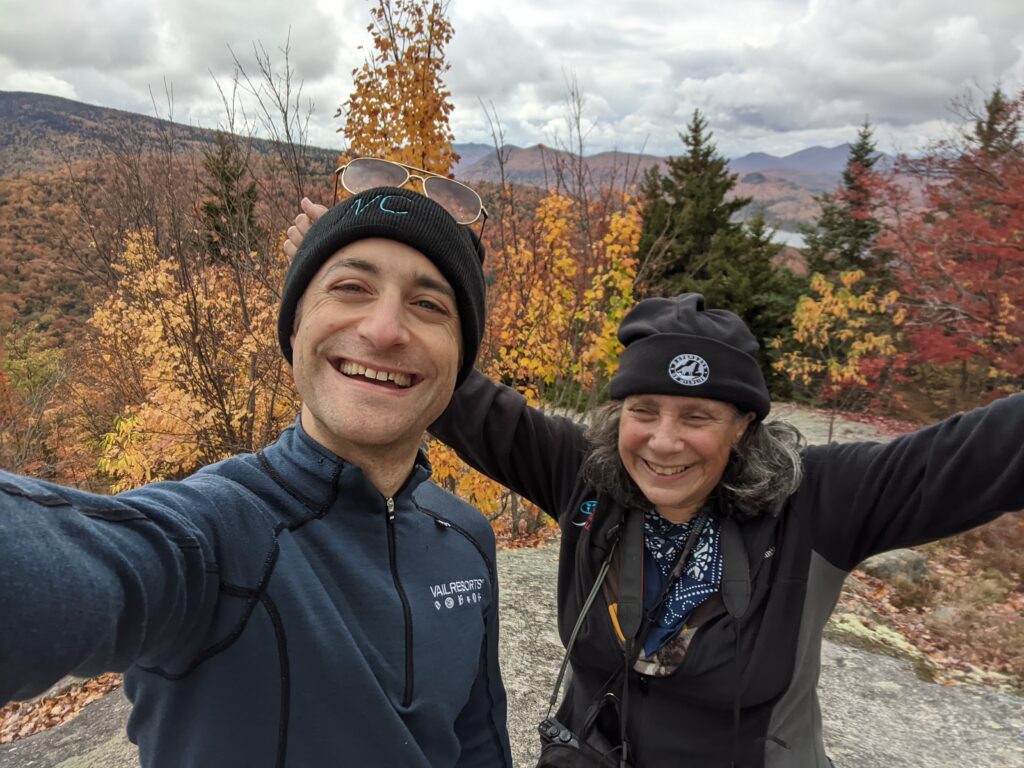 By Karen Rubin
Travel Features Syndicate, goingplacesfarandnear.com
Take advantage of the outdoors this fall – hiking, biking, kayaking, pick-your-own apples, pumpkins, and camping!
And New York State really has it all.
The I LOVE NY weekly foliage report is a great tool for visitors looking to plan a seasonal getaway – you can not only follow the progress of the changing colors, but the new interactive fall foliage map, located on the I LOVE NY foliage website, showcases great foliage viewing locations in each of the various regions throughout the state. You can use the map to see what the foliage is like during peak viewing in a given area find nearby, must-see attractions and events, from harvest festivals to Halloween celebrations, craft beverage trails, museums and family fun. Reports and the new interactive map are updated Wednesdays throughout the season at www.iloveny.com/foliage or dial 800/CALL-NYS (800/225-5697).
Thanks in part to its size and location, New York State has one of the longest and most colorful foliage seasons in the country. From late September through mid-November, some part of the state is likely experiencing peak foliage.
Travelers are invited to share their photos of New York State's amazing foliage on social media by using the #NYLovesFall hashtag. Submitted photos may be featured on the I LOVE NY fall foliage website and official I LOVE NY social media accounts reaching nearly two million followers.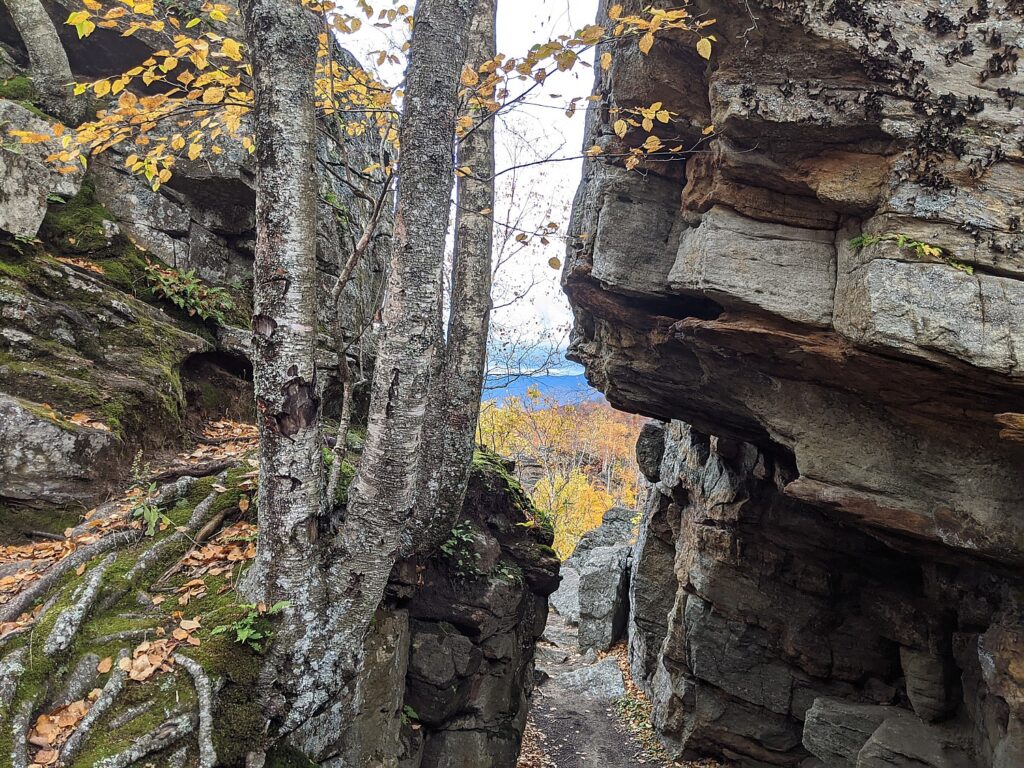 The colors are already turning in the ADIRONDACKS, which peaks around Columbus Day weekend. Adirondack Experience lists hikes in categories, one of which is "best summit views" with excellent descriptions (also alltrails.com gives precise maps, elevations).  Last fall, based on their recommendation, we did Chimney Mountain and Castle Rock hikes in one day (www.adirondack.net). The Adirondack Fall Foliage Meter (www.adirondacksusa.com/fall) provides up-to-the-minute fall foliage reports on where the leaves are prettiest and most colorful. More sources: Adirondacks Regional Tourism, visitadirondacks.com; Hamilton County Tourism, adirondackexperience.com, 800-648-5239.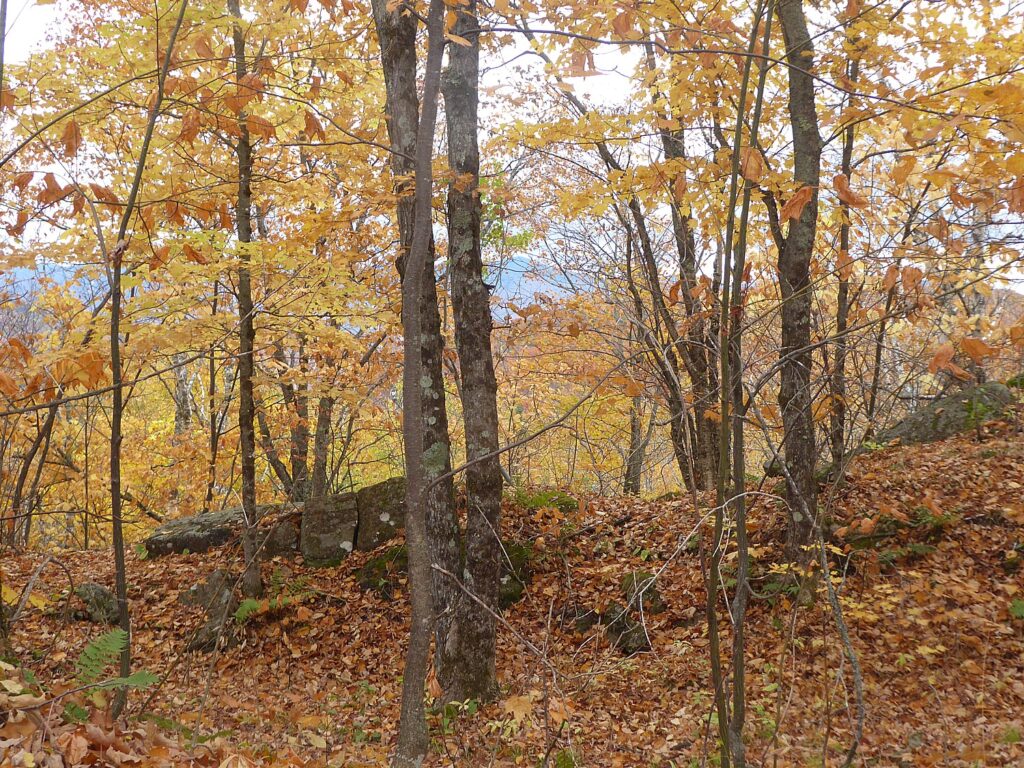 A little later in the season, GREENE COUNTY/GREAT NORTHERN CATSKILLS are spectacular (https://www.greatnortherncatskills.com/outdoors) – like hiking through the exquisite North South Campground, which is part of the Hudson River School Art Trail (a network of trails and attractions like Frederic Edwin Church's Olana, where besides his extraordinary home, you can visit Olana's 250-acre landscape for free (olana.org) and the Thomas Cole House (thomascole.org). I'm still partial to spending as much time outdoors as possible, so I am happy following the Hudson River Art School Trail (hudsonriverschool.org). (These days, it is best to check the website to make sure indoor attractions are open and if they require advance purchase, timed tickets.)
In Greene County:
Take a Ride:
The Windham Mountain Skyride features a two-mile chairlift to the summit of Windham Mountain, providing incredible panoramic views and is open through October 11th. For additional mountainous scenery, the Hunter Mountain Scenic Skyride offers a two-mile, six-passenger chairlift with views of the Northern Catskill Mountains, open through October 17th.
Explore one of many motorcycle routes showcasing scenic views: ride on the Mohican Trail past the Five State Lookout, the Mountain Clove Run, or another picturesque route in the Great Northern Catskills. Or explore the 120 miles of some of the best mountain biking trails in the country.
Take a Hike:
In Prattsville, Pratt Rock, known as "New York's Mount Rushmore," offers a 3.1-mile round trip hike featuring a historical monument dedicated to Zadock Pratt, with summit views overlooking the valley with ample foliage.
For a challenging, yet rewarding ascent, the Hunter Mountain Fire Tower via Spruceton Trail, offers incredible panoramic views of the Catskill Mountains.
For a less intense, yet equally as scenic excursion, the Mountain Top Arboretum in Tannersville offers 178 acres of trails and boardwalks to admire the autumnal beauty.
Visit Local Farms:
Boehm Farm located in Climax offers a pick-your-own produce experience in addition to a variety of farm-grown and baked seasonal goodies. Be sure to call prior to visiting for the most up-to-date information on picking variety availability.
For a family experience, find spectacular views at East Durham Farms in East Durham. Bring home farm-grown produce, local jams, jellies, cheeses and other goods for everyone to enjoy.
To sample fall-grown produce and locally made products, visit Story Farms in Catskill for delicious harvested fruits and vegetables from the family-run farm, or RSK Farm in Prattsville for a variety of fall vegetables available at their farmstand.
(Great Northern Catskills, 800-355-CATS, 518-943-3223, www.greatnortherncatskills.com)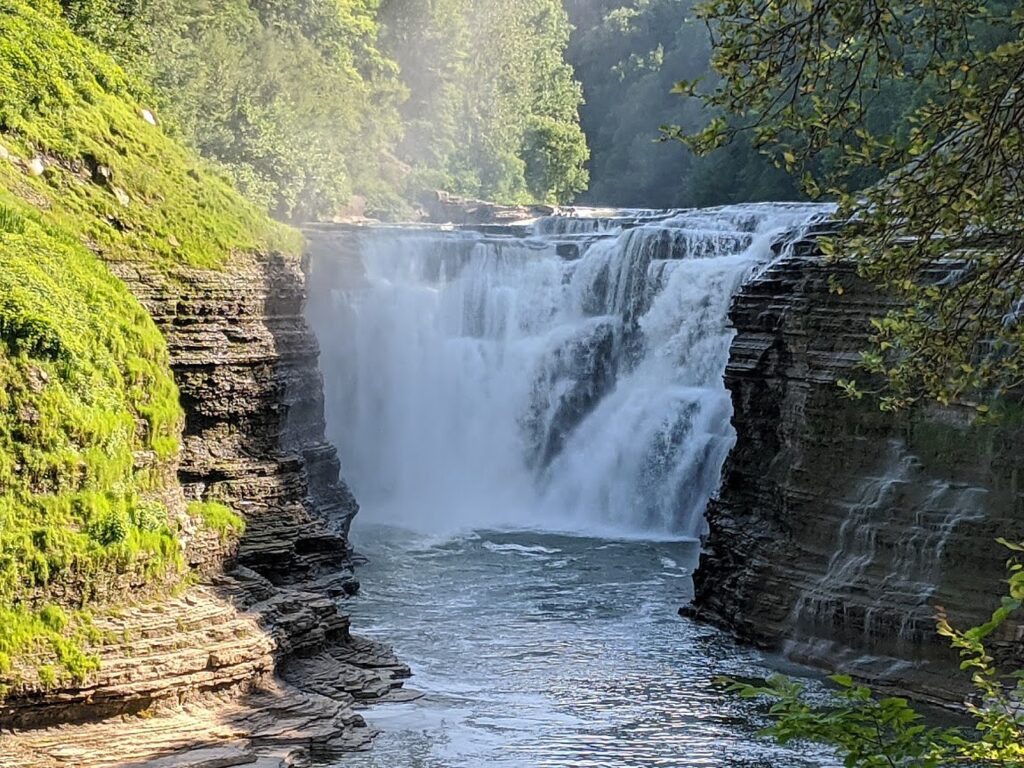 The Finger Lakes region has over 1,000 waterfalls and gorges, 650 miles of shoreline, more than 16,000 acres of National Forest, and over 2,000 miles of hiking and biking trails – such as we enjoyed in Watkins Glen State Park and Letchworth State Park, the "Grand Canyon of the East" (where the state has just opened an innovative autism nature trail – a one-mile hiking loop that includes eight marked sensory stations, each designed to address a different sensory experience in a safe and supportive environment). Also, vineyards, wineries, breweries, rail-trails. museums, art galleries, historic sites, theaters. Excellent planning aids are available from The Finger Lakes Tourism Alliance, 309 Lake Street Penn Yan, NY 14527, 315-536-7488, 800-530-7488, www.fingerlakes.org. Another excellent source of visitor information is Visit Finger Lakes, 585-394-3915, [email protected], www.visitfingerlakes.com.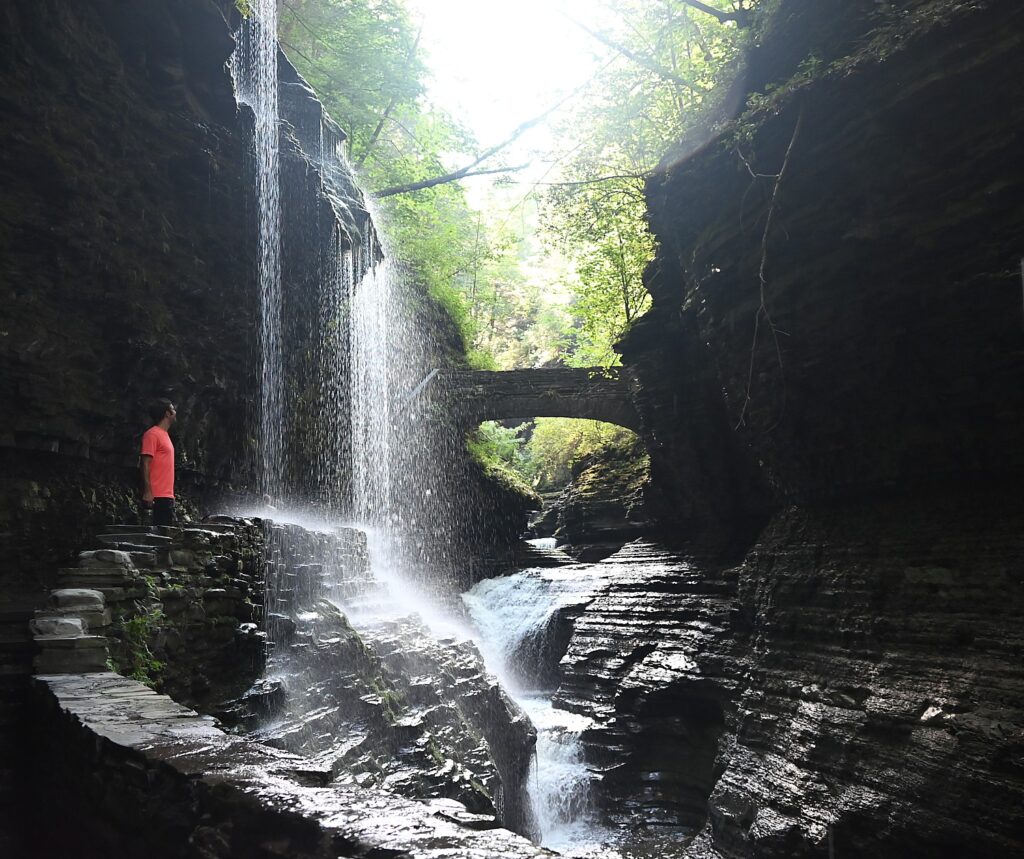 Go totally au natural and camp out (through October). We adored our camping adventures at the in Letchworth State Park and the4 Six Nations Campground in Watkins Glen State Park (https://newyorkstateparks.reserveamerica.com/)
In Coxsackie, Gather Greene is a glamping destination with 17 wooden glamping cabins on 100 acres of rolling hills and fields, each equipped with air conditioning and heating, full bathrooms, a mini-fridge (176 Levitt RoadCoxsackie, 262-448-3683, www.gathergreene.com).
Camp New York is a network of independent campground owners across New York State, from the high peaks of Adirondacks to the majestic Niagara Falls frontier, from the scenic Finger Lakes to the eastern edges of Long Island, and everywhere in between (585-586-4360, www.campnewyork.com). Here are some of their recommendations: For those looking to take scenic fall drives, U.S. Route 20 runs east/west through the heart of NYS, crossing along the tips of several Finger Lakes and offering beautiful rolling hills and sweeping vistas. These websites, https://nyroute20.com/ and https://www.dot.ny.gov/display/programs/scenic-byways/route-20, cover sights to see in the Central New York section. Some popular base camps along the way include Lebanon Reservoir Campground in Hamilton (www.lebanoncampground.com), about 15 minutes off Route 20, and Cider House Campground in Bouckville (www.ciderhousecampground.com), which is located right on Route 20 in the heart of the Madison Bouckville Antiques Community (https://www.ciderhousecampground.com/. https://www.madisontourism.com/things-to-do/antiquing/). Families looking for spooky destinations across New York should check out the Haunted History Trail (https://hauntedhistorytrail.com/) and crosscheck the haunts of interest with neighboring campgrounds on CampNewYork.com.
New England Beckons
NEW HAMPSHIRE's Lakes Region not only offers gorgeous scenery, hiking, biking, but wonderful fall festivals and events.
I have my sights set on the 58-mile long Northern Rail Trail. Set geographically right in the middle of classic New England, it crosses New Hampshire beginning just north of the state's capitol in Concord, N.H. and extends almost to Vermont in Lebanon, N.H. Now a recreational trail, it was once the rail bed of the Northern Railroad built in 1847, so the gradient never exceeds 1 percent. It traverses rivers, working farms, orchards, horse and alpaca farms, lakes, quaint towns and historic covered bridges and affords classic New England vistas. Railroad buffs will love seeing the historical artifacts that remain: there are the original granite mile markers a couple of old railway stations and noteworthy rock work supporting trestle crossings and culverts. You can easily imagine what New England looked like in the 1850s. Currently the trail has been completed for four-season use from Lebanon, NH through Grafton, NH and Danbury, Andover to Depot Street in Franklin. (The Friends of the Northern Rail Trail group has the goal of extending the tail from Danbury, NH to Boscawen in Merrimack County, NH). (More information: Friends of the Northern Rail Trail, www.fnrt.org )
New Hampshire innkeepers have made it delightful to turn the Northern Rail Trail ride into an inn-to-inn bike tour. Seven historic inns throughout the Lakes and Dartmouth-Lake Sunapee regions are connected by the trail and offer inn-to-inn packages. For more information, maps and rates, visit Bike the Northern Rail Trail website at: http://bikethenorthernrailtrail.com and find the innkeepers at www.nhcountryinns.com.
We recently enjoyed our stay at Mill Falls at the Lake (312 Daniel Webster Highway, Meredith, NH 03253, 800-622-6455, 844-745-2931, [email protected], www.millfalls.com) , but there are scores of bnbs, cabins, cottages, hotels in the region.
The Lakes Region tourism office has a fantastic site to plan a visit: https://www.lakesregion.org/
Of course, VERMONT has practically trademarked "fall foliage." Indeed, three-quarters of the state is blanketed with forests, most of it maple trees that turn the vibrant shades of red, orange and yellow. You can track the progress of the color changes with the state's foliage forecaster and sign up for Vermont's fall foliage report to get real time updates on where the color is peaking each week. Find trip planning inspiration, ideas and resources at https://vermontvacation.com/seasons/fall.
There, you can link to Vermont's 10 federally designated scenic byways routes and roads that take you through Vermont's forests and farmland to historic villages and towns that are vibrant hubs of culture, commerce and recreation. These byways range in length from 14 miles to 400 miles and provide access to museums, art galleries, antique auctions and curio shops, trail heads, swimming holes, waterfalls, hikes and valley views (https://vermontvacation.com/byways). You can also follow the Vermont Arts Council's recommendations for arts and foliage viewing destinations along Vermont's most scenic drives during foliage season (www.vermontartscouncil.org/blog/autumn-and-art).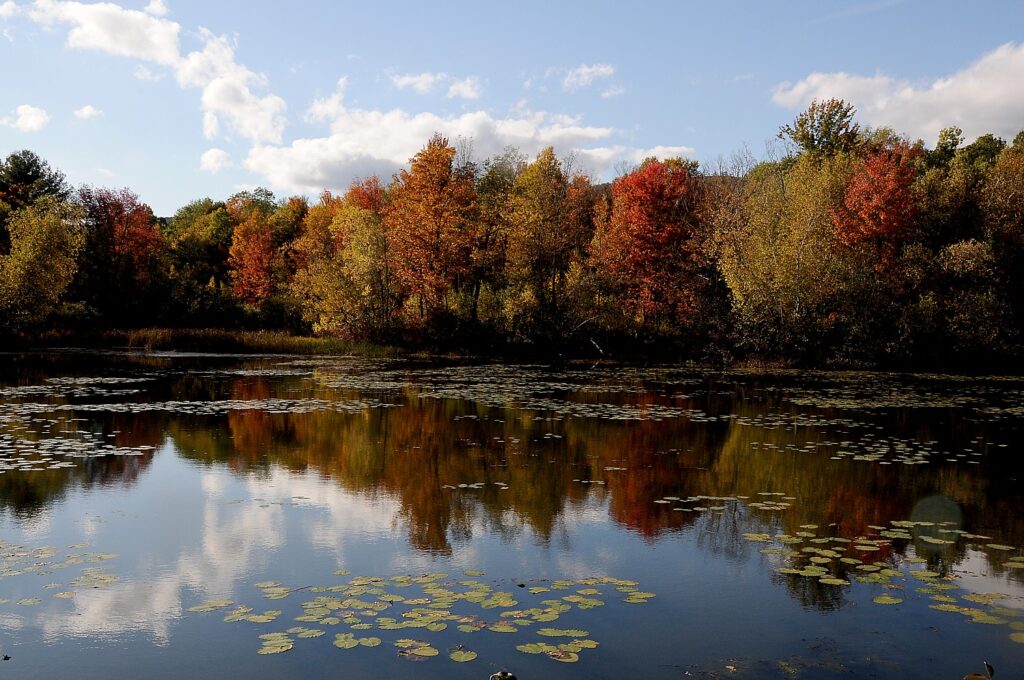 MASSACHUSETTS is the 8th most forested state in the United States, with over 3 million acres of forest, accounting for 62% of the entire state. Some parts of Western Massachusetts are over 90% forested. Its foliage season stretches from mid-September to early November. Here are some highlights and "secret gems":
CAPE & ISLANDS: In Cape Cod, a secret gem is theWest Barnstable Conservation Area, one of the largest conservation parcels (1,114 acres) on the Cape. The entire tract is filled with glorious fall colors from mid-October through November. Better yet, rather than drive, Cape Cod is a paradise for cyclists, with the most wonderful bike paths that basically extend over the entire Cape.
Foliage comes later to Martha's Vineyard than the rest of Massachusetts, typically peaking for brilliant colors at the end of October into early November. TRAILSMV is a free app that allows visitors to explore the Island's fabulous network of pristine trails for walking, biking and hiking that make leaf peeping so much fun.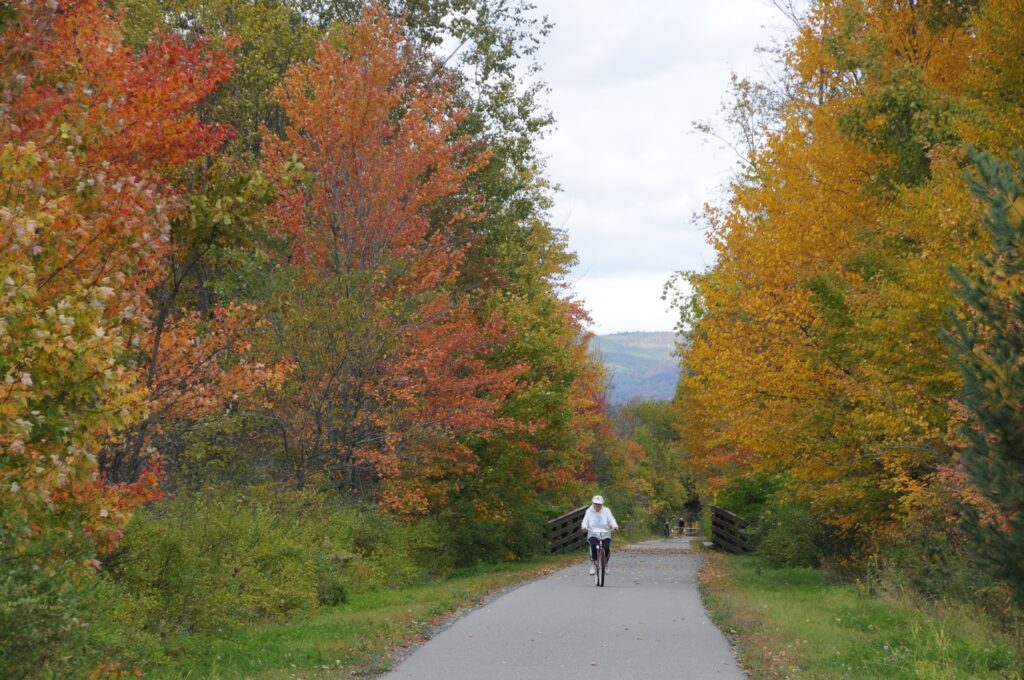 WESTERN MA: In the gorgeous Berkshires, find the best fall foliage at this site: https://berkshires.org/four-fabulous-ways-to-enjoy-fall-foliage/#more-82593
Mohawk Trail: Hoosac Range Trail (2441 Mohawk Trail) located at the first summit on the Mohawk Trail features high elevation long views and sublime rock cliffs formed by "glacial plucking" with trees twisted into fantastical forms by wind and ice. Look out for migratory raptors at Spruce Hill and great views over North Adams, Mount Greylock and Florida State Forest. (https://www.bnrc.org/wp-content/uploads/2020/05/Hoosac_Range_trailmap.pdf)
Mount Greylock State Reservation is the highest point in Massachusetts. At 3,481', on a clear day, you can see as far as 90 miles away. The middle of September to middle of October with peak season typically Columbus Day weekend.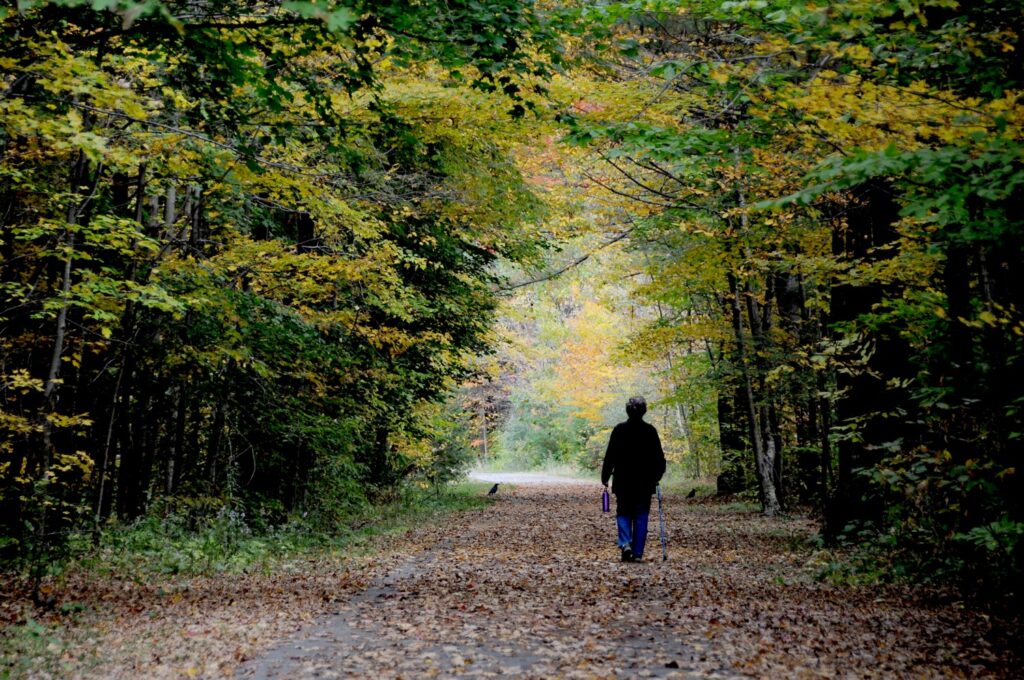 NORTH OF BOSTON: Some secret gems are:Harold Parker State Park in Andover; Old Town Hill in Newbury; Ravenswood Park in Gloucester; and Pipestave Hill and Mill Pond in West Newbury.
Merrimack Valley: The Great Meadows Wildlife Refuge is a 12-mile river wetlands conservation area stretching from the towns of Billerica, Massachusetts (downstream) to Wayland, Massachusetts (upstream), along the Concord River and Sudbury River (https://www.fws.gov/refuge/great_meadows/)
Drive the 90-mile Essex Coastal Scenic Byway that links 14 coastal communities from Lynn to Salisbury and features breathtaking vistas, working harbors, quaint villages, world-class art and culture, and distinctive local food, shops, lodging and visitor services.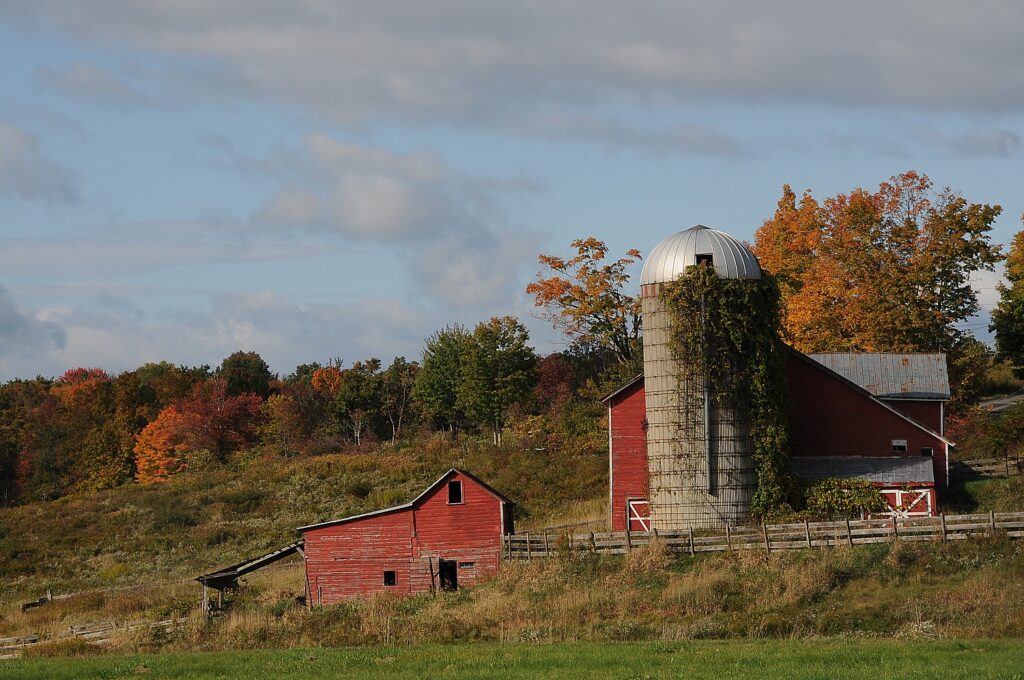 CENTRAL MA: The secret gem here is theTully River Valley: Royalston, Athol, and Orange offers many options for hikers, bikers, and paddlers. A 4.5-mile foot trail loops around Tully Lake and the quarter-mile cascades of Doane's Falls, and a 7.5-mile mountain bike and hiking trail circles adjacent Long Pond, passing by red maple trees that offer vivid foliage along the water's edge starting in late September. Access is available at Tully Lake Recreation Area on Route 32, and Tully Lake Campground and Doane's Falls Reservation on Doane Hill Road (https://thetrustees.org/content/tully-trail/).
Jacob's Hill Reservation features two vistas with panoramic westerly views across the Tully Valley, and the steep cascades of Spirit Falls, which are especially picturesque after an autumn rain. The entrance is on Route 68 in Royalston, and the reservation may also be reached via the Tully Trail from Long Pond. Across the valley rises Tully Mountain in Orange, where ledges provide a striking view across the region to Mount Monadnock, Wachusett Mountain, and Mount Watatic (https://thetrustees.org/place/jacobs-hill/)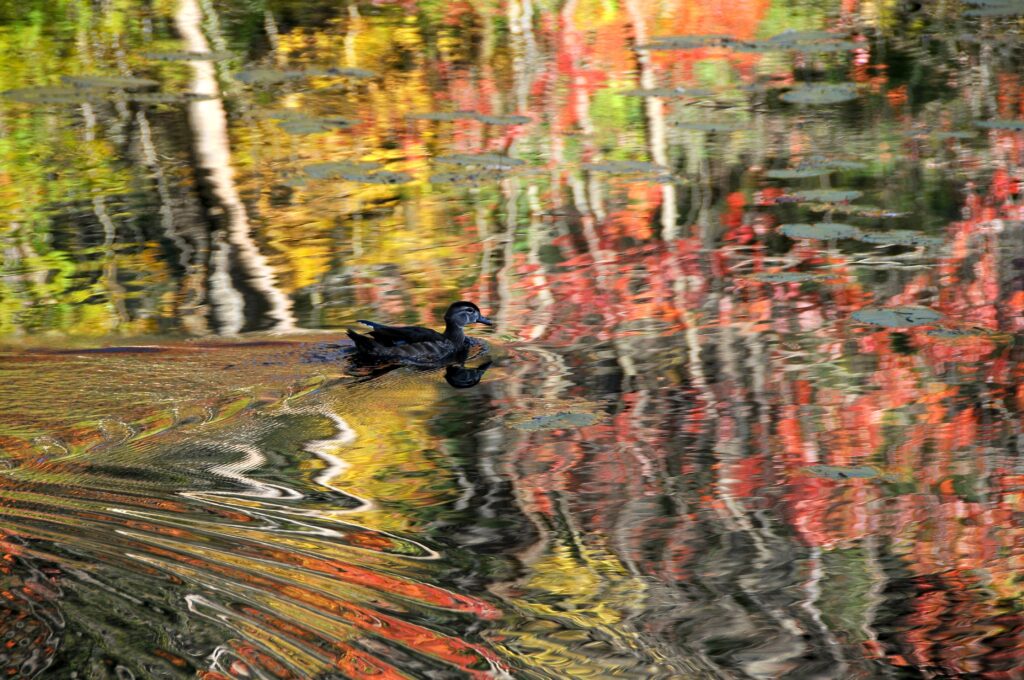 NORTH CENTRAL MA: The Mount Wachusett State Reservation located in Princeton and Westminster, offers stunning views of the region. Visitors can also take the skyride at Mt. Wachusett Ski Area. With over 800 farms and orchards in the region, the country roads in North Central Massachusetts provide scenic opportunities to see the bright vivid fall colors. These include routes 119, 13, 2A, 140, 117, 70, 202 just to name a few. Best time to go: late September/October.
SOUTHEASTERN MASSACHUSETTS has some of the largest cranberry bogs in the nation and is a great place to see foliage alongside the cranberry bogs flooded with crimson berries.
Plymouth/South of Boston: A great experience in Plymouth County is the wet harvesting of cranberries at the height of fall foliage. The A. D. Makepeace Company in Wareham gives cranberry bog tours starting in late September that takes you into the heart of cranberry country in Massachusetts (www.admakepeace.com)
Freetown-Fall River State Forest offers 5,000 acres of forest and open space, a perfect setting for fall foliage. It is also the home of the Wampanoag Reservation (the ""eople of the First Light" who were there when the Pilgrims landed at Plymouth Rock. (https://www.mass.gov/locations/freetown-fall-river-state-forest http://visitsemass.com/freetown-fall-river-state-forest/)
GREATER BOSTON:The Emerald Necklace, a ring of green open space created by Frederick Law Olmsted in the 19th century is a great way to enjoy foliage in the city of Boston. Highlights include Franklin Park in Dorchester, the Arnold Arboretum and Jamaica Pond, Olmsted Park, The Riverway and Back Bay Fens. You complete the Necklace by taking the Commonwealth Avenue Mall into the Public Garden and then to Boston Common (https://www.emeraldnecklace.org/park-overview/emerald-necklace-map/)
To track fall foliage in Massachusetts State Parks, go to https://www.mass.gov/location-details/fall-foliage-season-in-the-parks.
A great guide to visiting Massachusetts is available at https://www.visit-massachusetts.com/state/foliage/.
______________________
© 2021 Travel Features Syndicate, a division of Workstyles, Inc. All rights reserved. Visit goingplacesfarandnear.com, www.huffingtonpost.com/author/karen-rubin, and travelwritersmagazine.com/TravelFeaturesSyndicate/. Blogging at goingplacesnearandfar.wordpress.com and moralcompasstravel.info. Send comments or questions to [email protected]. Tweet @TravelFeatures. 'Like' us at facebook.com/NewsPhotoFeatures