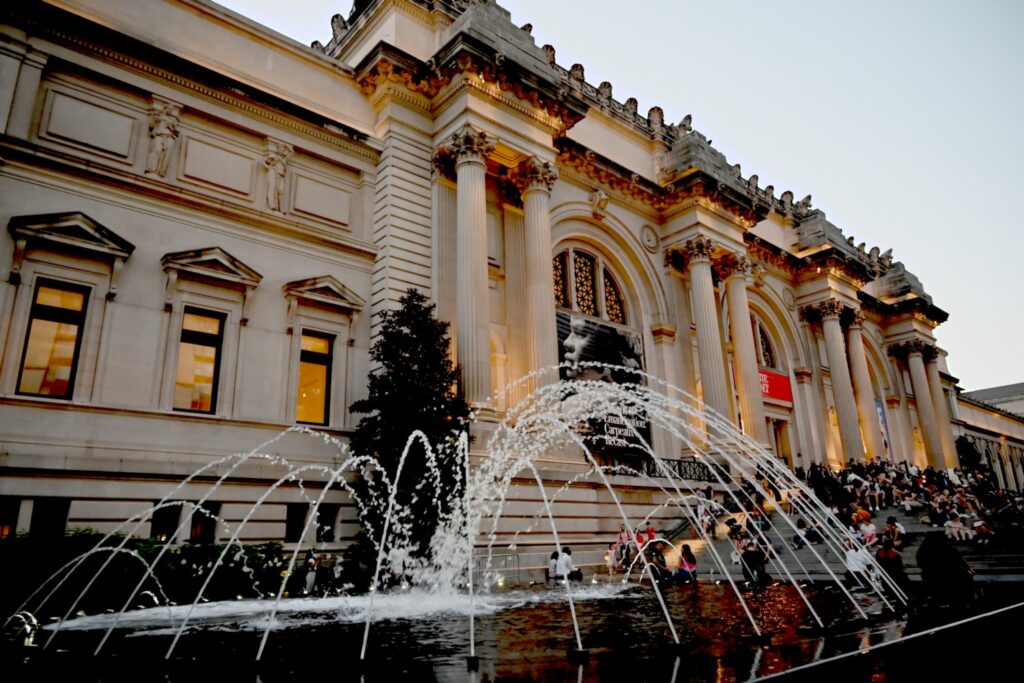 By Karen Rubin, Travel Features Syndicate, goingplacesfarandnear.com
New York City's summer cultural season kicks off with the 45th Annual Museum Mile Festival – the Big Apple's "biggest block party" –on Tuesday, June 13, from 6 to 9 pm, rain or shine. Walk the mile on Fifth Avenue between 82nd Street and 104th Street while visiting eight of New York City's finest cultural institutions, open free during these extended hours: The Africa Center, El Museo del Barrio, the Solomon R. Guggenheim Museum, the Metropolitan Museum of Art, the Cooper Hewitt Smithsonian Design Museum, the Jewish Museum, Neue Galerie and the Museum of the City of New York (which is celebrating its 100th Anniversary this year). It's an electric, eclectic festive atmosphere, with live music and street performers all along the avenue, plus special exhibitions, works from permanent collections and special family-oriented activities inside.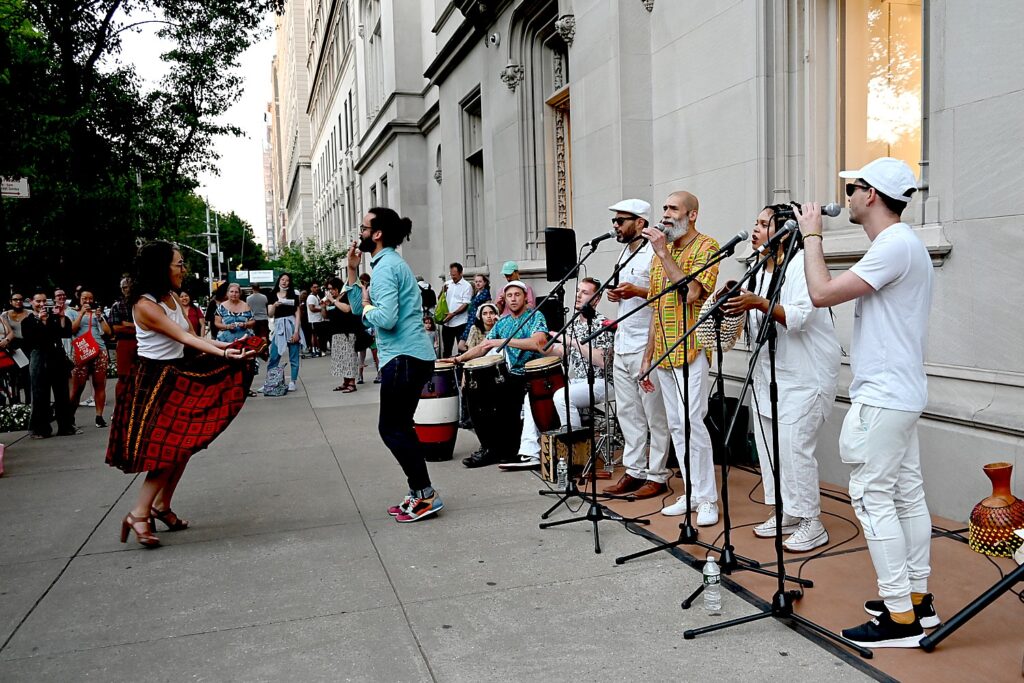 It is also an opportunity to see the major exhibits underway throughout the summer:
The Metropolitan Museum of Art: Van Gogh's Cypresses, thru August 27: Vincent van Gogh's most famous artworks, Wheat Field with Cypresses and The Starry Night, take center stage at Van Gogh's Cypresses, the first exhibition to focus on the trees immortalized by one of the most beloved artists of our time. Karl Lagerfeld: A Line of Beauty thru July 16, highlighting the designer's body of work spanning from the 1950s to his final collection in 2019, the show will have approximately 150 pieces on display.
Solomon R. Guggenheim Museum: Sarah Sze: Timelapse thru September 10: For this solo exhibition, Sarah Sze created a series of site-specific installations that weave a trail of discovery through multiple spaces of the Guggenheim's iconic Frank Lloyd Wright building.
100th Anniversary of The Museum of the City of New York: The museum has amassed a collection of over 750,000 objects including photographs, prints, costumes, paintings and more to celebrate, document and interpret the City's past, present and soon-to-be-announced future. These major exhibits are on view: This Is New York: 100 Years of the City in Art and Pop Culture exhibit explores how the City has served as a muse for storytelling over the past century; through a variety of mediums such as film, music, literature and visual arts, the exhibit presents a diverse and engaging portrayal of NYC. Food in New York: Bigger Than the Plate, thru September 17, highlights the City's raucous and diverse food culture all while examining the various challenges of NYC's food systems. From sustainability to equitable access to food, the exhibition explores the ways artists and designers are creating solutions to address the global and local challenges we face when it comes to the food system.
El Museo del Barrio: Something Beautiful: Reframing La Colección, thru March 10, 2024. One of El Museo del Barrio's most ambitious presentations to date features a complex and culturally diverse permanent collection of 500 artworks, including artist commissions and acquisitions, focusing on the contributions of Amerindian, African and European cultures, through rotating displays over the course of a year.
The Museum Mile Festival is just the first of a whole series of festivals, special events, cultural happenings that make the city hot, hot, hot, or cool man, really cool. Here's a roundup: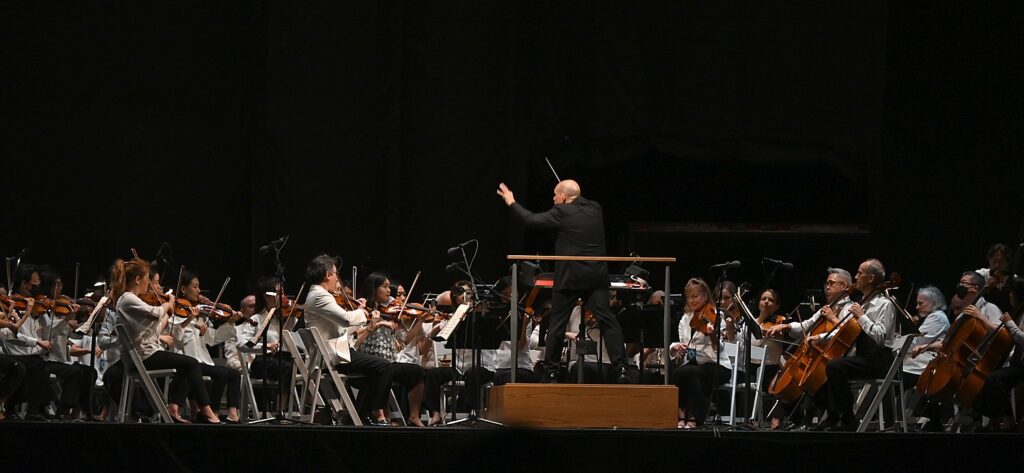 The New York Philharmonic Concerts in the Parks, presented by Didi and Oscar Schafer, have become an iconic New York summer experience since they began in 1965, transforming parks throughout the city into a patchwork of picnickers enjoying friends, family, and music under the stars, for free! This summer Music Director Jaap van Zweden conducts two iconic masterpieces — Beethoven's Fifth Symphony and Copland's Fanfare for the Common Man — plus a potpourri of overtures by Rossini and J. Strauss II, and works by NY Phil Very Young Composers. June 13, Van Cortlandt Park, Bronx; June 14, Central Park, Manhattan; June 15, Cunningham Park, Queens; June 16, Prospect Park, Brooklyn; – these concerts begin at 8 pm followed by fireworks. Also, June 18, Staten Island at 4 pm. For weather and updates, call Concert Info Hotline at 212-875-5709, https://nyphil.org/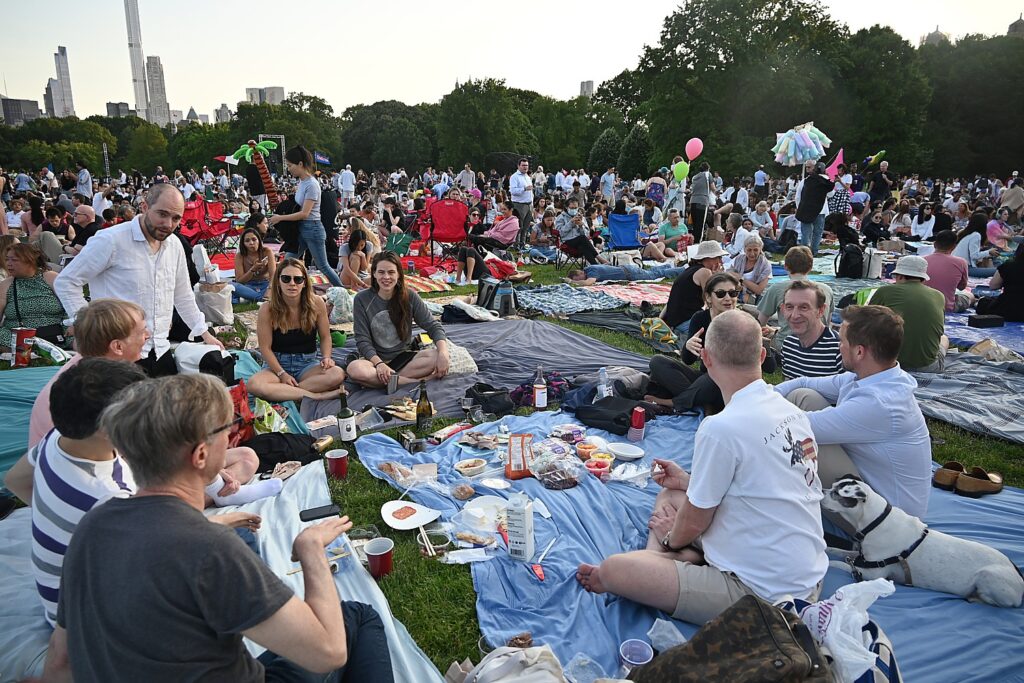 Shakespeare in the Park presents: Hamlet by The Public Theater, Delacorte Theater, Central Park, Manhattan, June 8–August 6, 2023 directed by Tony Award–winner Kenny Leon and featuring Tony Award–nominee Ato Blankson-Wood in the title role. Same-day tickets can be obtained by lining up (early) at The Delacorte or at a borough distribution site (2 tix pp), or by an in-person lottery in the lobby of The Public Theater at 425 Lafayette Street, or through a digital lottery via the TodayTix mobile app or website. A limited number of advance reservation tickets can be had by making a contribution in support of Free Shakespeare in the Park. Info at 212-967-7555 or visit publictheater.org.
More free Shakespeare! New York Classical theater company is performing Shakespeare's Richard III, Tuesday through Sunday, 7-9 pm (Central Park West & 103 St., June 13-25); Brooklyn Commons (Myrtle Avenue & Bridge Streets, June 27-July 2) and Carl Schurz Park (East 87th St., July 4-9). You can also watch the rehearsals taking place in Central Park, 10 am-3:30 pm Tuesdays through Sundays until June 9. (You can also watch the rehearsals taking place in Central Park, 10 am-3:30 pm Tuesdays through Sundays until June 9.) Make a FREE reservation and receive pre-show notice of weather cancellations at https://nyclassical.org/richardiii.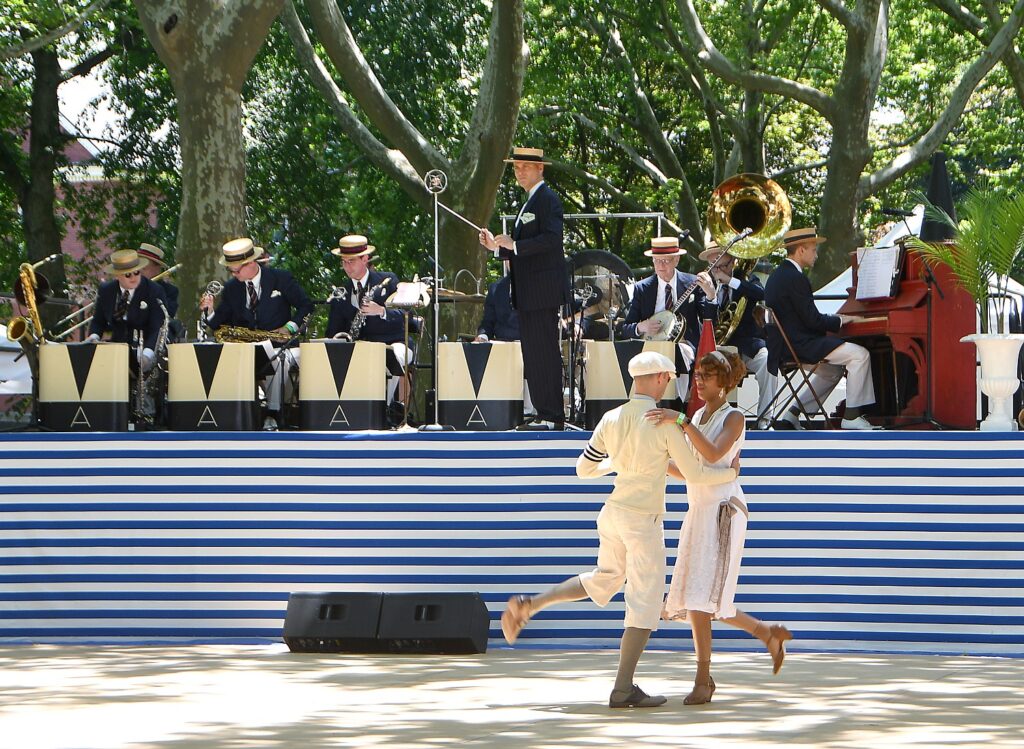 Jazz Age Lawn Party, now celebrating its 18th year, is one of the world's most authentic Prohibition-era-inspired gathering, taking place this year June 10-11 and August 12-13, on Governor's Island. Hosted by Michael Arenella and His Dreamland Orchestra, one of the world's premier Jazz Age dance orchestras, specializing in the Hot Jazz of the 1920s. Featuring Dreamland Follies, a ten-lady Art Deco dance spectacle evoking the great Ziegfeld; Queen Esther; Peter Mintun; Gelber & Manning band; Roddy Caravella and The Canarsie Wobblers, with their scandalous Charleston numbers and rebellious and exuberant spirit of Roaring '20s youth. Plus dance lessons, bathing beauty contest. Purchase tickets in advance. Governor's Island (a getaway destination in itself), reached by ferry from Lower Manhattan (Battery Maritime Building located at 10 South Street, adjacent to the Staten Island Ferry)and Brooklyn. (https://jazzagelawnparty.com/)
Free Summer Programming at Little Island, Chelsea, Manhattan, June 7–September 3: The award-winning public park on the Hudson River Greenway, hosts an array of free programming including performances from Tony-, Grammy-, and Emmy Award–winners and nominees; drag bingo; DJs; dance parties; Teen Night; Broadway performances.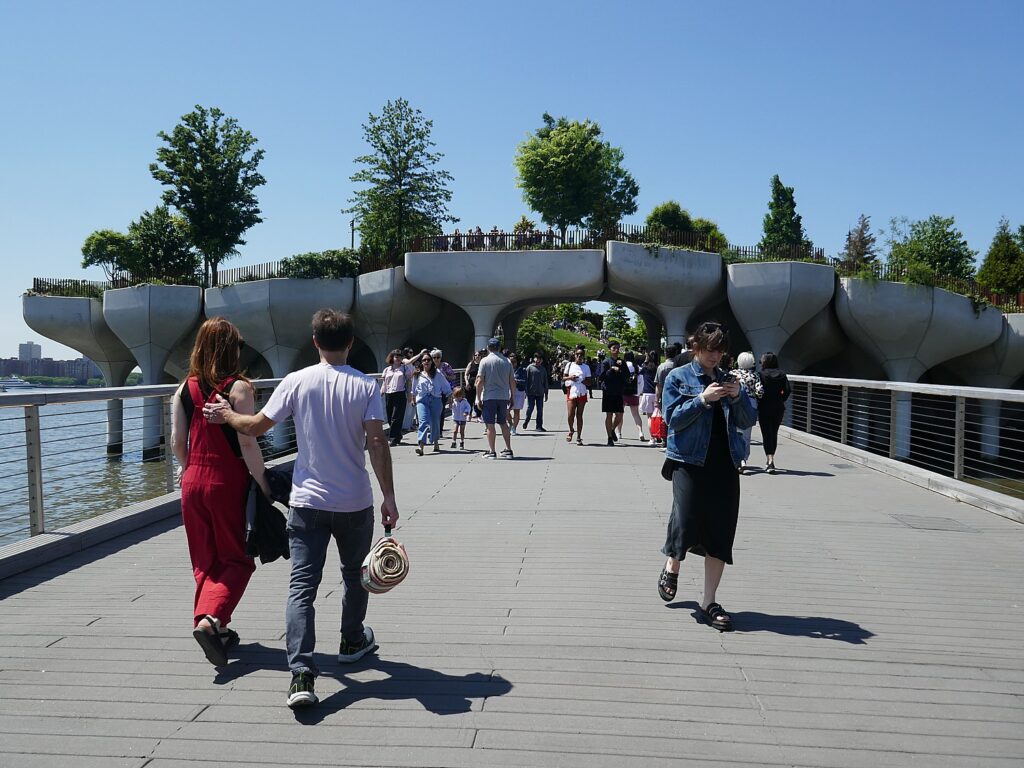 BRIC Celebrate Brooklyn!, Brooklyn, June 7–August 24, celebrates its 45th anniversary, with a lineup of artists from around the world honoring the diversity of Brooklyn and the broader BRIC community. This year's lineup includes Corinne Bailey Rae, Kelela, Liv.e, Robert Glasper, NxWorries (Anderson .Paak & Knxwledge).
Bargemusic free concerts, Saturdays, 4 pm through August, Music in Motion" Series — a one hour performance (no intermission), including a Q & A session with the musicians. Brooklyn Bridge Park, Pier 1; close to the base of the Brooklyn Bridge, Brooklyn (https://www.bargemusic.org/admission-free-concerts/).
Forest Hills Stadium's 100th Anniversary Concert Lineup, Forest Hills, Queens, thru September 30: music and comedy performances from some of the biggest names in music and entertainment, including The Strokes, Fall Out Boy, Kevin Hart, Steve Lacy, LL Cool J's Rock The Bells Festival, Duran Duran, Maggie Rogers, Toro y Moi, Weezer, Arctic Monkeys, LCD Soundsystem, Dave Matthews Band.
Carnegie Hall Citywide, Citywide, June 9–August 4: Celebrating its 50th anniversary, the beloved free concert series highlights renowned local artists from an array of musical genres.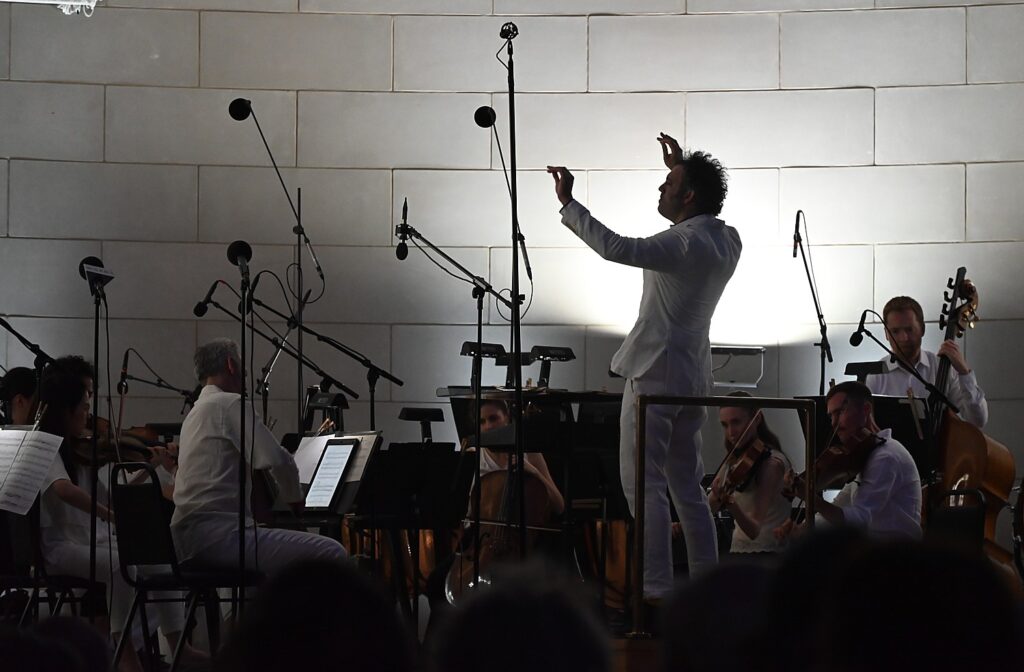 SummerStage 2023, Citywide, June 3–September 30: now in its 37th season, hosting free and benefit live performances in 13 parks across the five boroughs from a range of musical genres including salsa, jazz, country, opera, Afrobeats, hip hop. The annual concert series will also celebrate the 50th anniversary of hip-hop with concerts featuring artists from NYC.
Blockbuster Exhibitions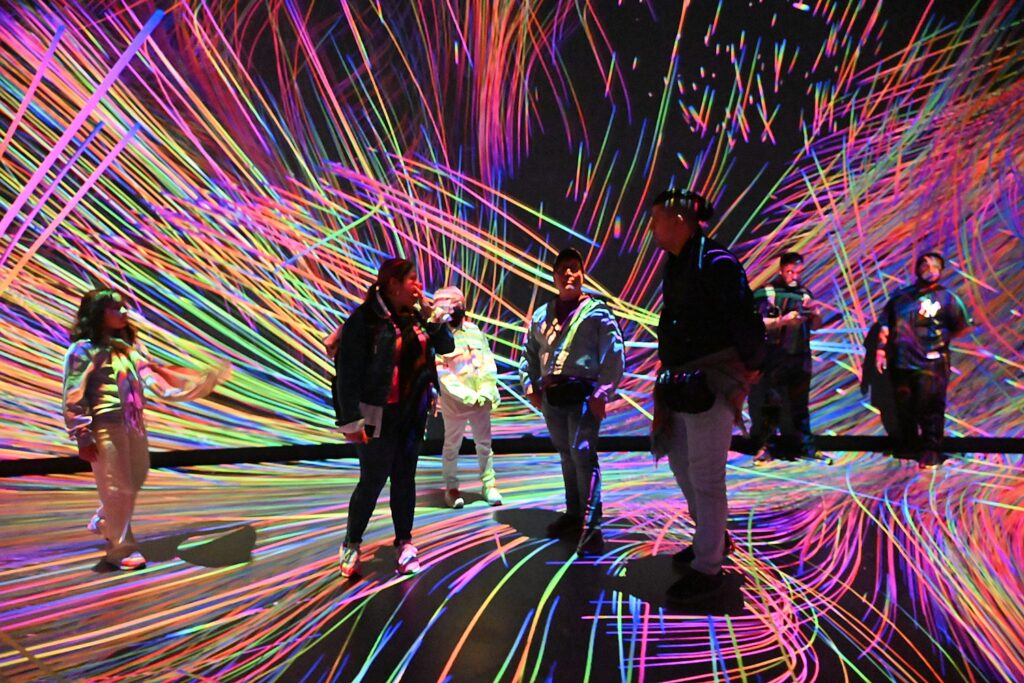 Richard Gilder Center for Science, Education, and Innovation at the American Museum of Natural History: The newly opened $465 million addition to the museum has been hailed internationally as a soaring architectural achievement, and houses world-class research facilities and scientific collections and innovative exhibitions. Admission by timed entry, reserved online. Open daily, 10 am–5:30 pm. American Museum of Natural History,200 Central Park West, 212-769-5606, amnh.org. (See: AMERICAN MUSEUM OF NATURAL HISTORY'S NEW GILDER CENTER IS LIGHTYEARS FORWARD IN IMMERSING, ENGAGING UNDERSTANDING OF THE SECRETS OF LIFE )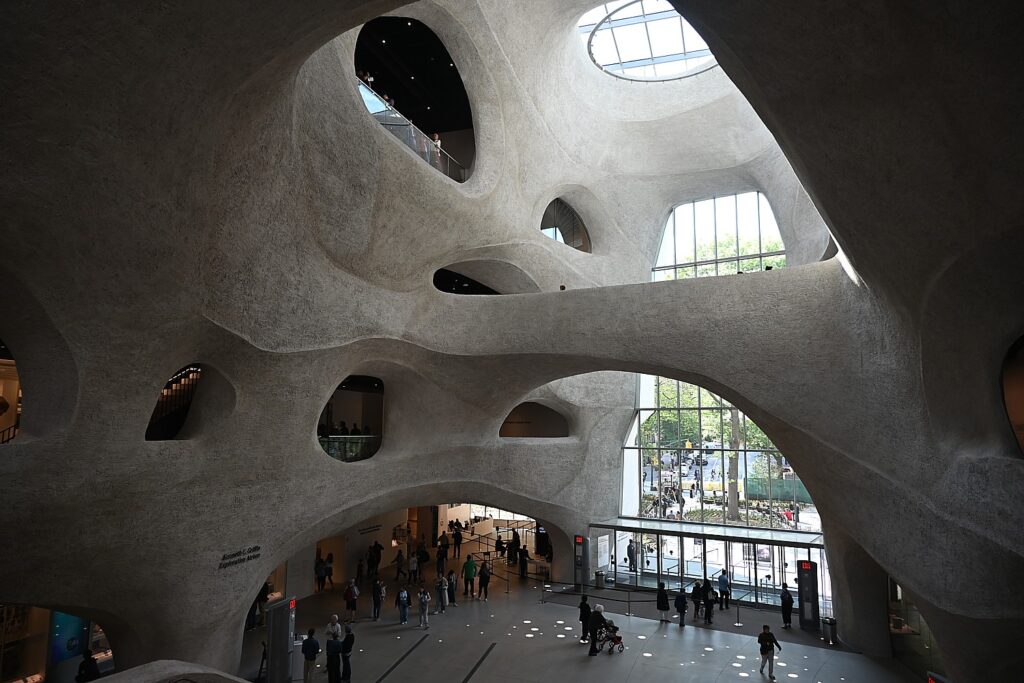 Harry Potter: The Exhibition, Herald Square, Manhattan, opened May 2023 for a limited time: Fans can celebrate Harry Potter and the entire Wizarding World with the most comprehensive touring exhibit in world. Featuring favorite moments, props, costumes, characters, and locations, the exhibition delights visitors with powerful storytelling married with interactive technology to explore iconic film scenes, creatures and characters from the Harry Potter and Fantastic Beasts films as well as the Tony Award–winning Broadway production Harry Potter and the Cursed Child. Harry Potter™: Tickets (for timed entry, but you can stay as long as you want) start at $29 for adults. 50 W. 34th Street (34th Street and Broadway). www.harrypotterexhibition.com. (See: IMMERSIVE WORLD OF HARRY POTTER EXHIBITION ENCHANTS NEW YORK BUT ONLY FOR LIMITED TIME)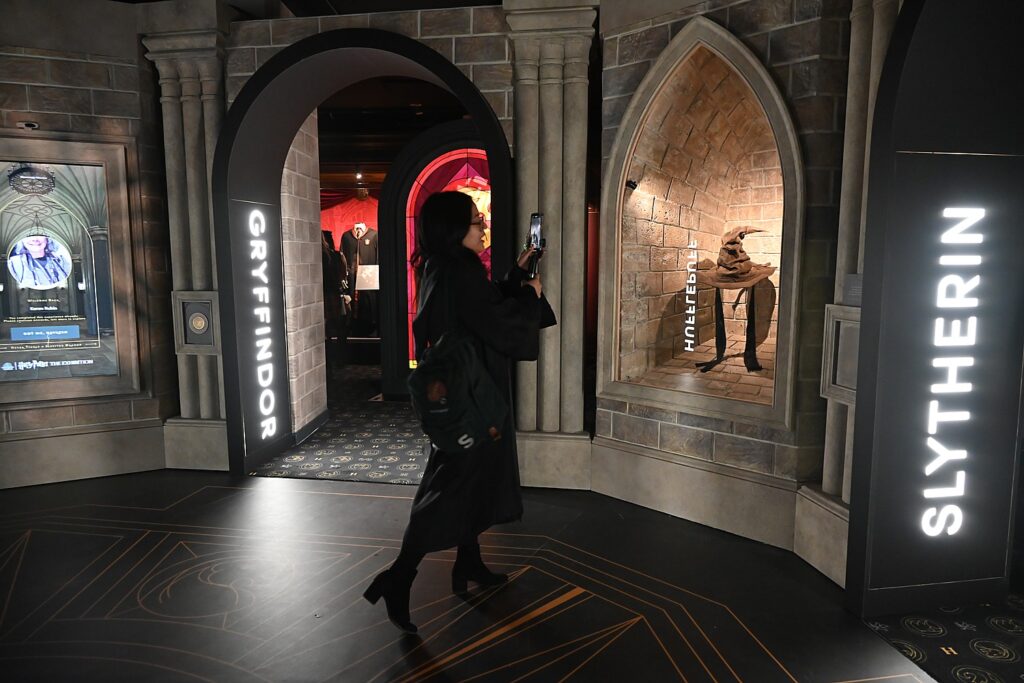 Africa Fashion at Brooklyn Museum, Prospect Heights, Brooklyn, June 23–October 22 180 works celebrating the global impact of African fashions from the 1950s to present day; 180 works are presented.
Gardens & Works by Ebony G. Patterson at New York Botanical Garden, The Bronx, thru September 17: known for her lavishly detailed mixed media installations, this major site-specific exhibition showcases her breathtaking and provocative displays of art and nature.
Shelley Niro: 500 Year Itch at National Museum of the American Indian, Lower Manhattan, through January 1, 2024, examines and celebrate more than 50 years of Shelley Niro's paintings, photographs, films and more. Filled with humor and references to pop culture, the exhibition offers a glimpse into the artist's timeless cultural knowledge and generational history of her Six Nations Kanyen'kehá:ka (Mohawk) community.
New Photography 2023: Kelani Abass, Akinbode Akinbiyi, Yagazie Emezi, Amanda Iheme, Abraham Oghobase, Karl Ohiri, Logo Oluwamuyiw at Museum of Modern Art, Midtown Manhattan, through September 16. The return of its beloved series, New Photography for the first time since 2018, the new exhibition will explore the photographic work of seven artists united by their critical use of photography and their ties to the artistic scene in Lagos, Nigeria. This is also the museum's first group exhibition in its history engaging in the work of living West African photographers.
Hispanic Society of America,Washington Heights, Manhattan, reopens its Main Building June 2023 after six years of renovations and improvements. Since 1904, the museum has been the home to over 750,000 objects including rare books and masterpieces from Spanish- and Portuguese-speaking countries.
Armstrong Corona Campus (formerly the Louis Armstrong House),Corona, Queens, Summer 2023, after undergoing a physical and programmatic expansion debuts a new cultural center with an interactive exhibit, archival collections, a 75-seat performance venue and store, all dedicated to celebrating and preserving the life and legacy of the legendary jazz musician Louis Armstrong.
Ukrainian Institute of America, Upper East Side, Manhattan, a nonprofit organization dedicated to promoting the art, music and literature of Ukraine and the Ukrainian diaspora, celebrates its 75th anniversary in 2023.
Malibu Barbie Café New York, The Seaport, Manhattan, thru September 15: Barbie fans will be transported to a 1970s Malibu California café filled with the beloved doll's signature colors and casual, family-friendly fare including Pacific Paradise Pancakes, West Coast Wedge Salad and a California Dreamin' Club Sandwich, all made by Master Chef finalist Chef Becky Brown. The pop-up will also be complete with photo ops inspired by Malibu Barbie including a life-size doll box, exclusive merchandise and more.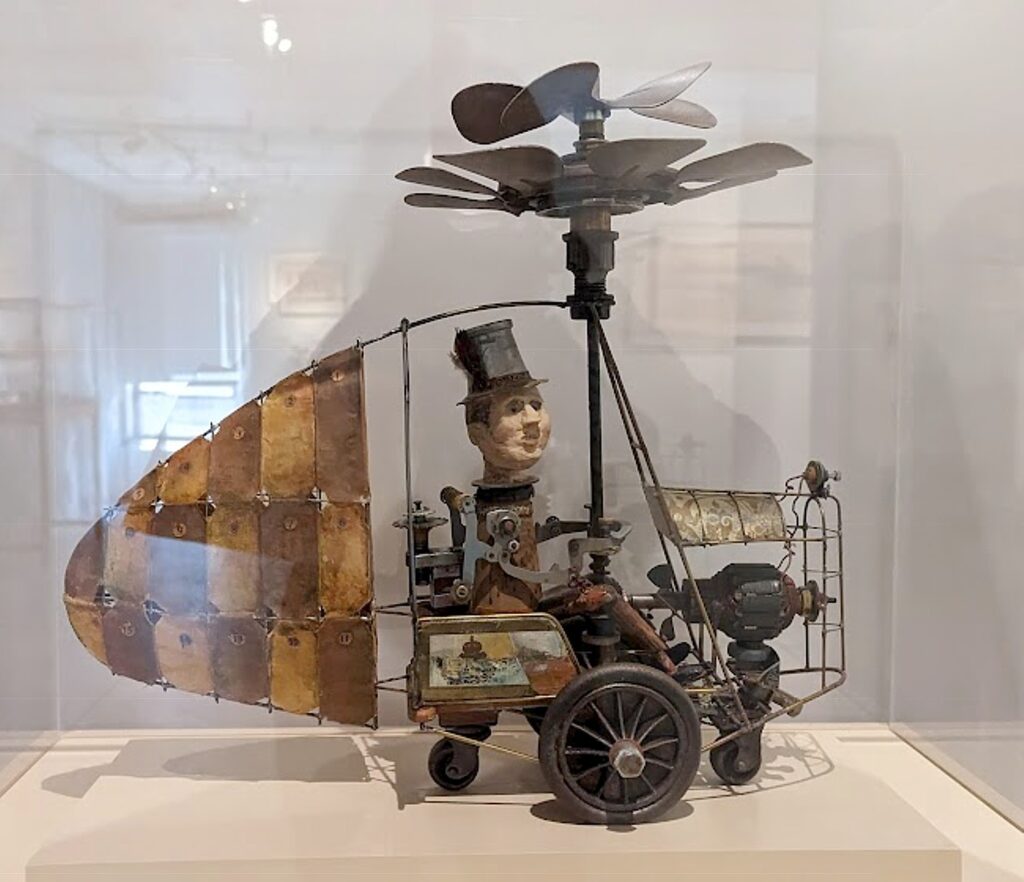 Under Cover: J.C. Leyendecker and American Masculinity at New-York Historical Society Museum & Library, Upper West Side, Manhattan, thru August 13 explores the work of J.C. Leyendecker, a prominent American illustrator, and his influence on shaping ideals of masculinity in the early 20th century. Through a collection of his iconic magazine covers, the exhibit examines Leyendecker's depictions of stylish, confident and athletic men, highlighting their impact on shaping cultural perceptions of masculinity during that time.
Craft Front & Center: Exploring the Permanent Collection at Museum of Arts and Design, Columbus Circle, Manhattan, thru January 14, 2024, featuring a collection of over 3,500 objects, as well as a fresh installation of more than 60 historic works and new acquisitions dating from the golden age of the American Craft movement to the present day.
Yayoi Kusama: I Spend Each Day Embracing Flowers at David Zwirner Gallery, Chelsea, Manhattan, thru July 21: In one of her largest gallery exhibitions to date, celebrated contemporary artist Yayoi Kusama features new paintings, sculptures, flowers, and an Infinity Mirrored Room.
Collections of Culture: 50 Years of Hip Hop Inside Libraries, Museums and Archives at Queens Public Library, Flushing, Queens, thru August 21, a celebration hosting an array of in-person and lived-streamed programs.
Oceanic, Portal at Leslie-Lohman Museum of Art, Soho, Manhattan, thru August 13, through various mediums and perspectives, the exhibit invites viewers to contemplate the fluidity, liberation and transformative power represented by the vastness of the ocean and its connection to LGBTQ+ identities.
Vulnerable Landscapes at Staten Island Museum, Randall Manor, Staten Island, thru December 30, highlights the Staten Island shorelines at the forefront of climate change in NYC, examining the past while navigating the route forward.
Darrel Ellis: Regeneration at The Bronx Museum of the Arts, South Bronx, thru September 10, the first comprehensive, scholarly survey of pioneering artist Darrel Ellis, the exhibition highlights Ellis's body of work that combines painting, printmaking, photography and drawing before his untimely passing in 1992, co-organized by The Baltimore Museum of Art,
Uniquely NYC Tours
Brooklyn Chocolate Tour – A Slice of Brooklyn Bus Tours, Brooklyn: Enjoy chocolates from some of the finest traditional and artisanal chocolates out of Brooklyn on this recently resumed tour. Guests can learn more about the history of chocolate and watch demonstrations as they explore many of the borough's most beloved chocolate shops, including the Brooklyn Ice Cream Factory, The Chocolate Room, Raaka Chocolate and Li-Lac Chocolates.
Sustainable Harlem – Like a Local Tours, Harlem, Manhattan: support hyper-local and community-based organizations in the historic neighborhood of Harlem with this socially impactful tour. Guests will learn about many of the sustainable movements within Harlem and the people behind them such as the New York Fair Trade Coalition at the Sustainable Fashion Community Center, Simone from Green and Blue Eco Care and more.
Culinary Tour in Washington Heights – MAD Tours & Events, Washington Heights, Manhattan: Explore this culturally rich neighborhood (featured in Lin-Manuel Miranda's "In the Heights") on a special food tour. Known as one of Manhattan's Latino hubs, Washington Heights is home to some of the City's best Dominican, Mexican, and Cuban food.
Food Cart Tour: Jackson Heights – Turnstile Tours, Jackson Heights, Queens: Explore many of the local flavors in one of the City's most diverse neighborhoods right in the heart of Queens on a two-hour walking and tasting tour. Sample delicious favorites from around the world while learning more about the people and organizations helping the City's street vendors continue to thrive.
Retail Store Tours, Brooklyn & Manhattan: Explore the driving forces changing the retail landscape and the best of retail innovation in this two-hour tour led by industry professionals.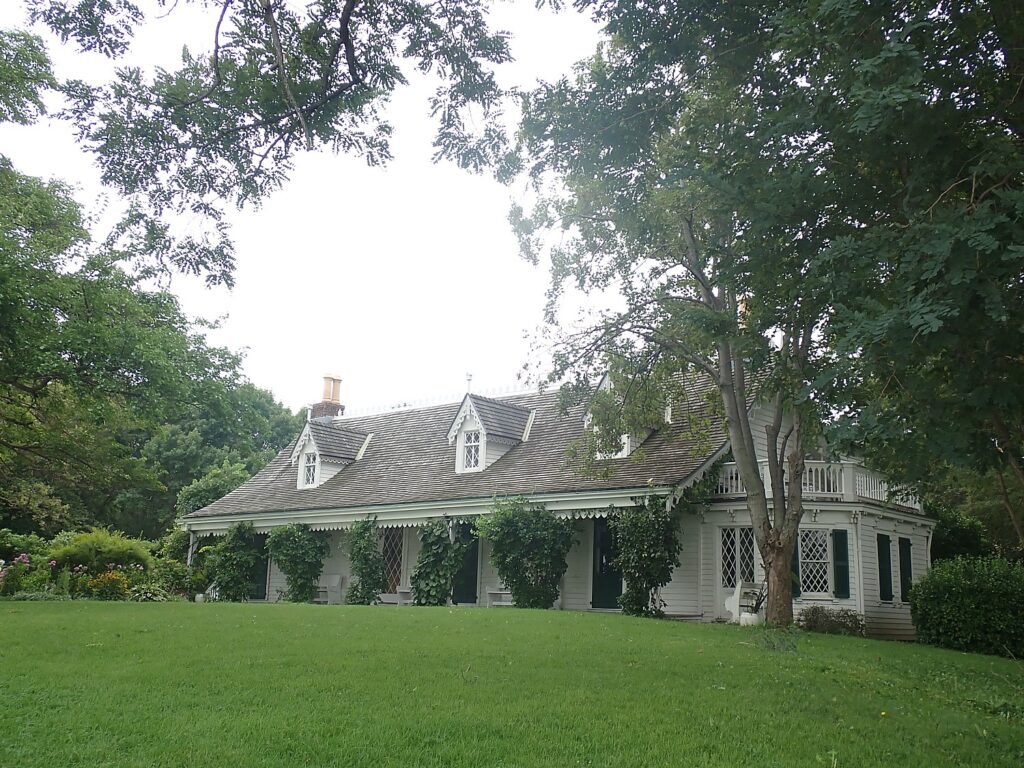 New York City Borough Pass, Citywide: a new sightseeing pass designed to showcase the beauty of the neighborhoods and cultures across all five boroughs. The pass features a diverse roster of popular attractions, museums, performing arts venues, including the Alice Austen House Museum, MoMA PS1, New York Botanical Garden, Van Cortlandt House Museum, Staten Island Children's Museum.
The Go City Pass for New York City offers 100 different options in all five boroughs. For example, the two-day all inclusive pass, giving access to as much as you want/can do from among 105 attractions is $134 – regardless of how much the actual attractions charge (GoCity.com, 800 887 9103).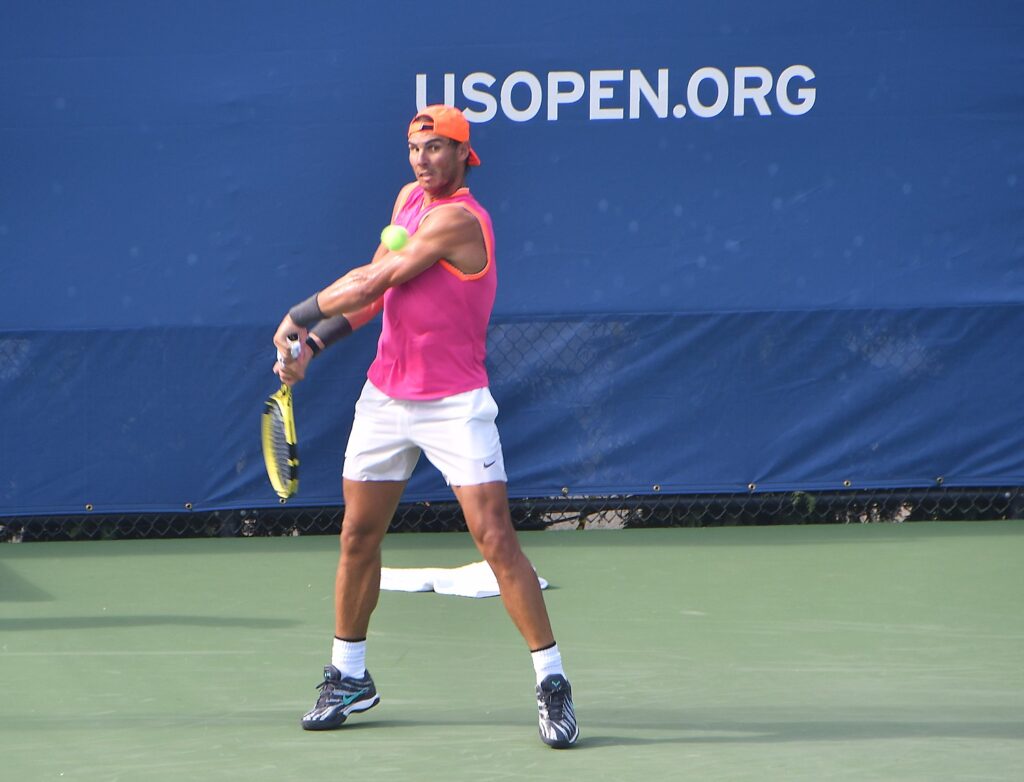 The grand finale to New York's summer sensations: US Open Tennis Championships, Corona, Queens, August 28–September 10: It begins with US Open Fan Week, August 23-28, when the grounds are open to the public with free admission, so you can watch the (thrilling) US Open Qualifying Tournament, watch open practices of the tennis stars, and additional scheduled exhibitions. This year, there is the first ever US Open Food Event Thursday August 25, 2022, 7pm-9pm; special appearances by athletes like former Top 5 ATP Player James Blake, and entertainment. (https://www.usopen.org/)
For more New York City visitor information, visit https://www.nycgo.com/
_______________
© 2023 Travel Features Syndicate, a division of Workstyles, Inc. All rights reserved. Visit goingplacesfarandnear.com, www.huffingtonpost.com/author/karen-rubin, and travelwritersmagazine.com/TravelFeaturesSyndicate/. Blogging at goingplacesnearandfar.wordpress.com and moralcompasstravel.info. Visit instagram.com/going_places_far_and_near and instagram.com/bigbackpacktraveler/ Send comments or questions to [email protected]. Tweet @TravelFeatures. 'Like' us at facebook.com/KarenBRubin