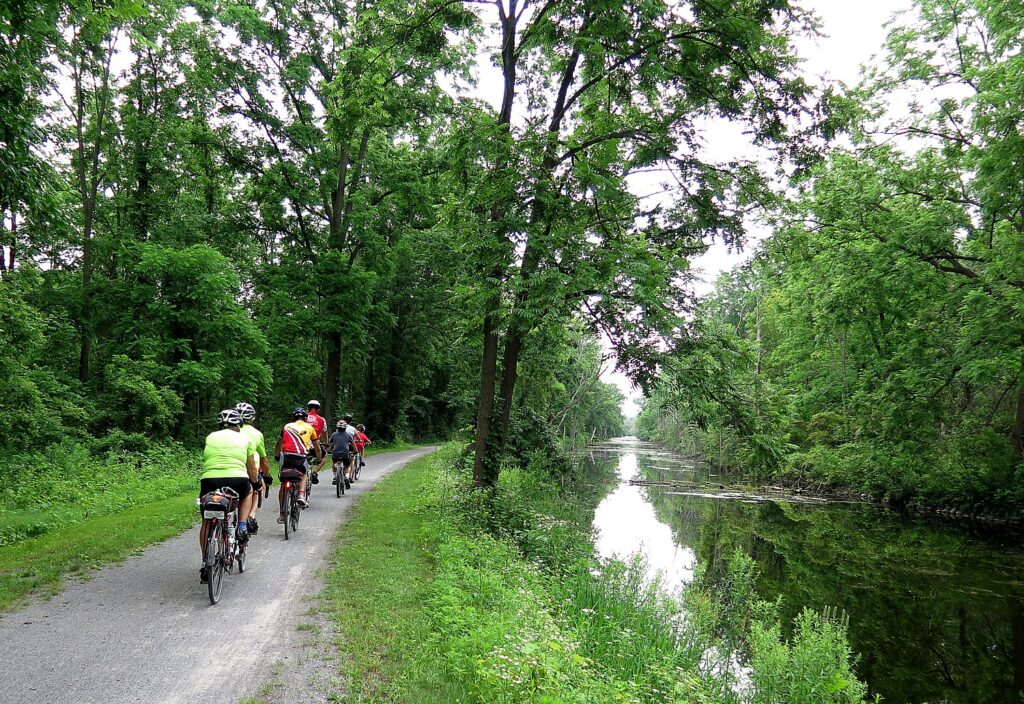 by Karen Rubin, Travel Features Syndicate, goingplacesfarandnear.com
Throughout the coronavirus pandemic, when so much was locked down and out of reach, New York State parks and outdoors were a godsend, providing needed respite. Indeed, the state's parks received a record number of visitors, even as measures were in place to control capacity. And throughout the year, the state consistently made improvements and found ways to be available to more people.
The improvements are part of Governor Andrew Cuomo's NY Parks 100 initiative, which renews the historic commitment to investing and expanding the State Park system by committing at least $440 million over the next four years.
"This critical period of revitalization will culminate in the 2024 celebration of the 100th anniversary of the State Park Act, which first created our nation-leading State Park system in 1924 under Governor Al Smith. NY Parks 100 will continue crucial investments in park infrastructure while enhancing opportunities to reach the full range of New York State's recreational and cultural offerings, including local parks and trails, regional flagship parks and historic sites, and vast wilderness parks. The initiative will focus on creating places to recreate locally, relieving overcrowded parks, welcoming new visitors, and protecting New York State's environmental and historic legacy. This new plan will ensure people from all communities and across all ages and abilities can fully experience our outdoors, our culture, and our heritage," the state said.
Here are some of the improvements that will welcome visitors this year:
New York State has formed a new public-private partnership for a new tent camping service with 45 sites at four State Parks in the Hudson Valley. Tentrr's fully outfitted campsites are available to reserve at the Sebago and Silver Mine areas of Harriman State Park in Orange and Rockland Counties; Taconic State Park and Lake Taghkanic State Park in Columbia County; and Mills-Norrie State Park in Dutchess County.
The service provides tents, sleeping accommodations and an array of equipment needed for camping at each site. All items are set up and ready to use upon arrival for added convenience and sites are maintained by Tentrr staff.
All locations include a 10-foot by 12-foot, canvas-walled tent atop a raised platform. Each site is outfitted with a queen-sized bed and memory foam mattress, a propane heating source, a solar-powered "sun" shower, a camp toilet, water container, Adirondack chairs, a fire pit, grill, and a picnic table with storage and benches.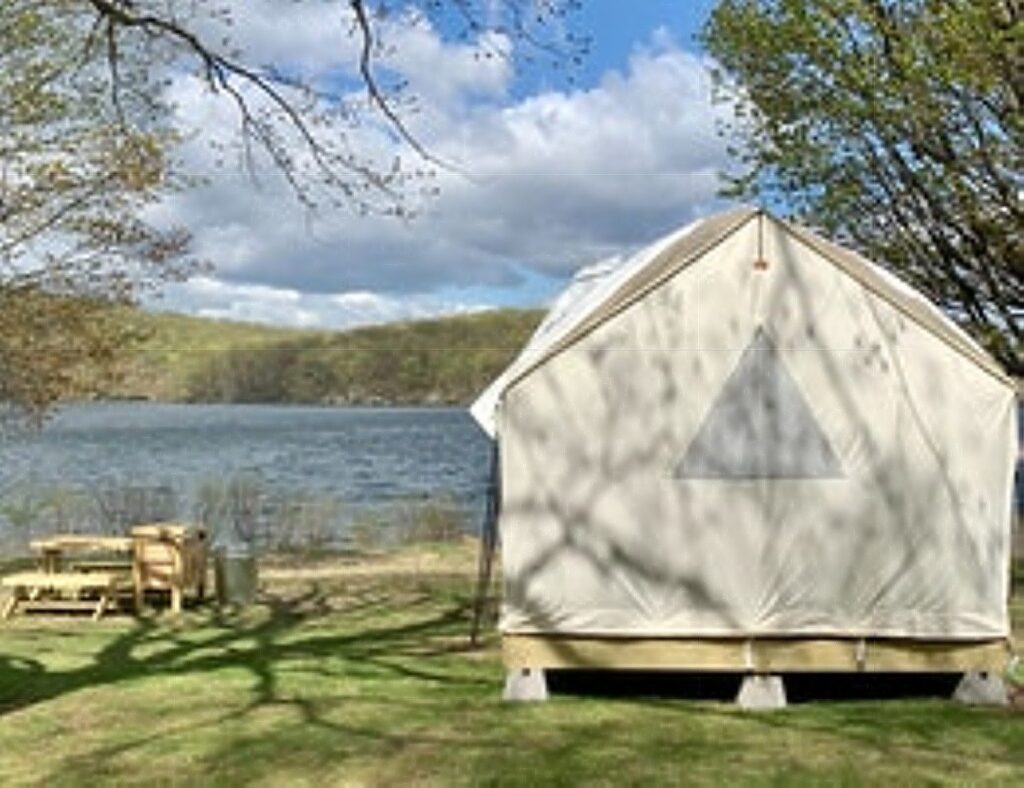 Guests have the option of single, double, and triple sites. Singles sleep up to six (two occupants in the main tent and four occupants in a provided pop-up tent). Double sites – or buddy sites – sleep up to 12 (two occupants in each of the two main tents and four occupants in each of the two provided pop-up tents) and triples can accommodate group camping.
Sites are $135 per night, with a portion going toward the maintenance and stewardship of New York State Parks.
While Tentrr's sites are naturally socially distanced, Tentrr adheres to state guidelines for maintaining and sanitizing the sites. Tentrr will continue to keep sites clean and wiped down with high-grade sanitizers and encourages guests to follow recommended COVID requirements and protocols. For more details on Tentrr's COVID-19 protocols, visit here. 
To make a reservation, visit tentrr.com/nysp. Reservations can be made up to six months in advance.
Camp Rockaway
Through the Reimagine the Canals initiative, Camp Rockaway, a New York State based outdoor excursion company, is managing the site at Lock C-5 on the Champlain Canal in Schuylerville between Memorial Day weekend and September 8, with possible extension through early October. The glamping site will offer vacationing New Yorkers an opportunity to experience the vast history and bucolic landscapes of one of New York's oldest canalside communities by enjoying luxury camping on the banks of the Canal.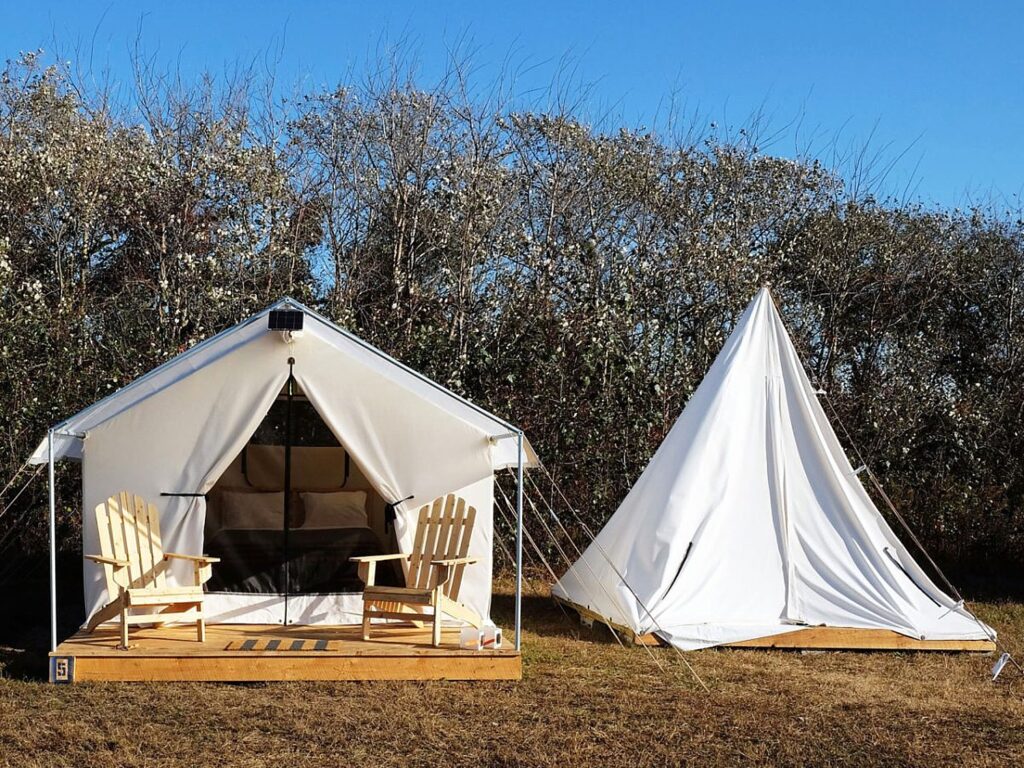 Reservations are now being accepted for a glamping experience on the Champlain Canal that will attract visitors to the State's historic upper Hudson Valley and boost the local economy that is still recovering from the COVID-19 pandemic.
This new glamping experience is the latest innovation from Governor Cuomo's $300 million Reimagine the Canals initiative that is revitalizing the Canal corridor as a tourism and recreation destination while simultaneously boosting economic development and the resiliency of canalside communities.
Visit https://camprockaway.com/schuylerville/.
Biking, Cycling the Eric Canal
Parks & Trails NY is offering its sensational eight-day, 400-mile biking adventure along the Erie Canalway for a 23rd year in 2021, after a hiatus in 2020. Riders will leave Buffalo July 11 and reach Albany on July 18. Registration is open for spots, limited this year to 350.
The route follows the legendary Erie Canal passing locks and aqueducts and winding through historic villages and rural farmlands. Over the course of the eight days, cyclists enjoy stunning pastoral scenes, fascinating history extending 400 years in which the story of how America came to be unfolds, and some of the best cycling in the United States. Covering between 40 and 60 miles per day, cyclists travel along the Erie Canalway Trail, which is now more than 85 percent complete and the east-west axis of the statewide 750-mile Empire State Trail.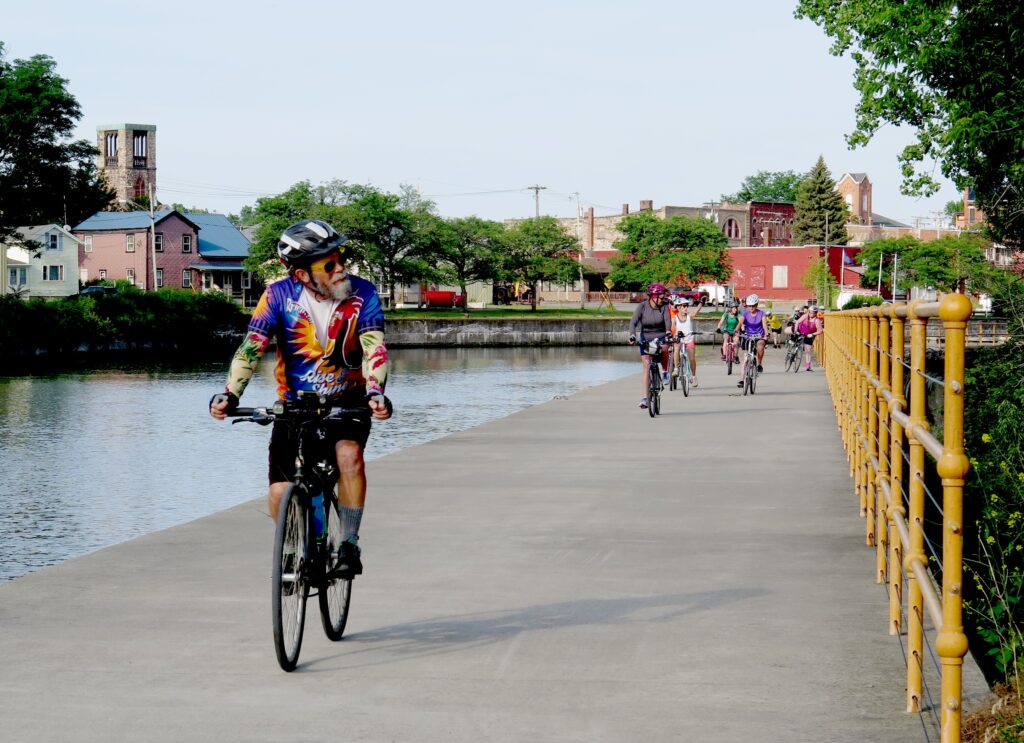 Designed as a supported camping trip, accommodations are provided with showers, toilet facilities, some with pools or lakes for swimming; eight breakfasts and six dinners; two daily refreshment stops along the route; evening entertainment including music and historical presentations; guided tours of the Canal, historic sites, museums and other attractions including the Women's Rights National Historic Park, Erie Canal Museum and Village, Fort Stanwix National Monument and a boat tour through the Lockport locks; kick-off reception and end-of-tour celebration; Cycle the Erie Canal t-shirt; baggage transport; SAG wagon and mobile mechanical support; daily maps and cue sheets; painted and arrowed routes; pre-departure info packet including training tips. Other amenities available (at additional fee) include fresh daily towels, gourmet morning coffee, tent and air mattress rental and set up (for those who don't want to pitch their own tent).
With the ongoing COVID-19 pandemic, the safety of riders, volunteers, staff, vendors, and local community members is at the forefront of planning. With this in mind, the tour is limited to 350 participants and volunteers; all registrations will be for the full eight-day option; and to keep everyone safe and meet state and local COVID-19 regulations, registration fees have increased this year.
The price up until June 7 is $1200/adult, $650 youth (6-17); $290 child (5 and under); shuttle is $100.
The PTNY coordinators are following the guidance from New York State, and will be prepared to follow all regulations in place in July. Registrants will be notified of any updates or changes. Visit New York State's COVID-19 Travel Advisory to stay abreast of restrictions that might impact your travel plans.

Find answers to questions riders may have on the Cycle the Erie Canal FAQ page. If there are questions that aren't covered, email [email protected].
Can't do the Parks & Trails NY's Cycle the Erie ride? Among the bike tour companies offering the trip, Wilderness Voyageurs offers a self-guided inn-to-inn tour (https://wilderness-voyageurs.com) and Classic Adventures (https://classicadventures.com/) and Womantours (www.womantours.com) offer guided itineraries.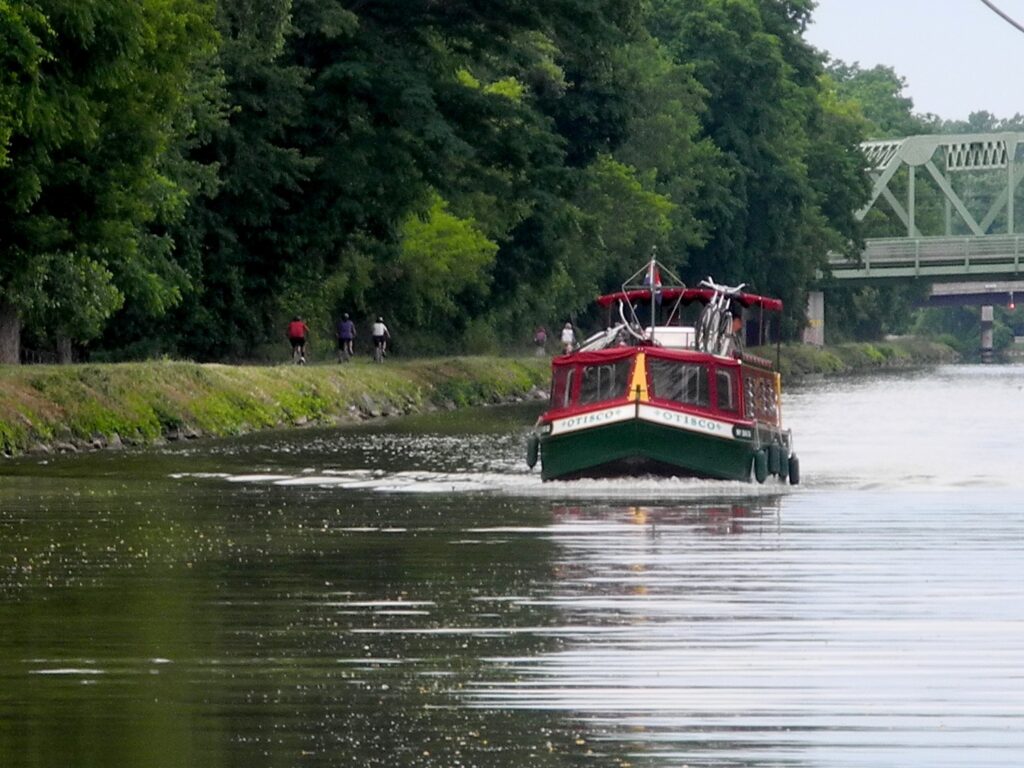 Another way to enjoy the Erie Canal is by boat – and bring a bike along. Erie Canal Adventures' fleet of 11 custom-designed Lockmasters sail from Macedon, near Rochester, NY, and with enough time, you can cruise some 200 miles from Buffalo to Lake Oneida in Syracuse along the canal. Besides sailing along the Erie Canal (as far as , you can also sail on other waterways, taking spurs south to the Finger Lakes, or north up the Oswego canal to Lake Ontario. Erie Canal Adventures, 315-986-3011, www.eriecanaladventures.com.
With all these marvelous ways to enjoy the Canalway, the trail system was more popular in 2020 than any prior year, according to the 2020 Who's on the Trail report from PTNY and the NYS Canal Corporation. The system saw a record 4.2 million visits in 2020, with 3.97 million visits made to the 360-mile Erie Canalway Trail between Albany and Buffalo and 288,000 visits to the 90-mile Champlain Canalway Trail between Waterford and Whitehall.

And now, the 353-mile long Erie Canalway, from Buffalo to Albany is linked and part of the state's Empire Trail Network – 750 miles of interconnected off-road and on-road biking and recreational trails and lanes from the tip of Manhattan to the Canadian border.
Empire State Trail Open
New York's ambitious Empire State Trail, now the nation's longest multi-use state trail, is now fully opened. The trail network spans 750-miles total, 75 percent of which is off-road trails ideal for cyclists, hikers, runners, cross-country skiers and snow-shoers. The new recreational trail means you can go from New York City north-south through the Hudson and Champlain Valley to Canada, and east-west from Albany to Buffalo along the Erie Canal on a safe and incredibly scenic pathway, discovering fascinating historic and cultural sites along the way.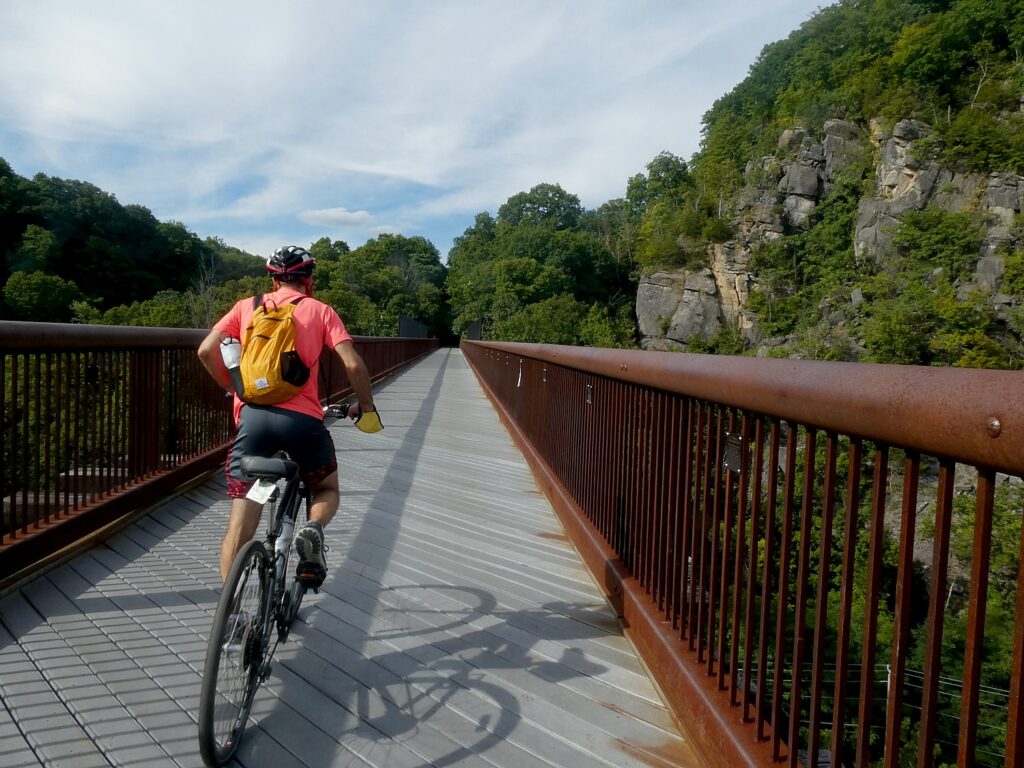 The Empire State Trail website provides quick and easy access to trail information including segment descriptions, access points, trail distances, parking areas, restrooms, and nearby amenities and attractions. The website's responsive and user-friendly design allows users to access interactive maps from mobile devices, zoom in to specific location of interest, and download/print maps of trail segments. Cyclists can print "cue sheets" with highly detailed directions for following a selected trail segment. The site also features information about the variety of activities and destinations on or near the trail such as campgrounds, parks, historic sites, and popular stops among the local communities. (empiretrail.ny.gov/)
To promote the opening of the Empire State Trail, the state has formed a partnership with the nationally-known Boilermaker race to create the "Empire State Trail Challenge" virtual race where participants can register and log their miles to reach milestones tied to virtual progress along the Empire State Trail, through July 31.
Participants can register now and begin logging their miles walking, running or cycling. Participants would complete the mileage of at least one leg of the Empire State Trail: either the Hudson Valley Trail: 210 miles (New York City to Albany); the Erie Canalway Trail: 350 miles (Albany to Buffalo); or the Champlain Valley: 190 miles (Albany to Canada Border at Rouses Point). Participants can sign up as teams or individuals. For more information or to register, visit the website.
Although people are encouraged to the explore the actual Empire State Trail, participants can run, walk, or ride anywhere geographically, on local trails and running/bicycling routes near where they live to log and complete the challenge.
Each entrant receives a t-shirt with their $25 entrance fee for a single leg of the trail. If interested, participants can register for additional legs at the time of registration or any time during the race period at $5 per leg. Challenge participants will enter their mileage on an online platform over the duration of the race window, reaching milestones tied to virtual progress along the Empire State Trail, and have the ability to share their experiences on social media.
State Parks Commissioner Erik Kulleseid said, "The Empire State Trail Challenge is one of the ways we are building back better at our state parks and trails. Our parks and trails have been safe and healthy outlets for everyone during the pandemic. Whether enjoying a fun nature break with friends and family, or truly testing their limits, the Empire State Trail Challenge offers participants of all ages and abilities a rewarding and socially distanced opportunity to enjoy New York's outdoors."
The Empire State Trail website provides quick and easy access to trail information along the 750-mile route including segment descriptions and an on-line map identifying off-road trails connecting on-road sections, trail distances, designated parking areas, restrooms, and nearby amenities and attractions. (https://empiretrail.ny.gov/)
Discovery Bicycle Tour on Empire State Trail
Here is what well may be the first bike touring company to come out with a guided, inn-to-inn trip along the recently completed north-south section of the Empire State Trail in New York State: Discovery Bicycle Tours' has introduced a six-day itinerary that rides from the very tip of Manhattan, to Albany.
The six-day trip rides 200 miles of the newly completed Empire State Trail, which actually extends 750 miles from Manhattan to Canada and from Buffalo to Albany.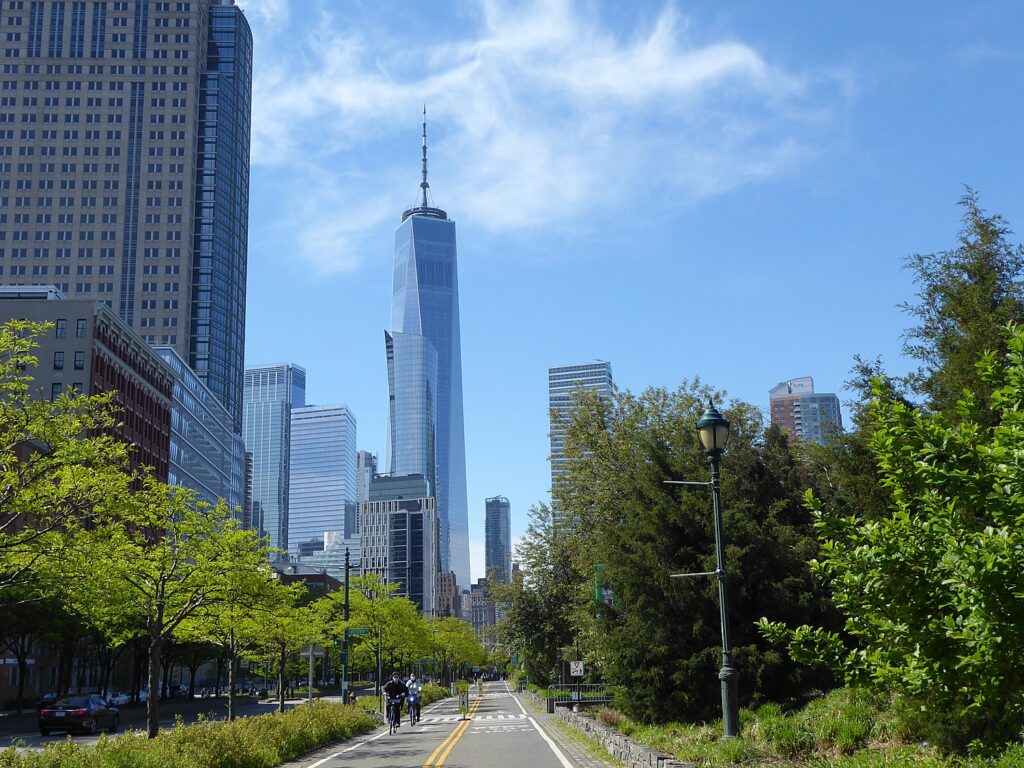 The Discovery Bicycle Tour goes through a wide variety of landscapes in New York State. Cycle passed the Freedom Tower and Manhattan skyscrapers, through forests, along lakes and rivers, with a triumphant finish in Albany, the state capital. You can be one of the first to enjoy this full section of the newly finished Empire State Trail, which allows cyclists to traverse the state almost entirely on dedicated hike/bike paths and routes.
Many miles are on dedicated rail-trail. And the riding is fairly flat with gentle hills. Look for vistas of the Catskill and Shawangunk mountains as you follow the gorgeous Hudson River Valley — favorite subject of Hudson River School landscape painters in the mid-1800s. As a bonus, you cycle across the Walkway Over the Hudson, the world's longest elevated pedestrian bridge, and the iconic Rosendale Trestle.

Rated Level 1 (easier), daily cycling mileage ranges from 28 to 47 miles.
Accommodations are in casual and historic inns and a stylish boutique bed-and-breakfast.
The tour includes: 5 nights' lodging, 5 breakfasts, 3 lunches, 4 dinners (you are on your own for 1 dinner in Rhinebeck), cycling routes with detailed maps and/or app-based navigation for those interested, plus bicycle, helmet, tour guides and van support, free week-long parking for guest cars in Hawthorne, NY. Free transfer on final day to either the Rensselaer Train Station (Albany) or take the van transit back to Hawthorne.
The trip is scheduled June 6-11, July 25-30, Aug. 1-6, Aug. 29-Sept. and Oct. 3-8, and is priced at $2,495; https://discoverybicycletours.com/empire-state-trail-bike-tour.
Discovery Bicycle Tours, Woodstock, VT., 800-257-2226, [email protected], www.discoverybicycletours.com.
Adirondacks Preserve Gets Larger
Meanwhile, Governor Andrew M. Cuomo announced that the state has acquired 1,263 acres of land in the Warren County town of Johnsburg in the southern Adirondacks. The parcel includes Huckleberry Mountain, an elongated peak that tops 2,400 feet, with spectacular cliffs on the ridge's south and southwest face.
"Through the Environmental Protection Fund, New York State continues to invest in land acquisitions that conserve open space and preserve the natural beauty of this great state for future generations to visit and enjoy," Governor Andrew Cuomo said. "Preservation of the spectacular Huckleberry Mountain lands will benefit the region for generations to come, providing new opportunities for visitors to explore the outdoors."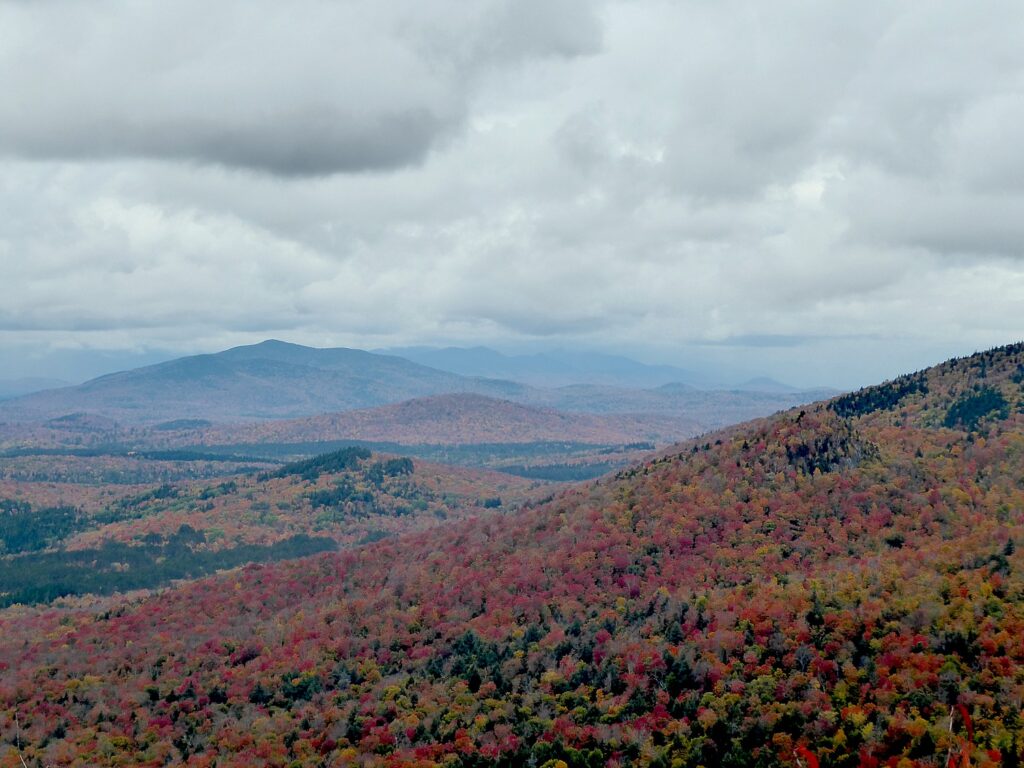 The New York State Department of Environmental Conservation purchased this property from the Open Space Institute for $770,000 using resources from the State's Environmental Protection Fund. Permanent conservation of this land will enhance recreational access in the region and offers opportunities to connect New Yorkers with nature, protect crucial watersheds, and improve important wildlife habitat in this part of the Adirondack Park. The newly protected land adjoins Wilcox Lake Wild Forest, which includes Crane Mountain, a popular, publicly accessible mountain peak that also provides access to exceptional cliffs for climbers. The Huckleberry Mountain parcel contains a wide range of wildlife habitats, including a high quality cold-water stream—Crystal Brook—that is excellent for brook trout, cliff faces that are a preferred nesting place for the endangered peregrine falcon, and a wetland complex home to an active heron rookery.
The New York State Office of Parks, Recreation and Historic Preservation oversees more than 250 parks, historic sites, recreational trails, golf courses, boat launches and more, which were visited by a record 78 million in 2020. To book a spot in a New York State campground, go to https://newyorkstateparks.reserveamerica.com/. For more information, call 518-474-0456 or visit www.parks.ny.gov.
______________________
© 2021 Travel Features Syndicate, a division of Workstyles, Inc. All rights reserved. Visit goingplacesfarandnear.com, www.huffingtonpost.com/author/karen-rubin, and travelwritersmagazine.com/TravelFeaturesSyndicate/. Blogging at goingplacesnearandfar.wordpress.com and moralcompasstravel.info. Send comments or questions to [email protected]. Tweet @TravelFeatures. 'Like' us at facebook.com/NewsPhotoFeatures