By Karen Rubin, with Laini Miranda and Dave E. Leiberman
Travel Features Syndicate, goingplacesfarandnear.com
Arches National Park is a fantastical place, a geologic wonderland, and being able to wake up before the sun in the Devils Garden Campground and stroll along the Devils Garden Trail as the formations come alive with color, is extraordinary.
Arches' sprawling landscape of 2,000 natural stone arches – the highest concentration of arches on the planet – plus hundreds of soaring pinnacles, massive rock fins, giant balanced rocks, coupled with its accessibility and ease of getting around (well, except for traffic and difficulty finding parking) and access (through Moab) draws hundreds of thousands of visitors each year, making it one of the most popular national parks. Indeed, Arches is so popular (and crowded) that it requires advance purchase, timed entry reservations just to enter, between April 1 and October 31.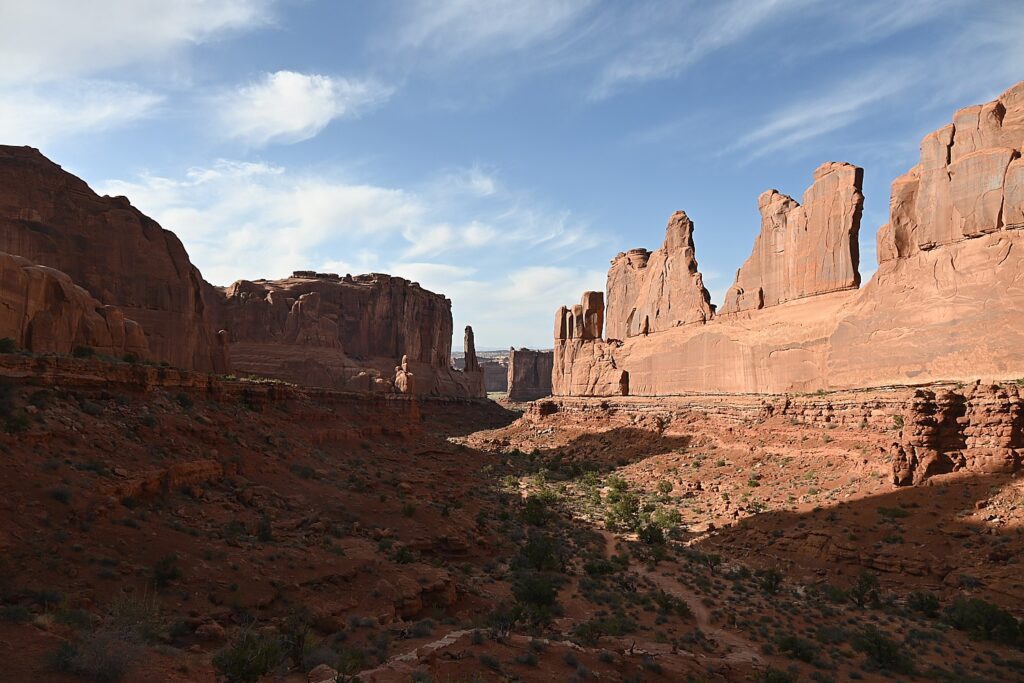 We are lucky because Laini has cleverly booked two nights at the Devils Garden campground months before our trip. The campsite reservation acts as the entry ticket and for this reason but especially because of being immersed in the landscape, this is the absolute best way to experience Arches National Park. (Devils Garden Campground is pen year-round, with 52 sites, reservations for individual sites can be made up to six months in advance; for group sites can be reserved up to year in advance, www.nps.gov/arch)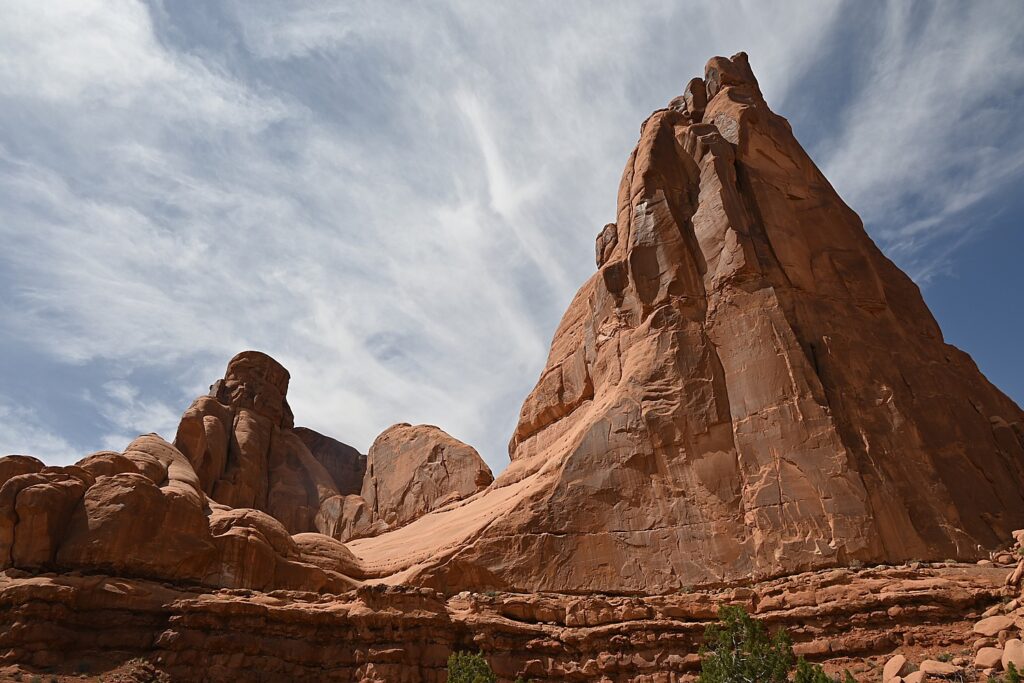 Arches is the most touristic of all the places we have visited this trip and offers such a contrast with the wild camping and communion with ancient spirits (Bears Ears), the remote unmarked hikes (Grand Staircase-Escalante), the long meandering hikes (Capitol Reef) and our search through muck and mud to find archaeological sites (Glen Canyon).
Here, we go sightseeing for the dazzling arches that give the park its name, like the amazing Double Arch, the Windows, Landscape Arch and Delicate Arch, accessed along paved paths from parking lots, with restroom facilities.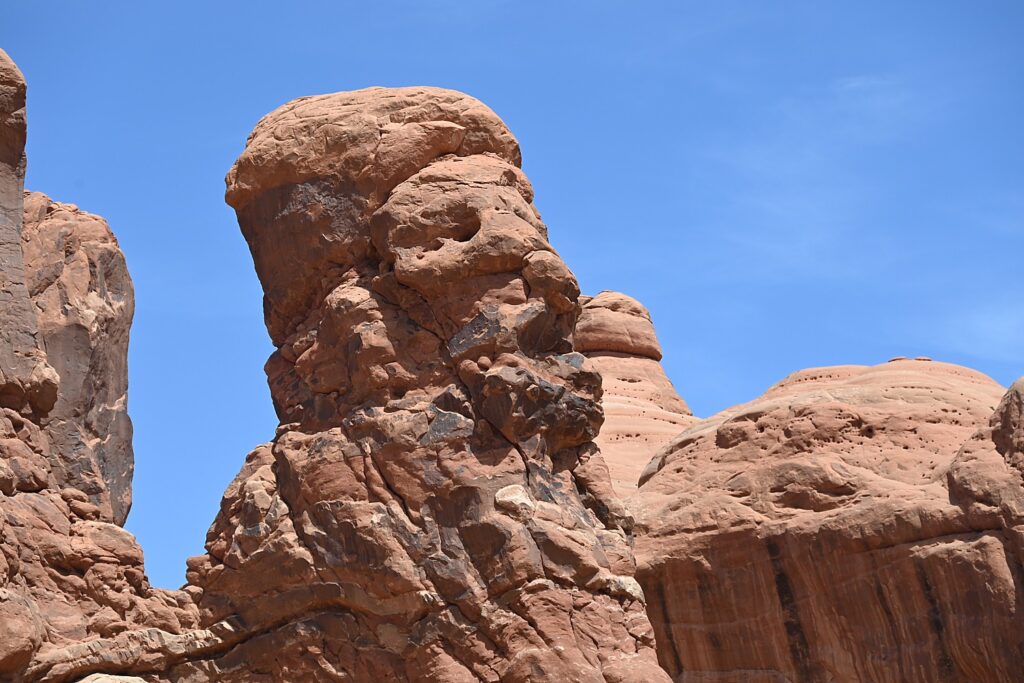 Throughout Arches, there are formations – eroded monoliths – that inspire names, like Parade of Elephants, Petrified Dunes, Tower of Babel and Fiery Furnace, also trigger imagination. Some look so much like mudmen, we name them (we rechristen Balanced Rock "E.T.", the Gossips we rename "The Suffragists," and formations that look to me as if Nefertiti and Croesus had just been turned to rock.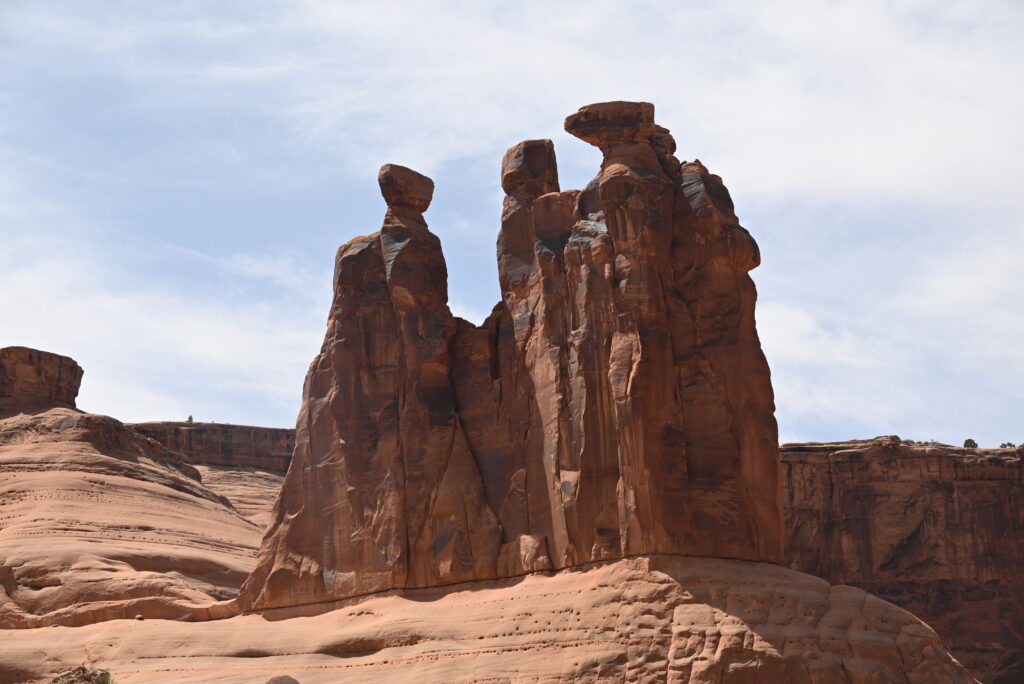 The source of what we see is a salt bed, thousands of feet thick in places, that was deposited across the Colorado Plateau 300 million years ago when a sea flowed into the region and eventually evaporated, according to the Arches National Park notes. The salt bed was unstable and unable to hold the weight of the thick cover of rock formed from compressed debris. It shifted, buckled, liquefied and repositioned, thrusting rock layers upward as domes, while whole sections fell into cavities.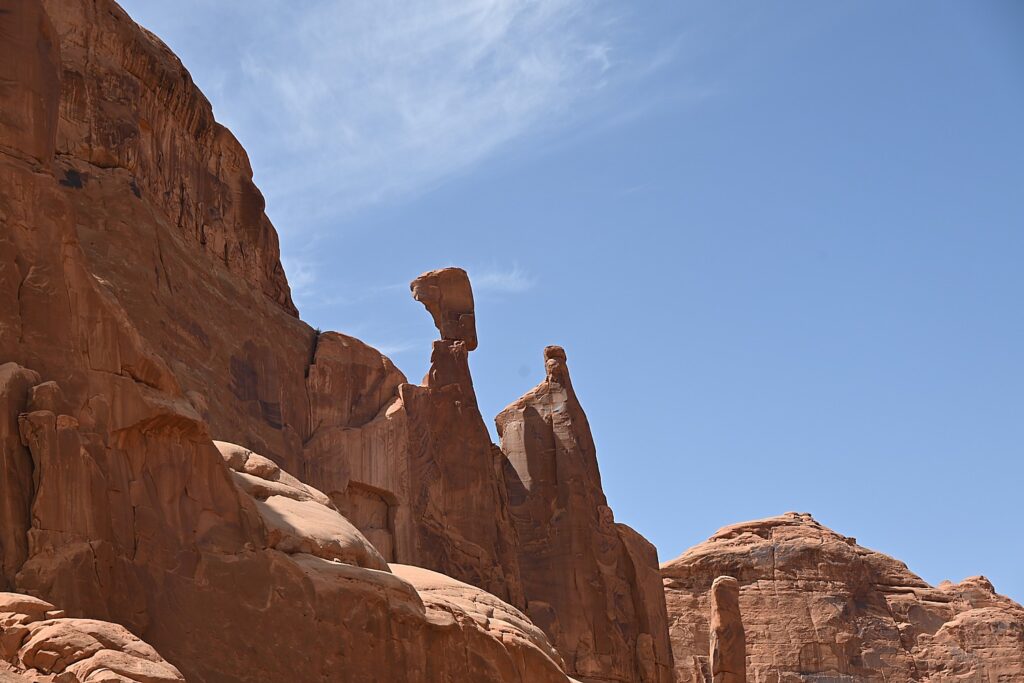 Faults make the surface even more unstable. From the visitor center, you can see the result of a 2,500-foot displacement, the Moab Fault. The faults caused vertical cracks and wind and water over 100 million years of erosion and weathering, ultimately formed the arches of salmon-colored Entrada Sandstone and buff-colored Navajo Sandstone.
The process is ongoing – new features are being formed as old ones are transformed.
Sometimes the changes happen suddenly, violently. That was the case at the Skyline Arch, just next door to Devils Garden, where a massive boulder tumbled down in the 1940s, expanding the arch.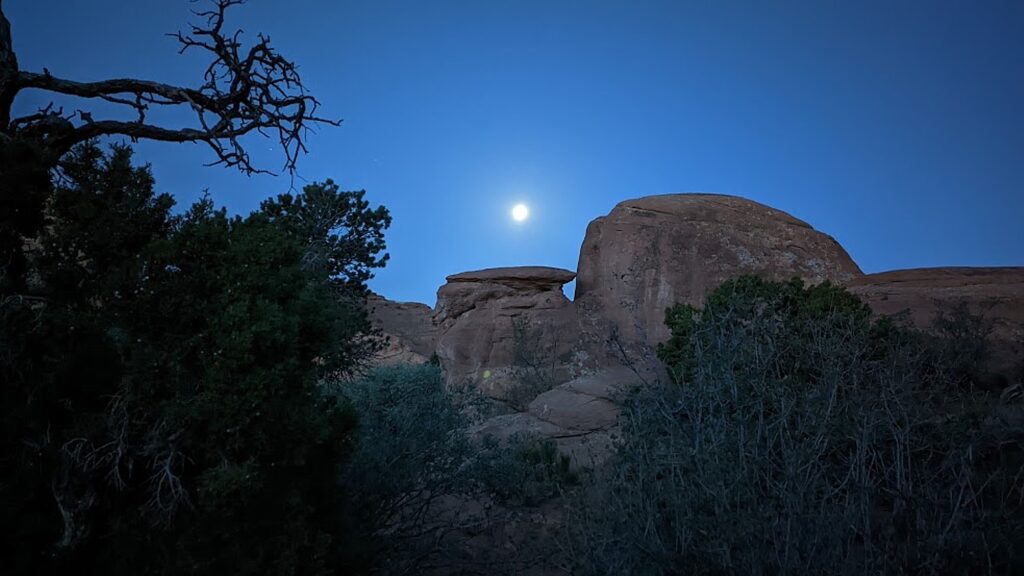 The most ambitious hikes in Arches National Park are to the Double O Arch (4.1 miles); the Primitive trail (2.1 miles one way, considered most difficult), and if you would do the whole Devils Garden Trail (7.8 miles, that goes to the Landscape Arch, Double O Arch, Dark Angel along a primitive trail, with narrow ledges, rock scrambling and few trail markers; be sure to take enough water— 1 liter of water per person, per hour).
We do none of these, holding out for our most ambitious hike, to Delicate Arch, for sunset but I already have my trepidations.
And, in addition to the outstanding Devils Garden trail, from the campground (which feels luxurious to us for its restrooms and running water), you can hikethe Broken Arch Loop Trail which runs past Tapestry Arch and Broken Arch, then swings south towards Sand Dune Arch and back up passed Skyline Arch before returning to the campground. (Unfortunately, we don't have time for that hike. Next time!)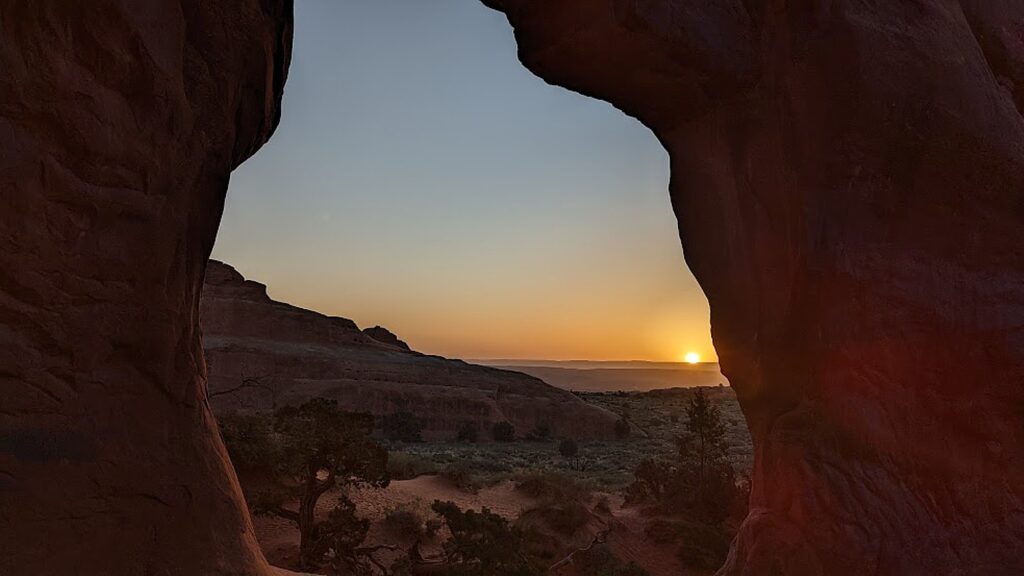 For my sunrise hike, I do the easy, paved trail, rushing to get to a good position for photos, and then continue on to do more of it, going to where I see the famous Landscape Arch. After my walk through the easy part of the Devils Garden Trail (it is surprising how fast the sun comes up, washing out the colors), I go back to the campsite where we have breakfast.
(Actually, we have to move from one campsite to another for our second night and Dave and Laini figure out to just put the tent with the sleeping bags and stuff on top of the Jeep and drive it over, which we do by check-out time.)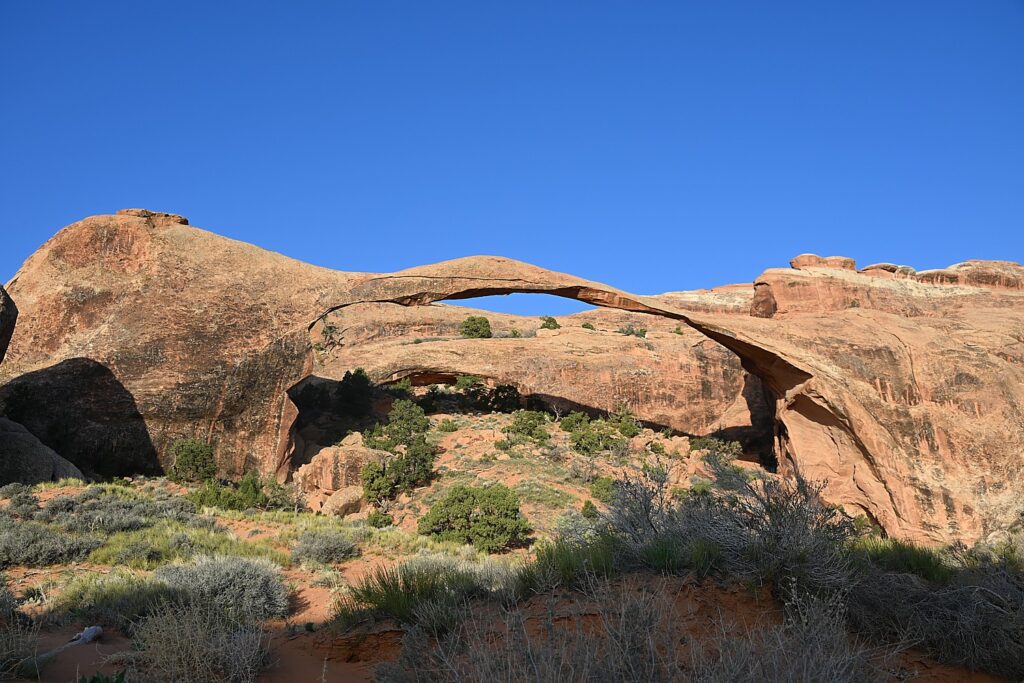 We then set out to explore Arches.
We only have one full day at Arches National Park, and it's the end of our hiking/camping adventure, so we kind of go with the flow. We drive to the different sites, and do short hikes up to the various formations, basically doing the tourist thing.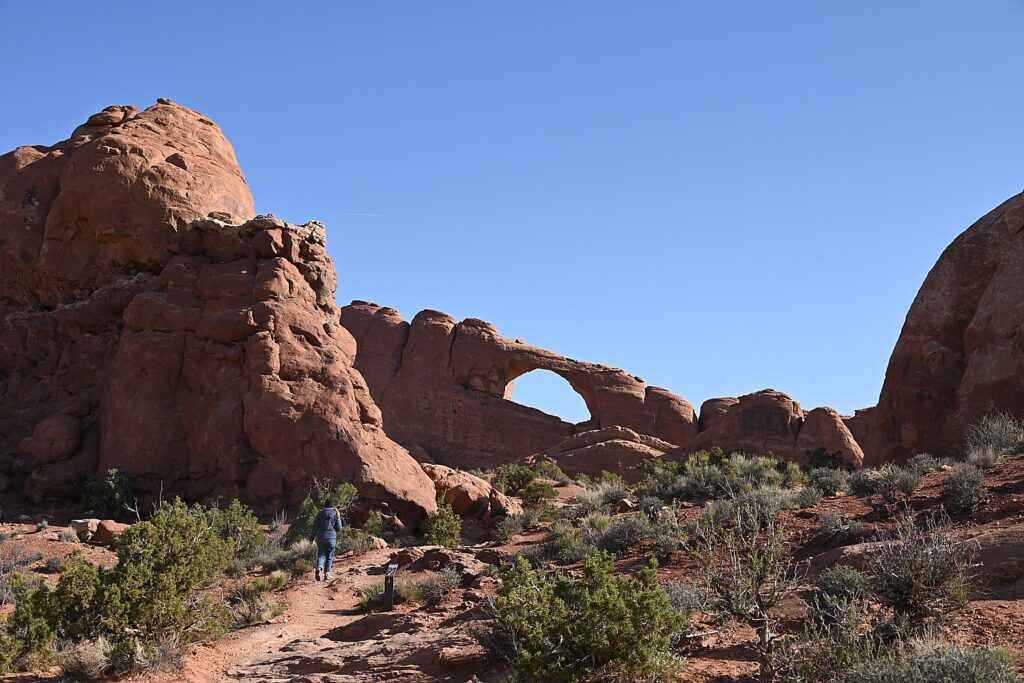 We follow a route, starting with the Skyline Arch adjacent to Devils Garden. Dave climbs to the top of that humongous boulder that fell down (scary to contemplate). The Skyline Arch Trail is short and easy, less than a half-mile roundtrip hike from the parking lot and back. The arch itself is one of the more popular landmarks in Arches. It makes for spectacular photographs, owing to its position, literally, on the skyline. And its proximity to the Devils Garden Campground makes it a perfect hike if you arrive late in the afternoon. (We arrived too late.)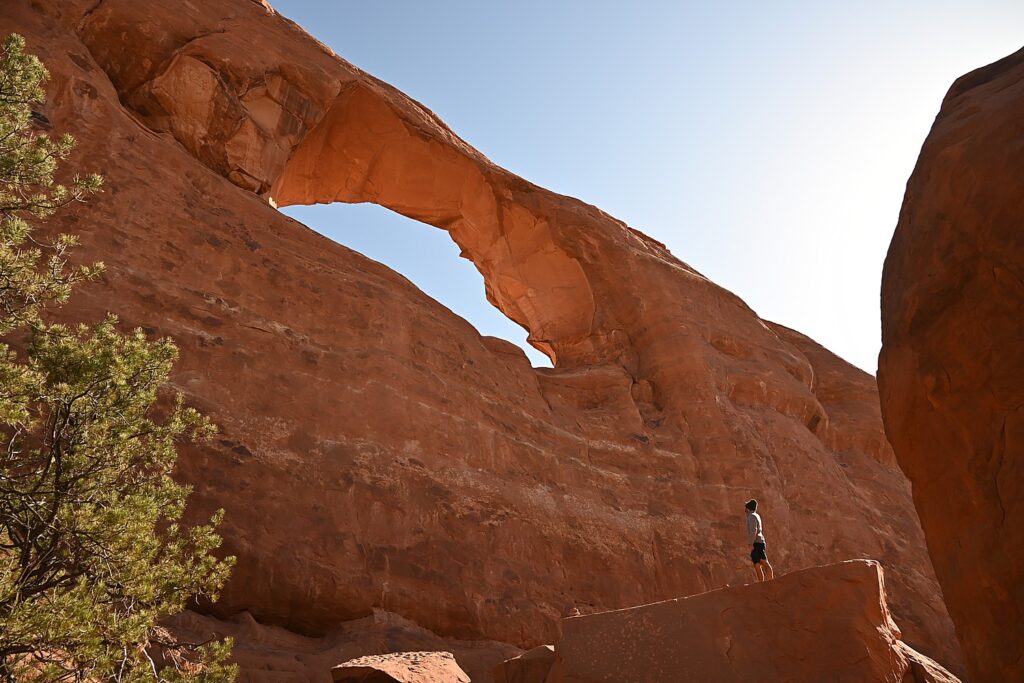 We go next to the observation area that overlooks The Fiery Furnace, a labyrinth of narrow sandstone canyons. (Hiking the Fiery Furnace requires agility and a permit, or a ticket for a ranger-led hike that must be reserved in advance through Recreation.gov; one route is marked, but getting lost is still possible.)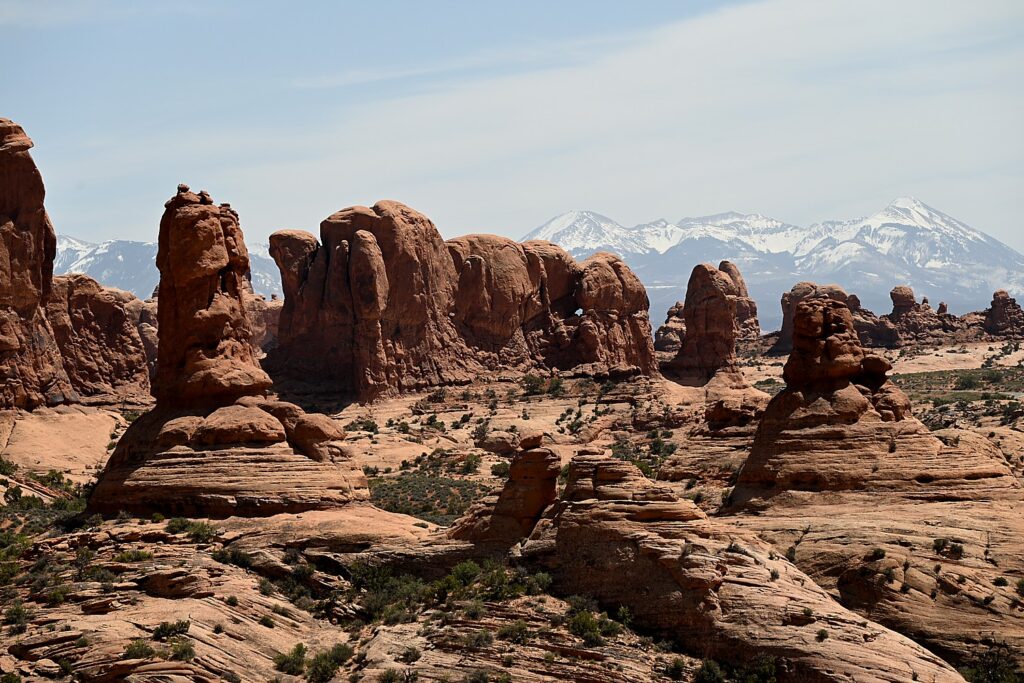 Next, we drive to one of the famous highlights of Arches (there are many, but this one is tops for me): the Double Arch Viewpoint and Trail. The tallest arch in the park at 122 ft., there seems to be this intricate dance between the two arches. An easy gravel path leads to the base of the two huge, arching spans. Of course Dave and Alli climb up to the arches, while Laini draws.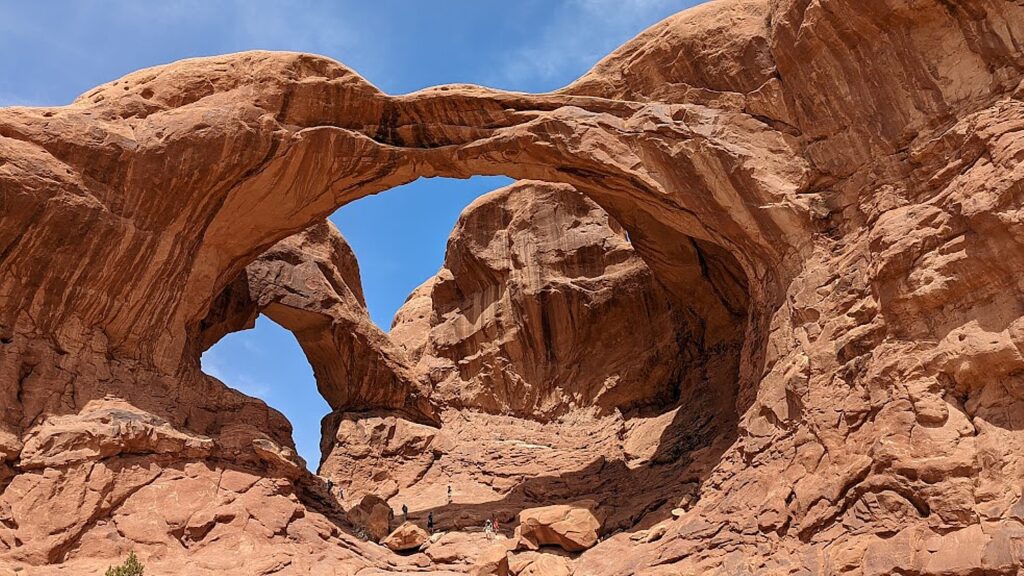 Balanced Rock is another signature landmark and just about everyone (who can get a parking space) walks the short hike around the base for up-close perspectives. We re-name Balanced Rock E. T. because from a certain angle, it's a dead ringer for the endearing character.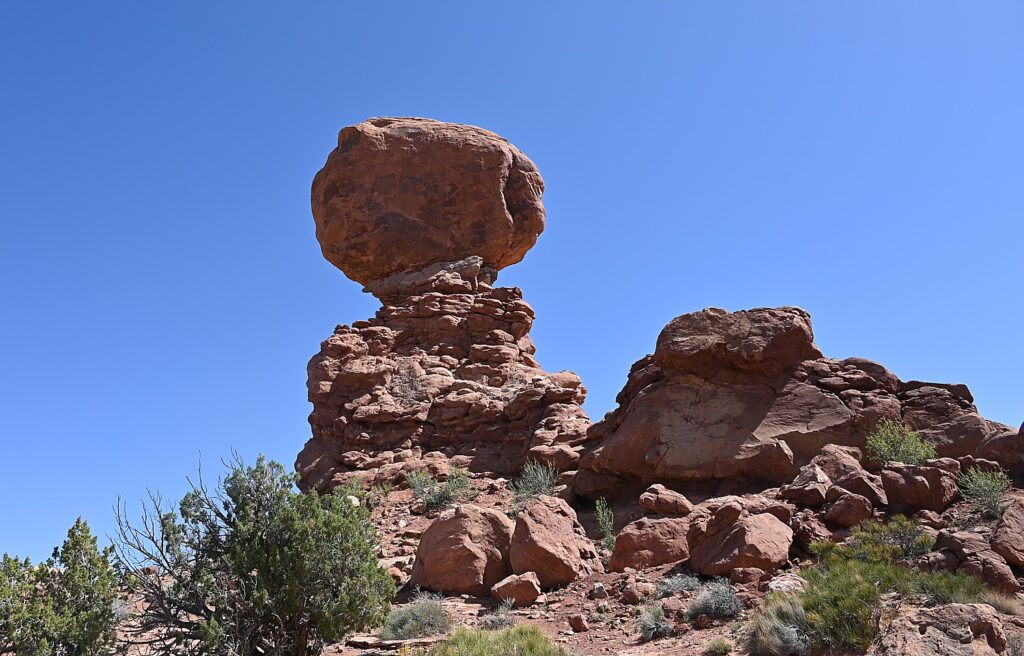 (The Arches National Park newsletter guide is invaluable – it recommends how much water to take, and gives excellent information about distance and time and difficulty for each of the hikes.)
Dinosaurs, Indians!
Arches National Park (believe it or not), has no food or lodging (that is, beyond the sensational Devils Garden campground) – so we drive out of the park into the delightful, hopping town of Moab for lunch at the food truck park, and a bit of shopping.
From here, we drive a short distance to where Laini promises we will encounter both dinosaurs and Indians.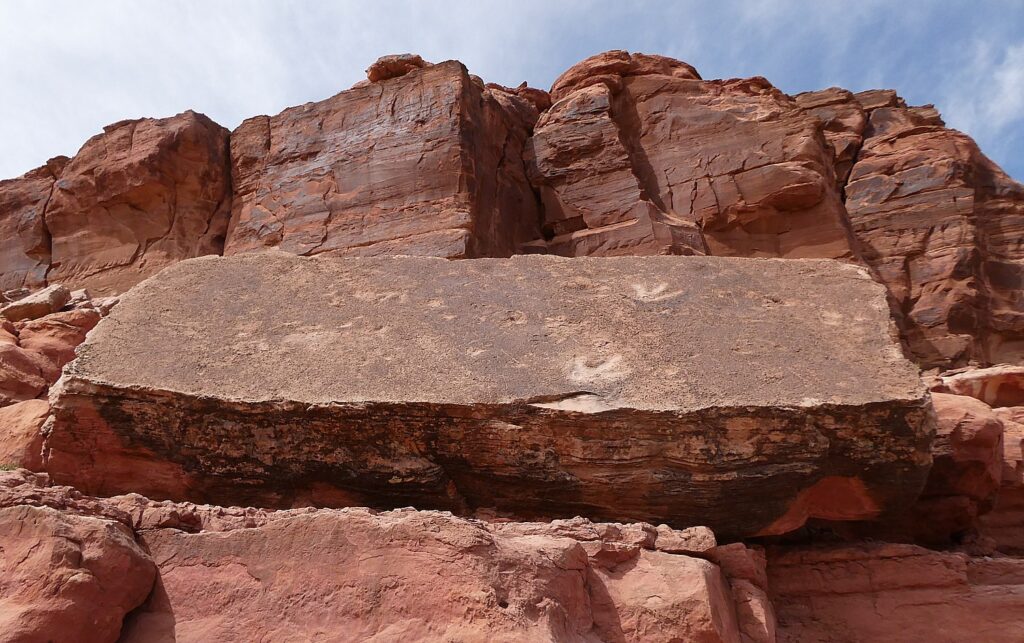 We drive along Utah Scenic Byway 279 to the trailhead of the Poison Spider Dinosaur Tracksite and Rock Art Trail. It's a quarter-mile walk up a steep, crumbly trail up a rocky hillside to two rock slabs where tracks made by three-toed meat-eating dinosaurs can be seen, as well as a wall with a good collection of petroglyphs.
This area was once a vast sand dune sea, known as an erg. These tracks would have been found along the edge of a lake between dunes. As the wind would blow across the dunes these tracks would have been gently buried in shifting sand and preserved. The preserved tracks were unearthed when the slabs fell from the sandstone cliffs above.
The trail switchbacks up the hill before coming alongside the petroglyph wall and then descends back to the parking lot. (Use caution: though short, there are a few steep areas and the trail can be hard to follow.)
(From this trailhead you can also connect to the Longbow Arch hiking trail that goes into a canyon to an arch, 2.4 miles roundtrip.)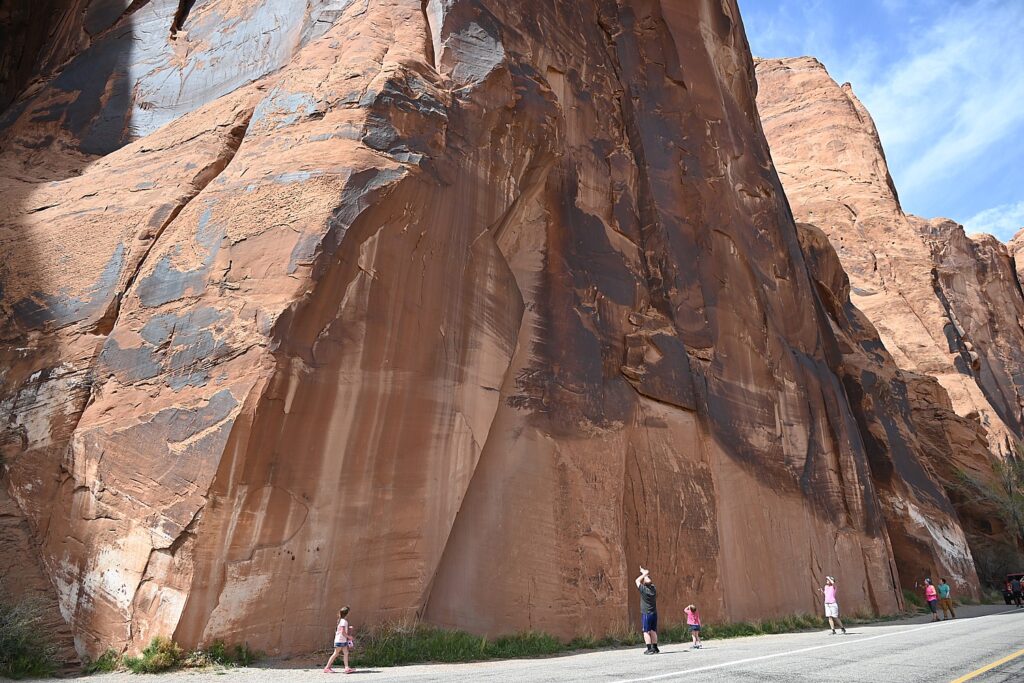 A short distance along Potash Road is the Utah Highway 279 Rock Art Site, where a huge rock wall face has the most amazing sets of petroglyphs and pictographs. It looks like a museum exhibit, except this is where they were made and it is astonishing to contemplate that this is where people so very long ago stood here and carved and painted them.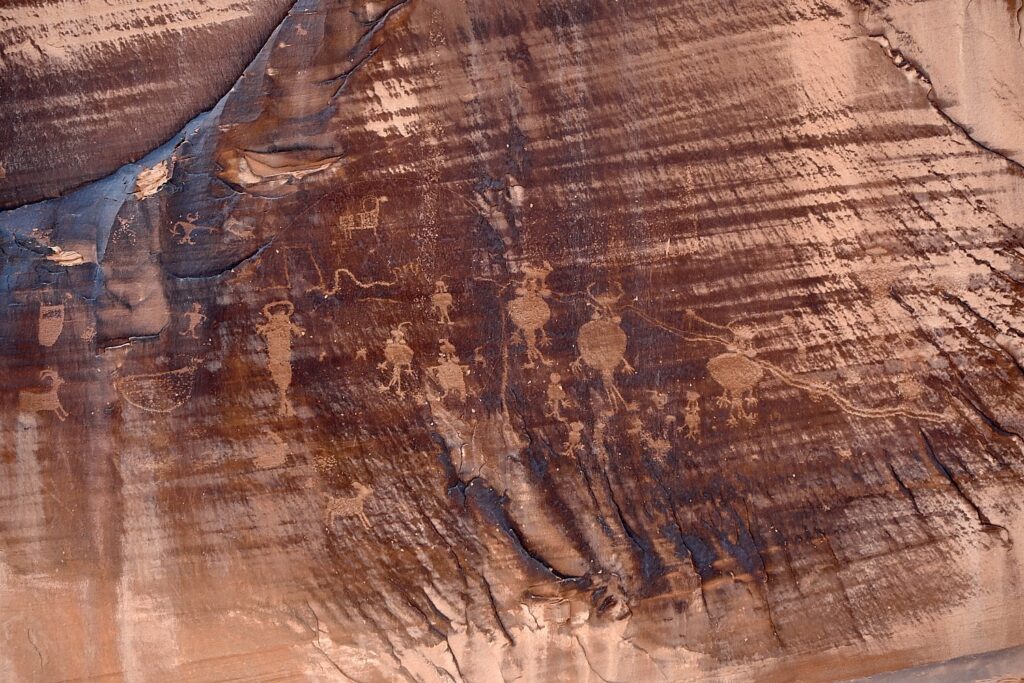 Archaeologists believe most of the rock art found here was created during the Archaic (6,000 – 1,000 B.C.) and Fremont (450-1300 A.D.) cultural periods. The art consists of pictographs (painted images) and petroglyphs (pecked, incised or chiseled images). The majority of the rock art features anthropomorphic (human forms) and zoomorphic (animal forms) but there are also curvilean lines, zigzags, wavy lines, concentric circles and abstract symbols. Sometimes both Archaic and Fremont petroglyphs can be found on the same rock art panel.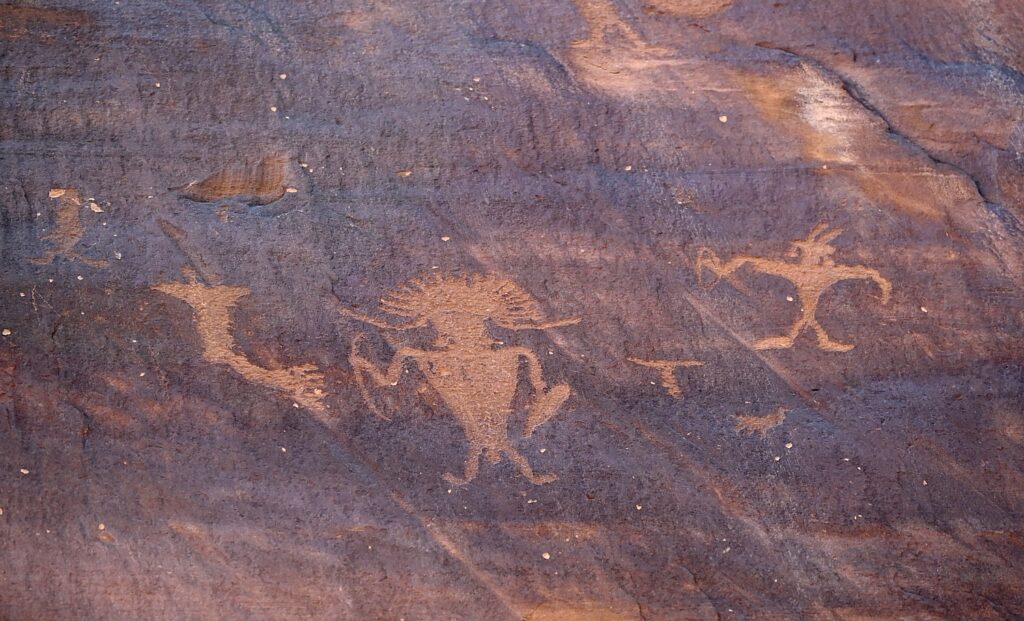 Some of the rock art panels depict religious rituals and are considered sacred sites. Some depict migration routes, fertility, hunting, ceremonies, and cosmic events.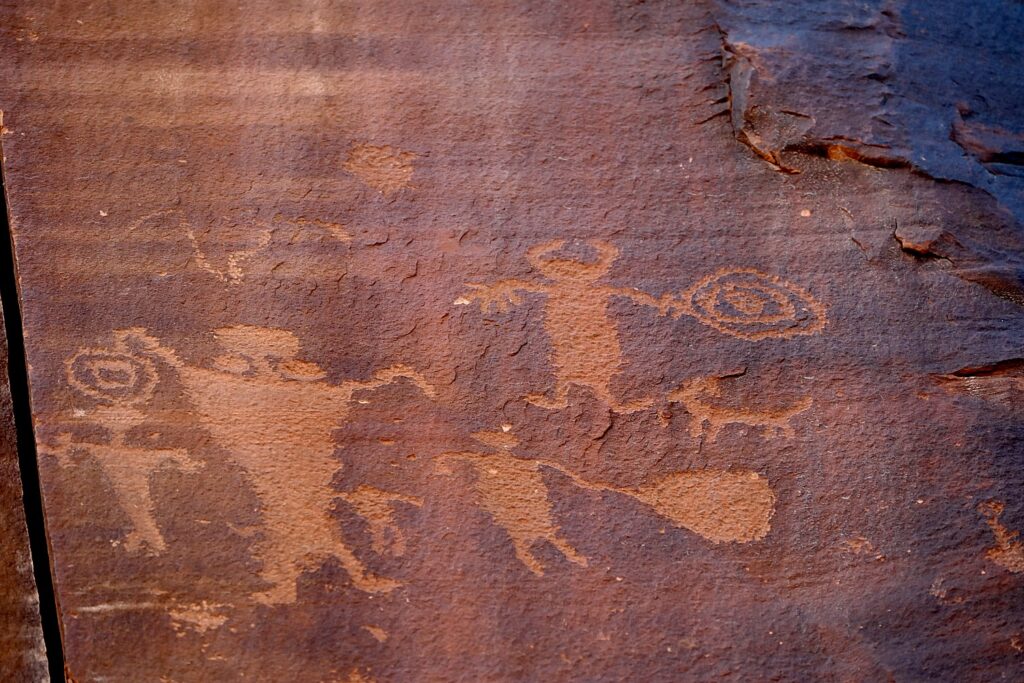 These petroglyphs were exposed when the road was widened, and it is a surreal experience to see these magnificent, huge murals just along the road – especially because it is beside a section popular with rock climbers (one was prosecuted for rock climbing where the protected petroglyphs are).
Fremont rock art often depicts trapezoidal anthropomorphs with horns, bighorn sheep, dogs, hunting scenes with weapons, and abstract objects – and sure enough, we see plenty of examples – there are horned anthropomorphs holding shields and paper doll-like cut-outs; at the southern end of the panel, we see a large bear with a hunter at its nose and another hunter over its back. The notes say this art is 3000 to 8000 years old.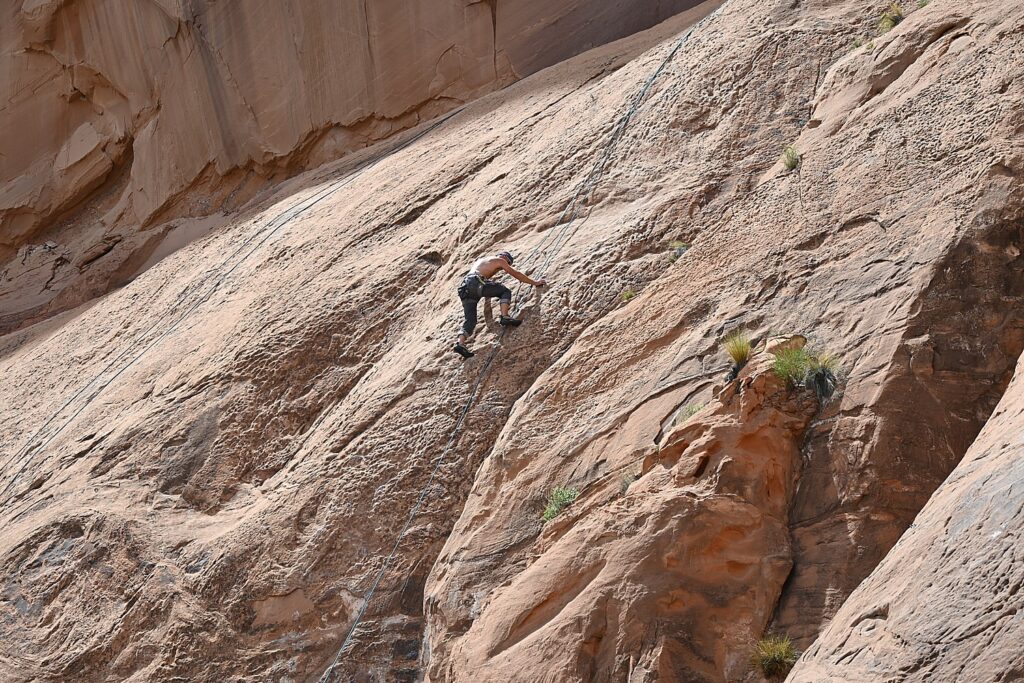 At the northern end of the panel, round holes carved into the sandstone underneath the left side would have once held roof poles of a structure which was excavated by archaeologists before the road construction. The rock panels extend 125 feet along Potash Road.
Sunset and Star-Gazing
We return to Arches National Park for sunset (there is still a long line of cars getting in with their timed admission tickets, but because we are camping, we breeze right in).
Laini suggests we hike the 3 miles roundtrip to Delicate Arch for the sunset, but I'm actually dreading it (my feet are actually bleeding from yesterday's 11-mile Kane Gulch hike – the folly of hiking in boots that haven't been broken in).
My trepidation comes from the description of the hike: The Delicate Arch hike is ranked difficult – the trail climbs 480 feet up a steep slickrock slope, and just before you get to Delicate Arch, follows a narrow rock ledge for about 200 yards). I am especially nervous about hiking the 1.5 miles back in the dark.
Laini, who has done the hike on their previous trip, admits she also has been dreading it but only wanted to do it for me, because I would have been disappointed not to see the iconic rock formation that Utah uses for its state symbol.
We set out and I ask what exactly we will see and she pulls up the photo she took on a previous trip. I suggest we not bother, but rather go to The Windows where I've been told is a popular place for sunset.
But before we leave the trail to the Delicate Arch, we explore the Wolfe Ranch historic site and walk a little further along a path to see an excellent example of historic Ute rock art – a huge bonus to coming here.
The panel depicts a stylized horse and rider surrounded by bighorn sheep and dog-like animals which are typical of Ute rock art. The petroglyphs were carved sometime between 1660-1860.
The historic marker is fascinating because it also shows photos of an Ute on horseback in 1909. "The Utes' acquisition of horses by the mid-1600s radically changed the way they hunted, worked and traveled." Another photo depicts a Ute warrior and his bride, circa 1873. Utah's name is derived from the Ute Indians who moved into this area around 1300 AD.
I'm thrilled we came here, and even more thrilled to go to The Windows for the sunset, which I had read in the park's newsletter (so helpful!) is one of the great spots to watch the sunset.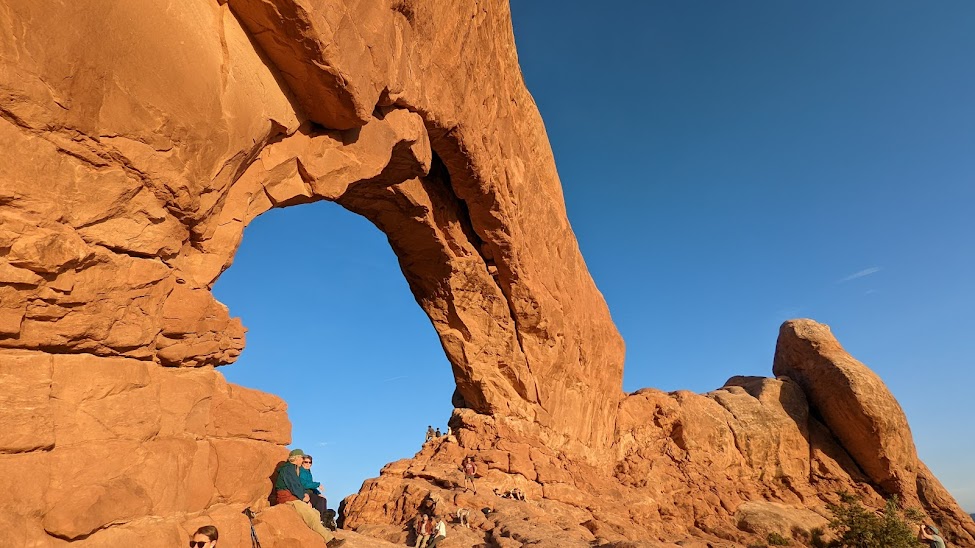 The Windows – just across from the Double Arch where we had been in the morning – is a pleasant half mile walk. We arrive just as the light is turning the rock deep gold, to orange, to red. I find a "comfortable" rock to sit on at the bottom of the arch while Dave, Laini and Alli (of course) climb up into the Windows. Our view looks out to the Turret Arch and a wide open expanse, to where the sun dips below the horizon.
We drive back to Moab to stop in for a bite and beer flight at Moab Brewery, and then return to the national park to do some stargazing before settling into our campsite.
Arches National Park is a great family park where a short walk brings you to many of the iconic features, and you can even see a lot from a car and the observation areas. Stop at the visitor center for advice, where you can watch an orientation film and see exhibits. A self-guiding audio tour is available. Ranger programs are offered seasonally.
For more information, and to reserve entry tickets and campsites, www.nps.gov/arch; info 435-719-2299; hiking info at https://www.nps.gov/arch/planyourvisit/hiking.htm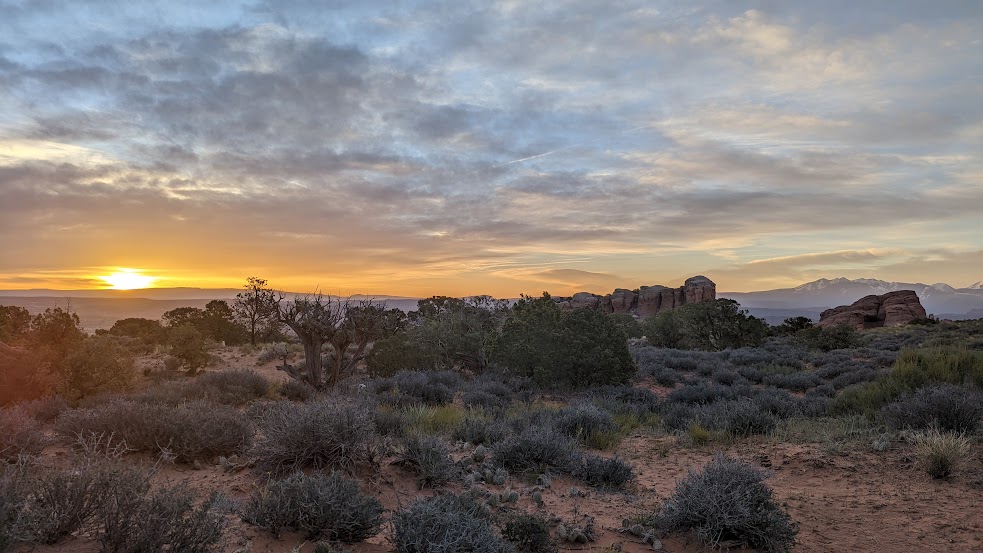 On our last morning, I awake again before sunrise and scramble up a small hill across the road from our campsite for a different view.
We pack up quickly for our departure which also entails packing up the rental sleeping bags and pads, which we ship back to Moosejaw.com from Moab, pick up breakfast from a delightful cafe, and head out for the drive back to Salt Lake City and our flight home, having had the most marvelous Utah Adventure, a trip of a lifetime for me.
Trip planning tools are available at https://www.visitutah.com/.
Advance Purchase Tickets Required
From April 1 to Oct. 1, 2023, you need to secure in advance a timed entry reservation in order to enter Arches National Park between 7 a.m. and 4 p.m. Reservations must be secured three months in advance of the anticipated date of visiting Arches. A single booking of a timed entry ticket covers each registered visitor (an individual, couple, group or family). You can enjoy the park all day, entering and re-entering at will with the validated ticket. A $2 processing fee is added nto the standard park entry fee. Reservations are accepted on a first-come, first-served basis on Recreation.gov. (It may also be possible to obtain a limited number of tickets through Recreation.gov up to midnight the day before planning to visit the park.).
See:
UTAH ADVENTURE DAY 1-2: CAPITOL REEF'S COLORFUL CANYONS
UTAH ADVENTURE DAY 3-4: GRAND STAIRCASE-ESCALANTE POSES CHALLENGE
UTAH ADVENTURE DAY 4-5: DRIVING BURR TRAIL, EXPLORING GLEN CANYON, WILD CAMPING IN ARCH CANYON
UTAH ADVENTURE DAY 6: SACRED SITES, SPIRITS OF BEARS EARS NATIONAL MONUMENT
UTAH ADVENTURE DAY 6-7: HOUSE ON FIRE AMONG HIGHLIGHTS HIKING AMID SACRED SITES, SPIRITS OF BEARS EARS NATIONAL MONUMENT
______________________
© 2023 Travel Features Syndicate, a division of Workstyles, Inc. All rights reserved. Visit goingplacesfarandnear.com, www.huffingtonpost.com/author/karen-rubin, and travelwritersmagazine.com/TravelFeaturesSyndicate/. Blogging at goingplacesnearandfar.wordpress.com and moralcompasstravel.info. Visit instagram.com/going_places_far_and_near and instagram.com/bigbackpacktraveler/ Send comments or questions to [email protected]. Tweet @TravelFeatures. 'Like' us at facebook.com/KarenBRubin