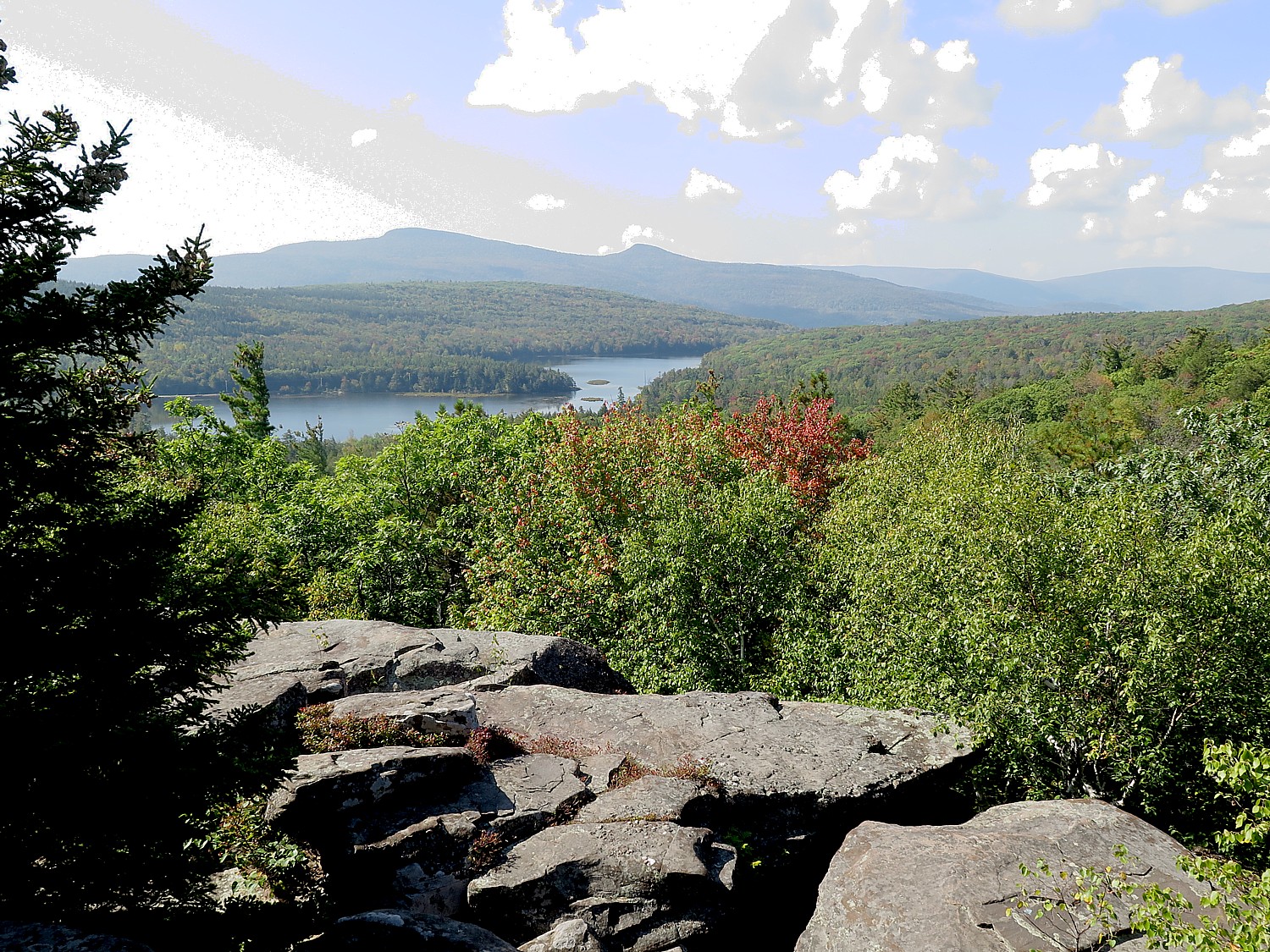 By Karen Rubin, Travel Features Syndicate, goingplacesfarandnear.com
My three-day fall getaway in the Great Northern Catskills exploring the Hudson River School Art Trail starts before I even arrive at the historic Fairlawn Inn, in Hunter, NY. Taking advantage of the time of day and beautiful weather, I stop at the parking lot on 23A for the trailhead to Kaaterskill Falls, where you get an amazing view of Kaaterskill Clove (HRSAT Site #4). You gaze out over the gorge where mountain peaks seem to thread together and compare the scene today to the way it is depicted by Hudson River School artist Asher B. Durand's 1866 painting. The trees are just beginning to turn colors (the peak is usually around Columbus Day weekend), but I swear that the same tree, already crimson, is the same red tree in the painting, also depicting an early fall scene.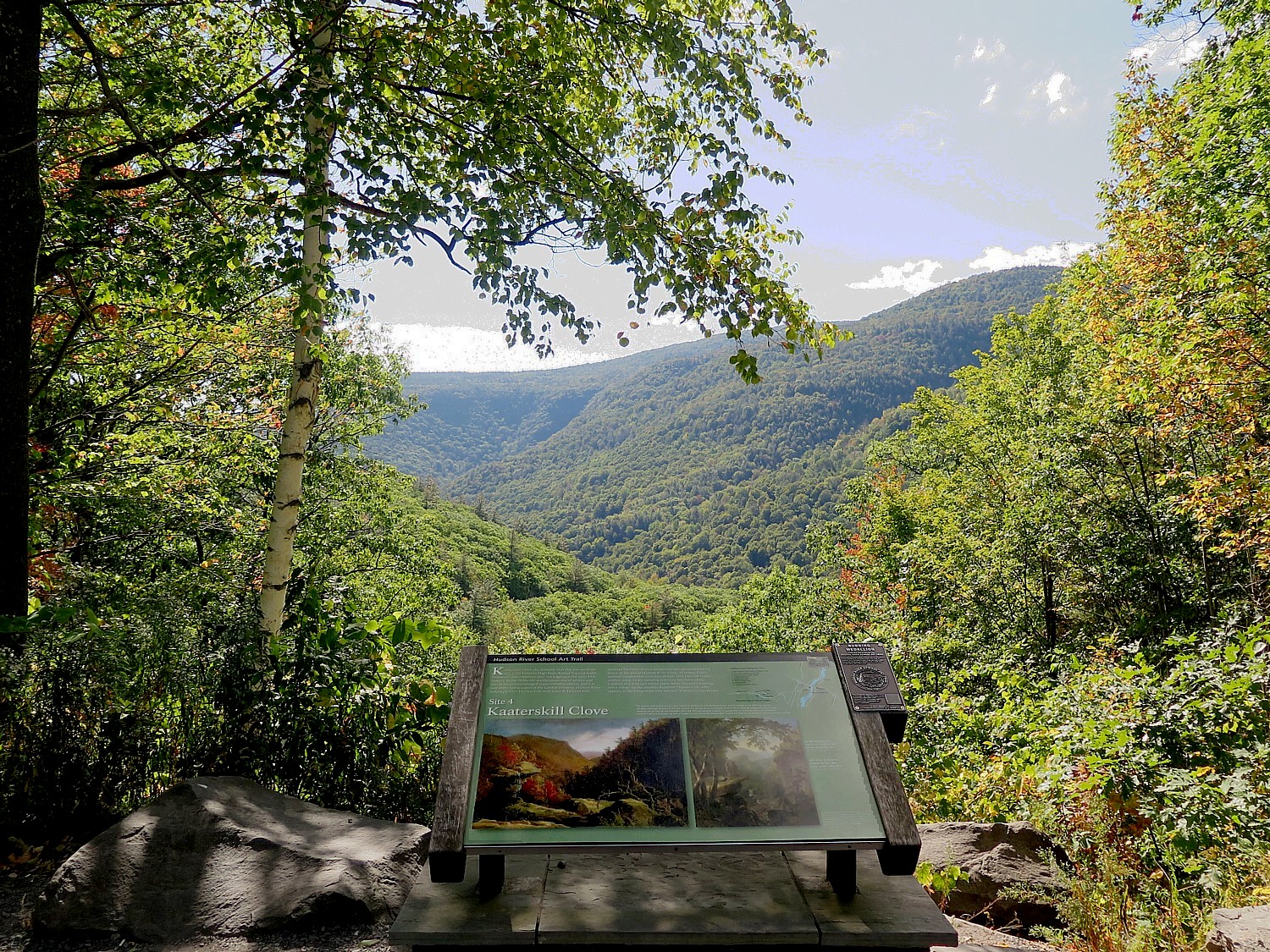 It's a short walk along 23A (watch out for cars on the winding narrow road) to the trailhead for one of my favorite hikes, Kaaterskill Falls (HRSAT Site #5), a stunning scene that looks remarkably just as depicted in an 1835 painting by Thomas Cole, known as the father of the Hudson River School. "It is the voice of the landscape for it strikes its own chords, and rocks and mountains re-echo in rich unison," Cole (who was also a poet and essayist) wrote.
The Kaaterskill Falls were a favorite subject of many of the Hudson River School painters and for me, is the quintessential combination of stunning scenery plus the physical pleasure of the hike – half-mile up to the base of the double-falls, then another half-mile to the top.
The two-tiered Kaaterskill Falls, 175 and 85 feet, is the highest in New York State and was described by James Fenimore Cooper in "The Pioneers" which Thomas Cole, a friend of Cooper's illustrated.
The waterfalls, usually rushing, are just a trickle after a long dryspell, but the hike is still absolutely fantastic – just enough challenge (I love my walking sticks) – and means you can get much closer than you might if the falls were fuller.
You make it to the base of the double-falls. Last time I hiked the trail, there were barriers and warnings not to go higher because it was so steep and dangerous (people have died!), but since then, there are staircases so you can hike to the very top. (There is also access to the top from other trails and nearby Laurel House Road parking lot above).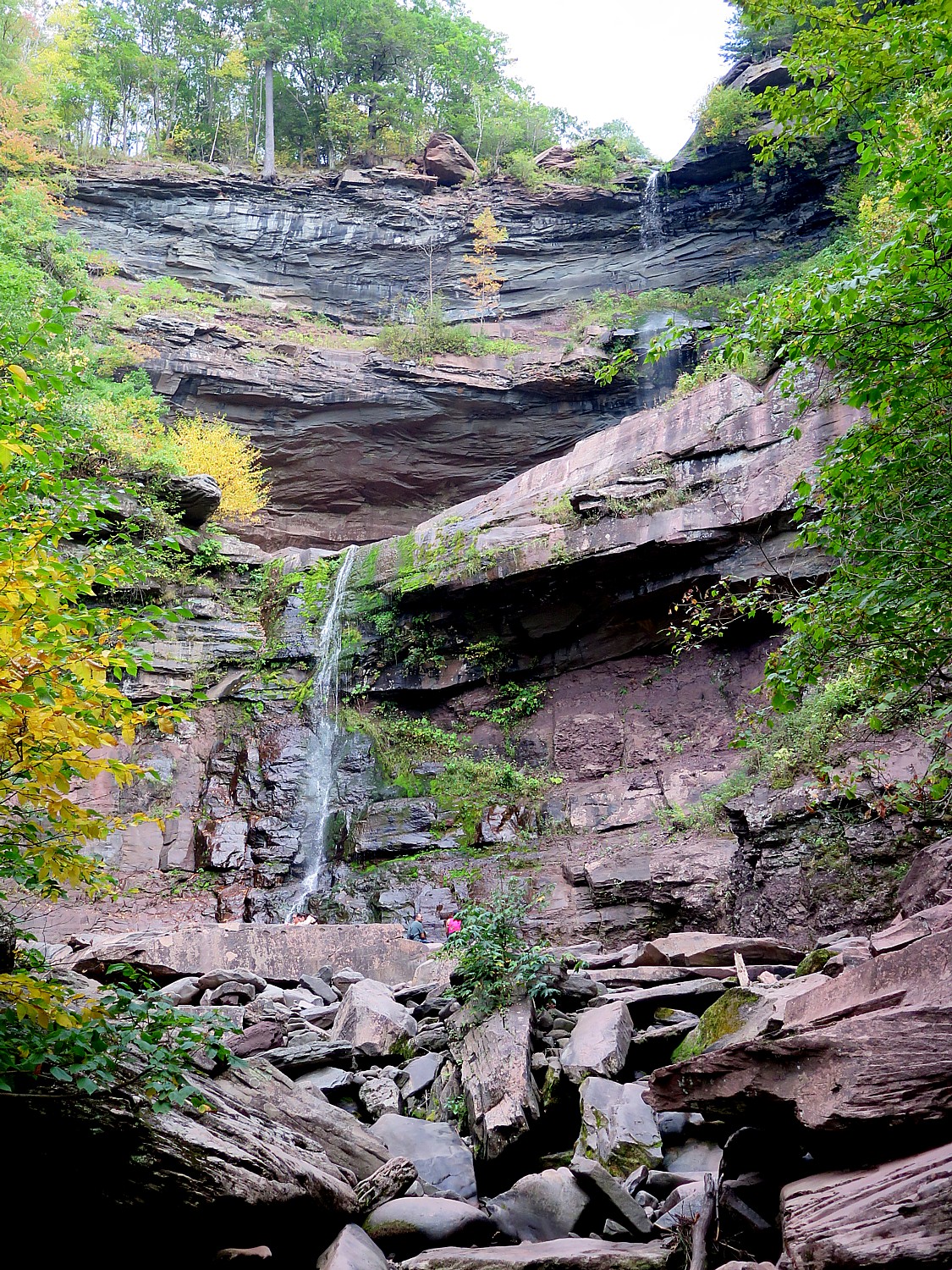 I climb up and take a cut-off to the bottom of the high falls where there is a pool of water. Though it is already autumn on the calendar, it is as hot as a summer's day – record heat in fact, close to 90 degrees – and people are in the shallow pool. The ledges are beautiful and you get a wonderful view back down the valley.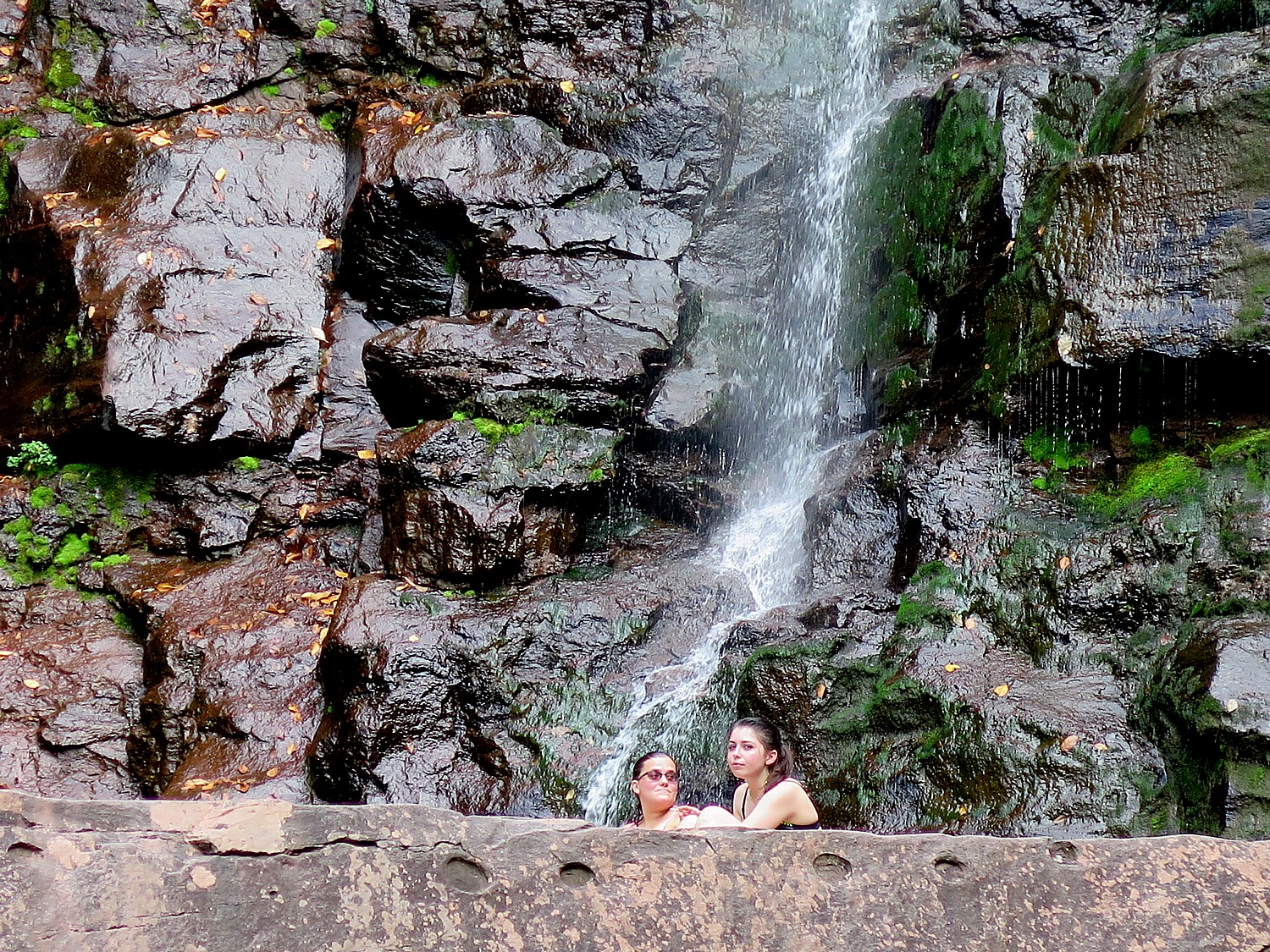 Another half-mile climb (another new staircase gets you up the steepest part) brings me to a winding forest trail that wraps around the hilltop to the very top of the falls. I cross a bridge over what would usually be rushing water. You can look back to the steep drop of the falls, back to the valley – just as Thomas Cole and the artists would have seen it. There is a viewing platform which looks back at the falls, bookended by trees just beginning to turn into their kaleidoscope of fall colors (the peak is traditionally around Columbus Day).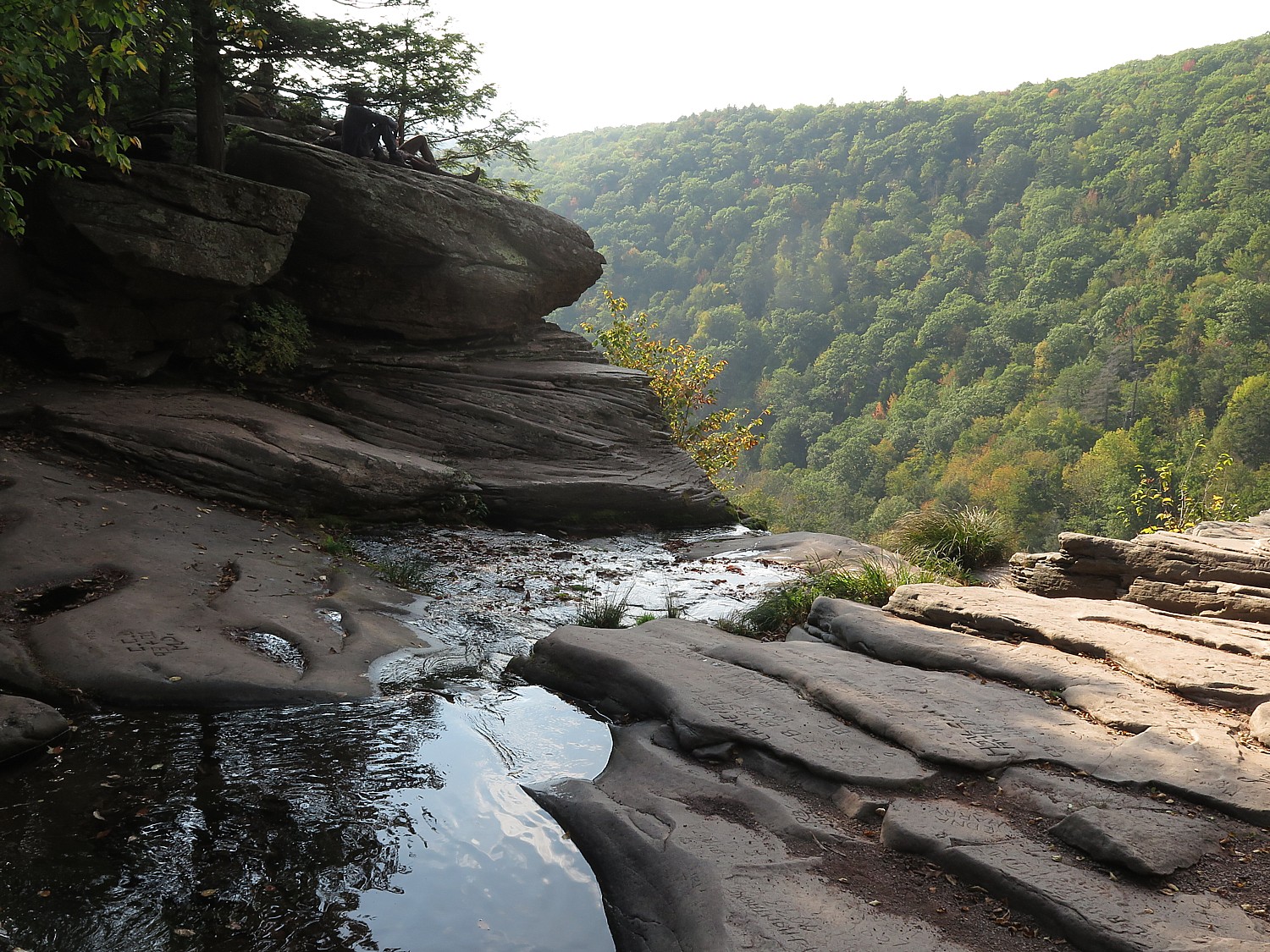 There is a small trail through the woods to the very top of the falls. Signs admonish hikers that climbing the ledges beside Kaaterskill Falls is extremely dangerous, and  has resulted in numerous injuries and deaths. But the falls are not flowing when I come, so I get to walk on the ledges, giving me really nervous view straight down and beyond, to the Valley and letting me look at the carved initials and graffiti from  the 1920s and 30s, some even from the 1800s.  You feel a sense of kindred spirit with those who have passed through and passed on. You feel the height and the proximity to the drop off, and it makes your heart flutter.
Later, you will recognize the view in Thomas Cole's paintings and imagine how he must have stood in this precise place where you are standing.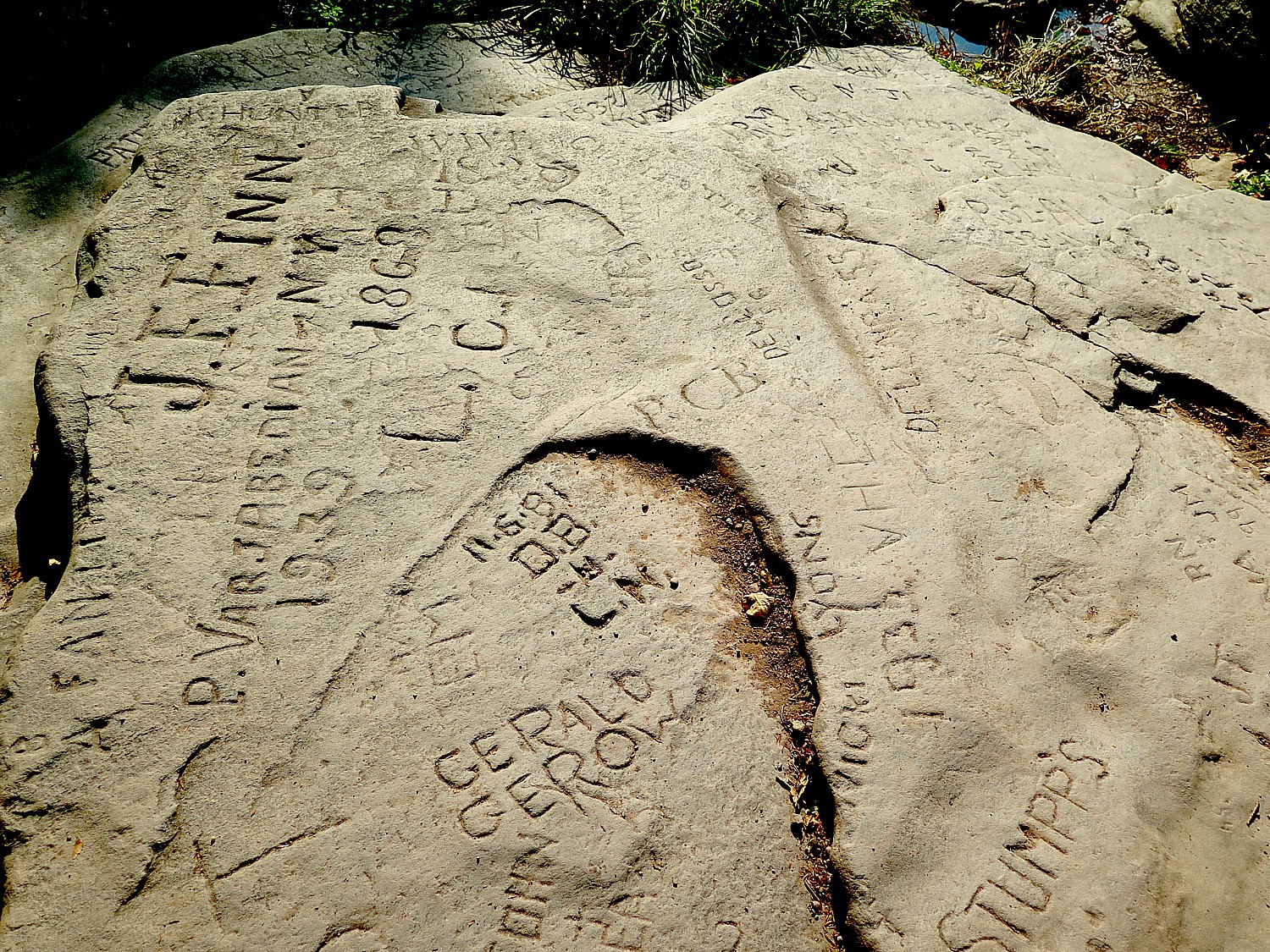 It is a half-mile to the base, and another half- mile to the top of the falls, for a total of 2 miles roundtrip. There are some scrambles and it is uphill almost all the way (walking sticks are really recommended), and is thoroughly fantastic.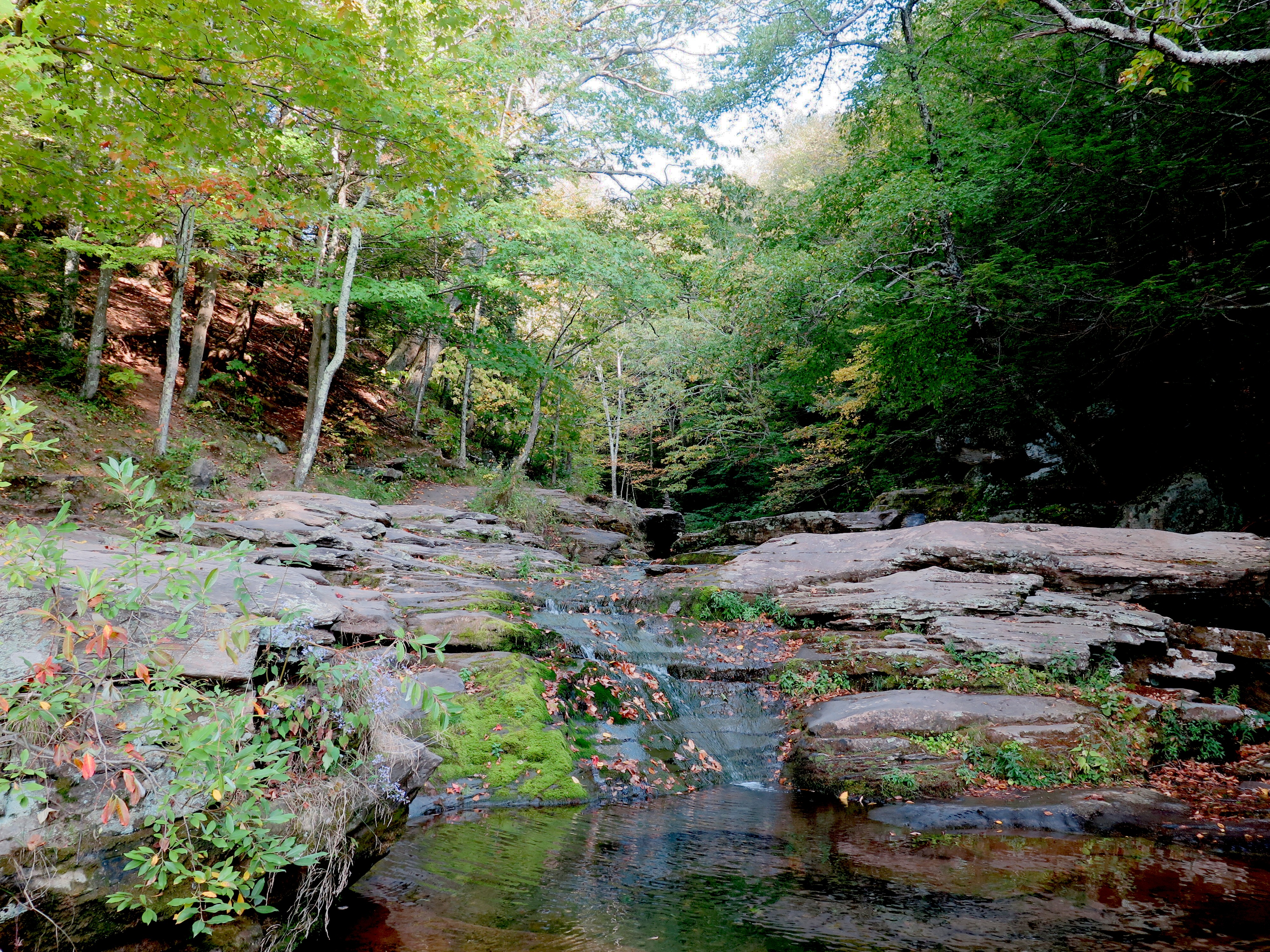 I've taken my time, really savoring the views and the scenes and the smells, and the couple of miles hiking have taken about 2 1/2 hours.
(The parking lot is just west of the trailhead and across 23A, so you park and walk back along the road, being very careful. Haines Falls NY 12436, 518-589-5058, 800-456-2267).
I set out along 23A toward Hunter and the Fairlawn Inn.
Hudson River School Art Trail Hikes in North-South Campground 
For my second day, after an amazing breakfast at the Fairlawn Inn, I head to North-South Campground, where there are several of the Hudson River School of Art Trail hikes (as well as many other hiking trails) – the lake itself depicted in paintings such as Thomas Cole's "Lake with Dead Trees," 1825, (HRSAT Site #6).
I take the longer and wonderfully more challenging (only moderately strenuous) hike which brings you to such spots as Artist's Rock, Sunset Rock and Newman's Ledge (you can continue to North Point). Other hikes bring you to Boulder Rock, the Catskill Mountain House (HRSAT Trail Site #8) and Laurel House sites.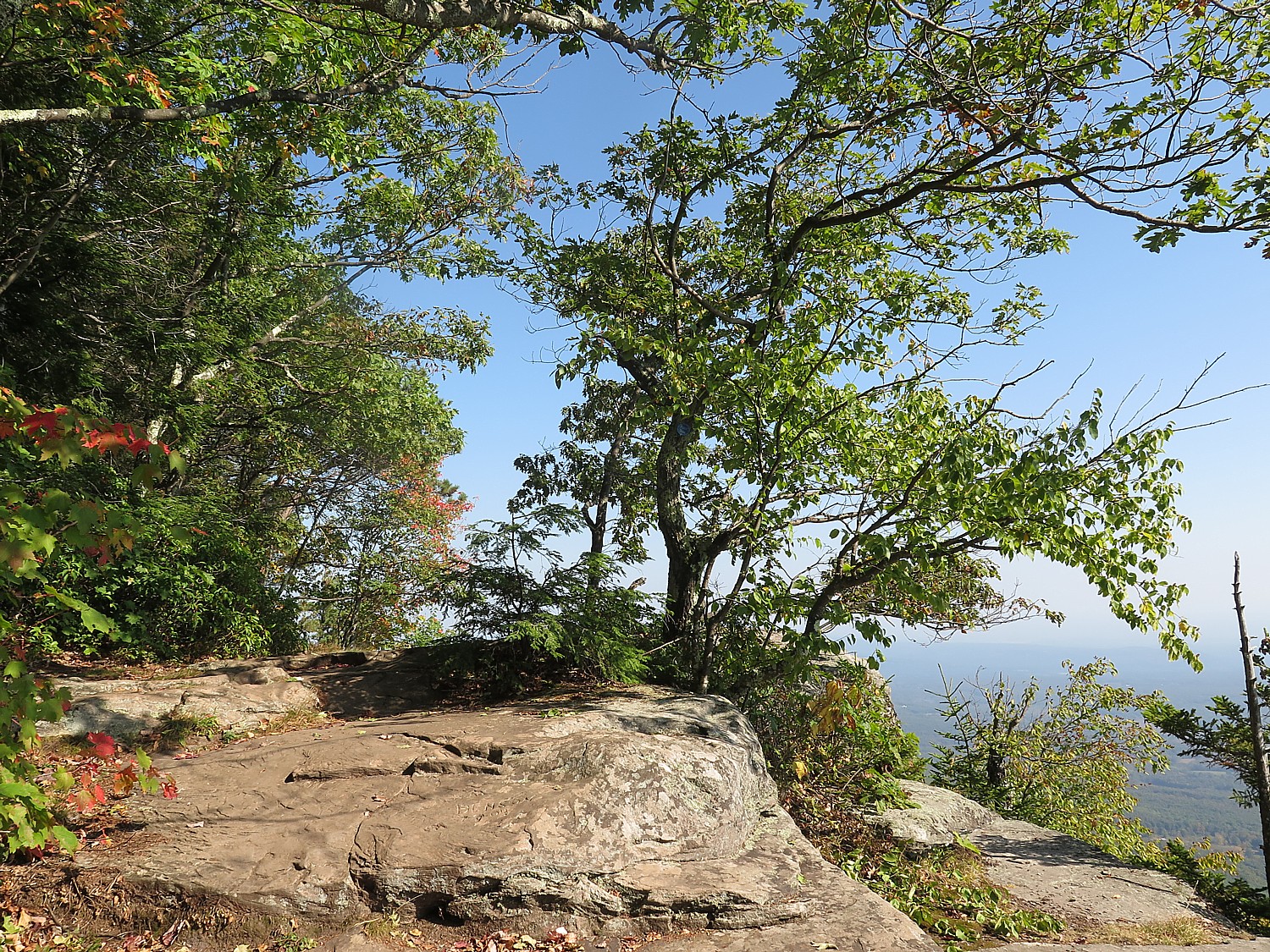 The hike to Sunset Rock (HRSAT Trail Site #7) begins along the well-marked blue trail (you cut off to the yellow trail to Sunset Rock) that mostly wraps around the ledges, with the amazing views that so enthralled the artists of the Hudson River Valley. Close to the beginning is a fairly interesting scramble, then the trail winds through the woods along side fabulous rock formations before coming out again to the ledges. You reach Artists Rock at about .4 miles. Continuing on, you look for the yellow trail marker to Sunset Rock.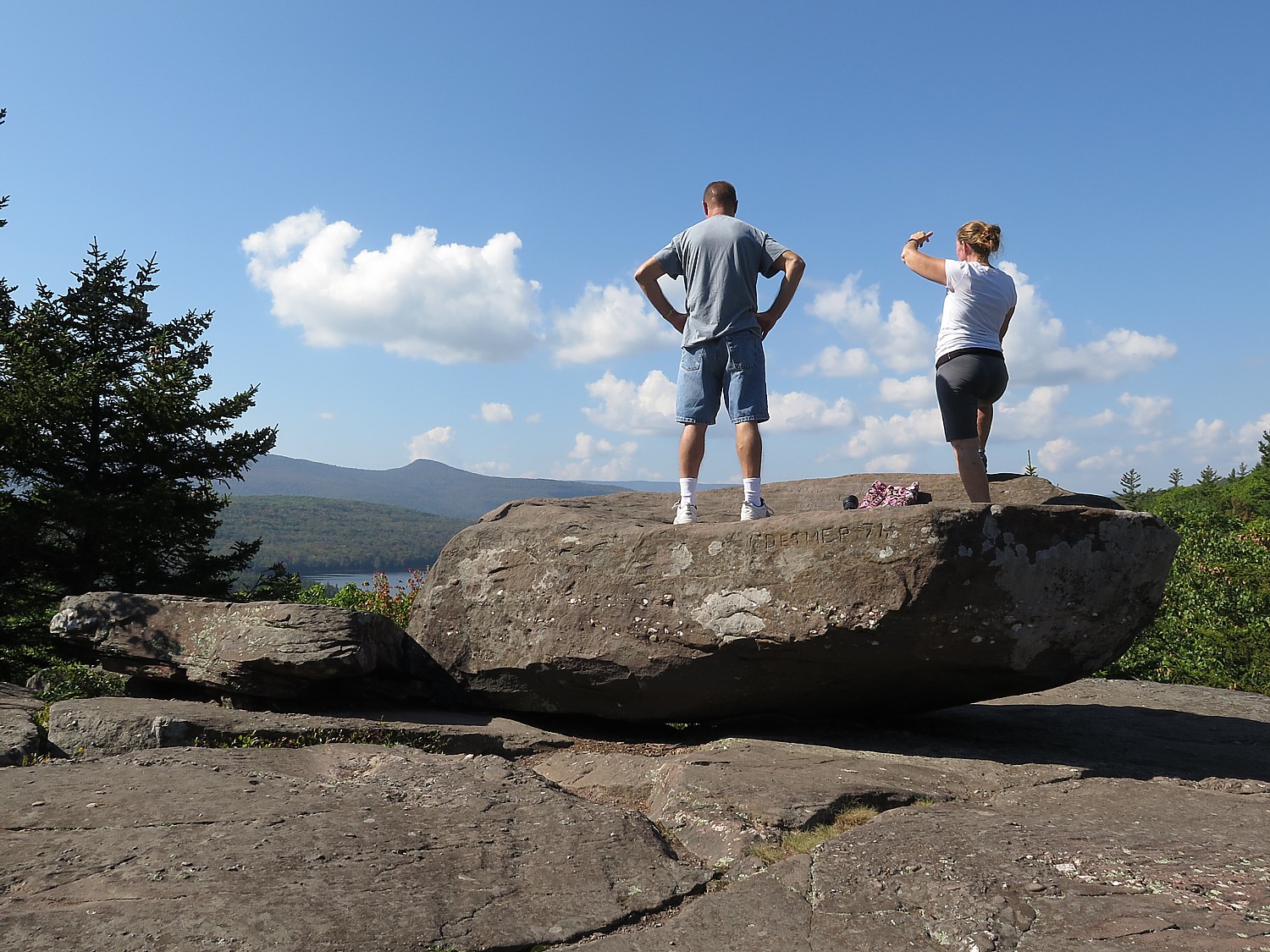 I continue on to Newman's Point but overshoot and head up some challenging scrambles before turning back (the trail to North Point continues for another mile). I am delighted with myself to have gone what I estimate was an extra .4.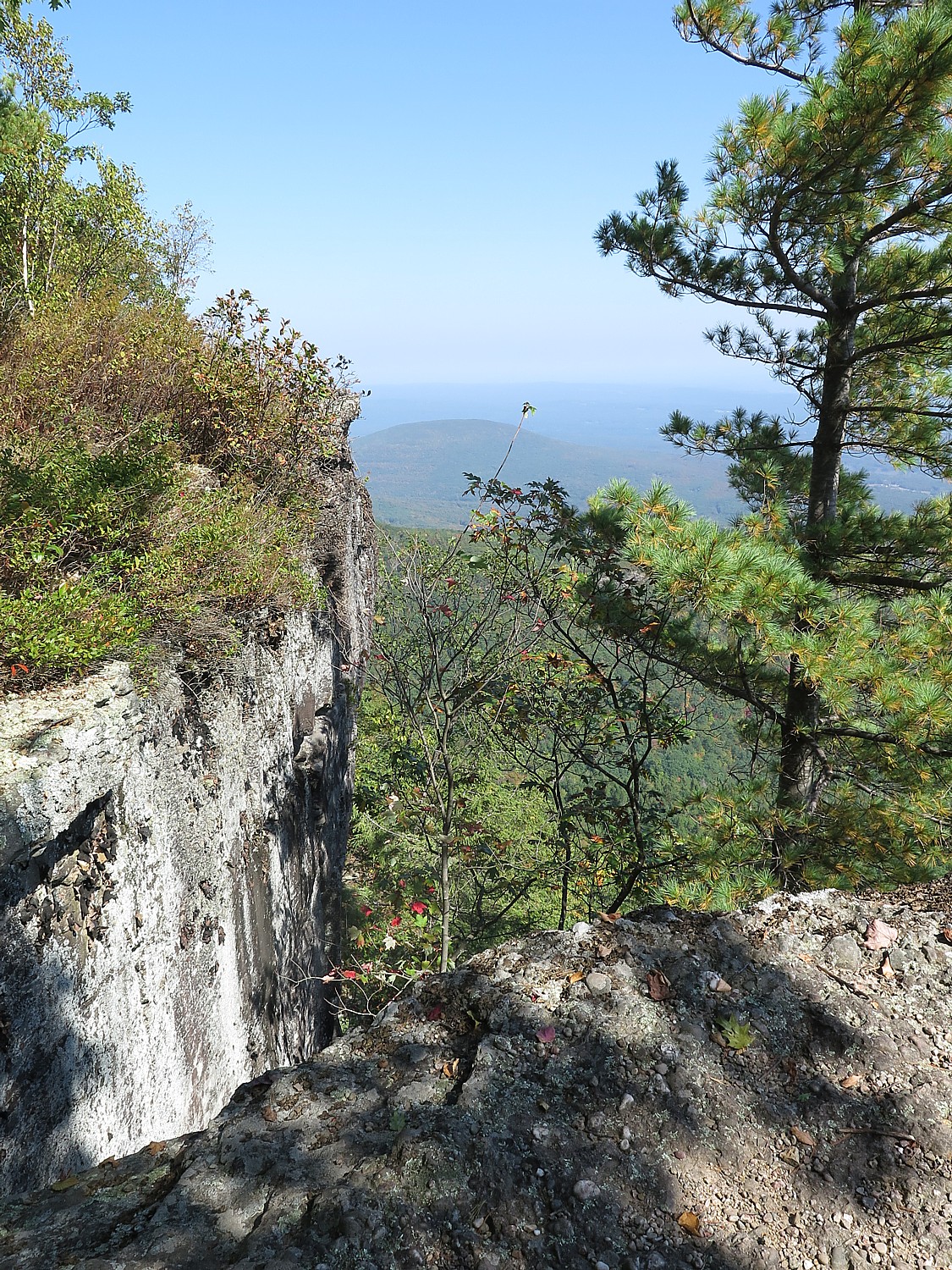 Back at the North-South Lake (it's taken me about three hours taking my time), people are swimming in the ridiculously unseasonably hot (near 90) weather.
I look for a relatively easy trail and find just a short distance away, Mary's Glen trail to Ashley's Falls (alas, the falls are all but completely dried up when I come). This is an ideal trail for families with small children who want to avoid hiking near open ledges. You go through a lovely wooded glen alongside a beaver meadow and stream to a deeply forested cascade, Ashley's Falls. This day, though, there is no cascade. (just .6 mile roundtrip).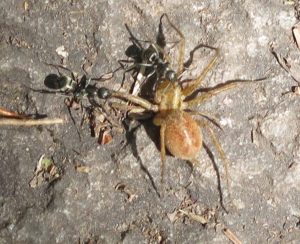 Mary's Glen trail can also be the entrance to a difficult hike, to North Point, a distance of 3.2 miles with 840 feet ascent. It is a mostly moderate climb but has some short, steep scrambles over rock, but you come to large open slabs and expansive vistas at North Point, a 3,000 ft. elevation with some of the most distant views.)
On my last visit, I did a wonderful hike to the site of the Catskill Mountain House (HRSAT Site #8), one of the earliest tourist hotels. The majestic hotel, which was opened in 1823 and accommodated 400 guests a night (Presidents Arthur and Grant were among those who stayed here), burned down in 1963 but the view that attracted visitors still remains as one of the most magnificent panoramas in the region, and can be compared to Frederic Church's "Above the Clouds at Sunrise" (1849).
It is fun to see the initials carved into the stone ledges from more than a century ago. The Mountain House began drawing thousands of guests each season from all over the country as well as from abroad, who came not just for the cooler, healthier climate but for what had already become one of the most renowned natural panoramas in the young nation: the valley 1,600 feet below, stretching east to the Taconic Mountains and the Berkshires, with the silvery thread of the Hudson visible for 60 miles from north to south.  On a clear day, you can see five states – Connecticut, Massachusetts, New Hampshire, Vermont and New York. The hike is just a half-mile with only an 80-foot ascent.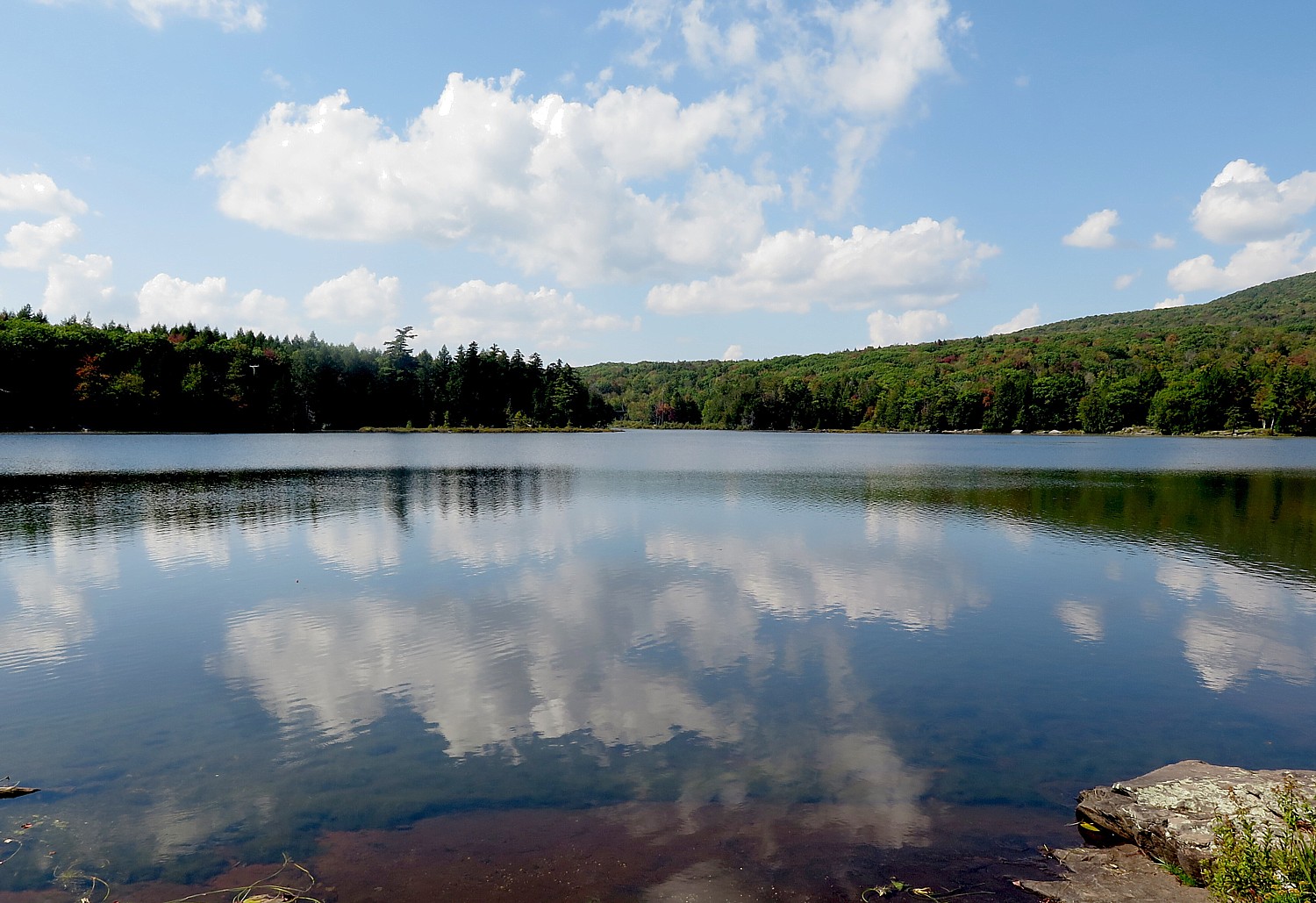 There is a $10/car day use fee for the NYS DEC's North-South Lake Campground from early May through late October, however the fee is waived for NYS residents 62 years or older midweek. The campground is open for camping from May through October; 518-589-5058 or call DEC Regional Office year-round at 518-357-2234, More information at www.greatnortherncatskills.com/outdoors/north-south-lake-campground.
Get maps, directions and photographs of all the sites on the Hudson River School Art Trail at www.hudsonriverschool.org. 
Other Ways to Experience Fall in the Catskills
Those who prefer driving to experience fall foliage will find two National Scenic Byways in the Great Northern Catskills: a 21-mile route that descends from high country peaks to Durham Valley farmland., affording  views that stretch across the Hudson River Valley to summits in four New England states. Then take an excursion along Mountain Clove, a byway that meanders through ravines, historic districts, and waterfalls. In fact, one of the best foliage views in New York State, Innkeeper Chuck Tomajko notes, is just 2 miles from his Fairlawn Inn door, at the intersection of Rte 214 and 23A – which looks toward Bear Creek and some half-dozen mountains that form layers.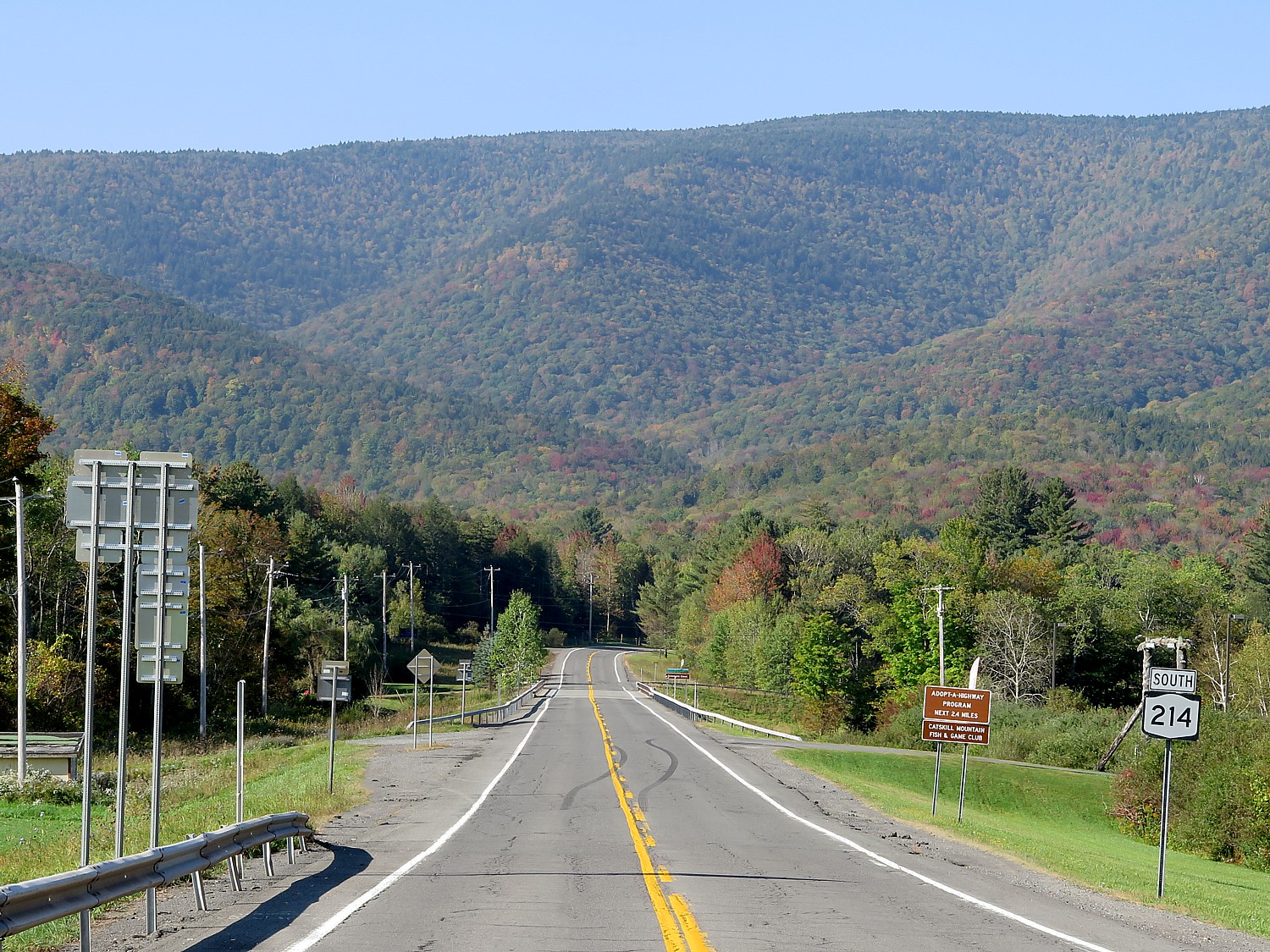 An Arts-Meets-Nature Driving/Exploration Route: The Kaaterskill Clove Experience provides a new self-guided discovery tour through the history of American art, and the primeval landscape that inspired it. Tailored, easy-to-follow itineraries provide a roadmap for families, adventure seekers and leisure travelers to experience the Kaaterskill Clove at your own pace, while enjoying everything that Greene County has to offer, from farm stands to charming cafes. (www.greatnortherncatskills.com/kaaterskill-clove)
Antiquing. The villages of Catskill and Tannersville are known for their antique shops. Actually the best antiquing of all turns out to be across the street from the Fairlawn Inn in Hunter: the Antique Mall, housed in what used to be the Masonic Center, is owned by innkeeper Chuck Tomajko. Among the treasures: two chairs that had been owned by Elizabeth Abell, the woman who introduced Mary Todd to Abraham Lincoln. Another chair dates from the mid 18th century, made in Philadelphia, could well have been used by Washington, Jefferson or any of the signers of the Declaration of Independence.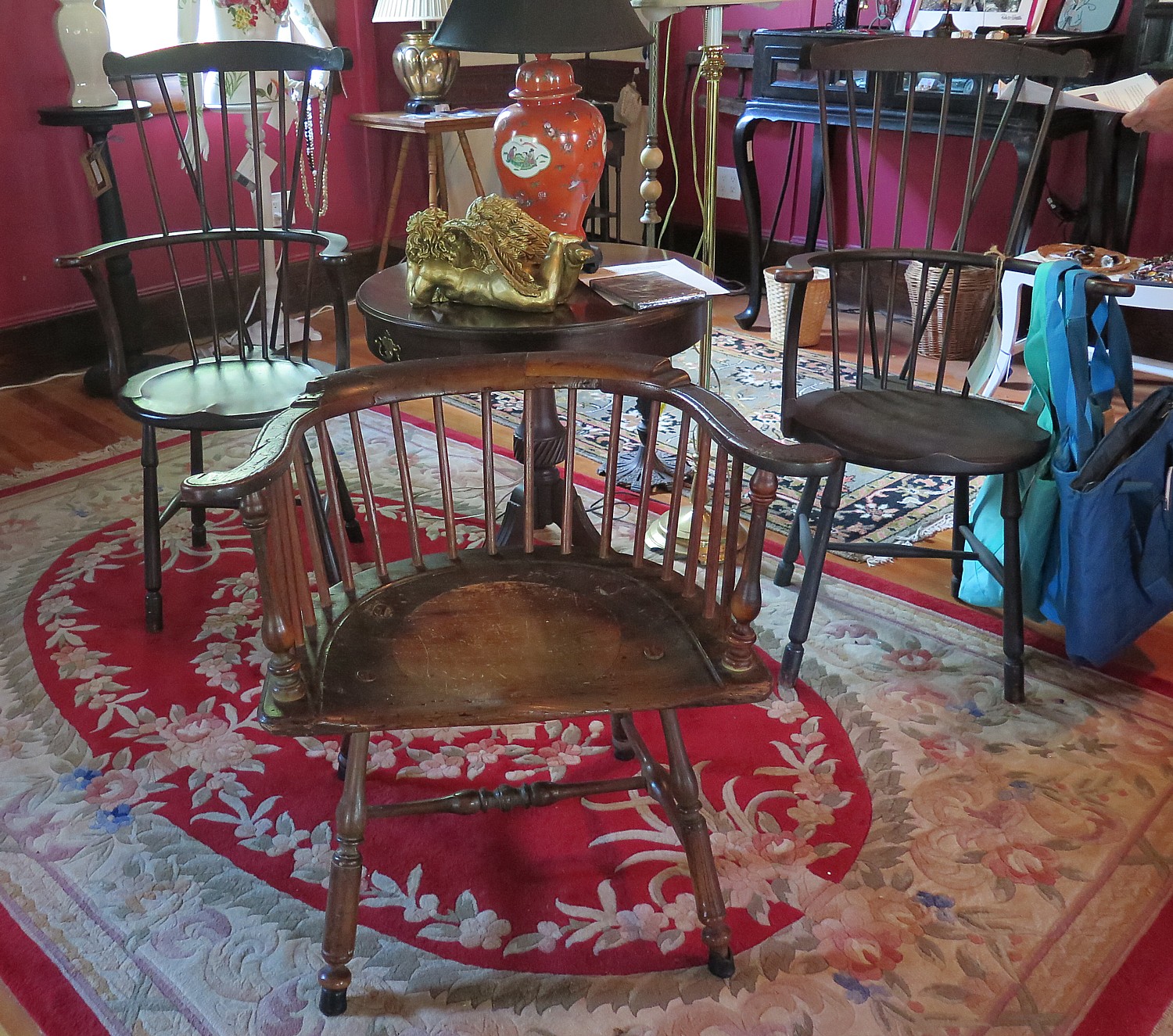 The Bronck House Museum, where you see how eight generations of a family occupied this same house for more than 350 years.  (Greene County Historical Society, 90 County Route 42, Coxsackie, NY  12051, 518-731-6490, gchistory.org/bronckmuseum.html).
The charming town of Hudson with its galleries, antique shops, and restaurants.
Hunter Mountain is a four-season resort most famous for skiing, but offers a score of festivals and activities in fall, including weekend scenic skyrides (www.huntermtn.com).
Pick your own apples and pumpkins at Boehm Farm
Hull-O Farms offers a corn maze, as well as pumpkin picking.
There is also a Wine & Craft Beverage trail through the Hudson Valley (see TravelHudsonValley.com).
A great place to stay: The Fairlawn Inn, a historic bed-and-breakfast, 7872 Main Street (Hwy 23A), Hunter, NY 12442, 518-263-5025, www.fairlawninn.com.
Further help planning a visit is available from Greene County Tourism, 700 Rte 23B, Leeds, NY 12451, 800-355-CATS, 518-943-3223, www.greatnortherncatskills.com and its fall hub www.greatnortherncatskills.com/catskills-fall-foliage
The I LOVE NEW YORK weekly foliage report – a detailed map charting fall color progress, vantage points for viewing spectacular foliage, suggested autumn getaways and weekly event listings – is available at www.iloveny.com/foliage or by calling 800/CALL-NYS (800/225-5697).
See also:
Fall Getaway in the Catskills: Thomas Cole National Historic Site is Site #1 on the Hudson River School Art Trail
Fall Getaway in the Great Northern Catskills: Frederick Edwin Church's Olana
3-Day Fall Getaway in the Catskills: Fairlawn Inn is Superb Hub for Exploring the Hudson River Valley
_______________________
© 2017 Travel Features Syndicate, a division of Workstyles, Inc. All rights reserved. Visit goingplacesfarandnear.com,  www.huffingtonpost.com/author/karen-rubin , and travelwritersmagazine.com/TravelFeaturesSyndicate/. Blogging at goingplacesnearandfar.wordpress.com and moralcompasstravel.info. Send comments or questions to [email protected]. Tweet @TravelFeatures. 'Like' us at facebook.com/NewsPhotoFeatures