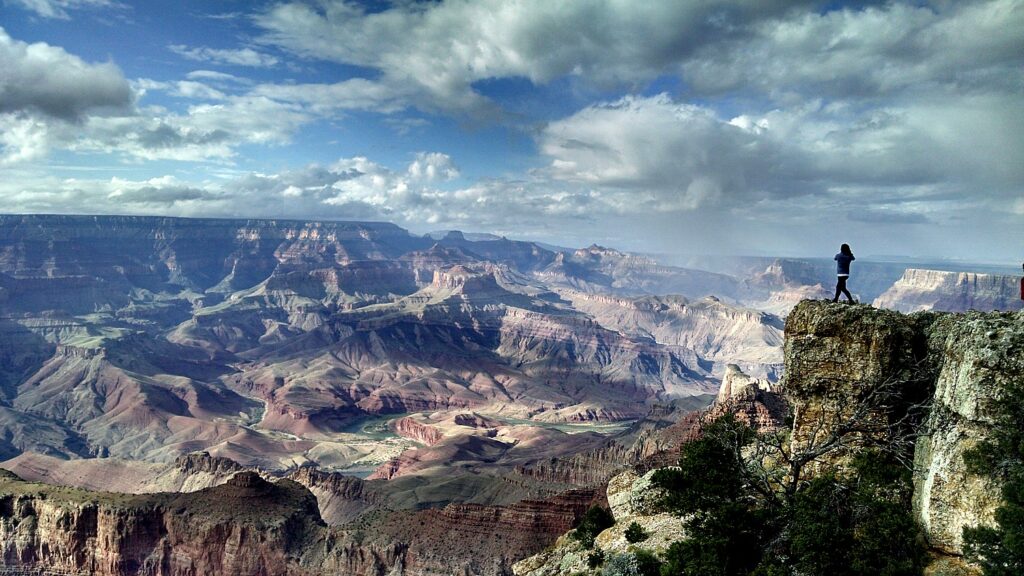 by Karen Rubin, Travel Features Syndicate, goingplacesfarandnear.com
In a weirdly awful bad news/good news way, this year is probably the best ever to visit one of America's iconic national parks and the national parks have never been more important to revitalize our national and personal spirit. But if ever you wanted to get some sense of how it was back-in-the-day, this is it, precisely because capacity in accommodations are limited and the millions of international visitors who come each year are not coming. The National Park Service received more than 327.5 million visit in 2019, and there will be a clamoring for Americans with a renewed vigor to See America and leave the cities for the great outdoors, which means getting a place to stay will be problematic.
"The benefits of getting into nature for a few days are just what the doctor ordered – especially now," said Cort Wright, Manager of the Moab Adventure Center, which operates programs into Arches National Park, Utah, and on the Colorado River. "As depression and anxiety diminish, our renewed vitality gains a foothold and positive attitudes surface. It will be a joy for us this summer and fall to see our guests transformed by the activities we provide."

According to a study conducted by the University of Minnesota, "being in nature, or even viewing scenes of nature, reduces anger, fear, and stress and increases pleasant feelings. Exposure to nature not only makes you feel better emotionally, it contributes to your physical wellbeing, reducing blood pressure, heart rate, muscle tension, and the production of stress hormones." (For the full report see: https://www.takingcharge.csh.umn.edu/how-does-nature-impact-our-wellbeing.)
Here are some vacation ideas:
Hike & Bike North Rim of the Grand Canyon: Providing gently rolling terrain of lung-expanding dimensions, the North Rim of the Grand Canyon has been long-held as sacred ground to hikers and cyclists. Escape Adventures offers an amazing 5-day tour of the North Rim that includes mountain biking, trekking and camping. Trails brimming with wildflowers lead guests to exhilarating hikes along the rim. Crossing over to the west side of the plateau, guests camp alongside one of the most scenic mountain bike paths in the world, the Rainbow Rim Trail. (https://escapeadventures.com/tour/grand-canyon-north-rim-mountain-bike-tour/)
Remote Dude Ranch Getaway: Red Reflet Ranch is a 28,000-acre luxury resort and working ranch on the west slope of the Bighorn Mountains, just minutes from the Bighorn National Forest. It is a scenic three hour drive from Yellowstone National Park. The closest sign of civilization is Ten Sleep, Wyoming, with a population of about 260. Guests stay in their own private chalets, and family-friendly activities include horseback riding, ATVing, ziplining, swimming, fishing, shooting, and indulging in gourmet farm-to-table cuisine. The ranch is open for business now. (https://red-reflet-ranch.net/)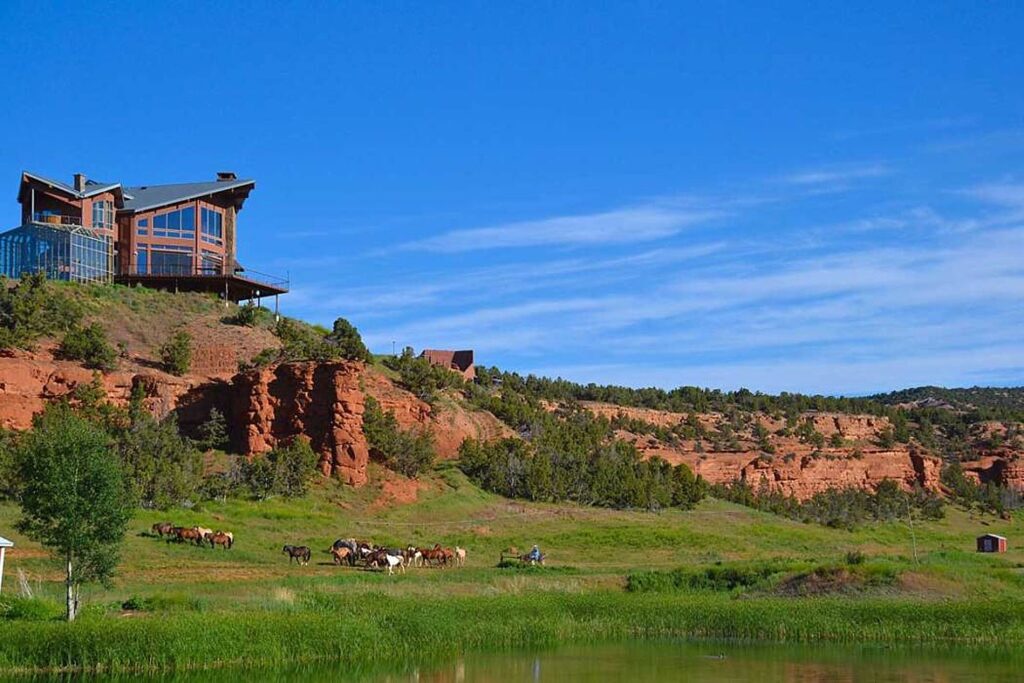 Grand Teton Tiny House Retreat: Just minutes from Jackson Hole, Wyoming, Fireside Resort capitalizes on the tiny house craze and the classic appeal of rustic cottages by offering 25 pint-size, luxuriously outfitted tiny house rental units designed by Wheelhaus. The resort is located a stone's throw from Grand Teton National Park and the Jackson Hole ski slopes. It is a great place to post up for a ski trip or a summer getaway. (https://www.firesidejacksonhole.com/)
Big Sky Base Camp: If outdoor adventures like hiking, mountain biking, and fly fishing are your style, look to visit Big Sky, Montana and stay at The Wilson Hotel. Located on the edge of Yellowstone National Park, the town is home to Big Sky Resort and its 5,850 acres of ski terrain, as well as shaded forests, wildflower-filled meadows, rocky mountaintops and clear, cool rivers and streams. (bigskyresort.com)
Bryce & Zion by MTB: Soaring red stone spires and ancient citadels of rich Navajo sandstone give way to haunting hoodoos and curving arches of rock — a geologist's dream and a mountain biker's paradise. The rides on this 6-day Escape Adventures tour offer swift lines that wind and wend through deep Alpine meadows and Aspen forests only to spill out onto yawning mesas and buttes. The world-famous trails of Red Canyon's Thunder Mountain, Cassidy, and Casto Canyon, are but a few of this tour's many highlights. (https://escapeadventures.com/tour/bryce-and-zion-mountain-bike-tour/)
Great Parks North: Join the Adventure Cycling Association on its Great Parks North Route. This tour follows the Rocky Mountains from Missoula, Montana, to Jasper, Alberta, exploring some the most spectacular national parks the U.S. and Canada has to offer. Great Parks North will highlight Glacier NP, Waterton NP, Banff NP, and Jasper NP. (https://www.adventurecycling.org/guided-tours/self-contained-tours/2020-great-parks-north/)
Xanterra Travel Collection Outlines Re-Opening Plan for Lodging, Dining, Services in Yellowstone National Park
YELLOWSTONE NATIONAL PARK (MONTANA & WYOMING) – Xanterra Travel Collection today announced that operations in Yellowstone National Park including lodges, campgrounds, dining and tours will begin a phased re-opening on a limited basis starting June 1.
The decision to re-open was made after closely monitoring the guidance and recommendations of public health agencies such as the Center for Disease Control (CDC) and World Health Organization (WHO) as well as federal, state and local governments.
The current schedule for Xanterra operations in Yellowstone National Park has cabins with private baths, campgrounds, take-out food service, gift shops and select tours and activities available as part of a phased approach to opening beginning on June 8. Opening and closing dates are subject to change based on future conditions and public health guidance as well as the ability to maintain a safe environment for visitors, employees and NPS staff.
To learn more about Xanterra's sanitization measures and ongoing efforts to keep employees and guests safe including physical distancing, ongoing cleaning, employee training, personal protective equipment and more, visit https://www.yellowstonenationalparklodges.com/health-and-safety/.
Visitors should come prepared and follow all CDC and local health guidance including practicing good hygiene and social distancing, wearing facial coverings in public spaces, and staying home and not visiting the park while sick.
LODGING: At this time, only cabins with private baths are scheduled to open at these locations: Old Faithful Inn, Grant Village and Roosevelt Lodge are currently closed but may reopen in 2020 if conditions allow.
Old Faithful Lodge (June 8-Oct. 4)
Old Faithful Snow Lodge (June 8-Oct. 25)
Mammoth Hot Springs Hotel (June 1-Nov. 1)
Lake Yellowstone Hotel (June 17-Oct. 4)
Lake Lodge (June 17-Sept. 2)
Canyon Lodge (June 19-Oct. 12)
CAMPGROUNDS: Xanterra campgrounds are currently scheduled to open on this schedule:
Madison (June 15-Oct. 18)
Bridge Bay (June 17-Sept. 7)
Grant Village (June 17-Sept. 13)
Canyon (June 19-Sept. 20)
Fishing Bridge RV Park will remain closed through fall of 2021
DINING: Select dining outlets will be open with "take out" options only. Based on current public health guidelines, dining room seating and dinner reservations are not available.
Mammoth Hot Springs Area: Terrace Grill (June 1-Oct. 12)
Old Faithful Area: Geyser Grill at Snow Lodge (May 22-Oct. 25); Old Faithful Lodge Bake Shop (June 8-Oct. 4); Old Faithful Lodge Cafeteria (June 8-Oct. 3)
Canyon Area: The Eatery at Canyon Lodge (June 19-Oct. 12)
Yellowstone Lake Area: Wiley's Canteen at Lake Lodge (June 17-Oct. 4); Lake Lodge Lobby Bar (June 17-Oct. 3)
Grant Village Area: Grant Village Dining Room (June 17-Sept. 13)
LIMITED GUIDED ACTIVITIES AND TOURS: Tours and activities will be limited to guide boats, boat rentals, backcountry shuttle, and dock slips at the marina, horseback rides at Canyon Lodge Corral, and bike rentals at Old Faithful Snow Lodge. Road-based tours, Scenicruise tours, Stagecoach rides, or the Old West Cookout will not be offered. Pricing and other details can be found online (https://www.yellowstonenationalparklodges.com/adventures/)
Bike Rentals at Old Faithful Snow Lodge (June 8-Sept. 7 or as weather permits, reservations not accepted)
Bridge Bay Marina/Dock Slips (June 17-Sept. 13)
Boat Rentals (June 17-Sept. 6, first come, first served, reservations not accepted)
Guided Fishing/Sightseeing Boats (June 17-Sept 13)
Backcountry Shuttle Boat (June 17-Sept. 13)
Canyon Lodge Corrals, Horseback Rides (June 18-Sept. 7)
Private Tours: Yellowstone Forever is the official nonprofit educational and fund-raising partner of Yellowstone National Park. Information about their private tours can be found here or by calling 406-848-2400.
SHOPPING: Select Xanterra gift stores will be open, but with controlled access to comply with distancing standards:
Mammoth Hotel (June 1-Oct. 12)
Old Faithful Snow Lodge (May 22-Nov. 1)
Old Faithful Lodge (June 8-Oct. 4)
Lake Yellowstone Hotel (June 17-Oct. 4)
Canyon Lodge (June 19- Oct. 12)
Lake Lodge (June 17-Oct. 4)
Madison Campground (June 15-Oct. 18)
For updates on the opening of Xanterra operations in Yellowstone National Park, visit https://www.yellowstonenationalparklodges.com/health-and-safety/. For reservations, visit https://www.yellowstonenationalparklodges.com/, or call 307-344-7311. For updates on the three-phased plan for re-opening Yellowstone National Park as well as the latest information on NPS operations in Yellowstone, visit www.nps.gov/yell.
With nine unique lodging options, including the renowned historic Lake Yellowstone Hotel, Yellowstone National Park Lodges allows you to have the ultimate park experience. Staying in the park is the best way for visitors to experience all it has to offer, including the exciting wildlife watching. Once the day-visitors leave, Yellowstone remains for the in-park overnight guests alone. Yellowstone National Park Lodges offer tours and activities guided by Certified Interpretive Guides that help create memorable experiences. For more information on lodging, tours, and vacation packages visit, yellowstonenationalparklodges.com or call 307-344-7311.
Known for its "Legendary Hospitality with a Softer Footprint," Xanterra Travel Collection provides unforgettable experiences through its operations in national parks, including lodges, restaurants, tours, and activities, as well as through its ownership of resorts, a cruise line, a railway, and tour companies. Xanterra has operations in Grand Canyon, Yellowstone, Zion, Glacier, and Rocky Mountain National Parks, and Mount Rushmore National Memorial. Xanterra Travel Collection also owns and operates the Grand Canyon Railway & Hotel in Williams, Ariz., The Grand Hotel in Tusayan, Ariz., The Oasis at Death Valley in Death Valley Calif., Windstar Cruises, Holiday Vacations, VBT Bicycling Vacations, and Country Walkers. Xanterra is also affiliated with two Forbes Five-Star Resorts, The Broadmoor in Colorado Springs, CO and Sea Island on the coast of Georgia.
With Reopening of Arches National Park, Moab Adventure Center Counts on Nature to Restore the Pandemic Weary
MOAB, UT– Arches National Park in the world's favorite red rock playground of Moab, Utah, has reopened to visitors. Guided tours of this iconic park have resumed, along with a variety of half-day, full-day and overnight river rafting programs along the Colorado River.



Moab Adventure Center, a full-service resource for the adventure-minded, suggests three guided park tours to nudge the housebound into the outdoors. The company is also armed with newly instituted COVID-19 mitigation and operations protocols (see: https://www.moabadventurecenter.com/covid-19

Guided Tours of Arches National Park: Daily morning and sunset tours of Arches National Park help interpret the 150 million years of geology and nature that have created this masterpiece of more than 2,000 arches – the highest concentration on the planet. Tour rates are $89 for adults and $79 for ages 5 to 12. See: https://www.moabadventurecenter.com/arches-national-park-tours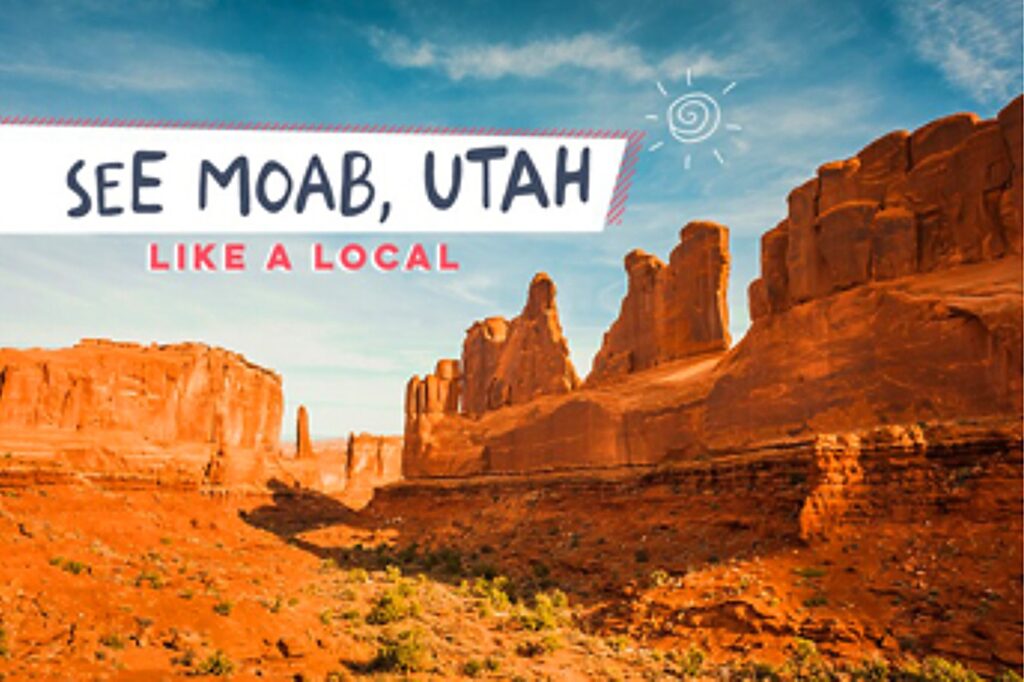 A third tour offers a breathtaking aerial tour of the park. Departing mid-morning, the half-hour flyover views formations such as Courthouse Towers, North and South Window Arches, Delicate Arch, Devil's Garden, the Colorado River, Fisher Towers, and Castle Valley. Youth two and under fly free on a parent's lap. Tour rates are $109 for adults and $55 for youth 3 to 12. For details see: https://www.moabadventurecenter.com/arches-national-park-air-tours

Colorado River Tours: Full and half-day rafting adventures on the Colorado River along the southern border of Arches National Park can also be arranged through the Moab Adventure Center. A half-day morning tour showcases the mild to moderate rapids under a background of red rock cliffs, spires and buttes. Rates are $74 for adults and $64 for ages 5 to 12. Another half-day option comes with a BBQ lunch. Rates are $89 for adults and $79 ages 5 to 12. A full day on the river, with lunch, is a memorable seven-hour excursion. Rates are $109 for adults and $79 for age 5 to 12. (For details see: https://www.moabadventurecenter.com/moab-river-tours.)

As of May 1, 2020, the Southeast Utah Health Department authorized a phased reopening of businesses in and around Moab. Lodging, commercial campgrounds, restaurants and activities are now available and operating within recommended guidelines. The town is seeing quite an influx of visitors as so many now are choosing an outdoor vacation as the best escape with loved ones.

Moab Adventure Center is offering most of its regularly scheduled activities along with new private tours (www.moabadventurecenter.com/private-tours). These include exclusive Hummer Safari outings for up to nine people; private canyoneering adventures; exclusive Arches National Park morning tours; private stand-up paddle boarding lessons for up to six people; and private Moab rock climbing outings for up to four people.

Moab Adventure Center is a division of Western River Expeditions (http://www.westernriver.com/) an adventure travel company headquartered in Salt Lake City, with operations and offices in Moab and Fredonia, AZ. The company is the largest single tour provider in Moab, Utah. The Moab Adventure Center is located at 225 South Main St., Moab, UT 84532. For information and reservations call (435) 259-7019 or (866) 904-1163. The center also has a 2,000-square-foot retail space selling adventure related gear, clothing, maps and souvenirs.
Moterra Luxury Camper Vans
You've probably now heard of glamping – luxury camping. Now there is a novel way to experience the national parks and wilderness by luxury camper van.
With all the luxury of a 50-foot long RV, but, at 19-foot long, the size of an SUV, without the cumbersome size that makes it difficult to drive and park, and even the need to plug into electricity (the vans are powered with rooftop solar panels) or water (they hold 24-gallons of fresh water), their own sink, cooking facility, refrigerator and even their own bathroom facilities (a couple actually have its own shower and toilet, but others have port-o-potty), these camper vans give a new level of mobility. The vans can be used in tent camping spots in National Parks, so you can stay away from the noisy RV parks.
Founded by Gabe Aufderheide and Trevor James who were formerly with Backroads, the company offers these are specially outfitted Mercedes Benz Sprinters, built out by Sportsmobile, in Yellowstone, Wyoming; the Grand Tetons; Utah; Glacier National Park (Montana); and California.
These camper vans come with bluetooth audio, cruise-control and touch-screen navigation. A backup camera, blind spot sensors and lane assist technology make maneuvering a breeze. You don't have to stay in an RV park, but can go wherever tents are allowed.
The vans come equipped with absolutely everything you need for camping, from sleeping stuff (memory foam pillow!), to cooking (marshmallow skewers) and dining, cleaning supplies, amenities like chairs and table, inflatable solar lights, even bear spray.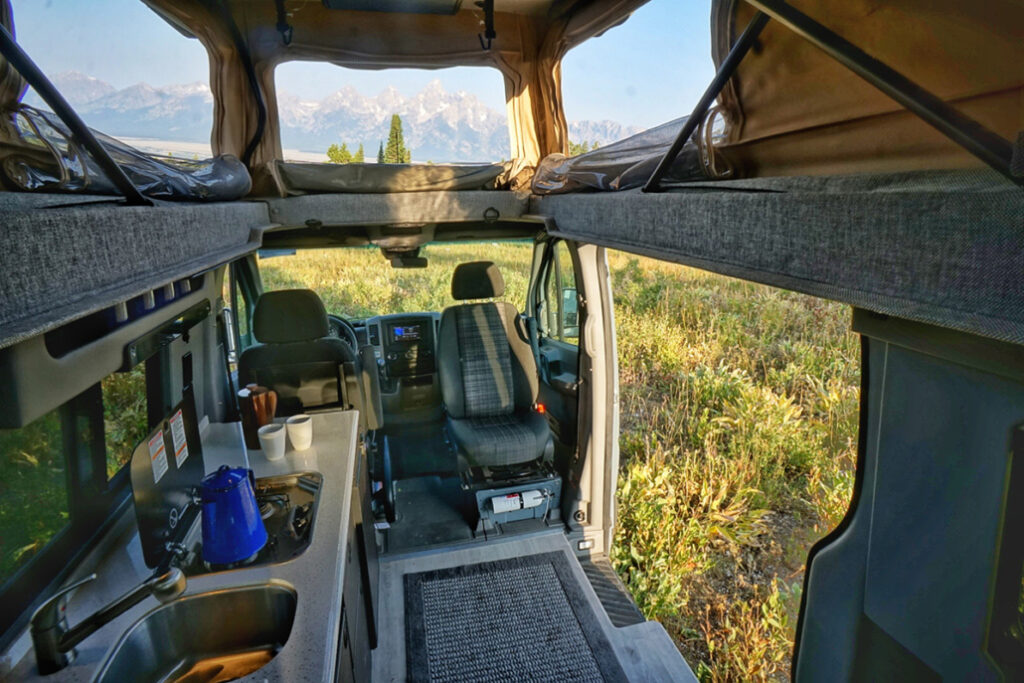 There are two models to choose from: The High Roof is perfect for couples- it includes a queen sized bed in the back, as well as a kitchen, sink, indoor shower and portable toilet. The Pop Top, which sleeps four, is perfect for families- it has both a double bed down below, and a double bed up top in the Pop Top! While the Pop Top does not have an Indoor Shower, it offers a solar shower that can be used outside, and it also includes a sink and stove. Both models are rented for $319 a night.
Add-ons available include hammocks & bike racks, services such as pre-bought groceries and airport pick-ups, and packaged and customized tour itineraries.
All-inclusive packages consist of:
Moterra Campervan Rental and cleaning fee
Day-by-day personalized Itinerary with directions and destination info.
Pre-booked campsites, handpicked and booked in advance where possible, or GPS locations for off-the-grid dispersed camping spots.
Scenic Routes that take you to the heart of the action while minimizing road traffic.
Individualized suggestions depending on your preferences for hiking, scenic attractions, restaurants and activities.
A wide range of activities to make the trip your own, like white-water rafting, wildlife safaris, road biking, horseback-riding, kayaking and scenic floats.
For example, a 10-day/9-night Mighty 5: Utah's Desert National Parks is priced from $5499, providing two-days each in Zion National Park, Bryce National Park, Capitol Reef National Park, Canyonlands National Park and Arches National Park.
A six-night/seven-day package offers the highlights of Yellowstone National Park and The Grand Tetons National Park (from $3699).
Moterra operates out of Jackson, WY, Whitefish, MT, Salt Lake City, UT and San Francisco, CA.
Moterra Camper Vans, 2950 West Big Trail Drive, Jackson, Wyoming, 307-200-7220,
[email protected], gomoterra.com.
_________________________
© 2020 Travel Features Syndicate, a division of Workstyles, Inc. All rights reserved. Visit goingplacesfarandnear.com, www.huffingtonpost.com/author/karen-rubin, and travelwritersmagazine.com/TravelFeaturesSyndicate/. Blogging at goingplacesnearandfar.wordpress.com and moralcompasstravel.info. Send comments or questions to [email protected] Tweet @TravelFeatures. 'Like' us at facebook.com/NewsPhotoFeatures