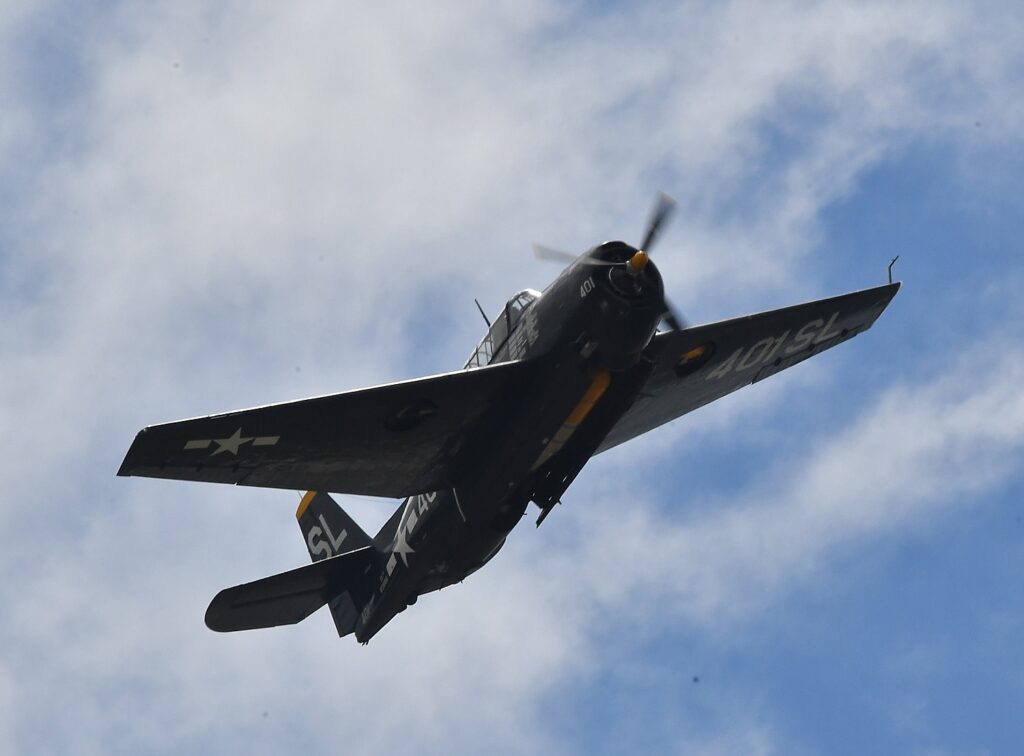 by Karen Rubin, Travel Features Syndicate, goingplacesfarandnear.com
The American Airpower Museum is gearing up for a return of its C-47 D-Day living history flight experience on June 12. You can sign up, grab your gear and done your WWII helmet and uniform and fly in the troop transport plane, reenacting the experience of paratroopers on that historic and fateful day.
The flights on Saturday, June 12,will also celebrate the start of summer and a return to normalcy, after the COVID-19 lockdowns and quarantines.
To accommodate demand, AAM has scheduled three flights between 10 a.m. and 4 p.m. Seats will be allocated on a first-come first-served basis. To book a flight, call (516) 531-3950, visit the Museum's gift shop or call (631) 454-2039, Thursday – Sunday, 10:30 a.m. to 5:00 p.m. (a great gift for Father's Day!).
AAM's Living History Flight Experience is a one-of-a-kind immersive educational program, where re-enactors take you up in an original WWII C-47 to get a sense of what our 101st and 82nd Airborne Division Paratroopers felt on their incredible 1,200-plane D-Day assault. This unique immersive flight experience includes: a mission briefing; a chance to wear authentic military field jackets, helmets and gear; the actual sights and sounds as the C-47's engines fire up and you're off into the blue; see and hear the crew operate their C-47 and paratroopers getting ready for battle; and you actually form up and hook your parachute to a static line!
This is a family-friendly experience for all ages. The program is about 1.5 hours long and each flight takes 25 minutes. A flight experience entitles you to bring along an additional person who can visit the Museum all day free of charge. The cost of the C-47 flight is $350 – which goes toward supporting AAM's mission to honor veterans and U.S. aviation history by preserving the aircraft and their legacy for future generations.
'Warbirds' Continue Tradition Flying in Memorial Day Air Show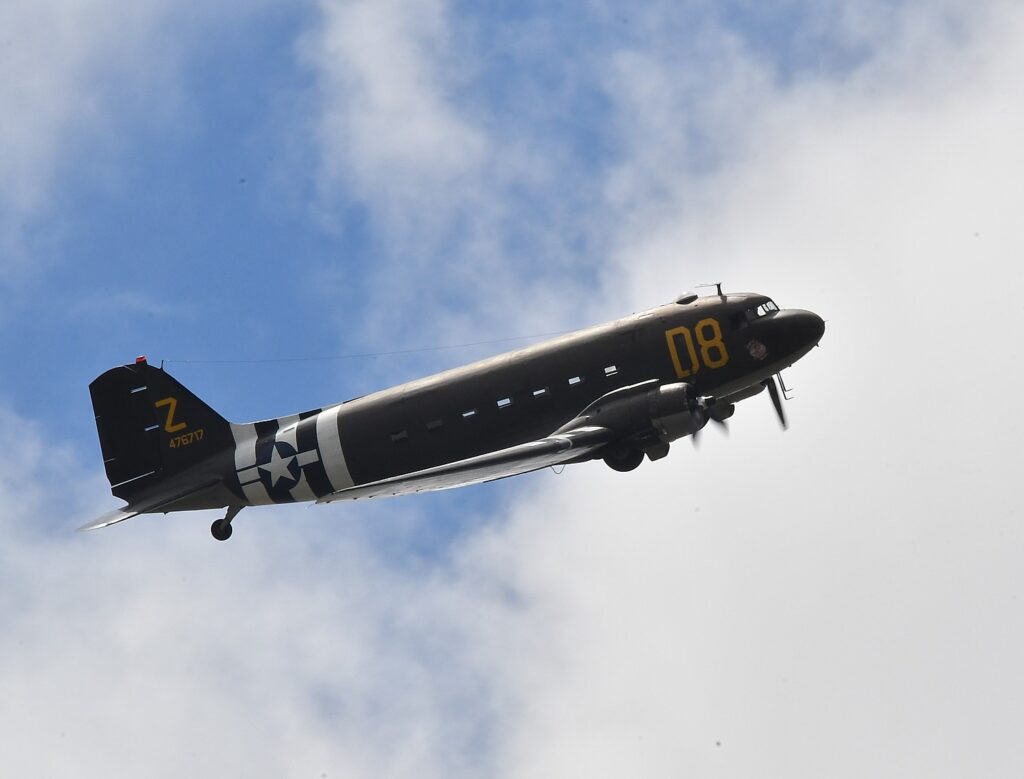 Over Memorial Day Weekend, the American Airpower Museum (AAM) continued its traditional participation in the Jones Beach Air Show, flying their fabled "Arsenal of Democracy" warbirds. AAM's fleet of iconic and meticulously restored military aircraft included a B-25 Mitchell Bomber, Douglas C-47 Skytrain troop transporter, Grumman TBM Avenger Torpedo Bomber, Curtiss P-40 Flying Tiger, P-51D Mustang Fighter, AT-6 Texan Warbird and AT28D5 Nomad Vietnam Era Fighter.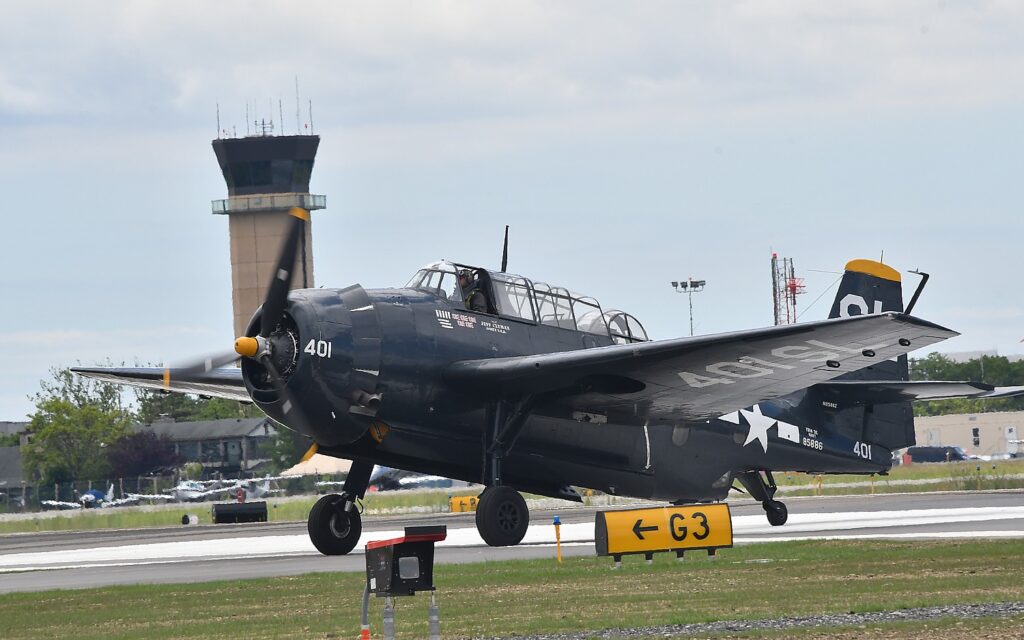 Visitors to the museum got to watch the pilots start their engines, taxi and lift off, performing flybys before leaving to join the Jones Beach Air Show, then watched the aircraft return, touch down and taxi back to Hangar 3.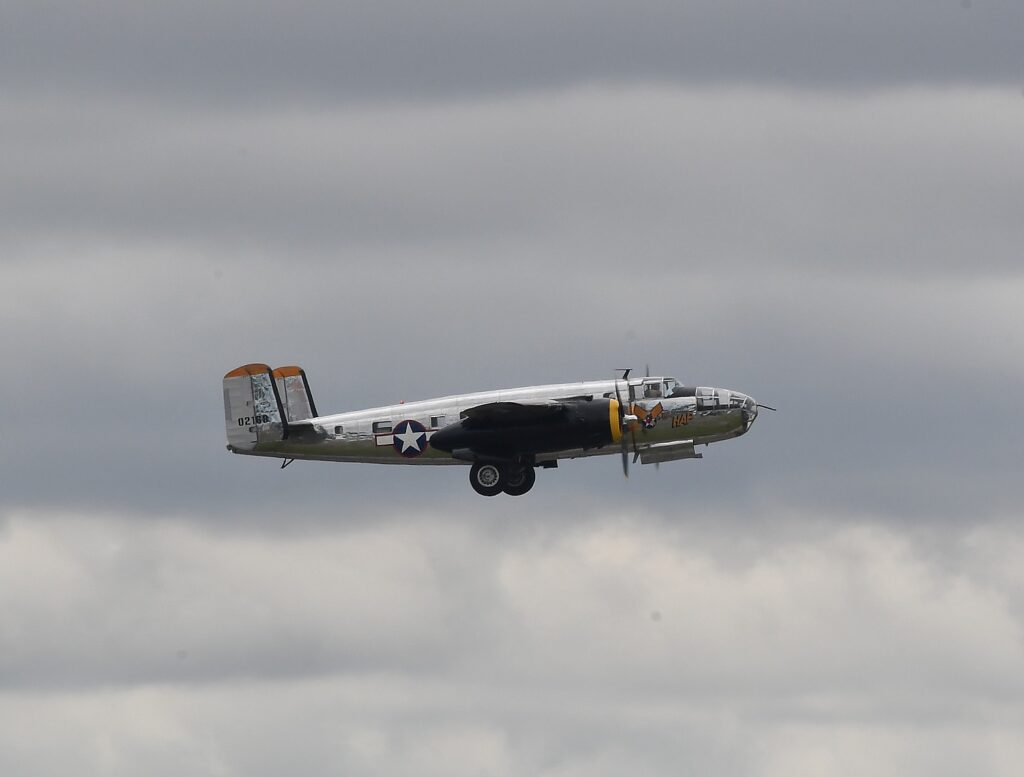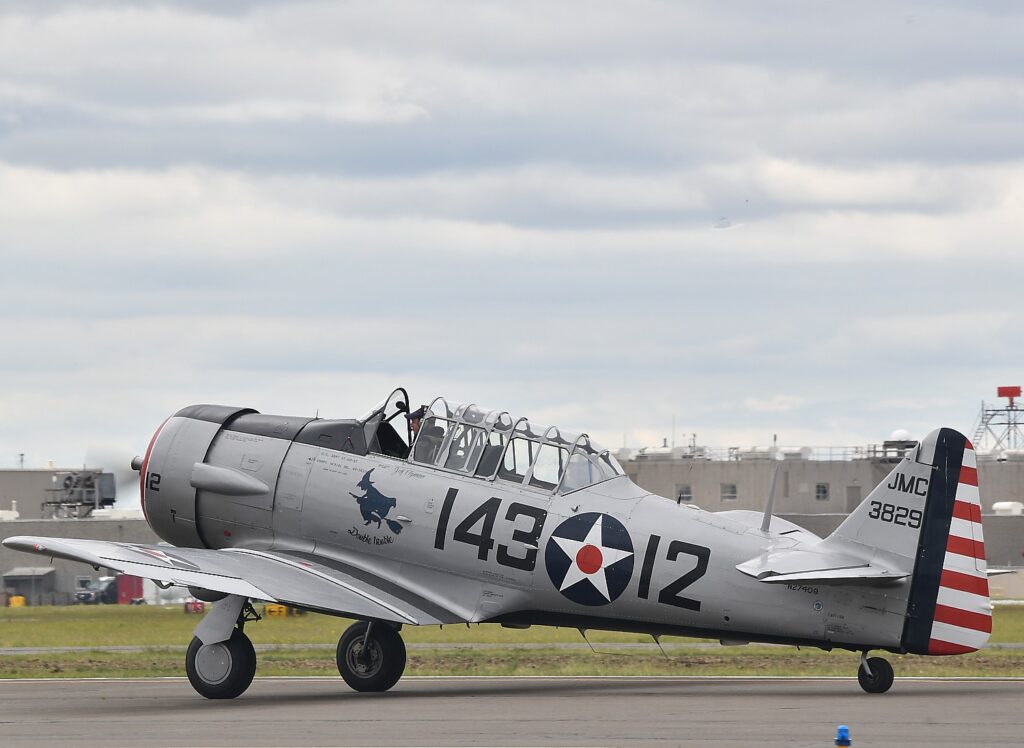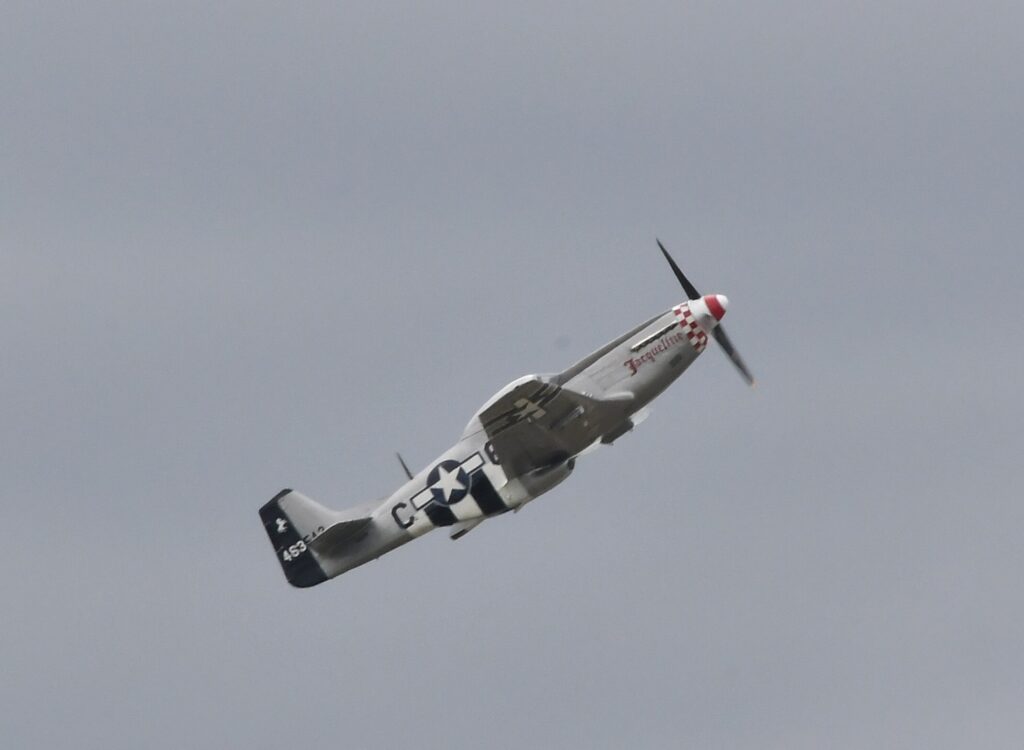 We had the special experience of seeing the close-up and meeting pilots and crew of two visiting U.S. Navy EF/A-18 Super Hornets. The Hornets are supersonic, high-tech combat jets, capable of flying at Mach2 (twice the speed of sound), designed as both fighters and attack aircraft, which have the capability to use electromagnetic energy to disarm the guidance of enemy missiles.
US Navy pilot Wes Henderson pilots one of the most sophisticated fighter jets in America's arsenal, the F-18. The Wyandanch native was inspired to fly during his visits to the American Airpower Museum. Watching the young children looking in awe at the collection of aircraft, spanning much of aviation's military history, you can see that same look of awe and inspiration.
Two young fellows, aged 17 and looking to start college next year, were clearly star-struck in the presence of Henderson and his three other Navy crew, who flew from their base in Whidbey Island, WA in two of the F-18 Super Hornets, to spend Memorial Day Weekend with family and be part of the inspirational events taking place. Both young men are already pilots: Joe Jannelli of Dix Hills, inspired to learn fly after seeing a pamphlet at high school, has his ambition set to become a US Navy pilot (he's headed to Embry Riddle next year) and C.J. Grasso of Amityville wants to join the Air Force (he's going to Maritime College) and will actually be flying with the GEICO Skytypers.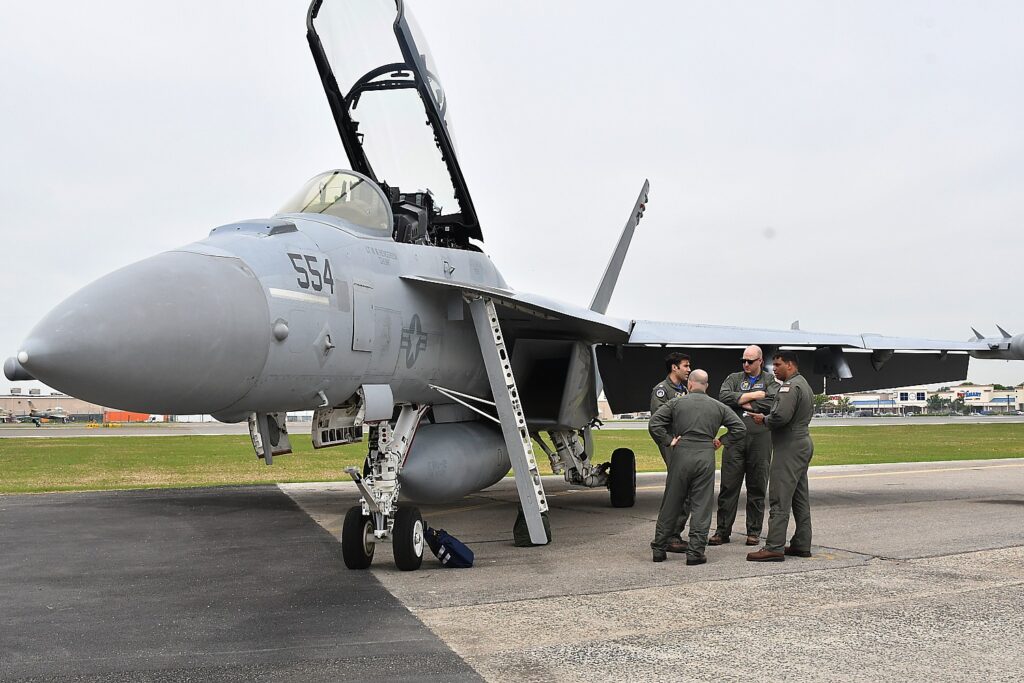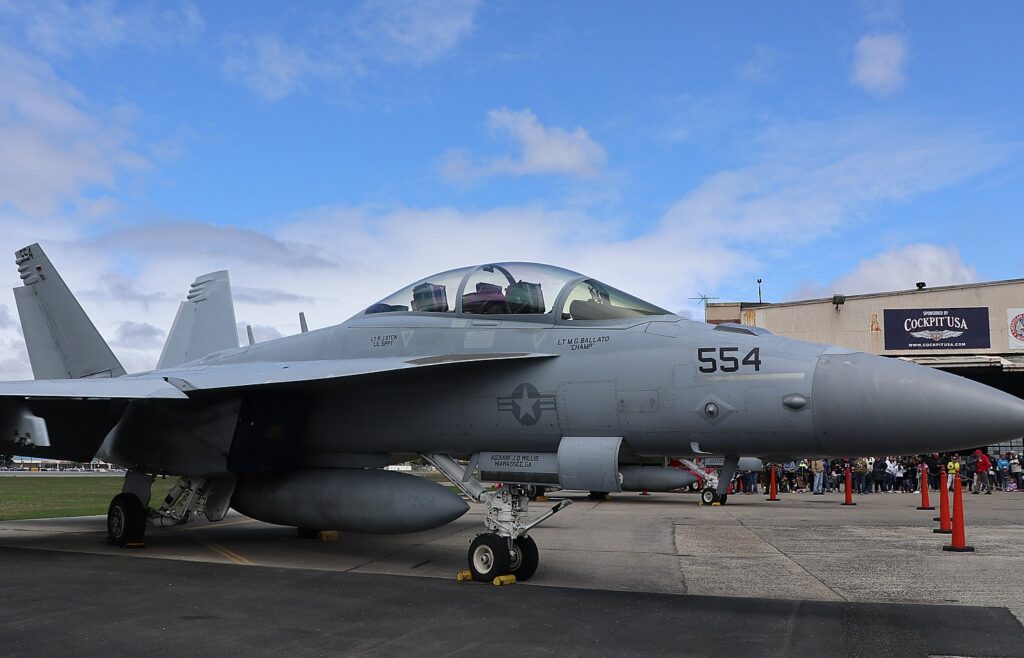 We also got to see up close a U.S. Air Force A-10 Thunderbolt II, "The Warthog".
The aim of the event: "To honor the men and women of the 'Greatest Generation' who built, maintained and piloted the iconic warbirds of yesteryear in a bold defense of freedom during World War II, as well as active duty military, national guard and reservists who continue this mission and command the skies in advanced supersonic jet aircraft to our present day," said AAM founder Jeff Clyman.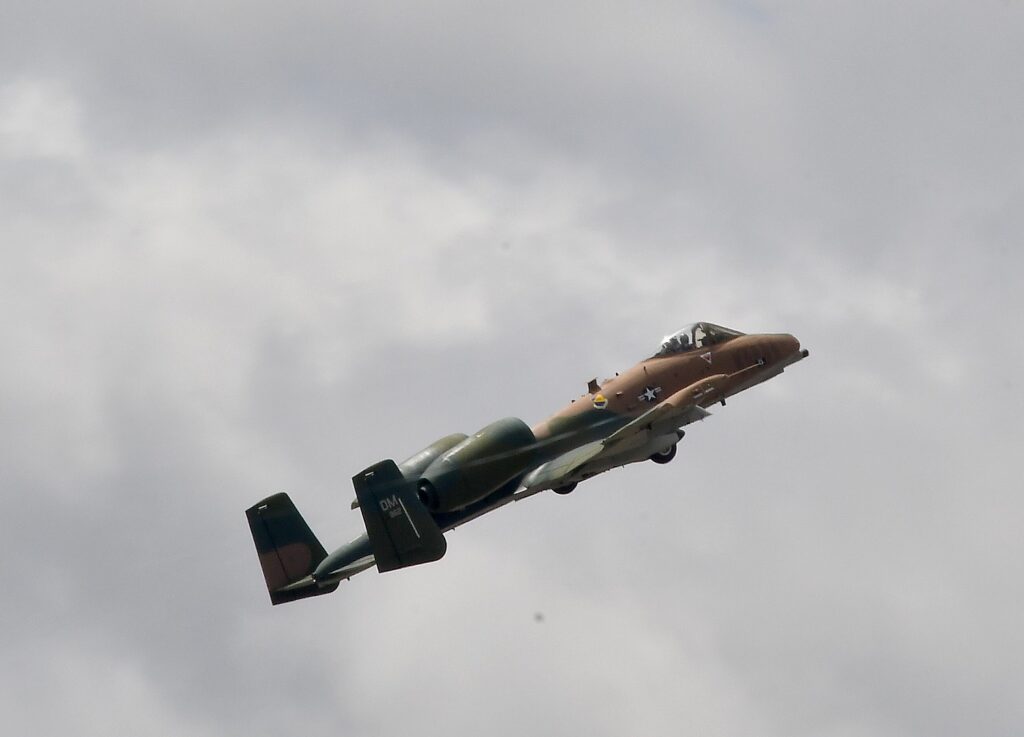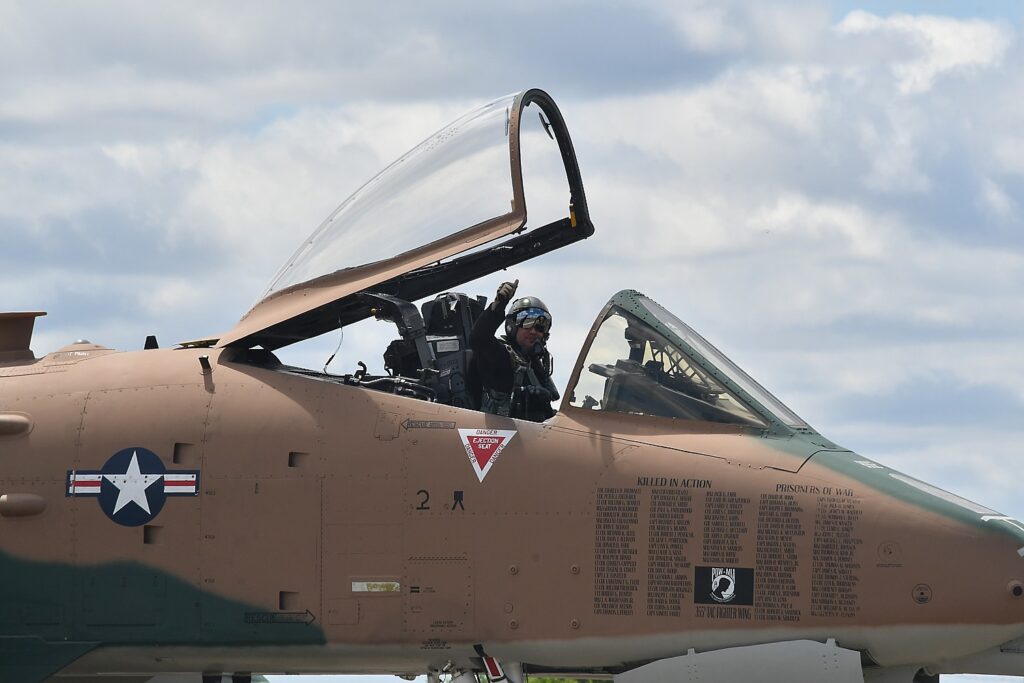 'Where Aviation History Takes Flight'
What makes Long Island's American Airpower Museum so special among aviation museums is that this is so much more than a static display of vintage aircraft. This is living history –just about every day you visit, you can see these historic aircraft fly – you can even purchase a seat to fly in AAM's AT-6 Texan and Waco Biplane.
The Airpower museum is all about honoring that sacrifice and commemorating the people who flew the missions, parachuted into danger, reported on the war. Rather than tell the history of aviation writ large, it is more about the story of specific planes and people. There is a lot that puts you into the story – you get to climb into a fuselage and take hold of a machine gun with the ammo belt, climb into the C-47 troop transport plane that would shortly take off for its turn in the Air Show, piloted by Andrew Beard of North Babylon (who spent eight years flying for the Canadian Air Force, even piloting Canada's Air Force One carrying the Prime Minister.)
Long Island's only flying military aviation museum celebrated its 20th anniversary last year.
Its impressive collection was started by Jeffrey Clyman, president of the museum and the foundation.
His first acquisition was the P10-17 WWII training biplane which used to fly in air shows. His second was the Avenger. The third, the AT-6 "Texan" came from the Spanish air force where it was used for desert warfare in the Sahara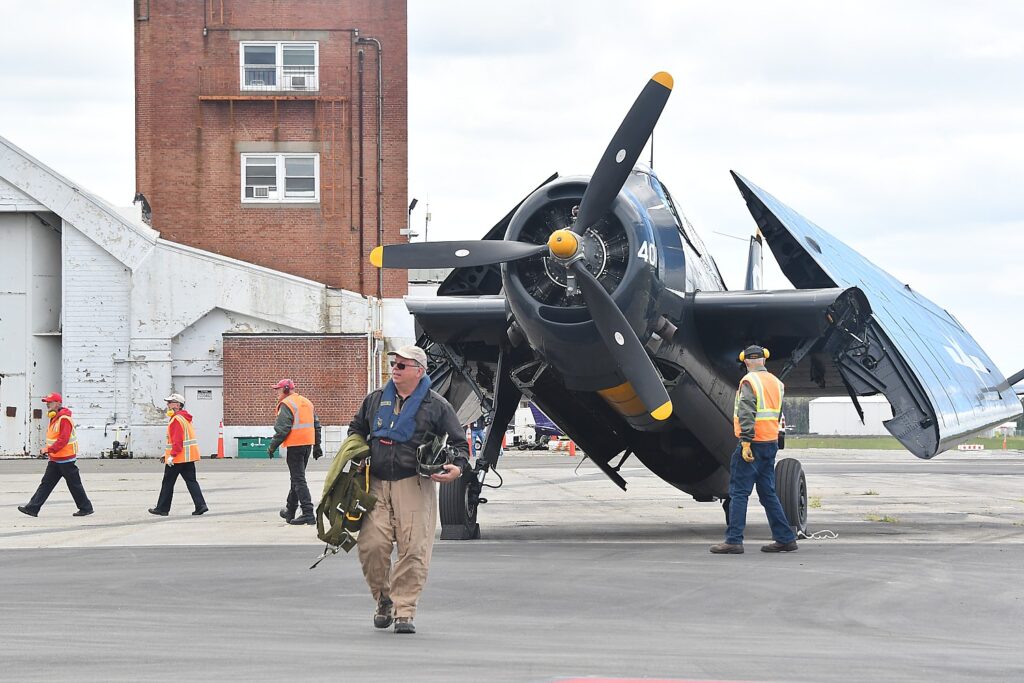 The Grumman TBM Avenger is the same plane model which George H.W. Bush few in WWII in which he was shot down (the other two crew members did not survive); you can see where Bush autographed this plane. Known as the "ship killer," so many Japanese ships were destroyed by the torpedoes it carried, that upon seeing it coming, crew would jump off, the museum's publicist, Bob Salant, tells me during my visit.
You can actually buy a seat for a flight in the WACO UPF-7 biplane (the initials stand for Weaver Aircraft Company of Ohio) and a North American AT-6 Texan, which give you the unparalleled experience of flying with an open cockpit.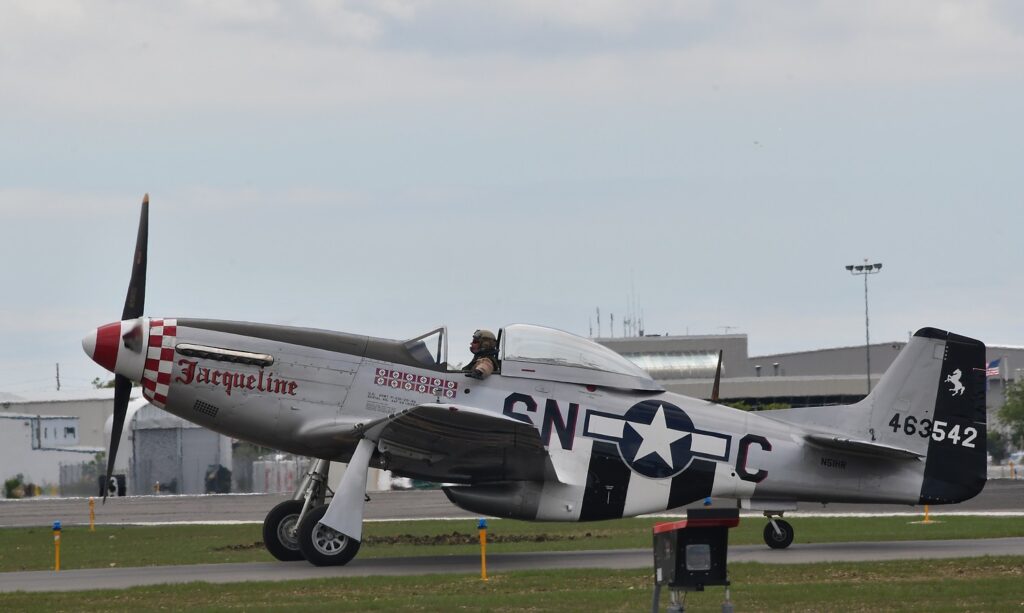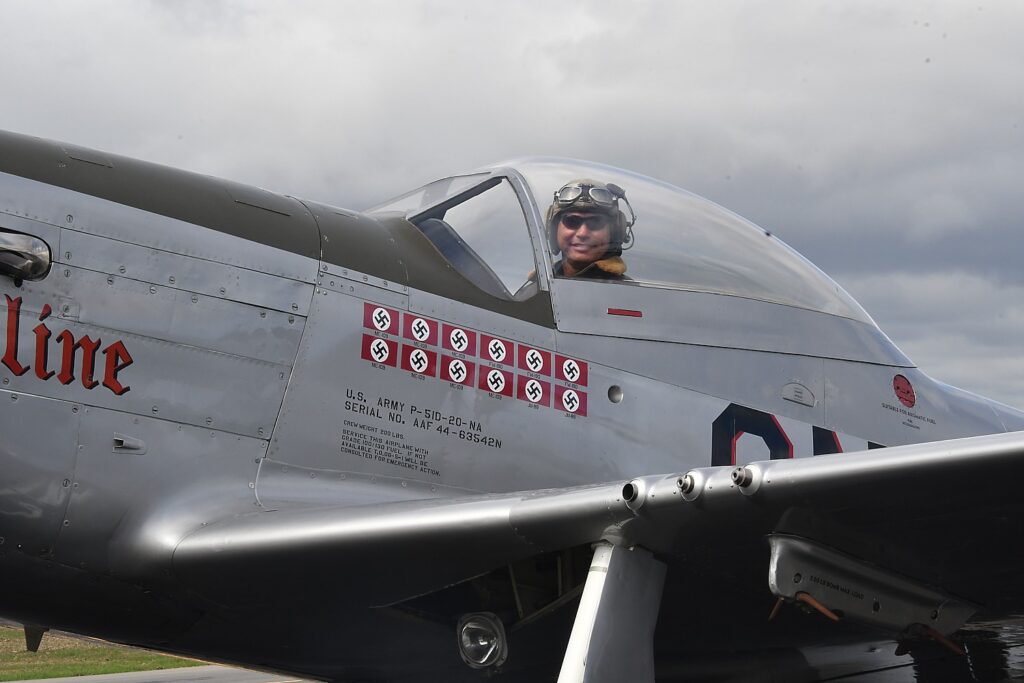 You can also buy a seat in a D-Day reenactment flying aboard the WWII Veteran Douglas C-47 Gooney Bird, which carried parachutists – you wear an appropriate uniform, there is the radio speech of President Eisenhower sending the troops into this fateful battle, and while you don't actually parachute, at the end, you are given a card that says whether you lived or died.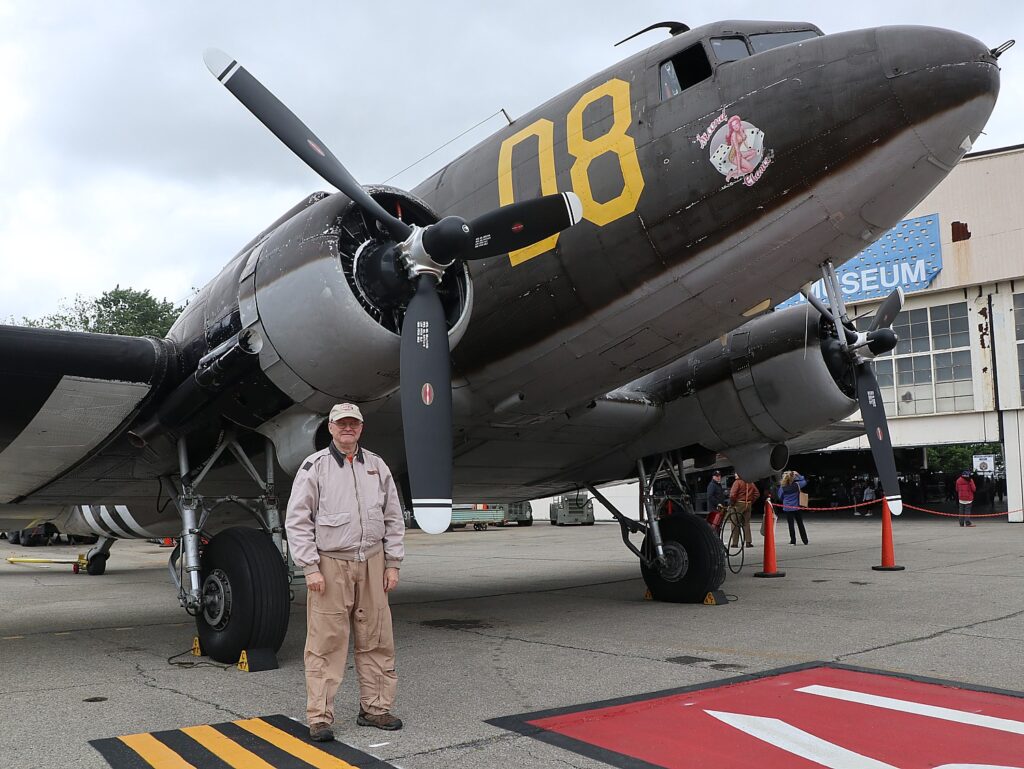 That's what "Living history" means to the American Airpower Museum.
Indeed, just about all the aircraft you see in the hangar and on the field (a few are on loan), are working aircraft and have to be flown to be maintained, so any time you visit, you are likely to see planes flying.
Among the planes that played an important role in history is the "Mis-Hap" – a North American B25 Mitchell bomber that was used as a transport plane for General Doolittle, famous for mounting the Doolittle Raid on Tokyo – the first attack on Japan's mainland after Pearl Harbor. It was General Hap Arnold's personal plane (subsequent owners included Howard Hughes).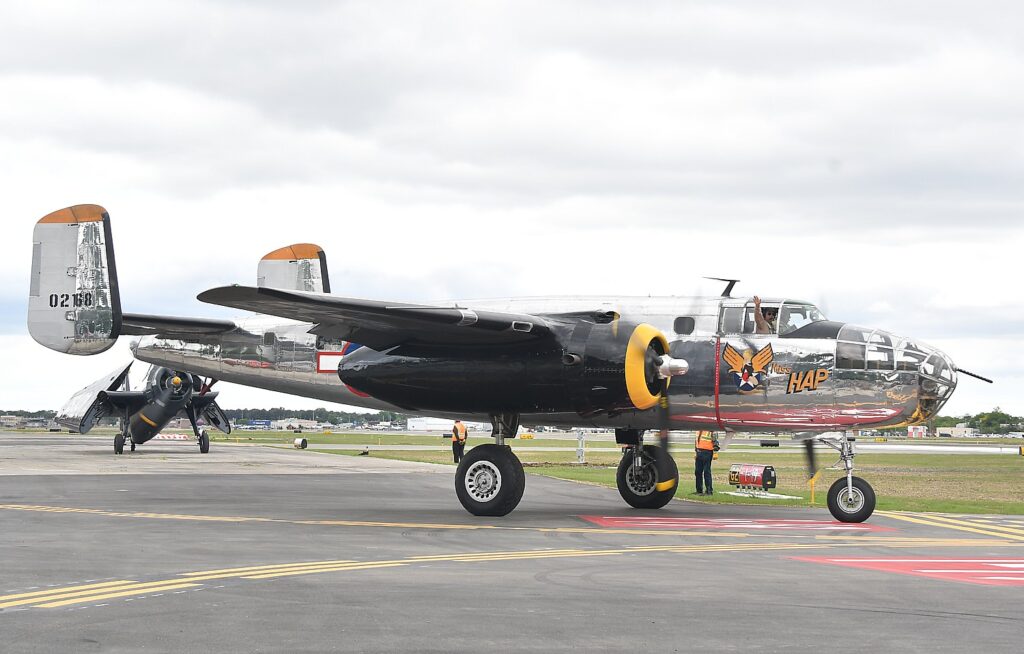 Another is the Macon Belle, on view in a fascinating exhibit that pays homage to the Tuskegee Airmen, one of whom, William Johnson is a Glen Cove resident. The Tuskegee Airmen were the first black military aviators in the U.S. Army Air Corps during WWII. They flew more than 15,000 individual sorties in Europe and North Africa, earning more than 150 Distinguished Flying Crosses.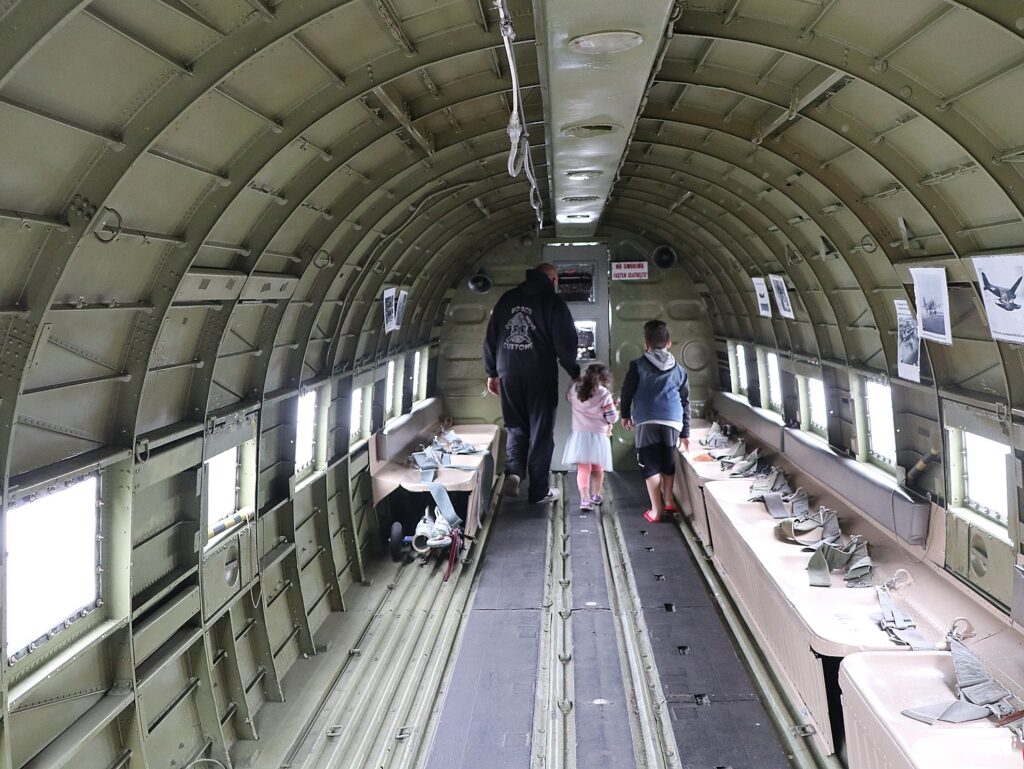 You can walk through the Douglas C-47B. Built in 1935 and in service since 1936, the DC3 started as one of the first commercial civilian airliners. It was best known for being used in the Berlin Airlift, dropping food, clothing and medical supplies to Berliners suffering under the Soviet occupation. The plane is dubbed "Second Chance" possibly because after World War II, it was sold to the State of Israel and saw more than 30 years in the Israel Air Force (very possibly flew in the Yom Kippur and Six Day wars). Today, the C-47B is used in D-Day reenactments.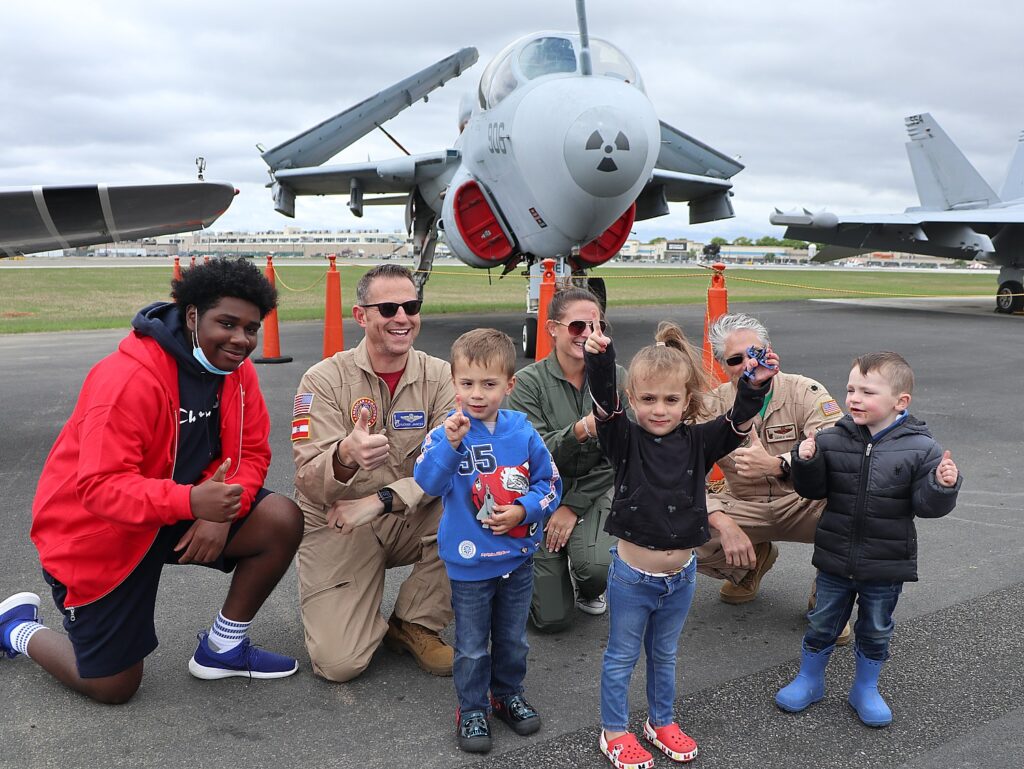 Inside the hangar, there are several excellent exhibits, including one showcasing the WASPs – the Women Airforce Service Pilots who were used to fly planes to their missions. Another focuses on women war correspondents, among them, Martha Gellhorn, considered one of the great war correspondents of the 20th century, reporting on virtually every major world conflict over her 60-year career (she was also the third wife of novelist Ernest Hemingway).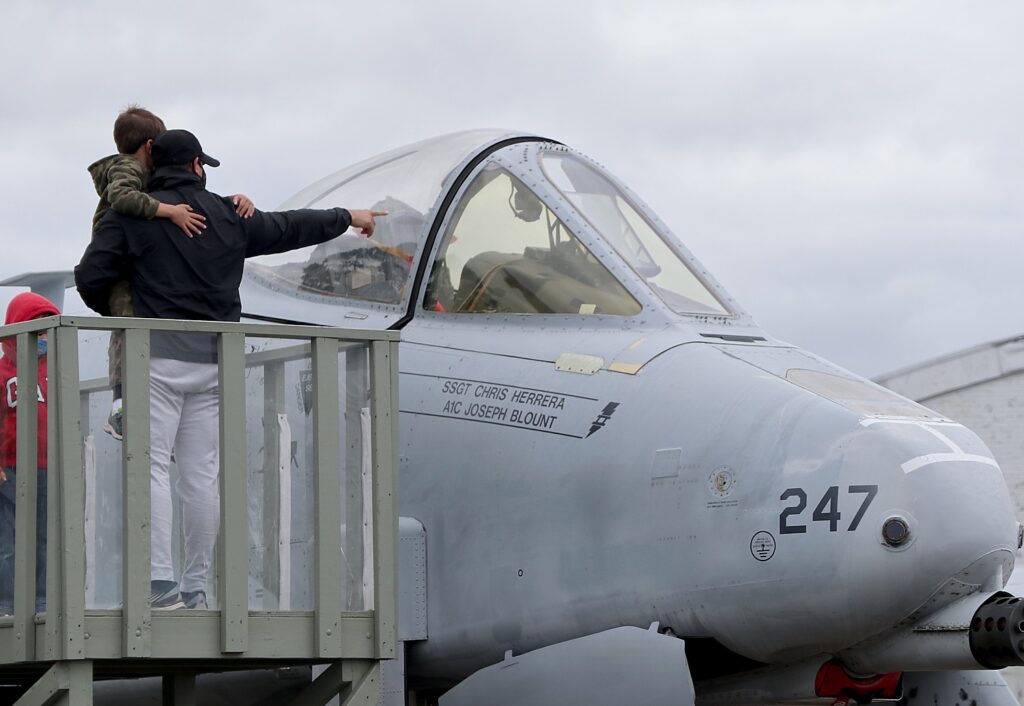 Clyman, who started his museum in New Jersey, moved it to Farmingdale, Long Island, the "cradle of aviation," where America's aviation industry began and many of these planes were built, and where the people who built them, maintained them and flew them, still live. Many of the docents as well as the pilots are former Republic workers and veterans.
"My dad was a combat pilot in WWII. So was my uncle. My mom was a nurse," Clyman tells me. "But just as the 1920s followed WWI, and the 1950s after WWII, they didn't talk about their experiences in war until they were about to die." His mission is to not only legacy of the planes, but honor the people.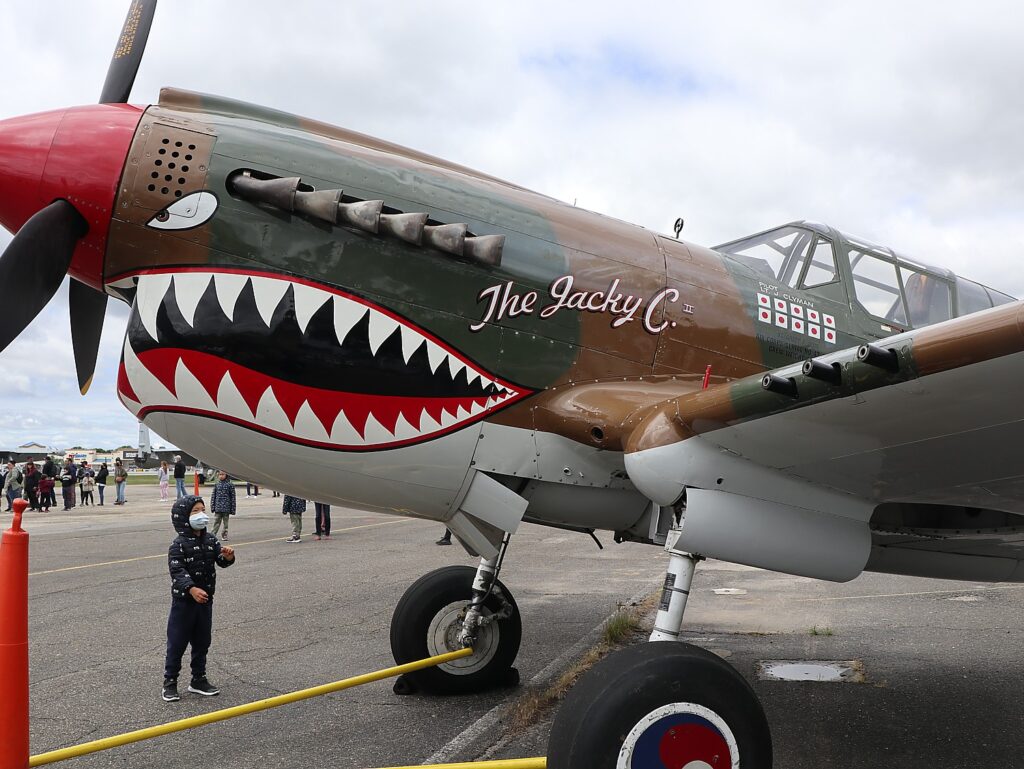 The structure that the American Airpower museum occupies, some 65 years ago, was a crucial part of America's "Arsenal of Democracy" – it was home to Republic Aviation, the complex where more than 9,000 P-47 Thunderbolts were produced.
"Today, no American aviation museum with a squadron of operational World War II aircrafts has a more appropriate setting for its flight operations," Clyman says. "Taxing to the very runways and hangars that dispatched Thunderbolts to war, vintage aircrafts recreate those turbulent years and allow the public to watch these planes in their natural environment – the air."
The hangar where the museum is located is now part of a historic preservation district, as a result of the effort of Senator Charles Schumer and them-Congressman Steve Israel.
There are uniforms, equipment, even two Nikon cameras adapted for use by astronauts that flew in the Space Shuttle.
Here are more photos that capture the homecoming of the F-18 Super Hornet crew: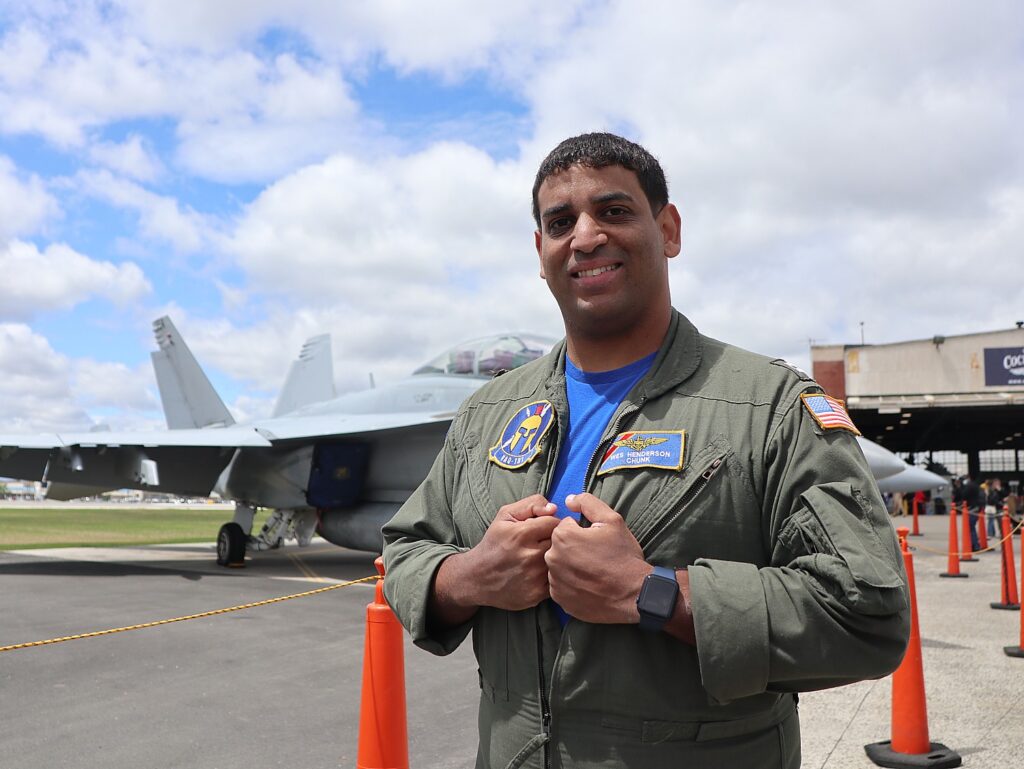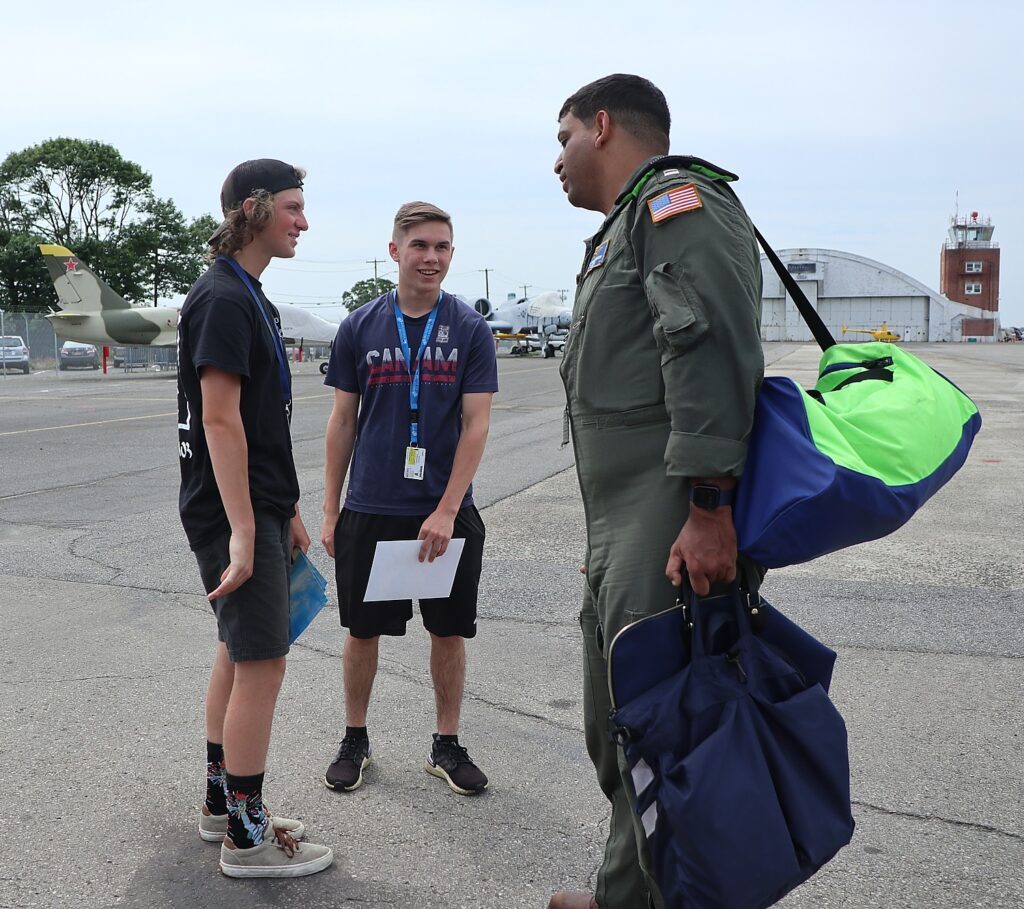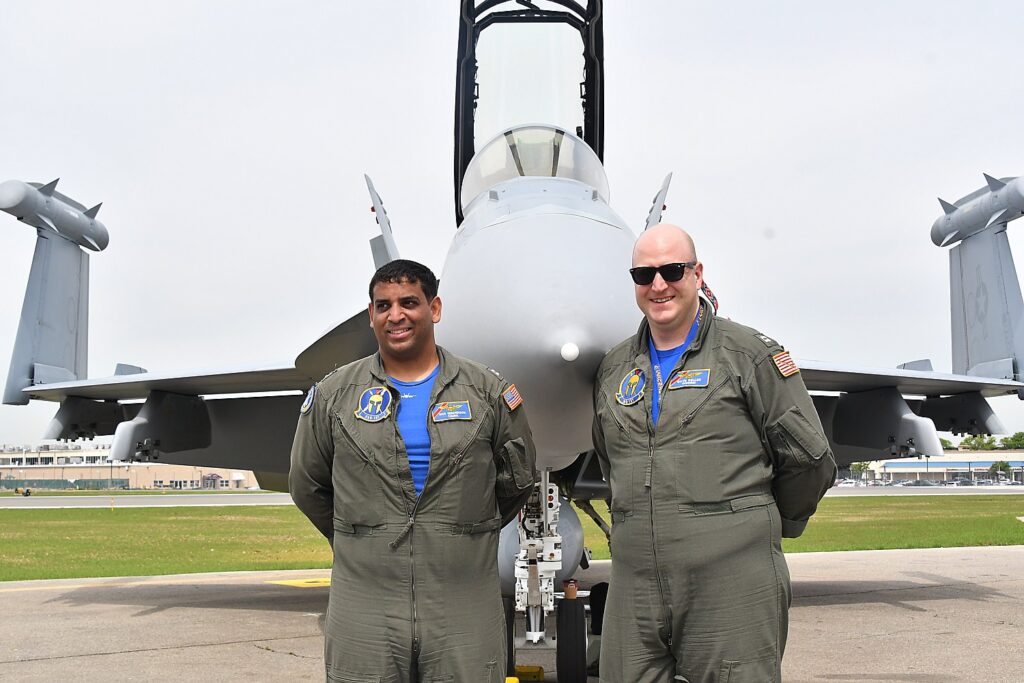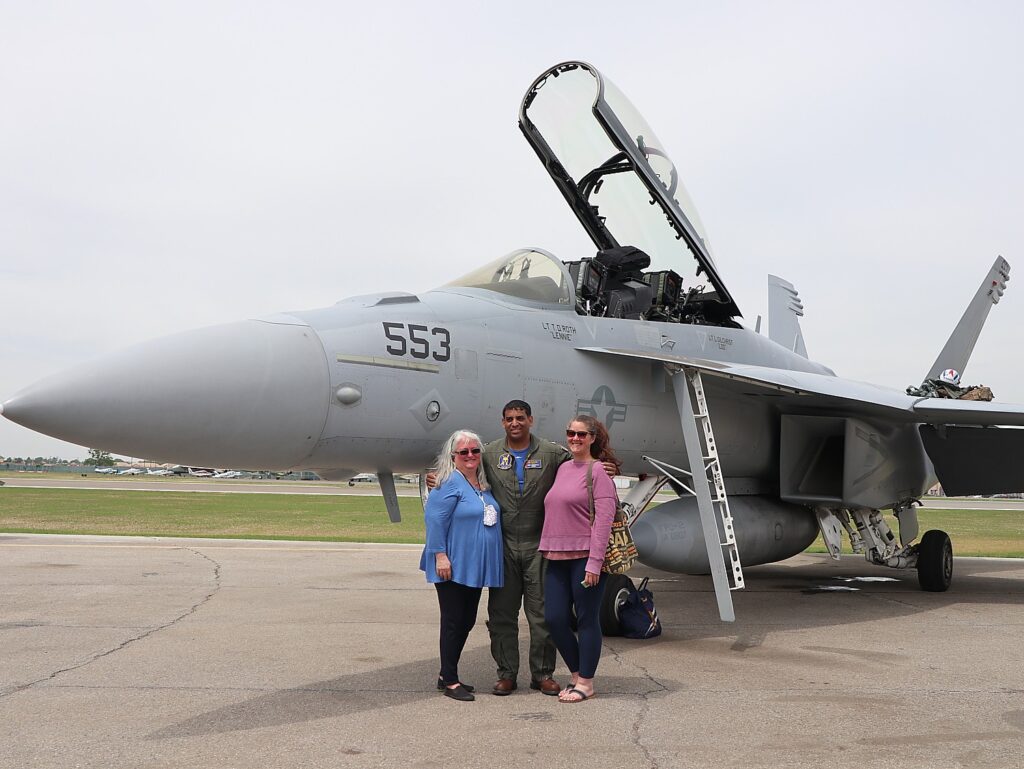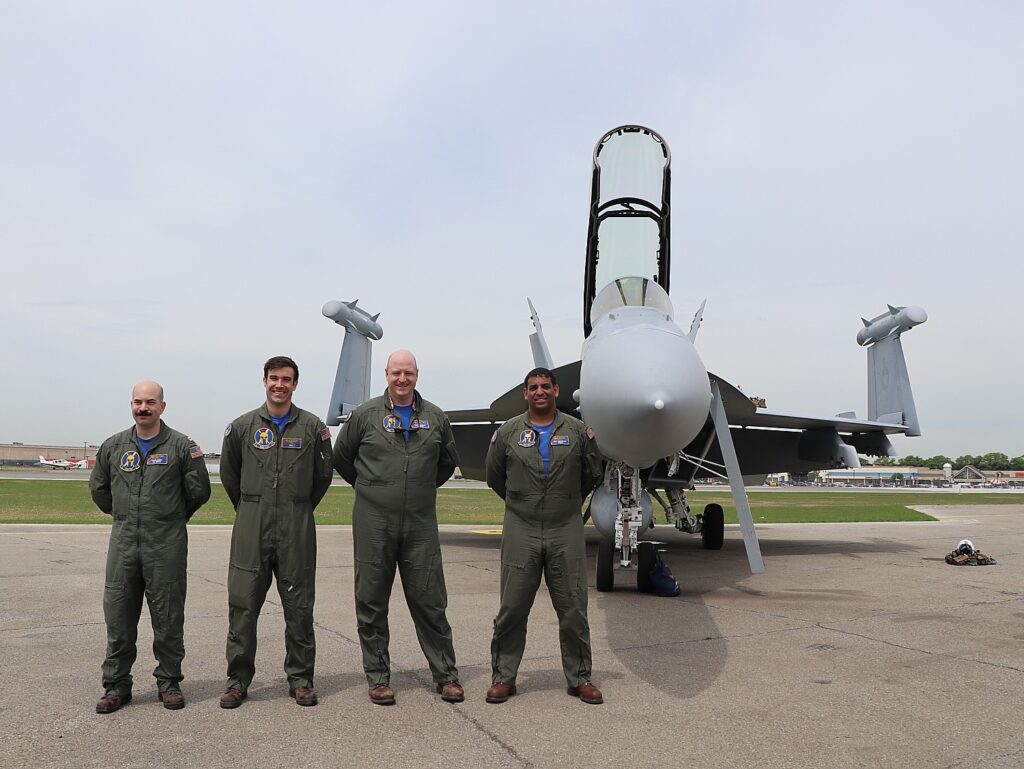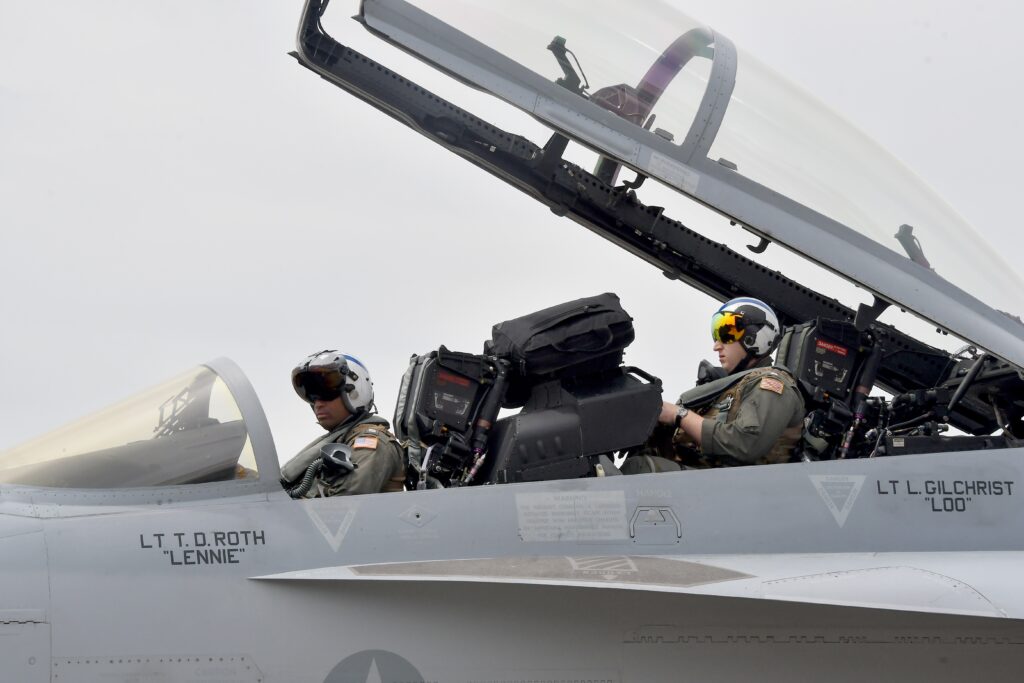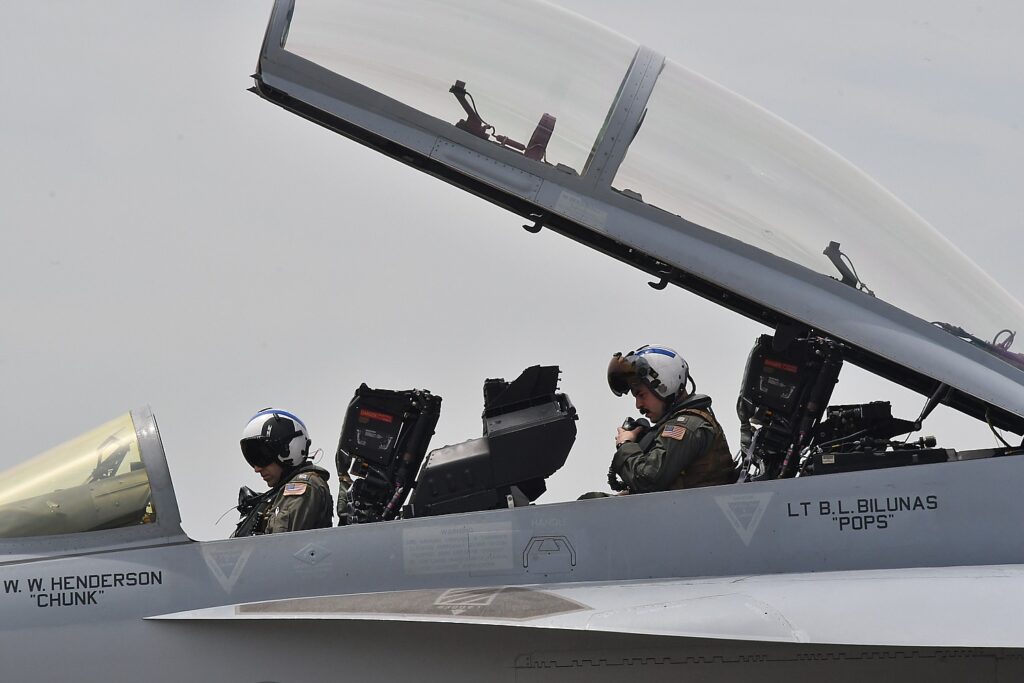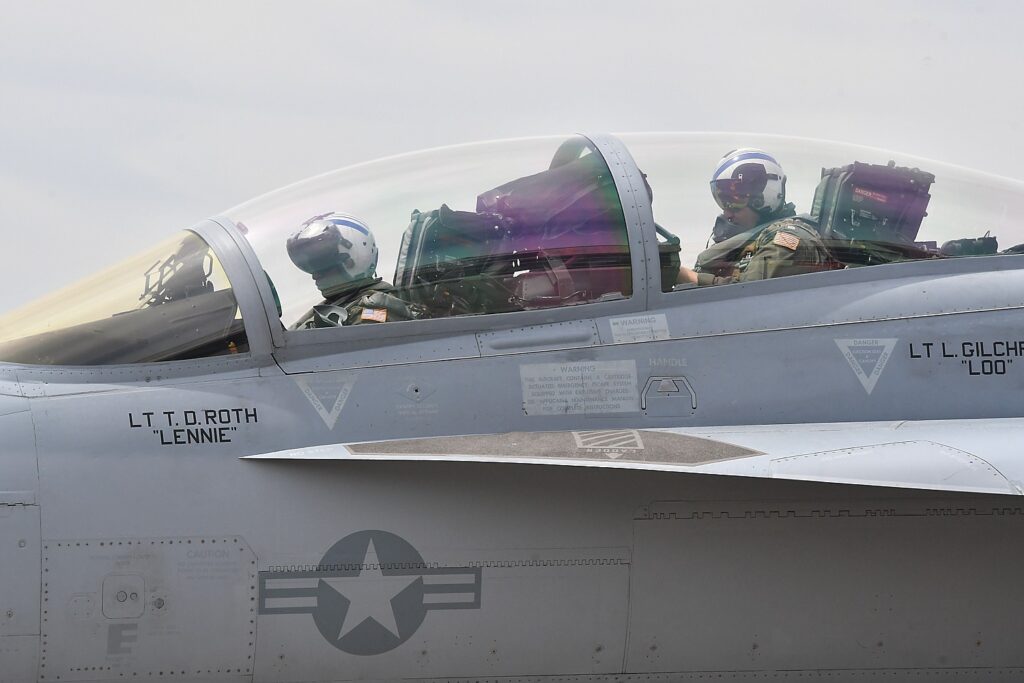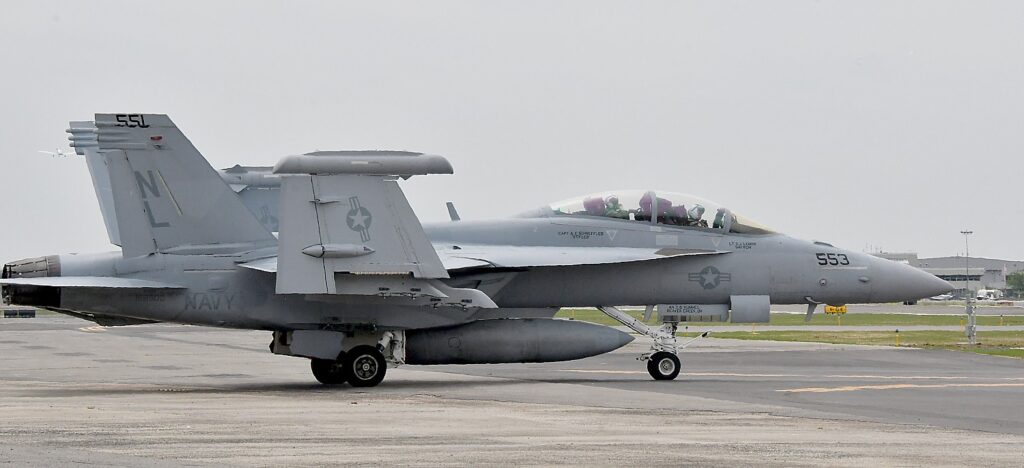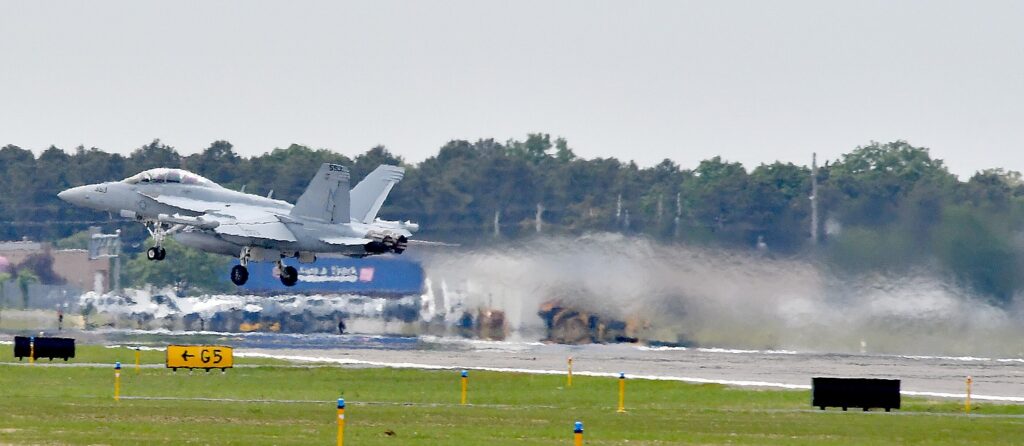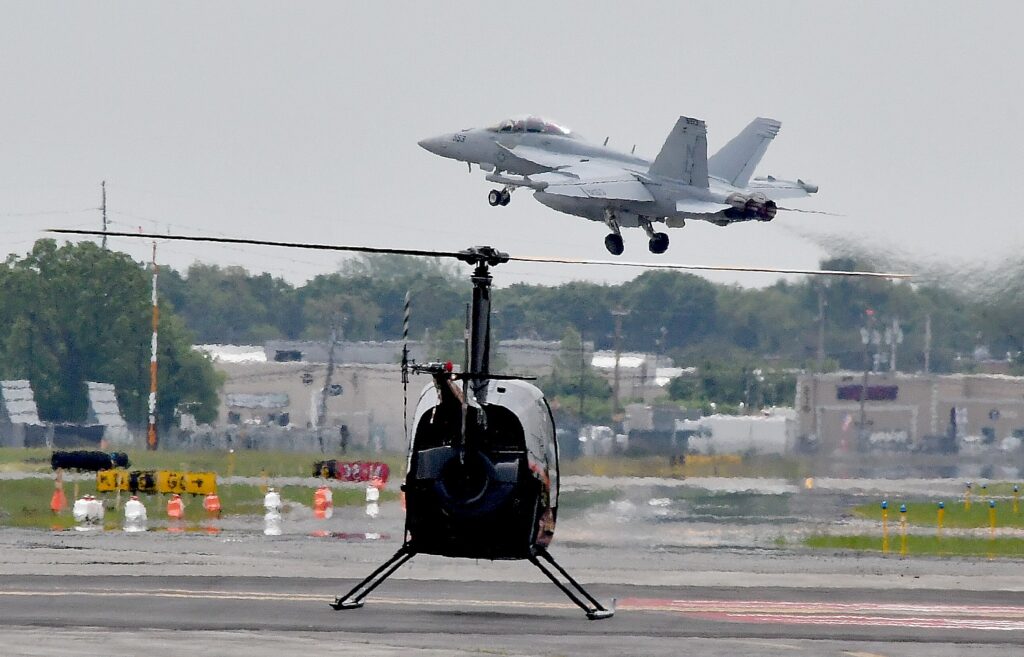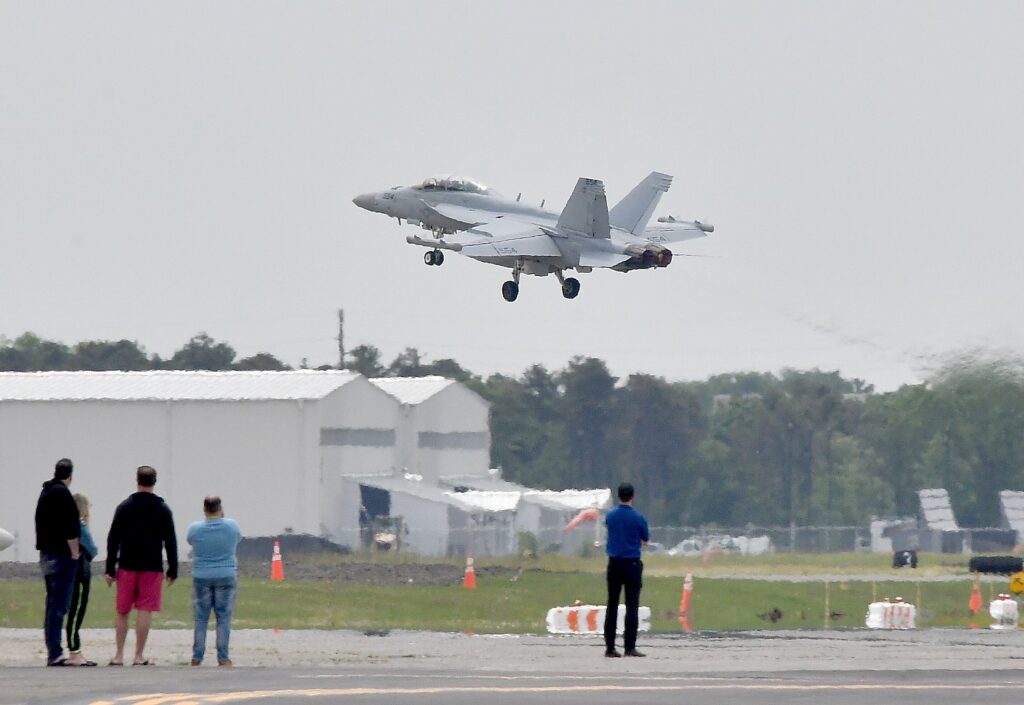 The American Airpower Museum, "Long Island's only flying military aviation museum," is located on the landmarked former site of Republic Aviation at Republic Airport, Farmingdale, NY. The Museum maintains a collection of aviation artifacts and an array of aircraft spanning the many years of the aircraft factory's history. 'Where aviation history takes flight!" The Museum is a 501(c)(3) Nonprofit Educational Foundation Chartered by the New York State Board of Regents
The American Airpower Museum, Hangar 3, 1230 New Highway, Farmingdale, NY 11735, 631-293-6398, [email protected], www.americanairpowermuseum.com.
See also:
A VISIT WITH THE USAF THUNDERBIRDS
WAYS TO SEE LONG ISLAND'S BETHPAGE AIR SHOW AT JONES BEACH DESPITE WEATHER
16TH ANNUAL BETHPAGE AIR SHOW AT JONES BEACH, LONG ISLAND, HONORS SPIRIT OF MEMORIAL DAY
PHOTO HIGHLIGHTS FROM 15TH ANNUAL MEMORIAL DAY BETHPAGE AIR SHOW AT JONES BEACH, LONG ISLAND
______________________
© 2021 Travel Features Syndicate, a division of Workstyles, Inc. All rights reserved. Visit goingplacesfarandnear.com, www.huffingtonpost.com/author/karen-rubin, and travelwritersmagazine.com/TravelFeaturesSyndicate/. Blogging at goingplacesnearandfar.wordpress.com and moralcompasstravel.info. Send comments or questions to [email protected]. Tweet @TravelFeatures. 'Like' us at facebook.com/NewsPhotoFeatures