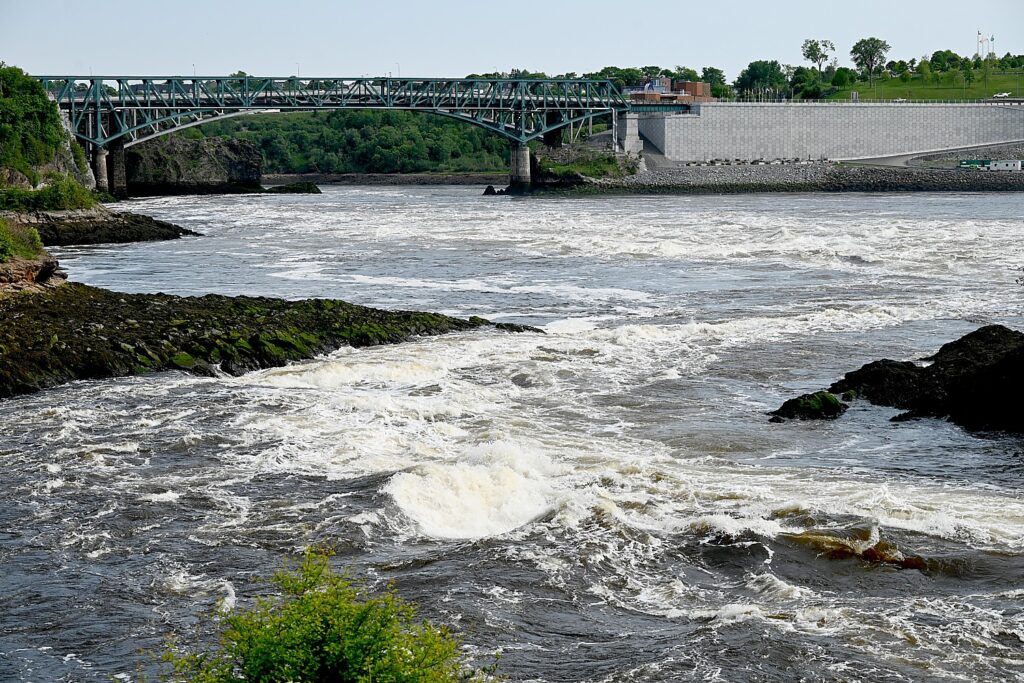 By Karen Rubin, with Dave E. Leiberman, Laini Miranda & Eric Leiberman
Travel Features Syndicate, www.goingplacesfarandnear.com
Our roadtrip through New Brunswick, one of Canada's Maritime Provinces, continues in Saint John, a city of firsts, of oldest, of amazements worthy of Ripley's or Guinness, like the wondrous Reversing Falls (one of only two in the world), and Stonehammer UNESCO Global Geopark, where we will actually see remnants of Pangea – primordial earth before the continents split apart.
A City of Oldests, Firsts
Saint John is only about an hour's drive from St. Andrews where we meet Doug Scott, who is taking us on a walking tour to best appreciate the history and heritage of Canada's oldest incorporated city, the province's second biggest city with a population of 135,000, the only city on the Bay of Fundy, and a major cruise ship port, which served as an major immigration center for 200 years.
It was into this port that explorer Samuel de Champlain sailed in 1604 –claiming it for France.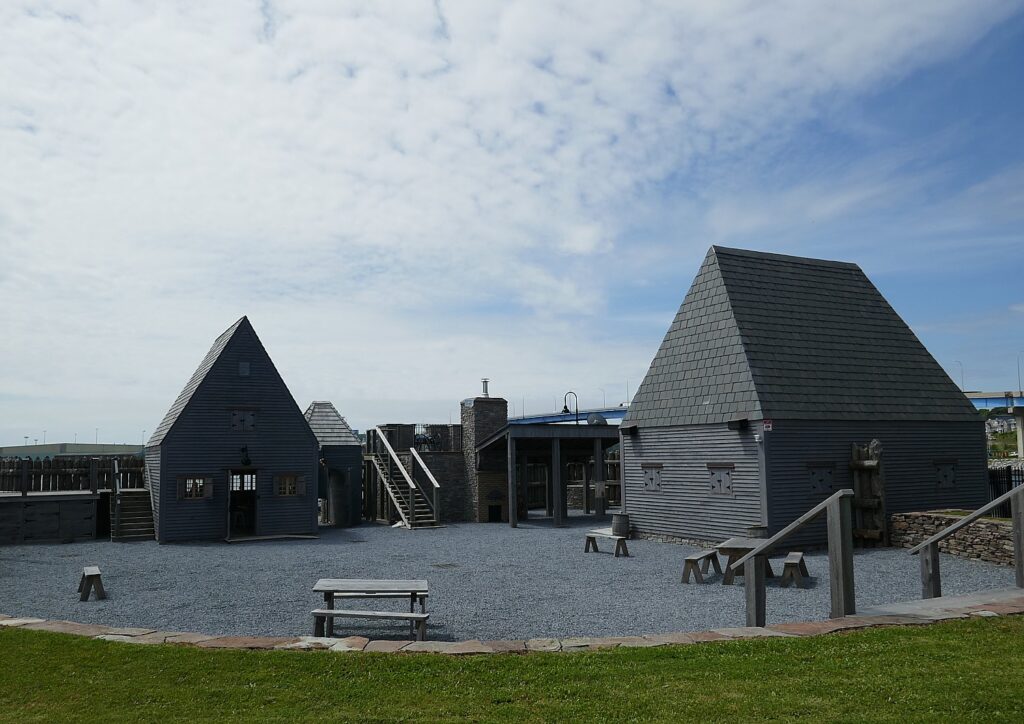 We follow a beautiful waterfront walkway that is taking shape around to Fort La Tour National Historic Site, built in 1631 by Charles La Tour to trade with First Nations people. This has been an archeological site, but more recently, they have reconstructed the fort, "the site of treachery, intrigue and a memorable battle in early Acadian times," the literature reads. It is also "commemorates 5,700 years of changing ceremonial, commercial and industrial uses." (Harbour Passage, 506,607-7171, www.placefortlatour.com)
The "treachery" and "intrigue" comes from the fact that during her husband's absence in 1645, Françoise-Marie Jacquelin, Madame de La Tour, unsuccessfully defended the fort against their chief rival, Charles de Menou d'Aulnay, who promised that if she surrendered, he would spare the lives of her people; she surrendered and he killed them anyway.
Though claimed for France, the British had different ideas, seeing Saint John as an important defensive port, and, when the British and French were embroiled in the French & Indian War (1754-1763) over control of the colonies, in 1755, expelled the French Acadians who did not swear an oath to Britain.
Loyalists fleeing the American Revolution founded Saint John in 1783, incorporating the city in 1785 (Canada's first).
From Fort La Tour we can see out to the 24 acres of Partridge Island in the harbor, "the most historic chunk of rock in Canada," Scott says.
Partridge Island had New Brunswick's first gas-powered lighthouse (1791), North America's first quarantine station (1785) and the world's first steam-operated fog alarm (1859).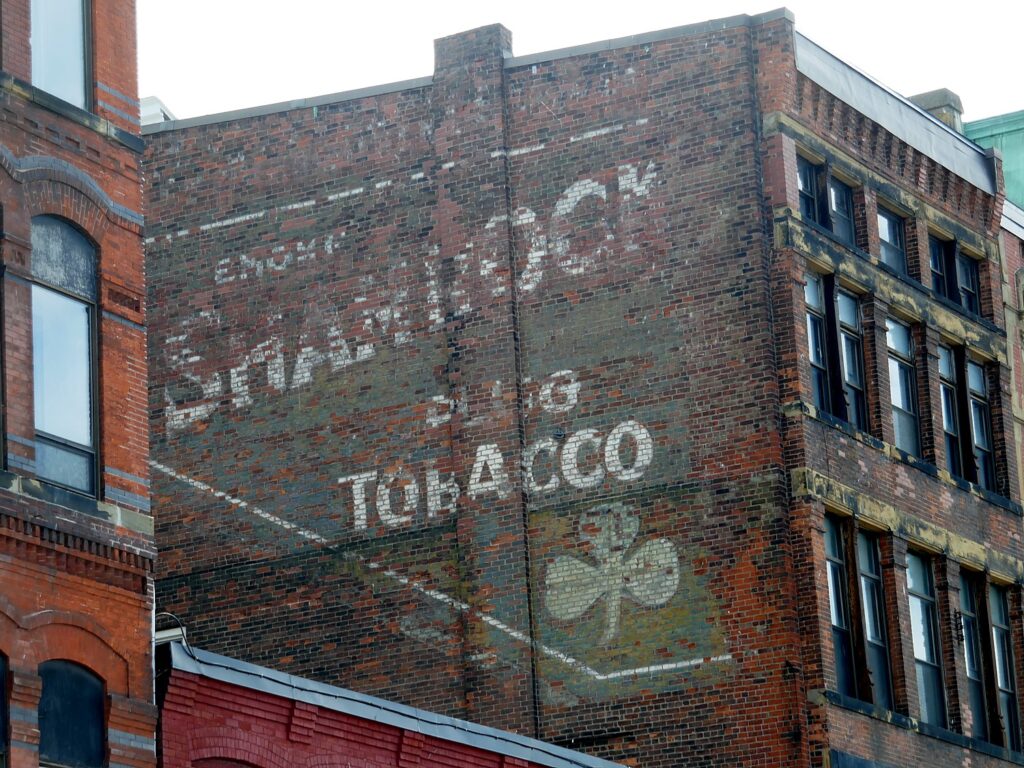 Much like Ellis Island in New York harbor, 3 million immigrants passed through here to make Canada their home. A flood of Europeans came through in 1815 at the end of the Napoleonic Wars; and from 1812-1850, 70 percent of immigrants were Irish, peaking in 1845-47, because of the Irish Potato Famine. There was tension between the British (Protestants) and the Irish (Catholics), that climaxed in an 1849 riot which led to the formation of Canada's first police force. (You can visit the Saint John Police Museum, 56 Prince William St., 506-674-4137, www.saintjohnpolicemuseum.ca)
Saint John's role as the gateway for immigrants is notable. There is the Saint John Jewish Historical Museum (91 Leinstar St., 506-633-1833, http://jewishmuseumsj.com/), focusing on the development and engagement of Saint John's Jewish community since its founding in 1858, through its "Golden Years" (1919-1960s), when there 1400 Jews and 85 businesses.
From 1858 through 1947, Partridge Island was used for defense and still is a Canadian Coast Guard base. People used to be able to go to the island for concerts but today, the island is closed to visits.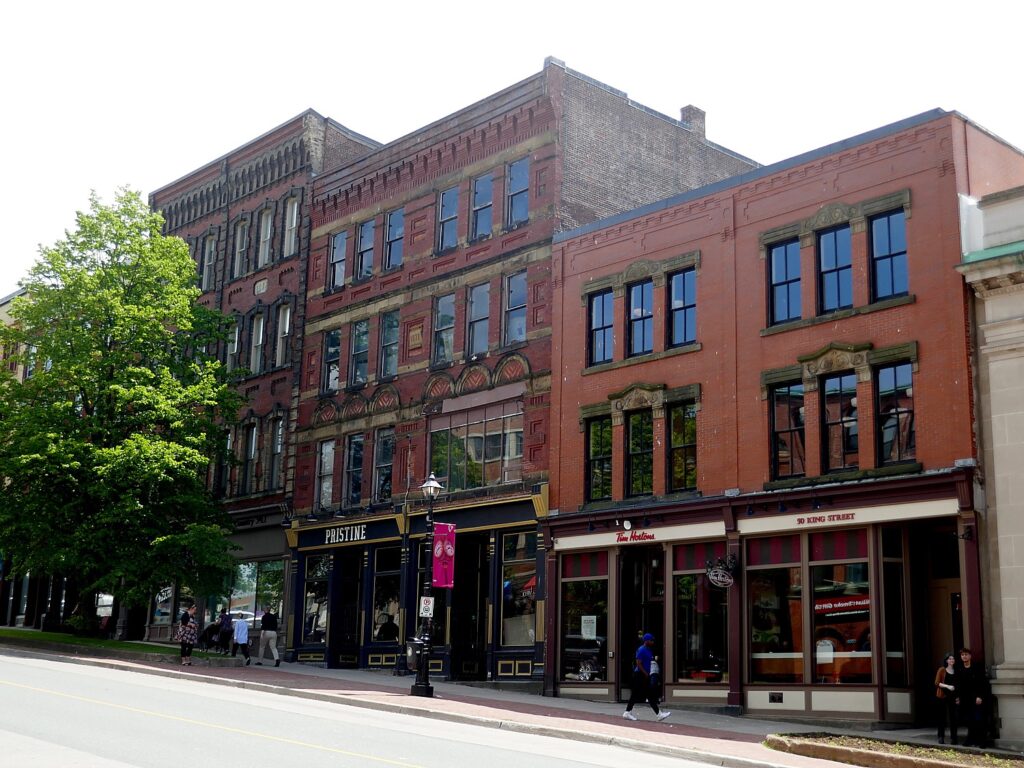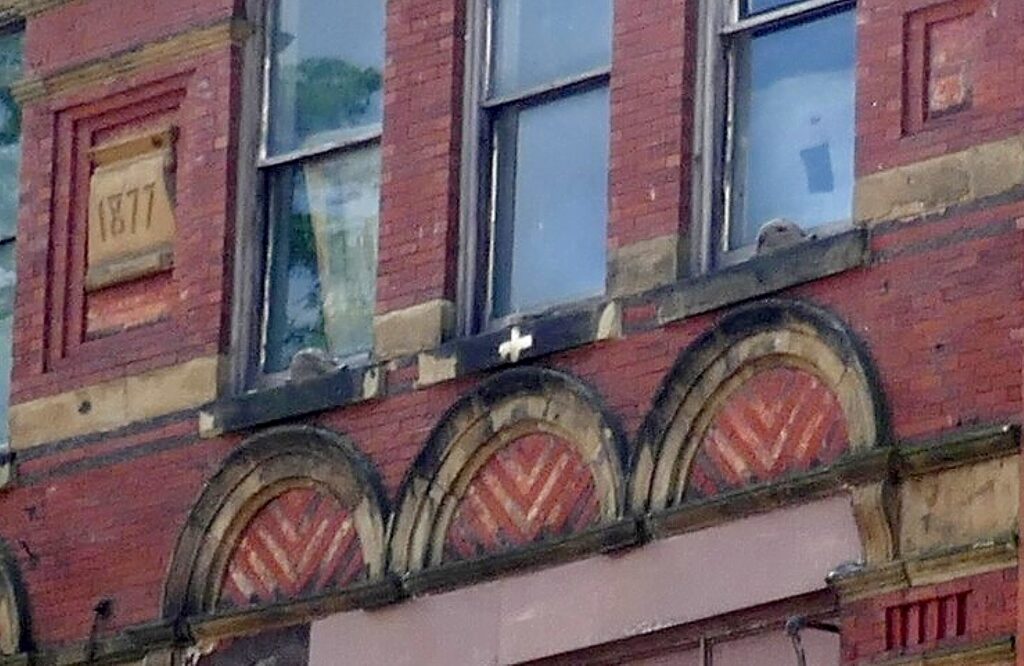 1877 was a pivotal year for Saint John: a Great Fire destroyed everything from the waterfront to King Street (you can even see the difference in architecture). 19 died and 7 newspapers, 16 churches and 2600 buildings were destroyed. The city brought in architects from New York and within one year, rebuilt 1,300 buildings using brick. Today, you see many buildings with dates from 1877, 1878, 1879; many also have white crosses to show that were rebuilt to a new fire standard.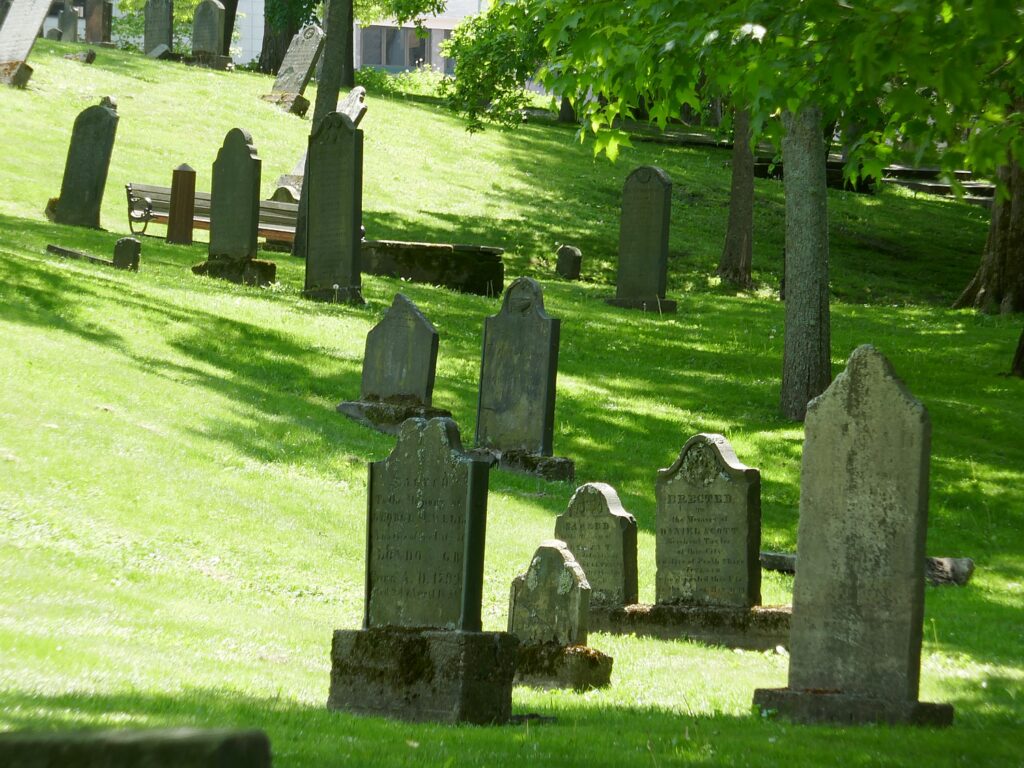 Scott takes us to a street which is pretty much the dividing line where the fire stopped. On one side are all the brick buildings. But just nearby, you can still visit Loyalist House (120 Union Street, 506-652-3590, www.LoyalistHouse.com), built by local merchant David Daniel Merritt around 1810, which is the city center's oldest standing wooden structure. We also visit Loyalist Cemetery, in King's Square, just behind the City Market, which is a beautiful park.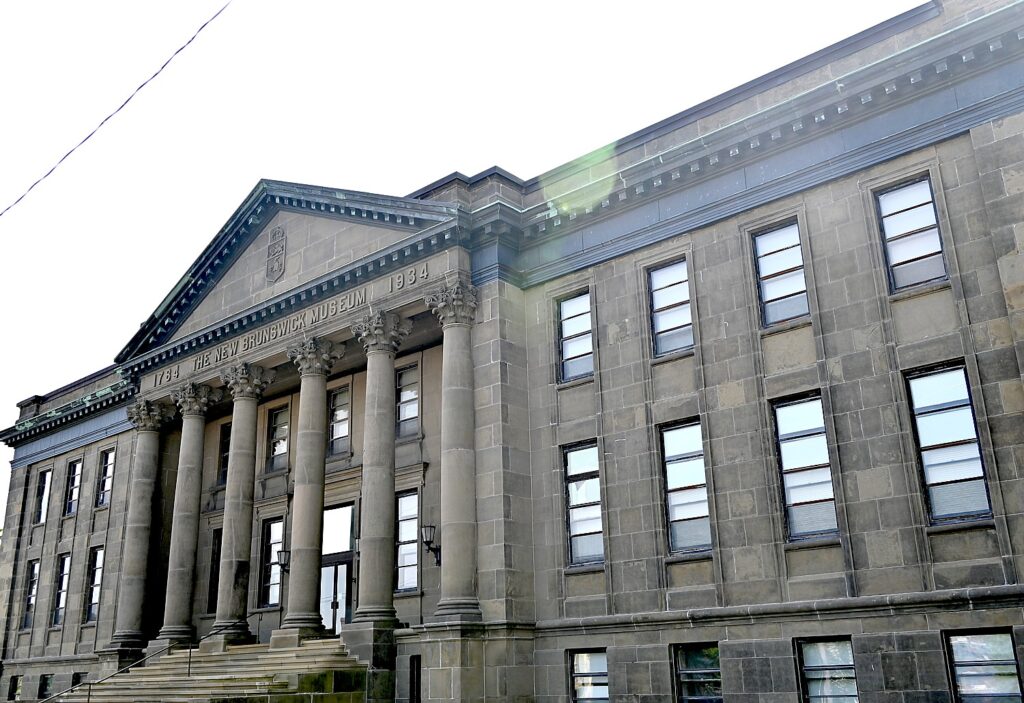 Another interesting place to visit is the New Brunswick Museum which houses historic and geologic exhibits (Market Square, 1-888-268-9595, 506-643-2390, www.nbm-mnh.ca) and its Archives & Research Library (277 Douglas Avenue), housing death and marriage records that draws people from all over to research.  (While the museum itself is in the process of undergoing an extensive renovation and the collections are currently inaccessible, you can still access the Archives & Research Library by appointment.)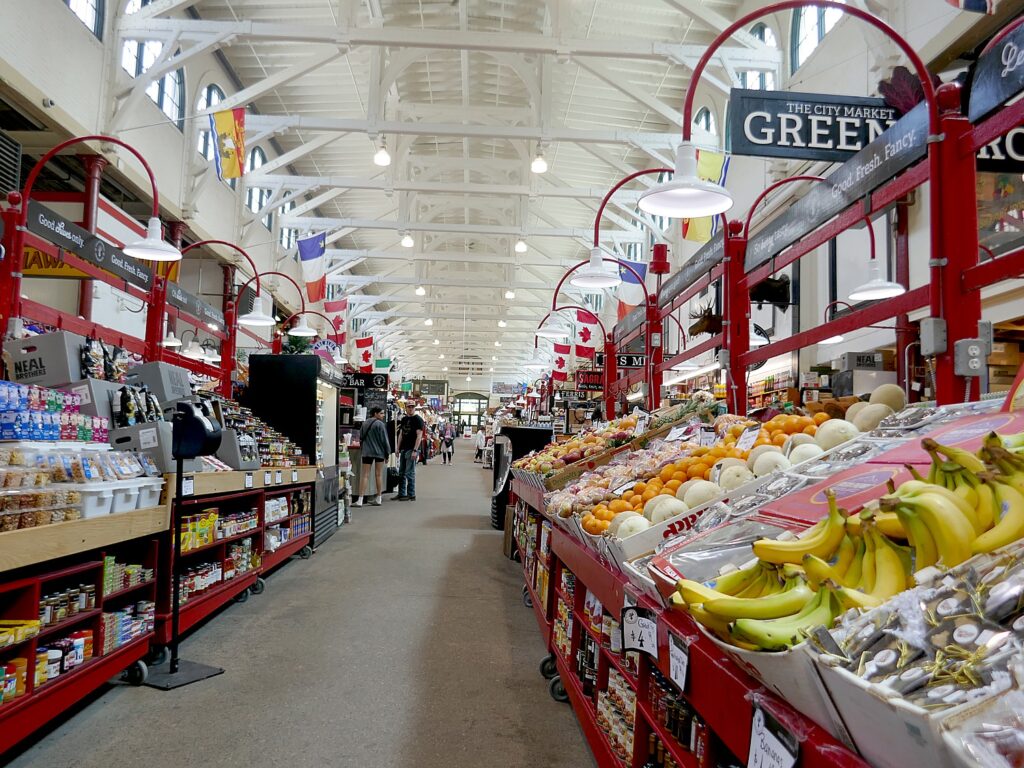 We have lunch at the Saint John City Market. At one of the entrances, a sign lists St. John's City of Firsts: oldest continuing operating farmers market in Canada; first police force; first public high school, first museum, library, paved street, banking district in Canada. The market is itself housed in a historic building, dating from 1876, its ceiling is in the shape of an upside down ship's hull (a shipbuilder built it).
Stonehammer Geopark's Amazements
Saint John is not only Canada's oldest incorporated city, it is built on some of the oldest geology on the planet. For the geology part of our Saint John exploration, we meet up with Wanda Hughes who runs the Inside Out Nature Centre inside Rockwood Park (55 Lake Drive), and has been involved with the Stonehammer UNESCO Global Geopark since its founding in 2010, the first geopark in North America.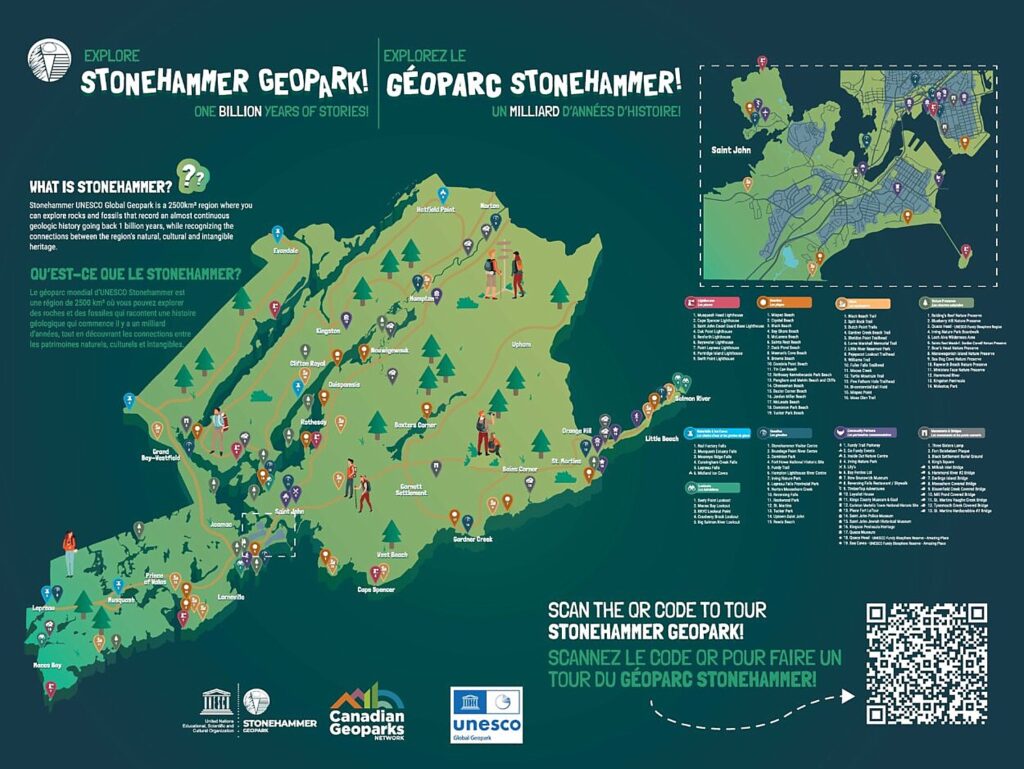 There are now 177 UNESCO Global Geoparks in 46 countries around the world (the first opened in China in 1980s; Canada has five). But Stonehammer is distinguished because while most geoparks are a single site (like a cave or volcano), because of the extraordinary diversity and scale of geology here, Stonehammer contains 60 different sites, spanning 965 sq. miles up the coast to St. Martins, each site with a different geological story. During our visit, we get just a taste.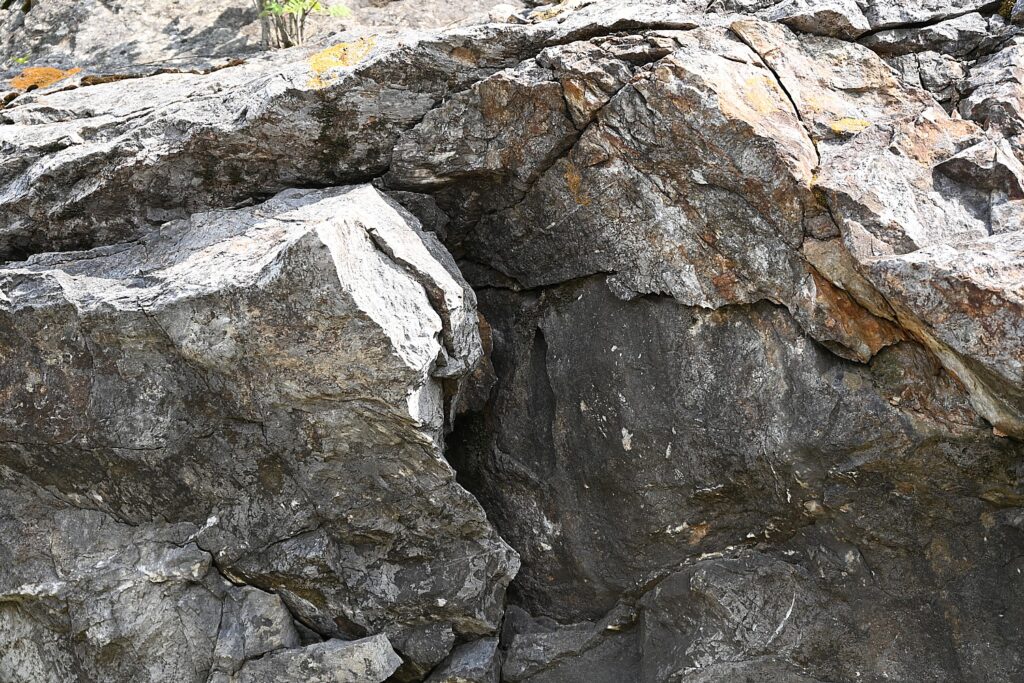 350 million years ago, the earth was one super continent, Pangea, that through ice ages and other geologic forces, separated into 7 continents. But when the world was Pangea, New Brunswick was located where Africa is today, a tropical paradise south of the equator.
"Our geology is unique," Hughes tells us. "As the continents drifted apart, a new Atlantic Ocean was created here." You can see rocks facing each other, one that would have been in Africa (today), and the other that would have been South America today – two different continents.
Our Stonehammer Geopark experience starts in Rockwood Park, one of the Stonehammer Geopark sites. Spanning 2,200 acres with 10 lakes and 55 trails, it is one of the largest urban parks in Canada and was designed by Frederick Olmstead in the 1800s (who also designed NYC's Central Park and San Francisco's Golden Gate). Before heading out, we actually get to try out hydrocycles! You can also do geo-caching, rockclimbing, kayaking, and mountain biking from the Nature Center.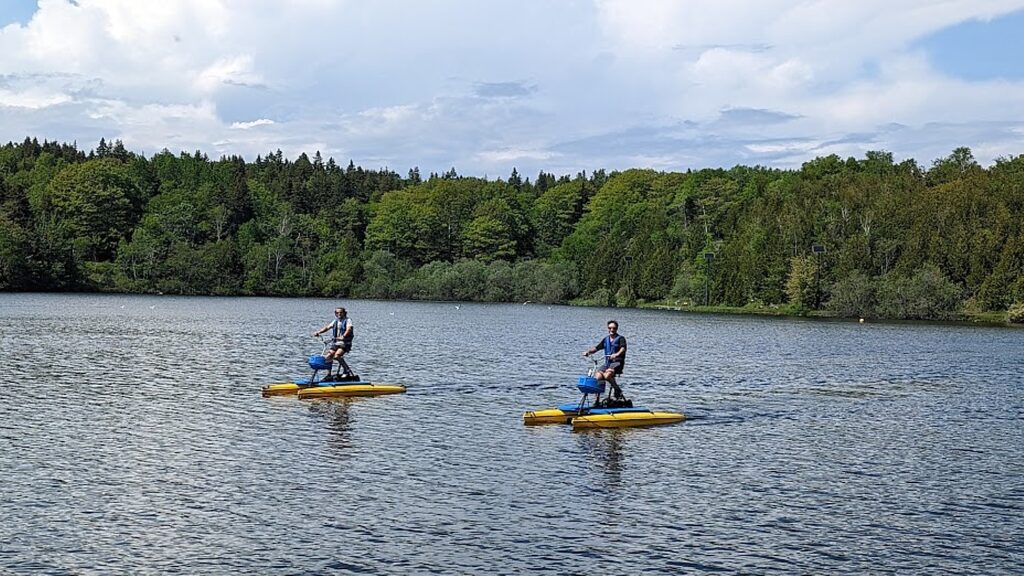 Enroute to one of the major Stonehammer sites, Reversing Falls, Hughes takes us through a wealthy neighborhood of Captain's Houses and notes that Abraham Pineo Gesner (1797-1864), a Canadian physician and geologist who lived much of his life in Saint John, invented kerosene, saving whales from extinction and basically founding the petroleum industry.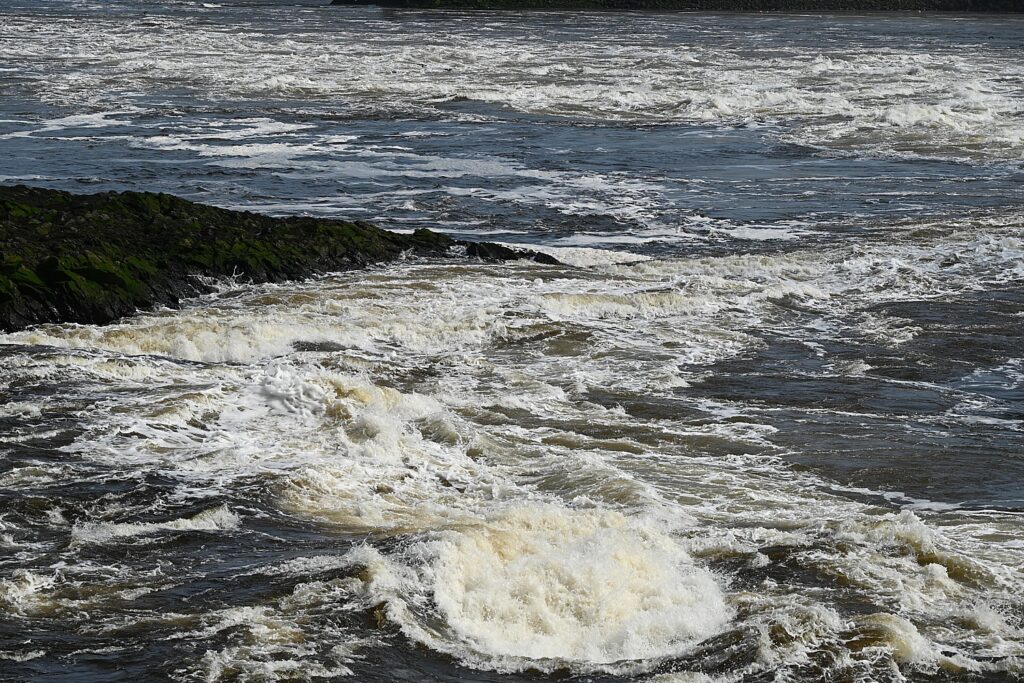 Reversing Falls, one of only two reversing falls in the world (the other is in Norway), is a series of rapids (not really waterfalls) where the Saint John River runs through a narrow gorge before emptying into the Bay of Fundy. The force of the tide of Fundy Bay – 160 million tons of seawater at high tide – overpowers the river, pushing it backwards.
The tide can rise as much as 26 ft – how high depends on moon cycle, season (higher in spring), and the gravitational pull. But for about 20 minutes at a time, there is a "slack tide" when the river and bay meet, "when the ocean stops the river," Wanda tells us. It is only then that you can safely bring in a boat. "American sailors who didn't realize they had to change their clock [Atlantic time is one hour earlier than Eastern time] would get stuck."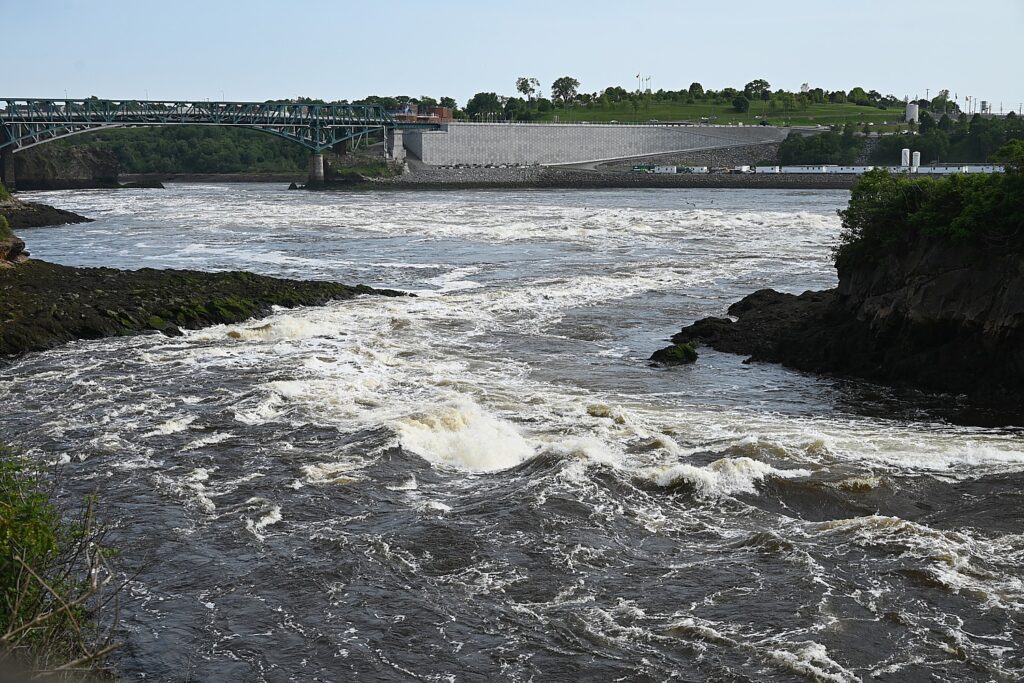 It is hard to make out (you would really need to know where and what to look for), but there is evidence of an ancient ocean and the formation of the supercontinent Pangea under the Reversing Falls bridge: billion-year-old light gray marble from South America on one side and 500-million-year-old dark gray shale and sandstone from northern Africa on the other. They came together 480-430 million years ago. (See: Southern New Brunswick rocks tell a billion years worth of stories, says geologist.)
Not surprisingly, considering the power of these falls, there is a local legend from the Mi'kmaq people who lived here well before the Europeans that tells of Glooscap (the Creator), who was angered that a giant beaver was damming up the river, harming fishing, and refused to stop. Glooscap used a giant club to smash the dam, which created the small islands we see, and then shrank the beaver to the size it is now. (I gather this is the source of the name, Stonehammer.)
"At low tide, you can see Glooscap's club and face in rock. And then they found fossil of giant beaver," Wanda tells us. A banana-sized beaver tooth displayed at the New Brunswick Museum is evidence that giant beavers, the size of black bears today, actually existed.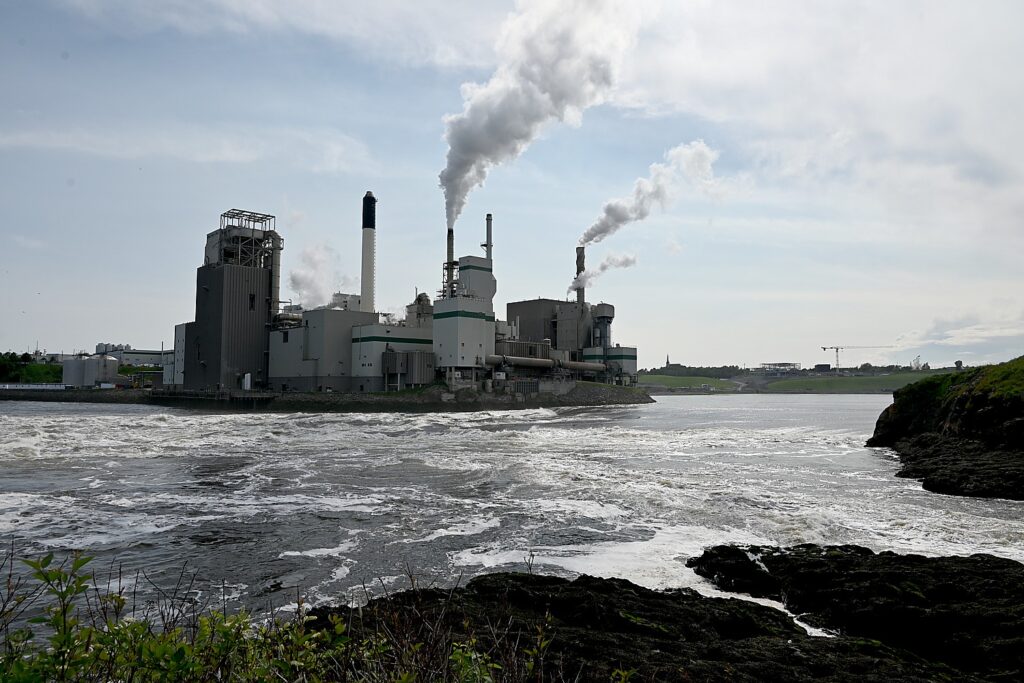 On the other shore of the Reversing Falls is the Irving Paper & Pulp Mill, a key industry and employer in Saint John, which seems incongruous but like so many factories, was built on such dynamic waterways because of the water power and transportation and that Saint John was an industrial city.
The bridge over the Reversing Falls gorge and rapids is notable. There were three previous attempts: the St. John Bridge Company tried in 1837, but the partially completed bridge collapsed, killing seven workmen. Finally, Edward W. Serrerell, who designed the first bridge to span Niagara Falls, was hired in 1849, and three years later, the first successful bridge opened, becoming a principal north-south trade link to the United States. (The current bridge was erected in 1915).
For a different experience, you can walk "The Plank," an observation deck 110 feet in the air overlooking the Reversing Falls Rapids (https://theplank.ca/).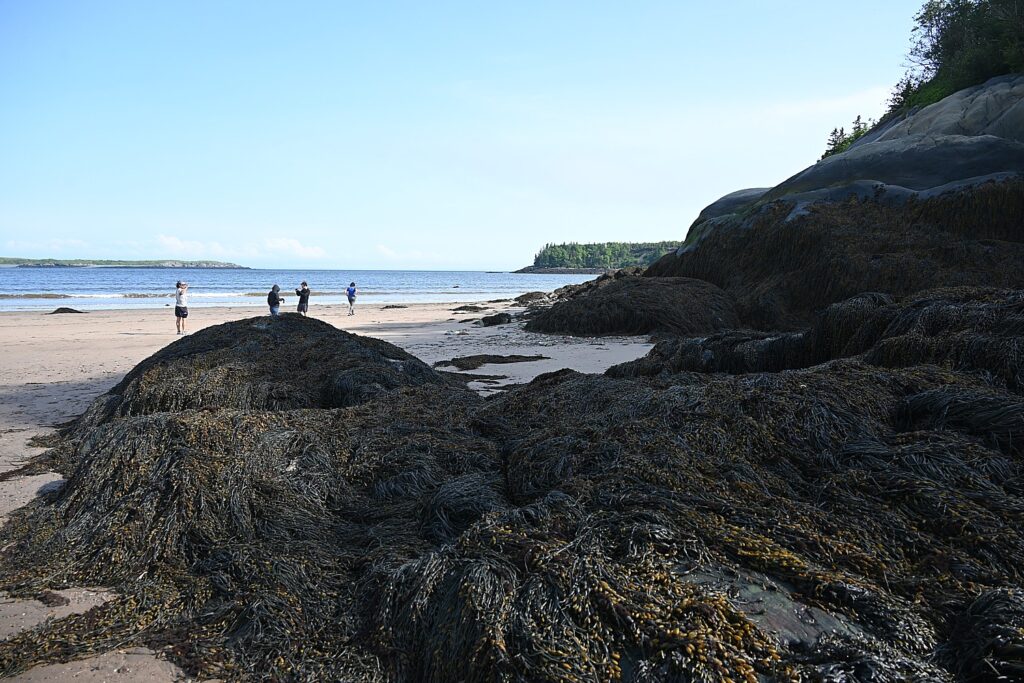 We next visit the Irving Nature Park, a 600 acre wooded park located on the City's west side, which is a Stonehammer Geopark site, owned and maintained by J.D.Irving Ltd. That offers beautiful views of the Fundy coastline, groomed trails and a gravel road for walking, hiking, and biking. And just outside the main entrance is a Children's Forest, playground, and life-size mazes. It is also a "dark sky" preserve. Be mindful of the tide!
The full complement of 60 Stonehammer geosites presents almost continuous geological history of the planet over a billion years. Of the sites, about a dozen are easily accessible by the public and are presented as parks and recreation centers.
Dominion Park, for example, is where billion-year-old stromatolite fossils in the marble that formed in South America and evidence of an ancient cyanobacteria, was where the oldest evidence of life on Earth was first identified in 1890; it also offers some of the best beaches for swimming in Saint John https://stonehammergeopark.com/geosites/dominion-park/
"This was the most violent place on the planet 250 million years ago, but not now. Here, [the continents] stabilized." She says this place is an example of a "failed continental rift", where the continents stopped separating, creating a narrow bottleneck which traps the ocean. "It's why we have the highest tides."
Stonehammer Geopark has an interpretation/visitor center at Area 506 Container Village which displays some of the fossil collection, and can provide map and guidance on how to best visit (Open June-October, 85 Water St., 1-506-471-1310, www.stonehammergeopark.com).
Wanda Hughes' company, Go Fundy Events, offers a variety of ecotourism and adventure programs for individuals and groups (712 Dominion Park Road, Saint John, NB E2M 5S8, 506.672.0770, 1.866.672.0770, [email protected], www.gofundyevents.com.
Saint John's Quirky Vibe
With all this history and serious geology, what is especially notable is the quirky vibe of Saint John, which you feel especially in the project to redevelop the waterfront to host shops, a skating rink and concert venue.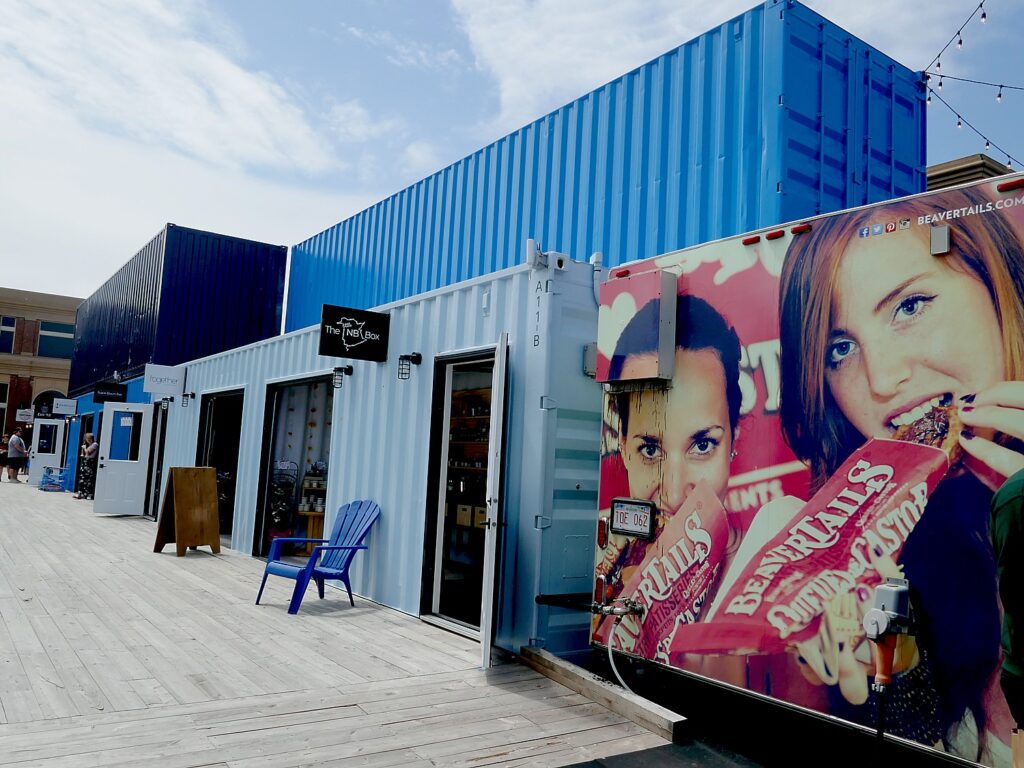 Area 506, the Waterfront Container Village, located next to the cruise ship terminal, opened in summer 2022 with some 60-plus shipping containers converted into retail spaces that showcase New Brunswick creativity. There is also a large stage performance and movie space, a three-level patio that provides great views of the stage and Bay of Fundy, a beer garden, food trucks, a graffiti alley for local and international artists, and pop-up activities.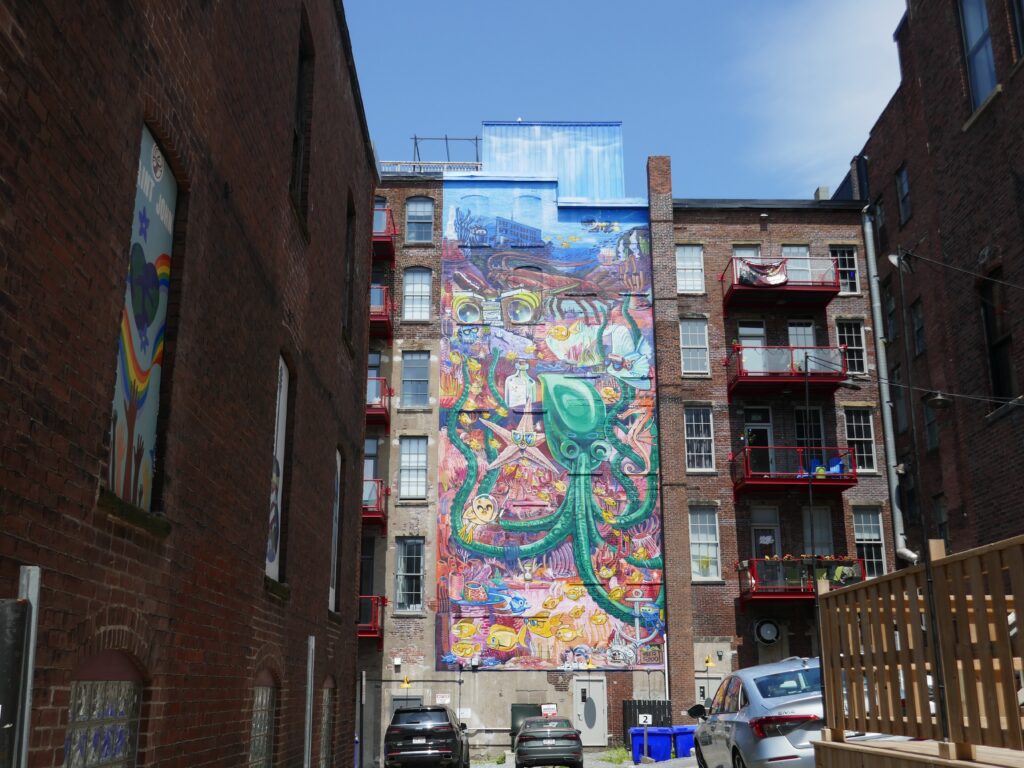 Saint John also "punches far above its weight in terms of dining experiences," Scott tells us. There's a vibrant food and beverage scene in Saint John with 80-plus bars/restaurants within 10 blocks downtown near the cruise ship terminal – all of them local and independent, offering an amazing diversity of cuisine from around the world (reflecting Saint John's heritage as an immigration center and cruise port).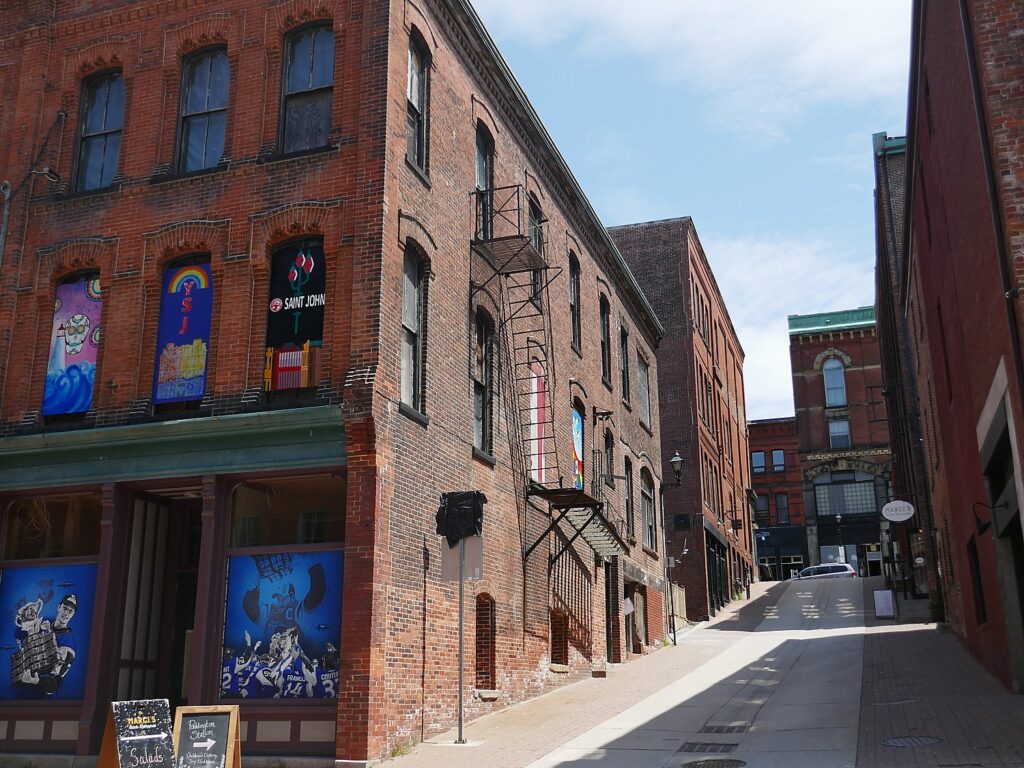 We've even gotten a list of recommendations:
Port City Royal (45 Grannan Street), where we savor handmade ravioli filled with whipped feta and ricotta cheese, topped with buttery glazed fiddleheads, crispy guanciale and Egyptian walking onion oil;roast pork & chick shoyu ramen and Japanese spring noodle salad. It also offers an imaginative cocktail menu.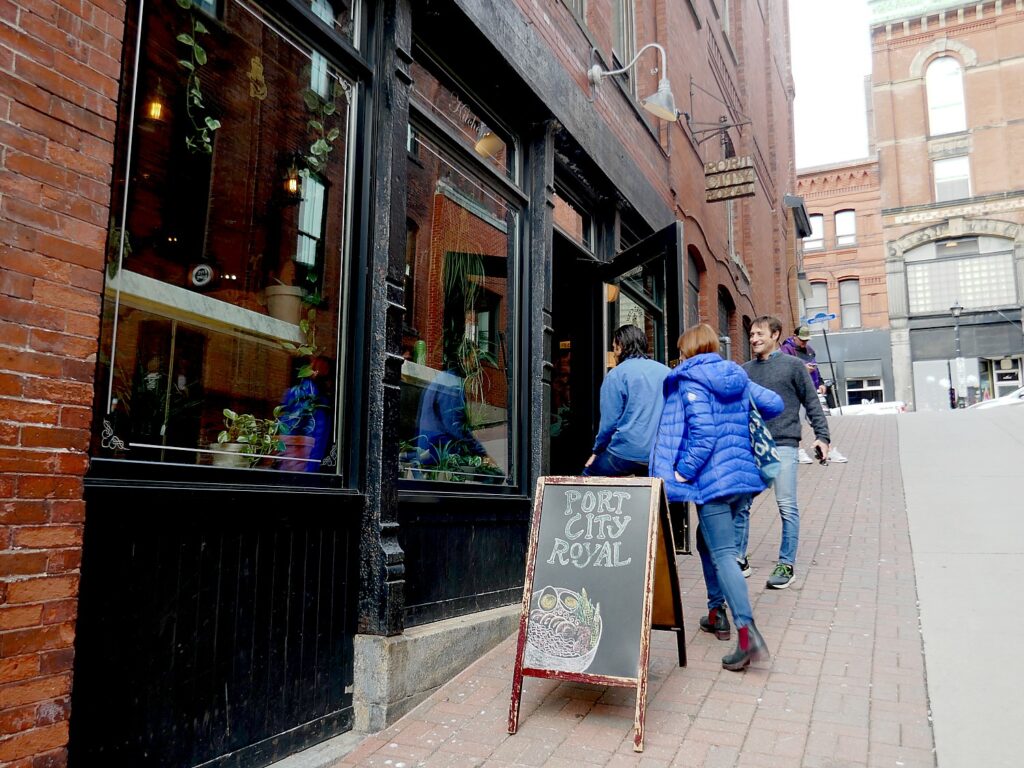 Saint John Ale House (owned by celebrity chef Jesse Vergen, from Top Chef and Wall of Chefs, 1 Market Square, https://www.saintjohnalehouse.com/
Lemongrass Thai Fare / Peppers Pub, 1 Market Square.
Five and Dime, vinyl record bar, 34 Grannan Lane, https://fiveanddimesj.com/
East Coast Bistro, local cuisine prepared with French techniques, 60 Prince William Street,
Pomodori Pizza – for a casual night out – attached to Picaroons brew pub, 34 Canterbury Street.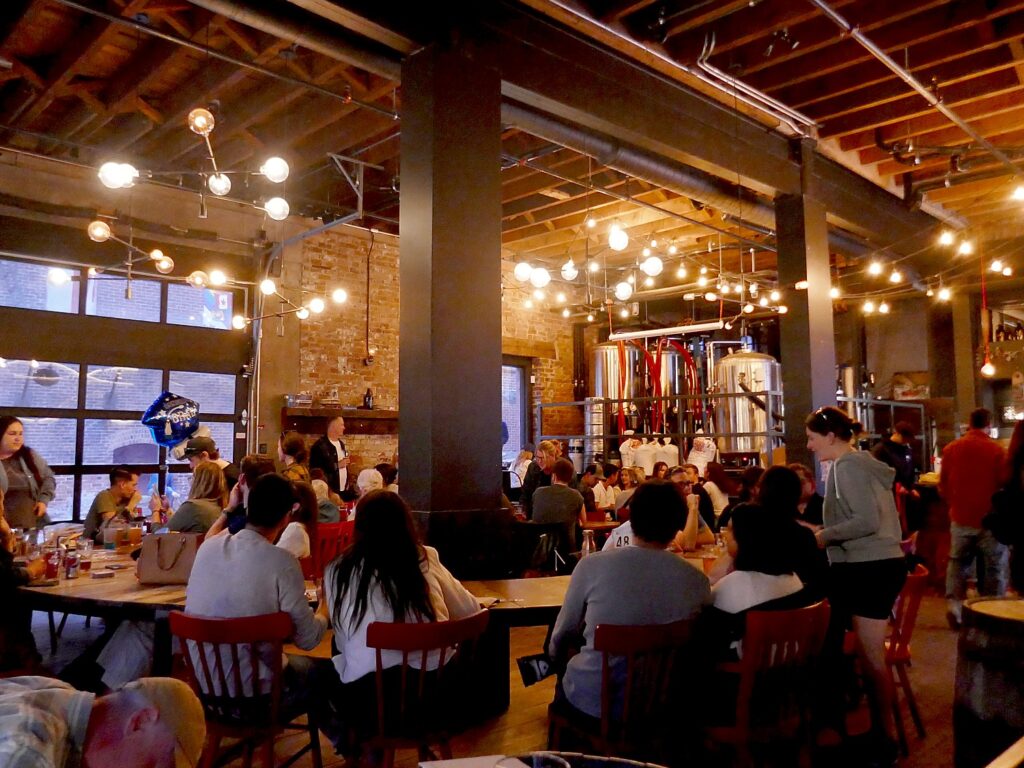 It's appropriate to mention that (at least during our visit) the US dollar goes about 25% further than the Canadian dollar, so what we buy – like a fancy meal – is at a 25 percent discount.
Being a major city, Saint John offers lots of choices of accommodations. We enjoy our stay at Hilton Saint John, an upscale property with its own parking garage, ideally located right on the waterfront, with indoor pool, fitness center, restaurant, pet-friendly rooms (1 Market Square, +1 506-693-8484).
Travel planning assistance from Discover Saint John, 1 866 463 8639, [email protected], https://www.discoversaintjohn.com/ and Tourism New Brunswick, 800-561-0123, www.tourismnewbrunswick.ca.
Next: New Brunswick Roadtrip Takes Us On the Newly Completed Fundy Trail Parkway
See also: NEW BRUNSWICK ROADTRIP BEGINS IN ST. ANDREWS
____________________________
© 2023 Travel Features Syndicate, a division of Workstyles, Inc. All rights reserved. Visit goingplacesfarandnear.com, www.huffingtonpost.com/author/karen-rubin, and travelwritersmagazine.com/TravelFeaturesSyndicate/. Blogging at goingplacesnearandfar.wordpress.com and moralcompasstravel.info. Visit instagram.com/going_places_far_and_near and instagram.com/bigbackpacktraveler/ Send comments or questions to [email protected]. Tweet @TravelFeatures. 'Like' us at facebook.com/KarenBRubin